Christmas Market 10-Day Itinerary: Germany, France, and Switzerland
Hey there!
This post may contain affiliate links, meaning I may be compensated if you click on one of my links, at no cost to you. As an Amazon Associate, I earn from qualifying purchases. Read my disclosure policy for more information.
Christmas Markets in Europe are a magical experience. I should know, I've been to nearly every market in Southern Germany, the Alsace region of France, and many in Switzerland.
Why This Christmas Market Itinerary?
I lived in Stuttgart, Germany for six years. And every year I visited at least a dozen markets. So, I have quite a bit of experience with these wonderful Christmas Markets!
Instead of creating an itinerary focused on only Germany, I made this itinerary so you can visit many different Christmas Markets across three countries. This way you get a little more bang for your buck.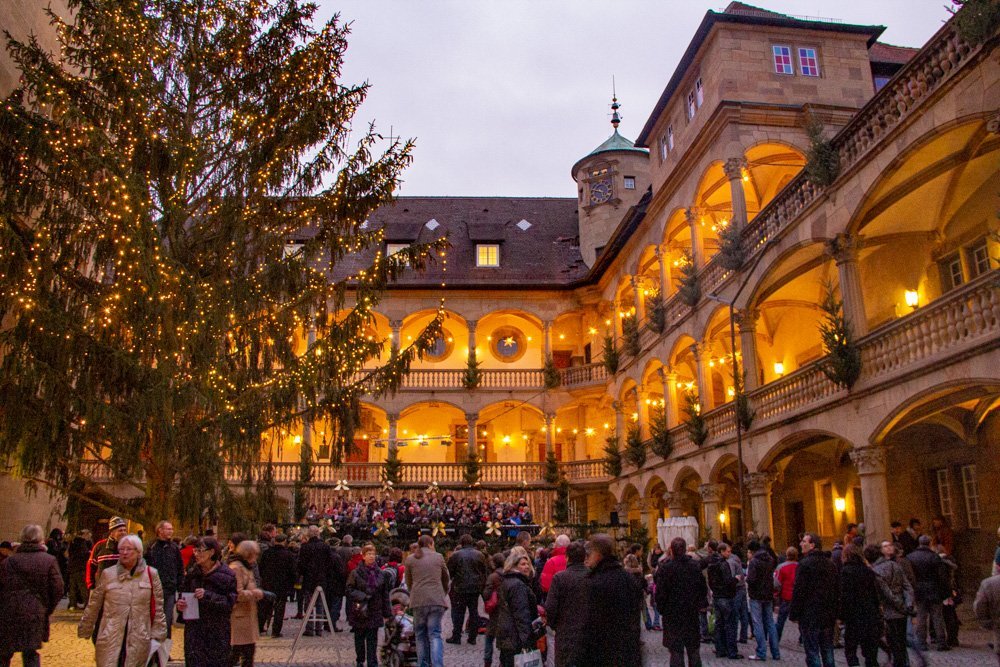 It sounds like a lot, but these areas are pretty close so your total drive time is around 12 hours over 10 days (with a few days of no driving).
Each country has different themes, vendor stalls, decorations, food specialties, and items for sale.
With this itinerary, you'll be flying in and out of Zurich. But, you could easily adapt it to fly in/out of Munich or even Frankfurt.
So when you're booking your flights be sure to check nearby airports for the best price.
Another important note is that this itinerary has you moving around quite a bit.
If you prefer to stay at one hotel for a few nights instead of moving around a lot, you could skip one or two places and stay in another area longer.
I recommend keeping the itinerary as is, though, especially if this is your first trip to the Christmas markets!
Why Visit These Countries for Christmas Markets?
There are a few reasons for this.
Germany is famous for their markets, but trying to see all the markets across Germany would take years. There's just no way to see them all.
So with this itinerary, you're focused on a smaller area that spans three countries with very different cultures.
This will keep the driving time down while getting the chance to explore very different markets in three different countries.
Another reason I chose this route is because you'll get a mix small town markets and larger city markets. Some will be really busy and some will be more low-key.
I'm confident that if you follow this itinerary, you will have an amazing experience. And after visiting Christmas Markest all across Europe, I believe these are some of the best.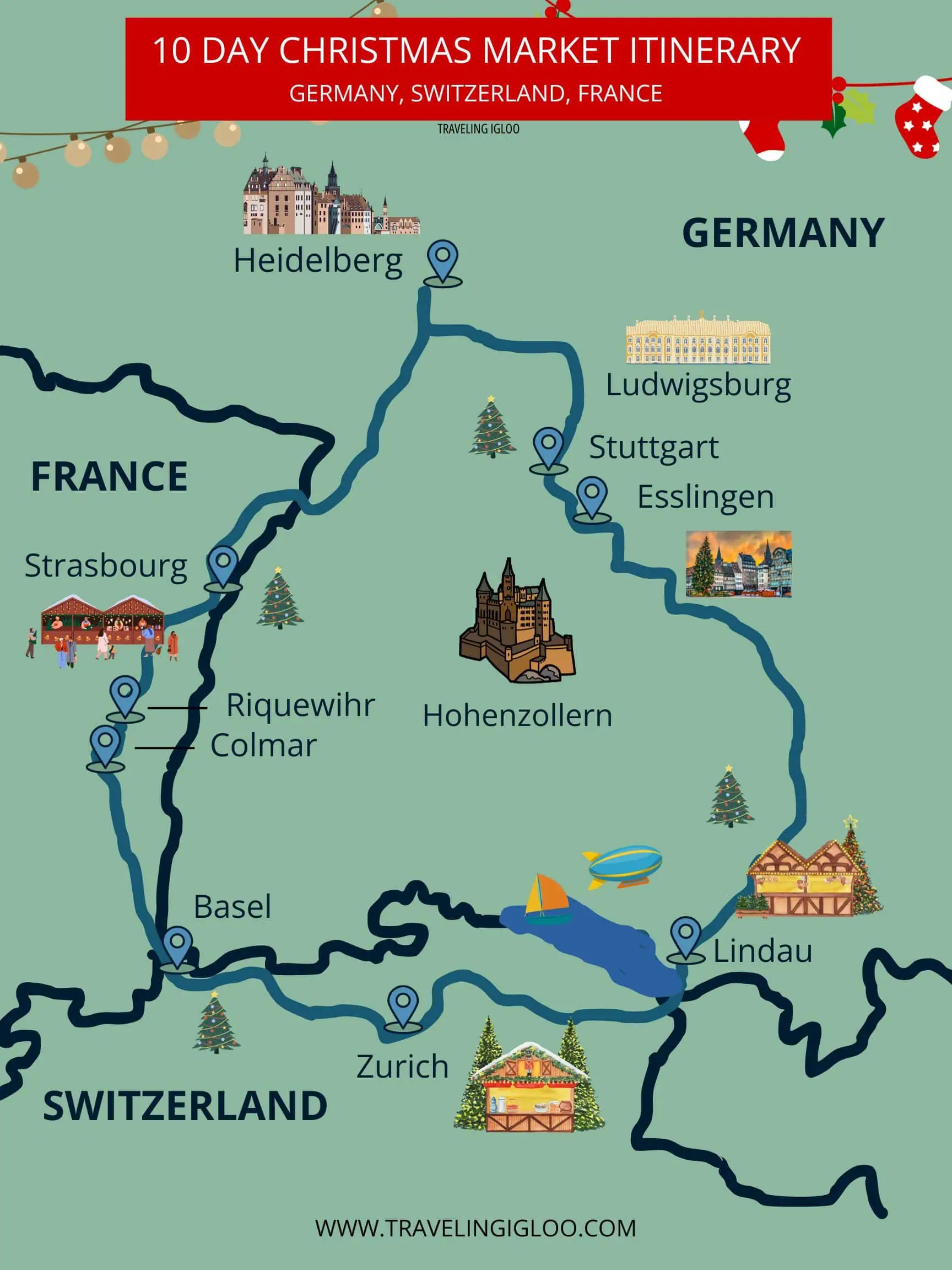 General Information About Christmas Markets
Dates and Opening Times
Most Christmas markets open sometime toward the end of November and close before Christmas Eve. Some end on December 23rd, others end on the 20th or 21st.
The Strasbourg Christmas Market runs into the New Year, which is fairly unique for these kind of markets.
When I first started going to Christmas markets, I was surprised to learn that they shut down around 9pm. Some go later on weekends, but typically no later than 10:30pm. I believe this is due to noise ordinances as many people live in these areas.
Costs
In general, Christmas markets are completely free to enter and walk around. The only exception on this list is the Hohenzollern Castle Christmas Market (there's a small entry fee and parking fee).
Switzerland is an expensive country, so everything will cost more. Germany and France have reasonable prices for food and drinks. See below for general costs.
Drinks
The most popular drink at the Christmas markets is glühwein, a hot mulled wine (vin chaud in France). Many stands have the option to add rum as well. Many markets also serve other drink options. This includes Feuerganzebowle (fire punch, a rum drink) and eierpunsch (egg punch).
Drinks run anywhere from 3-6 EUR in Germany and France. Everything costs a bit more in Switzerland.
Be sure to bring cash with you to the markets as many stalls are cash only.
TIP: Whenever you purchase a drink, you also pay a pfand, or deposit. Once you return your mug or glass you get your pfand back.
You could also keep the mugs as souvenirs, which may explain why the pfand is upwards of 3-4 Euro at many of the stalls!
Food
France, Germany, and Switzerland will have different types of food, although many of the markets serve variations of the same thing.
The itinerary below highlights the popular foods at each market. You can find everything from sweets to main meals to snacks, and everything in between.
Prices vary by country. Expect to pay anywhere from 4-18EUR in Germany and France for snacks and meals. Switzerland will be more costly overall.
If you're sticking to a budget then Doner Kebab stands and goulash will be your best friends.
Getting Around
This itinerary is best suited for a car and here's why.
Don't get me wrong, I love the rain network in Europe. It's one of my favorite ways to travel around Europe. But with this itinerary, some of the markets and places mentioned don't have train access. This includes Hohenzollern, Haut-Koenigsbourg Castle, and some of the small villages in France.
The roads are fairly easy to navigate, and all car rentals come equipped with navigation (some rental companies charge extra for this). With a car, you are free to roam when you want and aren't stuck to a strict schedule. And when you're traveling almost daily, it's nice to have this flexibility.
For these reasons, I would recommend renting a car for some or all of the trip.
Weather
Winter in this region will vary but expect cold weather that can feel bone-chilling. I'm from Alaska, and I think it can feel colder here than in my hometown due to the humidity.
Expect temperatures anywhere from 30-50 degrees (F).
If there is a breeze, it will feel much colder.
I would plan for it to be very cold. In the event it's warmer than expected, you can always take off layers.
When we visited the Colmar market, it was bone-chilling. There are canals that run through the town and these frigid waters cause the air to be colder. This is especially true when it's windy!
There can be snow but we had many winters without snow for much or all of the markets. Sometimes instead of snow, there would be cold rain.
What to Wear
I would suggest LAYERS and wear more than you think you will need. You will be outside for hours, so you'll need smart layers to stay warm.
I usually have a hat, scarf, warm gloves, leg warmers, warm socks, long winter boots, a long jacket (that goes to my knees), and I might even add leggings under my jeans.
I personally love wool (the soft kind not the itchy kind). These Merino Wool leggings and Hannah long-sleeve shirts are my favorite to layer with.
We usually go to the markets for 5+ hours. Being outside for that long can start to feel quite cold, so I recommend bundling up. If you take the train you'll want to factor in that additional time potentially waiting outside for it.
Where to Stay
This itinerary includes overnight stays at many different places. I included my recommendations, but overall I recommend staying in the old town of each area as this is where the markets are held.
For the Stuttgart portion of the trip, you could stay around downtown Stuttgart. Alternatively, you could book a spot in Esslingen and make that your home base. Read up on both markets in the itinerary to decide which suits you best.
TRIP OVERVIEW & MAP
10 DAYS SWITZERLAND | FRANCE | GERMANY
DAY 1: Arrive in Zurich & Explore the Zurich Christmas Markets
DAY 2: Basel Christmas Market
DAY 3: Colmar & Eguisheim (Alsace France) Christmas Markets
DAY 4: Colmar, Riquewihr, Ribeauville, and Kaysersberg (Alsace, France) Christmas Markets
DAY 5: Strasbourg Christmas Markets
DAY 6: Heidelberg Christmas Markets
DAY 7: Stuttgart Christmas Market
DAY 8: Esslingen & Ludwigsburg Christmas Market
DAY 9: Lindau (Lake Constance) Christmas Market
DAY 10: Zurich and Fly Out
Total drive time: ~12 hours | Distance: 549 miles (883km)
10-Day Itinerary Germany | France | Switzerland
Day 1 – Zurich

Christmas Market

Welcome to Switzerland and the wonderful world of raclette and fondue!

Today you'll fly into Zurich, the financial capital and largest business hub in Switzerland. You'll only be spending one night here, but that will be enough to give you a taste of these Swiss Christmas markets!

Although a large city, Zurich is beautiful, especially in the old town area where you'll be. Lake Zurich (Zürichsee) starts just south of the center and is also where you'll find some of the best markets.

You can either rent a car today or simply take the train downtown from the airport, which only 6 miles away.
Note a car is not needed today as you'll be staying in the old town. The old town is plenty big so you'll have plenty to see and do.
Once you're at the main train station (Hauptbahnhof), you'll be immediately greeted with your first Christmas market right at the train station.
Since you just arrived I recommend getting to your accommodations, setting down your bags, and then heading out for the day.
Many places hold your luggage even if your room isn't ready, so you should be able to leave your things and go (note this isn't possible with an Airbnb).
Tip! Zurich is home to the Lindt Chocolate Museum. It's one of the top things to do in Zurich and purchasing tickets ahead of time is recommended. You can take a bus, boat, or train to get there from downtown.
Zurich has a large pedestrian area (called Altstadt or Old Town) downtown with five Christmas Markets strewn around the area.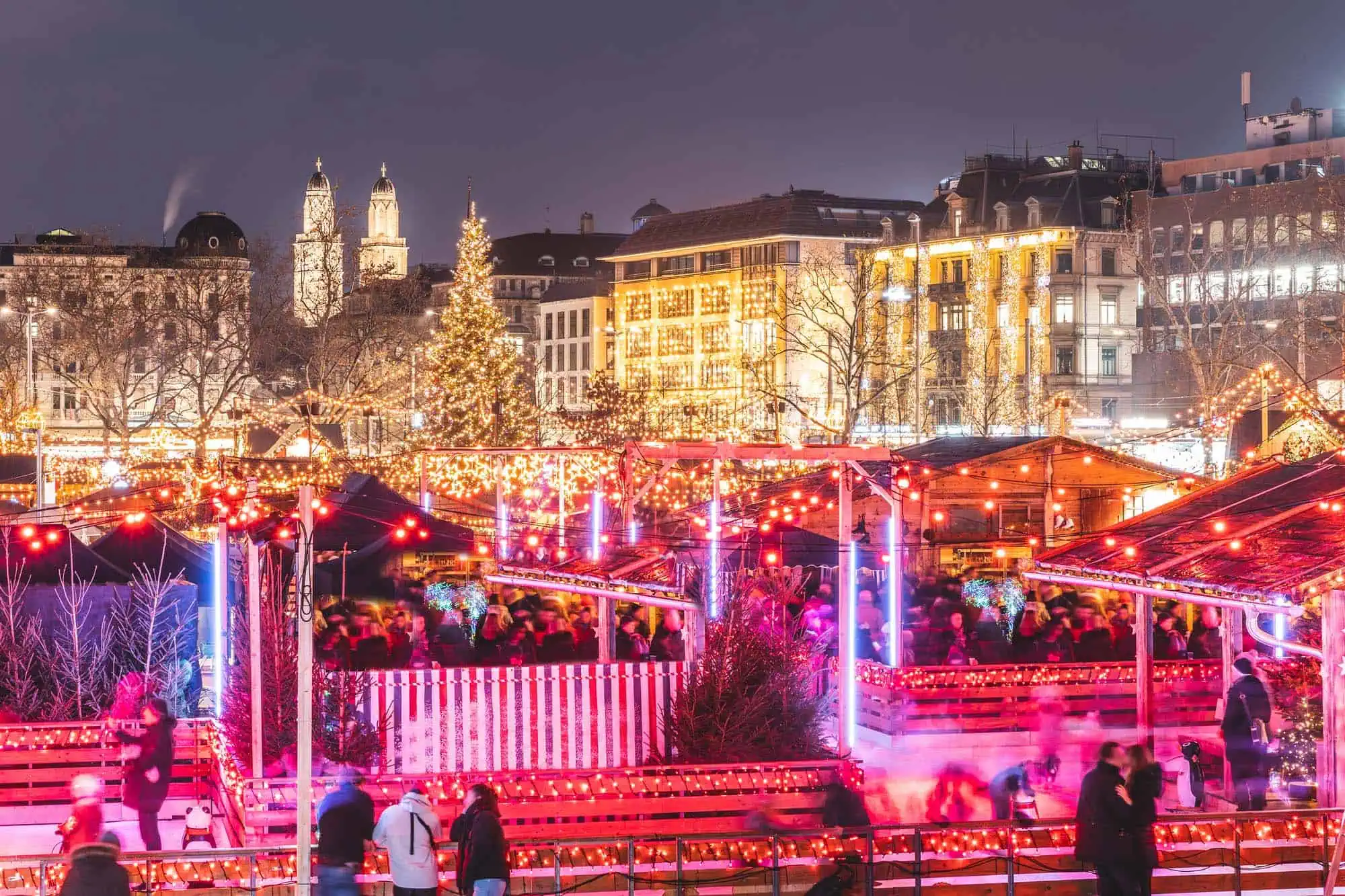 Here are the best markets and locations:
Zürcher Wienachtsdorf at Sechseläutenplatz – one of the largest in the city and my personal favorite. This market is located along the Zurich Lake and in front of the Opera House. It's a beautiful setting and a great place to warm up with Glühwein!
Dörfli in the Niederdorf – Lining the Old Town, this beautiful market is the oldest in Zurich. There are 70 stalls and 200 shops in the area. This is a great way to meander through while also exploring the local shops too.
Zurich Main Station – If you didn't get a chance toexplore the market at the Main Train Station, I recommend heading back and checking it out. If you've been out at the other markets, this is a great place to warm up for a bit. There are over 140 stalls making it one of the largest indoor markets in Europe. If you want a view form above, you can reserve the viewing platform by booking it online here.
After a day at the markets, dip into one of the many restaurants for dinner, or snack on food at the markets to fill your belly!
Day 2 – Basel Christmas Market (Switzerland)
Today you'll drive a short 90 minutes northwest to Basel, a Swiss town considered the cultural capital of Switzerland.
Basel is a great midway point between Zurich and the Alsace region of France. If you're eager to get to France (and save your wallet – Switzerland is pricey), you could easily drive straight through today — just skip to day 3.
Basel is worth a visit though. In 2021 the Basel Christmas Market was voted best Christmas Market in Europe.
Around the city, there are 40 museums and a lovely old town.
The Basel Christmas Market (Basler Weihnacht) is held in two squares, Barfüsserplatz and Münsterplatz. And just like the other markets, it's held around the old town.
The Advent's Passage (Adväntsgass im Glaibasel) runs along Rheingasse Street. It's an area filled with food trucks and glühwein. Most people enjoy hanging out and enjoying food and drinks with friends, and it's worth exploring while you're here!
Be sure to look for the Spalen Gate, an old city wall gate in the old town. It's considered one of the most beautiful in Switzerland.
If you want to be in three countries at once, head to Dreiländereck and step from Switzerland to France and then Germany.
I recommend staying somewhere in the old town area. I like the Motel One brand of hotels. Don't let the word motel fool you, though, these are nice hotels. They're typically centrally located and found all across Europe.
Days 3 & 4 – Visit Christmas Markets in Beautiful Alsace, France
Today you will make your way to the magical Alsace region of France.
If the word Alsace means nothing to you, let me paint a picture.
Alsace is a lovely region of Southeast France that borders Germany. Known for its rolling hills, wine, castles, and sleepy villages, this area is a lovely departure from the larger cities of Basel and Zurich.
Alsace is famous for its light reds, lovely rosé wine, and dry rieslings. This area is so famous for its wine that there's even the Alsace Wine Route. If you want to read more about the Alsace wines click here.
The towns are lined with half-timbered homes from the once German-occupied area.
The Alsace region has switched hands a few times over the course of history, so you see many German influences alongside French wrought iron railings and other uniquely French features.
Today you'll make your way to Colmar where you'll be based for two days. This will give you time to explore some of the quaint French village markets nearby.
If you just love small towns, then you could stay in one of the smaller villages and do day trips. Everything is close so it's easy to get around, no matter which town you choose.
Here are the best Christmas Markets to see in this area:
Riquewihr
Ribeauville
Kaysersburg
Eguisheim
I realize this looks like a lot but the entire route only takes an hour.
I recommend visiting Eguisheim on day 3 (it's on the way to Colmar), then exploring the other three the next day. This would give you plenty of time to drive to each market and walk around and explore.
But if you don't want to feel rushed, I recommend the Eguisheim and Riquewihr markets.
Colmar
I really love the Colmar Christmas Market.
Colmar is a larger town with much more to see than the small villages.
There are six different Christmas markets, spread out around the old town area.
There's a gourmet market for foodies, a children's market where you can write a letter to Santa, and a long market spread out along Place de l'Ancienne Douane. These markets are not too far from each other.
Canals wind their way throughout Colmar's old town. There's even an area called Petit Venice, a beautiful stretch of canals along River La Lauch.
A unique factor in Colmar is the lighting effects and light shows at night. They really set the Christmas-y mood and are also just plain beautiful to watch.
While there, I would recommend visiting the Marche Couvert Colmar, a historic and large indoor food hall with tons of local specialties.
Eguisheim
Eguisheim is really small and you could easily walk the entire area in an hour (maybe less). There are so many cute winding cobblestone streets (most too narrow for cars) that it is a photographer's dream.
If popping into cute shops and taking as many photos as you can is on your to-do list, I recommend planning for a few hours.
There's a ring around this pedestrian zone area, so you could walk around the perimeter (Rue du Rempart – as seen in the photo below). The most popular spots (which you really can't miss if you walk the town) are the Pigeon House (Le Pigeonnier) and Place du Chateau.
Day 5 – Strasbourg Christmas Market (France)
Today you'll leave Colmar and head north to the largest Christmas Market in France!
On the way, I recommend visiting Chateau du Haut-Koenigsburg, a beautiful castle from the 12th century. It's a short detour up a small hill.
Trust me, the castle and views are worth the visit!
If you have time, I HIGHLY recommend it.
It's a large castle steeped in history, and the views are beautiful. We lucked out with this stunning sunrise and inversion when we were there.
The Strasbourg Christmas Market is the oldest Christmas market in France. It's also one of the largest.
Just like Colmar, the buildings are lit up in a fantastic light display at night. Here you'll also find the tallest decorated Christmas Tree in Europe.
The massive Christmas market fills 8 squares and 2 streets. You can't miss these markets, they're strewn all around the old town area. There's the Petit France quarter where you'll find the "Off" Christmas Market at Place Grimmeissen along with the markets at Place Benjamin Zix and Place Saint-Thomas squares.
Place Kléber is where you'll find the large Christmas tree. At 5pm each night there's a lighting ceremony here.
Also, don't miss the Christkindelsmärik market, the oldest market within Strasbourg.
Day 6 – Heidelberg Christmas Market
Today you'll say au revoir to France and Hallo to Germany!
Heidelberg is one of the most beautiful towns in Germany and one of my favorite places to visit.
The Heidelberg castle looms above, and the beautiful Christmas market fills the pedestrian streets.
And this is why this market deserves a visit.
The Heidelberg Christmas Market is made up of four markets spread out around the old town (Altstadt). My favorite area is around the church where you'll find the tall Christmas Pyramid, a feature at every larger market around the country.
Just down the street is an ice skating rink with some food and drink stalls.
Be sure to visit the shops at Marktplatz too. There's a shop with tools made completely of chocolate. Chocolate hammers, screwdrivers, and even bolts can be found, all made of chocolate!
Things to do in Heidelberg
Since you'll only have one night here, be sure to check out the two top things to do in town.
The first is the Old Bridge with the large walled entrance over the Neckar River.
And Schloss Heidelberg is a castle you can't miss while here.
To get here, you can walk uphill or take the funicular from Rathaus/Bergbahn (off of Zwinger str). There are tours available or you can simply walk the grounds.
Although built in the 1300's, today much of it sits in remains from a lightning strike in 1764. Some of it has been beautifully restored and even the ruins are impressive to see.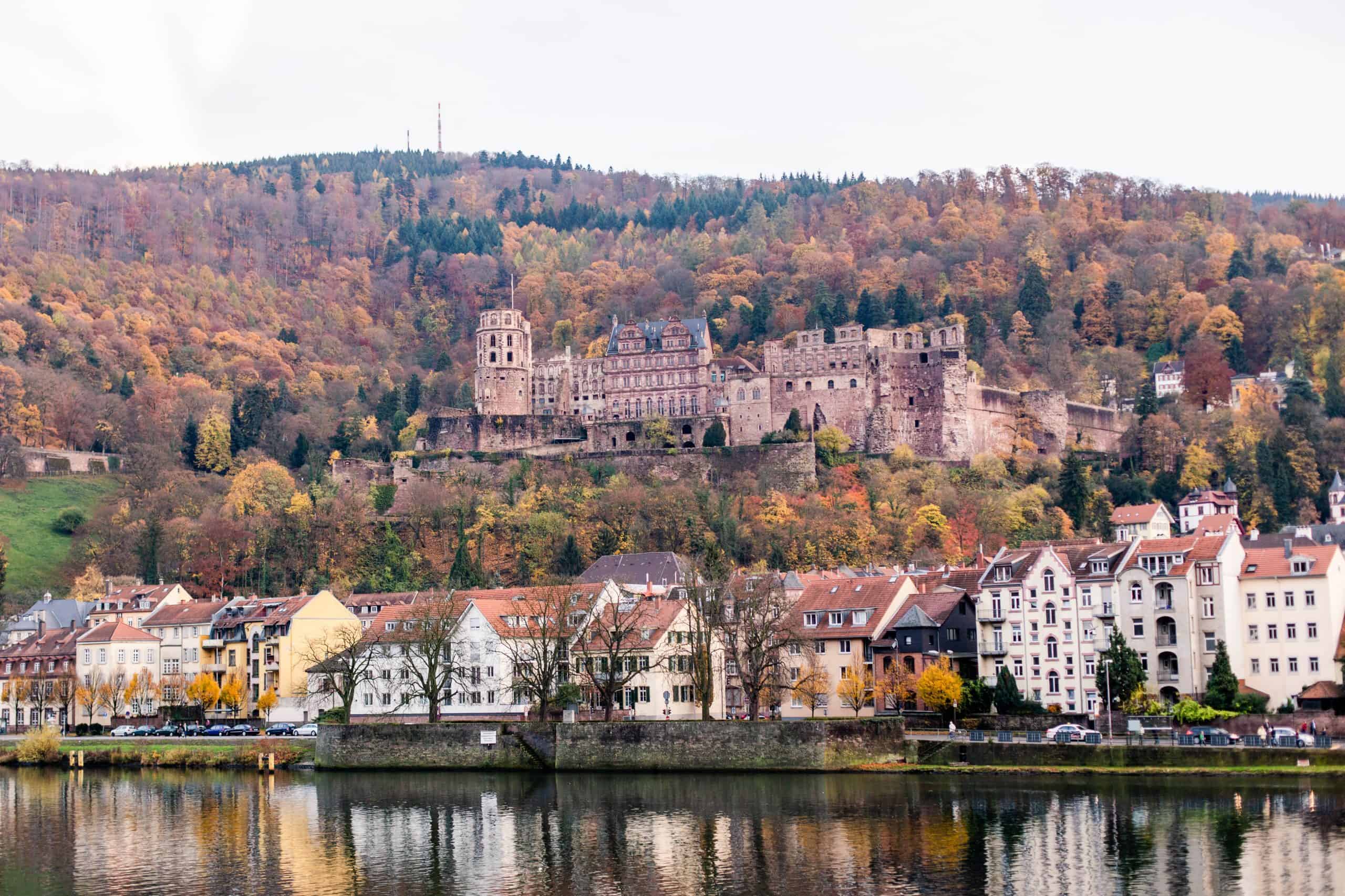 I would allow at least three hours to walk around, explore the large apothecary museum, check out the views, see the largest wine barrel in the world, and get up and down. There's also a restaurant and biergarten inside.
If you love Italian food, I recommend dinner at Trattoria Toscana (Marktpl. 1). It's an Italian restaurant with fantastic staff and great food. And one we visit every time we go to Heidelberg!
Day 7 – Stuttgart Christmas Market
Today you'll explore one of my favorite markets in Germany. Yes, I am completely partial, having lived there for six years, but it is one of the largest markets in Germany with a lot to see and do!
If you want to read more about this Christmas market and everything there is to do, I wrote an entire article that you can bookmark for later.
The Stuttgart market has nearly 300 stalls with gifts, food, and drinks. It's spread across the entire downtown area, starting at Schlossplatz (near the main train station) and winding its way to Marktplatz.
Stuttgart has one of the longest shopping boulevards in Germany, stretching about 1.2 km (.75 miles) downtown. There are many side streets and other streets paralleling the shopping street. The markets are all around this area.
I recommend starting at Schlossplatz. You can watch people skate and grab some glühwein while taking in the sights around the square.
Then I recommend peeking into the Altes Schloss (Old Palace) where they have live music daily.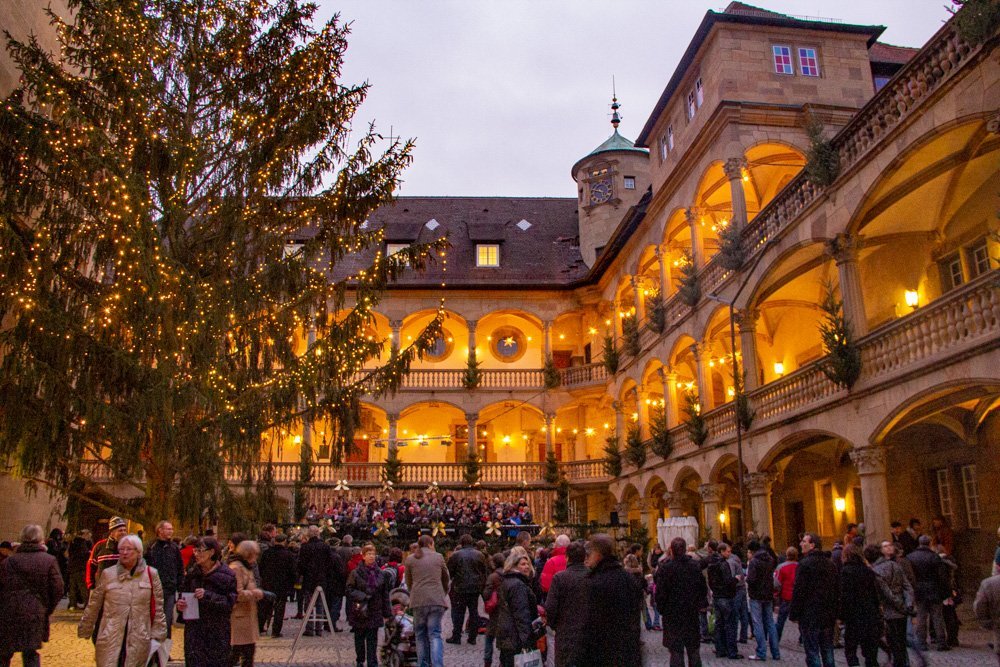 Then head over to the Finnish Market for some Glögli (the Finnish version of Glühwein) and shopping for some Finnish goods.
Head back toward Schlossplatz and enter Schillerstr, where the market winds through a long street and fills a few squares.
As you're walking, be sure to look up at the rooftops of all the stalls.
Something unique for Stuttgart is they have a competition for the best-decorated rooftop each year. There are some really impressive ones to see and they add to the ambiance of this market.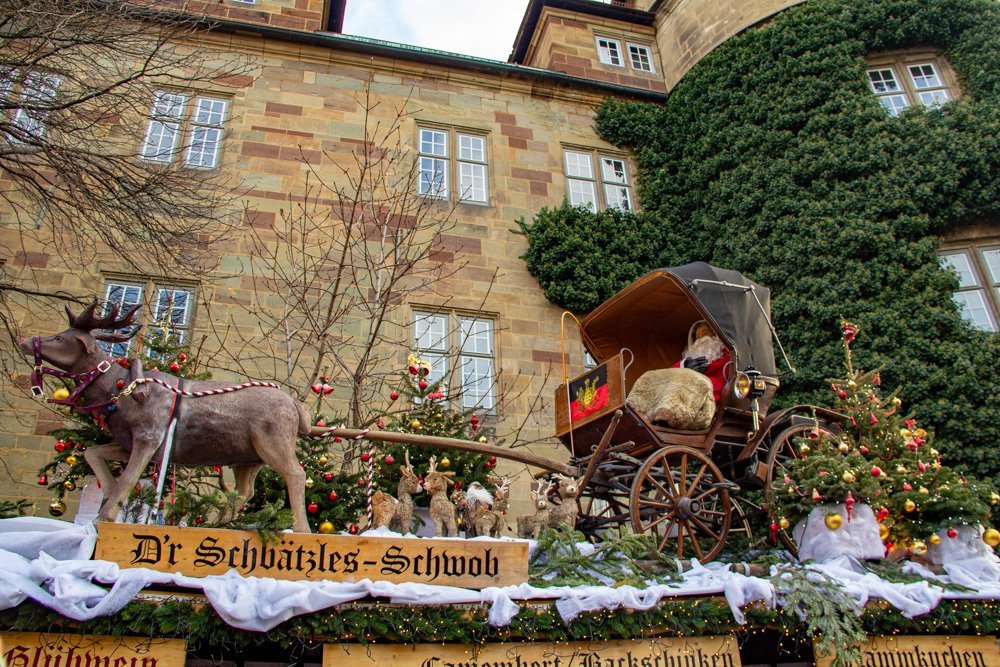 Optional Side Trip: Hohenzollern Castle Christmas Market
Near Stuttgart is a beautiful castle called Hohenzollern. It sits atop a large hill in the Swabian Alb, a hilly area considered the foothills of the Alps, about 45 minutes south of Stuttgart.
Unlike the other markets that run daily, this market does not run daily. So if you want to see a Christmas Market at a castle, I recommend planning your trip around the days that it's open.
Also, be sure to get your tickets ahead of time as there's an entry fee to visit. Here's my link with all the information about this Christmas market. For current dates, times, and reservations, use their official link here.
Up here you have stunning 360-degree views. Parking is toward the midway point of the hill, so be aware you will need to either walk or wait for the shuttle.
I recommend trying to book the earliest slot possible so you can see the views while it's still light out.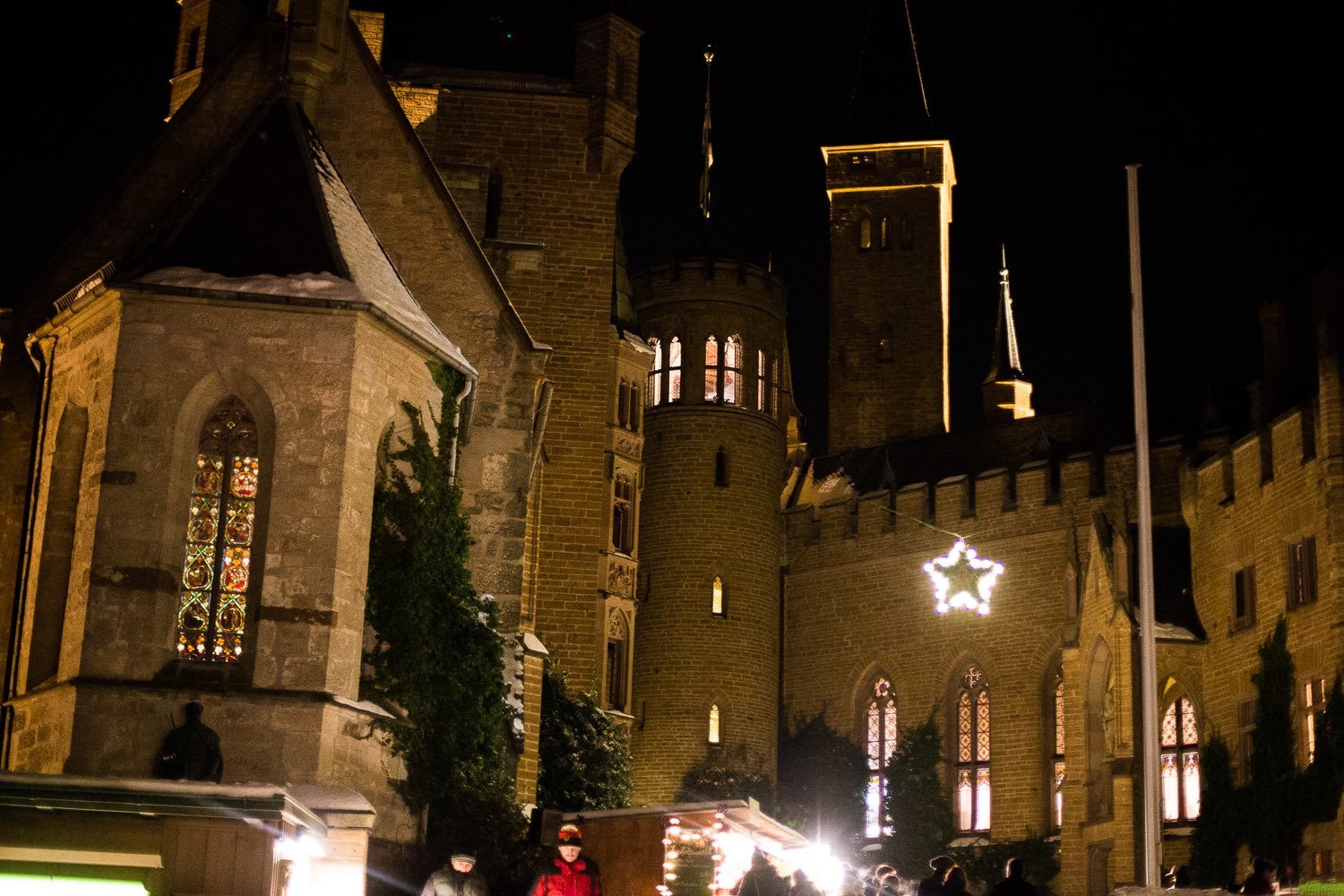 Day 8 – Esslingen Medieval Christmas Market and Surrounding Markets
Today you'll take a short train ride south of Stuttgart to Esslingen am Neckar. In about 6 short S-Bahn stops, you'll find yourself stepping into a medieval Christmas market.
This market is completely different from any other visited so far.
Much of Esslingen was untouched by bombings in World War II, so what you see today is original.
Buildings lean on one another and it is the quintessential German town with half-timbered homes that come to mind. Buzzfeed called this photo of the market something out of Hogsmeade (no really, check out the link here!).
This market gets PACKED and for good reason. It's not just a Christmas Market, but a Medieval market (Mittelaltermarkt).
There are trained actors walking through the crowds for entertainment, fire and dance shows, medieval games and rides, and medieval food.
There are programs and classes for children, a petting zoo area, and even the smallest Ferris wheel in the world.
They even have barrel hot tubs you can rent right in the middle of the market. And many people wear their birthday suits in them too.
They somehow manage to merge a medieval market and a Christmas market beautifully.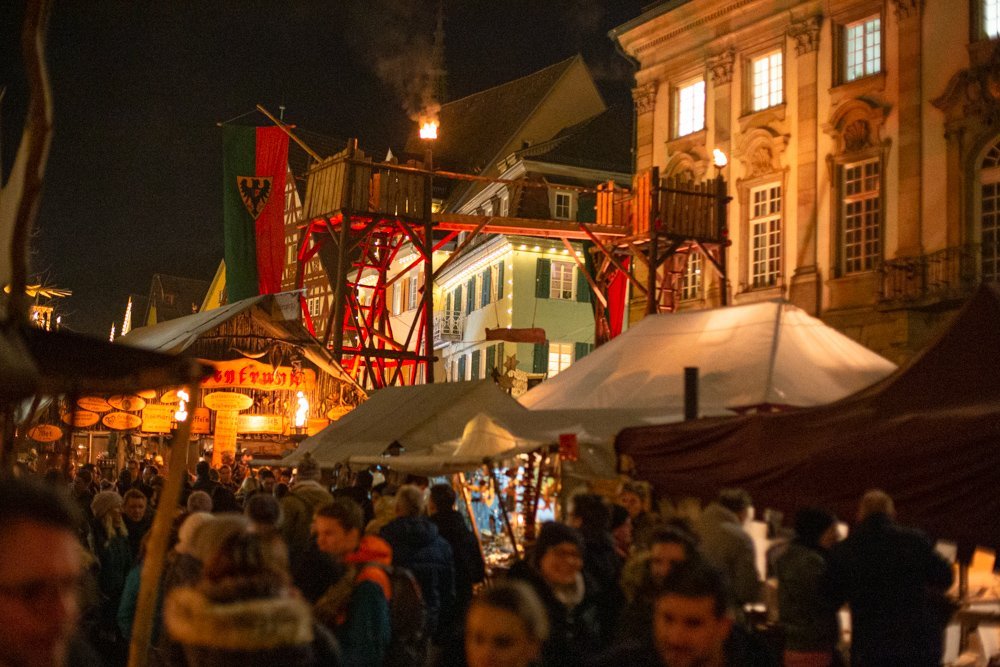 Just like most festivals and Christmas markets, it's held in the old town (Altstadt) which is a beautifully preserved area of Germany.
I recommend taking the train as parking will be a nightmare. From the Esslingen S-Bahn stop it's only about a 10 minute walk to the market.
Once off the train, head down Neckarstr. until you reach Pliensaustr. Head down Pliensaustr and you should easily reach the market.
The best food stand is the Hanfbeckery, where you can order hemp seed bread with different fillings. But there are plenty of other food options. There's flammkuchen (a flatbread with creme fraiche and toppings), goulash, meats, and all sorts of bread options (even bread on a stick).
For something sweet, be sure to grab a dampfnudeln on Marktplatz.
Aside from glühwein, you can also try Met or mead, made typically from honey. This is a common drink at medieval festivals.
Things to do in Esslingen am Neckar
Esslingen is one of my favorite small towns in Germany. I have a full list of the best things to do here.
If you just want a few ideas, though, here are my quick recommendations.
Esslingen am Neckar is home to Kessler Sekt, the oldest champagne brewery in Germany. It's next to the old town hall (Alte Rathaus). While you're at the market, stop in for a delicious glass of sekt!
If you don't mind a little hike, you can make your way up the castle wall steps for views of Esslingen below. The Esslinger Burg castle is up here too. The steps can be accessed by walking under Augustinerstr., or you can plug in Burgsteige to maps.
Other Markets Worth Visiting Near Stuttgart
If you're someone who likes to see it all, there are other markets around Stuttgart worth visiting. Ludwigsburg has a Baroque Christmas Market. It's north of Stuttgart, so I'd recommend going here in the morning to explore the market and Ludwigsburg Palace, then heading back to Stuttgart.
Another great town to visit is Tübingen. Their Christmas Market is only one weekend a year. They also have the largest chocolate festival in Germany, ChocolART, that's held for a few days in early December.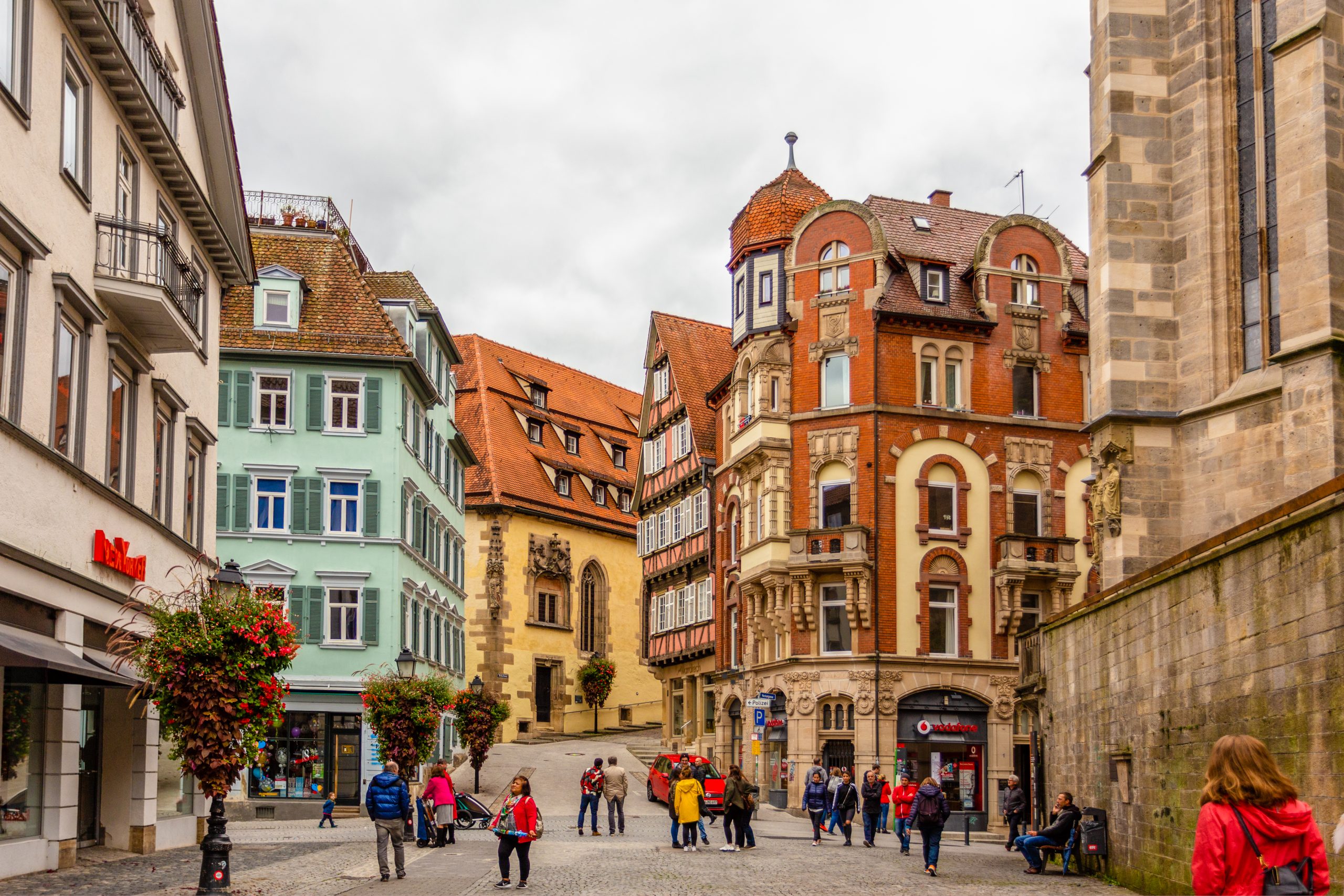 There are chocolate fountains, chocolate noodles, chocolate beer, and you can even get a chocolate massage.
If you time it right you can visit one of these festivals.
Day 9 – Lindau Christmas Market at Lake Constance
You can't visit southern Germany without a trip to Lake Constance (Bodensee).
Bordered by 4 countries, there are numerous towns around the lake and it's so large you cannot see across it.
The lake itself is 40 miles long and up to 8 miles wide.
If you have extra time to spend here, you can take an optional day trip to the Zeppelin museum, ride the ferry to the town of Konstanz, or visit a neighboring town nearby.
Lindau (pictured below) is technically an island on the southeast end of the lake. There is a train that will take you here, so if you are traveling by train this would be an easy stop at the lake.
The Christmas market in Lindau isn't large but is worth a visit with the striking lake and mountain views in the distance.
Their old town is quite nice and you can't beat the views. Since you'll be visiting in December, be sure to wear extra layers as it will be much cooler on the lake.
If you want a larger market on the lake, Friedrichshafen, Konstanz, and Überlingen are other great options.
Day 10 – Head back to Zurich and Fly Out
Today you will drive less than 2 hours back to Zurich and head home.
Final Tips
After visiting all these markets over the years, here are my top tips:
Wear layers, and dress warmer than you think you will need.
If you get cold easily, consider hand/foot warmers.
Bring a small backpack for souvenirs. It's also much comfier than a purse. This day pack folds into a small case and is great for travel.
If you see a cool souvenir, buy it!
Bring cash, especially coins. Or get coins when you're there. You'll need small change for bathrooms (WC, toilette) and pfand.
Bring a water bottle.
Expect crowds, and be happily surprised if it's not crowded.
Don't get too caught up in seeing and doing everything at these markets. They're meant to wander and enjoy.