10 Days of European Christmas markets
Hey there!
This post may contain affiliate links, meaning I may be compensated if you click on one of my links, at no cost to you. As an Amazon Associate, I earn from qualifying purchases. Read my disclosure policy for more information.
Earlier this year I planned a German Christmas market tour for some family friends. I figured this may also be helpful for anyone who is looking for a good Christmas market route. I know, I'm posting about Christmas in June, what's wrong with me?! Oh I know, I love Christmas markets in Europe with all my heart.
I had the trip start in Stuttgart for a few days but you could definitely pack in more and see other places such as the Paris (via the TGV bullet train) or Nuremburg's Christmas market. Feel free to contact me if you're unsure or have any questions, I'm happy to help!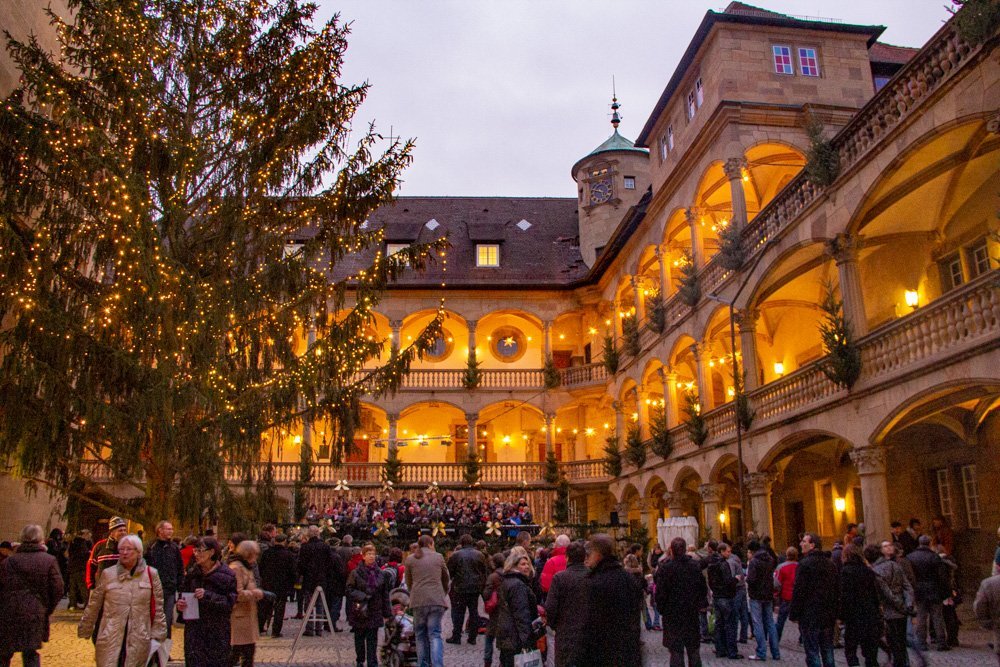 Planning Your Trip
Places You'll Be Visiting!
1. Stuttgart
2. Esslingen
3. Heidelberg
4. Hohenzollern Castle
5. Colmar
6. Basel
7. Meersburg
Total Drive Time: 8hrs 51min
Costs
All the Christmas markets have FREE entry! Like any trip, lodging and food will eat up a lot of your budget. For budget seekers, I highly recommend looking at Airbnb options and hostels. Hostels in much of Europe, Germany included, are actually quite nice and in many cases compare to a hotel room. In fact, many hostels I've stayed at are much nicer than the hotel counterpart.
I prefer Airbnb if traveling with a group to cut down on costs. Otherwise we book private rooms in hostels or I utilize Booking.com. The reason I prefer Booking.com over other booking websites is that they have free cancellation on most places. So I will book multiple places to secure my spot then cancel the ones I don't end up needing. It's a nice feature, allowing me peace of mind while checking to see if there are any better options around.
Food and drink prices are reasonable in Germany. If on a budget, it's not difficult to find a meal and a half liter of bier (beer) for less than 10 Euro. If not on a budget, there are a large variety of restaurants to choose from.
Drinks
Drinks run anywhere from 2-4 EUR per glass. Be sure to bring cash with you to the markets. If you purchase a drink you must also provide pfand (a deposit) that you get back once you return your glass. Or you could keep them as souvenirs, which may explain why the pfand is upwards of 3-4 Euro at many of the stalls!
Food
Street food and market food is roughly 4-12 EUR for a meal. If you're sticking to a budget then Doner Kebab stands and goulash will be your best friends. Also look for bratwurst or for a yummy local favorite try currywurst.
Transportation
This will vary greatly depending on whether you rent a car or take the train. A car rental, in my opinion, would be cheaper and easier. Train tickets can be surprisingly expensive in Germany unless you buy a fare saver or multi-country type of ticket.
It will also be challenging logistically and expensive to try and take a train everywhere. I would recommend renting a car for some or all of the trip.
For example, you could take a train from Stuttgart to Heidelberg which is typically under 30 Euro one way, and it is faster than the drive. But, there is no train to Hohenzollern which is a really unique experience and highly recommended.
Weather
Winter in Germany and the surrounding region averages 34-43 degrees (F) but that can vary quite a bit. If there is a breeze, it will feel much colder. Also, Germany is not considered a humid place but there is a decent amount of humidity in the air that adds to the cold you feel. There can be snow but we had many winters without snow for much or all of the markets. Coming from Alaska, I always felt that it was mild as far as winters go, but with the added humidity to the air it can get bone chilling.
What to Wear
I would suggest LAYERS and wear more than you think you will need! I usually have a hat, scarf, warm gloves, leg warmers, warm socks, long winter boots, a long jacket (that goes to my knees), and I might even add leggings under my jeans. We usually go to the markets for 5+ hours, and that long outside can start to feel quite cold, so I recommend bundling up. If you take the train you'll want to factor in that additional time potentially waiting outside for it.
ROUTE FOR TRIP
Day 1 – Stuttgart Christmas Market
Fly into Stuttgart and spend a couple days here. Visit the Stuttgart Christmas Market in the center of downtown, which boasts one of the largest Christmas Markets in Germany with over 250 stalls.
See Also: 5 of My Favorite Towns Near Stuttgart
Day 2 – Esslingen Medieval Christmas Market and Hohenzollern Castle
Today visit two markets, the Hohenzollern Castle and a medieval Christmas market (check here for exact dates) in the beautiful and historic town of Esslingen am Neckar.
Hohenzollern Christmas Market
The Hohenzollern Castle is my favorite in Germany and is beautiful any time of year. It sits high up on a hill and is about a 45 minute drive from Stuttgart. Up here you have stunning 360 degree views. Parking is toward the midway point of the hill, so be aware you will need to either walk or wait for the shuttle. The Christmas Market is held the first and second Advent weekend annually, so you will need to be sure to plan this one out ahead of time.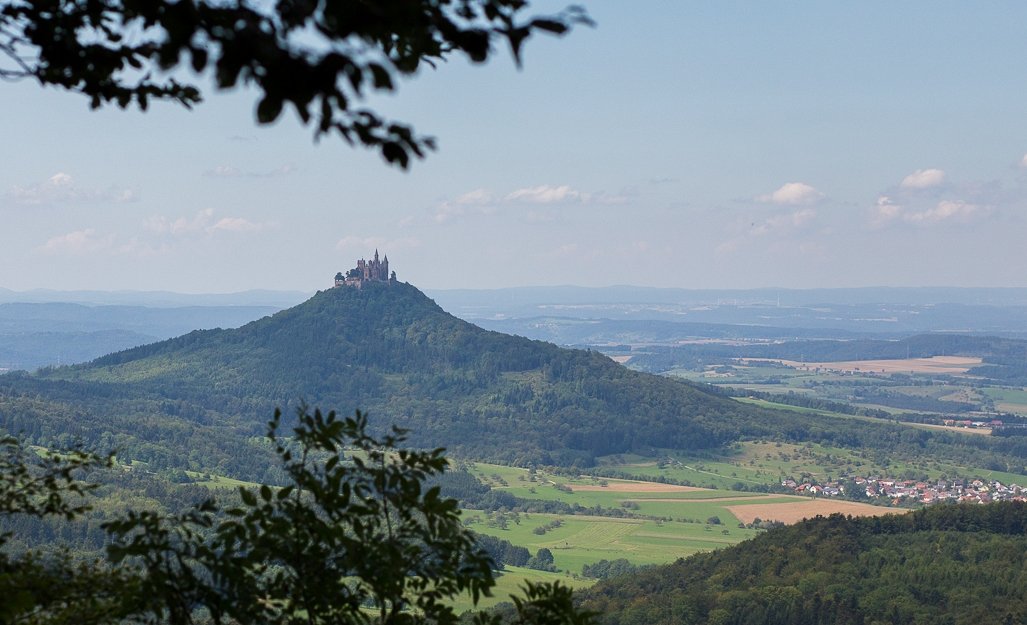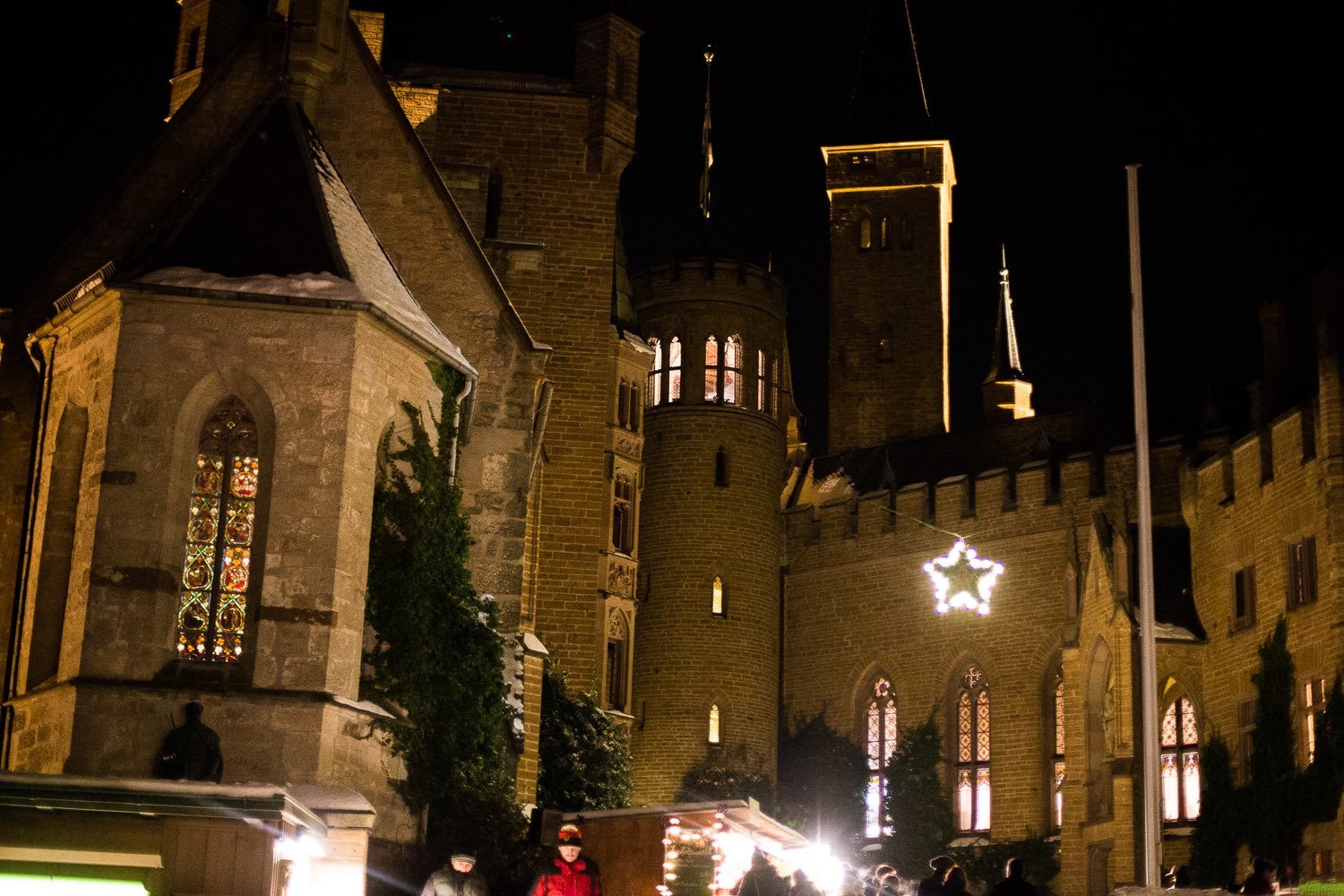 Esslingen Christmas Market
Esslingen am Neckar is home to many things, one of which is Kessler Sekt, the oldest champagne brewery in Germany. It also has the best Christmas Market I've ever seen and is a favorite to everyone around the country.
This market gets PACKED and for good reason; there are trained actors that walk through the crowds for entertainment, fire and dance shows, medieval games and rides, medieval food, and they even have nude hot tubs you can rent right in the middle of the market! They somehow manage to merge a medieval market and a Christmas market beautifully, and it is so much fun.
Just like most festivals and Christmas markets, it's held in the old town (Altstadt) which is a beautifully preserved part of Germany. Much of the town was untouched by bombings in World War II, so what you see today is original. Buildings lean on one another and it is the quintessential German town with half-timbered homes that come to mind. Buzzfeed called my photos of this market something out of Hogsmeade (no really, check out the link here!).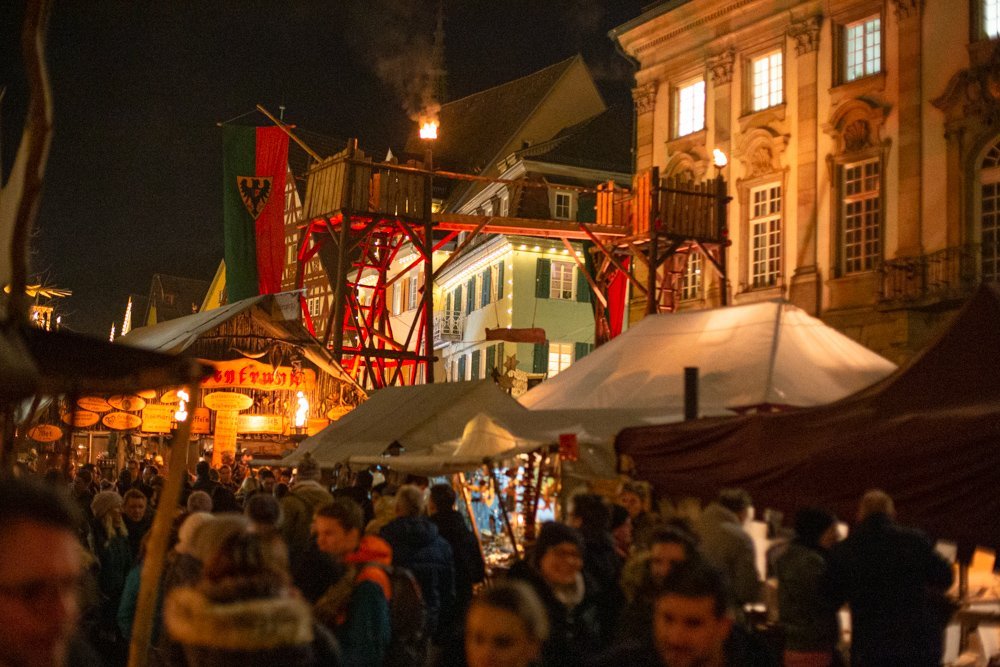 Day 3 – Heidelberg Christmas Market
Today venture out beyond the Stuttgart area and head about 90 minutes north to Heidelberg. One of my favorite towns that I've visited many times, Heidelberg is one of the most beautiful towns in Germany. The Heidelberg castle looms above, and a beautiful Christmas market fills the pedestrian streets.
Days 4&5 – Visit Christmas Markets in France
Au revoir Germany! Today you will make your way to the magical Alsace region of France. Known for its rolling hills, wine, castles, and sleepy villages, this place is a wonderful escape from the hustle and bustle of daily life.
I recommend visiting the Colmar and Eguisheim markets. They are about 20 minutes away from each other. Eguisheim is really small and you could easily walk the entire area in an hour (maybe less). There are so many cute winding cobblestone streets (most too narrow for cars) that it is a photographer's dream, so I would plan a few hours if popping into cute shops and taking as many photos as you can is on your to-do list.
Below: Eguisheim
I really enjoyed my time in Colmar. It's a much larger town. We spent just one night there but I could have easily stayed two or three nights even. There are a bunch of shops, the Christmas market is a good size and it's spread out. They added a lot of lighting effects at night which really set the Christmas-y mood. It's also just plain beautiful too.
While there, I would recommend visiting the Marche Couvert Colmar, a historic and large indoor food hall with tons of local specialties.
Below: Colmar
Bonus: Check out the Koenisbourg Castle nearby. It's a large castle, and the views are beautiful.
Day 6 – Basel, Switzerland Christmas Market
Today travel down to Switzerland, your third country on the trip! Go to Basel and try some croquette and fondue. It is a beautiful town to see!
Flickr photo by Hans Permana
Days 7&8 – Lake Constance (Bodensee)
You can't visit southern Germany without a trip to Lake Constance. Bordered by 4 countries, there are numerous towns around the lake and it's so large you cannot see across it. The lake itself is 40 miles long and up to 8 miles wide.
Spend two nights at this beautiful area with an optional day trip to the Zeppelin museum, taking the ferry to the town of Konstanz, or to visit a neighboring town nearby. I would recommend the Lindau or Meersburg Christmas markets.
Lindau (pictured below) is technically an island. There is a train that will take you here, so if you are traveling by train this would be an easier stop at the lake. It's on the southeast part of the lake. Their old town is quite nice and you can't beat the views. Since you'll be visiting in December, be sure to wear extra layers as it will be much cooler on the lake.
Day 9 – Head back to Stuttgart, or go to Frankfurt
Today we will head back to Stuttgart for one more night in the city before we head out. Check out my post on 14 Great Reasons to Visit Stuttgart for some ideas on things to do in my favorite underrated city. Alternatively, you could head to Frankfurt to fly out since it's a larger airport and you have extra time to get there (Frankfurt is about a 2-3 hour drive North from Stuttgart). Although Frankfurt is Germany's finance capital, it still has a large Christmas market, and it's one of the largest in Germany.
Day 10 – Fly Home
Head to the airport and fly out!