12 Perfect Day Trips From Anchorage, Alaska
Hey there!
This post may contain affiliate links, meaning I may be compensated if you click on one of my links, at no cost to you. As an Amazon Associate, I earn from qualifying purchases. Read my disclosure policy for more information.
I grew up an hour north of Anchorage, so I know quite a bit about the area. There are glaciers, river valleys, wildlife, mountains, excursions, and much more all just outside of Anchorage.
Most people think of Denali or Seward when planning their Alaska trip, and are surprised to find out just how much there is to do around this area. In this article, I will break down 15 perfect day trips that you can do from Anchorage.
Matanuska Glacier
Location: Glacier Park Rd, Sutton, Alaska
Recommended Day Tour: Matanuska Glacier Full-Day Tour
Just 2 hours north of Anchorage is the Matanuska Glacier, the longest glacier in the US that can be accessed with your car. At 27-miles long, it's also a stable glacier, meaning you can walk on it.
Until recently, you could pay a fee and walk around yourself. Now the only way to see the glacier is with a guided tour.
There are guided tours year-round which include all the gear you need. I can't say enough good things about the Matanuska Glacier Full-Day Tour. The guides visit areas that aren't easily accessible while maintaining safety on the glacier.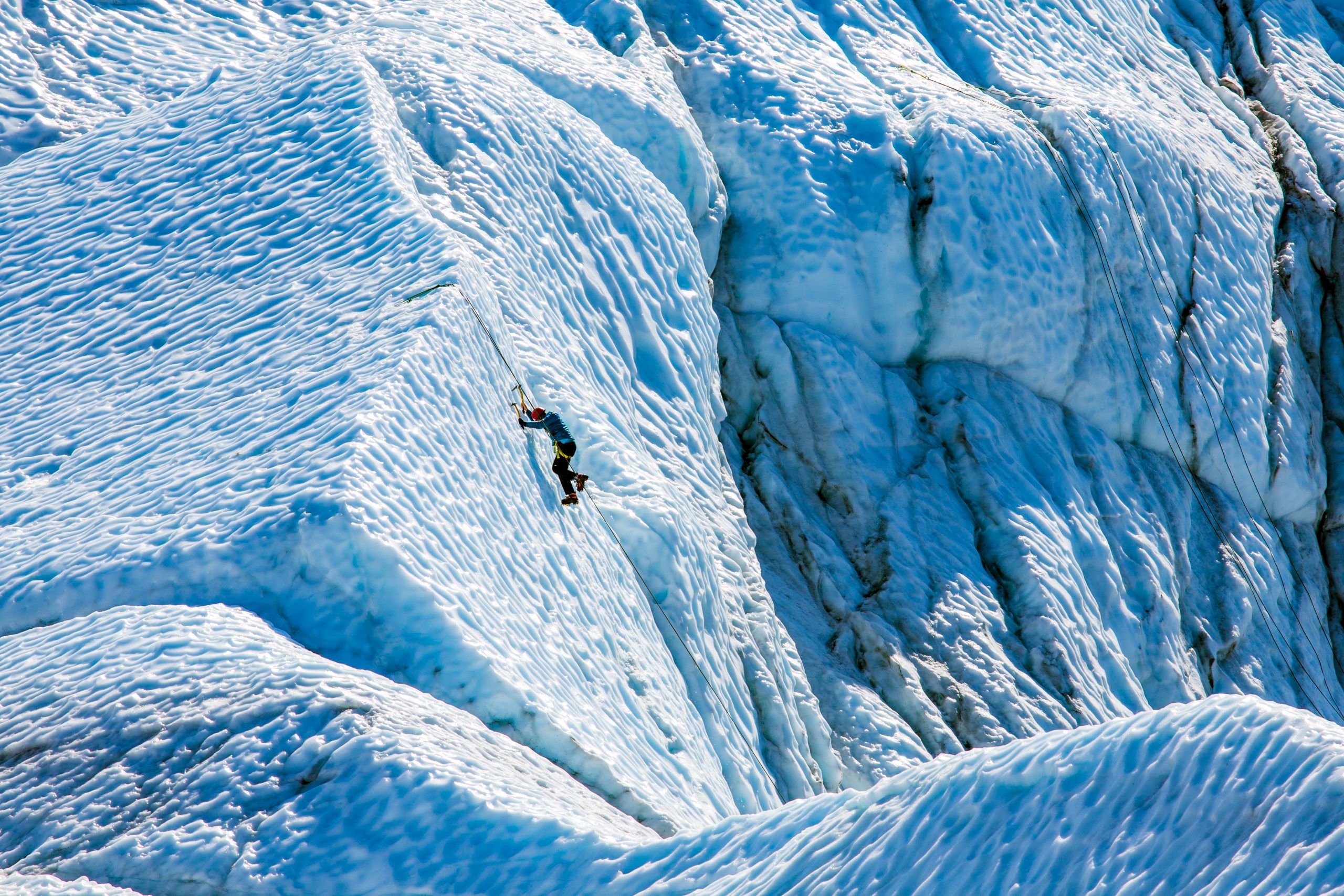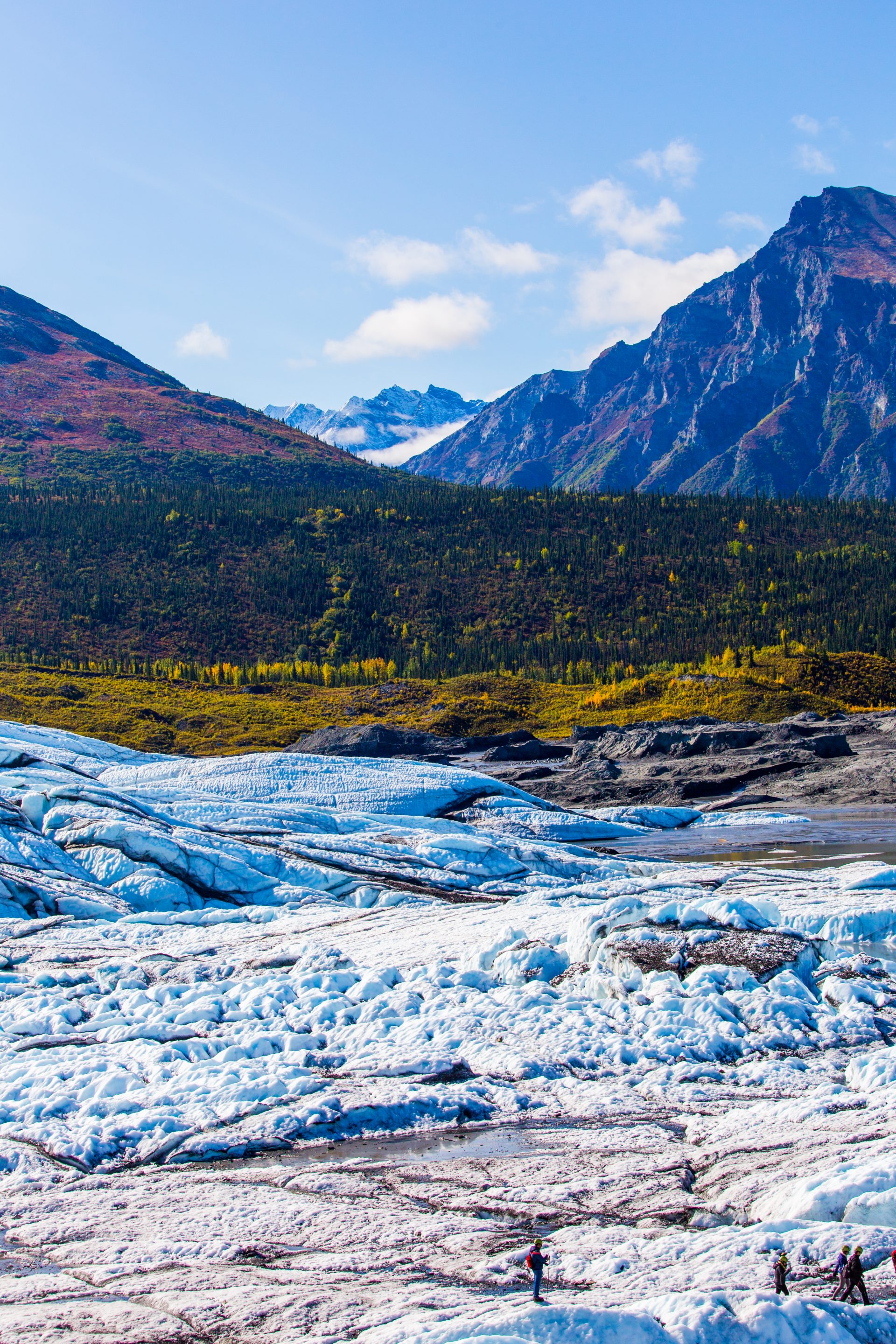 Talkeetna and Views of Denali
Location: Talkeetna, Alaska
Recommended Day Tour: Denali Flightseeing Tour from Talkeetna!
Roughly 2 hours north of Anchorage is the quirky and historic little town of Talkeetna. My favorite time to visit is in the summer months when there are events and all the shops are open.
One of the best things to do from Talkeetna is taking a flightseeing tour of Denali. It's a short ride out and in my opinion, the BEST way to see the mountain. I also recommend landing on a glacier while you're there. I highly recommend this tour with K2 Aviation for your trip!
Once you explore the shops and eat some grub, walk to the end of the road and you will reach the Talkeetna River. It's actually the confluence of three rivers that form the Big Susitna. From here you can view Denali on a clear day.
Don't forget to stop by Denali Brewing Company on your way out for a brew and some swag.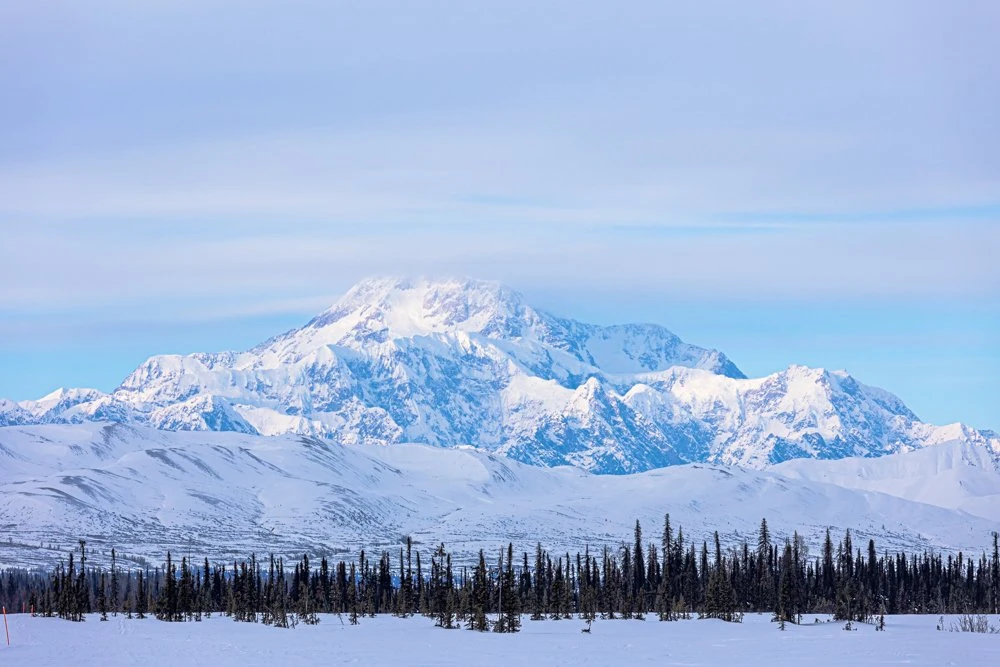 Eklutna Tailrace
Location: 13145 S Old Glenn Hwy, Palmer, AK 99645 (slow as you near the turn, as it can be easy to miss it).
Although the Eklutna Tailrace is technically a fishery, the deep blue glacier-fed water makes for some really pretty scenery. There's a large parking lot (with bathrooms) and a nice beach area along the Knik River. Many photographers use this area for family photos.
If you walk across the pedestrian bridge, you can take a right and follow the trail toward the hatchery. On the left, you can see old cars that were left and have been completely overgrown by the woods.
This stop can easily be combined with Reflections Lake, or you can continue down the Old Glenn Highway for a scenic trip.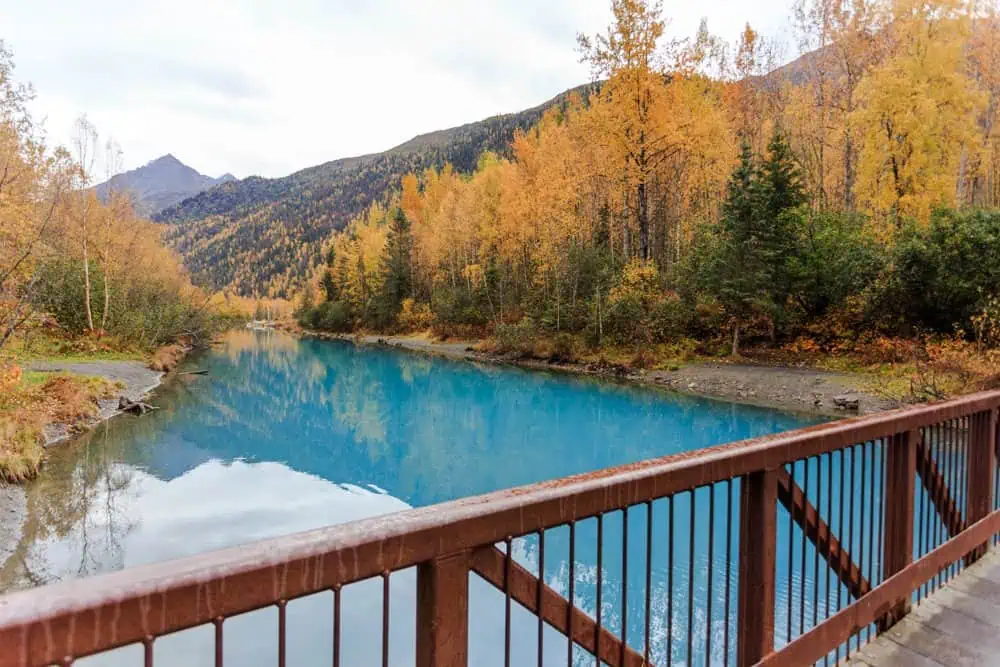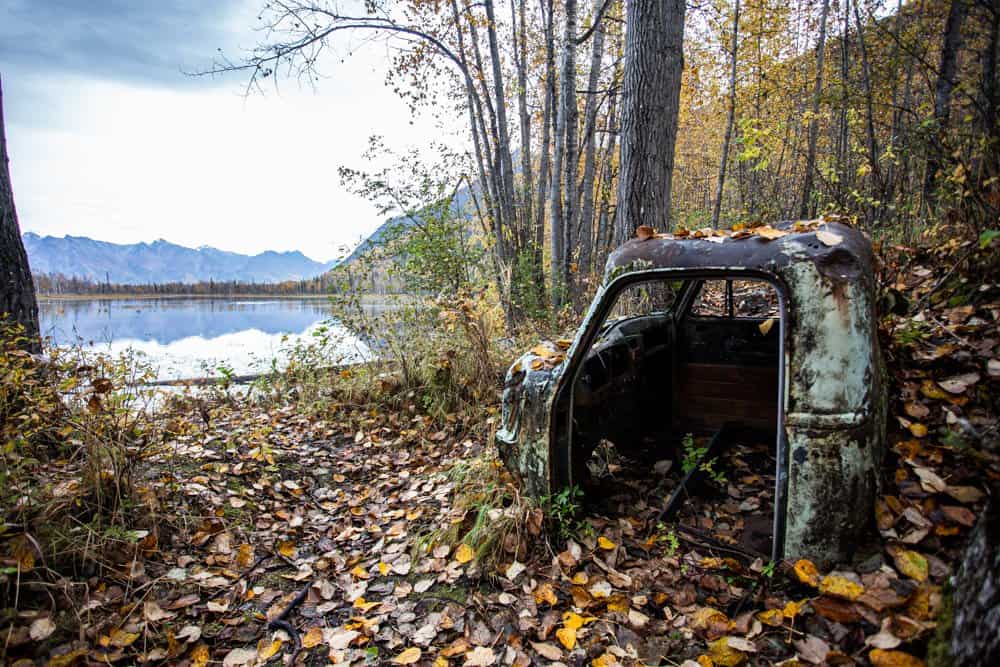 Eklutna Lake and Thunderbird Falls
Location: North of Anchorage – 30 minutes to Thunderbird Falls, 60 minutes to Eklutna Lake
About 30 miles North of Anchorage (toward Wasilla), there are two exits side-by-side along the highway. They don't stick out, so they can be easy to miss.
But, Eklutna Lake is a hidden gem in the area. This beautiful glacier-fed lake is not only a sight to see, but the windy drive there is stunning. It's about 42 miles (1 hour) from downtown Anchorage to Eklutna.
Thunderbird Falls is also an easy stop off of the Glenn Highway. The trail is a short 2-mile out and back hike along a beautiful lush path. The path is wide and it's hilly but easily manageable.
At the end of the trail, there is a long boardwalk and a beautiful waterfall. On a hot day (yes, those do happen), the spray from the waterfall is nice. There's also a side trail along the way that will lead you down to the river.
Thunderbird Falls is just a few minutes' drive from the highway, making for a quick trip.
Hatcher Pass & Independence Mine
Location: Hatcher Pass (or use Independence Mine as a landmark)
This day trip is about 90 minutes north of Anchorage and is a local favorite. The beautiful scenic drive winds its way past a large flowing river of rocky boulders and then continues up along the river. There are many hiking spots including the popular Gold Mint Trail and Reed Lakes. If you're an outdoor enthusiast, this place is your playground.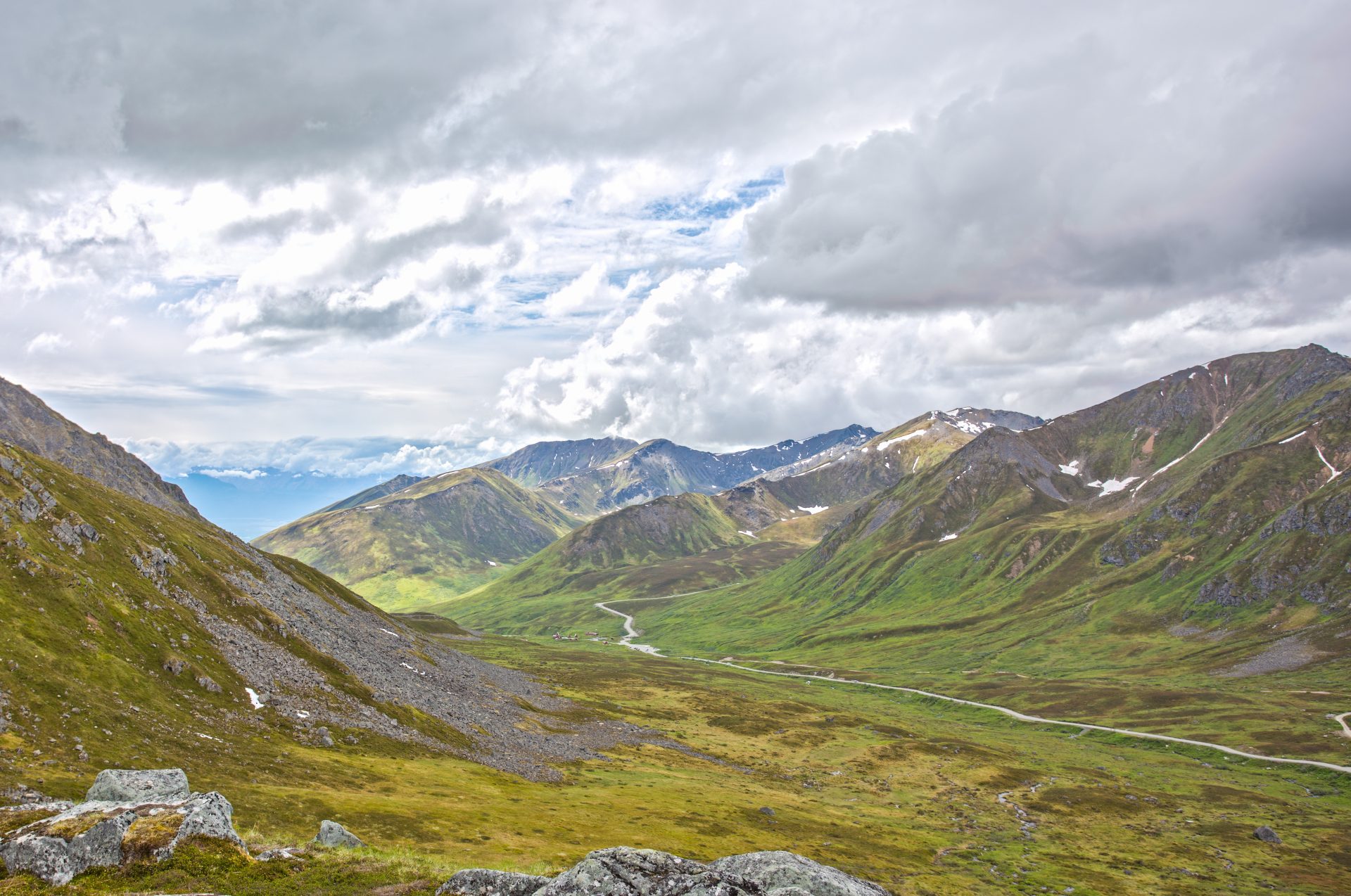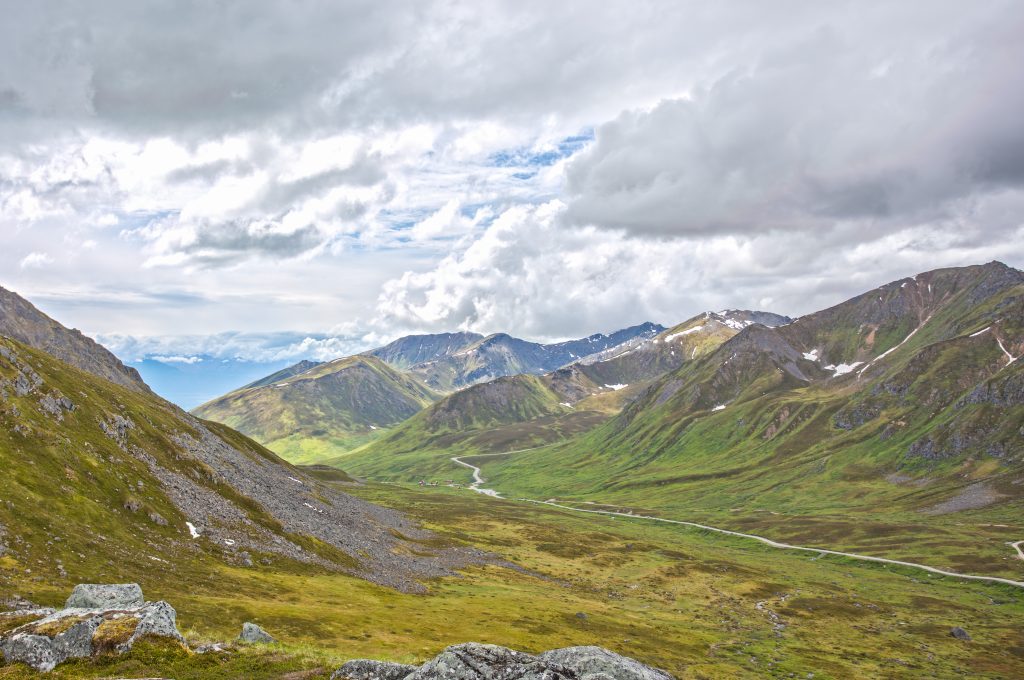 This drive is also unique because it's one of the only roads in the area that heads into the mountains. For the most part, hiking or flying are required to get to these vantage points.
The area was originally built for mining and had a large-scale mining operation. Today there are many well-preserved buildings and artifacts at Independence Mine State Historical Park. There is a large parking lot at the mine and a lot of information from its heyday. There is a small information center as well.
From the mining parking lot, there's a hiking trail across the road that heads up to gold cord lake. It's a small, crystal clear lake with panoramic views.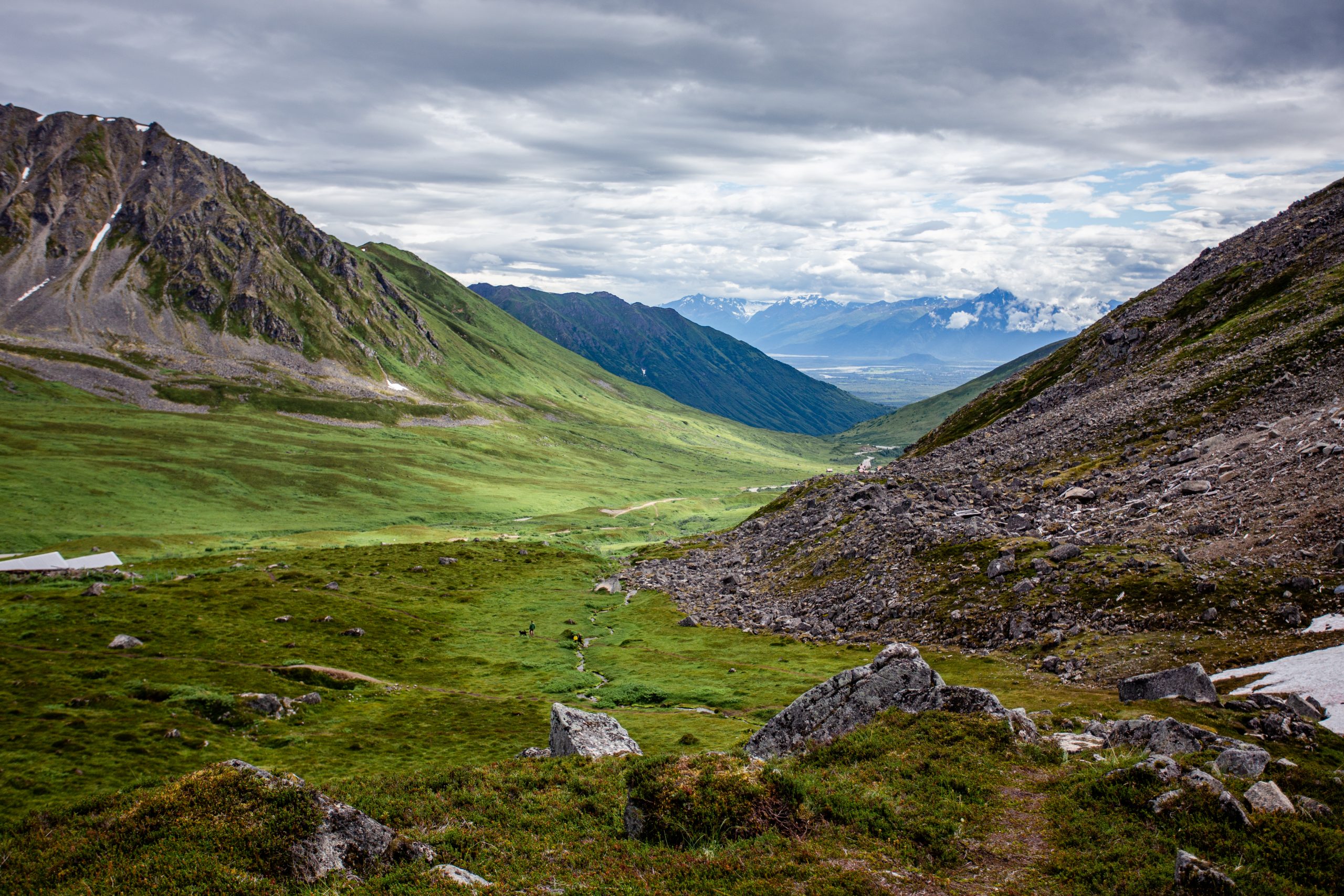 Turnagain Arm
Location: The drive is the destination. Drive south of Anchorage toward the town of Whittier or Seward.
Recommended Tour: This drive can easily be done without a tour. However, if you don't have a car, I recommend a tour that combines the Wildlife Conservation Center and Girdwood into one package. This one is highly recommended and includes all the good stops!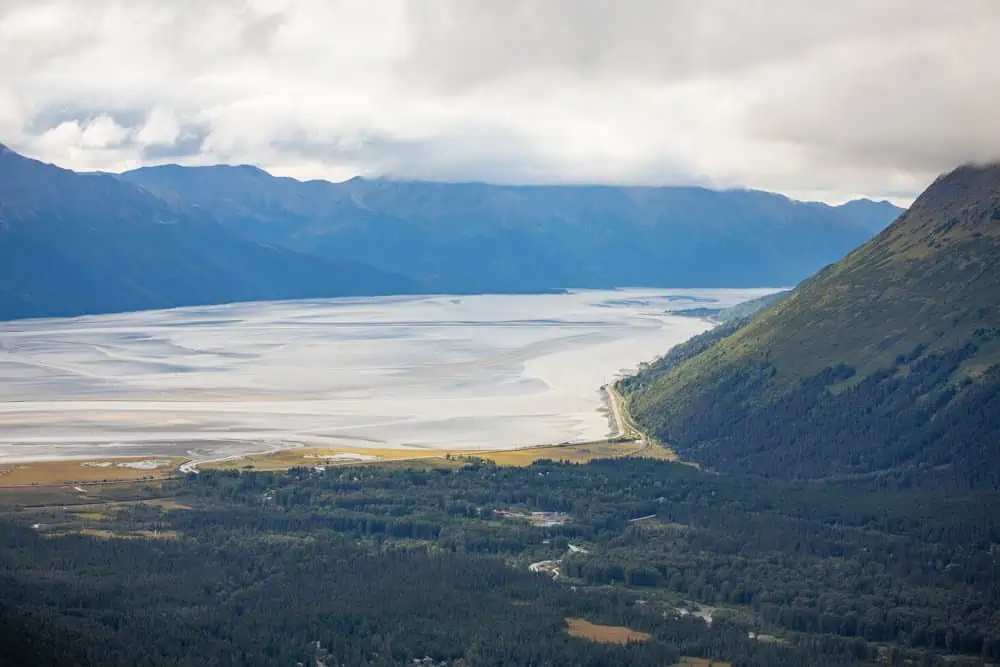 Considered one of the most scenic drives in North America, this is one area in Alaska you don't want to miss. The road is carved between cliffs and the inlet with many stops along the way.
You could easily make a full day out of this stretch of road called the 'Turnagain Arm'. If you want to combine multiple stops, the town of Girdwood, the Alaska Wildlife Conservation Center, and Portage Valley and Glacier are all along this route.
Potter's Marsh is on the outskirts of Anchorage as you head toward Turnagain Arm, and has a long boardwalk for wildlife viewing. Once on the 'Arm', Beluga Point is the first stop, and often you can see Dall sheep on the cliffs. Bird Ridge is a popular hiking trail, and there are many others along the way.
There are also waterfalls where you'll often see people filling their water bottles with fresh glacier water.
Turnagain Armpit BBQ has a large patio and is one of the only restaurants between Anchorage and Girdwood. For a sweeping view of the inlet with a local beer, this would be my recommendation. There is a dedicated biking/running trail as well as the small Bird Creek campground.
The Turnagain Arm is also home to the famous Alaskan Boretide, one of only about 60 in the world. Surfers from all over the world come for this unique experience. The bore tide occurs after an extremely low tide due to a full or new moon. This bore tide is about 6 to 10 feet tall, reaching speeds of 10 to 15 miles per hour. Because it occurs around the moon, be sure to check out the bore tide table to see when the next tide will be in.
Girdwood and the Alyeska Tram
Location: Girdwood, Alaska
Recommended Tour: This is also an easy DIY drive from Anchorage. If you don't have a car, I'd recommend the same tour as above, the Half Day Turnagain Arm Tour.
Girdwood is possibly my favorite town in Alaska. It's one of the only ski towns in the state and retains that original small-town ski resort feel.
For a unique experience, I recommend a helicopter tour. We went in 2017 and it was a phenomenal experience! We spotted moose from the helicopter, and many glaciers as well. These tours aren't cheap, but years later I am still talking about how much I enjoyed this tour, so it's definitely worth considering!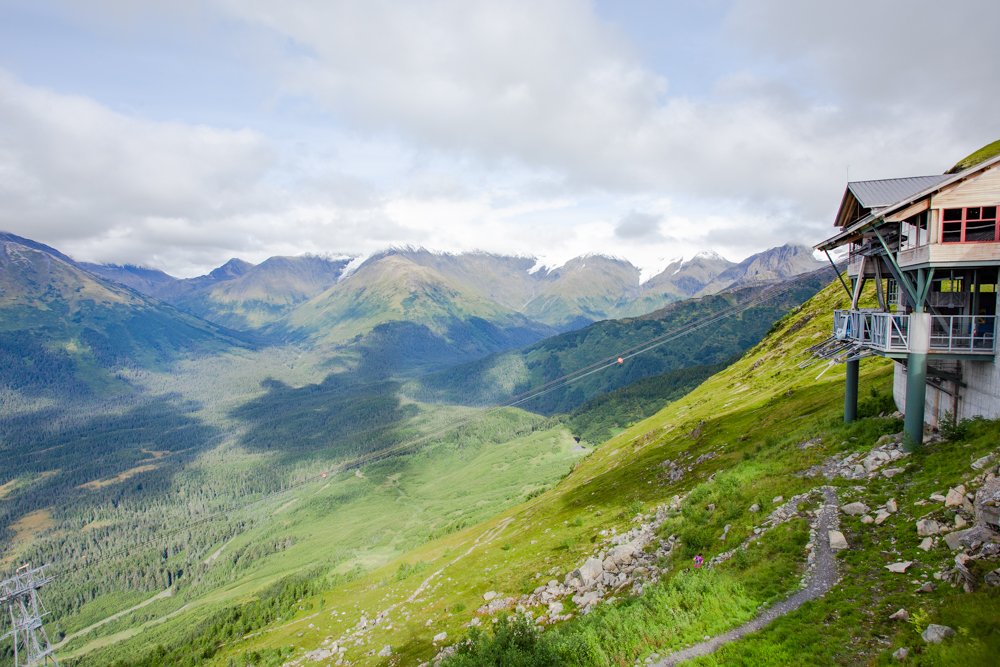 Overlooking Turnagain Arm on the edge of the Chugach Mountain Range and host to some of the best skiing in all of Southcentral Alaska, this resort offers more than 3,000 acres of land dedicated to year round fun.
Must-Do's in Girdwood
There are quite a few things you can pack into this day trip. Take the tram at Alyeska to the top of the mountain. At the top, grab a drink or bite to eat at the Boretide Deli and Bar while enjoying sweeping views of the mountains and inlet.
Winner Creek: This 3-mile long trail leads to a beautiful gorge. It's a wide and well-developed trail with a 3/4 mile boardwalk at the beginning of the hike.
Since there isn't much elevation gain, this a great trail for everyone.
Girdwood Brewing Company: This brewery makes some of the best beer in Alaska and has a local ski town vibe (there's even a few ski lifts to lounge on). They recently added another indoor seating area, and there's a large outdoor patio with firepits. There are food trucks daily in the summer months.
Virgin Creek Falls: This is a beautiful hike to waterfalls and is only about a 1/2 mile roundtrip. The hike starts at the end of Timberline Drive, which is a residential neighborhood in town, so be sure to park with consideration. The falls are beautiful year-round.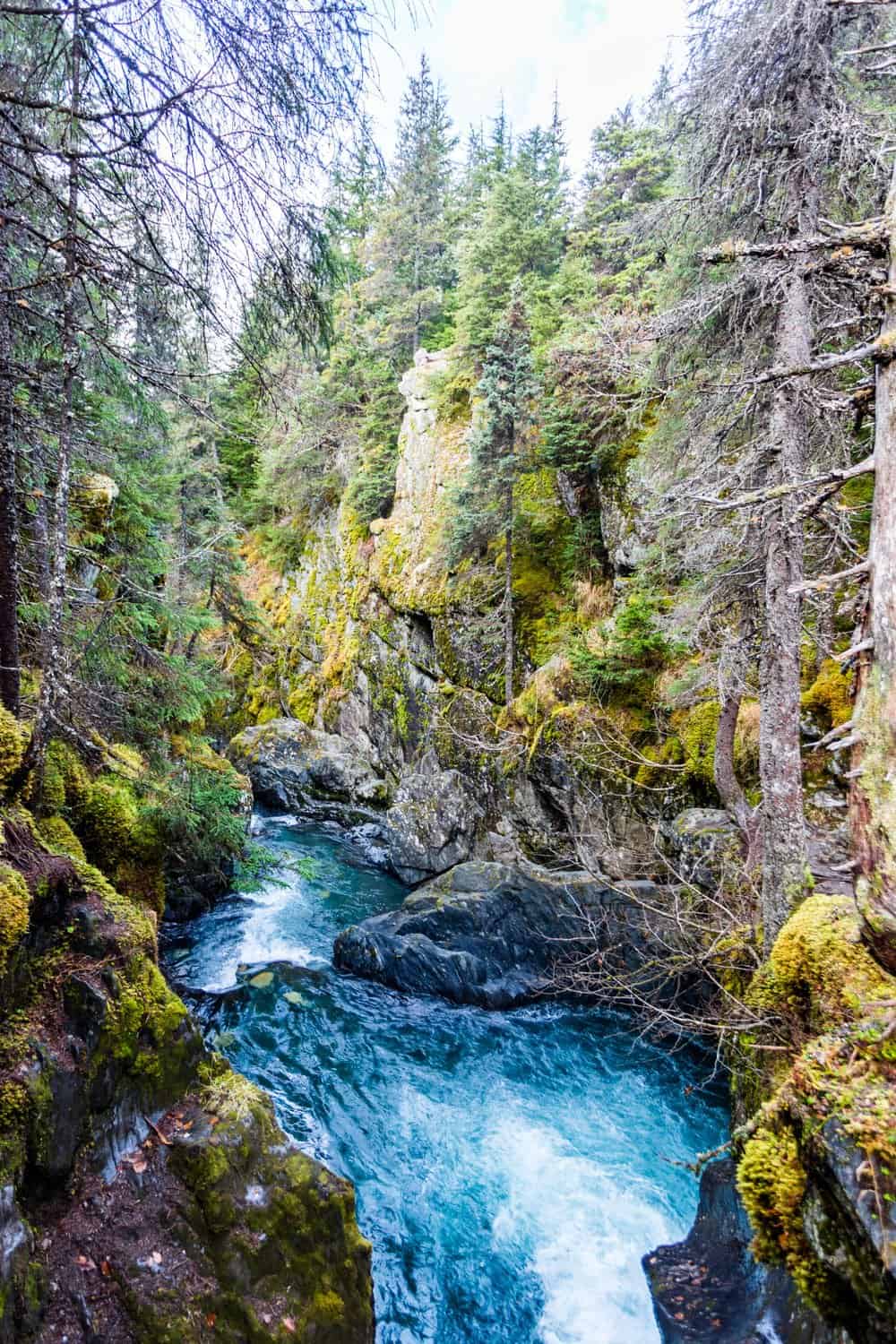 Alaska Wildlife Conservation Center
Location: 55 minutes South of Anchorage (past Girdwood) along the Turnagain Arm.
Just outside of Anchorage along the Turnagain Arm, the conservation center provides more than 5 acres for animals rescued by or surrendered to wildlife officials, with an emphasis on native species that have been displaced by human development or require medical attention.
There is an entry fee, and visitors can enjoy interactive displays while learning about the impact that wild animals have played in Alaskan history. A few retired residents still roam the zoo grounds (behind fences, that is), such as a grizzly bear and lynx.
I recommend combining the Conservation Center with Girdwood and Alyeska. If you are trying to decide between the Conservation Center or the Anchorage Zoo, I will save you the hassle – visit the Conservation Center, you won't be disappointed!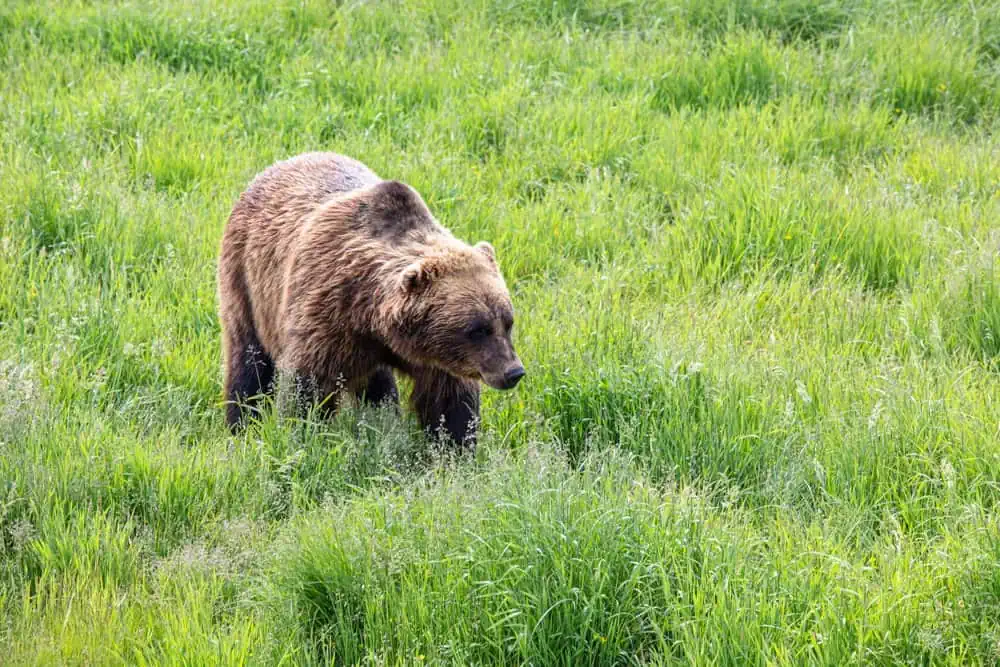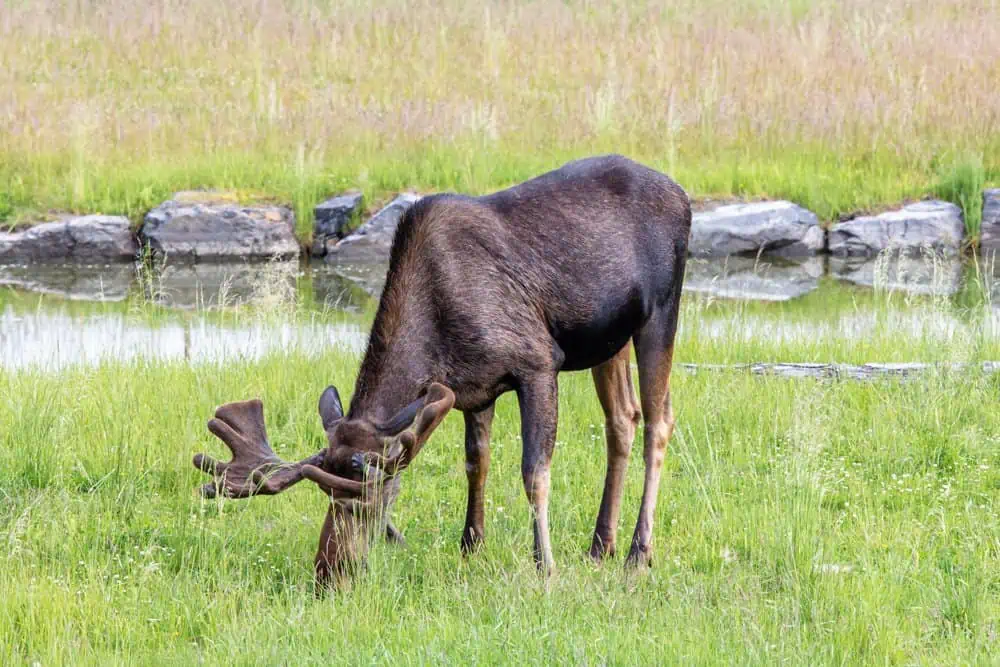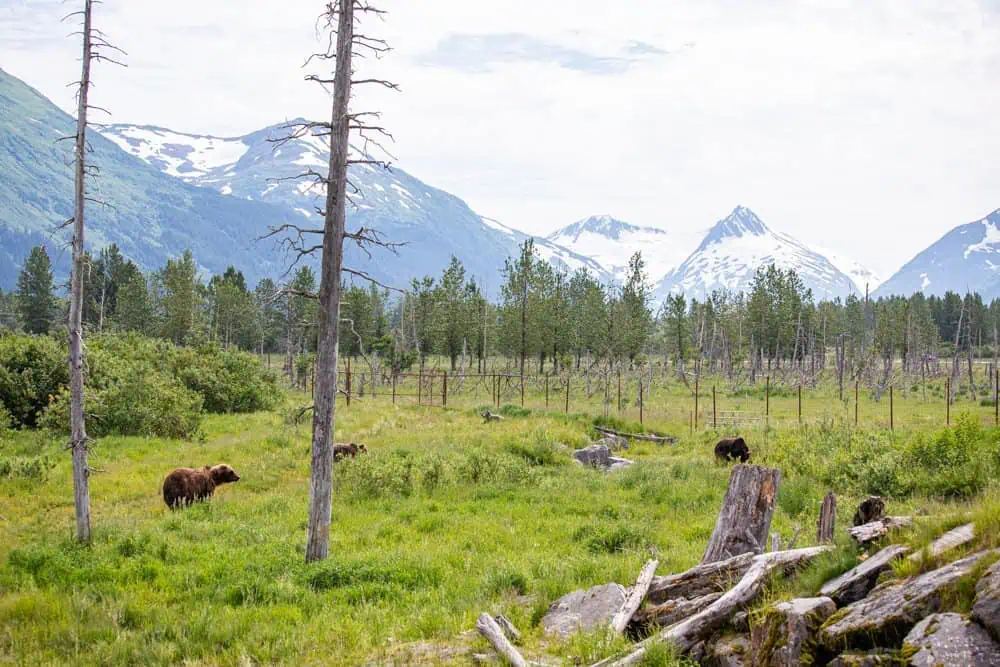 Eagle River Nature Center & Barbara Falls
Location: 30 minutes North of Anchorage (in Eagle River)
Located about 40 miles north of Anchorage in the Chugach National Park, this nature center really makes you feel like you're in the middle of nowhere. The drive down Eagle River Road looks like something out of a fairy tale, with panoramic mountain and glacier views.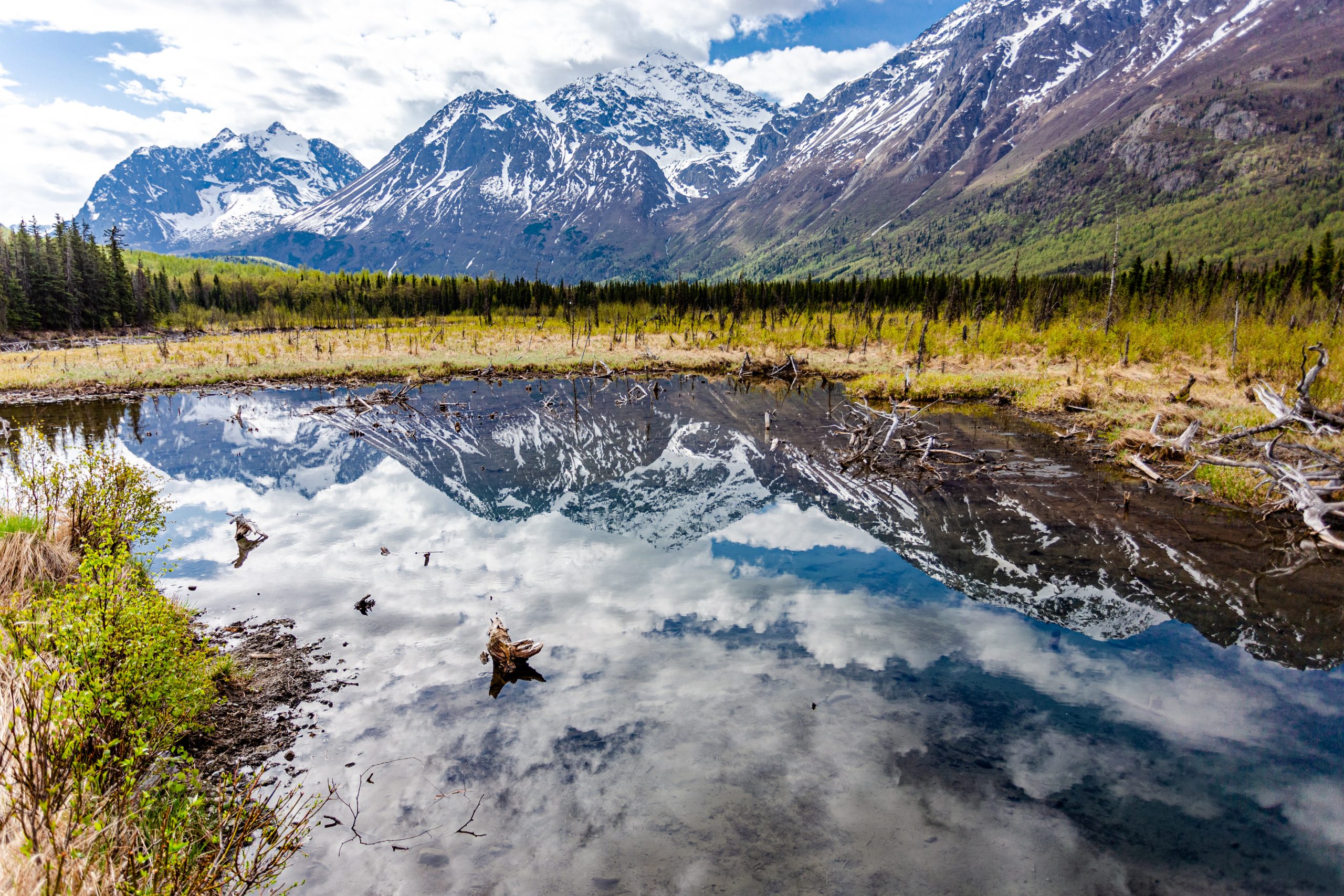 Once here, explore seasonal exhibits that are constantly changing while learning more about Alaska's wildlife and ecosystems. In colder months, enjoy cross-country skiing, snowshoeing, ice skating or sledding on your way home! Dogs are welcome but must remain leashed at all times.
There are a few boardwalks and sometimes fish can be seen swimming in the crystal clear glacial water. Albert loop is an easy 3-mile circle, and this is also the starting point for Crow Pass trail.
This is a great spot for kids as there are multiple trails, educational signs, and my 4-year old loves to run across the boardwalks.
The Nature Center also has rental cabins and yurts available for overnight stays so that you can truly get away from it all and experience Alaska up close.
Keep in mind that this is bear country, and there are often signs posted of the most recent bear sightings.
Reflections Lake
Location: Reflections Lake, Palmer, Alaska
From the highway, Reflections Lake may not look very exciting, but it's one of my favorite places for a quick hike. The drive is a short 32 miles north on the Glenn Highway, and there is a large sign just past the Knik bridge. Take the exit, go left under the highway, then take another left toward the parking lot.
The trail is a short 1.1-mile loop. What I love about this trail are the boardwalks and the large three-story lookout point. From here, you can get sweeping views of Pioneer Peak, Sleeping Lady, and the Chugach mountains as well as the larger Matanuska-Susitna Valley. Often there are moose and other wildlife roaming the marshy area.
In the summer months it gets REALLY buggy, so be sure to have mosquito repellant on hand. I recommend either Deet or Repel Lemon Eucalyptus as the best non-Deet alternative.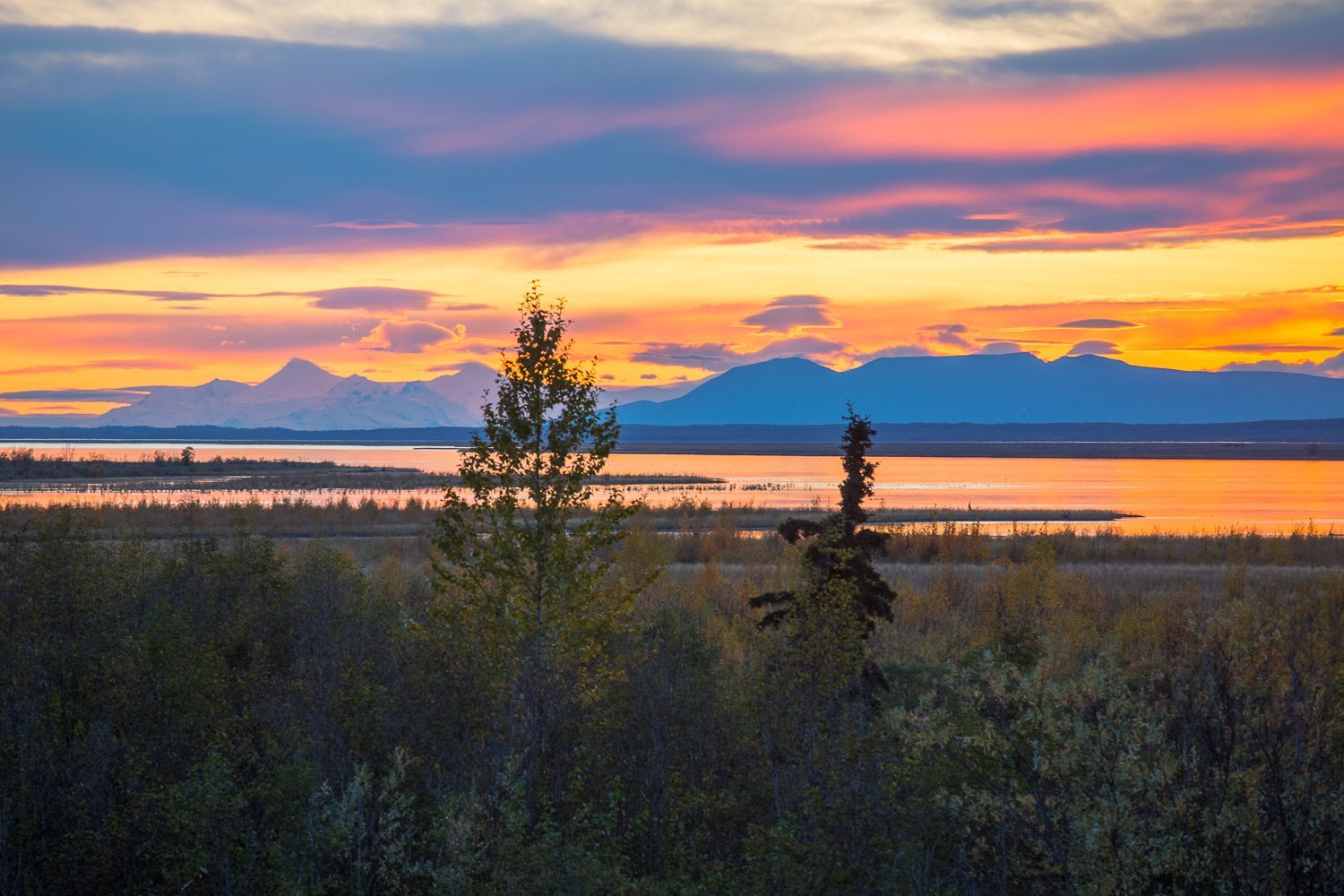 Portage Valley & Glacier
Location: Portage Glacier, Anchorage Alaska. 90 minutes south of Anchorage
Recommended Tour: For a hassle-free experience, I recommend this Wilderness and Glacier Day Tour from Anchorage.
This is one of the most popular day trips from Anchorage, Alaska. The drive alone is beautiful but once you get to Portage there is so much to explore.
Portage Valley is most known for its glaciers. Visitors can tour the calving face and get close to ice chunks as they crash into one another. Nearby hiking trails lead up through brushy areas before reaching views over Portage Valley and Cook Inlet.
Hiking trails can be taken from various points with the most popular being the Portage Pass trail. The Trail of Blue Ice is a 5-mile maintained flat path that's great for biking and kids. There is also the nearby Byron glacier hike which is a 3.2 mile out and back trail. A visit to these glaciers will give you an appreciation for the sheer magnitude of some of Alaska's natural landmarks.
If you pass Portage, you will get to the Whittier Tunnel, a 2.5 mile one-lane tunnel and the longest of its kind in North America. Drivers and trains share the tunnel and take turns getting through, so be sure to check the timetable if you're planning a visit.
Kenai Fjords National Park
Location: Roughly 2 1/2 hours South of Anchorage (depending on construction)
I thought I'd mention this one since technically you can make this a very long day trip. But, if you have the time, I'd make it a long weekend trip to explore the entire area.
The Kenai Fjords National Park is over half a million acres of land including over 40 glaciers. The town of Seward is just outside of the park and is the main place to get a glimpse of this massive area.
In my opinion, the best way to see this national park is from the water. I've been on a few tours over the years and am always just as excited to go again (and I'm from here!). The most popular tour operators are Kenai Fjords and Major Marine Tours, and both offer a similarly exceptional experience. At a minimum, you'll see glaciers, sea otters, seals, stellar sea lions, and there's a very good chance you will see whales as well. I recommend this tour with Kenai Fjords as it's reasonably priced and you will see all the main sights on this 6-hour cruise.
If you have extra time, walk the old downtown area or visit the Alaska SeaLife Center.
I hope these 15-day trip ideas help you with planning your trip. If you have any questions, feel free to leave a comment, I'm always happy to help out!
Packing List
At a minimum, here is what I recommend for your day trip:
Mosquito Repellant – I try to find non-Deet options where possible. My favorites are the Thermacell and Repel's Non-Deet Lemon Eucalyptus Repellant. If you will be in thick woods or near water sources, then I'd recommend having Deet on hand.
Layers Layers Layers – I recommend a lightweight base layer, pants (this is a good bug deterrent as well), jacket that also works as a rain jacket (or a separate rain jacket), ball cap or hat, rain boots, and comfortable shoes.
Sunscreen and sunglasses – when the sun does show it's face it can get pretty bright and warm!
Camera and camera batteries – I believe the best camera is the one you have on you, and today most people have an iPhone or Android with great camera capabilities. I personally use the Canon R6 (upgraded from the Canon 6D) and various lenses.
Large Water Bottle – I can't stand buying plastic water bottles, so I always bring mine with me. I prefer a metal bottle and recommend the Hydro Flask.
Read More Alaska Articles