The Stuttgart Christmas Market: Everything You Need to Know
Hey there!
This post may contain affiliate links, meaning I may be compensated if you click on one of my links, at no cost to you. As an Amazon Associate, I earn from qualifying purchases. Read my disclosure policy for more information.
I love Christmas Markets in Germany. LOVE THEM. It's not just full of shopping and food, it's an immersive experience. Before ever visiting, Christmas markets weren't even on my radar, but now they are in my top five recommendations for Germany. These markets, set up from mid-November to December, fill pedestrian streets and open squares with vendors selling all sorts of things.
Stuttgart Christmas Market
The Stuttgart market is unique for many reasons. First of all, it's really big. There are over 250 stalls sprawled throughout the large pedestrian downtown area. You could easily spend a day wandering to the different Platz's (squares) and winding streets just checking out the vendors.
The market is also special because they hold a competition every year for the best-decorated rooftop. They take it quite seriously too, and even some have animated reindeer or other characters on their rooftop.
The amount of effort that goes into these markets is nothing short of impressive, and when combined, creates a magical air about it. Vendors sell everything from home decor, Christmas decorations, homemade wooden items, food, and perhaps best of all, Gluhwein.
Things to See and Do
Since the market fills the entire downtown area, there are many different areas of this Christmas Market.
At the main square, Schlossplatz, there is an ice skating rink and plenty of Glühwein to keep you warm. Just beyond the square is a Finnish Christmas Market. Here they serve Finnish Glögli instead of Glühwein. There is also a Flomarkt (flea market) with many vendors.
Don't miss the tall Christmas Pyramid (Weihnachtspyramide), a staple at all Christmas Markets. And be sure to look up when walking around to see all of the beautifully decorated Christmas stalls.
I also recommend visiting the Altes Schloss. During the Christmas season, there are concerts and shows almost daily from the end of November through December 22nd.
And while it may sound corny, the best thing to do at any Christmas market is to grab a mug of Glühwein and wander around for hours, taking it all in.
Food and Drink
Gluhwein is THE drink for these markets! It's a hot mulled wine with cinnamon and spices. Nearly every other stall sells this mulled wine piping hot, often from a massive pot, which is the perfect way to warm up on a cold winter's day. It is an absolute 'must do' during the holidays if you happen to be in the area. If you want to add a kick just say 'mit rum'.
If you prefer a non-alcoholic drink, there are also plenty of options to keep you warm!
Pfand: If you order a drink at any market, they charge a 2 euro (or more) deposit (pfand) for the mug. When you return the glass you get your deposit back. Over the years the prices have increased, I assume because patrons end up keeping these ornately decorated mugs for themselves (who would do that?!).
There are tons of food options. You will find the normal assortment of bratwurst, pommes (fries), and bakery items such as brezel (pretzel). They even serve fish on a stick (see picture below!). There are delicious soups and many other tasty items to try.
If you are new to this area, I recommend trying Currywurst, Flammkuchen, and Käsespätzle. You will not be disappointed!
Getting There
There are many ways to get here. I prefer and recommend taking the train to avoid traffic and parking. Stuttgart is known for its traffic on a normal day, so during the Christmas Market, it is much worse.
Take the S-Bahn (S1, S4, S5, S6, or S60) and stop at either Stadtmitte or Hauptbahnhof (these stops are not far from each other). Here is a link to the S-Bahn map which is also available on the train. I recommend downloading the VVS app. Ticket prices are cheaper when purchased directly with the app and you can do it on the walk to the station.
If driving, you can always try to snag a free spot around the city. This will typically require some driving. Otherwise, there are plenty of parking garages in the downtown area. The ones closer to the Hauptbahnhof tend to cost more, so I'd look for one a little further away.
There are Frauen parking areas in the German parking garages. If you see this, it means it's parking only for women. So if you have a car with only women, then you can park here! It's a nice safety feature in place that I always appreciate.
Tips for Your Visit
Bring Cash: While more and more places are accepting cards, it's best to have cash for these markets.
Bathroom Breaks: Bathrooms in Germany are not free. They set up nice bathroom stalls throughout the markets, but I've always found them to be more sparse than I'd like. And, often the lines can get long. Be sure to have change on hand for the toilette as it usually costs .50-1EUR. There are also some fixed bathrooms along Koenigstrasse (the main pedestrian steet). They are small circular structures. We will often stop somewhere for a snack or dinner and use the free toilets.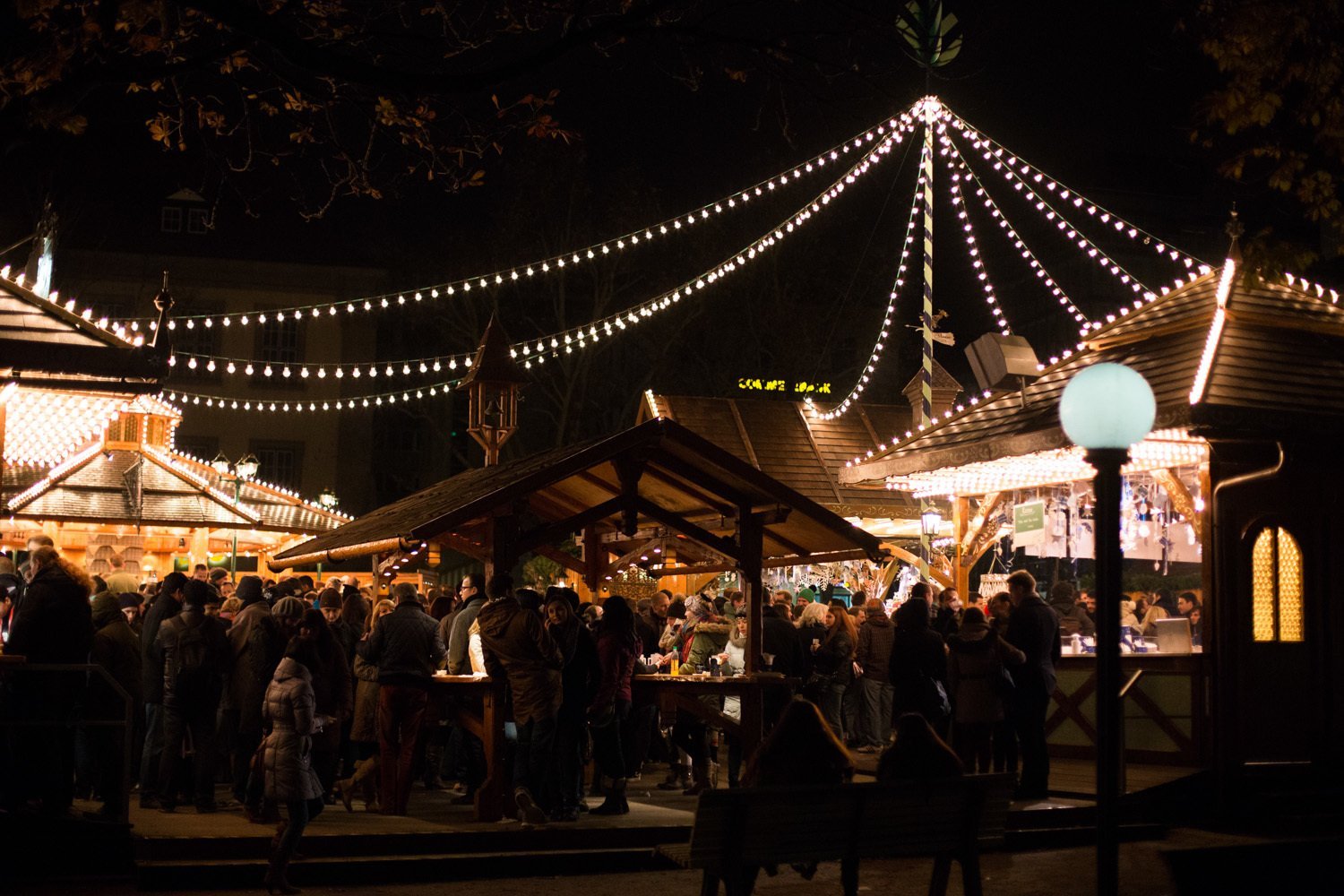 When to Visit
Unfortunately, this market is almost always packed. The busiest times are at night (after 5pm) and on weekends. If you want the experience without the crowds, I recommend a weekday in the morning or early afternoon. Most vendors and shops open at 11am.
Before the main market opens, there is the mini Christmas Market which takes place at Schlossplatz. They set up the ice skating and some vendors. This market opens toward the end of November and runs about two full weeks before the main market starts.
The markets run daily, and close around 10pm. Be sure to check the official website because this can change from year to year.
This market (like most in Germany) ends before Christmas, usually on the 22nd or 23rd. If you still want more Christmas markets, I recommend heading to Strasbourg, France. Their market runs into the New Year!