Our first week in Germany was a success! We took care of a lot of important 'just moved to a new country' items. I must say, the Army takes care of EVERYTHING for us. We went to a few classes and they provided us with so much information it was stupid. They offer free language and cultural classes on base, as well as have essentially everything you would need. Personally, I think it's great. If I get homesick I can go on base and be in a little America :). If anyone reading this ever is looking to get stationed overseas, you have nothing to worry about. They help with anything and everything.. We actually get a washer and dryer issued to us. If we wanted, we could get beds, American size refrigerators, furniture, etc.
So, on to the REALLY exciting news, we already found a house! It was actually the second place we looked at. It's in Leinfelden-Echterdingen. The first place we looked at was absolutely amazing. It had one of the prettiest views I could ask for, but, it was too far away and in a very quiet town. Unfortunately, we're not that quiet and like being around shops and restaurants. So, we went to check out another place and knew immediately that it fit the bill with everything we were looking for. It's a 4 story townhouse (we are suckers for townhomes lol) with plenty of room to move around. It has a terrace out back with a large patio and grassy area for Juno. The main floor is all hardwood flooring and very open. Then there's a basement below and two floors above. The master is on the third floor with a large bathroom. The only thing that kind of sucks about Germany is that they don't have closets. So, we will be going to IKEA or a German furniture store once we move in.
Also, the location is great. There is a grocery store, bakery and butcher (metzgerei) next to the townhouse and right up the road is the main street with shops, cafes, restaurants, gelato, and more. If you head out the other way, it's all fields and forest. Speaking of, the forests have amazing trails that weave all throughout. In fact, when we were heading to check out the house, our driver told us that the woods have a lot of old mills that sit along the trails. They have conveniently been converted into Beer Gardens. She said it's a popular trail to walk or bicycle, then stop along the way to have a drink! How neat is that?!
Also, we originally planned on having only one vehicle for the 3 years we will be living here. However, after a week of running around and figuring things out, we learned that even with all the great public transportation available, we will both still need a car to get around. There's just no way we could manage with one car.
Another Boblingen shot of the lake (this time with the nice camera)
TJ in the distance – park in downtown Boblingen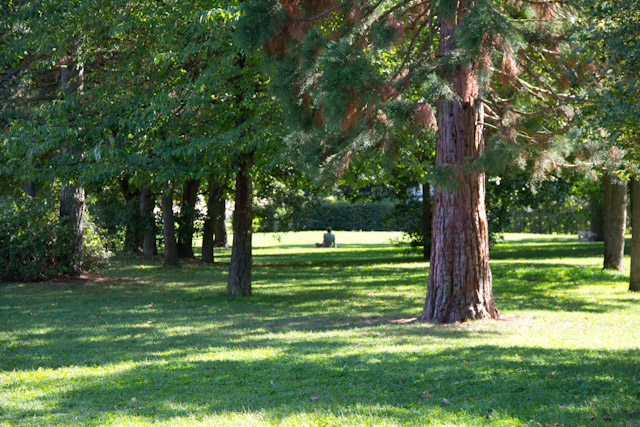 Another thing I love about Germany…families and kids actually play outside all the time!