We went to Stuttgart for the first time last Saturday night. I fell in love instantly. One of the locals we talked to said people aren't crazy about Stuttgart and say it's small compared to some other cities…I didn't get that.
There's about 600,000 in Stuttgart and well over a million including the surrounding areas. There's a large downtown area that has two intersecting pedestrian walking areas. Tons of shops, restaurants and bars line them up and down (I cannot wait to go shopping). We went to a Spanish place for dinner that served tapas and the best Sangria I've ever had in my life! A pitcher was only about 9 euro a piece as well. We will be going to Stuttgart again this weekend…and most likely the next for the Cannstater Volksfest (Stuttgart's Oktoberfest).
Downtown Stuttgart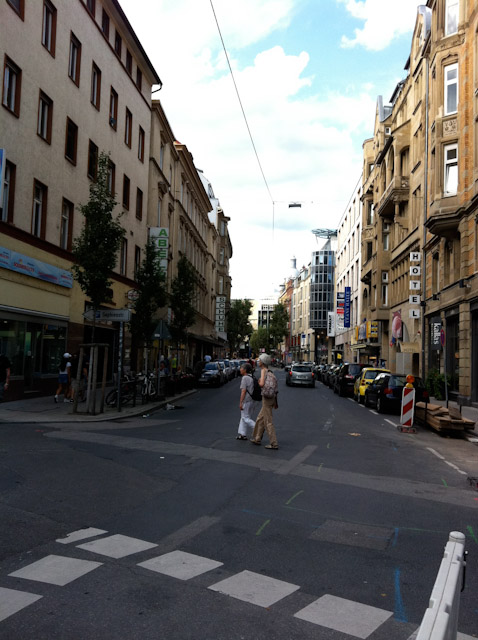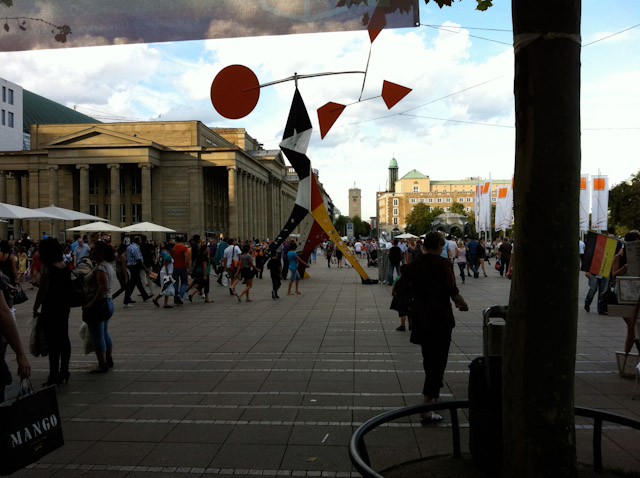 I was walking Juno down at the park and another dog came running up with some kids following. They both looked about 8 years old. One of them tried asking me something about Juno in German…of course I had no clue what he said. So I said 'huh?'. He repeats it and after realizing I will never understand him no matter how many times he repeats himself I managed to muster 'Nein Deutsch'. Well, he understood that and switched to English for me. I was completely humbled, and a bit embarrassed by this 8 year old that he could speak two languages and I am still stuck on 1. Can I just blame American Society for not integrating enough language into our education?? This reminds me, I need to start looking for a language class.