How to Spend a Weekend in Heidelberg, Germany
Hey there!
This post may contain affiliate links, meaning I may be compensated if you click on one of my links, at no cost to you. As an Amazon Associate, I earn from qualifying purchases. Read my disclosure policy for more information.
Heidelberg is a beautiful town along the Neckar River and is considered one of the most romantic towns in Germany. A quick glance at the photos below makes it easy to see why.
The town is made of red rooftops, half-timbered homes, and a castle in ruins perched atop a hill overlooking Heidelberg main below. Cobblestones fill the nearly mile-long pedestrian street lined with shops and restaurants. It is quintessential Germany and loaded with history.
Know Before You Go
Where is Heidelberg?
Heidelberg is located in western Germany near the border of France. It's south of Frankfurt and north of Stuttgart. If you fly into Frankfurt and plan to head to France, I would recommend stopping for a night in this picturesque town.
Best Time to Visit
Heidelberg is a great place to visit year-round. It is a beautiful town in nearly any weather and there are quite a few things to see and do. It does get quite cold in the winter, especially with the Neckar River running through.
And if you prefer the indoors, there are plenty of shops and restaurants to keep you busy.
My personal favorite time of year is spring and fall. The weather is mild and there aren't as many tourists. Fall is especially magical with all the vibrant oranges, yellows, and reds that dot the hillsides.
Festivals and Events
In the weeks leading up to Christmas, you can enjoy a hot mulled wine (glühwein) at the large Christmas market downtown. in February, the Vampire Ball is one of the largest Carnival parties in Germany. Nearly 140,000 people attend it annually!
A few times a year, the castle comes to life in fiery red illumination and is followed by a large fireworks show over the Neckar River. It's a stunning sight to take in and is reminiscent of the times the castle was set on fire in its history.
The University and castle also hold many other events throughout the year.
Weather
Weather in this area of Germany experiences four seasons and winters can be snowy and cold. Summers are hot with the hottest temperatures in July and August. It can get up to 100F and not all hotels have air conditioning, which is something to keep in mind.
Driving the Autobahn
This isn't related to Heidelberg, but this weekend marked our first experience on the Autobahn. I've already realized that the Autobahn isn't the crazy image I had pictured. Autobahn means highway in German, and the Autobahn is just the highway system in Germany.
There are places that have no speed limits, but if you are driving near a city there are posted speed limits. There's also a lot of road construction in Germany, and I recommend using the Waze app or similar to see traffic and construction updates to the minute.
---
Things to See & Do
Church of the Holy Spirit
The Church of the Holy Spirit is near the end of the pedestrian area and is quite beautiful. It's also close to the entrance of the castle path. If you're walking around, you can't miss it. There is a square next to the church and the bells echo throughout Heidelberg every hour.
Restaurant Tip! There is a great little Italian restaurant hidden behind the castle called Trattoria Toscana Heidelberg. The food is fantastic and the service is great. I go every time I'm there.
Heidelberg Castle
The Heidelberg Castle is a massive ruin made up of multiple buildings and in the center is a large courtyard. Just as impressive are the views. Looking out from the castle you can see all of Heidelberg below and the winding Neckar River curving between the hills.
There is a small admission fee of 7EUR to enter. Once inside the castle grounds, there's an apothecary with bottles of drugs that were sold from the 17th to 19th century. I found this pretty fascinating and recommend checking it out. There are also large tiered outdoor gardens and the largest wine barrel in the world!
If you're thirsty or need a snack, there's a little restaurant and bar with some outdoor seating.
Heidelberg Schloss (castle)
There are a few ways to get to Heidelberg Castle. The most popular options are to either climb the stairs (about a 5-10 minute walk uphill) or take the funicular. The funicular is located at Kornmarkt. If you are driving, there is a Parkhaus (Kornmarkt Parkhaus) or you can find street parking. If walking, take Burgweg (castle path) and follow the path up the hill.
Walk the Pedestrian Zone
Aside from castles and churches, Heidelberg is known for its nearly mile-long pedestrian street. There are a lot of cute shops, bars, and restaurants. I always enjoy walking the streets, window shopping, and people watching.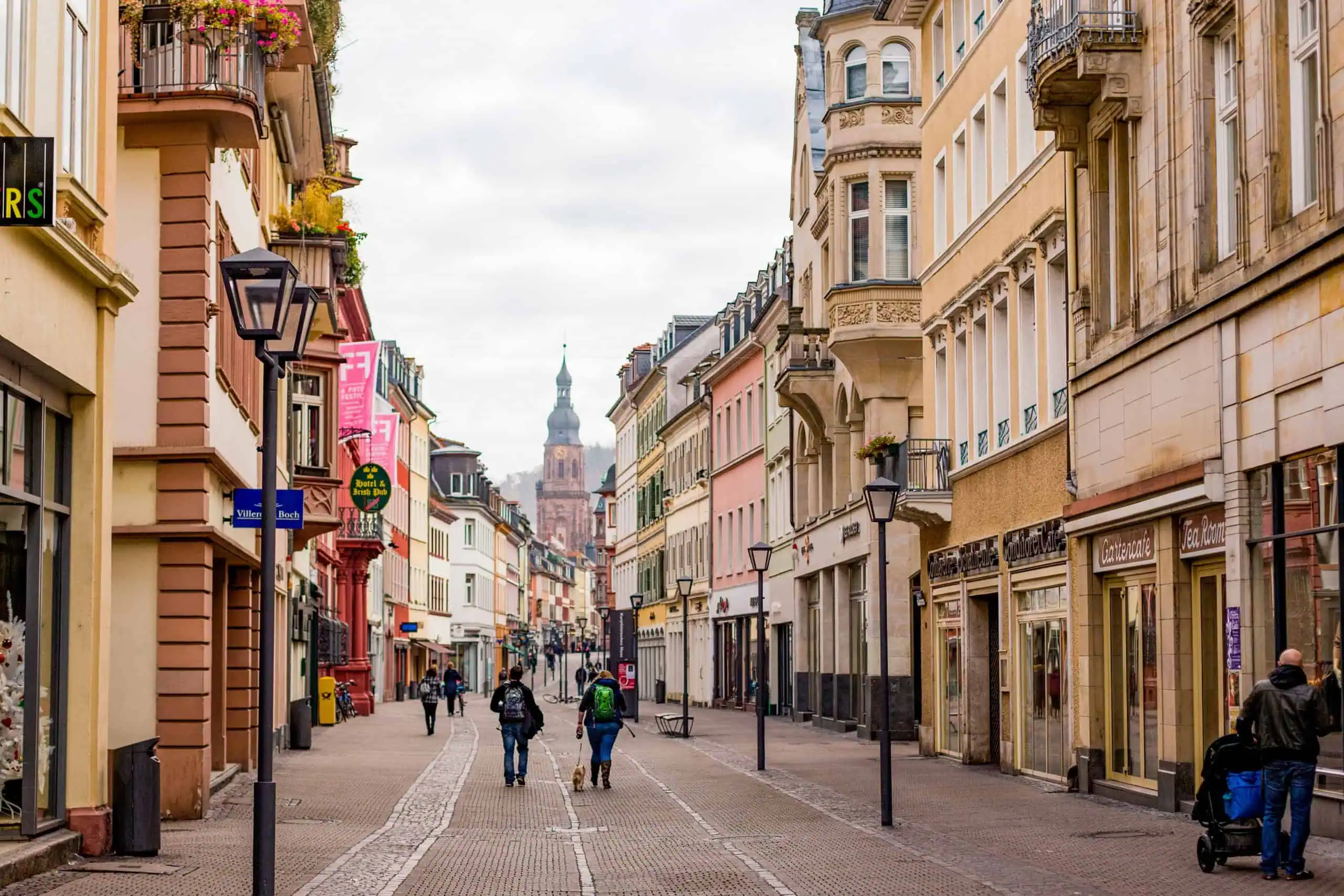 Alte Brücke
When you visit Heidelberg, it's hard not to miss the large Old Bridge. This landmark has been a prominent city feature since the 18th Century.
Hikes and Trails
If you enjoy the outdoors, there are a lot of hikes in the area. The Philosophenweg across the river provides great views of the town and castle.
Getting to Schloss Heidelberg itself is a bit of a hike. There is an optional funicular if you don't want to walk the hill to get there.