So we had our first big trip together last week in Austria. We drove from Stuttgart down through Munich and then into Austria. Our destination, Saalbach-Hinterglemm. We wanted a fun place to go skiing that wasn't ridiculously expensive but still had a fun nightlife and, of course, great skiing (skiing/snowboarding are interchangeable words for me). So I went online, did some research and found that Saalbach is known for snow reliability. In fact, they are rated #1 for snow reliability this year (website here) and boasted a many bars and things to do. And so Saalbach it was!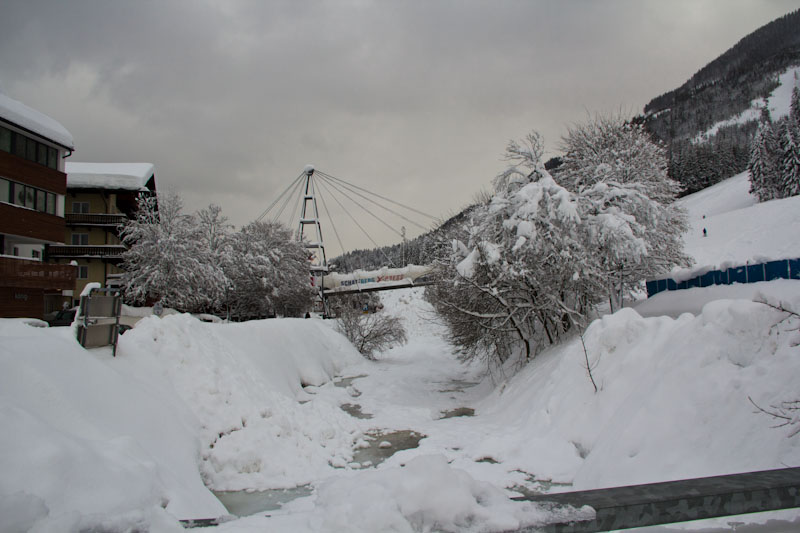 Here are some fun facts about Austria:
– The official language is German
– The food is German
– The currency is the Euro
My point being….we really didn't feel like we left Germany. I think the only big difference was that the road signs changed. Next time we'll check out Salzburg and other more popular Austrian places.
The drive wasn't too bad but the sooner we got to the Alps, the more snowy it became. I managed not to twitch and get too nervous driving in the snow (yes I'm from Alaska, but many years without driving in snow, I get a bit nervous when I do. And I miss studded tires…and I saw a nasty accident as a kid that doesn't help…anyway…) Once we arrived (phew!) the snow was dumping…and continued to do so for over two days! I was in snow heaven, so peaceful and beautiful, it was a winter playground. Speaking of, our dog Juno had a blast in the snow. I swear labs were made to live in the snow. She kept throwing her face in the snow, eating snow, jumping into snow mounds that covered her, going down deep snowy hills that she couldn't get out of…you get the idea.
When we went boarding the first day, with the exception of a lack of visibility, the skiing was so much fun. TJ and me had to learn how to board blind since both of us have horrible goggles at the moment (TJ's have a huge crack down the middle and mine are single paned….no bueno). But, the powder was phenomenal and the apres ski was way too much fun. I don't know how people come to these places and not indulge in a few cocktails. I just assume everyone must have a few drinks after hitting the slopes. It always makes for the perfect ending to a great ski day.
I came up with MY version of the differences I noticed skiing in Saalbach vs. every other place I've been to in the US. So, here goes:
A few things to know about skiing in Saalbach, Austria (and probably other Alps destinations)
– The lifts don't have people waiting at the bottom to scan you every time (which I find a bit annoying). They have these handy cards they give you (look like debit cards) and you simply put it in your jacket and it scans automatically every time you get in line for a lift. Yes! No one grabbing near my chest every time I get on the lifts!
– Saalbach has a lot of cable cars for their lifts. This was very different for me. In Colorado and Alaska the lifts are usually that, just regular ski lifts. Here to get to the high points you take the cable cars. It's nice not freezing on the way up (1 point Austria)
– The are a lot of Russians that like to vacation in Austria! I think I heard more Russian than German when I was there.
– Drinking is viewed quite different in terms of skiing. Well, let's be honest, drinking is viewed very differently in Europe…and everywhere else in the world than in the U.S. In the states, they fine you for drinking too much while skiing. While I agree you shouldn't be getting completely inebriated while on the slopes, what's wrong with a beer or two (or three)? In Saalbach and Hinterglemm they actually promoted having some drinks on the mountain. There were bars and restaurants everywhere through the runs. Basically every time the run would split there would be a bar/restaurant. The last day we were boarding we stopped in at one to warm up and have a beer. That place has a winning cap for whoever can drink 9 drinks of anything. I told the bartender that would be illegal in the U.S.
Those were the biggest differences I noticed….I'm sure the minor ones I've become all too accustomed to by now.