We just got back from our trip to Prague and I can't decide where to start. It was a really fun trip and we saw quite a few sights, but I think the best part of the trip was just walking around and checking out the city. We didn't stray out of the main area, but we did see quite a bit.
Just like in France, it's always interesting going to a nearby country to see all the differences from Germany.
Prague can be a bit rough in some areas and you can tell it isn't as safe as Germany, but overall it is safe and quite beautiful.
They had Absinthe at every restaurant which is something I had only ever seen in movies. The apartment we stayed at had an absinthe bar right down the street too. This place even had absinthe soft serve where you could walk on up and get it yourself. The owner of the place was partying every time we walked by the bar. He either really likes his job or likes drinking absinthe (or perhaps both).
We stayed up on a hill near Prague Castle. It was really pretty except the walk back to our place was all uphill each night. We booked through Airbnb and ended up in a 2 bedroom apartment for a great price, I think around $80 a night. The area was really nice and quiet as well. There were restaurants, pubs, shops, and the walk to the castle was only a few minutes away.
In front of the apartment we stayed at
 We went to an ice bar the first day we were there. It's a ridiculously overpriced bar made of ice and the drinks are also served in an ice mug. They give you a very well used jacket and gloves to wear and let you in as a group for about 10 minutes.
Apparently if you stay any longer you are bound to get frostbite. I have to admit, I've always wanted to check out one of these bars (the Travel Channel featured these places a lot) so I am happy to cross it off my list. The bar also was nestled inside the 'Largest Club in Central Europe' called Karlovy Lazne. We ended up going to it later that night because there was so much hype about the place. We paid the cover charge and were met with a slew of sweaty, very smelly drunk teenagers once we got inside which, by the way, is not my idea of a good time. I think we were the oldest people there. It was like going to a high school party at a club. We made it about 30 minutes before we called it quits – Never again!
On to better things, we had some amazing, and I mean AMAZING food! There were some really good French and Italian restaurants that we checked out.
My husband tried the French dish beef tartare for the first time (and got me to try just a litttle bit as well). If you don't know what that is, it's raw beef…yep. Raw, ground up beef. Of course it had seasonings and a raw egg on top (which is common for this dish).
We also tried salmon ravioli at an Italian restaurant and that was quite the delight for my taste buds. There were plenty of places along the river to stop for a bite, and those were the ones that we found to be the best. The prices were a bit higher than some of the other local eats, but it was well worth it!
I also learned a long long time ago that German food is very heavy and can be too much sometimes. Czech food is also pretty heavy so we opted for other food options. By heavy I mean that a lot of the dishes consist of mainly bread, potatoes, fries, breaded or fried meat and sometimes a heavy sauce to go with.
We also did a 3 hour dinner cruise when we were there and it was well worth it. The food wasn't spectacular, but it was buffet style and what I expected to get for such an event. The views were great and we were able to see a lot of the city. We had seating inside for dinner and the entire upstairs was open and had seating as well. I would recommend doing this if you are ever in Prague, the views alone make it well worth the trip.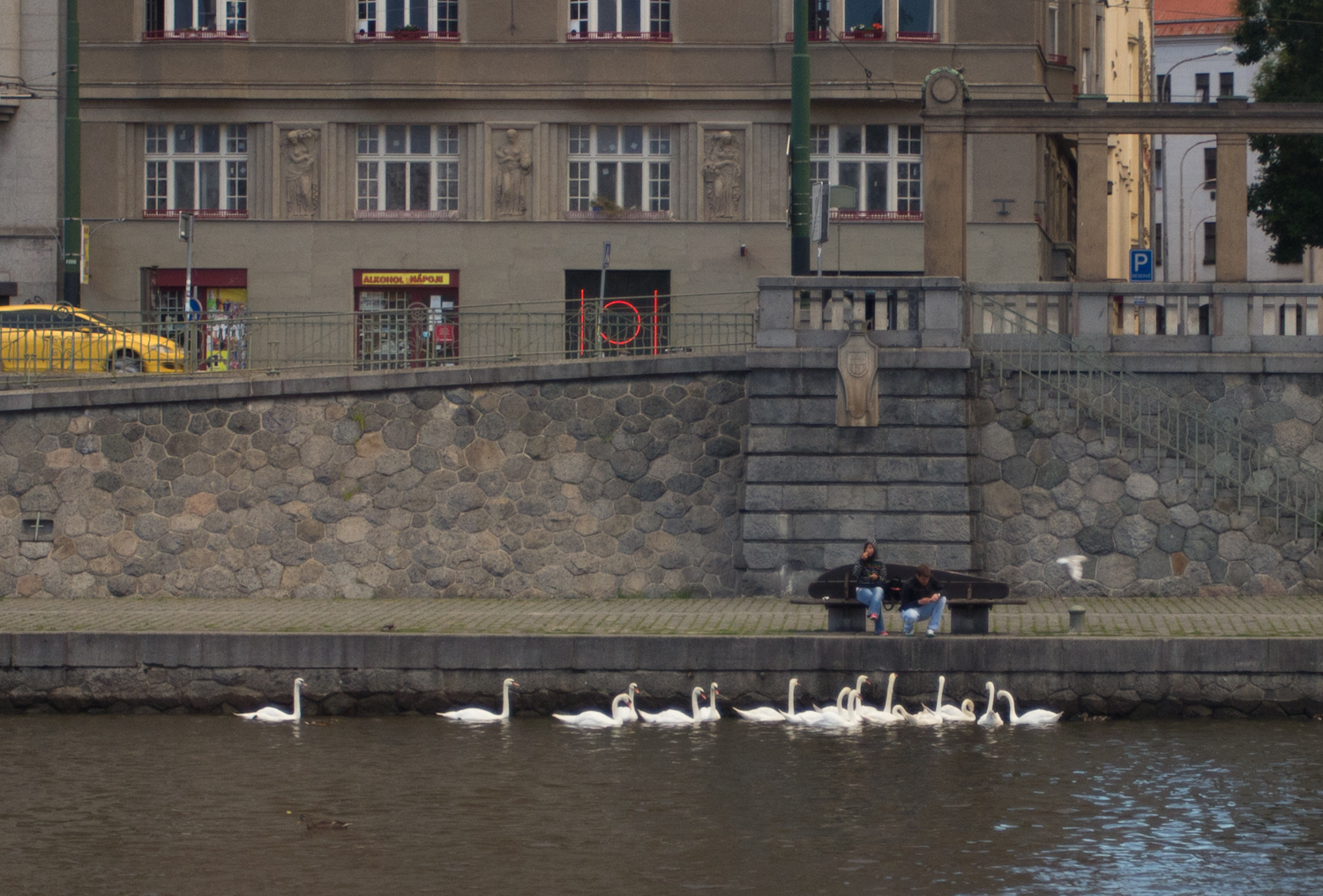 I wouldn't call this a highlight of our trip, but we decided to get a Thai massage as well. We thought a relaxing massage sounded nice after walking around for a few days. Not so.
This place might as well have been called the torture museum but in real life. I've had quite a few sports massages, but this was something else entirely.
These little Thai women literally walk all over you and try to inflict as much pain as possible. We both did a 60 minute massage, and it was a little strange that their set up was in a curtain in the back (I was hoping we paid for the right kind of massage, hah). They basically contorted me and stepped all over my calves and back and I think at one point she was trying to break my fingers and toes. I can't tell if she helped me or if I need a massage from that massage. Like I said, never again. In case you're wondering if there is a name for this, it's the traditional Thai massage, and it's very painful. If I were you I'd opt for the hot stone massage!
They did have that fish foot bath as well where little fish eat your dead flesh and cleanse you (sounds wonderful when you put it like that huh!). After the massage I was ready to get out of there, so we didn't end up trying it out.
The Charles Bridge was beautiful and the architecture in the city was quite amazing. They had a Starbuck's near us which made me very happy. I like to get my fix when I can. While European coffee is amazing, it's hard to get your hands on an iced coffee (or anything with ice for that matter!). Especially a coffee that is larger than 8-12 ounces. So on a hot day, an ice cold coffee when walking through a beautiful city is a great accessory to have.
The tour of the Prague Castle was pretty impressive. The Golden Lane inside the castle grounds was probably the most interesting thing we saw when we were walking around. It was a small village that they set up to replicate life way back when (I don't know the exact dates). If you haven't seen many European cathedrals, the Cathedral of St. Vitus is really beautiful. There are many sights to see around the castle grounds. It's not just one building but almost a small town that has been preserved for tourists.
They made these thin bread rolls here, you can see they are hollowed out. They add cinnamon and other toppings to them.
Speaking of tourists, I can't believe how many Americans were there! It was so strange walking the streets and hearing English everywhere. I left the states almost a year ago and my German is still struggling, so in an odd way I've gotten really used to not knowing the conversations around me. So hearing and knowing everything other people are saying took me by surprise when we were walking around.
Prague was pretty cheap compared to any other place we've been to so far. It was much much cheaper than Germany as well. Beers were 1-2 Euro and you could get a really good meal for two for about 50 Euro. I keep saying this whenever we see a new place, but I want to go back again. Maybe in the winter time when there are less tourists and I can take some really great photos (my dream photo is of fog on the Charles Bridge).