How To Experience Vienna In The Dead Of Winter
Hey there!
This post may contain affiliate links, meaning I may be compensated if you click on one of my links, at no cost to you. As an Amazon Associate, I earn from qualifying purchases. Read my disclosure policy for more information.
Visiting Vienna in the winter can be a great way to experience the city without all the tourists. Traveling in the off-season is one of my favorite ways to travel. With less people, you can get a sense of what the city is really like without the hoards of tourists.
There are some downsides to off-season travel, which I'll also cover in this post. In this article I'll cover everything you need to know for a perfect winter trip to this beautiful city.
Practical Information
Why Vienna? Why in the winter?
My friend and I went on a weekend trip to Vienna for a short holiday this past weekend. It was my first time visiting Vienna and I really enjoyed this city.
Even in the winter, it's beautiful and I loved that there is so much to see and do. There are museums everywhere, tours galore, cafes at every turn and so much history contained in this city it is hard to run out of things to do.
Seeing the city covered in white made it quite beautiful. It was also quite slushy and snowy walking around.
Weather
Between November to March, the average temperatures in Vienna are anywhere from the single digits to high 40's. Around December – early February has the most frigid temps. If you want to avoid the snow (or try to), I'd recommend visiting by mid-November.
What to Wear
Layers, layers, layers! When we went it was cold, in the teens to low 20's (F). It's a bit humid in Vienna, which adds to the brisk chill in the winter. As a born and raised Alaskan, I feel like I have some authority on warm weather clothing. I'd recommend wearing layers and bringing warm lined boots. I also wore my hat almost the entire time since it was so chilly.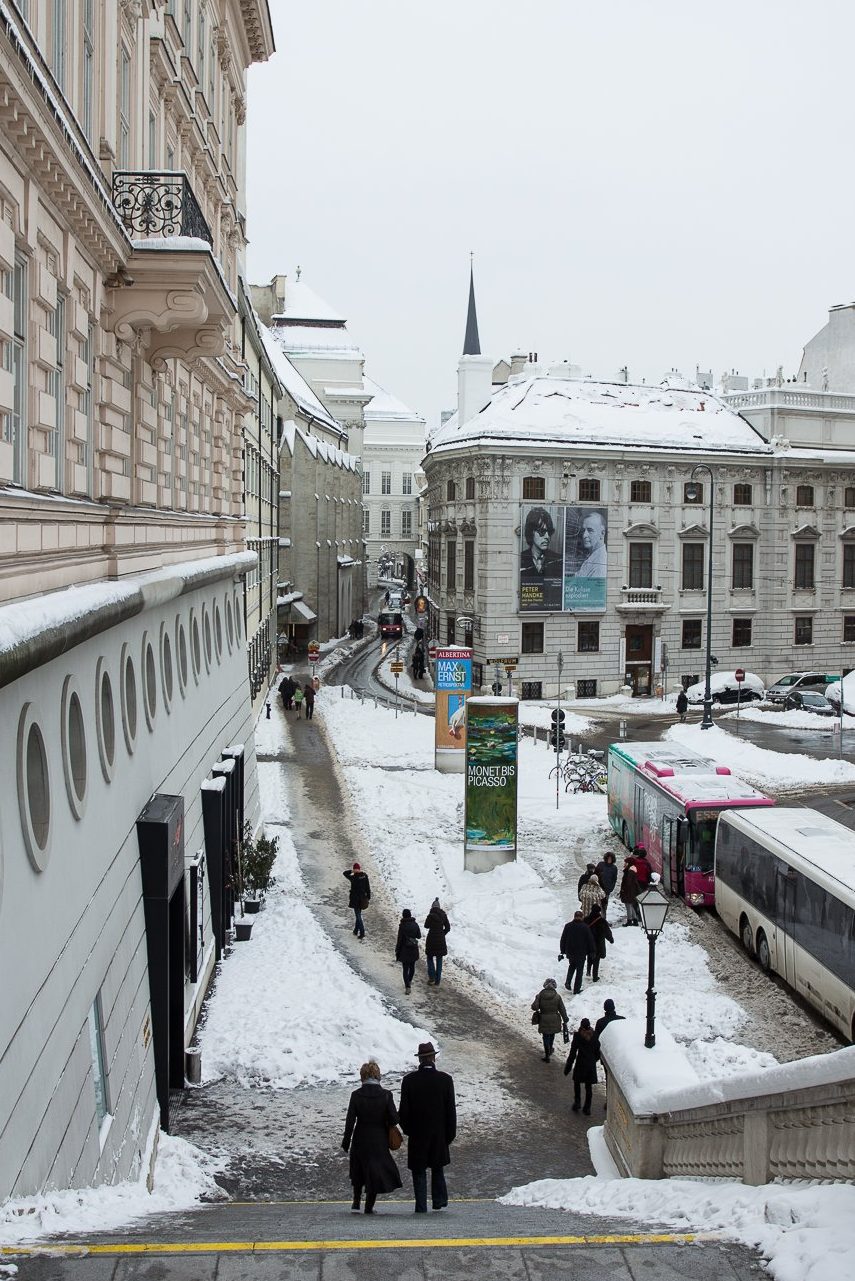 Highlights of our Trip
Tried my first kangaroo burger at an Australian pub. At first I felt bad thinking about cute little kangaroo's hopping around, but then my friend told me that they're basically rodents there so I figured at that point I was helping with population control.

We went to a bar called 1516. It was an odd mixture of British/American flair with IPA's and an assortment of English and American food items on their menu. The table next to us was leaving and one of the guys sitting there came up to us and asked if he could have one of our chicken wings. Yes, a random stranger came up to our table and wanted our food. He said he noticed we looked like we were done eating (which we were). I said 'Sure, go ahead' to see what he would do. Sure enough, he took that chicken wing and left.

Almost all of the tourist shops have shirts that say 'No Kangaroos in Austria'. I wish I could meet someone that booked a trip to Austria thinking they're going to Australia. Coincidentally (or actually not) there are three Australian pubs that were listed on our city map.

Free water with every drink! Not every drink, but when we ordered wine we were also served a small glass of water. Coming from Germany, a place that charges for all water, this was a treat!
Your Vienna Itinerary
Day 1: Start your day trying delicacies at the famous Naschmarkt. This is a massive 120 stall open market with a variety of fresh fruits, vegetables, cheese, wine, and more. Many places are tented or indoors, so you can warm up between stalls while here.
If you prefer a more traditional setting (or want to escape the cold), I recommend stopping in at Drechsler for a traditional Viennese cafe. Try their blueberry pancakes or peanut butter porridge. If you want something more international, visit Neni. With their Israeli inspired dishes, you can try their Oriental breakfast with many tasty items such as hummus and pita bread.
After wandering around the market for a few hours, warm up by heading to one of the many museums in Vienna. I'd recommend the Vienna Natural History Museum or the massive Belvedere Palace with its large art collection. For a different type of experience, check out the House of Music or Sigmund Freud House.
Finish your day at Figlmüller, trying the best Wiener Schnitzel in the world.
Day 2: Today you'll head to the famous Schönbrunn Palace, the number one sight in Vienna. I would recommend booking ahead and doing a guided tour of the palace. If you enjoy wildlife, you can visit the Vienna Zoo which is at the palace.
Afterward you can head back, grab a bite to eat, then get ready for a night at the Vienna Opera House. When I toured this building, I was completely taken back by how beautiful and massive it is. What's unique about this particular opera house is that there's a show every night. Even so, be sure to book ahead to ensure your spot.
Day 3: Today you'll want to check out St. Stephan's Cathedral where you can do a catacombs tour (see below for more information on it). The cathedral is in the pedestrian old town (Altstadt), so today would be a good day to do some shopping and explore.
Vienna is famous for its cafes, so no trip is complete without a stop for an espresso and apfel strudel. The most famous is Café Frauenhuber, where Mozart and Beethoven were said to play table music here. Café Landtmann was considered Sigmund Freud's favorite cafe in the city. These cafes can be found all over the city, so I recommend stopping at more than one on your trip.
Travel Tips for Vienna
Visiting in the Winter
I'll start by stating the obvious. Vacationing in a city in the winter isn't the smartest idea. Not only were we trudging through snow at times, we almost had near-death experiences in the form of slipping and sliding on many occasions.
We didn't really think about how much snow there would be in Vienna. So, don't be like us and better prepare yourself.
Watch the Bread Basket
This was an odd one. If the restaurant brings you bread, be prepared to pay for each piece of bread eaten. We noticed quickly that at many places they will automatically bring you bread. We just assumed it was free bread since they placed it on our table.
Not so.
They will charge you for how many pieces you eat. And it's not cheap (like 1,50 for each piece of bread). Keep in mind, they charge for how many pieces you eat and not by the basket itself. This kind of freaks me out. Do they re-serve the untouched bread to other tables?
Spanish Horse Riding School Practice
Honestly, this was a huge disappointment. I had these grand images of horses doing synchronized acrobatics together, but sadly, none of that came to fruition.
Instead, we paid 14 Euro a piece to watch a few horses come out and gallop around in no particular order. Sure they were pretty horses, but that's about it. Save your money for the opera or wait until they are doing an actual show to go see them.
We went for their morning practice which I thought would entail them doing at least something halfway interesting. I think we stayed for an hour then left. And, we weren't allowed to take pictures either. And, sitting in a stadium in sub-zero temperature is about as cold as you can imagine.
Things To Do
Crypt Tour at the Stephansdom (St. Stephen's Cathedral)
This is a short tour that starts downtown right inside the Stephansdom, the beautiful church in the heart of Vienna.
The crypt tour itself was really interesting. It was a short tour (about 30 minutes) where they led you down many stairs into the catacombs. Once underground, the guide showed us rooms that housed tombs and huge jars filled with organs of various important people that date back centuries. There were also rooms filled to the brim with bones, one of which has between 800-1000 bodies that were placed as a mass grave from the bubonic plague. Overall there are remains of over 11,000 people in the catacombs.
These tours run every hour on the 30 and the last one starts at 4:30. They didn't have tours on Saturday though because of mass. Be sure to be there on time, otherwise they will start without you! It starts inside the cathedral on the left toward the back. There is a small sign once you get there indicating that it's the starting point for the tour. There is also an information desk inside in case you cannot find it.
Vienna Zoo (tiergarten Schönbrunn)
The Vienna Zoo is the oldest zoo in the world dating back 240 years. It was founded by the Hapsburg monarchy in 1752 and opened for the first time in 1765. It is also located at the Schönbrunn Palace. Without meaning to we ended up spending about five hours there and we hadn't even seen everything.
Schoenbrunn Palace
The Schönbrunn Palace is the most visited site in Vienna. It is a substantial expanse of rooms and furniture and well-preserved history. In the summer months the large outdoor gardens that span over a half mile in each direction come alive with color.
I you opt for a tour, I'd recommend this skip the line tour. There is also an evening tour that includes the tour, dinner, and a concert.
House of Music (Haus der Musik)
We were very torn on whether to go to this place. Having heard nothing about it, we didn't know if it would be worth the money. Well, if you aren't a music buff (especially that of classical music) then this probably isn't the place for you.
I wouldn't say it was the most interesting thing we did, but it was still pretty fun.
I'd also never been to a museum quite like it. Some of the things to do were bland but they also had some interesting information and things to stimulate your senses through music. There were a lot of science based activities to do. If you love music this is somewhere you will want to check out. We went on a Sunday and they were open until 10pm (which is surprising for a European country).
Vienna State Opera
The Opera House is stunning from the outside and just as impressive when you walk in. We did a tour of the opera house and were guided through all the main areas as well as backstage. I thought it was interesting that this Opera House has a different performance each night. If you are an opera lover and are in Vienna for 3 nights, you could theoretically see three different operas.
Museum of Military History
I get burned out on museums pretty quickly, so after seeing about two or three on a trip I don't really want to see much more. So, that's probably why I didn't make it to this one. However, many people recommended this museum to me and said it was worth checking out.
Sigmund Freud Museum
or Sigmund Freud House. Just because it might be interesting and have interesting information and things to see.
The Giant Ferris Wheel
Also known as the Wiener Riesenrad. It is a really old ferris wheel that was completed in 1897 to celebrate an emperor. In 1944 it was burned down, and then was rebuilt and in operation by 1947.
This isn't just another huge ferris wheel overlooking a city though, this one has much more. There are luxury cabins and hire cabins that offer dinners or a glass of champagne. There is even a dinner held in the Crystal Wagon that was specially designed by Swarovski.
Another plus? Pets are welcome as well! These dinners aren't cheap, but what a cool way to have dinner and see the city. I also heard that the waiters jump on and deliver your food then jump off before you escalate high into the sky. Sadly, this was closed when we were there so check the open times before you go.