Let me start this post off by telling you that I do not like swimming. I'm active, love working out and used to enjoy running quite a bit. But I can't stand swimming. It probably has to do with the fact that I am a terrible swimmer. I tried picking up swimming during my senior year of high school to no avail. I was terrible. I can physically stay afloat if I had to survive, but asking me to swim 50 meters is like trying to make a peacock fly. It's impossible.
I think I started trying to learn how to properly swim a bit late in life. I should've learned how to do this when I was a kid but I had no interest. Fast forward to college and I took a few triathlon training classes with the hopes of improving my swimming skills and getting a good workout at the same time. Well, I somehow ended up missing many of the swimming classes (not sure how that happened … okay I just didn't go) because I was so bad at the swimming portion. So here I am now trying to swim again.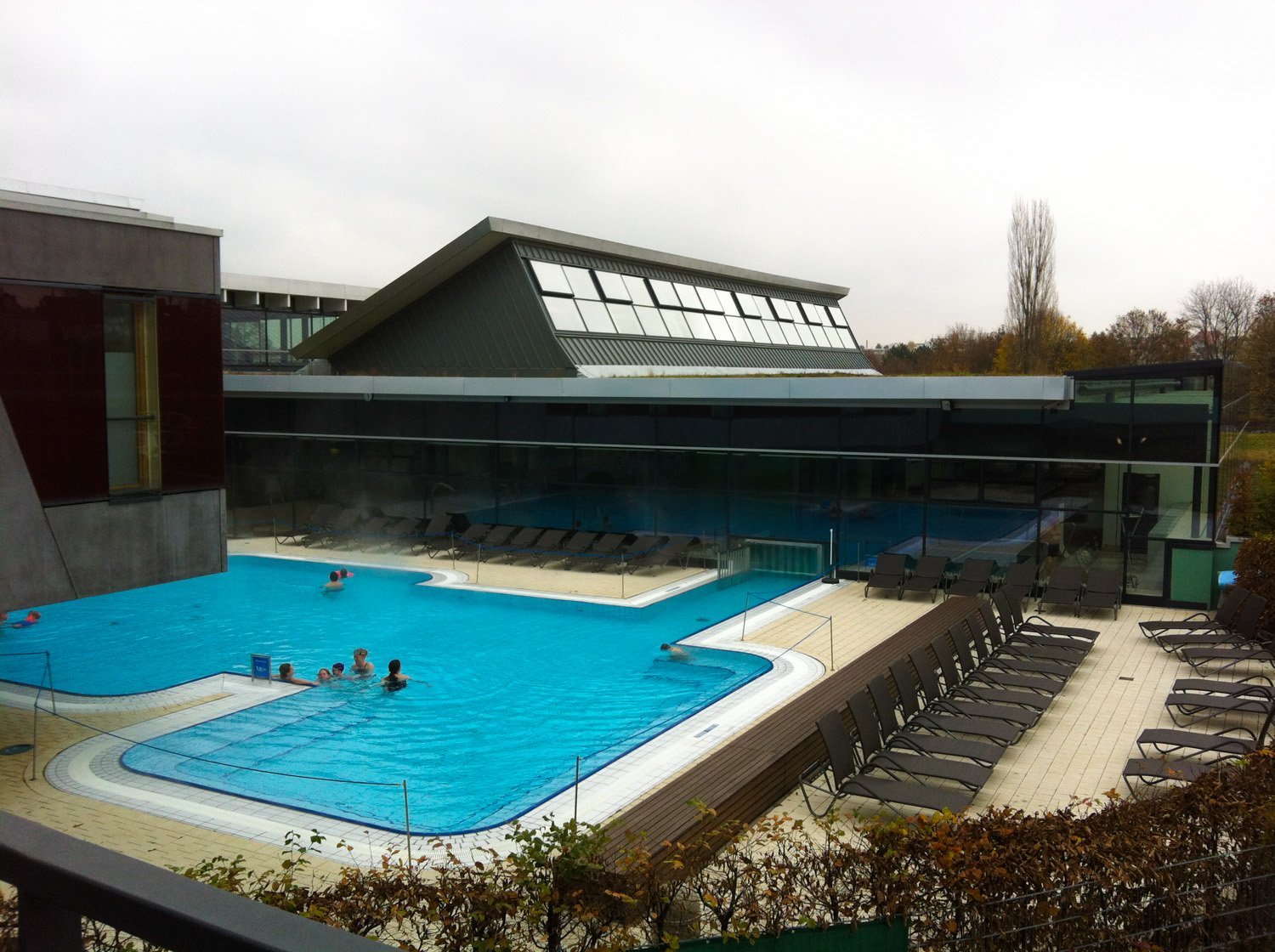 German Pool Culture
Learning German pool culture which is interesting. Germans aren't particularly prude, at all. I've seen more nude women AND men since I've started swimming. Many people change right in front of you because the lockers aren't separated, and me and a girlfriend made the mistake of walking into the men's showers one day. Oops! It's like an open floor plan at these places. They have changing rooms to use, which is nice, but not everyone takes advantage of them. The saunas are completely nude, although I've heard you can wrap a towel around yourself if you like. My German friends said that most people don't bother. I haven't been in a sauna yet…probably has to do with the fact that I'm a prude American.
In Germany the swimming pools are quite the popular pastime. Nearly every town has a pool and most have multiple pools at their facility. The one near my house (shown below) has an an indoor/outdoor heated pool, in addition to water slides, a lap pool, multiple sauna rooms, tanning beds, a kids water area, a restaurant, and a coffee shop. Many people also hang out inside on the lounge chairs that are set up like they're sitting in the sun.
In the summer the outdoor pools are a great place to go on a Saturday. Many have multiple pools, and instead of concrete covering the area there is grass for people to lay out on. The outdoor pools usually have a bar and place to order snacks. There are also bathrooms and changing areas.
Have you visited a pool in Germany?