I have a new love, Lake Garda
Hey there!
This post may contain affiliate links, meaning I may be compensated if you click on one of my links, at no cost to you. As an Amazon Associate, I earn from qualifying purchases. Read my disclosure policy for more information.
Lake Garda does not typically make the must-see travel lists. Instead, neighboring Lake Como gets all the press. However, Lake Garda is truly a hidden gem and if you're not sure which you should see, you can actually visit both lakes as they are part of the lakes region in northern Italy.
If you are looking for a travel destination that is beautiful, full of outdoor adventures, has plenty of pretty towns, and truly has something for everyone then read on to see why I recommend adding Lake Garda to your bucketlist.
This article will cover the tops things to do, the best towns on the lake to visit, and my travel tips.
---
Where is Lake Garda?
Lake Garda sits in the Northern Alps of Italy, between Milan and Venice. The closest city is Verona, home to Shakespeare's Romeo and Juliet. It is the largest lake in Italy at 34 miles long (54km) and 11 miles (18km) at it's widest.
There are towns all around the lake with castles and cobblestone streets. The lake is also famous for outdoor activities such as windsurfing, sailing, cycling, mountain biking, and hiking among others. It is pristine and a stunning sight to take in.
Our Road Trip from Germany to Italy
Driving through the Alps of Austria and Italy was nothing short of spectacular. We made it to Italy in just four hours, drove through the beautiful mountain town of Bolzano and then on to our destination: Lake Garda.
My sister had never been to Italy, and while I studied abroad there in college and have visited since, I always get so excited to be in Italy. This is one of my favorite places in the world. The people, the food, the wine, the way Italians speak, the general lifestyle…I love it all.
When we went we stayed in Riva del Garda, the larger town at the very north end of the lake. I'm really glad we chose this town. It is the largest town in the north area, the promenade along the water is really pretty, and there are plenty of shops and restaurants.
I've been to Lake Constance, the Achensee, Lake Como and some other lakes in the area but it's hard to beat Lake Garda with such a variety of things to do and for it's sheer beauty. But honestly this entire area is incredibly stunning and well preserved.
Ferry System
Most of the larger towns have a ferry that goes to many of the other towns. If you are in the North (like we were) and want to go to the Southern end of the lake, then be sure to leave early in the morning. The ferries aren't the fastest and after around 12pm they don't go down to the Southern points. Riva del Garda has a tourist office in the center of town with plenty of information about everything from activities to using the ferries.
---
Towns on the Lake Not to Miss
Riva del Garda
We weren't able to make it to all the towns we wanted to visit but we still managed to see enough that we were able to get a good taste of the area.
We stayed in Riva del Garda, which was a perfect spot for us. There is a decent size pedestrian walking area with shops and restaurants, and a nice big waterfront promenade. It's not a huge area, but it's big enough for a day or two.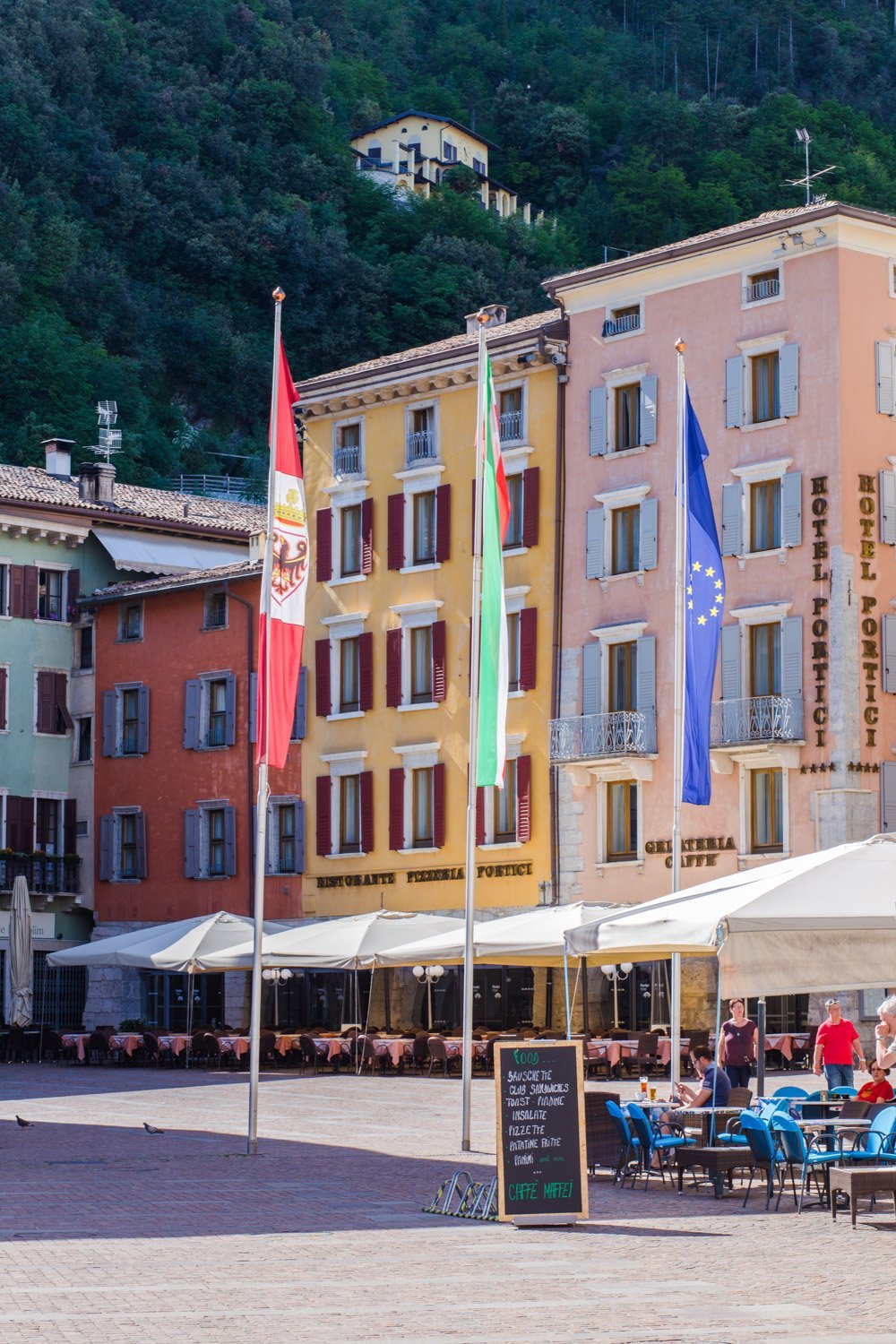 Malcesine
Even though we stayed in Riva del Garda and it was really nice, if I were to do it again I would stay in Malcesine next time. Malcesine had all these small windy cobblestone streets, and I think it also had more character than Riva del Garda too.
If you only have time to visit one town, I would recommend Malcesine.
Top 3 things to do in Malcesine
1. Take the Funicular up the mountain
There is a giant cable car that goes up to the top of Monte Baldo. It's a great view of the lake and the mountains behind Lake Garda. Mountain bikers can take the cable car to the top and ride the trails down. The cable car spins for part of the ride as well so you can get views of the entire area (as long as you're not stuck in the middle of it! It gets a bit crowded).
2. Visit the Fortress of Malcesine – Scaliger Castle
The prominent castle that defines the Malcesine skyline is a must see. The castle dates back to the end of the first Millenium B.C. and has changed hands many times throughout it's history. There's a lot of historical information and artifacts, but the best part in my opinion is the hike to the bell tower. Up here you have 360 degree views of the lake.
3. Walk through the alleyways
This town is full of winding alleyways meant only for people and very small cars. Note the streets are made of rocks (see photos below) so be sure to wear thick soled shoes if you have sensitive feet like me!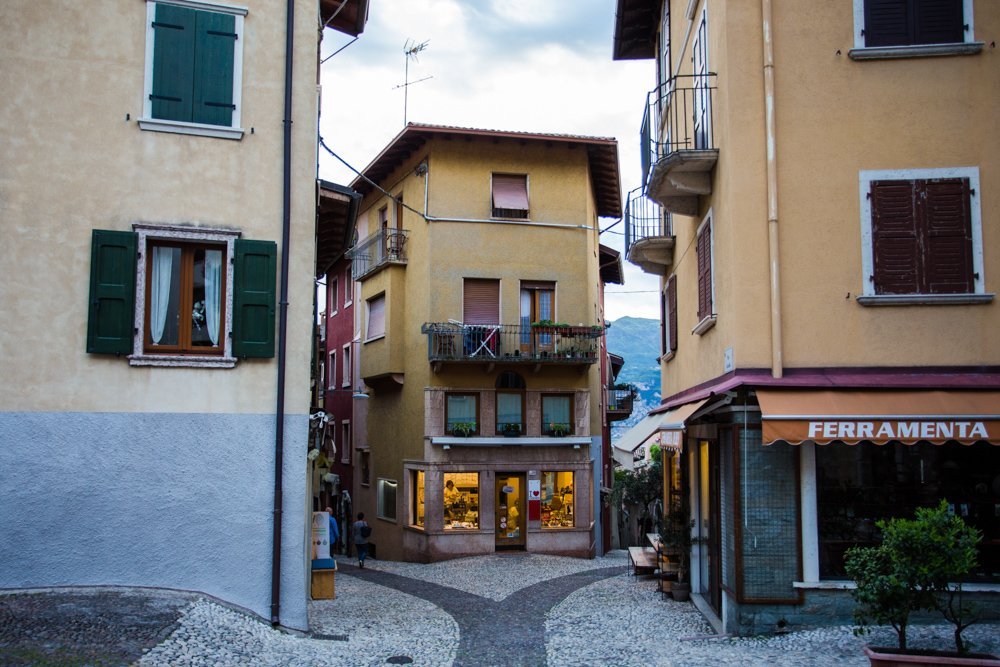 Limone sul Garda
Limone, or Limone sul Garda, is famous for their lemon groves and olive oil. That's not all their famous for though, as this hilly mountainous lake town has many more claims to fame. James Bond raced here in 'Quantum of Solace' in the opening scene. The town is also famed for longevity; in addition to the mediterranean diet accounting for a large percentage of people living well into their 80's, a resident in the 1970's was found to have a protein in his blood that wards off cardiovasular disease.
This town is simply stunning, and is just across the lake from Malcesine. The ferry runs between these two towns regularly each day, so you can easily visit both. My favorite thing to do is to walk through the alleys, stop into the tour shops, grab a gelato, and take in the beauty of this area.
Click here to see more images of Limone sul Garda
Other Towns on the Lake
There are many other towns on the lake, but after many visits to this region the above three are my top pick for your first trip. If you want other options I'd look at Bardolino or Sirmione.
Interesting Facts
Many places serve these thin breadsticks instead of bread. And while dipping your bread in olive oil and balsamic is the norm in the US, this is not common in Italy.
If you like good liqueurs and you are in Italy I highly recommend that you try Limoncello. It's a sweet drink typically served after dinner that's made from the zest of lemons. It's chilled and refreshing on a hot evening, and is a traditional drink in Italy.
You can take windsurfing lessons here. So if you're up for an adventure, head to the north side of the lake (Riva del Garda, Linfano, or Torbole).
I hope this has inspired you to look at a vacation to Lake Garda on your next trip!
Ciao for now!