I Have a New Love, Lake Garda
Hey there!
This post may contain affiliate links, meaning I may be compensated if you click on one of my links, at no cost to you. As an Amazon Associate, I earn from qualifying purchases. Read my disclosure policy for more information.
Lake Garda does not typically make the must-see travel lists in the states. Instead, neighboring Lake Como gets all the press. However, Lake Garda is a favorite among many Europeans for its sheer beauty and activities available around the lake.
If you are looking for a travel destination that is beautiful, full of outdoor adventures, has plenty of pretty towns, is loaded with history (and castles!), and truly has something for everyone, then read on to see why I recommend adding Lake Garda to your travels.
This article will cover the top things to do, the best towns on the lake to visit, and my travel tips.
---
Where is Lake Garda?
Lake Garda sits in the Northern Alps of Italy, between Milan and Venice. The closest city is Verona, home to Shakespeare's Romeo and Juliet. It is the largest lake in Italy at 34 miles long (54km) and 11 miles (18km) at it's widest.
There are over 50 towns all around the lake with castles and cobblestone streets. The lake is also famous for outdoor activities such as windsurfing, sailing, cycling, mountain biking, and hiking. It is pristine and a stunning sight to take in.
What is Lake Garda Known For?
Lake Garda is the largest lake in Italy and one of the largest in western Europe. To get an idea of size, it's one of those lakes that's so big you can't see across it in many areas. This is especially true when looking north to south; it looks more like an ocean than a lake.
Lake Garda and Lake Como are the two most popular lake destinations in Italy.
Compared to Lake Como, Garda has a more dramatic mountain landscape in the north and is a popular windsurfing location.
Where Lake Como attracts many British and American tourists, Lake Garda has a lot of German and Austrian tourists (and many menus in German as well).
Lake Garda is best known for windsurfing in the north, the famous James Bond scenes along the Strada Della Forra, beautiful scenery, lemon growing, wine, and living la dolce vita.
How to Get to Lake Garda
Lake Garda is nearly equal distance from the major airports in Milan and Venice. All things being equal, I'd prefer to fly into Venice as it's an easier drive and you can visit Venice and stop by Verona (famous for Juliet's balcony) along the way.
If you don't want to drive, you can take the train to many of the towns along the lake. There isn't a train to every town, but you can book to the nearest town and then take a bus to your final destination. Typical costs run from $15 – 50, depending on which one you book.
Another more expensive and exclusive option is to hire a driver to transfer you. There are many companies that offer this service, but it can cost a couple hundred dollars. My Day Trip is one such option and may be worth the expense if you have multiple people traveling.
How to Get Around Lake Garda
By Ferry
Whether you arrive with a vehicle or not, I recommend using the ferry system to get around the lake.
The first time I visited I was surprised that the ferry didn't have a ton of routes throughout the day. They also stop at 8pm each night, so unfortunately you are limited to exploring and eating at your chosen location every night.
Even so, if you head out in the morning on the ferry you can make a great day trip and visit many towns along the lake. If you are in the north, I recommend staying in the north, and if your are in the south I recommend exploring the south. The lake is just too big to get from one end to the other in the same day. It's possible, but you will end up on the ferry the entire time.
Instead, I recommend splitting your stay between two towns on the lake. This will give you a better feel for the different areas and you can explore two locations at night.
The ferry system is quite easy and there are slow and fast ferries. The faster ones cost more. Here is a link to their site with timetables. Don't let them scare you; one page is heading north and the other is heading south. Once you're there, you can stop at any of the ferry terminals for assistance.
I recommend purchasing your ferry ticket a day in advance to secure your spot (or online to save time). I found the online system to be a little frustrating, so I prefer to wait in line and purchase once there. It appears they've updated the website since then, so it may be easier to book online today.
The biggest downside to the ferry system is that you're always on their schedule and need to be watchful of the time. But having the ability to simply walk off the ferry into town, versus trying to find parking and dealing with traffic, more than makes up for it.
By Private Boat
Another option is to hire a private boat to take you around the lake. There are some really fun tours like this highly rates historic castle cruise with wine tasting. Or this 4-hour boat cruise with prosecco and snacks.
If you want to get a taste of it all, there's a full-day boat and bus tour that starts at nearly any location around the lake. So you can pick your meeting point and take off for a full day of exploring.
I wish there were more options for private boat hire, but depending on where you stay, you may have many options (like in Sirmione).
By Scooter or E-Bike
There are many rental options for scooters and E-bikes (or bicycles) around the lake. The larger towns will have more options. MotoRagazzi has a few locations and tour options around the lake.
For a thrill-seeking ride akin to a James Bond film (no really, they filmed a famous chase scene in Quantum of Solace here), drive the Strada Della Forra. This road takes you on hairpin turns and through a deep gorge. It's a beautiful and adventurous way to see the lake and is much more manageable on a scooter. This tour with MotoRagazzi walks you through it.
By Bus
Bus service runs regularly around the lake. Although it may not be the most fun way to see the lake, it's quite economical and is faster than the ferry.
Our Road Trip from Germany to Italy
Driving through the Alps of Austria and Italy was nothing short of spectacular. We made it to Italy in just four hours, drove through the beautiful mountain town of Bolzano, and then on to our destination, Lake Garda.
My sister had never been to Italy, and while I studied abroad in Turin and have visited since, I always get so excited to be in Italy. This is one of my favorite places in the world. The people, the food, the wine, the way Italians speak, the general lifestyle…I love it all.
On my first trip, we stayed in Riva del Garda, the larger town at the very north end of the lake. I'm really glad we chose this town. It is the largest town in the northern area, the promenade along the water is really pretty, and there are plenty of shops and restaurants.
Since that trip, I've stayed in Malcesine as well, which is also a fantastic town. And there are many more great options around the lake.
I've been to Lake Constance, the Achensee, Lake Como, and some other lakes in the area but it's hard to beat Lake Garda with such a variety of things to do and for its sheer beauty.
---
Towns on the Lake Not to Miss
With 50 villages dotting the lake, it can be daunting trying to figure out where to stay. Some articles list waayyy too many options. Here, I'm going to provide five fantastic options for a perfect stay. There are many more, but if you only have one trip to Lake Garda, these are my top suggestions and truly the best places to stay
Riva del Garda
Best for: windsurfing & kitesurfing (and lessons!), large pedestrian area with shops & restaurants, large waterfront promenade, easy access to the Alps, close to Malcesine & Limone, hiking.
I've stayed in Riva del Garda twice as it's the perfect town to stay in and a great launching point for day trips. There is a decent size pedestrian walking area with shops and restaurants and a nice big waterfront promenade. It's not a huge area, but it's big enough for a day or two.
Here you can book your wind or kite surfing lessons.
There are many hiking options near Riva del Garda including the Porto San Nicolo trail, which has a WWI bunker along the way. Visit AllTrails for many more trail options.
If you'd rather avoid figuring it all out on your own, you can book a day tour that will guide you to the best hiking spots. This one is a 7-hour tour tailored to your interests.
Cycling is also a popular activity around the lake and there are many tour options. You can also simply rent a bike and do your own self-guided tour as well.
For a more leisurely day, you can peruse the shops, stop at a cafe, and enjoy a glass of wine surrounded by 360 views.
From Riva del Garda, it's a short ferry to Malcesine and Limone, two of my other recommendations on this list.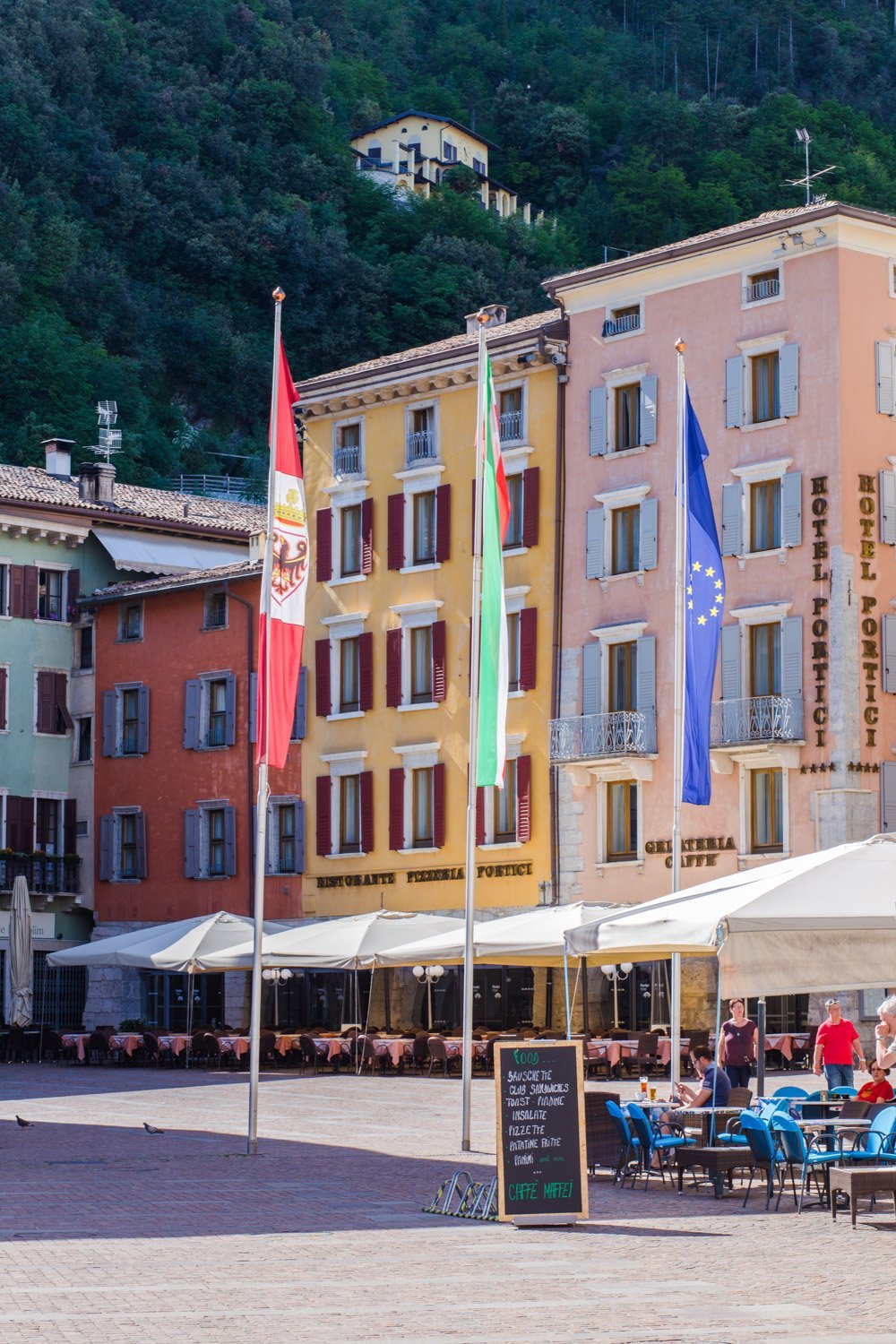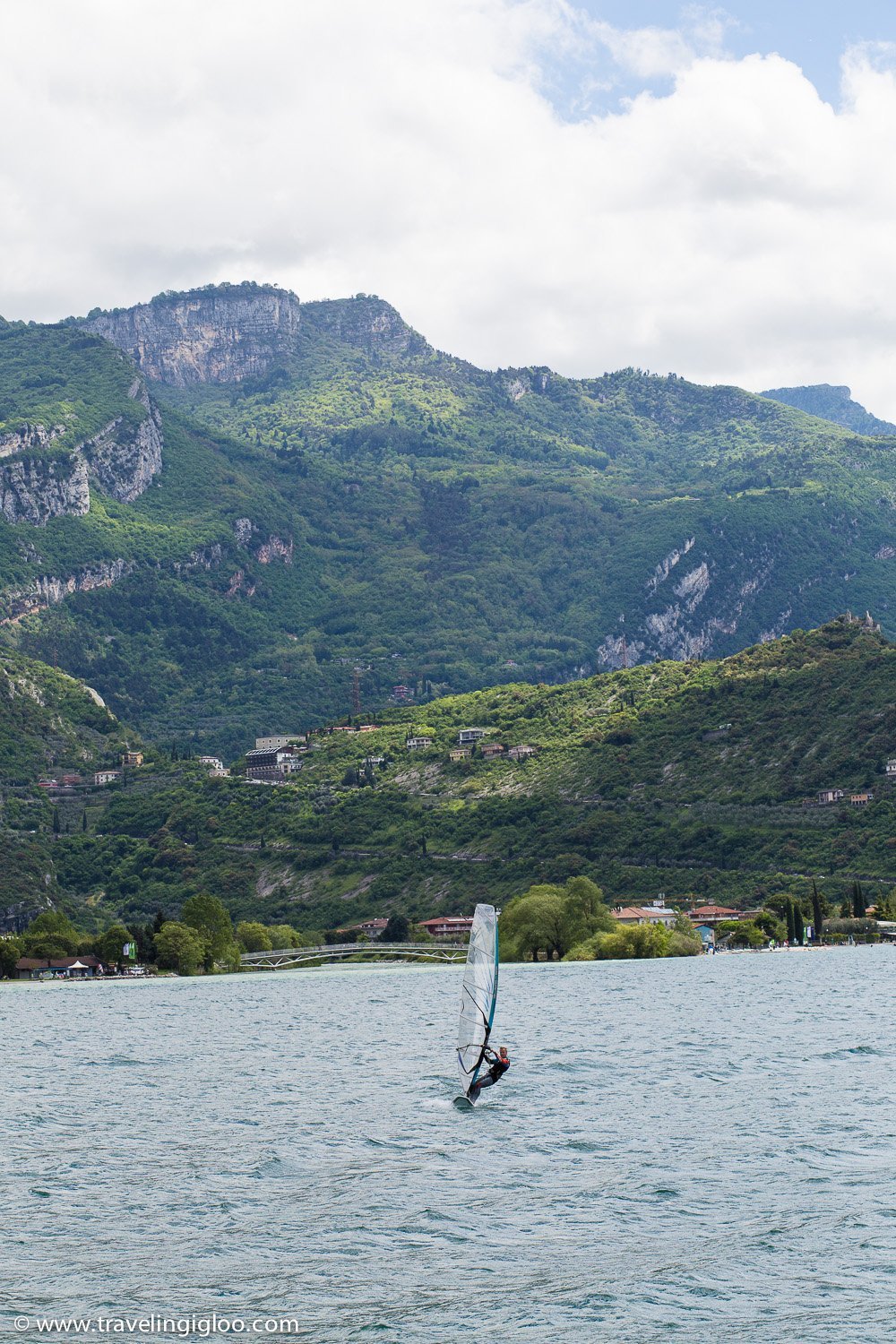 Malcesine
Best for: Wandering the pedestrian streets, taking the funicular up Monte Baldo, mountain biking, Castello Scaligero
On my fourth visit to Lake Garda, we (finally) stayed in Malcesine. And wow this town is like nowhere else I've stayed.
The town is striking; it sits along the Northeastern shores of Lake Garda with the Fortress jutting out into the lake and Monte Baldo reaching high up behind. It's full of these small windy cobblestone streets that are only accessible by foot (and a few lost vehicles). And even though it's not a large town, we still found ourselves getting lost along many of these winding paths.
Top 3 things to do in Malcesine
Take the Funicular up the mountain – There is a giant cable car that goes up to the top of Monte Baldo. It's a great view of the lake and the mountains behind Lake Garda. Mountain bikers can take the cable car to the top and ride the trails down. The cable car spins as you ascend so you can get views of the entire area (as long as you're not stuck in the middle of it! It gets a bit crowded).
Visit the Fortress of Malcesine, Castello Scaligero – The famous castle that defines the Malcesine skyline is a must-see. The castle dates back to the end of the first Millenium B.C. and has changed hands many times throughout history. There's a lot of historical information and artifacts, but the best part in my opinion is the hike to the bell tower. Up here you have 360-degree views of the lake.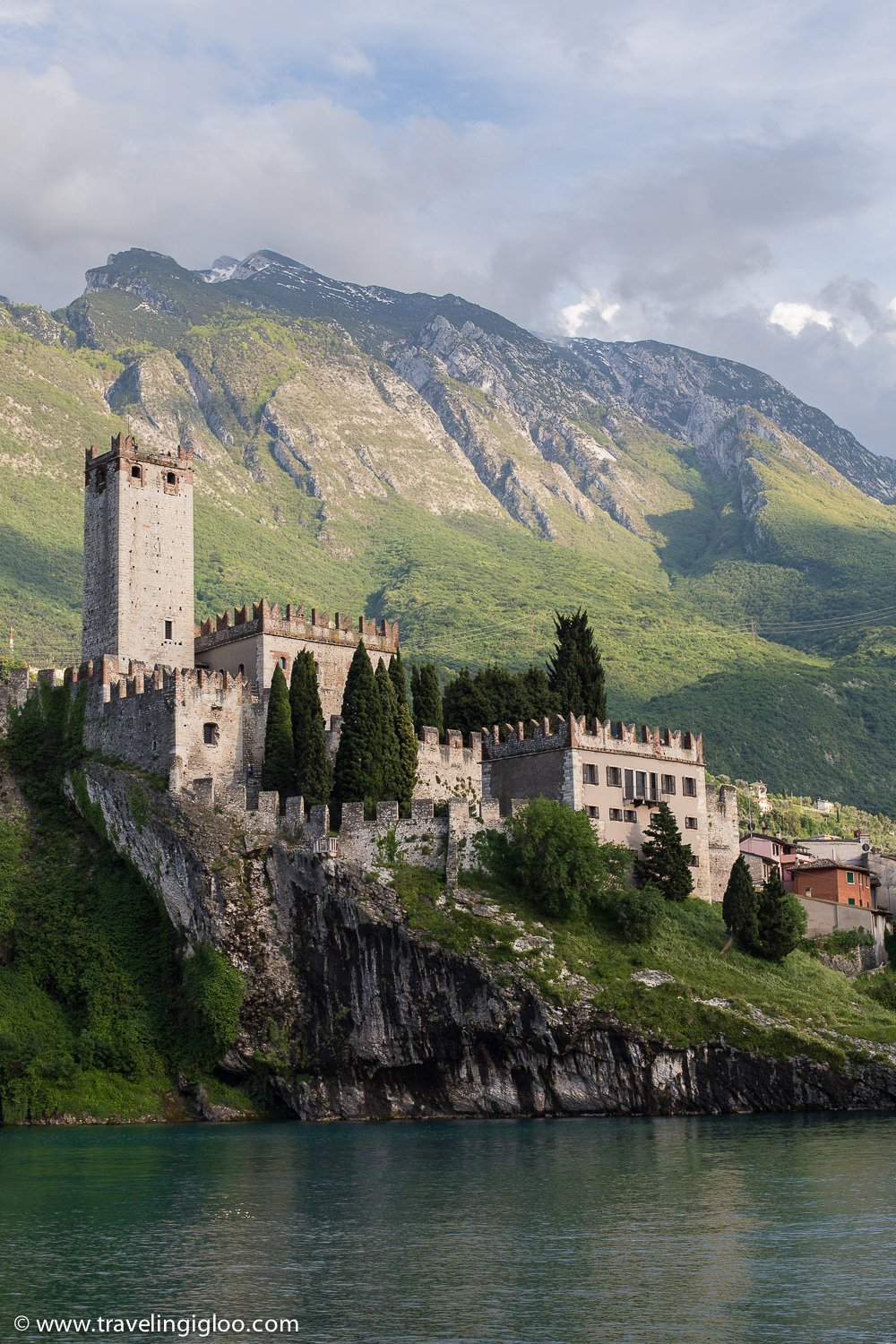 Walk through the alleyways – This town is full of winding alleyways meant only for people and very small cars. Note the streets are made of rocks (see photos below) so be sure to wear thick-soled shoes if you have sensitive feet like me!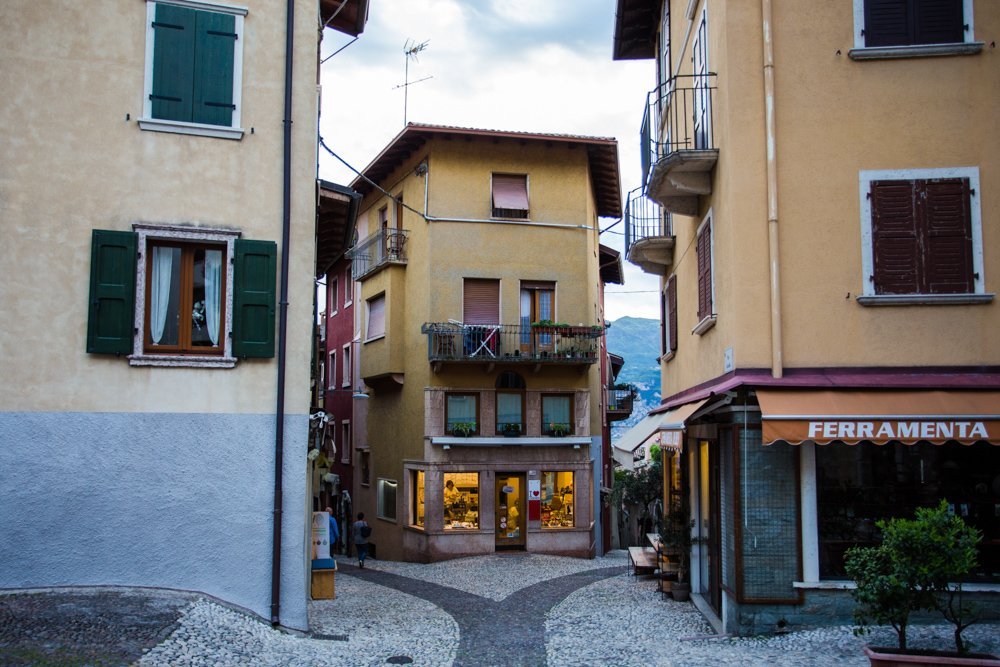 Limone sul Garda
Known for: Limoncello, shopping, a large beach, cliffside resorts, narrow pedestrian alleyways, hills
Limone, or Limone sul Garda, is famous for its lemon groves and olive oil.
That's not all they're famous for though, as this hilly mountainous lake town has many more claims to fame.
James Bond raced here in 'Quantum of Solace' in the opening scene. The town is also famed for longevity; in addition to the Mediterranean diet accounting for a large percentage of people living well into their 80's, a resident in the 1970's was found to have a protein in his blood that wards off cardiovasular disease.
This town is simply stunning, and is just across the lake from Malcesine. The ferry runs between these two towns regularly daily, so you can easily visit both. My favorite thing to do is to walk through the alleys, stop into the tour shops, grab a gelato, and take in the beauty of this area.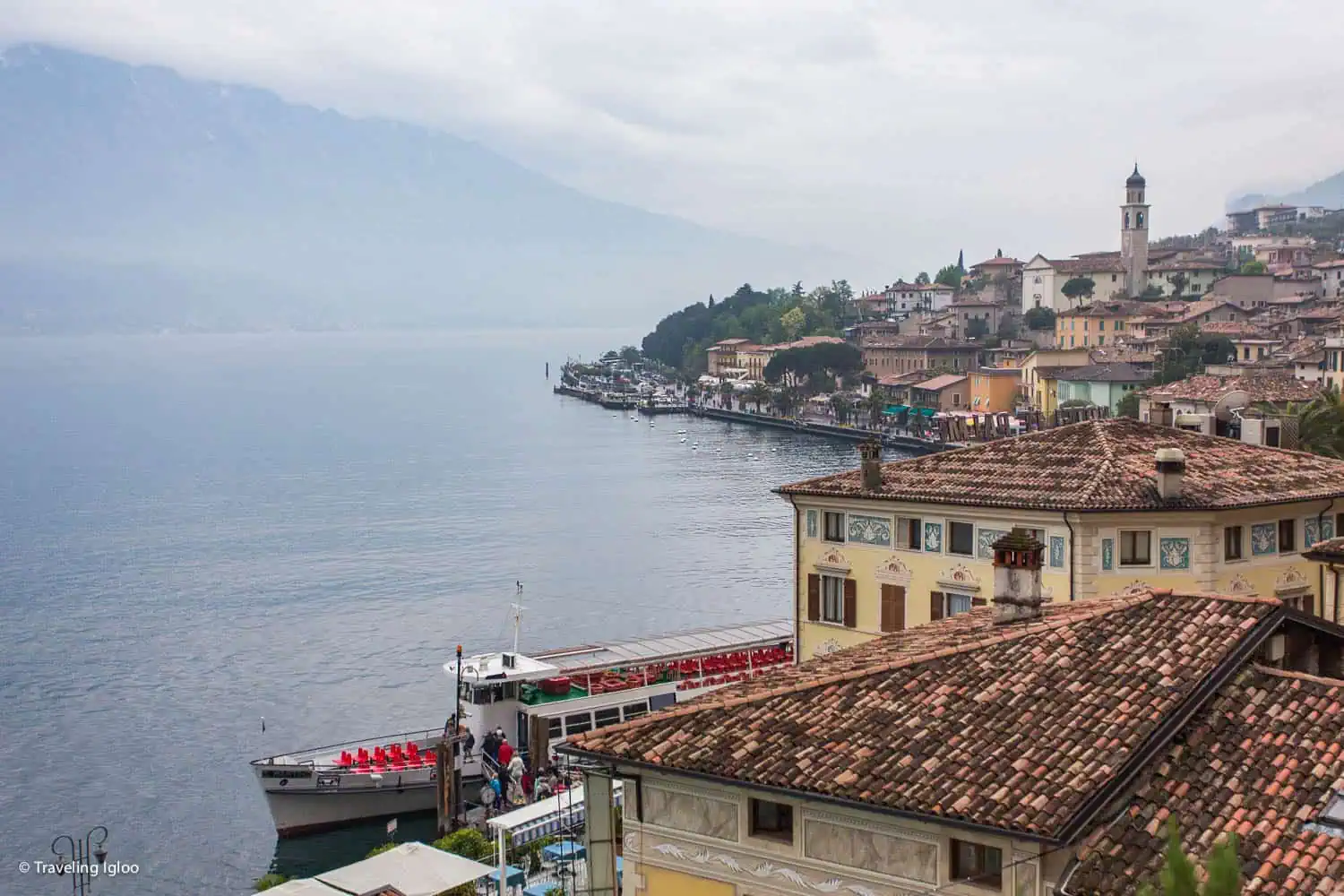 Sirmione
At the complete opposite end of the lake is Sirmione. Sitting at the southern end, the town is easily accessed from Venice, Milan, or Verona. While it is more accessible, it does not have the striking mountainous features that you see in the north.
Instead, the southern end of the lake starts to level out into rolling hills.
A nice perk of Sirmione is that many day tours and boat cruises depart from here so you have many activities available.
The town is most famous for the Castello Scaligero. Scaliger Castle sits at the entrance to the town and along the shores of Lake Garda. This thirteenth-century castle is surrounded by a moat and is open to the public (for a fee).
You'll need to park your vehicle outside of town and walk into the town's pedestrian area. Although it's a peninsula, Sirmione feels like you're on an island as it's nearly surrounded by water.
Sirmione, just like the other towns along the lake, is quite touristy and maybe even more so than the others. If you travel here in high season the streets can get packed with tourists.
Salo
A bit northwest of Sirmione lies the resort town of Salo. This town sets itself apart with a nearly 2-mile waterfront promenade (lungolago). Here you'll find many shops and restaurants. If you head inward there's a pedestrian area with more to explore.
Other Towns on the Lake
There are many other towns on the lake, but after many visits to this region, the above five are my top pick for your first trip. If you want other options I'd look at Bardolino or Garda.
Food & Drink
Breadsticks – Many places serve these thin breadsticks instead of bread. And while dipping your bread in olive oil and balsamic is the norm in the US, this is not common in Italy.
Limoncello – Lake Garda is known for lemons. If you like good liqueurs and you are in Italy I highly recommend that you try Limoncello. It's a sweet drink typically served after dinner that's made from the zest of lemons. It's chilled and refreshing on a hot evening and is a traditional drink in Italy.
Gelato – Around the lake, you'll see photos of spaghetti gelato. Don't worry, it's not actually spaghetti, but instead, they make gelato that looks like spaghetti. It's a popular (albeit touristy) treat.
Aperol Spritz – This is the most popular Italian cocktail made with Aperol liqueur. I find it to be sweet and refreshing on a hot day.
There are many Michelin-star restaurants around the lake. Since I live in a more expensive place, I try to find Michelin restaurants in more affordable places whenever we travel. Salo, Sirmione, Desenzano del Garda, and more all have Michelin restaurant options (see full list here).
Top Things to Do at Lake Garda
Here are the top ways to enjoy the lake, depending on your preferences.
Windsurfing & kitesurfing – The northern part of the lake gets famous trade winds, making it a fantastic spot for windy water sports. Riva del Garda, Retelino, and Torbole are good locations and have lessons available.
Hiking – There are great hiking options in the northern side of the lake. There are trails leading up Monte Baldo and many hikes from Riva del Garda and even Limone sul Garda. Check AllTrails for a list of options.
Gelato – You can't visit Italy and not have gelato at least once! Gelato is Italy's version of ice cream, but they are not the same thing. Gelato is made with more milk than cream, and even though it's made with more milk, it's actually richer than US ice cream.
Take a Boat Ride – Whether you use the ferry exclusively or hire a private boat, it's worth it to get out on the lake and enjoy the breeze and views.
Drive the Famous Strada Della Forra – As seen in the James Bond film Quantum of Solace. See my 'How to Get Around' section for more information and tours.