A Day Trip To Bad Urach Waterfall from Stuttgart
Hey there!
This post may contain affiliate links, meaning I may be compensated if you click on one of my links, at no cost to you. As an Amazon Associate, I earn from qualifying purchases. Read my disclosure policy for more information.
It's nice to get away from Stuttgart and explore nature in the area. Less than an hour from Stuttgart are things like caves and waterfalls that you can experience. If you're in the area, I highly recommend a day trip to visit this beautiful waterfall.
This article will cover everything you need to know about your visit to Bad Urach Wasserfall.
Quick Information
---
Where are the Falls?
Bad Urach is a small town that's roughly 30 minutes south of Stuttgart, Germany. It's in the Swabian Alb that runs through Baden-Wurttemburg.
Interestingly, it was once home to the most volcanic areas in the world. Because of this, there are a great deal of interesting geographical formations and great spas that use the surrounding natural resources.
Bad Urach is also home to the Bad Urach Wasserfall. To get to the waterfall, you drive through the small town and take a right (if coming from Stuttgart). Drive over the train tracks and past some fields and the trail is at the end of the road (about a mile in). If you type in 'Urach Wasserfall' the address should pop up, and here's the physical address as well: Bei den Thermen 4, 72574 Bad Urach, Germany
Parking
There's a parking lot you then you can walk up to the trail. We did this the first time, then discovered that further up the road is the parking lot and a biergarten called Wasserfallhütte. I'd recommend driving up the narrow road until you see a parking lot on the left.
The Trail
The trail is wide with well-groomed gravel and is mostly flat until you get close to the waterfall. In total it's about 2km (1.24 miles) and it stroller friendly. During the entire walk up, there's a small river called Brühlbach that runs to the right. On a hot day it's nice to dip your feet in!
Once you get close to the falls, the water goes over the trail and large boulders. There's a trail with stairs that leads to the right of the falls and it's quite pretty. The mist is also nice on a hot day!
Our dog was in heaven. She kept jumping in and out of it the entire walk up. If only I had that energy! The water was definitely ice cold, but felt so nice with the hot weather we've been having… and the lack of a/c.
In Germany, 'Bad' simply means bath or spa.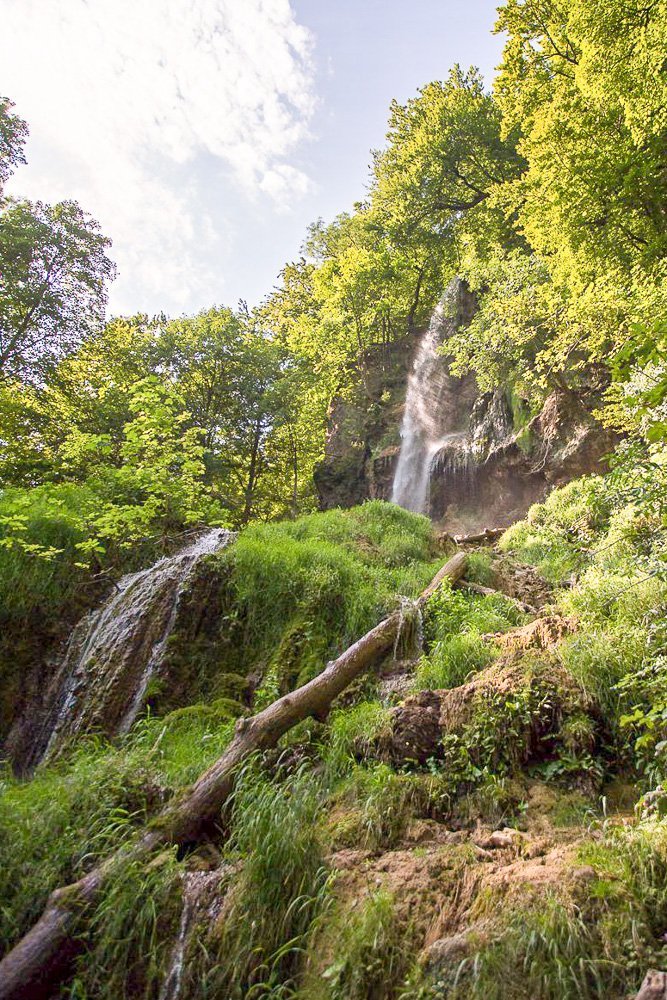 Other Things to Do
Hohenurach castle ruins
If you walk past the falls to the top of the trail, it'll open up to the Hohenurach castle ruins. The ruins and the view were worth the hike
Snack Time
Once you get to the top of the falls, there's a large open area with views below. There's also a snack (and bier) cart as well.
Cherry Picking
When we went, there was a field full of cherries and a stand selling them at the field. I don't like cherries, but I loved these ones.
Lichtenstein Castle
Schloss Lichtenstein is about 30 minutes south of Bad Urach. If you're making a day trip out of it, you could visit the waterfall then check out this beautiful castle. This one and Hohenzollern are my favorites in the Stuttgart area. There's also a lot to do here; a massive ropes course, a biergarten, an upscale restaurant, historical tours, and stunning views of the castle and valley below.
Barenhöhle Caves
This was my first time inside a cave and I was not disappointed. The cave itself is well illuminated to highlight all of the stalagmite and stalactite inside. There's even a skeleton of a bear. The tour is not terribly long and was only in German, but they gave us an English handout. If you have children I'd highly recommend visiting these caves.
Tips
Go Early! – but if you live in Stuttgart you probably already know how busy everything can get. I'd recommend some water and a snack if you don't want to purchase anything there.
Bring Change – Depending on the time of day you visit, you may have to pay a parking fee.
Overflow Parking – There's additional parking further down and at the train station (about a mile away).