How to Spend 24 Hours in Anchorage, Alaska
Hey there!
This post may contain affiliate links, meaning I may be compensated if you click on one of my links, at no cost to you. As an Amazon Associate, I earn from qualifying purchases. Read my disclosure policy for more information.
Anchorage is the largest city in Alaska. It's located in Southcentral Alaska between the waters of Cook Inlet and the Chugach mountains.
The city's dramatic mountain backdrop and the beautiful coastal trail make it a fantastic area for outdoor enthusiasts while still enjoying creature comforts.
At around 300,000 people, it's the largest city in the state and accounts for nearly half the population in Alaska.
Many locals will tell you to get away from the city and explore the real, wild Alaska.
I tend to agree.
But if you have a day or two in Anchorage there's plenty to keep you busy. This article will go over the perfect way to spend 24 hours in Anchorage. For more ideas on things to do in Anchorage, check out these articles:
Outdoor Activities
Wedged between Cook Inlet and the Chugach mountains, Anchorage may be Alaska's largest city but it's a great location for getting outside.
Kincaid Park
In town, Kincaid Park is a large multi-use park with a network of hiking and biking trails. In the winter, they turn into Nordic ski trails. There's also sand dunes and a large motocross track as well. The views along the inlet are beautiful and it's a great way to spend an afternoon.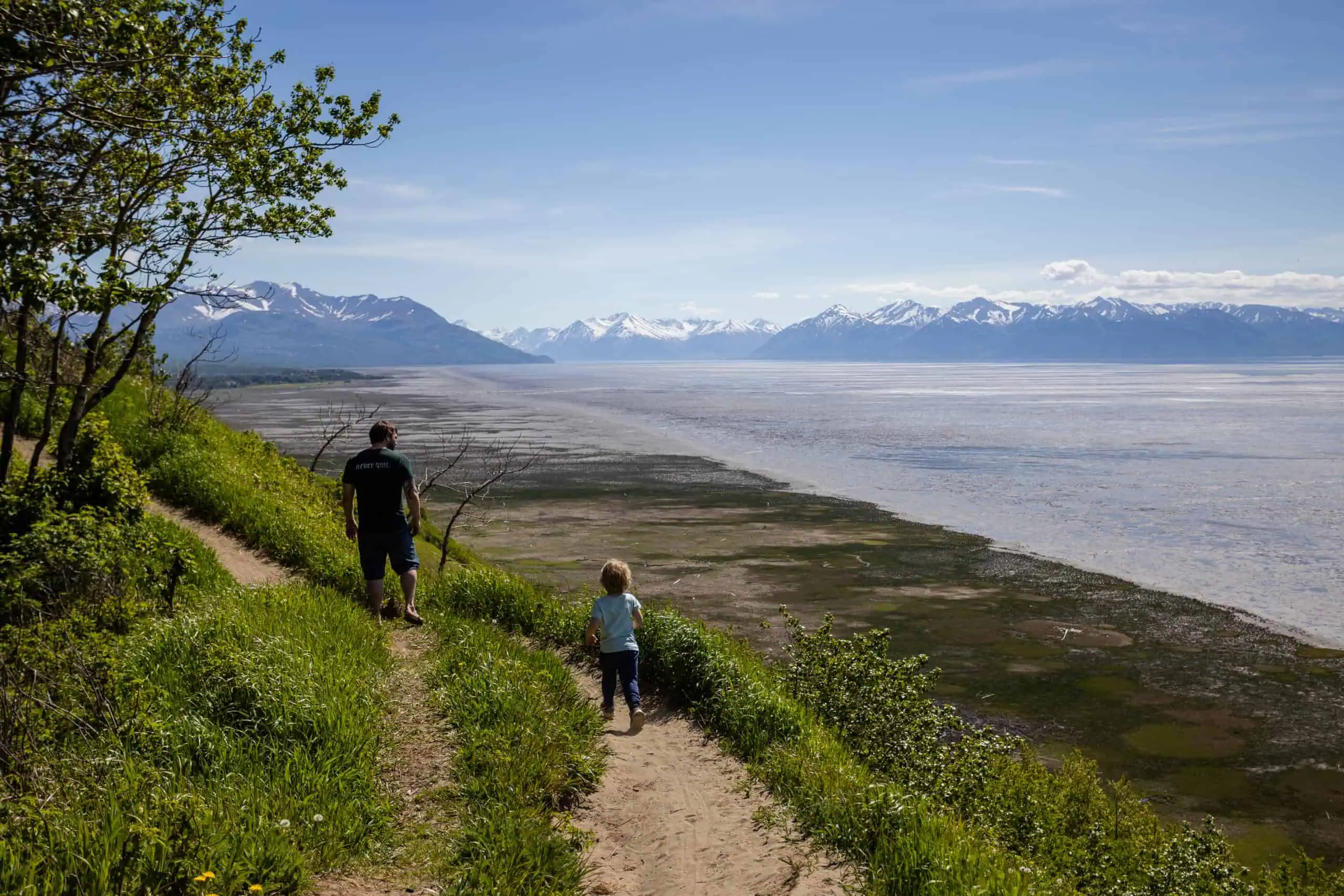 Potter Marsh
Potter Marsh is a popular spot in south Anchorage, just before you start driving along Turnagain Arm toward Girdwood. There's a 1-mile boardwalk that's perfect for bird watching and seeing the occasional moose. Since it's not long, you can combine this with other activities.
Popular Hikes
If you want to hike, the most popular hikes in Anchorage are Flattop, Powerline Pass, and Little O'Malley Peak. Flattop is hands down the most popular hike in town (and all of Alaska), so if you only have time for one I recommend this hike. There are multiple trails to hike up this 3-mile, 1,600 feet mountain. The most challenging part is at the top where it's a rocky scramble involving your hands to reach the top. Even if you don't quite make it to the summit, the views are still phenomenal the entire hike.
Since it's such a popular hike, I recommend checking this live webcam to see if the lot is full. If you don't have a car or don't want to worry about parking, there's a shuttle from downtown that will take you there and back for $25 (departs at 12:05pm).
Tony Knowles Coastal Trail
The coastal trail is a popular 11-mile paved path along Cook Inlet. It starts downtown and runs all the way to the airport. It also runs through Kincaid Park. In my itinerary below, I recommend renting a bicycle downtown and getting on this trail! Alternatively, you can do a fun bike tour and learn a lot along the way!
Westchester Lagoon
The coastal trail intersects Westchester lagoon and is a pretty spot to explore. Other than the lagoon area there's a playground and a small ice cream shop that opens in the summer months. I recommend walking along the coastal trail for a bit to check out some beautiful homes and spot wildlife. Often there are eagles and sometimes moose on the trail.
Alaska Zoo
For a guaranteed way to spot wildlife in town, head to the Alaska Zoo. What I like about this zoo is it's in the woods and feels like you're in the wild while being in town. The paths wind their way along a and there are many different animals to see (not all native to Alaska though).
Our local zoo can't compete with bigger ones elsewhere, but we usually spend a few hours each time we go and I think it's well worth it.
Saturday Market
Every Saturday in the summer there's an outdoor market called the Saturday Market. Located in the parking lot at the Dimond Mall, you can find tons of local artwork, handmade items, food trucks, prints for sale, and more. If you're looking for the perfect gift to bring home, I definitely recommend checking it out!
Address: Dimond Center Mall, 88th Avenue, Anchorage, AK 99515
Indoor Activities
If you're visiting Alaska I recommend getting outside and exploring. If it's raining, do what locals do, throw on a rain jacket and head outdoors!
In Anchorage, there aren't a ton of indoor activities. Aside from malls, shopping, restaurants/bars, and a few indoor playgrounds, there isn't a whole lot. But if you do want to opt inside for a bit, here's what I recommend:
Anchorage Museum – This is the best museum in Anchorage and you could easily spend a few hours here. Located downtown on 6th Avenue and C street, the building's large glass structure is hard to miss. There are permanent and rotating exhibits, and the Imaginarium is a ton of fun for kids.
Anchorage Trolley Tour – While not exactly indoors, the trolley is a way to get out of the elements but still explore Anchorage. Tours start downtown on 4th Avenue where you'll step aboard a bright red trolley. For just $25 you can spend an hour winding around many popular spots in Anchorage and learning the history of the area, including the 1964 quake. They're run by the Anchorage Trolley Tours, and here is the link to book.
Wildlife
Alaska is known for its wildlife and Anchorage is no exception. Encounters with moose and bears are common, so be sure to exercise caution when walking around and exploring. Nearly all encounters are anticlimactic (thankfully) and usually if you're in town there are other people around. Of course there is always the chance that the animal could be hostile.
People may not realize that moose attacks are actually more common than bear attacks. Female moose can be especially hostile in the spring when they have calves. Here's some information on what to do in a moose encounter, and the Anchorage visitor center has helpful information as well.
Food and Drink
Alaska has some of the best food in the country.
And this isn't an exaggeration.
Chefs and restaurants around the state regularly win awards for their creations. I've lived in three countries and four states (major cities) and Anchorage has the best restaurants, hands down.
I think part of the reason is that the bar is set high up here and people expect great food. Anchorage is also one of the most diverse cities in the country, so the food options are abundant. You can get everything from Thai to Vietnamese to Laotian to Indian to Mexican and everything in between.
Here are some of the most popular restaurants in Anchorage:
Altura Bistro (voted for James Beard award 2022)
Snow City Cafe (voted for James Beard award 2022)
Spenard Roadhouse (voted for James Beard award 2022)
South Restaurant (voted for James Beard award 2022)
Haute Quarter Grill – upscale eatery with many fantastic local fish options
Tent City Taphouse – opened in 2021, known for delicious burgers and taps from around the state
Moose's Tooth Pub and Pizzeria – voted best pizzeria in the country in 2017
Crush Bistro – try their wine flights and upscale dishes
Ginger – specializes in Pacific Rim and Asian cuisine
Club Paris – a downtown spot known for steaks and seafood
Local Staples
Lucky Wishbone
Humpy's Great Alaskan Alehouse
Peggy's Restaurant
Gwennie's
On the Go
International House of Hot Dogs – try the reindeer hot dog!
Spenard Food Trucks – Food trucks gather a few times a week at 2435 Spenard Road (Thursdays 11am-2pm, every other Saturday 11am-2pm, and Tuesdays 5pm-8pm starting May 3rd)
Other food trucks – most breweries have a local food truck on weekends. Check their FB or IG to see what's cooking!
Middleway Cafe – a wide selection of salads, hot and cold sandwiches, and desserts. Many GF and vegan options.
Breweries
In the Anchorage area, here are some of my favorites:
Cynosure Brewing
Turnagain Brewing
Double Shovel Ciderworks
49th State Brewing (best patio)
Odd Man Rush (my personal favorite, located in Eagle River)
24 Hours in Anchorage
8:00am
Wake up in the morning and head to Snow City Cafe. This is a popular spot for a reason. Their food is fantastic and they also have bakery items to go. I recommend the ship creek benedict with smoked salmon patties. Expect to wait about 30-60 minutes on any given morning.
If you're visiting on a weekend, Tent City Taphouse (also downtown) also has a fantastic brunch menu.
10:00am
After breakfast, rent bikes from Pablo's Bicycle Rental and head to the Tony Knowles Coastal Trail. Stop at Westchester Lagoon to stretch your legs. Look for eagles and other wildlife as you make your way along the trail.
Then continue on to Point Woronzof at Earthquake Park, where you can spot Denali on a clear day. If not, the Anchorage skyline makes for some great photos.
After that head to Kincaid Park where you can make your way inland along some of the trails or head to the sand dunes (Kincaid Sand Dunes Park in Google Maps).
If you prefer a guided trip, you can book a 3-hour tour along the Coastal Trail. For an easier ride, book the 2-hour E-bike tour option.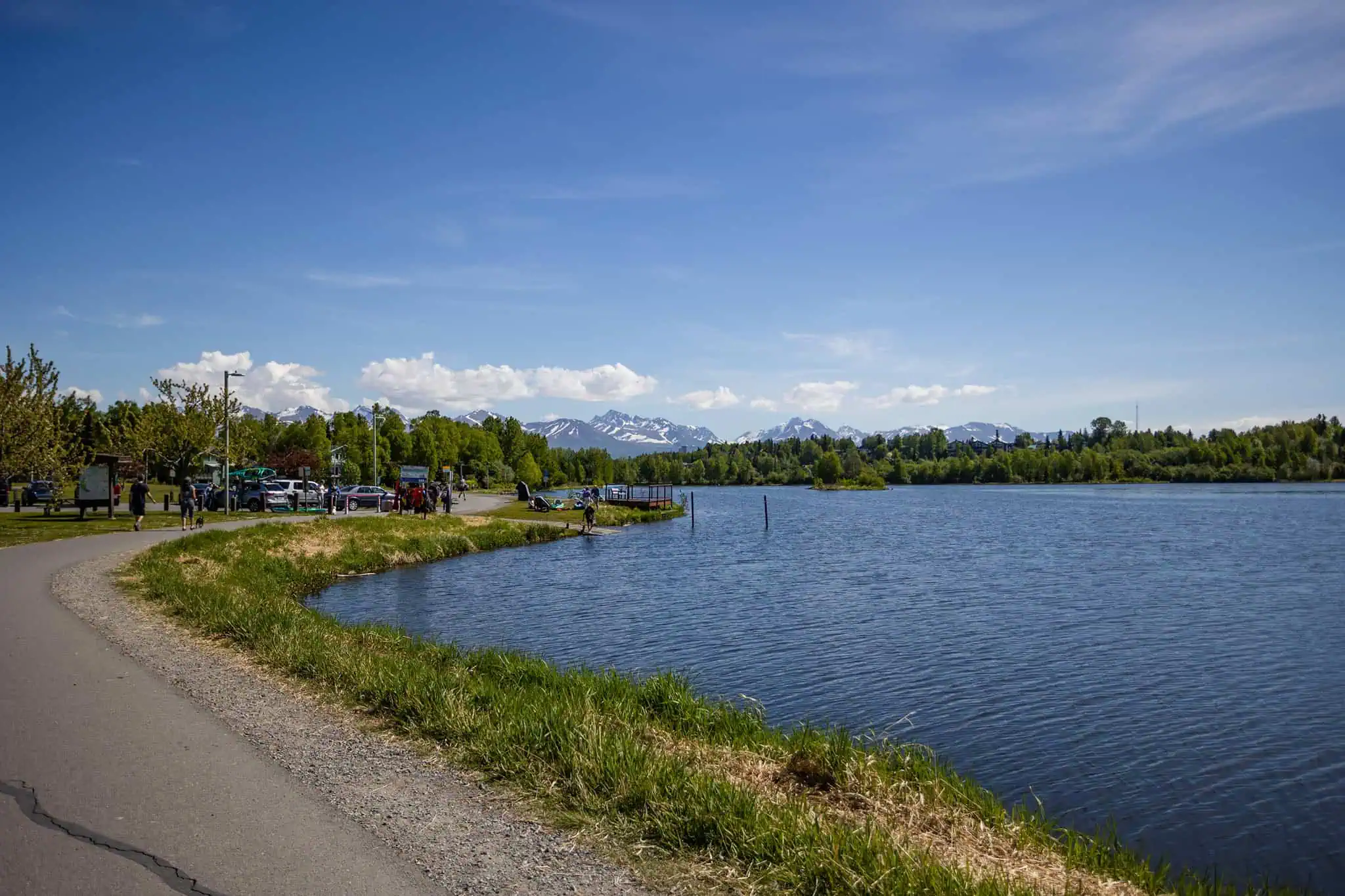 1:00pm
Once back, you'll likely have worked up an appetite for lunch. Just downtown, there are many different options.
I recommend Tent City Taphouse for a great burger, Humpy's for a delicious halibut sandwich, Fat Ptarmigan for pizza, Club Paris for a fantastic burger, or 49th Street for good beers and a great outdoor patio. There are many other options; plug-in 'restaurants' on Google Maps and you'll see many come up.
For more ideas, check out my list of best Anchorage restaurants in the Food and Drink section above.
3:00pm
In the afternoon, I recommend picking an activity listed in the Activities Section above. Here's the quick list:
Walk Around Potter Marsh (short walk, can combine with another activity)
Walk Around the Anchorage Museum
Hike Flattop
Visit the Eagle River Nature Center and Hike/Walk
Alaska Zoo
If you don't have a car and want to stay around downtown, you can visit the Anchorage Museum, Ship Creek and hatchery, and many of the shops downtown.
There are also a lot of local breweries if you want to try some fantastic local beers (and ciders too!). Some of my favorites are Double Shovel Cidery, Cynosure, Turnagain Brewing, 49th State, and Odd Man Rush in Eagle River.
6:00pm
For dinner, you have a lot of options around town. Many of the more popular spots require reservations, especially with larger parties.
For something more upscale, I recommend Crow's Nest downtown or Altura Bistro. Altura has an amazing lobster bisque and I had the best scallops of my life here. Crow's Nest has views that can't be beat; it's located at the top of the Captain Cook Hotel in downtown Anchorage and has panoramic views of Anchorage and the inlet. Another favorite is Haute Quarter Grill downtown. All of these places recommend reservations.
For something more laid-back, I recommend Fat Ptarmigan, Humpy's Alehouse, Pangea, or Tent City Taphouse (but there are many more options to choose from).
If you're a night owl, head downtown to the many bars and pubs. Crow's Nest makes great drinks at 20 stories high and 49th State Brewing has a large outdoor patio. There are many other bars to choose from downtown.
If you're up for an adventure, evening hiking is quite popular in the land of the midnight sun. Flattop is the most popular hike in town and is about a 15-minute drive from downtown. Another option is to walk along the Coastal Trail or watch seaplanes take off at Lake Hood.
What To Wear
Alaska is not a place to get dressed up. I'd suggest comfortable clothes, even hiking attire, for day excursions and dinner at night. For more detailed information check out my Alaska Packing Guide.
If you plan to be out all day I recommend bringing layers. Since it can go from a chilly 50 degrees to a warm 75 degrees in the sun within a few hours, it's best to bring a backpack that can accommodate weather changes (a light jacket, a hat, sunglasses, etc). I usually layer with a tank or t-shirt, a light jacket or zip up hoodie (or both), a hat to block the sun, jeans or comfy stretchy pants, and workout shoes or hiking sandals.
You don't need to dress up for dinner, even at the fancier restaurants, your day attire works just fine.
This backpack from Tripped Travel Gear folds into a small pouch and is great for day trips.
In Conclusion
This article should give you plenty of ideas on how to spend a day in Anchorage. If you want to get out of town, be sure to read my post on 12 Perfect Day Trips from Anchorage.
More Alaska Articles