An Epic 7 Day Alaska Winter Itinerary: The Highlights
Hey there!
This post may contain affiliate links, meaning I may be compensated if you click on one of my links, at no cost to you. As an Amazon Associate, I earn from qualifying purchases. Read my disclosure policy for more information.
Alaska in the winter months is a completely different experience than in the summer months.
There are the obvious parts; it's cold, there's snow, and the days are short.
Then there's the less obvious.
It's so quiet, there are virtually no tourists, and you can watch one of the natural wonders of the world dance across the sky.
Winter here can be quite magical.
This itinerary was created for someone who wants to experience the top fun and exciting things you can do in the winter months.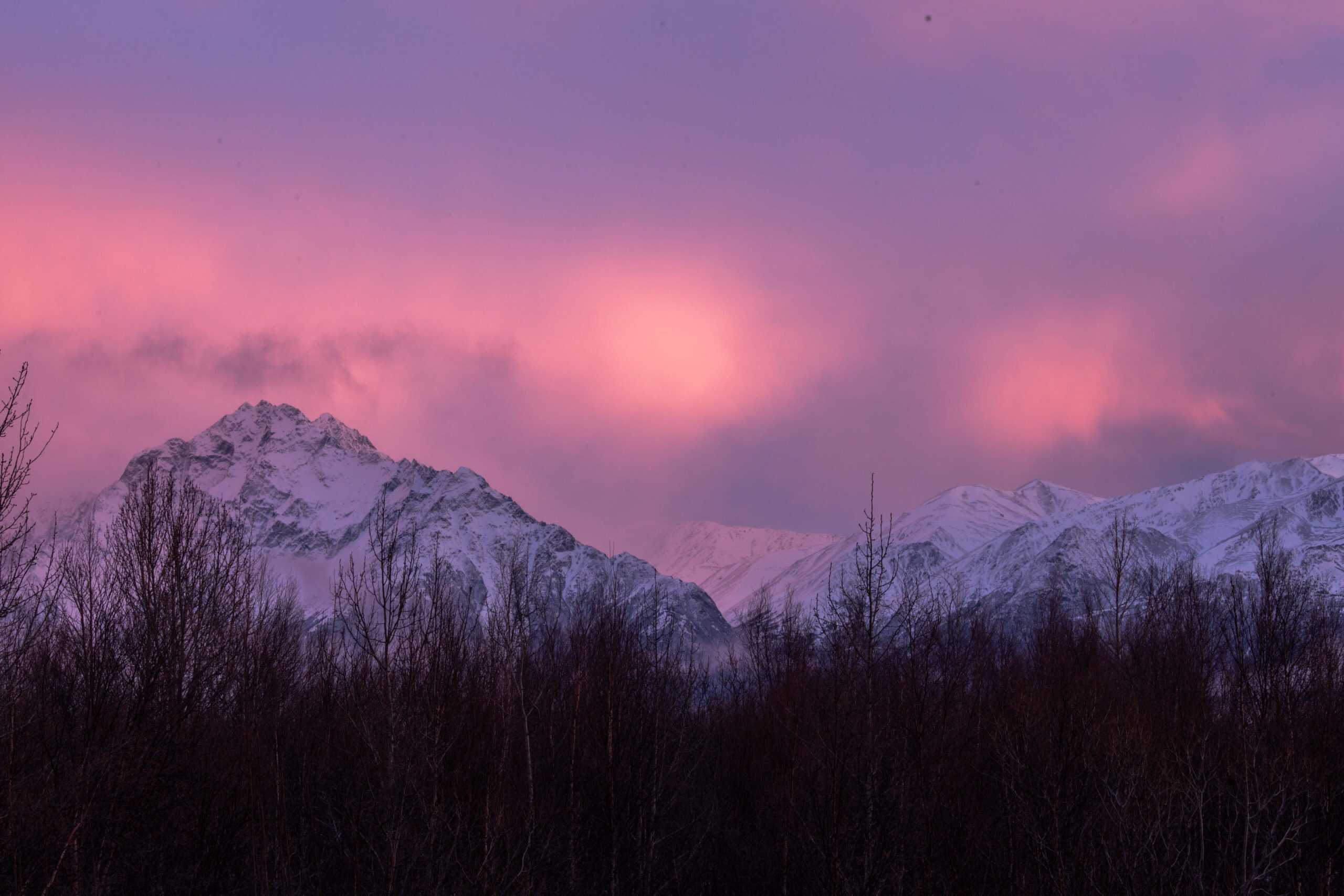 Why Fly into Anchorage and out of Fairbanks?
I purposely created this itinerary with a different start and end point.
This is because you'll be taking the epic Alaska Winter Train to Fairbanks. It's a 12-hour journey and will take all day, so I don't recommend doing this twice in 7 days.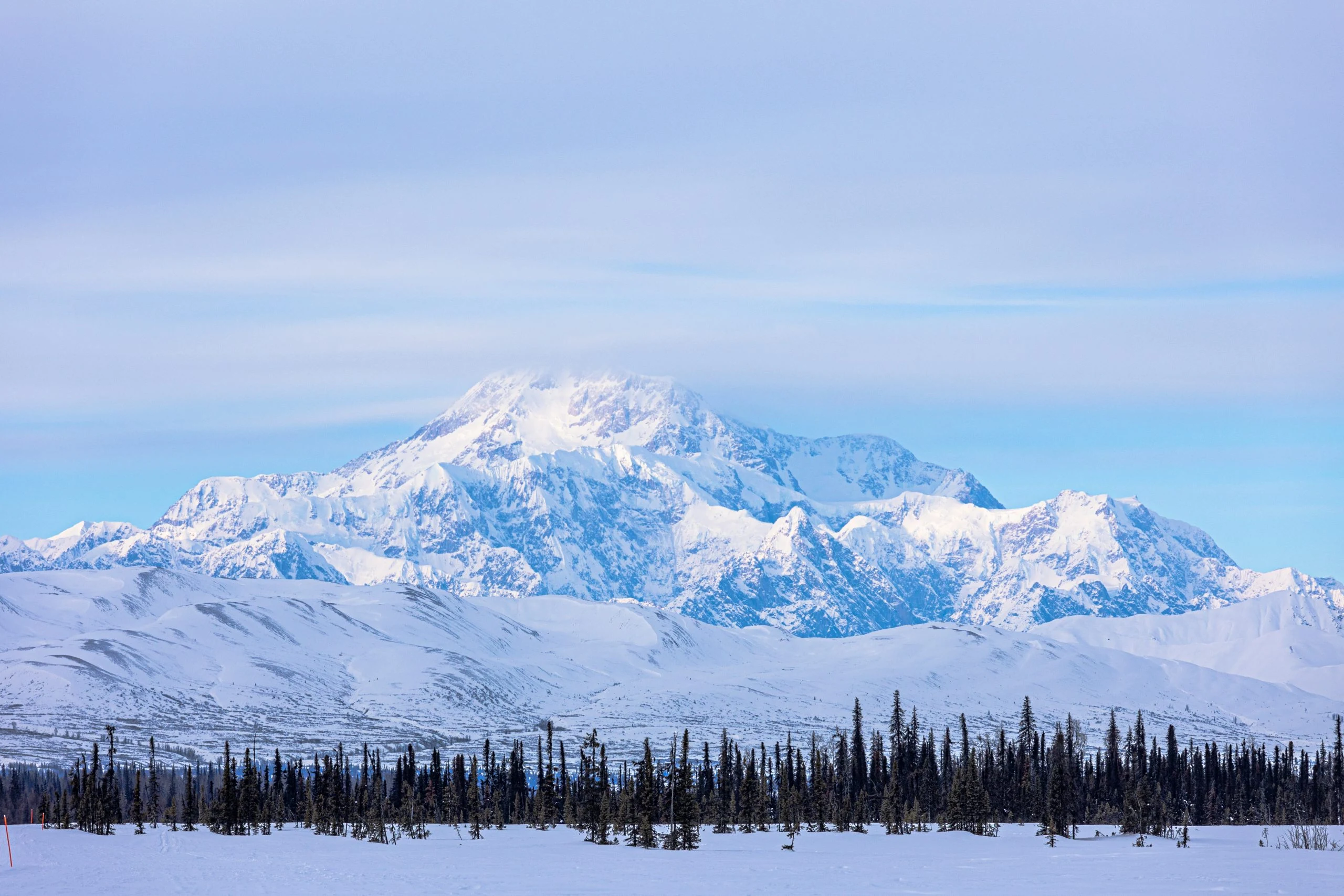 Main Activities
With this itinerary, you will be covering all the main winter activities. This includes glacier walking/hiking, dog sledding, skiing/snowboarding, and seeing the northern lights.
Please keep in mind that winter weather will play a major factor in your trip. Tours and excursions can easily be canceled due to icy roads or blizzard whiteout conditions.
Weather
There's no way around it, winters in Alaska are cold. Around the state, however, there are huge variations in temperatures. Since this article is going to focus on the Anchorage and Fairbanks areas, I am only referencing the weather around these cities.
Winter starts around Mid-October and lasts through April. Of course, there are variations each year, but you can expect the first snowfall in October and typically at least one or more snowfalls in April.
Something that sets apart Alaska from other snowy areas in the lower 48 is that once the snow hits, it sticks. We don't get random 40-degree (F) days. You can go many months without seeing asphalt on the road.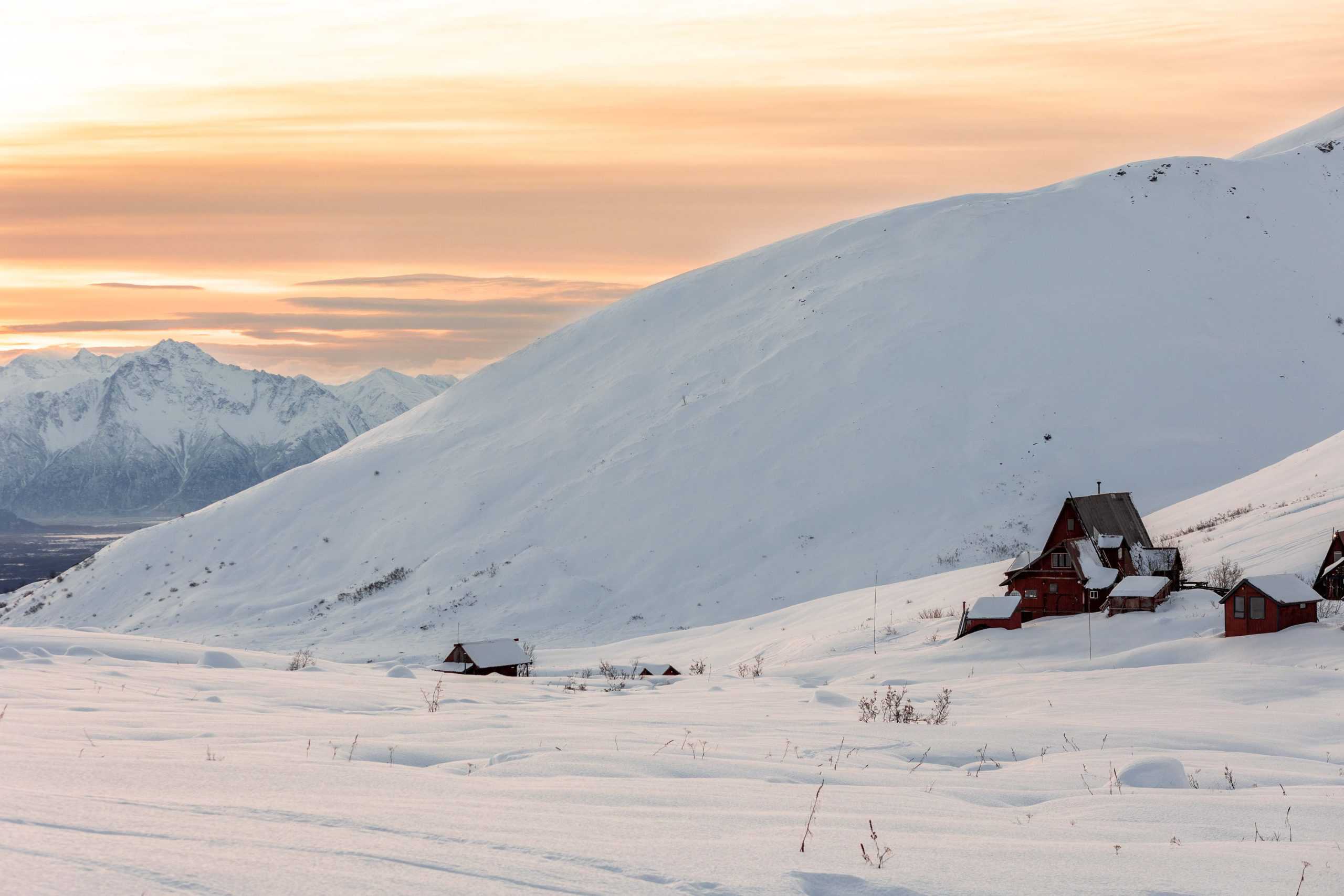 Fairbanks winters are much much colder than Anchorage. If you look at a map, you'll see that Fairbanks is 359 miles (577km) north of Anchorage. Once you're this high up in the world, that distance makes a huge difference in temperatures.
According to Weatherspark, the average high winter temperature in Fairbanks is 16F. The average high temperature in January is 3F. Fairbanks has extreme colds and it's not uncommon to have negative temperatures (Fahrenheit) for days or weeks on end.
In Anchorage the average high temperature is 32F during the winter months, much warmer relative to Fairbanks. In January the average high in Anchorage is 24F.
Fairbanks is also in what's called 'The Interior' of Alaska.
The elevation is higher, there's a lot more tundra, the vegetation is drier, and even the mountains look different than further south. They're not striking like you see in the Anchorage area.
Because the entire Fairbanks area is in a massive valley, this means that your northern lights viewing is better. What I mean by this is that you don't have large mountains blocking the views.
When is the Best Time to Visit Alaska in the Winter?
I grew up in Alaska, and live here as an adult.
I've lived near Anchorage most of my life, so I'm most familiar with this area, but my advice still applies to Fairbanks as well.
There are two main considerations when it comes to timing your visit: weather and daylight.
Winter unofficially starts in November, but snow can start to fall by early to mid-October. By December, it's cold and snowy, and continues until about the end of March (but it still isn't spring until nearly May).
Winters here are long.
Here's my take – I would hold off on visiting until January or later.
In November and early December, Alaska has the first big snowfalls, and the roads (drivers) can be chaotic.
Also, every year it seems that the plow trucks take a few snowfalls before they get their groove. I usually avoid the roads as much as possible during the first few snowfalls.
But if you're used to the snow and this isn't a big issue for you, then, by all means, visit this time of year.
December 21st is winter solstice and the darkest day of the year. This is definitely something unique to experience.
December also has the most cloud cover, meaning it might not be great for northern lights viewing.
January and early February are the coldest months of the year, so if you visit during this time bring lots and lots of extra warm layers.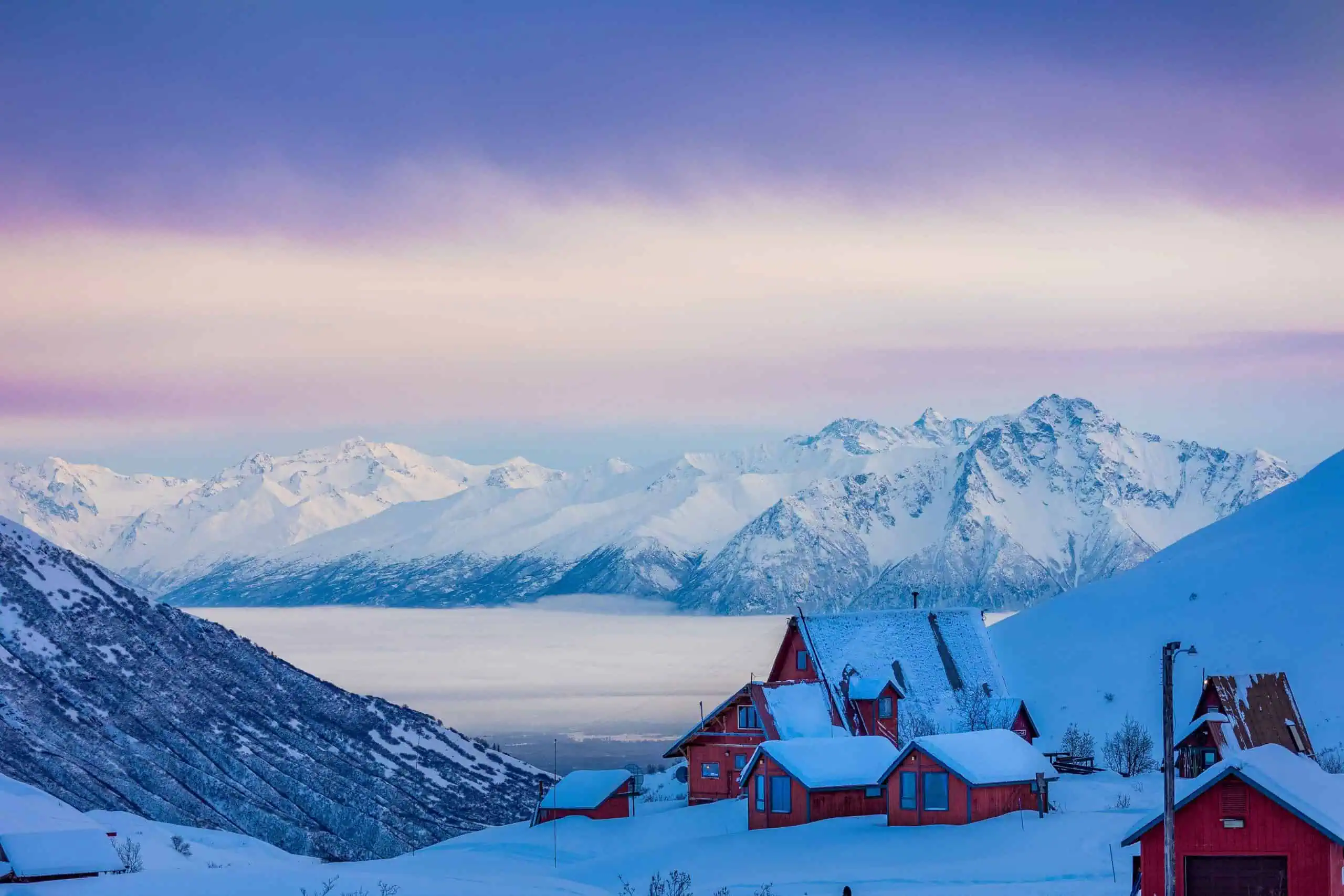 As you can see, each month has its pros and cons.
For most people, the northern lights and some winter activities are at the top of the list, so for those reasons I recommend January – March.
Do You Need a Car?
Normally, I would say that you absolutely need a car in Alaska.
However, with how I created this itinerary, you can actually book tours for most of your excursions and skip the car rental. AK Tripping is a local company that does all the driving for you.
This trip is set up to split your time between Anchorage and Fairbanks. If you decide to rent a car, it will be mostly for around Anchorage.
In Fairbanks, the itinerary is set up so you don't need to rent anything (unless you want to).
If you don't rent a car you'll save about $100 a day on rental costs. But keep in mind you'll be booking more tours since you won't have a way to get around.
I think for a smaller group this balances out, but a car rental could make more sense if you're a larger group and don't mind driving.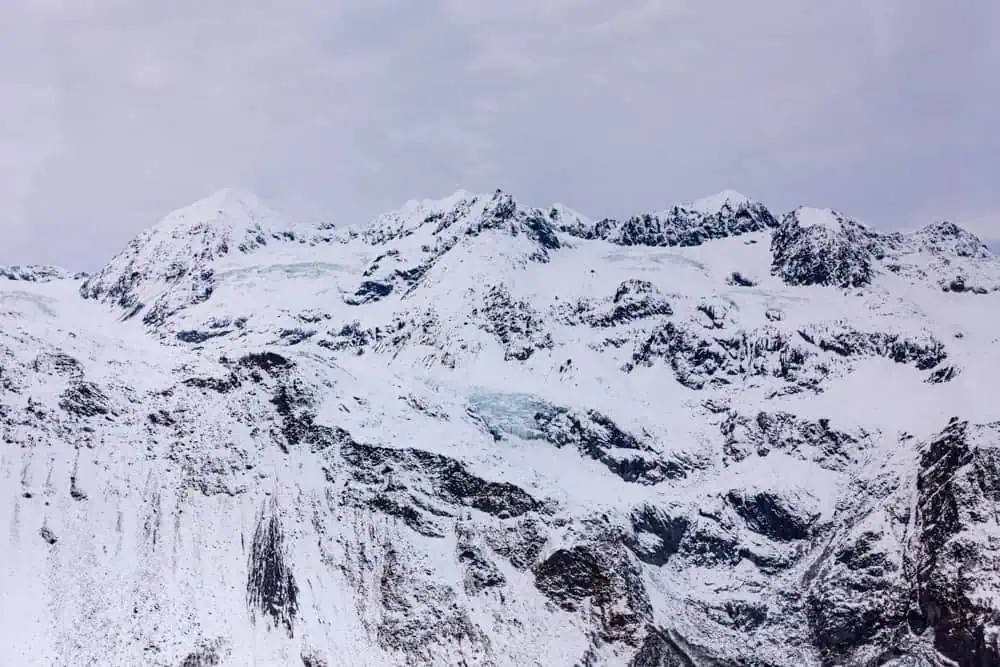 If you don't love the idea of driving in the snow, you can use this itinerary to create your perfect trip without a vehicle.
Vehicle Rental Information for Winter in Alaska
If you'd rather have a car to get around yourself then I recommend booking with a local company to ensure you have winter tires.
The best local outfitters are Go North, Alaska 4×4 Rentals, and Alaska Auto Rentals.
If you rent from a larger agency, be sure to have at least a front-wheel drive vehicle (4-wheel or all-wheel drive is best though).
You will need two separate car rentals – one in Anchorage and one in Fairbanks.
I would also see if you can get a vehicle with winter tires (blizzak or studded tires). All-weather tires are okay, but they are not great for wintry driving conditions.
Most car rental companies don't have studded tires on their rentals, but there are local companies that do.
One unique aspect of Alaska is that since it gets so cold in the winter, you may be asked to plug in your vehicle. This mostly applies to Fairbanks, but it can happen in Anchorage too. Plugging in your vehicle quite literally means plugging it into an extension cord and outlet via the plug either under the hood or hanging out of it. This is usually needed once it gets below -10.
And one last thing to keep in mind – you'll be driving in the dark quite a bit. With the glare of other vehicles (and the light beams that some people have added to their trucks), I don't always love driving in the dark up here. And yeah, I live here. So if you have trouble driving in the dark then you might want to skip a rental.
Another option is Turo. Turo is like Airbnb for vehicles. You can rent people's privately owned vehicles through the app, often for much less than a car rental agency.
The biggest downside to Turo is that you are relying on one vehicle and not a fleet of cars. So if something happens to it, then you need to find a new rental elsewhere.
Packing for Winter
Any winter Alaska guide will recommend layers, and this one is no exception. But there are other things to consider too (like yaktraks for walking on the ice). I have a detailed guide with winter packing tips that you can find here.
TRIP OVERVIEW & MAP
7 DAY ITINERARY – THE HIGHLIGHTS
DAY 1: EXPLORE ANCHORAGE & GIRDWOOD (WITH 4 OPTIONS)
DAY 2: DOG SLEDDING TOUR
DAY 3: WALK ON A GLACIER
DAY 4: ALASKA WINTER TRAIN TO FAIRBANKS
DAY 5: FAIRBANKS AND CHENA HOT SPRINGS (& NORTHERN LIGHTS)
DAY 6: CHENA HOT SPRINGS AND NORTHERN LIGHTS
DAY 7: FAIRBANKS FLY OUT
Day 1 – Explore Anchorage
Today is loaded with options for everyone. Explore the options below and pick among your favorites.
Highlights: Skiing Snowboarding | Brewery Tour | Fat Tire Biking | Nordic Spa
Today you have a few options to choose from. If you're just flying in today, you can do one of the shorter activities or explore around Anchorage.
There's a nice museum right downtown, the Anchorage Museum, so if you want to learn more about Alaska and specifically Alaska Native history, it's worth checking out.
Option 1: Go Skiing/Snowboarding at Alyeska Resort
If skiing or snowboarding is your thing, then I highly recommend an overnight stay at the Alyeska Resort. And honestly, even if you don't ski, it's a great little town just outside of Anchorage.
Nestled in Girdwood, about an hour's drive south of Anchorage, this little ski resort is a local favorite.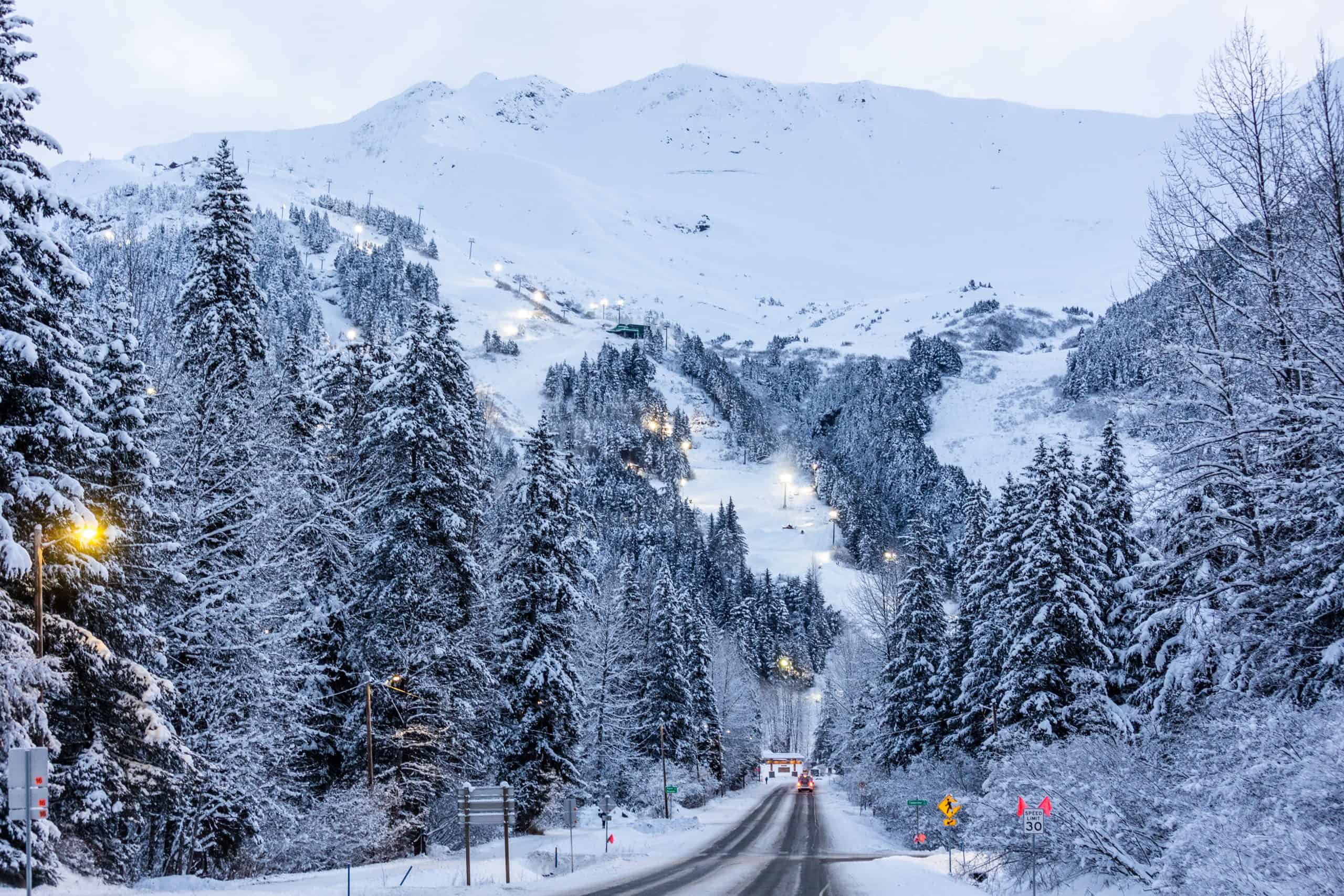 It also has some pretty big titles. Alyeska has the longest double black diamond run in North America.
The area is also primed for snow; the mountain gets an average of 669 inches of snowfall a year.
There are many black and blue runs throughout the mountain. There are only nine lifts, but since it's not a typical tourist destination, there are rarely crowds.
They also have night skiing from 4-8pm.
Note: If you plan to visit Alyeska, you'll need to rent a car for this portion of the trip or use a service like AK Tripping.
Girdwood makes for a great overnight stay. There's a free shuttle bus that goes between areas in town and the resort throughout the day (free for anyone, not just hotel guests).
There's only one hotel here, the Hotel Alyeska, and many Airbnb's around town. The hotel has a nice pool area, a few restaurants, and an amazing Nordic Spa (see below for more information).
Since this is the only ski resort in the state, accommodations fill quickly. The resort isn't cheap, but there are some inexpensive home rental options if you're trying to save money.
There's also a place called The Ski Inn, a small boutique hotel with reasonably priced rooms.
For a great ski inn/ski-out condo, I recommend this updated 2-bedroom spot at the base of the mountain. There are many other home rental options to choose from too.
I love stopping at the Girdwood Brewing Company, it's become a local cult favorite. There are food trucks daily and you can find the full schedule on their website.
The best restaurants in town are Jack Sprat and Double Musky, neither of which take reservations. Chair 5 has a fun laid-back atmosphere and serves American and pub food. Another top restaurant is 7 Glaciers, located at the top of Mount Alyeska via the Alyeska Tram. They continuously win awards with Wine Spectator each year.
Option 2: Visit the Nordic Spa
Hotel Alyeska opened a brand-new 50,000-square-foot Nordic Spa. This spa is the first of its kind in Alaska. And you don't need to be a hotel guest to go.
Please note this can be combined with the previous activity as the Nordic Spa is located at the Hotel Alyeska in Girdwood.
The Nordic style of spa follows a hot-cold-rest-repeat cycle.
There are six saunas, hot and cold hydrotherapy pools, hot tubs, relaxation pools, and cold plunge pools with waterfalls throughout the area.
I went with my husband this year and plan to go again. I've been to many spas in the Alps and around Germany, and this one can definitely compete. If you want to read more about my experience, I wrote a review with all the details here.
It's absolutely beautiful and peaceful, and I HIGHLY recommend visiting if you have time.
Current rates are $99 for 12-hour access (although you can't re-enter once you leave) and there's a discounted rate from 5-9pm.
Option 3: Go On A Brewery Tour in Anchorage
If you'd rather stay in town and explore the local refreshments, there is a fun half-day brewery tour.
Alaska has a busy brewery scene, and there is no shortage in Anchorage.
With this half-day tour, your guide will take you to three breweries around the city to try six different beers on tap.
You'll start and end downtown at 4th Street, so you can easily continue on a self-guided tour afterward.
Tour Length: 4 hours | Rating: 5 out of 5 stars | Check Availability & Rates
Option 4: Go Fat Tire Biking in the Snow
A fun activity in Anchorage is to rent a fat tire bike and hit the trails around town.
Or (even better in my opinion) is to book a fat tire bike tour around the city.
With this tour, you get to explore a large network of trails near the hillside of Anchorage.
Tour Length: 2 hrs 30 minutes| Rating: 5 out of 5 stars | Check Availability & Rates
Anchorage Restaurant Options
Afterward, warm up with some delicious dinner. I am a self-described foodie, having tried nearly every spot in Anchorage. So I don't make these recommendations lightly. Here are my top restaurant recommendations while you're in town!
Breakfast: Snow City Cafe, Spenard Roadhouse, Middleway Cafe, South Restaurant (located in south Anchorage)
Lunch/Dinner: Moose's Tooth Pub and Pizzeria (a cult favorite), Spenard Roadhouse, Middleway Cafe, Tent City Taphouse (amazing burgers & local taps), Charlie's Bakery (the best spot in town for Chinese food….yes, the name is deceiving), Ray's Place (Vietnamese), Everest (Indian), Altura (upscale, AMAZING food, reservations required), F Street (for fish and chips), Club Paris, and Humpy's (local spot downtown, a great place to grab an Alaskan beer).
The popular tourist spots such as 49th State Brewing, Glacier Brewhouse are decent but overpriced in my opinion. The recommendations I provided are where the locals mostly go.
There are also food trucks all around town, with many located at the local breweries. Some of my favorites spots are Double Shovel Cidery, Cynosure, and Turnagain Brewing.
There are honestly so many fantastic restaurants in Anchorage. I've lived in major cities in Colorado, Nevada, and Washington, and Anchorage has the best selection of food of any city I've lived in. If you're a foodie, I recommend checking out the Facebook group Anchorage To Go.
Anchorage Where to Stay
Anchorage is not a walkable city, especially in the winter. I recommend staying downtown so you can easily get to restaurants and shops. Note there is not a grocery store downtown, so if you are staying at a VRBO or other homestay, you'll have to travel to get groceries. There are delivery services with Fred Meyer, Walmart, and other local stores if you don't have a vehicle.
Best Downtown Option with Spa – The Hotel Captain Cook is a popular option, and for good reason. They have a few restaurants in-house, including the popular Crow's Nest on the 20th floor. There are shops on the main floor. The rooms aren't fully updated but are clean and have everything you need. And you really can't beat the mountain and inlet views.
Best on a Budget – Alaska isn't known as being very budget-friendly, but there are some inexpensive VRBO options like this 1-bedroom rustic apartment downtown or this studio directly downtown. This is one case where I think you could find a cheaper VRBO (home rental) than a hotel, although most hotels include breakfast.
Best Large Home Downtown – This 3-bedroom, 2-bath home can sleep 9 people and is in a great location downtown. And although it's a traditional home converted to a rental, they've done an exceptional job. It has all the amenities you need and is within walking distance of downtown while still being in a quiet area. Check Prices Here.
Day 2 – Dog Sledding Tour
Hang out with huskies and go dog mushing
Highlights: dog sledding, scenery
For today's excursions, you will need a car to get around. If you didn't rent a car, then you can pick one up at a rental car company. You can also opt to do a different tour altogether, like this one that takes you along Turnagain Arm and to see wildlife.
If you stayed in Girdwood overnight, they have a 2:30pm tour option, so you'll have plenty of time to drive to Willow. The drive from Girdwood to Willow takes about 2 hours without stops (and assuming good weather). I would allow 3 1/2 hours in case of bad weather or an accident.
Today you're going to drive North to Willow for a dog sledding tour! Willow is THE place to go for dog sledding in Alaska. This is where you'll find the official start of the Iditarod along with many famous dog mushers.
They have a large network of trails out here for an unforgettable and authentic Alaska dog sledding trip.
The drive out to Willow from Anchorage takes about 90 minutes and is about 80 miles away. On the way, you'll drive next to the Chugach mountains and pass through Wasilla.
Be sure to watch out for moose on the drive as there are a lot in the area. There's even a sign with a tally showing how many moose are hit by vehicles each year (it resets July 1).
This specific tour takes you out on the trails and introduces you to the Huskies. It's a family-owned and operated kennel and they absolutely love their dogs.
I prefer the family-run tours when possible and loved this experience.
The tour lasts 90 minutes, just long enough to get a taste of dog sledding without freezing. And as a bonus, you can see Denali on a clear day! They also have nearly 200 5-star reviews.
Tour Length: 1.5 hours | Rating: 5 out of 5 stars | Check Availability & Rates
Once you return, grab some dinner at one of my recommended spots from day 1 and get ready for a fun day tomorrow!
Day 3 – Matanuska Glacier Hike
Today you'll head north to a 27-mile-long valley glacier & tour the glacier
Highlights: Walk on a glacier | Beautiful drive
After a busy first day, be ready to jump into another fun and action-packed day!
Today you'll be walking on a large glacier about 90 minutes north of Anchorage.
A tour is required to walk on the glacier, and it's something I would recommend anyway, especially if you're new to glacier hiking.
There are many tour outfitters. I recommend this full-day tour with transportation included.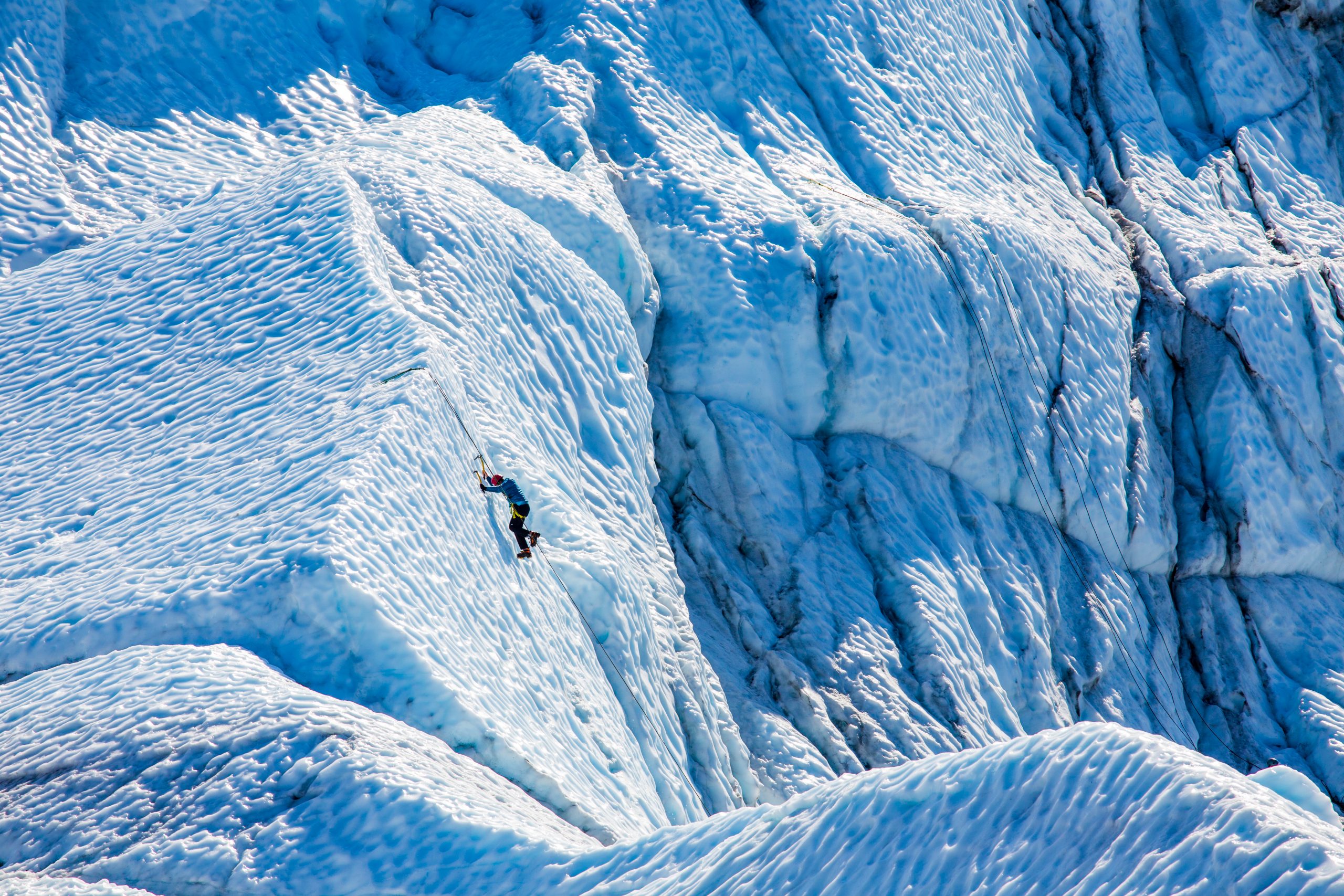 In the morning you get picked up at your hotel in Anchorage, then head out for a full day of adventure.
They provide all the equipment necessary to safely walk on the glacier. And lunch is included too!
And with nearly 100 5-star reviews, it's really a no-brainer.
Tour Length: 8 hours | Rating: 5 out of 5 stars | Check Availability & Rates
Day 4 – Alaska Winter Train to Fairbanks
Today you'll take the 12-hour journey to Fairbanks
Highlights: Beautiful train ride from Anchorage Fairbanks
Today is going to be a long but exciting day. You'll head to the railroad depot in Anchorage and climb aboard the Alaska Winter Train to Fairbanks!
The trip takes 12 hours and it does get long, but it's so worth it.
Once you get out of Anchorage and past the Matanuska-Susitna Valley, the views open up. You'll pass along large rivers, go by many mountain ranges, ride over the nearly 300-foot hurricane gulch, and pass by Denali (maybe you'll even catch a glimpse of it!).
There isn't always cell reception along the way, so be sure to download a book, bring a game, or have some drinks and mingle with other passengers.
If you don't want to be on a train for that long, then you can take a quick 45-minute flight from Anchorage to Fairbanks. I would highly recommend the train as it's an experience, but if you have small children, a quick flight might be better!
Once you arrive, make your way to your accommodations in Fairbanks.
Where to Stay
Since you had such a long train day, I recommend staying somewhere in town near the train station. My top recommendations are Sophie Station Suites and Pike's Waterfront Lodge.
Day 5 – Explore Fairbanks & Chena Hot Springs
Today you'll get to explore Fairbanks and stay at Chena Hot Springs
Highlights: Northern Lights, Fairbanks, Hot Springs
Today will be an easy morning followed by a shuttle to Chena Hot Springs, about 90 minutes northeast of the town of Fairbanks.
If you love to do it all, you could rent a car and drive to the 'North Pole' today. This is an actual town that has Santa Claus's House. Otherwise, you can walk the small downtown area of Fairbanks, visit one of the museums in the area, and then take the shuttle to Chena Hot Springs.
There are shuttles running throughout the day between Fairbanks and Chena, so if you want to spend the day in Fairbanks you could take a later shuttle.
I wrote a detailed review of my winter experience at Chena Hot Springs. To be honest I wasn't terribly impressed with the rooms. However, the hot springs, northern lights viewing and tour, and ice museum more than made up for it. The restaurant serves up some great food too, just be sure to get on the waitlist early for dinner (the wait times were about 2 hours when we went in 2022).
If you prefer nicer accommodations, you could do a day trip to Chena Hot Springs, then take a northern lights tour out of Fairbanks.
In Chena, there is a northern lights tour you can book (more about that on day 6), or you can use their Aurora Viewing Room in the admin building to stay warm while waiting for the lights!
There are many good tour options in Fairbanks.
I prefer this one – you're taken to a lodge where you can stay warm and cozy until the lights are out. There's also no light pollution so you have a good chance of seeing the aurora (weather and data permitting).
Some tours drive you around, but then you're stuck in a van all night or waiting outside in the cold. While some people may prefer that style, I like a tour where you can stay cozy inside a cabin.
While you certainly can venture out on your own, you may spend more time trying to find a good spot away from light pollution than actually seeing the lights. You also don't have the help of an expert with knowledge of how to capture the lights. With some careful planning, though, it's certainly possible.
Either way, I recommend getting out to try and see the northern lights! Most tours run until 2-4 am, so expect a long night followed by an easy morning sleeping in.
Day 6 – Experience Chena Hot Springs & the Northern Lights
Today you'll relax in the hot springs and prepare for a night of light chasing!
Highlights: Northern Lights, Fairbanks, Hot Springs
Today is purposefully fairly mellow since you were up last night, and you'll be spending tonight chasing the northern lights. Don't take this lightly! Be okay taking a nap and sleeping in as you'll be up until at least 2 am. Remember, the longer you are out, the better your chances are of seeing the lights.
During the day I recommend soaking in the hot springs and visiting the ice museum (reservations are required). There is also an optional visit to a dog kennel.
A nice thing about Chena is that you don't have to take a tour to see the lights. There is a viewing room with folding chairs facing windows where you can warm up and wait for the lights to appear.
But, there is also a tour option at Chena that I highly recommend. The tour takes you up a small mountain (really a large hill for Alaska standards) on a SUSV (small unit support vehicle), which is a military-style vehicle on a track.
At the top there is a large yurt, the Charlie Dome, that is heated and a great spot to warm up while you wait for the lights. They serve basic coffee, apple cider, and noodles.
Up here you get 360-degree views, and it's quite beautiful, even if you don't see the lights.
If you opted to stay in Fairbanks, then I recommend another Northern Lights tour. If you want a different view, I recommend this tour that takes you to Murphy Dome, the highest vantage point in the area. It's less than the other tour and you get to see a different area of Fairbanks.
The tour will keep you out until 1-2am. If the lights are out, I recommend staying up and watching from the Aurora Viewing Room once you return.
When we went, we decided to call it a night at 4am and missed the best show at 5:30am. You just never know when they're going to make an appearance!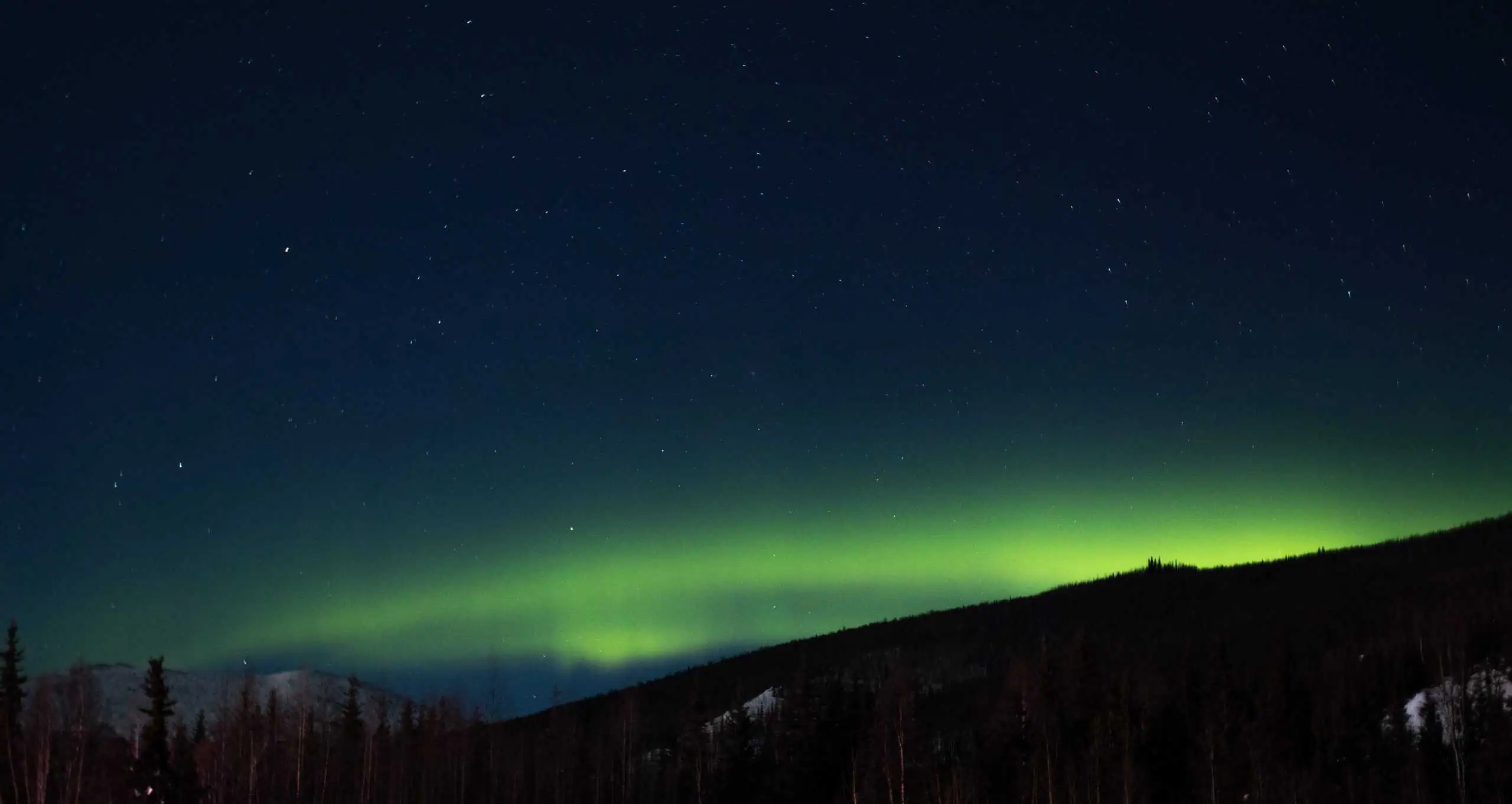 Day 7 – Fairbanks and Fly Out
Today you'll make your way to the airport and head home to tell all your stories about Alaska.
If you complete this itinerary, please email me to let me know what you think!
More Alaska Reading