7 Glaciers You Can Drive To From Anchorage
Hey there!
This post may contain affiliate links, meaning I may be compensated if you click on one of my links, at no cost to you. As an Amazon Associate, I earn from qualifying purchases. Read my disclosure policy for more information.
Alaska is covered in glaciers. In fact, roughly five percent of Alaska is covered in these beautiful ice sheets (about 300,000 total) and they are everywhere. Just around Anchorage, there are 60 glaciers within 50 miles of the city.
If you're coming to Alaska, a visit to a glacier is simply an experience you shouldn't miss!
This article will cover glaciers you can drive to or easily access, with a few hiking options too.
If you've just started planning your trip, check out my 10-Day Alaska Itinerary or one of my many articles about Alaska. I love traveling around this state and am regularly adding new content.
General Glacier Information
Many glaciers can be walked on without a guide at your own risk. However, if you're not experienced it's generally advised to go with a guide. Glaciers are always moving, and the general landscape can be quite dangerous.
If you do decide to head out on your own, be sure to pack a good pair of crampons or something similar.
Other good things to always have on hand are bug spray, snacks, a ball cap, and a water bottle. Bring layers as Alaska temperatures change often. If it's cloudy, a rain liner won't hurt.
If you plan on hiking, it's never a bad idea to pack bear spray which can be purchased at most grocery or sports stores.
1. Matanuska Glacier
If you only have time to visit one glacier, this would be my top choice. This is the most popular glacier to visit from Anchorage, and for good reason.
It's about 100 miles north of Anchorage, right off of the Glenn Highway at Glacier View. It is one of the most easily accessible glaciers too, and with crevasses and stunning views, it's easy to see why it's so popular.
Size: 27 miles long and 4 miles wide
Type of Glacier: Valley Glacier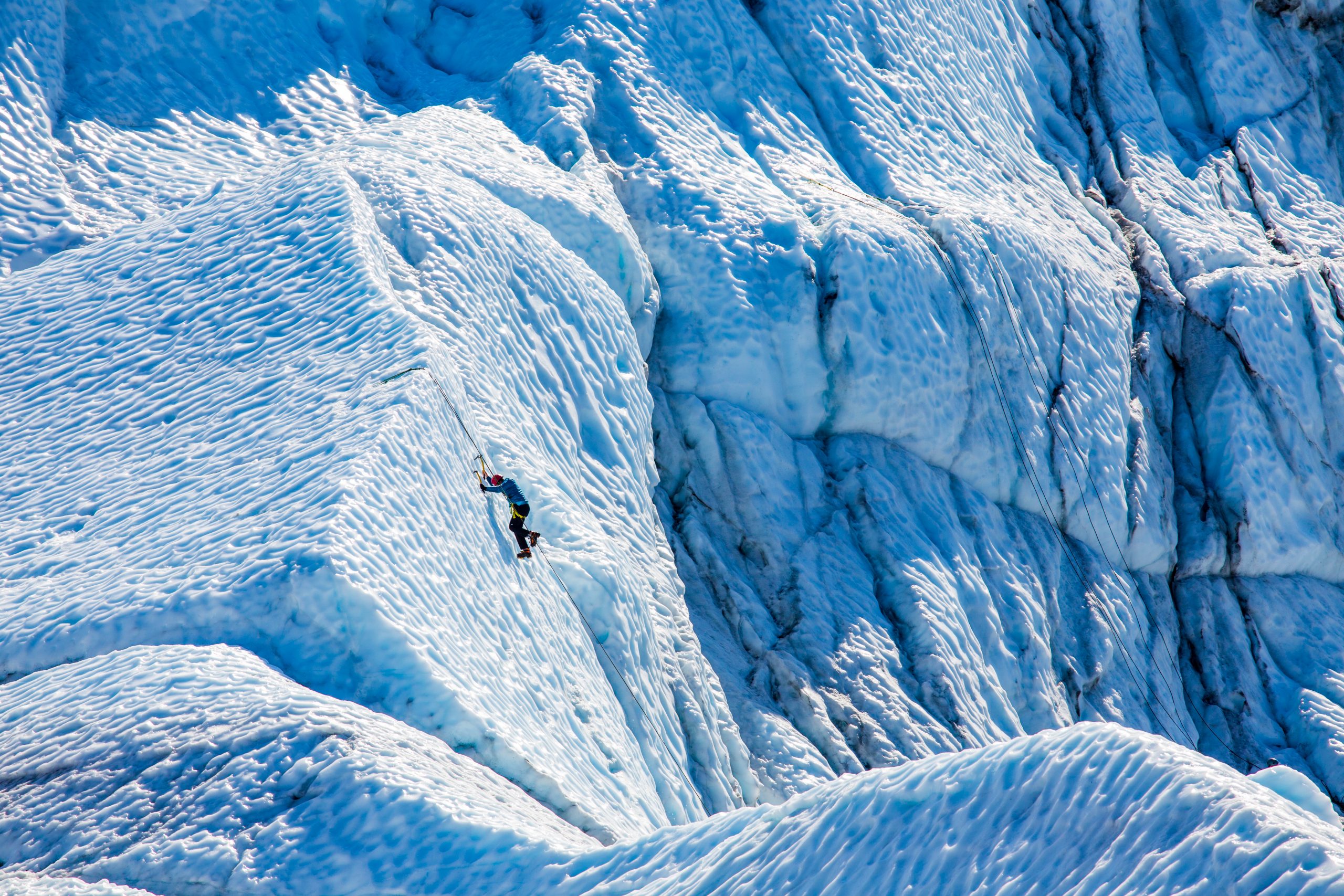 Some glaciers are covered in dirt or snow year-round, but Matanuska has bright blue and turquoise colors. It's set against a mountainous backdrop in a narrow valley. It also has these really cool ridges as you can see in the above photo (although this will look different in the winter).
The drive to the glacier twists and turns through the mountains, making the beautiful drive part of the experience.
The best thing about this glacier is that you can actually walk on it and it's right off the main road. And while you can no longer roam around yourself, many guided tours are available. My favorite companies are Mica Guides, Nova Guides, and Salmonberry Tours.
You really can't go wrong with any of the guided tours, and some begin/end in Anchorage, making it an easy day trip.
Matanuska Glacier can be visited year-round. With the way glaciers move and change, you will have a completely different experience in the winter versus the summer months.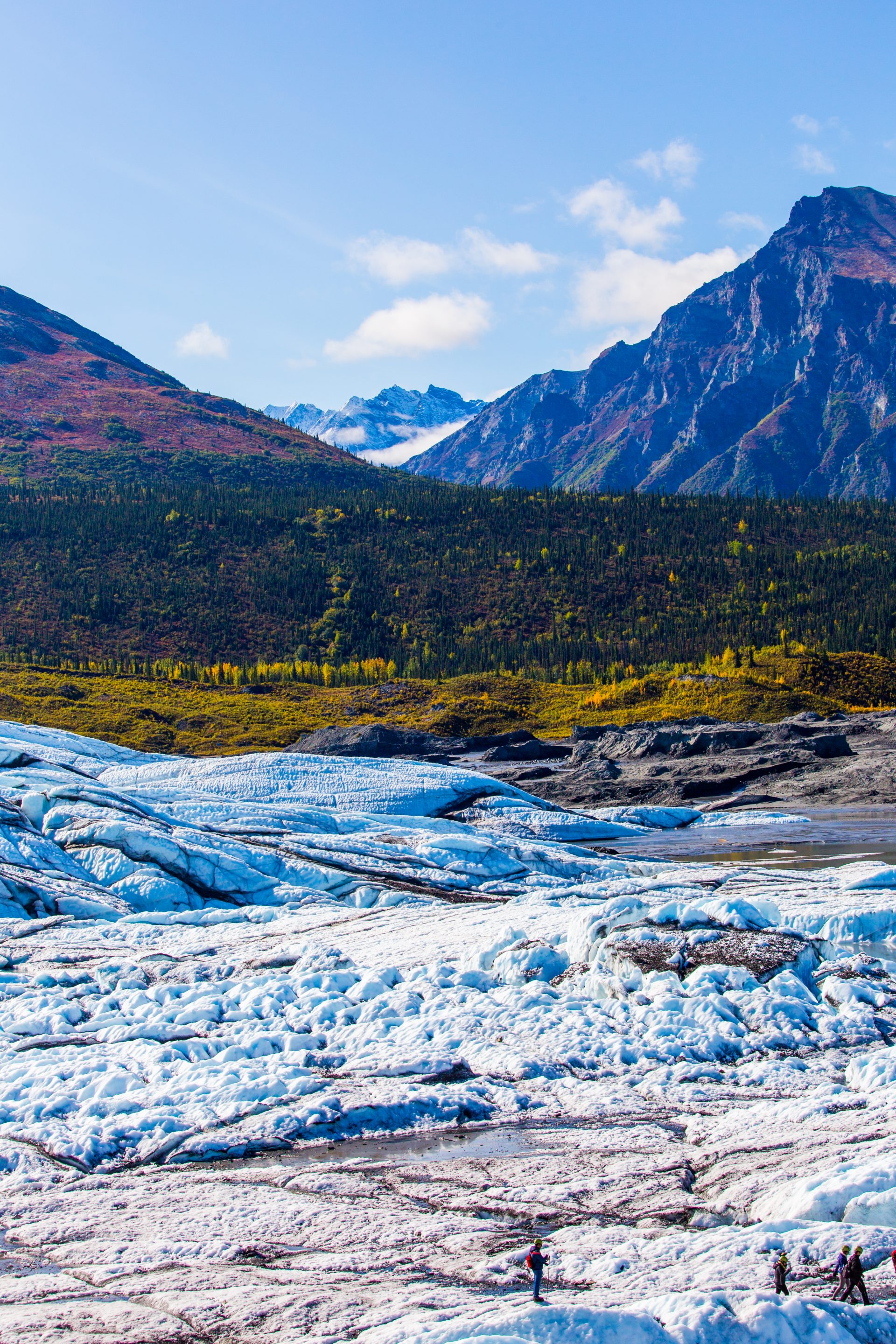 2. Byron Glacier
Heading in the opposite direction, Byron Glacier is roughly 56 miles south of Anchorage along Turnagain Arm. Once you pass the Alaska Wildlife Conservation Center, turn left down Portage Glacier Road. From there it's only about 5-miles to reach the trailhead.
From the trailhead, it's an easy 2.8-mile out-and-back gravel trail along Byron Creek with little elevation gain. Depending on the time of year, you could be rewarded with beautiful views or it could still be covered in snow. Either way, the area is incredibly scenic.
It's possible to continue further in to reach the glacier, but this is at your own risk. Keep in mind that glaciers are always moving and it can be dangerous to go on or in a glacier without a guide.
The trail is best hiked at the end of June through August, although there may still be some snow on the ground.
3. Portage Glacier
Just beyond Byron Glacier is the nearby Portage Glacier. It was once so close that you could walk right to it, but now it's receded so far that a large glacial lake has formed.
There are a few ways to see Portage. You can drive to Begich Boggs Visitor Center and take the scenic Portage Glacier Cruise. It's only an hour so you could combine this with a hike or other adventure.
The glacier can also be viewed from the visitor center and further down the road at a few lookout points.
If you want to hike closer to the glacier, you'll need to drive through the Anton Memorial Tunnel toward Whittier. It's a one-way tunnel that's also used by the Alaska Railroad, making it quite unique. It runs every 30 minutes, and you can check the schedule online beforehand.
The trailhead begins to the right just past the tunnel on Portage Glacier Road. It's a 4.2-mile out and back hike and takes a few hours to complete.
This glacier hike is more scenic than Byron Glacier, so if you're trying to choose between the two, this may be a better option.
4. Exit Glacier
If you're planning a trip to Seward, be sure to set aside time to visit Exit Glacier. It's just 12-miles from the town of Seward and is easily accessible for viewing. Once you arrive, there's a large parking lot with ample space, bathrooms, and a visitor center.
There are a few trails you can take. The shortest path is the Glacier View Overlook. It's a mere 1-mile along a flat gravel path (and is wheelchair accessible). If you want to go further, you can continue another .6-miles down the path to get a closer look.
It's unfortunately receded so much over the past 25+ years that it can only be viewed from afar.
5. Harding Icefield
For the more experienced hiker, you can continue on from Exit Glacier to the Harding Icefield. This strenuous 9.2-mile out and back hike will bring you sweeping views of this massive Icefield.
The hike takes you over 3,500 feet as you traverse woods, flowery meadows, tundra, and eventually black dirt and rock to reach the vista overlooking the glacier. Although it's tempting to stop at the overlook, don't! Continue down for the absolute best view of the icefield. You'll feel like a fly on the wall as you take it all in.
Many people will say this is the best hike they've ever experienced, so if you're up for the challenge it's worth it.
6. Knik Glacier
Knik Glacier is big. At 25 miles long and 5 miles wide, it's one of the largest glaciers in southcentral Alaska. It's a stunning glacier with a massive 17,000-acre Lake George nearby. For adventure seekers, there are some fun tours to reach this one.
Whether you want to drive an ATV right up to the glacier, ride a helicopter & go ice climbing, or do a helicopter landing and dogsled tour, there's something exciting for everyone.
The only way to get close to this glacier is through a tour. It's technically possible to access the glacier on your own via snowmobile (winter) or ATV, but you need your own equipment and knowledge of the trail so it's not advised.
This particular glacier is full of turquoise and blue hues, and is worth seeing in person!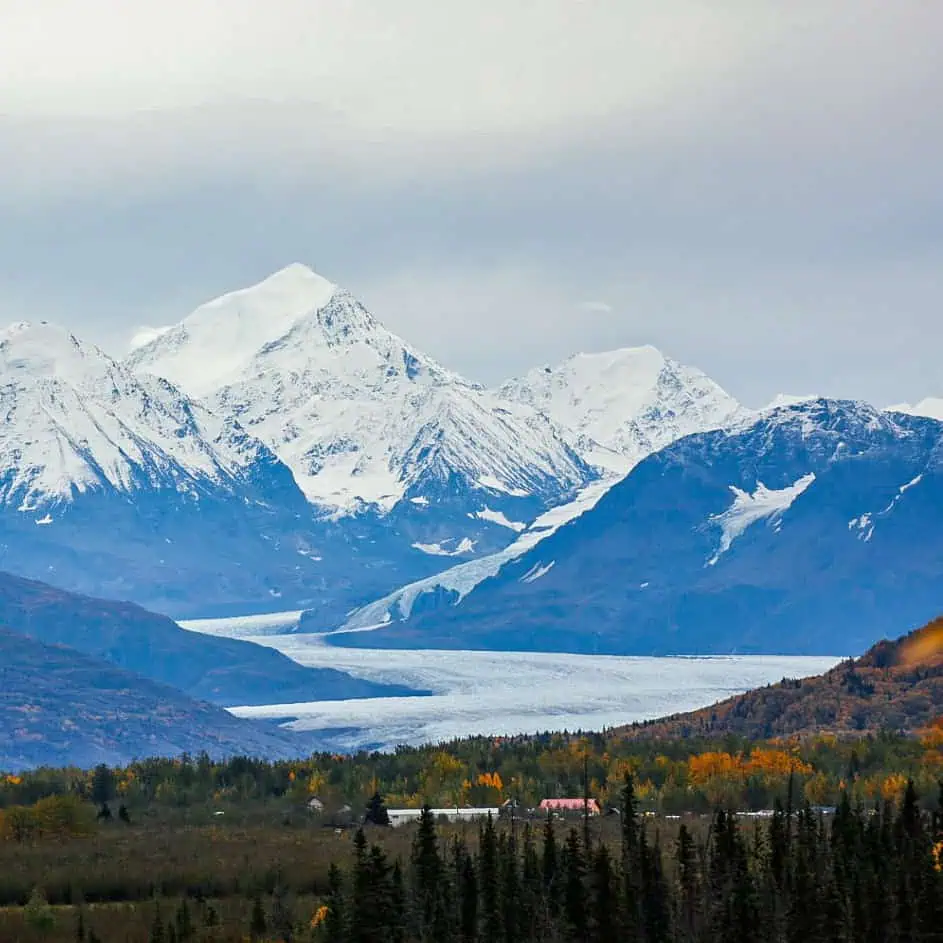 7. Root Glacier
Located near McCarthy and Wrangell-St. Elias NP is Root Glacier. This one can be walked on without a guide (at your own discretion). To get here, you'll hike just under 3 miles starting at Kennicott Mine (5.7-miles RT). There are some steep parts with scree, but overall it's a moderate hike.
If you plan to walk on the glacier, be sure to bring crampons or spikes and have some general knowledge of glacier walking (i.e. don't walk in the water pools).
There are also guided hiking tours available.
Kennicott Glacier is nearby, but is not included in this list as Root Glacier is a much better glacier experience. However, Kennicott Glacier can easily be seen from the town.
Other Glaciers
Castner Glacier: This was a popular glacier hike due to the massive ice cave that formed. Unfortunately, it collapsed this year and there isn't much else to see. A small part of the ice cave remains though if you wanted to explore (at your own risk).
Worthington Glacier: The trail is closed indefinitely, but you can still see this beautiful glacier on your drive to Valdez.
Read More Alaska Articles