8 Fun Things to do in Nice [France] with Younger Kids
Hey there!
This post may contain affiliate links, meaning I may be compensated if you click on one of my links, at no cost to you. As an Amazon Associate, I earn from qualifying purchases. Read my disclosure policy for more information.
We recently traveled to Nice with our 4-year old. While I could have easily walked the streets for days on end, sipping wine at each corner, window shopping, and seeking out unique finds….yeah, that wasn't going to happen with a small child. I knew I needed to adjust my expectations for the trip and provide plenty of extra time to do things.
Nice is part of a 3-week trip we recently went on, and just like at home, we had to build in downtime to relax and let him play. There's no way he could or would want to go go go the whole time.
To be honest, I found Nice to be stressful with a small child. There are lots of people and cars and small or nonexistent sidewalks outside of the main Nice area. I think a big part of this reason had to do with to our accommodations. We stayed up on a hill in Nice and had to walk 40 minutes downhill to get to the main area. We did take an Uber a few times, but otherwise, we were walking. I don't recommend doing this with a 4-year old.
Since we had to cover a bit of ground, we borrowed a balance (strider) bike from a friend and it was a lifesaver. A stroller would be another great option.
Here are some fun activities that will keep your child entertained during your stay in Nice.
1. Play at the Beach
Nice has a large stretch of rocky beach that spans 4-miles along the cities coastline. Note that the beach is full of small rocks and is not sandy, although there are a few small patches of sandy areas along the promenade. My son had fun looking for sea glass rocks on the beach.
A few beach toys will go a long way here! Even a few plastic cups will do. In October the water was still tolerable and people were swimming. When the sun was out it warmed up a lot.
Things to do:
Play in the water!
Walk along the beach
Stop at a beach cafe for a treat
2. Visit Marineland Aquarium
Marineland Cote D'Azur is a large aquarium located about 50 minutes outside of Nice. Here you'll find a shark tunnel, many shows including a killer whale show, mini Antarctica, an adventure cinema, and more.
The aquarium is part of a larger park area that also includes aqua splash, kids island, a lagoon, and adventure golf. Here is the link to plan your visit. You'll want to pre-book your tickets and check opening times.
3. Explore Castle Hill & the Playgrounds
Castle Hill (Colline du Château) is a quick 10 minute walk uphill or up steps to arrive at a fantastic viewpoint of Nice (see image below). The 4-year old did surprisingly well walking uphill, only complaining once or twice.
Elevator Access: There is also an elevator at the end of the Promenade (look for the large Castel sign as you head toward the hill along the Promenade). From there look for Ascenteur du Chateau. Often, there is a line to take the elevator up.
If you have a stroller and prefer to walk, there is a road on the other side of the hill that winds all the way up.
At the top, there are a few park areas. One is completely fenced in with a gate and is perfect for smaller kids. There's another small park near the cafe, which serves up snacks, sandwiches, and drinks. Then there's a rope play structure for bigger kids as well.
The entire hill area has trails and you have views on either side of the hill.
Things to do
Grab a snack at the cafe
Play at one of the many playgrounds
Enjoy sweeping panoramic views
4. Visit Promenade du Paillon (a huge playground!)
The promenade is a somewhat newer area of Nice. In 2011, the ugly industrial area was demolished and this new long greenbelt was created. It took three years, and now it's a long stretch of green space with a large park and kids splash area. The park has many different structures and there were quite a few kids playing when we went. There's also a newer bathroom facility (for a fee).
Kids could easily spend hours here playing and running around.
Things to do
Run through the shooting water spouts
Play on one of the massive play structures
Stop for a coffee or snack at one of the many cafes
5. Rent a bike or scooter and explore the Promenade des Anglais
The Promenade des Anglais stretches over 4-miles along the coastline. From the promenade, you can access the Promenade du Paillon, the carousel, Castle Hill, and Old Nice. There are scooter rentals available all along the Promenade including the Roller Station, or you could walk it as well. There are bike rentals available all along the Promenade and throughout the city. They are typically easy to spot – look for blue bikes lined up.
If you need a break, there are many restaurants on the beach. Alternatively, you could walk to the streets and find plenty of restaurants and shops as well.
6. Take a ride on the Carousel
Along the Promenade des Anglais and at the entrance to the Promenade du Paillon is a beautiful carousel. There is a fee to ride the carousel, but it's beautiful and the kids are sure to love it.
7. Walk Old Town Nice (Vieux Ville)
So this will really depend on the age of your kid(s). With the 4-year old, he had fun winding his way through the small narrow streets. But, he wasn't terribly interested in anything in the shops. It's not something we could do all day, but he had fun for an hour or so doing this. Kids can have fun checking out the beautifully painted facades.
Most of the Old Town can be walked with a stroller with the exception of some entrances with stairs. The Old Town area is my favorite place in Nice and such a beautiful area to explore, so don't miss it! If you're traveling with your significant other you may want to change out who's watching the kid(s) while the other shops.
This area also has soo many amazing restaurants. We just picked a few at random and they were all fantastic (I had the BEST caesar salad of my life here).
Things to do
Enjoy gelato
Eat (there are SO many good restaurants here!)
8. Walk the Port & Check out the Yachts
The port is past Old Nice and at the end of the Promenade des Anglais, so you can access it from either area. It's a large port with a lot of boats and some massive yachts as well. There are also restaurants and cafes across the street from the water.
Accommodations to Consider
We splurged in Nice and rented a large villa with some friends. It had a pool, but it wasn't heated and quite chilly in October. The villa sat on a hill overlooking Nice. This meant we had to walk the busy and narrow streets down to the city each day.
If I were to go again, I would definitely stay closer to the beach. My son could have easily played at the beach each day, and there are many places to grab a snack, meal, or drink right on the beach as well.
Book an Apartment: I prefer to book an apartment so we can put our son to bed then hang out. With friends, we went with an Airbnb, but there are also apartments that you can book through booking.com. Many hotels have family rooms or 1-bedroom apartments as well, but I've found they're usually much more than an Airbnb, Homeaway, or VRBO stay.
Stay outside of Nice: The other alternative I would consider is instead staying in a smaller village outside of Nice. Nice is a super busy city and it was stressful when we were walking busy one-way streets with a small child, especially when he didn't want to listen. There are some beautiful and quiet villages near Nice such as Eze, Menton, and Villefranche Sur Mer.
Nice is a very hilly area. I would recommend sticking to areas in Old Nice, along the beach, or near the Promenade Des Anglais. If you do not want to be on the busy streets, then I'd consider one of the smaller towns.
Where to Stay
Best Location
Hyatt Regency Nice Palais de la Méditerranée
Featuring an indoor and outdoor pool, sauna, and a terrace with panoramic views, this hotel has something for everyone. Here are some other great features:
Air conditioning
Most rooms have a furnished terrace with views
Centrally located
Restaurant and bar inside the hotel
I earn a commission if you click this link and make a purchase at no additional cost to you.
Luxury on a Budget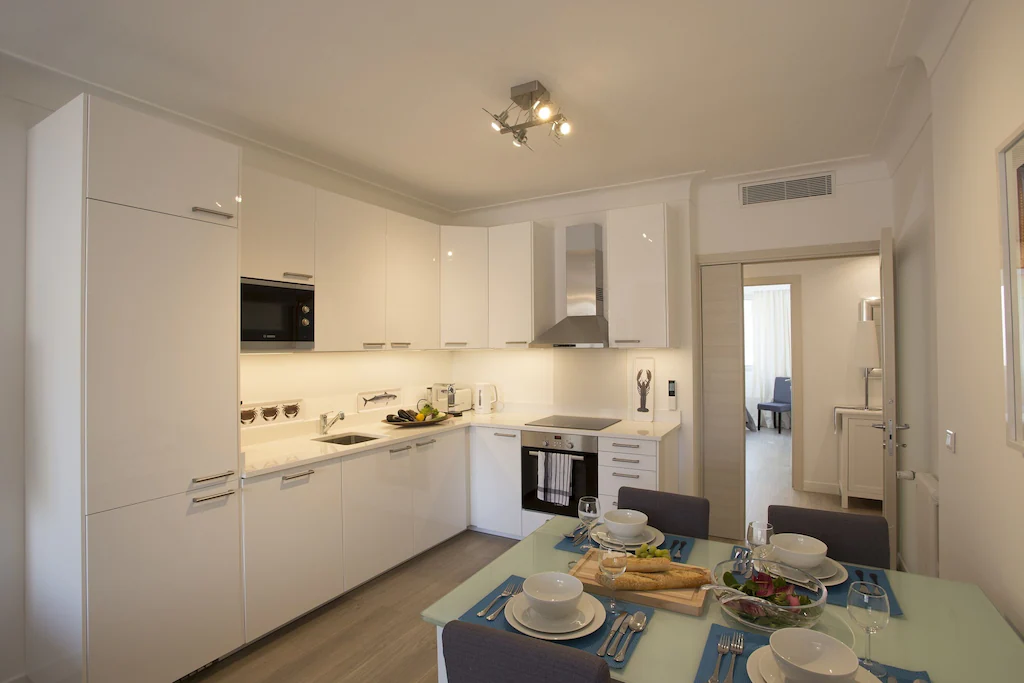 I earn a commission if you click this link and make a purchase at no additional cost to you.
Oceanfront Views
Le Bateau du Royal Luxembourg
This uniquely nautical-themed apartment is right on the Promenade des Anglais, overlooking the sea. There's a large terrace and access to an outdoor pool on the roof (May 1 - October 15). It comes with all of the modern conveniences including a/c, wifi, and an elevator to the apartment.
I earn a commission if you click this link and make a purchase at no additional cost to you.
Practical Information
Food & Going Out
Going out to eat with a small child every night gets old, but luckily Nice has Uber Eats with tons of options. This was a lifesaver after a long day out.
Carrefour is the main grocery store, and there are quite a few around the city. If you book an apartment, be sure to stop there on your first day and stock up. Keep in mind that you must weigh fruits/vegetables and print out the sticker before you get to the register (we forgot to do this).
There weren't too many places with a kids menu, but many places did have kids options if you asked. I found everyone to be really friendly and they enjoyed interacting with our son.
Getting Around
Along with Uber Eats, there is also Uber all over the city. It's a cheap and easy way to get around if you don't need a carseat.
For younger kids, I'd recommend bringing a stroller or renting a kids scooter while visiting.