What to Pack for Alaska (and what to leave at home)
Hey there!
This post may contain affiliate links, meaning I may be compensated if you click on one of my links, at no cost to you. As an Amazon Associate, I earn from qualifying purchases. Read my disclosure policy for more information.
Summer in Alaska is unlike anywhere else in the world.
Picture this: You're heading out for a full day of adventure in Alaska. It includes a morning helicopter tour that lands on a glacier (bucketlist. check.). Then while you're on the glacier you head out on a dog sled ride (that wind gets chilly!).
Once you return you head out on a hike in 70-degree weather that feels more like 80 with the sun shining overhead. It's a lot more buggy than expected.
That night you make a fire in a fjord surrounded by massive mountains. While not heavy, there's some misty rain coming down. And before you know it, it's midnight and not even dark out (how are you even going to get to sleep?).
If you're reading this and wondering how you can even start packing for a trip with so many different situations, I've got you covered!
And in case you're curious exactly how I'm qualified to write a packing list (I don't blame you!), I grew up in Alaska and live here now. And we love to get outside and explore our state!
This packing list provides all of the essential items you'll need. I didn't include extra fluff, just the specific things to pack for your Alaska adventure.
I've also included some awesome Alaska souvenirs to look out for once you're here too!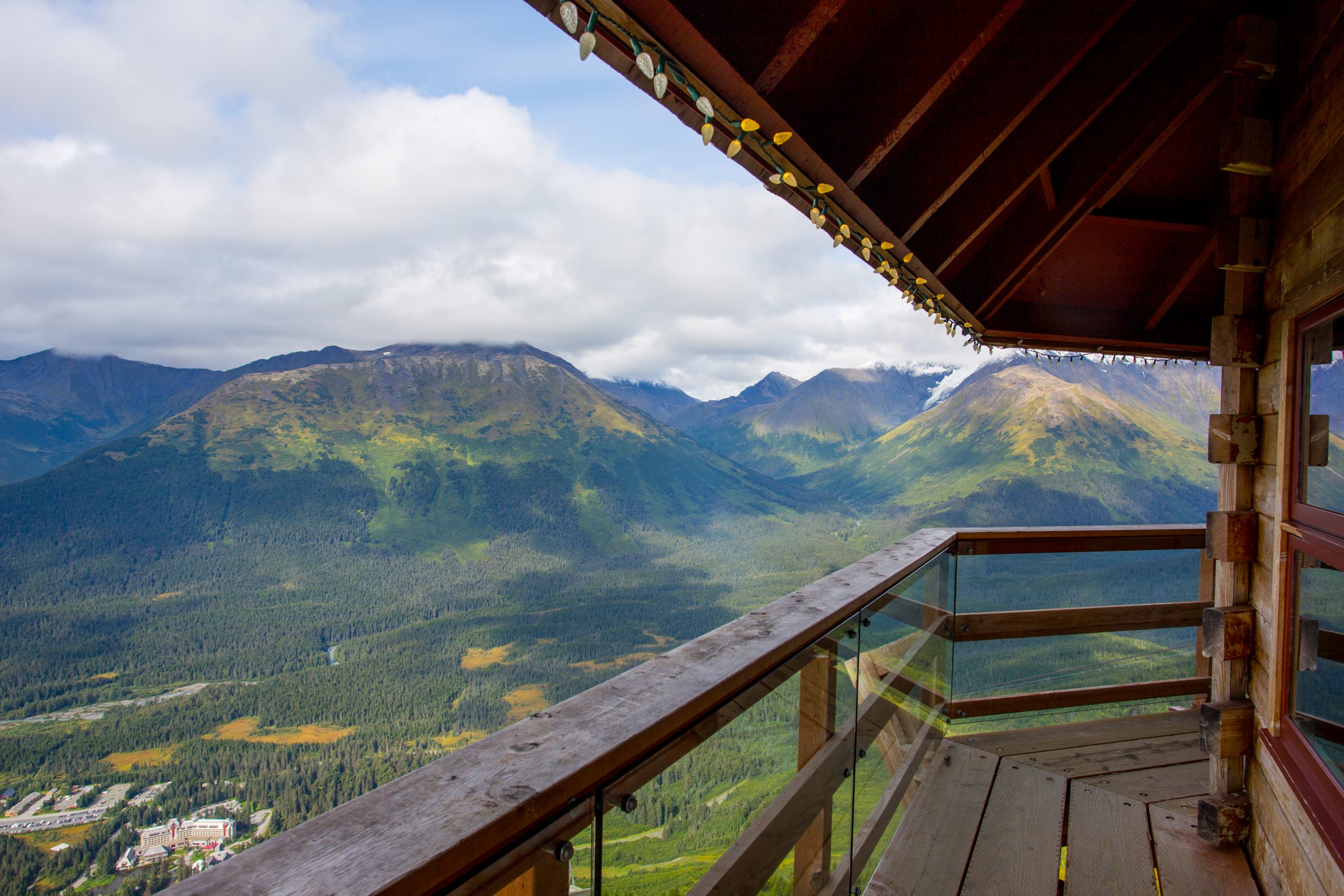 Common Questions about Packing for Alaska
Should I bring nice attire? – No. Unless you're on a cruise with fancy dinner nights, Alaska is not the place to dress up. Even nice restaurants don't have dress codes. The key is to dress for function, not fashion
Should I bring shorts? – This really depends on you. If you run hot, you might want to bring a pair. My husband lives in his Rogue shorts all summer up here. I think he's crazy because I'm always cold and can't stand mosquitoes landing on my legs. Although he's not wrong – once the sun comes out it warms up fast!
Can I Buy Toiletries in Alaska? – I just had a friend visit who was completely shocked at how much she spent on shampoo and conditioner. Alaska is a very expensive state, so pack your toothpaste and all your necessities if you have room to spare. Your wallet will thank you.
What about Bear Spray? – I cover this in the what not to bring section. It's not allowed on flights and there are online groups where you can get some for free (see below). So in short, don't pack any before your trip.
Summer Alaska Packing List
Mosquito Repellant
There is a joke that mosquitoes are the real state bird.
But really.
Some years they're worse than others. Some places have swarms (marshes, creeks…anywhere with freshwater) and other places aren't bad at all (most beaches – they don't seem to like the saltwater variety).
If you are heading to Denali or anywhere inland then you will definitely encounter the onslaught of bloodsuckers. Long sleeves and pants are good deterrents as long as they're thick enough to prevent getting punctured. And while you can wear a mosquito net on your head, it's not the most ideal. These are the best options to keep them at bay:
Best Non-Spray Option: The Portable Thermacell. This is the best way to deter those noisy and annoying things, but you will need to keep the thermacell on you while you're out and about. This isn't a big deal if you have a backpack but is something to consider.
Best Spray: The absolute best mosquito repellant (but not the cleanest) is Deet. If you will be in thickly wooded areas or near freshwater, you will want Deet. I usually opt for Ben's, but Repel or Coleman are also good brands.
Best Deet-Free Option: For a not so harsh brand, Repel has a Lemon Eucalyptus scented non-Deet repellant. It's the best non-Deet option on the market.
Layers Layers Layers
A trip to Alaska means that you'll be experiencing all sorts of weather patterns. In one day, you can go from walking on an icy glacier to enjoying some sun and then hiding under rain showers. And thanks to the mountains and valleys, the weather can change dramatically.
The weather can go through a few seasons in just one day. But when the sun comes out, it gets warm fast!
For these reasons, I always recommend bringing clothes that you can easily layer and mix and match.
It's also smart to bring light layers that don't take up much packing real estate.
Best Fabrics
My favorite layers in general are either merino wool or synthetic fabric. I typically go with merino wool whenever possible as it wicks moisture while retaining heat, doesn't smell (even after a few washes!), and packs small. It's truly the best, and although it can be pricey, just having a few key items (long sleeve base layer, pants, socks) makes all the difference.
At a minimum, I recommend the following layers:
A tank top or t-shirt that can be worn by itself
Light long-sleeve layers that keep in the heat but also keep you cool (see below)
A light jacket
A rain jacket
Light hiking pants and/or comfy joggers
1-2 pairs of jeans
Hiking or cross-trainer shoes (preferably waterproof)
Rain boots (optional – if your hiking shoes go up your ankle, you can do without rain boots or purchase once you're here)
If you get cold easily and plan to spend some time outdoors, a light hat is also recommended. I always bring a hat, even in the summer months.
Base Layer
A base layer is a long sleeve shirt that can retain heat while also wicking moisture. They're most useful in the shoulder season, although I find myself wearing or bringing one year-round.
A good long sleeve base layer can be worn by itself or easily layered under your other clothes. This should be a staple in your packing list. These are typically very thin but also can keep you quite warm as well. I've tested many types of fabric and found that Merino Wool is the best.
Merino wool is not itchy like traditional wool, it's incredible at wicking moisture, it doesn't smell even after a few wears, and it keeps you warm. Woolx is my favorite brand and it's hard to beat their quality. I particularly love this long sleeve for women (here's the men's version).
Pants
It's rare that the temperatures will get above 80 degrees (F) so I'd recommend a combination of jeans, hiking pants, and workout pants. Shorts aren't necessary unless you get warm easily (like my husband who wears shorts all summer, even in the 40's). Alaska is not a fashionable place, so remember functional clothing is key!
Pants serve another reason, they keep the bugs away (Alaska is a buggy place in the summer!)
For a more affordable brand, I recommend Baleaf on Amazon. Some of my favorite staples include their athletic joggers and fleece lined leggings (these work perfectly for late spring and in the fall). I was skeptical that $30 fleece leggings would be warm and comfortable, but they've held up in many cold-weather situations (even better than many of the popular expensive brands).
Rain Gear
I highly recommend a lined rain jacket for your trip. Typically if it's raining here, it's chilly. If you can't get one with a liner, then be sure it's big enough to fit layers under it. The best one I've found is this Columbia rain jacket (women's) or this one for men.
Along with a rain jacket, a thin inner jacket is good to have as well. I'd recommend something that's still lightweight and can fit in a backpack or purse if it warms up. Speaking of backpacks, I recommend this lightweight day pack from Tripped Travel Gear. It collapses down to a small zip-up pouch.
Portable Charger (Battery Pack)
In Alaska, you will go long stretches without access to reliable power. Maybe you're on an all-day boat trip or driving the RV for six hours. Or you could be staying in a dry cabin or place without power.
Even in the car, there may only be one USB charger. If you have multiple people wanting to charge their phones, GoPro's, cameras, drones, or other gear, you'll want something else to power your stuff.
I like this Power Bank (Amazon link), it has worked well for me and is reasonably priced.
Rain boots
If you plan to do a lot of fishing or activities that will have you near the water, I recommend bringing some rain boots. This is especially true for kids that will be splashing in the tidepools on the beach or crossing over a creek.
If you don't want to pack large rainboots, then I'd recommend bringing some waterproof hiking boots.
Xtratuffs are a staple for most Alaskans. So much so, that their slogan is "Alaska Proven. Waterproof Deck Boots Built for All". They are extra comfy rain boots that come in a variety of sizes.
The staple exterior color is brown, and there are many printed liner options such as salmon. These are the perfect rain boot for men, women, and children alike.
Muck boots are also a great option and tend to work better if you have wider feet.
Best Alaska Rain Boots
I earn a commission if you click this link and make a purchase at no additional cost to you.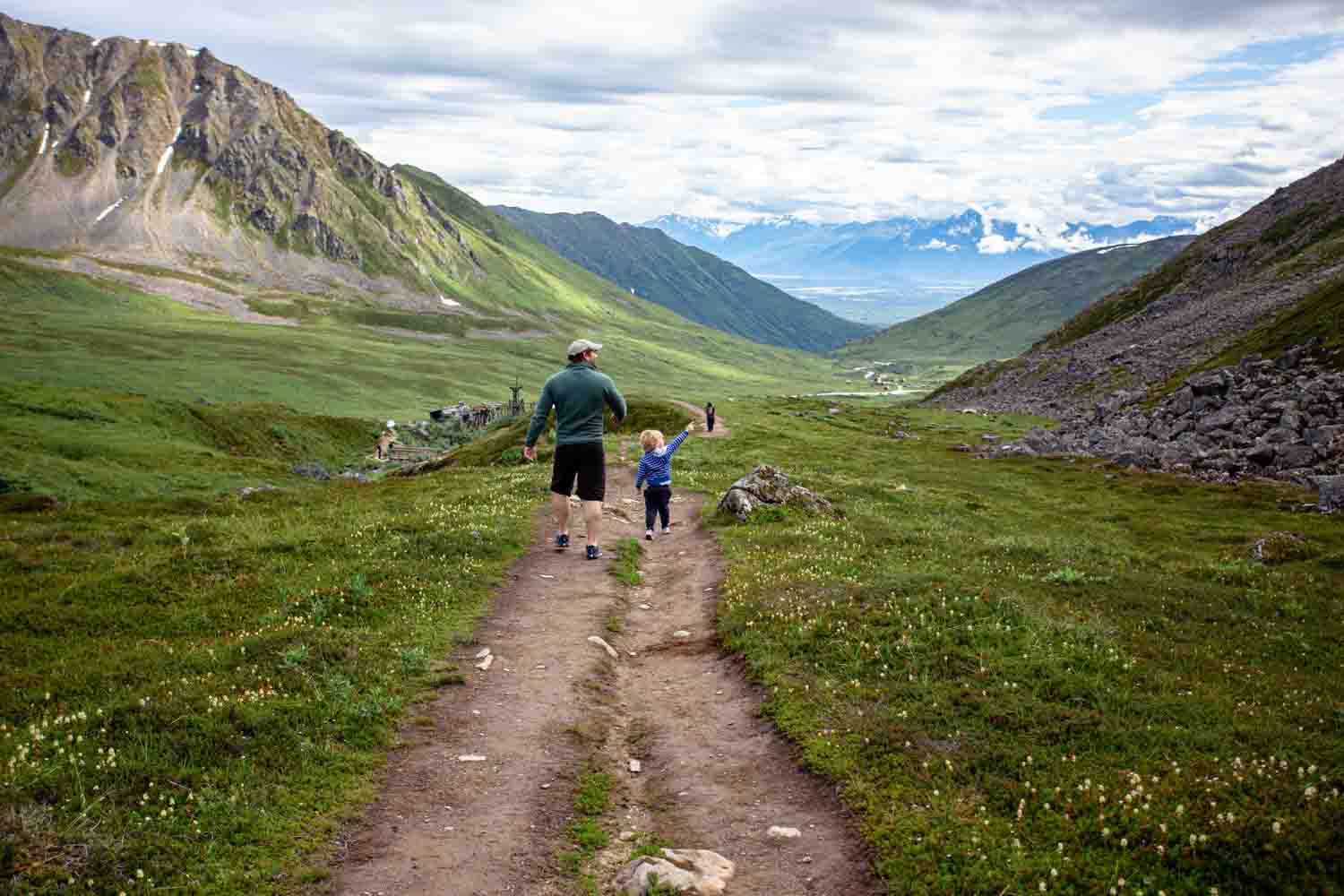 Compression Packing Cubes
Most people that visit Alaska come up for at least a week. With so much time in the state and so many things to bring, you'll want to make the most of your suitcase space.
I have been traveling regularly since 2011 and only recently started using compression packing cubes. And wow they are a game-changer! I finally feel like my packing life is organized and manageable.
I love these compression cubes by Tripped Travel Gear. They are a travel couple that decided to make travel products, and I love everything they come out with. They also are available on Amazon, which makes ordering super easy!
Samsonite makes compression bags, which work great for larger items (puffy jackets or clothing, sweatshirts, etc). Just keep in mind that compression bags can pack a lot and that can mean a lot of extra weight.
Best Packing Cubes
Compression Packing Cubes
These packing cubes have ripstop Polyurethane fabric that stands up to nonstop travel. The large set comes with 6 packing cubes of various sizes. Once you use compression cubes, you won't believe you survived without them.
I earn a commission if you click this link and make a purchase at no additional cost to you.
Eye Mask
Don't skip this item! You will regret it!
The land of the midnight sun is real, and many hotels and rentals do not have blackout blinds. If you are renting a motorhome for your trip, it's also likely not outfitted with blackout shades.
In June and July it's never completely dark. Near the Anchorage area, it starts to get dark around midnight, then starts to get light again at 4am. I don't mean dusk, I mean nearly light as day.
So do yourself a favor and come prepared! I prefer one that doesn't touch your eyes directly and use this one on Amazon.
I earn a commission if you click this link and make a purchase at no additional cost to you.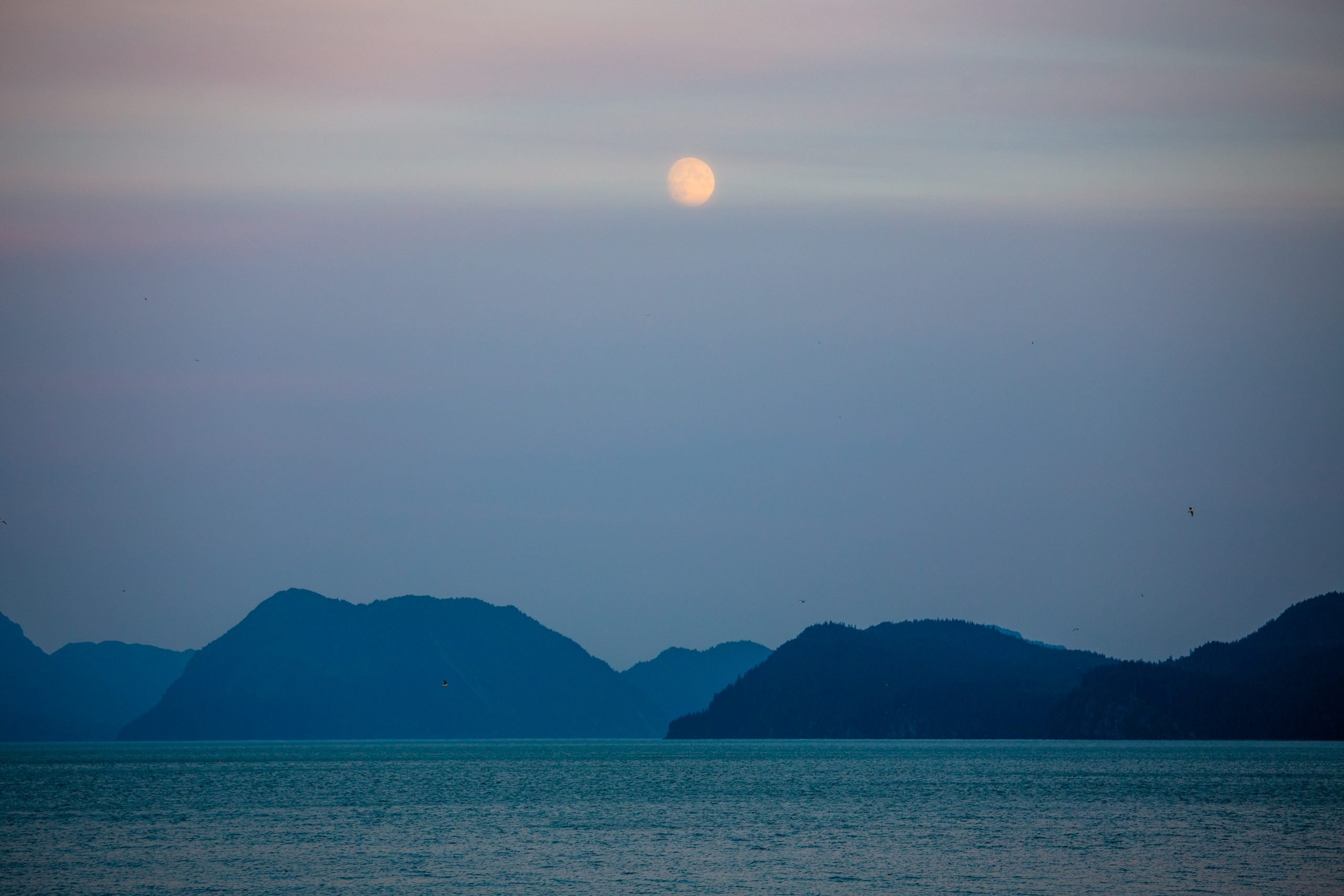 Water Bottle
While this isn't a deal-breaker if you don't bring one, having a sturdy and on-the-go water bottle comes in handy. There are many collapsible options if you're trying to save space. I personally prefer a metal water bottle mostly because it keeps your water colder longer, but it does eat up space.
I earn a commission if you click this link and make a purchase at no additional cost to you.
Sun Protection
Wait, isn't this an Alaska packing list? Well yes, but this is listed for a reason. In Alaska, the sun's angled lower and so more of it hits you directly. You'd be surprised at how much warmer it feels the second that sun comes out up here.
Since it's angled, this means it has a better chance of getting in your eyes. I always bring sunglasses and a brimmed hat nearly everywhere we go. A hat also comes in handy to protect your head from bugs…or to swat at them.
Remember, this is Alaska, function over fashion.
If you don't have a hat you love, nearly every brewery has tons of hat options for sale.
Camera Gear
You know what they say, the best camera is the one you have on you, and I would agree. A newer iPhone is good enough to capture the beauty of Alaska in the summer.
But if you want any wildlife shots, you will need a camera with some sort of zoom on it. Keep in mind, I do NOT recommend dropping thousands on camera gear just for one trip, but if you were thinking of an upgrade or already have a zoom lens, then bring it.
I have a 70-200, and 200mm does a decent job, but I think something that can go to 300mm or 400mm would be ideal for wildlife.
If you have a pro camera, here are some extras I'd consider bringing for the trip:
Waterproof shell – I can't tell you how many times I used to miss shots because I didn't want my camera to get soaked. While most professional cameras are water resistant, I wouldn't trust mine to be out in the misty rain for hours. That would be a VERY expensive fix.
Now I bring a rain cover for my camera. I like this one from Amazon because it's inexpensive and gets the job done. If you have a really long lens, you may want to invest in the Think Tank option.
It's been really helpful in Seward when I'm photographing whales from shore. If you plan to get a lot of wildlife shots, I'd be sure to bring one.
A Camera Strap You'll Actually Use – Most straps that come with new cameras are kind of lame. And really, who wants their camera hanging from their neck? If you haven't upgraded yours yet, I would recommend considering it for your Alaska trip.
There are many situations where they are a lifesaver. I was on a whale watching tour last year and we hit a huge wave. If I didn't have my trusty camera strap, there's a good chance that thing would have been swimming with the orcas.
Go Pro
If you plan to hike, bike, go whale watching or do anything adventurous (and want to capture it), then I would recommend the GoPro Hero9. While this isn't a GoPro review, if you want to get some good action shots and not worry about water damage, the GoPro is worth a serious look.
What I like about the newest model – it has a feature that allows you to capture the previous 15 seconds of any recording. So if you're trying to get that epic whale video, but seem to keep missing the record button, this would save you! It also has a ton of other great features like 5K video, 12MP, and impressive image stabilization.
GoPro HERO9 Black
The new GoPro HERO9 includes 5K Video, 20MP Photo with SuperPhoto, Front Display + Rear Touch Screen, Live Streaming + Webcam, and HyperSmooth 3.0.
I earn a commission if you click this link and make a purchase at no additional cost to you.
Tripod
I recommend a lightweight, portable tripod for any trip. A tripod is especially handy when it comes to wildlife. Sounds easy, but it is surprisingly difficult to find a good travel tripod. You either have to compromise in functionality, weight, or awkward sizes.
I've tried many different tripods and researched many more, and I recommend either the Octopus or this Manfrotto Compact Tripod for under $100.
If you don't want to lug around a tripod, a monopod is a good alternative and will save your arms from tiring so quickly when photographing whales!
Manfrotto Compact Action Tripod
High-quality aluminium design
Perfect for entry-level SLRs with standard lenses
Switch from photo to movie mode almost instantly
Quick-release plate supports a wide range of devices
Includes a special adapter for higher-specification cameras
Binoculars
When it comes to wildlife, a set of binoculars is a must in Alaska. Whether you plan to go whale watching, scout for eagles, or look for bears or moose, you will not regret having a nice pair of binoculars with you. I recommend these compact (and reasonably priced!) binoculars.
Cooler Bag Combo
If your plans involve driving from place to place, you will likely be in the car for a while. To save money, I recommend skipping the gas stations and stocking up at a grocery store instead. This will likely be 1/2 the price and you will have a much larger selection to choose from.
In Alaska, Carrs and Fred Meyer are the main grocery stores. If you have a Costco membership, there are two locations in Anchorage to get everything you need. If you want a specialty store, visit Natural Pantry or New Sagaya's City Market in Anchorage. Most towns have at least one grocery store, but the farther away you get from the big city (Anchorage), the more expensive things will get.
To keep your grocery haul cool, I recommend a cooler bag. And while you may be thinking that Alaska is cold, so why bother, it can actually get pretty hot here in the summer months.
You may be able to pick one up at the grocery store, or you could purchase one before you go. I prefer the Arctic Zone brand over others – it's reasonably priced and they hold up well.
My Pick
I earn a commission if you click this link and make a purchase at no additional cost to you.
Travel Backpack
I've always found that packing a day backpack makes your life much easier. This is especially true if you use luggage for your carry-on or a large backpack that's not ideal for day trips. A purse often won't carry everything I need for a full day out, and I get sick of switching shoulders all day. With a light backpack, you can throw everything into one pack and be ready for the day.
While I have yet to find a holy grail light multi-use camera backpack (that's a mouthful), here are a few packs I recommend:
Best Lightweight Backpack
Lightweight Traveling Backpack - Collapsible and Durable
This is the best all-around day pack. It comes in 7 colors and collapses down into a small pack. At 35L, it can hold everything you need for a long day out. And while it's not a dedicated camera bag, I would feel comfortable packing my mirrorless and lens (just not a bunch of lenses).
I earn a commission if you click this link and make a purchase at no additional cost to you.
Best Multi-Use Camera Bag
BAGSMART DSLR Camera Backpack
This is my top-rated camera backpack recommendation. It's a waterproof camera backpack that comes in 3 colors. It fits up to a 15" laptop, has a rain cover, and a tripod holder. Your camera can easily be accessed with a side pocket (this is a MUST), and it's loaded with anti-theft protection. For hiking, there are waist and chest straps. The top part expands to hold other items such as your jacket, wallet, snacks, etc.
I earn a commission if you click this link and make a purchase at no additional cost to you.
Things to Skip
Umbrella
With all of the precipitation Alaska gets, an umbrella seems like a logical thing to pack. But when you think about all the activities you'll be doing, they're really not practical.
Think about hiking, boat tours, fishing, bear watching, campfires, whale watching, or trying to get a good photo. An umbrella would be really annoying to have to carry around.
It's also windy. A lot.
Instead, make sure your rain jacket comes with a hood. I prefer a hood that has an adjustable clasp or way to cinch in the back.
Bear Spray
You can't bring it on your flight so don't try to pack it beforehand.
Instead, you can snag some for free through the Alaska Bear Spray Exchange Facebook Group. You can also call Salmonberry Tours in downtown Anchorage as they lend them out for free.
Things to Buy in Alaska
Bear Spray – many local stores such as Three Bears, Fred Meyer, REI, Big Ray's, Sportsman's Warehouse, Cabela's, and more sell bear spray. There are times when places are sold out, but for the most part, you should be able to grab some. Bear spray is useful if you plan to do a lot of hiking or be in the woods a lot. An alternative is to carry a bell or noise maker (bears don't like to be spooked).
Ulu Knife – Not necessarily something you need in Alaska, but this knife was used by the indigenous people of Alaska. There is an Ulu factory in downtown Anchorage that I recommend checking out.
Moose Poop – If you want something funny to bring back to friends, yes, you can actually buy moose poop at stores (as a gimmick, not to eat!).
Reindeer Sausage – This sausage can be found all over Alaska, at most grocery stores and also gift shops.
Alaska Chicks Outerwear and other local clothing – There are many local clothing shops that sell a variety of things such as hoodies and sweatshirts, hats, gloves, scarves, etc. I like the Alaska Chicks brand. In addition, most breweries and popular restaurants sell their own gear too.
Local Art – There are amazing artists everywhere in Alaska! Just pop into one of the local shops in downtown Anchorage, Talkeetna, Seward, Homer, and any other town in the state.