Anchorage to Denali By Train: Your Guide to the Princess Rail Tour
Hey there!
This post may contain affiliate links, meaning I may be compensated if you click on one of my links, at no cost to you. As an Amazon Associate, I earn from qualifying purchases. Read my disclosure policy for more information.
We recently went on a 2-night train trip from Anchorage to Denali. We loved the experience and I learned a lot about it.
In this article, I will go over the train journey from Anchorage to Fairbanks. I'll include all the onboard details, the route, stops, and highlights of the trip. I'll also add some reasons you might not want to take the train.
This article is not sponsored, and everything written is my opinion of our experience.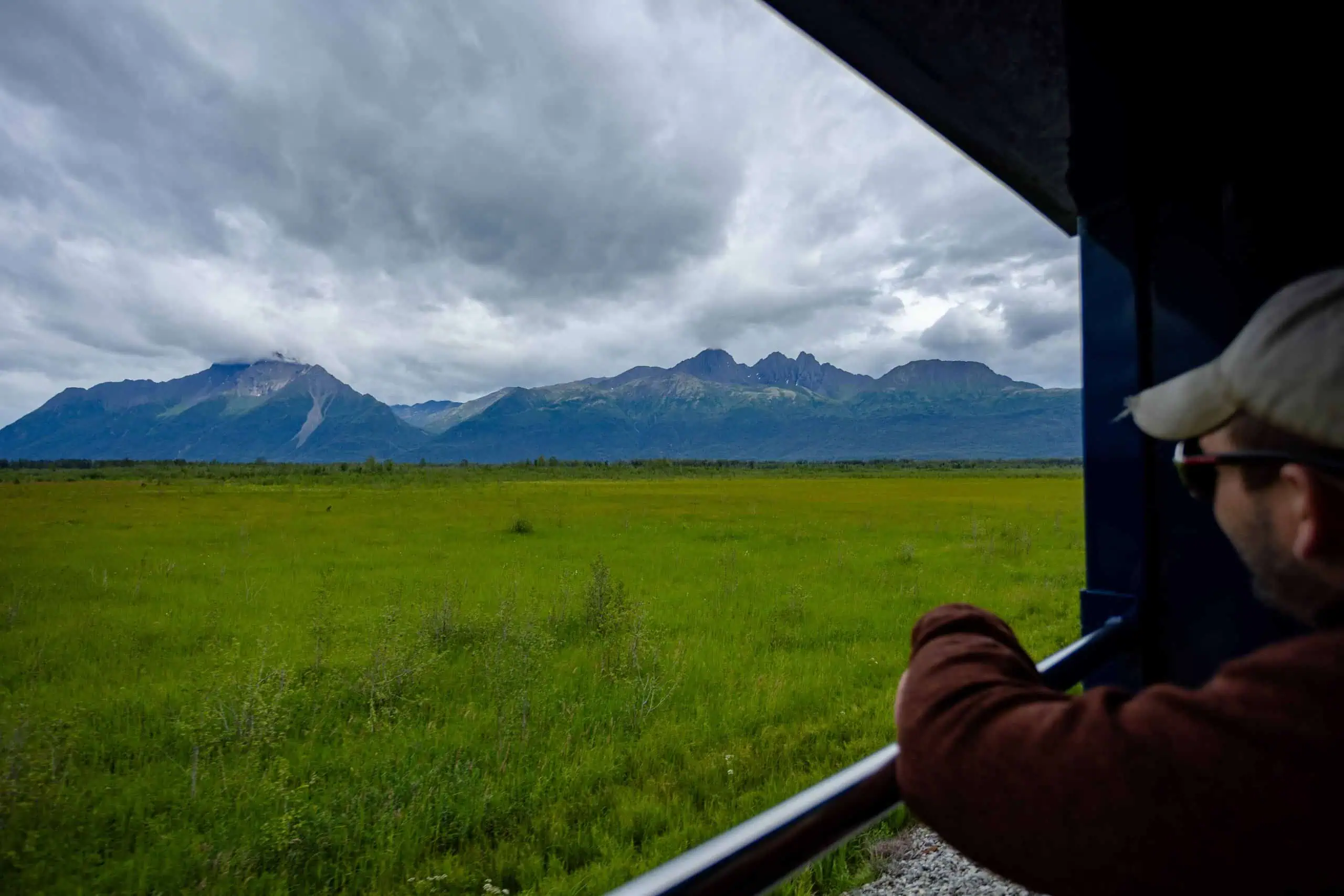 About the Princess Rail Tour
This article discusses the Princess rail tour from Anchorage to Fairbanks. The same locations and views are found on the Alaska Railroad (and any other train for that matter) as they share the same track.
We booked the Blue Denali Rail Tour and did two nights in Denali.
Princess train cars are glass-domed rail cars. All seating is up top with nearly 360-degree views. The Princess Rail Tours are owned by Princess Lodges, while the Alaska Railroad has its own train cars.
Why Train Instead of Drive?
Sure, you can drive from Anchorage to Fairbanks. It's a beautiful way to see the state. But there's something about exploring land by train.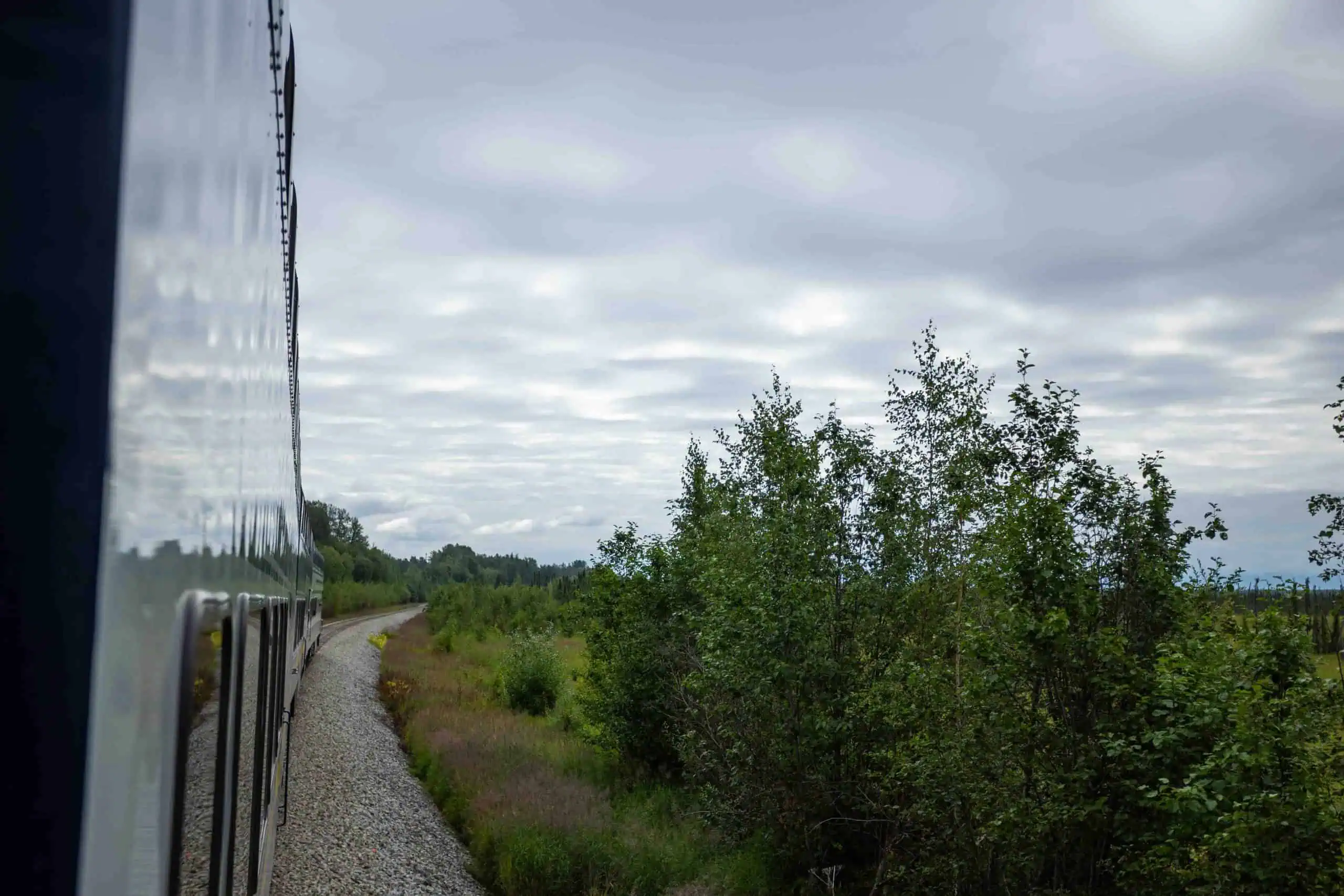 There are many reasons to take the train instead of driving. For us, we've driven all over the state but had never been on the train before, so we wanted a new type of experience.
The Princess Rail Tours were also offering 50% off, which was really the main reason we went ahead and booked. It looks like they run deals regularly, so be sure to check their site often for them.
Here are some reasons why we enjoyed the train trip:
No need to worry about potential traffic or delays
We could relax, have some drinks, and take in the views
The train doesn't follow the road, so you see different areas than you would driving.
It could be much cheaper than renting a car, especially as a solo traveler or couple.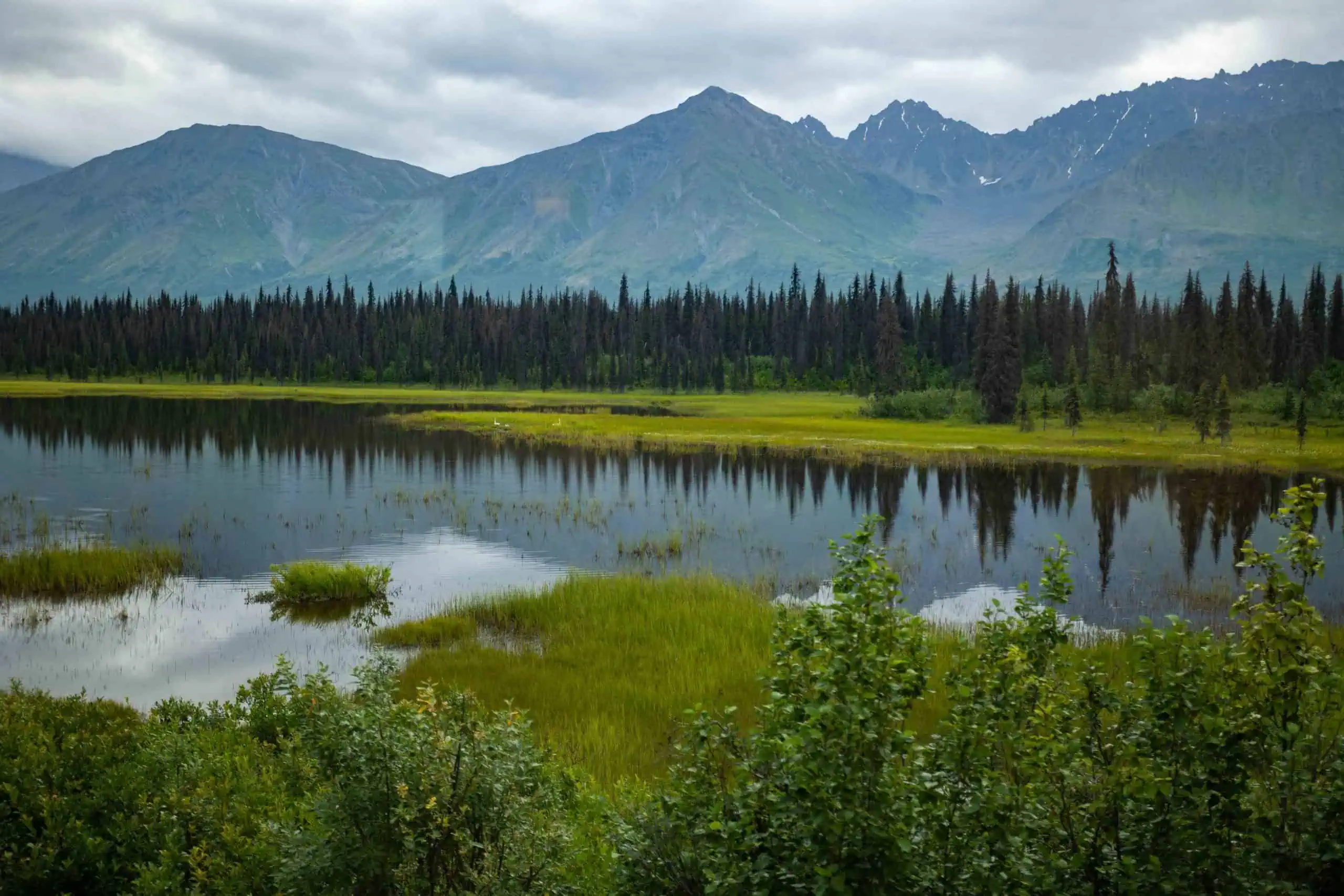 Downsides to Train Travel in Alaska
Some of the cons to taking a train in Alaska include time, cost, and convenience.
Cost: Train tickets can be quite expensive. If you're traveling with a family, it's more cost-effective to rent a vehicle than pay for multiple tickets. Usually, one ticket will cost about the same as a one-day vehicle rental.
Time: The train takes significantly longer than driving, especially in the summer. The train trip from Anchorage to Fairbanks is around 8-9 hours. If you drove, it would take 5 hours.
If you add in all the delays and stops to allow other train cars to pass, it gets even longer. Our trip back from Denali to Anchorage ended up taking over 9 hours because there were so many trains on the track.
Note: There is only ONE TRACK that all trains share. So there is a lot of waiting for others to pass.
Convenience: On the one hand, not dealing with driving and parking is incredibly nice. For a long weekend, we loved it. It's also nice to stand, walk, and stretch your legs while moving (something you can't do in a car).
But on the other hand, you're stuck to the train schedule and delays. You can't make a quick stop in Talkeetna for an hour, go to many of the random shops on the side of the road, or stop to get photos of Denali if she's out. With a train, there's just a lot less flexibility in what you can do.
Deciding Which Train Company To Use
This heading is a bit misleading because all tracks and locomotives in Alaska are owned and operated by the Alaska Railroad. But, some companies pay to use their tracks. Princess Tours (the same company that owns Princess Cruises) runs rail tours and even owns lodges across the State of Alaska.
With that in mind, the main difference you'll find is the onboard experience. All Princess Rail Tours have glass-domed upper viewing. The Alaska Railroad, however, has two different seating classes. Their Gold Star service has glass-domed upper seating, while the Adventure Class is below with large windows.
Gold Star tickets also include meals, soft drinks, and two alcoholic beverages.
I haven't taken the Alaska Railroad, but it appears that much of the experience is similar except for the included food and drink with the gold star ticket. I'd recommend comparing prices and looking for deals to determine which is better.
The Onboard Experience
We arrived at the train station about an hour early. There's a coffee stand with a few snacks for sale, but otherwise, there isn't a whole lot to do.
When it was time to board, we were loaded onto large buses and taken to a location just a block away.
Once on board, we were immediately taken upstairs to the seating area. All seats are located on the upper deck of the train, with the restaurant and kitchen downstairs. At the back of the train is an outside open area. We ended up spending a LOT of time outside, as the weather was great, and it got a bit stuffy inside.
The seats all face forward like an airplane. There is a small storage pocket and a tray table as well. The seats recline a bit, similar to a plane.
On the upper deck is the bar cart. There's one on each train car.
Are There Food and Drinks Available on Board?
Yes! Food and drink are not included in the ticket price, so be prepared to pay for everything separately.
We were offered breakfast and lunch each way when we went. Each meal is only available for a set amount of time, typically a few hours. This was plenty of time for everyone to have a turn and grab a bite to eat.
The dining carts are on the lower level. They are all booth-style seating, and we found the seats downstairs more comfortable than our seats upstairs. So, we spent as much time downstairs as we were allowed.
The food was good. It wasn't the best meal I've ever had, but I was happy with our meals. There are also smaller snacks available on the upper deck.
As for drinks, the bar carts open as soon as you start moving. They have you open a tab when you get your first drink, and then close it at the end of the trip. They have some fun Alaska-themed cocktails and a full bar available.
There are plenty of staff onboard. There's a commentator on each train car that talks about all the different towns and areas that are passed by. Be prepared to get inundated with information; they talk for the bulk of the train ride!
The Train From Anchorage to Fairbanks
The train starts off heading north out of Anchorage.
The first views you see are about 45 minutes in. On the right-hand side, you will see beautiful Pioneer Peak mountain and Knik River. Then you'll travel along the flats, a large area in a big valley.
TIP: When passing through the flats, look out for moose! They like to hang around this area.
After you leave the flats, don't expect much for views for a while. You'll pass through less than beautiful areas in Wasilla, although you get a small view of Wasilla Lake.
Then you'll continue past some lake areas in Big Lake and Willow. Unfortunately, there are a lot of places along this route that just aren't great or well-maintained. There are some junkyards or company storage sites. But there are also some really cute homes and beautiful places around many of the lakes.
After that, you'll make your way to Talkeetna. The train stops for pick up/drop off only and you can't see the town from the train. If Talkeetna is on your list, you can split up this trip by staying a night or two in Talkeetna and then heading north to Fairbanks.
Once you start moving again, you will soon get to the great outdoors (essentially no man's land). The train skirts large rivers, passes through forests that look more like rainforests, goes over creeks and streams, and even passes by some homes that are off the grid.
This part of the train trip is so pretty.
The views continue as you get closer to Denali. You'll eventually slow as you approach Hurricane Gulch.
Once past Hurricane Gulch, you still have a while until you reach Denali station. But the views continue as you pass by more lakes, mountains, and streams until you reach your final destination.
Train Stops Between Anchorage and Fairbanks
There aren't many stops, but here are the few that were made and some of the highlights of the trip.
Talkeetna
This was the only real stop made on the journey. They stopped so people could get on and off, which was about 5 minutes.
Hurricane Gulch
Hurricane Gulch is the longest and tallest Alaska Railroad Bridge. Hurricane Creek sits 296 feet below. If it's clear out, you can even see Denali. Sadly we weren't able to see Denali on both train journeys, but the views were still incredible.
On our return trip, the train stopped for about 10 minutes and we were able to get quite a few shots overlooking the valley and mountains beyond.
Salmon Streams
We went through a few large forested areas once past Talkeetna and were able to spot streams full of salmon (in August). We were in the middle of absolutely nowhere and it was a cool sight to see.
Is the Train Child Friendly?
There were many people with kids onboard. It's not easy getting up or down the steep steps, especially if you have younger children. So although it seems like it would be nice to walk around, the reality is that the train can be jerky and the aisles aren't wide.
As someone with a 6-year-old and a 1-year-old, I wouldn't take my kids on the train. It's too long, and the seats don't recline much. With kids, driving and being able to stop whenever you want is more convenient.
But like I said, there were many people with kids onboard. A few brave couples even had babies.
What Should You Pack for the Train?
Food
If you are trying to save money, you can bring your own food on board. We saw many people with their own meals and snacks.
Camera Gear
I used my GoPro quite a bit on the ride and also my phone. I had my big camera, but I only used it for a few shots along the way.
Blanket
The train was surprisingly cold. They turned up the a/c because they said it can get really stuffy and warm if it's not on due to the glass dome windows. It was probably 65F inside, and we found it to be a bit warmer outside. So I recommend a blanket or something to keep you warm if that's the case.
Travel Pillow
This trip is long and you might find yourself wanting to take a nap. I have this simple travel neck pillow and love how compact it is. I don't use the included ear plugs or eye mask (I have this one instead) but it's a quality neck pillow for flights and train travel.
Things to Do
Bring your Kindle, bring a magazine, or something to keep you busy. You'll lose cell reception quite a bit, so I recommend having something to do during the less exciting portion of the trip!
What Isn't Needed For the Trip?
They had plugs to charge your phones and other electronics. I'd packed my battery pack just in case, but it wasn't necessary.
More Alaska Articles