The Only Anchorage to Seward Driving Guide [and Itinerary!] You'll Need
Hey there!
This post may contain affiliate links, meaning I may be compensated if you click on one of my links, at no cost to you. As an Amazon Associate, I earn from qualifying purchases. Read my disclosure policy for more information.
Arguably the most scenic stretch of highway in the state, the drive from Anchorage to Seward does not disappoint. Within a 3 hour stretch, you will see mountains, oceans, glaciers, wildlife, and immense beauty at every turn.
If this is your first trip to Alaska and you are trying to decide where to go, I always recommend at least one night in Seward.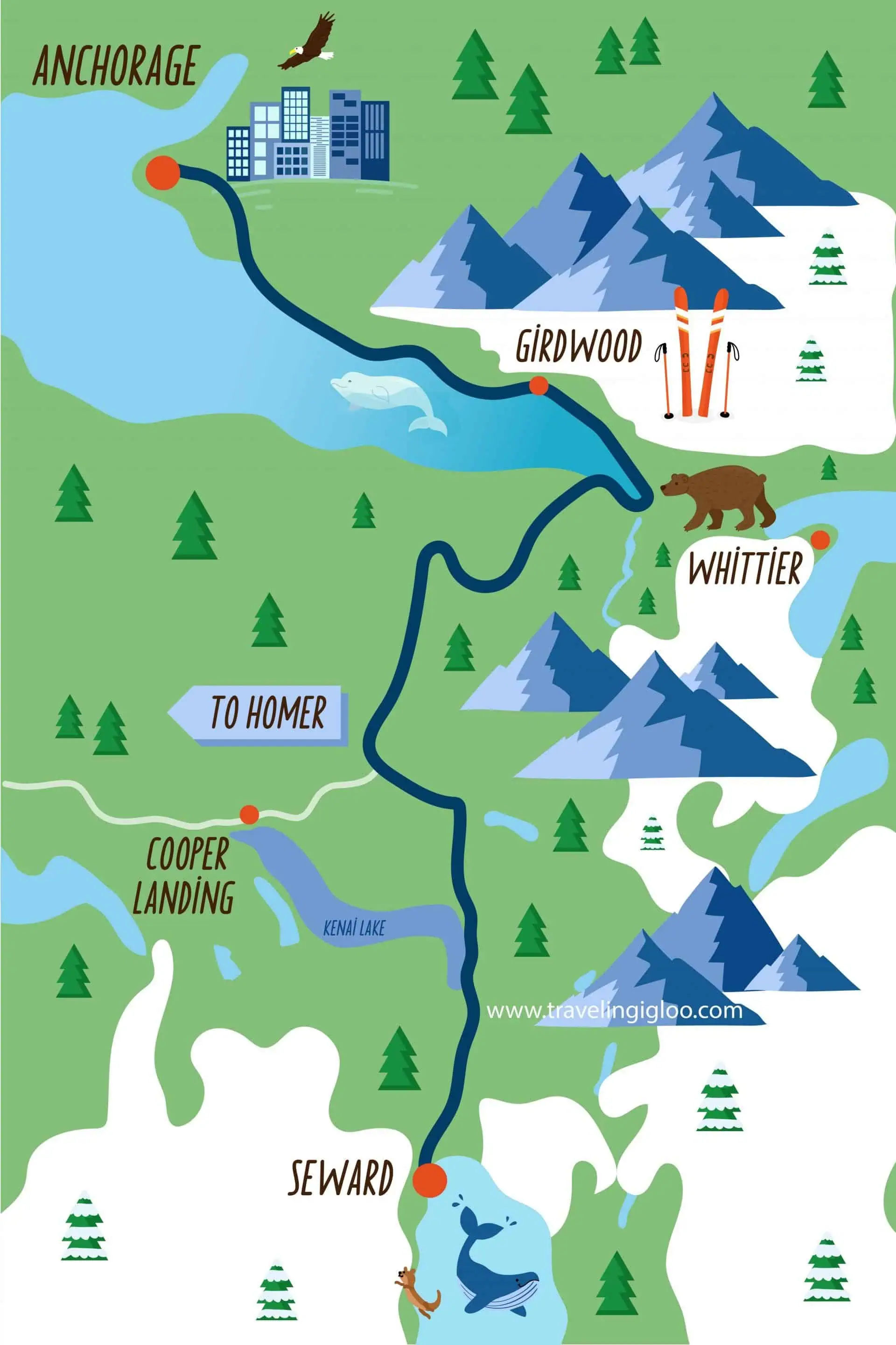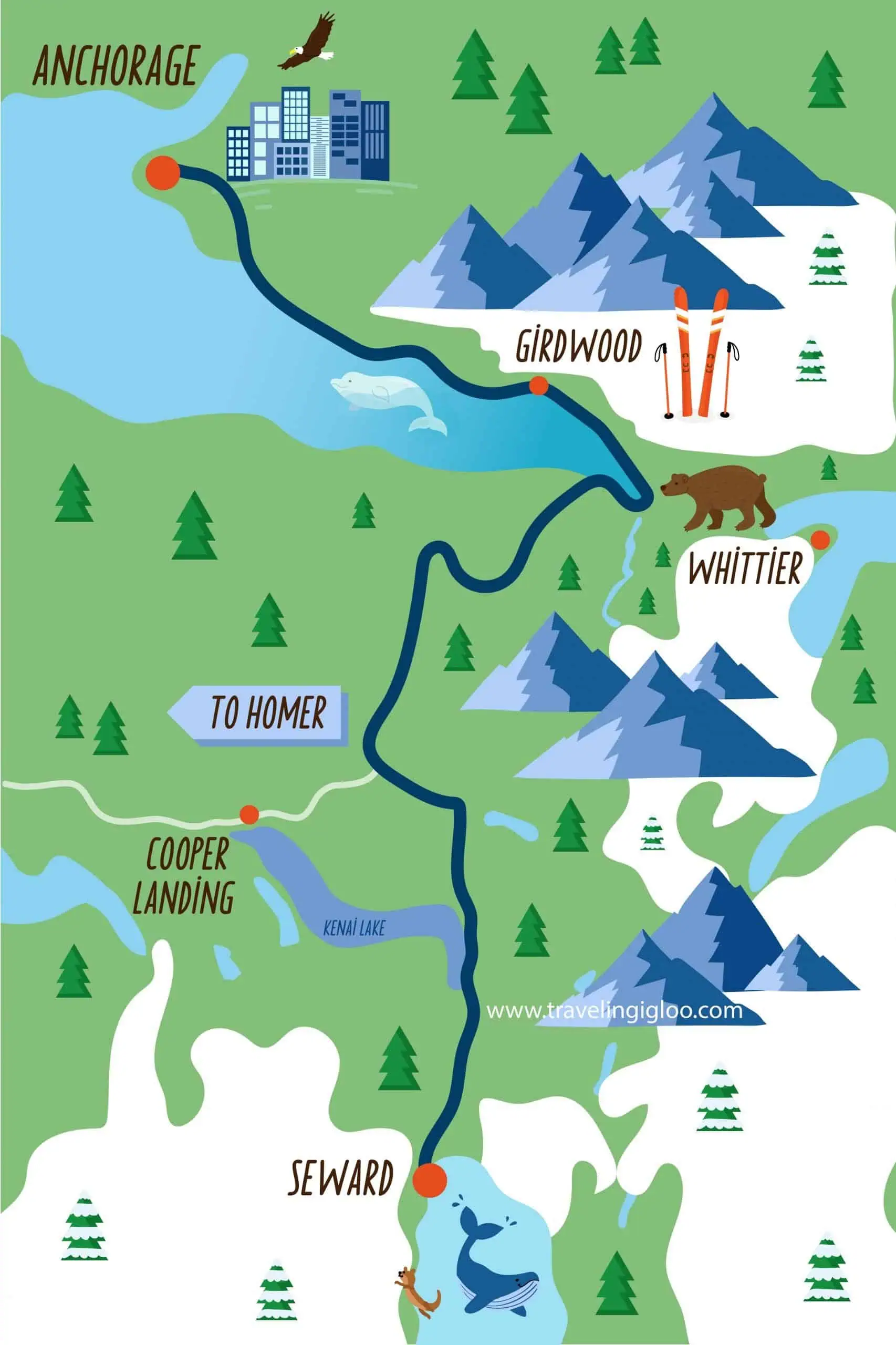 About Seward
Seward is located about 120 miles south of Anchorage along the Seward Highway. It's a small fishing town that was established in 1903 during the gold rush and named after President Lincoln's Secretary of State, William H. Seward.
Today it's a small fishing community with about 2800 permanent residents and doubles in the summer with seasonal workers arriving. It's also a hugely popular tourist town with a large cruise port and plenty of other visitors arriving by train and vehicle.
The most popular activities in Seward include fishing, day cruises (whales and glaciers), the Seward Sealife Center, hiking, and visiting the small downtown area. For a full list of things to do, I wrote this article with the top 15 things to do in Seward.
About the Drive
Is it Easy to Drive from Anchorage to Seward? – Yes, it's a very easy drive. The most 'traffic' you'll encounter is due to either slower RV's or construction (which is usually a guarantee in the summer months).
How Long is the Drive from Anchorage to Seward? – It's 130 miles (208km) and according to Google Maps it takes 2 1/2 hours. The actual drive time, however, is typically around 3 hours without any stops. When you add in breaks, scenic stops, lunch break, etc it ends up being around 4-5 hours or more.
Is the Road from Anchorage to Seward Paved? – Yes, the entire road is paved (unless there's construction). In 2023 there's quite a bit of construction along Turnagain Arm, and again near Kenai Lake (there's a pilot car most days). Always check with Alaska DOT 511 for up-to-date information. Sometimes it's not recommended or safe for motorcycles to drive in these areas.
Are There Gas Stations and Rest Stops between Anchorage and Seward? – The only gas station once you leave Anchorage is in Girdwood, right along the highway. Otherwise you'll need to take a large detour to Hope to fill your tank. The Girdwood gas station gets VERY busy in the summer months, so I recommend filling up in Anchorage before you go.
Cell Phone Reception
Along this route, it's very possible and likely that you will lose reception. I have AT&T and typically my phone cuts out during a few points on Turnagain Arm (the inlet between Anchorage and Whittier area) and then also once I start the ascent through the pass area. If you look at the map above, this area is after Whittier and goes until the Homer exit.
Because of this, I recommend either having the directions pre-loaded to Google, or downloading this handy dandy printout I made below. While some stops are marked, there are many that are difficult to see or don't have a sign. And with little cell reception, it's good to have something physical on hand!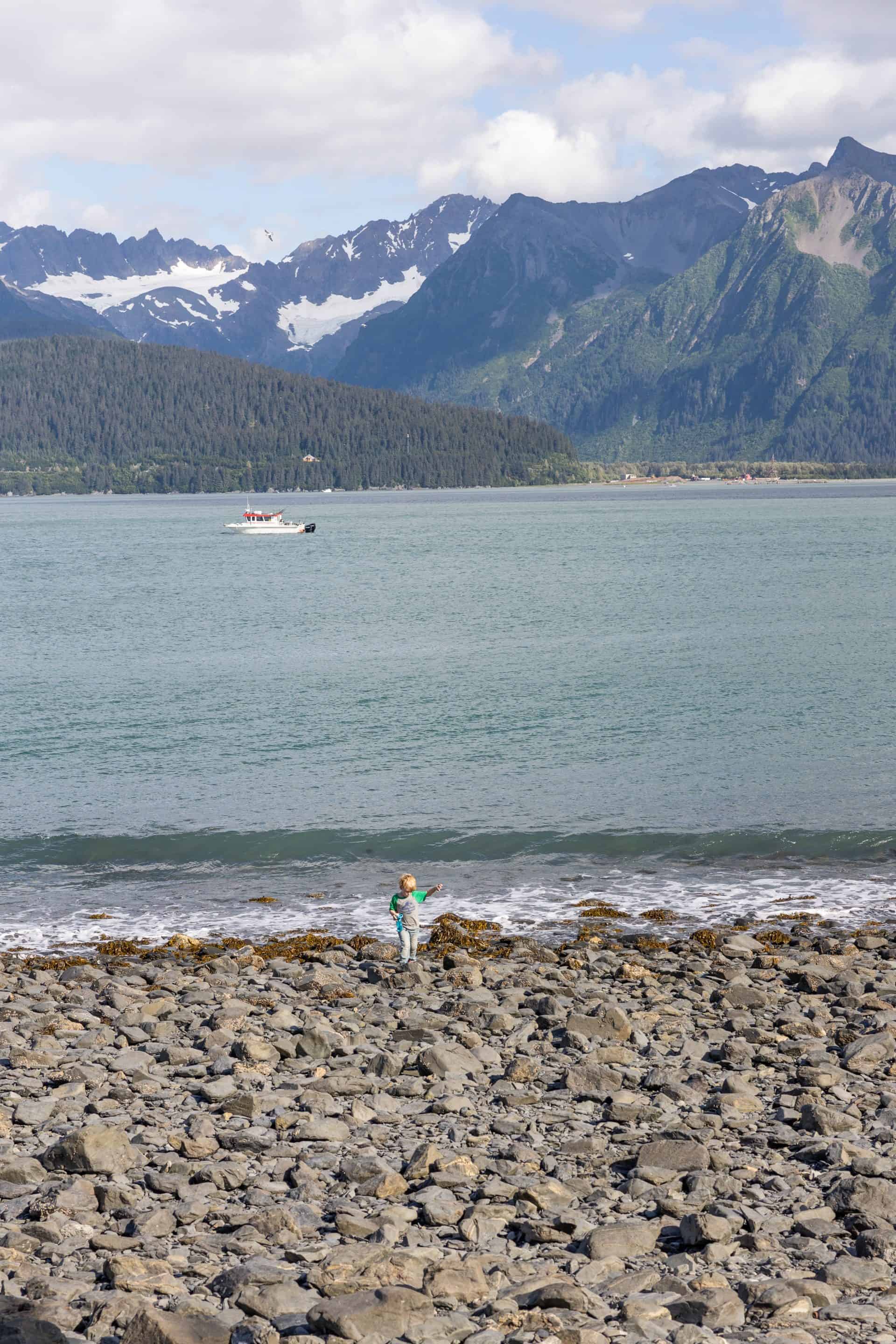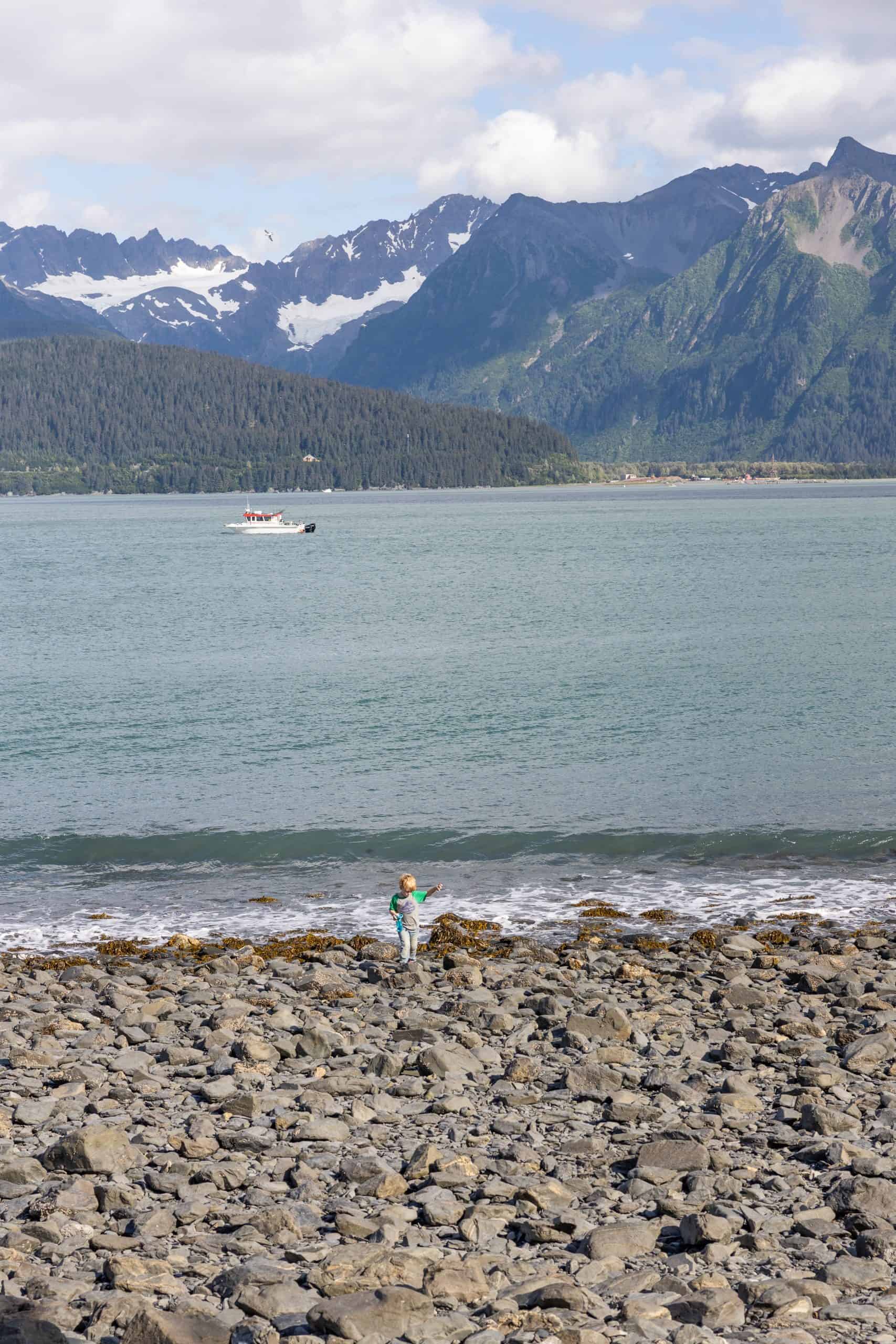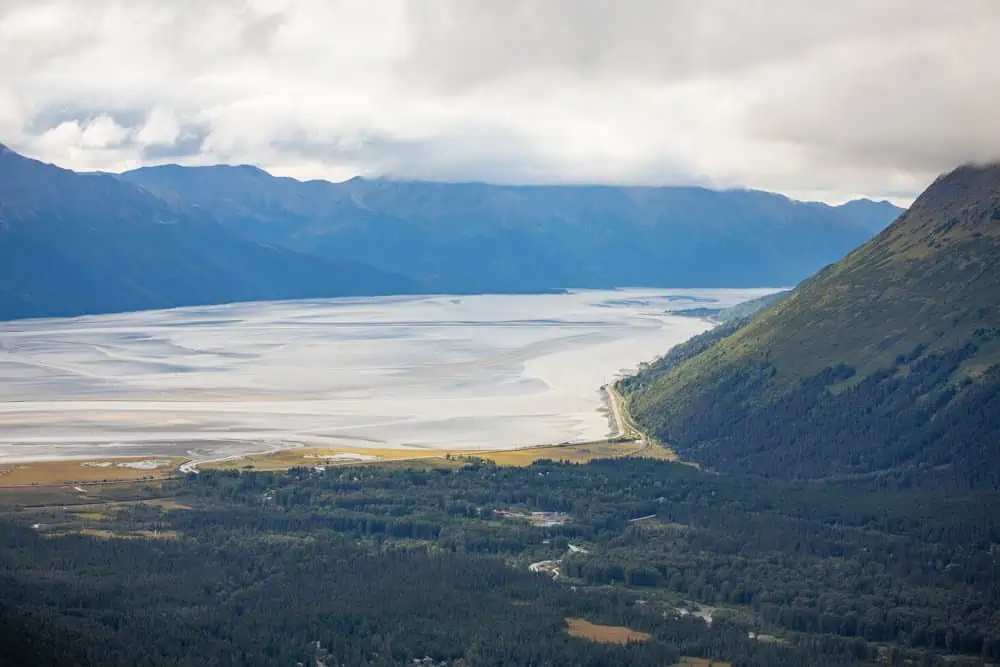 General Overview
Here's a quick overview of the drive. First, you will head South leaving Anchorage, and enter what's known as 'Turnagain Arm'. This is the large inlet that you will be driving around.
Turnagain Arm has the second largest tidal difference in North America, so depending on when you go, you will either see a lot of mud or a lot of water moving.
Turnagain Arm also has a bore tide (there are only 60 in the world!). This is a naturally occurring phenomenon that creates a large 6-10 ft wave that is surfed in the warmer months. Since a bore tide needs a 27-foot tidal differentiation and is only created by a full or new moon, it only happens a few times a year. So if you glance out at the water and see people surfing, you are not hallucinating!
Once you pass Turnagain Arm, you will head up into the mountains. Through here you'll pass many lakes and some small glaciers while you wind your way through the forests and mountains. You'll climb just over 1,200 ft and then begin your descent back down to sea level. There are many rest stops along here as well as passing lanes, but there are no gas stations.
After Girdwood, there isn't a gas station until you get to Seward, so be sure to fill your tank before you leave!
Once you pass the exit for Homer and Cooper Landing, you will enter the town of Moose Pass, then pass the beautiful Kenai Lake, and finally land in Seward.
Recommended Stops & Suggested Itinerary
Let's hit the road! Before you head out of Anchorage, be sure to fill up your gas tank so you're not with the masses at the gas station in Girdwood. Seriously, that place gets packed. If you need snacks there is a Carr's off of the Huffmans Rd exit along with a gas station on the way out of town.
This itinerary, if followed completely, will take a full day. This is much longer than the 3ish hours to drive from Anchorage straight to Seward.
With all of these stops, you're looking at 8+ hours between Anchorage and Seward. If you want to save time, I recommend skipping the Indian Valley Mine, Alyeska Tram, and/or Portage Glacier. Or better yet, plan a few activities for the drive down, then visit the places you missed on the way back!
I added estimated times for each stop so you can plan your own itinerary.
Potter Marsh Bird Sanctuary
Estimated time: 20-30 minutes
The first stop just as you're leaving Anchorage is the Potter Marsh Bird Sanctuary. The name is self-explanatory; this is a large marsh with lots of opportunities to see all sorts of birds (and even the occasional bear or moose). Here you can find swans, ducks, Canadian geese, eagles' nests, and more.
There is a long 1,550 ft boardwalk that winds its way through the marshy areas.
To get there, you'll want to watch out for the left turn on 154th E Avenue. Or better yet, just plug in Potter Marsh on Google Maps so you don't miss the turn (it can be easy to miss when heading out of town).
McHugh Creek
Estimated Time: 10-30 minutes
McHugh Creek trail is a great viewing spot right off of the highway. There is a $5 parking fee and you can either park at the lower level or drive to the upper parking area. If you want a short, quick hike there is a 20 ft waterfall near the parking area. From the upper parking lot, you have great views of Turnagain Arm.
I recommend heading a few minutes through the trail to the bridge. There are also longer hikes with better viewpoints here.
This is bear country, so make noise and look around when you walk through the woods.
Beluga Point
Estimated Time: 10 minutes
After snapping some photos and taking in the views, it's time to get back on the road. The next stop is the Beluga Point Lookout, about 10 minutes down the road. From here you get sweeping views of the inlet and surrounding mountains.
You may be able to spot mountain goats or Dall sheep up on the cliffs. This area is famous for the bore tide where surfers can ride these waves for hours. In the spring and late summer to fall, you can spot beluga whales often swimming near the shore.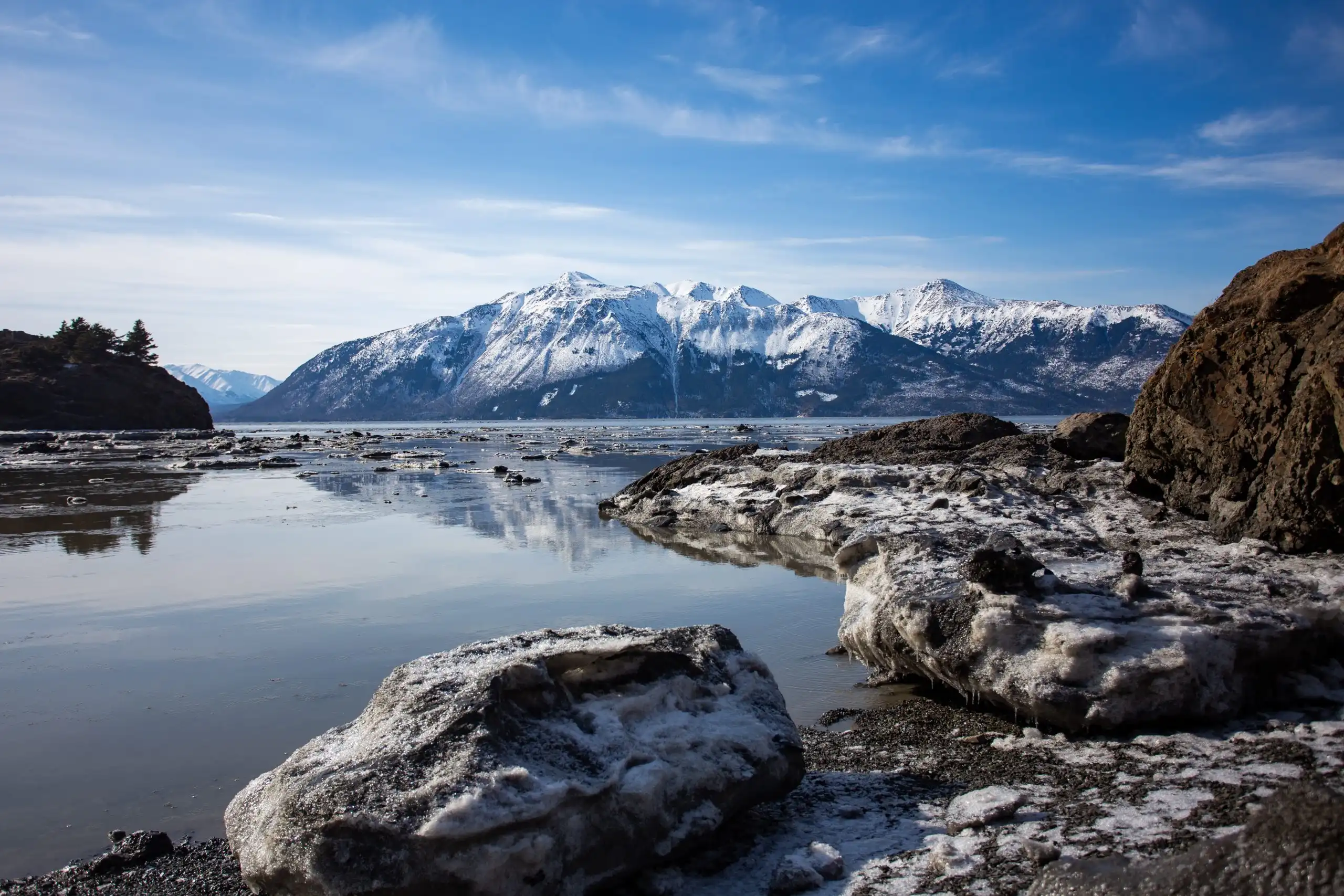 Indian Valley Mine
Estimated time: 30-60 minutes
If you're not in a rush, I recommend a stop at the Indian Valley Mine next. Here you can try your hand at gold panning (there are buckets available for sale) and learn about the history of the mining operation.
Indian Valley Mine is located at Mile 104 but is an easy turn to miss. Turnagain Arm is a windy road with many stretches that are only two lanes. To get to Indian Valley Mine, you'll need to turn left right before a corner. There is a sign and it's easy to spot on the hill. Still, I recommend plugging this into Google Maps in Anchorage at Potter Marsh because it can be easy to miss the turn.
Girdwood
Estimated Time: 60-90 minutes+
By now you've probably worked up an appetite. There are a few great options for lunch in Girdwood. In the main town (Hightower Rd), Chair 5 and Hightower Pub offer American food. I like the nachos (these things are huge!) and pizza at Chair 5. The Girdwood Brewing Company has food trucks on-site daily which they rotate throughout the summer.
There are also restaurants at the Hotel Alyeska as well as some cafes (I recommend The Bake Shop). While there are a few other restaurants in town, many close in the summer or are only open for dinner.
I wrote an entire post about everything there is to do in Girdwood. If you want to check it out click here.
Girdwood Brewery
If you like beer (or kombucha, rootbeer, or nitro cold brew coffee) then I recommend stopping here. It's my favorite brewery in Alaska not only for its fantastic beers but also for its ambiance.
The taproom has tall vaulted ceilings reminiscent of a lodge. There are some old ski lift chairs and other ski gear around the brewery. There's a large outdoor patio with huge fire pits and lots of seating.
If you're hungry, there is always at least one food truck on-site too.
Side Note! If you love breweries, Alaska has over 50 of them! I highly recommend the Anchorage Craft Brewery & Tour if you have some extra time!
Alyeska Tram
If you have the time, take the short 7ish minute ride up the Alyeska Tram. The tram is located at the hotel and takes you 2,300 feet up to panoramic views of the inlet, mountains, and glaciers.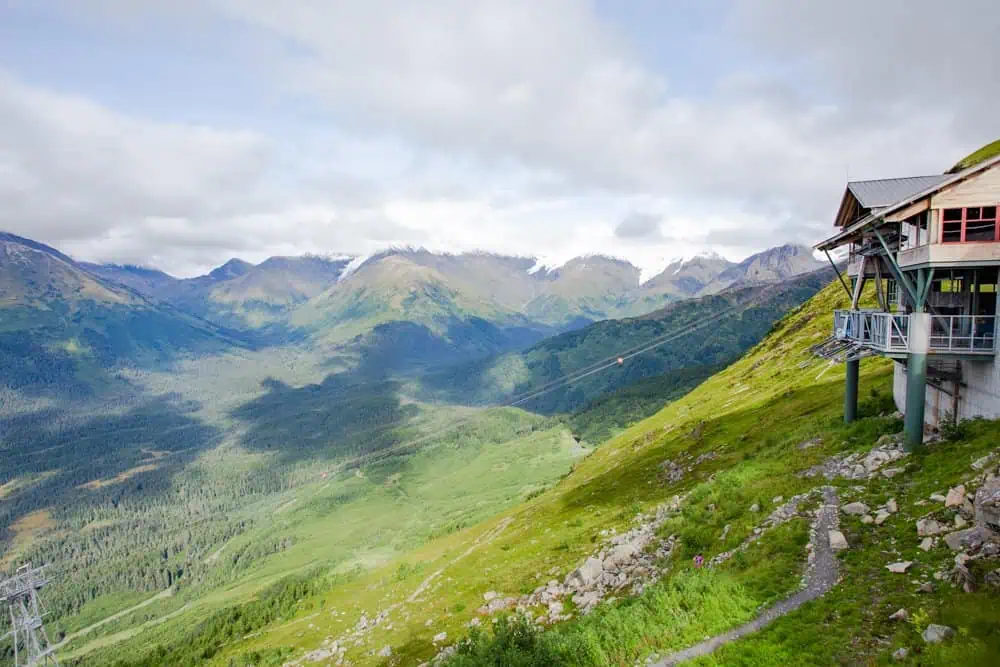 At the top, you can grab some food or a drink at the Bore Tide Deli & Bar. Then I recommend walking around the gift shop, taking some pictures, and taking in the beautiful scenery. In the winter this becomes a skier's paradise.
If you want to spend more time in Girdwood, you could stay the night at the Hotel Alyeska and take advantage of their beautiful saltwater pool and whirlpool. There are also many homes for rent. It's a popular spot and things book up quickly here, so if this is your plan be sure to secure your accommodations early.
There are some amazing helicopter tours you can take from here. If you love hiking, I recommend Winner Creek, Mt Alyeska (the tram is free on the way down!), and Virgin Creek Falls. If you really, really love hiking, then check out Crow Pass Trail.
Virgin Creek Falls (pictured below) is an easy hike from the road, about a 1/2-mile out and back. The trail starts at the dead end of a neighborhood and can easily be found using Google Maps. The short hike goes through part of the northernmost temperate rainforest in the U.S. and ends at a stunning waterfall.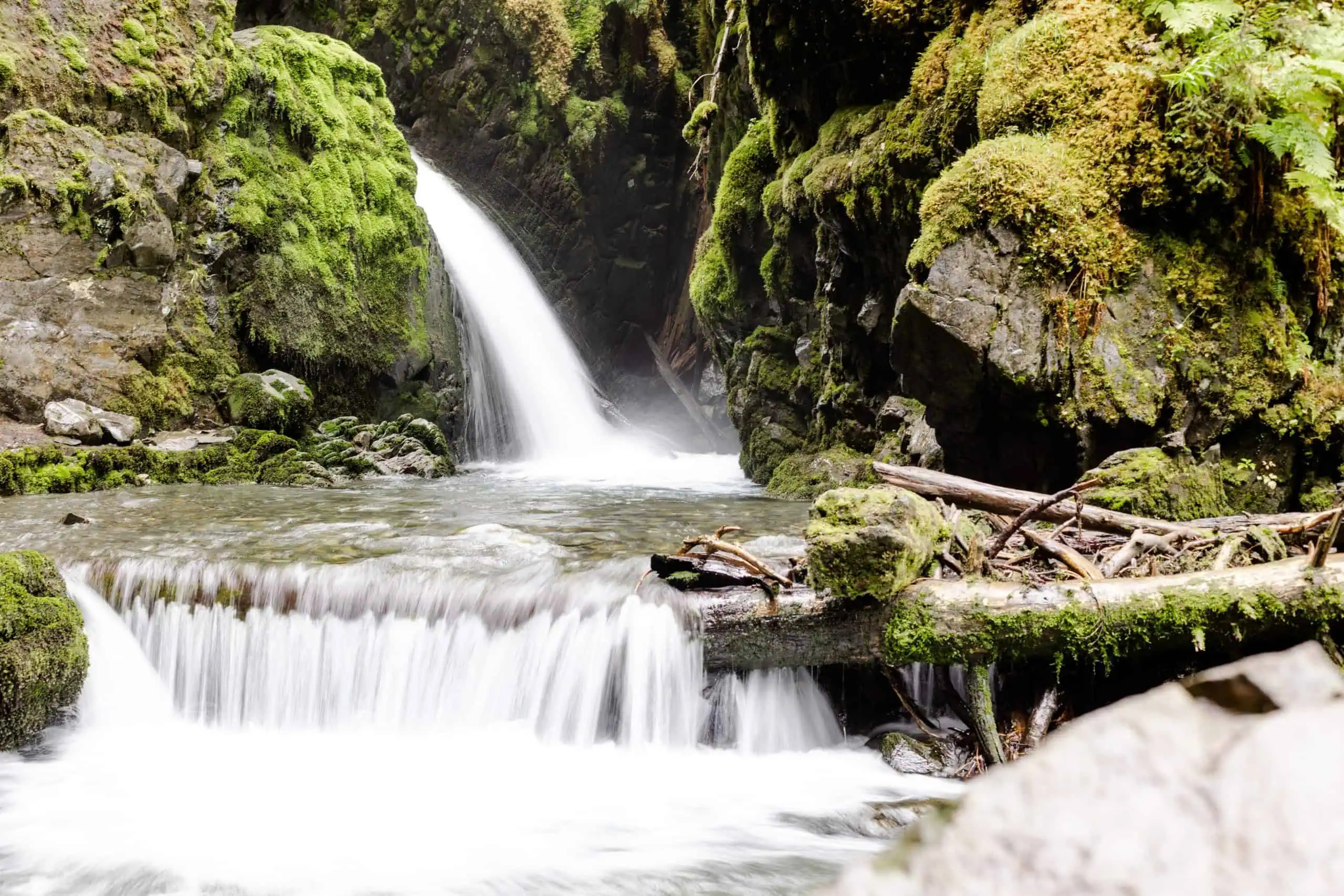 Alaska Wildlife Conservation Center
Estimated Time: 60-90 minutes
After leaving Girdwood, continue down the Seward Hwy for about 15 minutes until you reach the Alaska Wildlife Conservation Center (AWCC). For guaranteed wildlife viewing, be sure to stop here. Although Alaska is full of all sorts of wildlife, it's possible to not see much of anything on your trip.
The conservation center has all sorts of Alaskan animals. There are bison, muskox, wolves, bears, moose, deer, eagles, porcupines, lynx, and more. There's a large visitor center and gift shop, and there are regular educational activities as well.
There are two ways to view the animals. You can either park at the visitor center parking lot or you can drive the entire thing.
We usually visit a few times a year and my son enjoys it just as much each time.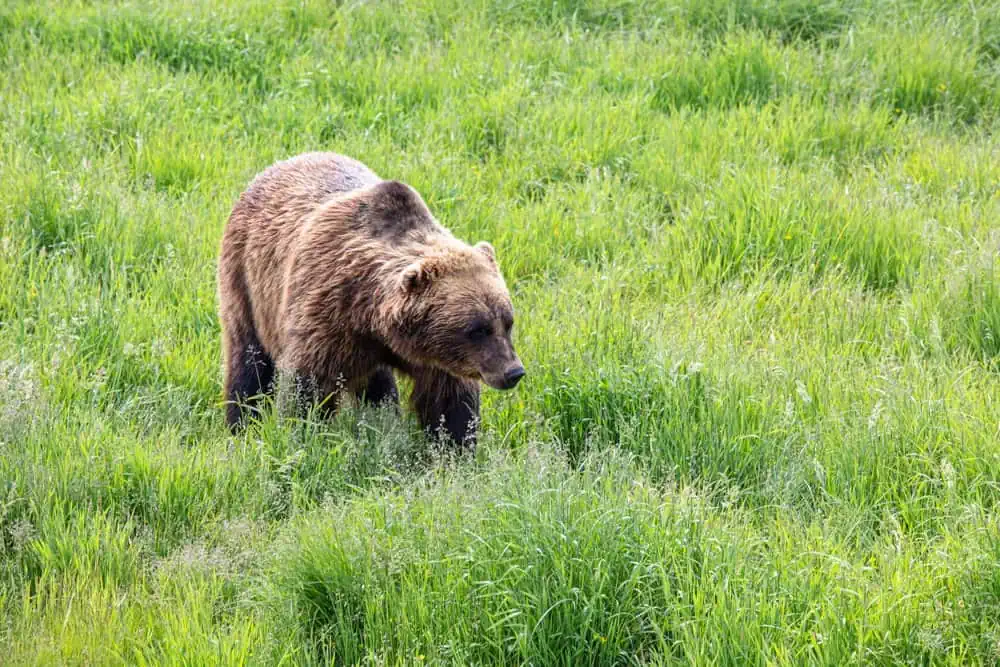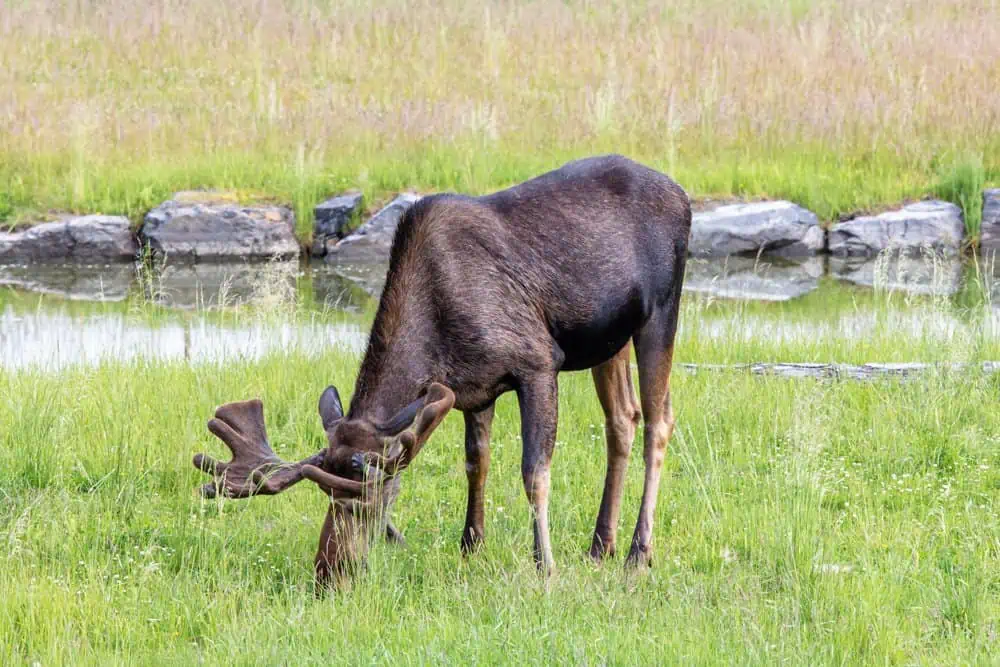 Portage Glacier / Whitter
Estimated Time: 20-60 minutes (more if you do the 1-hour boat cruise)
Just past the Alaska Wildlife Conservation Center is your next turn to Portage Glacier. There is a large blue sign and the turn will be on your left. It's a short 5-minute drive to Portage Glacier. Along the way are campgrounds and a 5-mile trail with boardwalks called the Trail of Blue Ice. If you have plenty of time, I recommend walking at least part of this trail.
Once you reach the glacier (there are signs, but adding it to your GPS doesn't hurt), you can typically see floating glacier ice and the glacier in the background. The only way to get close to the glacier is via the Portage Glacier Cruise.
The cruise runs 5 times a day (weather permitting) and lasts about an hour. Bookings must be made in advance (5 days online and 1 day for phone reservations).
If you plan to do the cruise, be sure to factor the additional time into your day.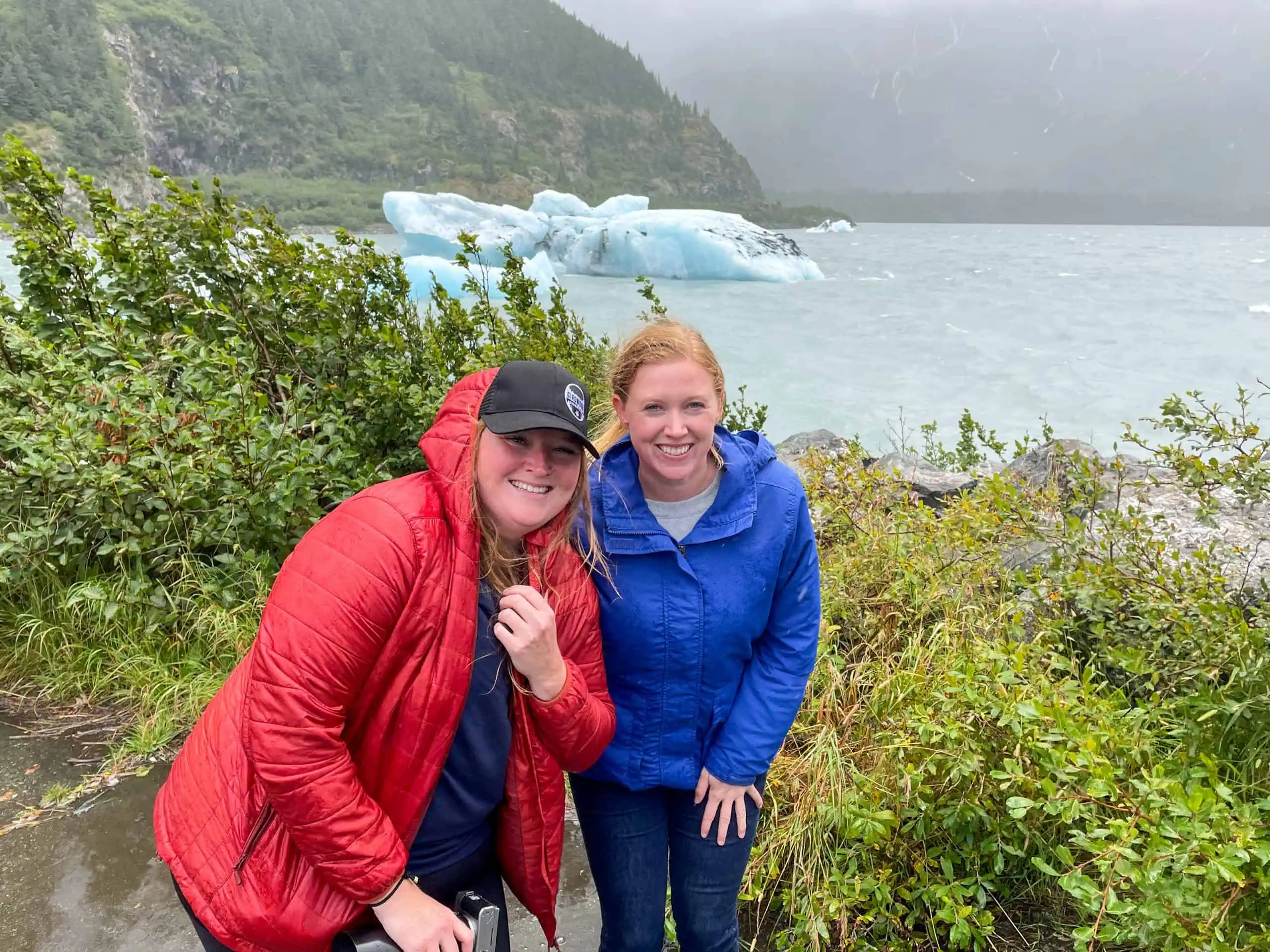 Summit Lake
Estimated Time: 10 minutes
After Portage, it's now time to head inland through the pass. There are many rest stops along the way that are worth a stop. Hope is a small town but it's quite out of the way and very small, so it's not on this list.
Summit Lake doesn't require a stop unless you want to snap some photos, but it is a nice lake on the drive down. There is a lodge and a campground if you're interested in staying overnight.
Tern Lake
Estimated Time: 10 minutes
Tern Lake is at the intersection of the Seward Hwy and Sterling Hwy. To get to the parking lot you'll need to take a right near the bottom of the hill (the road widens quite a bit). This is a great spot for bird-watching and snapping some beautiful photos.
If it's getting late in the day, you can also stop here on the way out.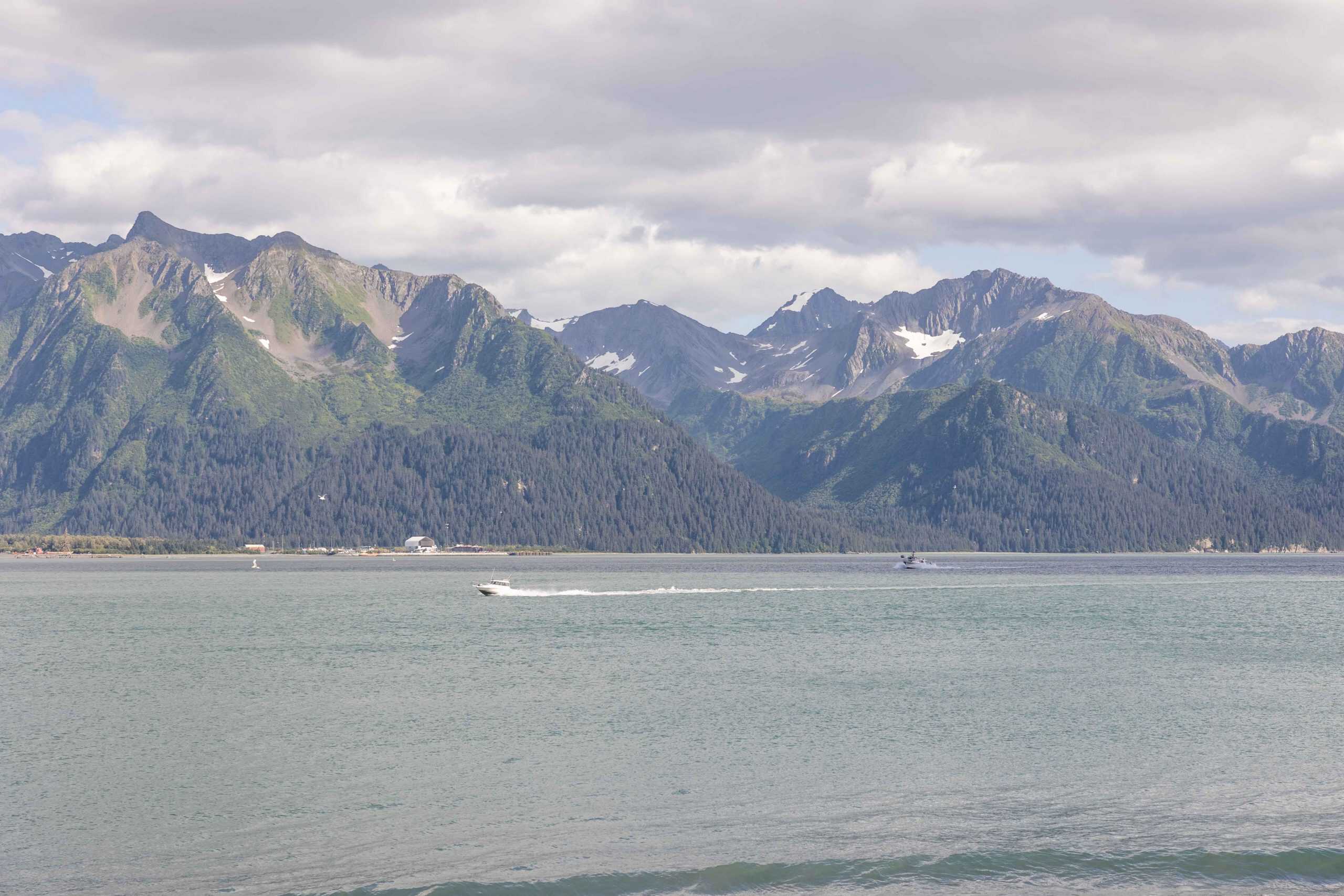 Moose Pass
Estimated time: 10-20 minutes
After passing Tern Lake and the exit to Homer/Cooper Landing, you'll start seeing more civilization. There are a few quirky shops along the road and soon you'll reach the small town of Moose Pass. The town sits between Upper and Lower Trail Lake.
Just before Moose Pass is Upper Trail Lake on your left. There's a small stop called 'Upper Trail Lake Rest Area'. It's small so keep an eye out for a stop here. It's a pretty lake that often looks emerald green.
The town is small but if you're hungry you can stop for a bite to eat. It also is right on the water soyou can grab some photos or stop to take in the scenery.
Kenai Lake
Estimated Time: 5-10 minutes
After Moose Pass, you will continue along past Lower Trail Lake until you get to Kenai Lake. This is a LARGE lake on the right hand side as you're heading toward Seward. It's really pretty and there are a few stops where you can take some pictures. They are small dirt stops so keep an eye out for them.
Please note in 2023 there's a lot of construction along this stretch of road, so it may not be possible to stop.
The photo below was taken at an opening between the trees. It's a beautiful large lake that's relatively untouched.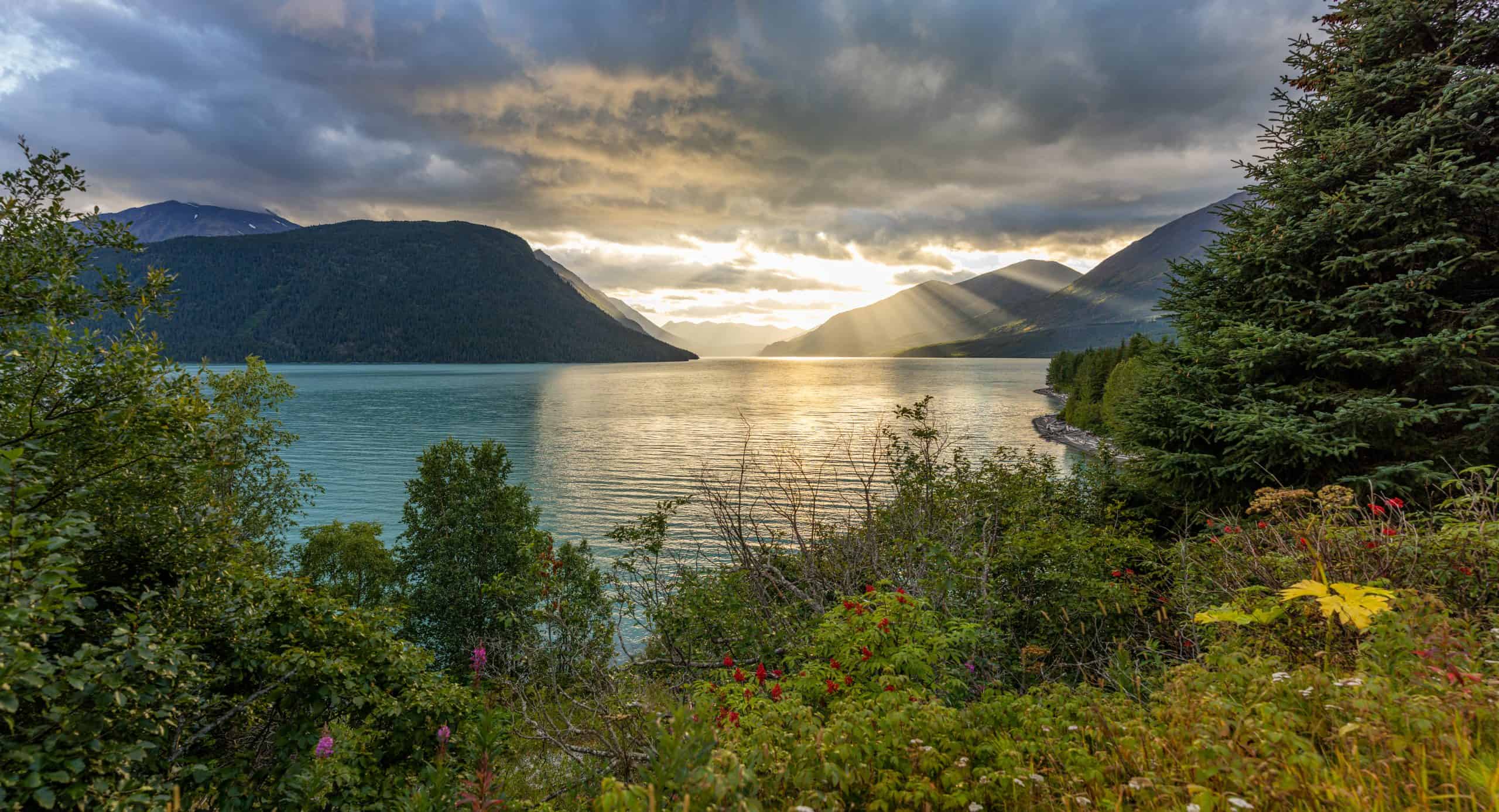 Exit Glacier
Located just 12 miles from Seward, Exit Glacier is an easy-to-access glacier with a relatively flat hike. There's a large parking area with a visitor center and public restrooms. The trail is a 2.2-mile loop and along the way, there are signs marking how much it's receded over the years.
From here you can continue on to the much more challenging Harding Ice Field hike, which is a strenuous 9.2-mile out and back hike.
I recommend saving Exit Glacier for the day after your drive or on the morning you head out.
Things to do in Seward
I wrote a post with 15 Things to do in Seward that covers all of the top things to do when in Seward.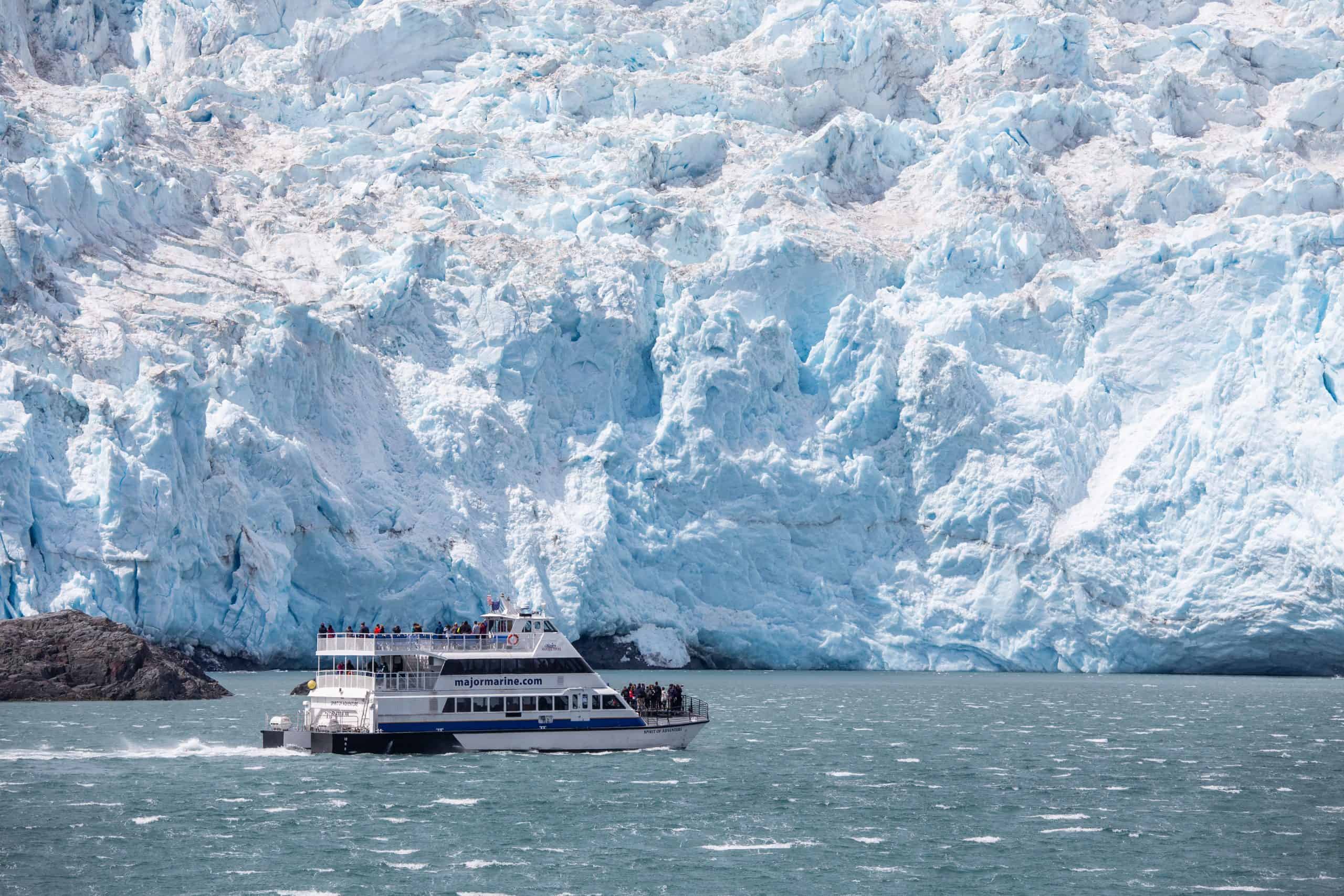 Read Next