I'm excited to share curated properties from all over the world. As an Airbnb Associate, I earn when you book through one of the links.
When it comes to accommodations, there are many different types of options in Alaska. I grew up here traveling around the state, and one of my favorite things to do is stay at a local Airbnb. I love that you can stay in an authentic log cabin with a wood stove or have oceanfront views watching whales and sea otters play.
Why Book an Airbnb?
Whether I book an Airbnb or choose to stay at a hotel, it all really boils down to where I'm going and what type of experience I want to have. If I'm going somewhere for just a night, typically in a city, I usually want something with convenience and breakfast included. For the most part, cities have a lot of hotels and offer competitive rates, so that's why often I'll look for a hotel or hostel when booking city accommodations.
For a place like Alaska, though, there aren't as many hotel options so I pretty much always recommend an Airbnb (unless you're staying in Anchorage, in which I'd recommend the downtown Hotel Captain Cook).
There are some definite perks to booking an Airbnb. Unlike a hotel, there's a much higher level of personalization and you are getting a more authentic experience. If traveling with your family or a group, it's also usually much more cost-effective to stay in a 3-bedroom house versus booking 3 hotel rooms.
And in Alaska, Airbnb prices are often the same or less than a hotel (if there's a hotel around). If you're new to booking through Airbnb, I would recommend checking out reviews to see what people love about the property.
There are a lot of stays in Alaska that come with views, a hot tub, or something unique that you would have a hard time finding elsewhere.
Airbnb Tip: I typically look for places with keyless entry (which is becoming more of the norm now) such as a keypad or lockbox.
Here are some unique Airbnb stays when planning your trip to Alaska.
The Coffee House Cottage (Seward)
This adorable custom built tiny home was built next to a local historic coffee house. The location in downtown Seward and the unique layout make it the perfect place for a couple to getaway. While it's in town, the cottage is away from the main street and tourist traffic.
From here you can walk to the Sealife Center, try some local grub, and enjoy watching all the wildlife in Resurrection Bay.
Day Trip Idea in Seward: Walk on a Glacier with an Expert Guide.
---
See Also: YOUR ULTIMATE GUIDE: THE BEST TIME OF YEAR TO VISIT ALASKA
---
Aspen Cabin (Homer)
Located in Homer, this beautiful 1150sq ft cabin style home overlooks Kachemak Bay and the Kenai Mountains. After a day of adventure you can relax in the outdoor hot tub or enjoy the large fire pit overlooking the bay.
From here you can also take a bush plane to Katmai or Lake Clark National Park to view one of the best places in the world for brown bears. While it's not cheap, flying to Katmai is a once in a lifetime opportunity and I highly recommend it if you can swing it. This tour runs a day trip and is rated 5 stars for the expert pilot and guide, and the experience as well.
---
Lazy Bear Retreat at Talkeetna Lodge
This updated rustic log cabin is 1600sq feet and located in the heart of Talkeetna. It's within walking distance to the charming town of Talkeetna, which is a good stopping point between Anchorage and Denali National Park. It's also a popular spot for flight tours to Denali.
The town is where the Talkeetna, Chulitna, and Susitna rivers converge and form the Big Susitna (Big Su). It's also an old Gold Mining town and was the site for the start of the Alaska Railroad in 1916. Because of this, the main street is lined with cute historic buildings which are now restaurants and shops with local items.
---
Mountain Haven (Girdwood)
This beautiful mountain lodge is 3 bedrooms and can sleep up to 8, making it a great spot for larger groups. Located at the base of Alyeska, it's the perfect spot for a winter ski trip or hiking in the summer. The home has in-floor heating and a steam sauna. There's a large heated entrance dedicated to gear removal as well.
Girdwood is located about an hour south of Anchorage, between Anchorage and Seward. It's a cozy mountain town with a local brewery (Girdwood brewery) and a small downtown with a few restaurants and shops. Alyeska is the largest destination ski resort in Alaska with the longest double black run in North America. It's a winter haven for snow lovers and also loaded with summer activities. For a beautiful hike, check out Winner Creek
---
Oceanview A-Frame Cabin (Seward)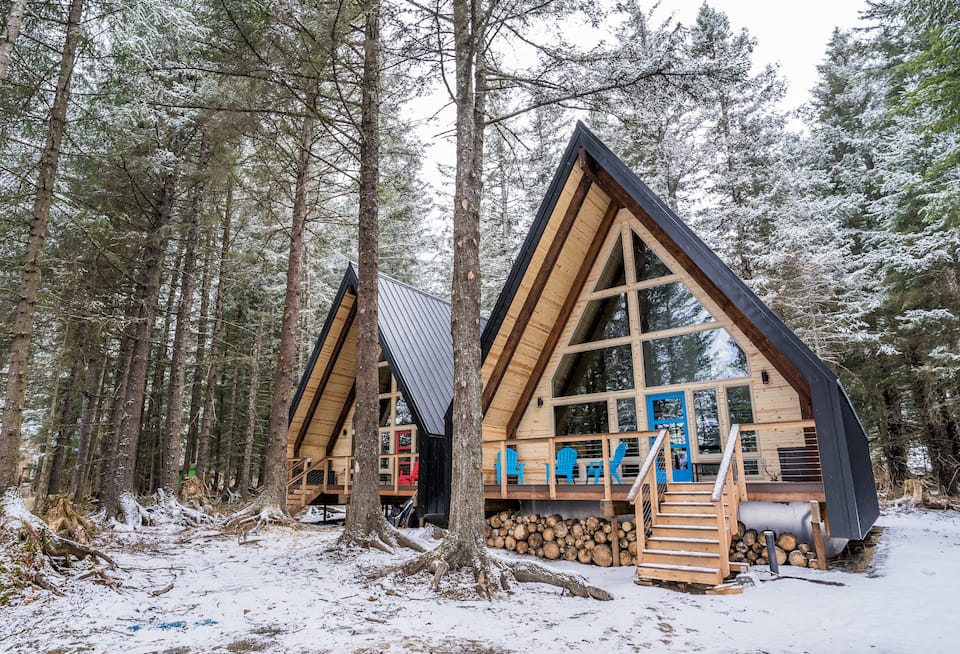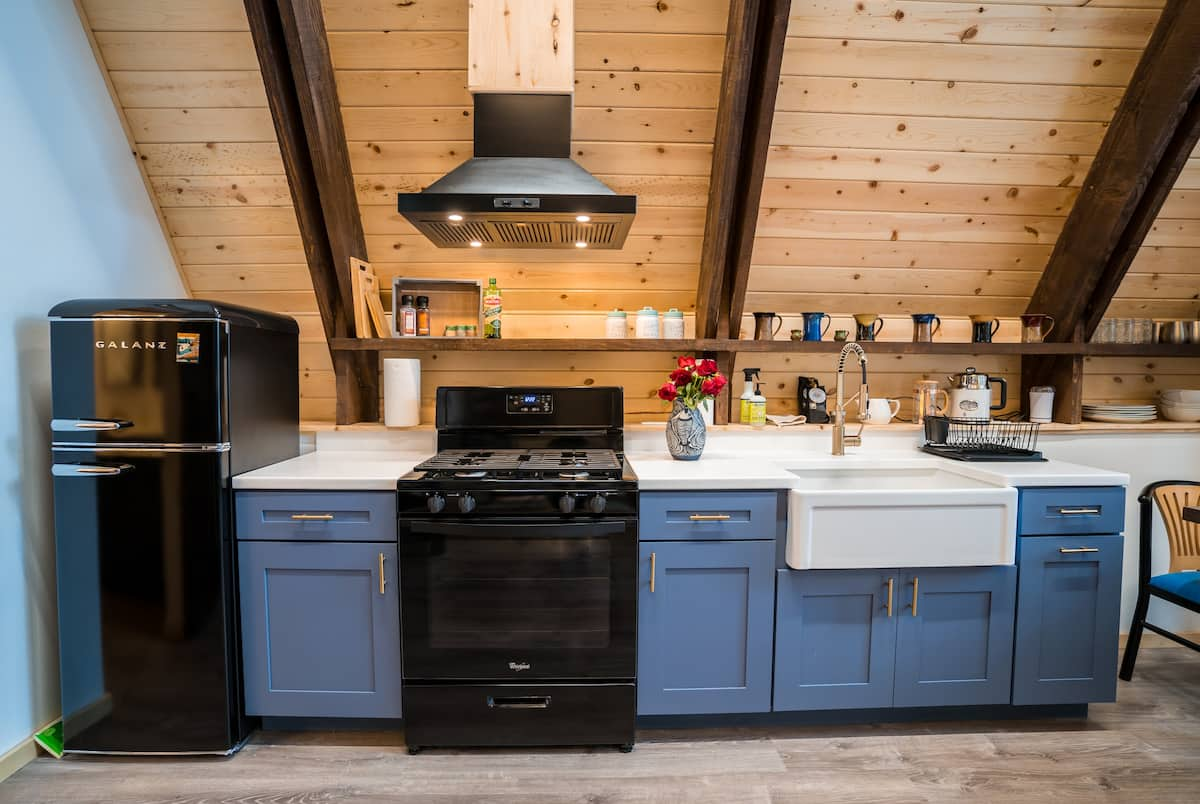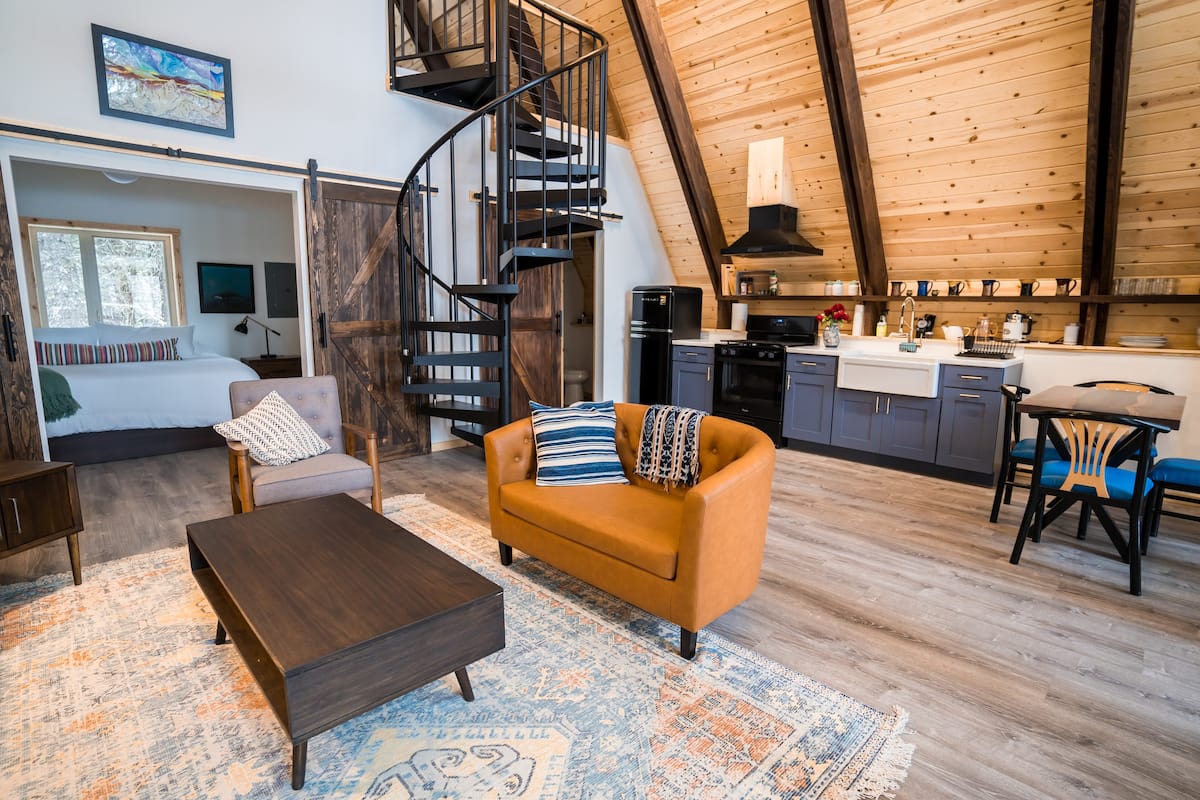 I'm slightly obsessed with these stunning A-frame cabins. Located in Seward, these beautiful glass front cabins were just built in 2020 and are already selling out for the upcoming summer. These cabins are located on the beachfront at Lowell Point, which is a beautiful wooded area just past the town of Seward. On one side you have Resurrection Bay, and on the other you have a mountain backdrop.
From here you can hike the temperate rainforest via Tonsina Creek Trail, whale watch from the beach, kayak or take a boat out on the bay, and see the sea otters and seals swim around. This is just a glimpse of the fun you can have here, it's really a nature lovers playground (like much of Alaska).
---
Modern Riverside Residence (Fairbanks)
Located in Fairbanks, this remodeled home is on the Chena River in Fairbanks. The deck is perfect for hanging out in the summer's midnight sun, or watching the stunning Northern lights in January. If you're visiting in the winter you can take advantage of the warm heated garage.
---
New Custom Built Mountain View Retreat (Juneau)
This beautiful home is the highest sitting home in Juneau and overlooks downtown. The home has a 940sq ft deck that wraps around much of the home, providing views in nearly all directions. Nearby you can visit the Tongass National Forest and Mendenhall Glacier.
---
Denali Cloudberry Cabin (Denali Park)
This dry cabin is located about 8 miles south of Denali National Park entrance. A "dry" cabin means there is no running water, which is a way of living for many people in Alaska. Instead, you're equipped with 5 gallon jugs of water for all your drinking and washing needs. There is electricity, heat, a full kitchen, wifi, and a new outhouse out back.
This would be a great stay for those looking for a more authentic Alaska experience. Experience the Northern Lights in the winter or go on a cross-country ski adventure. In the warmer months, this makes a great spot to start your Denali adventures and enjoy the midnight sun.
---
Search All Alaska Airbnb Accommodations Here
---
Book Your Next Trip!
I have been traveling Europe and the US for 9 years and have been to over 20 countries. I have tried many different companies over the years and these are the ones I highly recommend.
---