The 20 Best Festivals to Visit in Stuttgart, Germany (from an expert)
Hey there!
This post may contain affiliate links, meaning I may be compensated if you click on one of my links, at no cost to you. As an Amazon Associate, I earn from qualifying purchases. Read my disclosure policy for more information.
If I ever decided to run my own tour group, I would 100% center it around festivals.
I love festivals, especially in Germany.
And I'm not just saying that. I probably visited nearly every festival and fair in the Stuttgart area. And there are a lot!
You may not think that Stuttgart – a relatively unknown city for most Americans – would have many festivals.
But it does!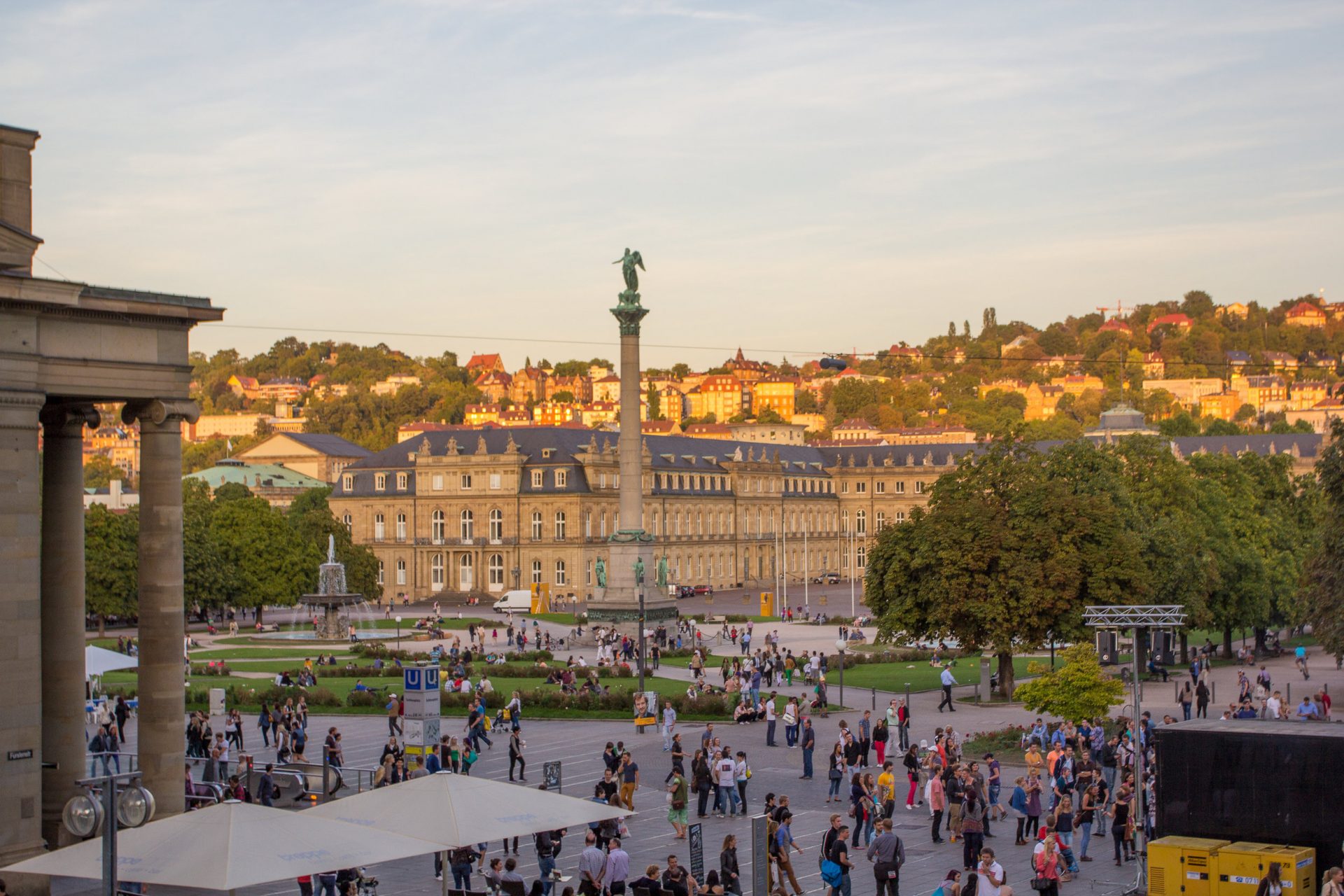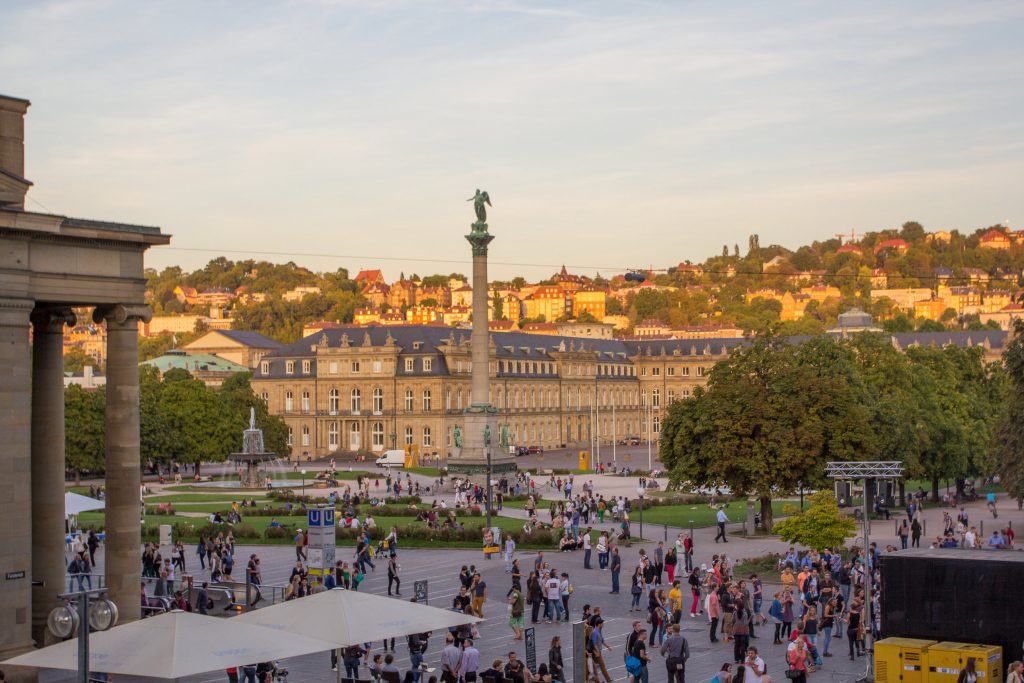 If you wanted to, you could probably find a different festival every single weekend.
And Stuttgart has some of the largest festivals in Europe (hey Volksfest and Christmas market).
Festivals cover everything from food, beer, wine, music, film, Christmas markets, celebrating cities, celebrating history, street festivals, and even some a little medieval flair (medieval festivals in real medieval towns can't be beat!).
While I could easily list 40 festivals in the area, I'll keep this list a bit more reasonable and only write about the top 22 festivals in and around Stuttgart.
Important Things to Know
As your festival connoisseur, here are my top tips for a great time:
Bring cash and change – While many places will take cards, just assume you should bring cash with you. But more importantly, be sure to bring change or get change once you're there. Many of the restrooms charge around 50 – 1 Euro so it's easiest just to have it on hand. Note that some places have attendants but you're not always required to pay (there isn't a set way to figure this out – I usually just watch others and follow their lead).
Take Public Transportation when possible – Parking is always an issue at popular festivals, so if possible, take the train or bus.
Arrive Early or go mid-week – Stuttgart is a crowded city and many of these festivals get absolutely packed. So I recommend taking a half day on a Tuesday or Wednesday and heading out early.
Check open/closing times – The first time I went to a Christmas market or Volksfest, I was really surprised at how early everything shut down. If you're a morning person or a night owl like me, be sure to check opening/closing times.
Bring a backpack – If you plan to shop or need to bring extra clothing, consider bringing a backpack for walking around. I wouldn't recommend this for Volksfest, but the other festivals are open in the streets so it's completely acceptable to bring a backpack.
Dress Appropriately – All of these festivals are outdoors so be sure to dress for the weather and for possible inclement weather. I found with the winter festivals, it's best to overdress. I grew up in Alaska but found that in Germany the wet cold temps for hours was rough! I'd wear long underwear, jeans, long socks, boots, a hat, a scarf, and gloves along with my long jacket. And even then I was sometimes cold.
German Festivals vs American Festivals
There's no entry fee – With very little exception, there isn't an entry fee for any festival in Germany.
No Open Container Laws – You won't get in trouble for walking around with a drink in your hand here. Grab a wine, walk around, get another at a new stand, keep walking, etc.
Little Security – Most of the festivals in cities have little or no security. Instead, the local police (polizei) can be found walking around. They're often helping people with directions (like us) or helping someone who had a little too much to drink.
It's not loud – Although you're walking among hundreds or thousands of other people, these festivals are not typically noisy. Germans operate on a much lower decibel than Americans, so even in a crowd, it won't be super loud.
There isn't much violence – This isn't a hard and fast rule, but generally festivals in Germany are peaceful and you don't feel like anyone is on edge or wants to fight.
Top Locations for Festivals
While many festivals are located in and near downtown Stuttgart, there are many others a town or two away.
Here are the top festival locations near Stuttgart:
Bad Canstatt – just north of downtown Stuttgart, Bad Canstatt is more like a suburb of Stuttgart and one train stop north of the main station.
Esslingen am Neckar – The S-Bahn train line runs to Esslingen am Neckar, located Southeast of Stuttgart.
Sindelfingen – Also on the train line, Sindelfingen is home to Mercedes and also many festivals.
Tuebingen (or Tübingen) – This quintessential German college town is south of Stuttgart. It does have a train from Stuttgart but it's infrequent so be sure to check the times. A better option may be to drive, hire a car, or take the bus.
Festivals
EVERYTHING FOOD
If it's harvested in Germany, there's a festival for it. Fruit, vegetables, wine….here I highlighted the best festivals in the area, but there are many more in the surrounding areas.
Tübingen ChocolART Festival
Let's start off with a delicious festival, the Chocolate Art (Schokoladen) festival in Tuebingen. There are chocolate vendors from all over the world and chocolate art is found everywhere as well.
This festival (like most) is held all throughout the beautiful pedestrian area of this college town. Tuebingen deserves a visit on its own and combined with chocolate makes it a perfect day trip!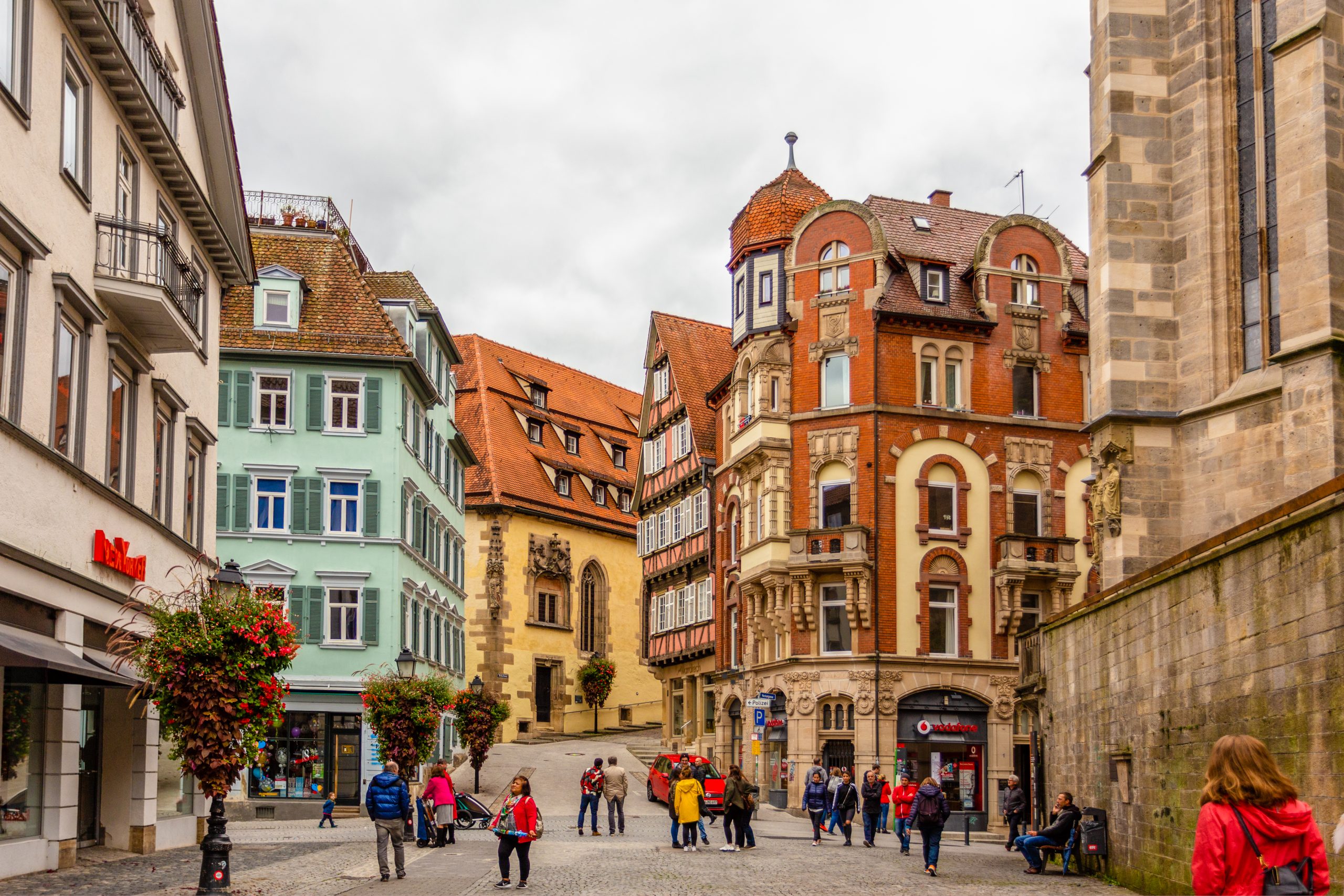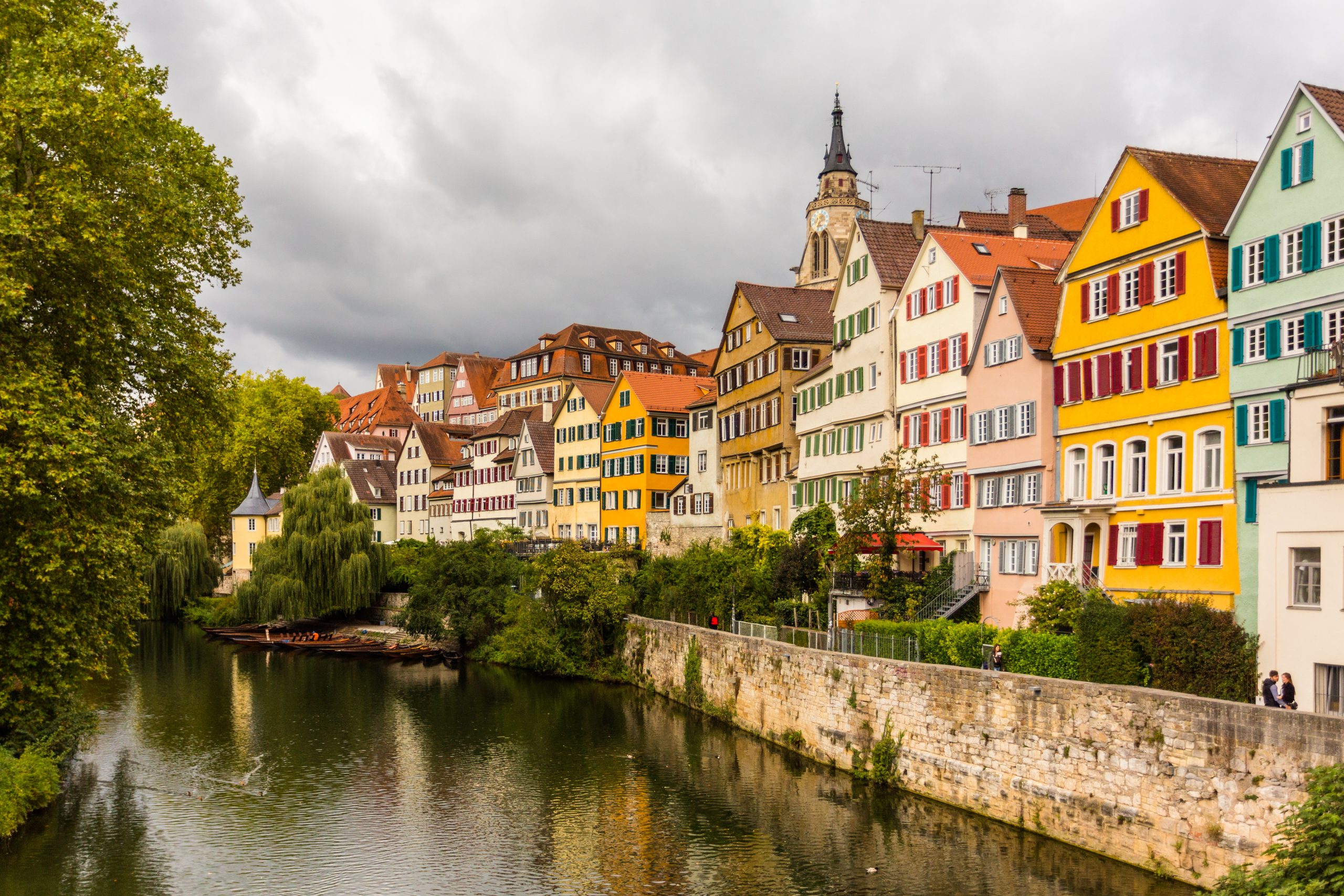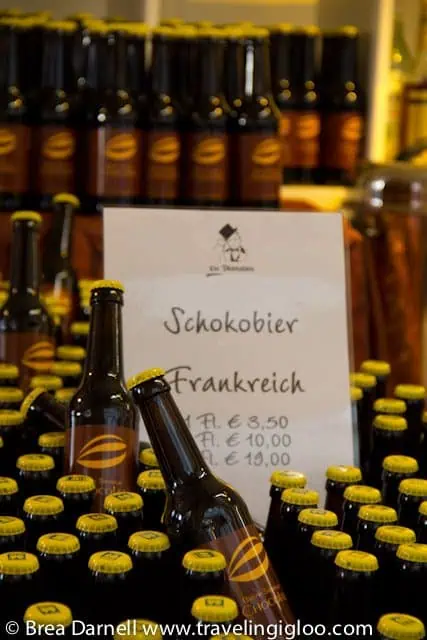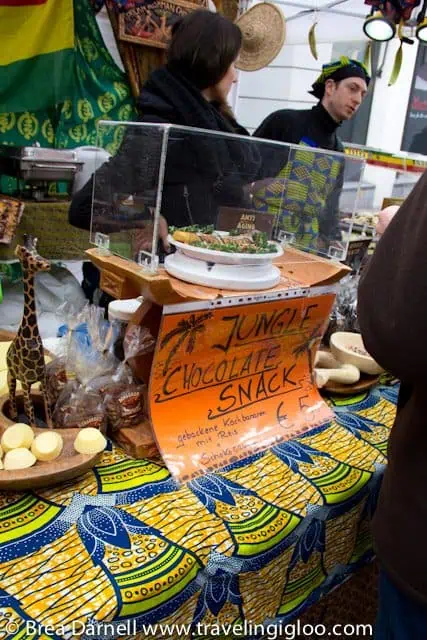 Hamburger Fischmarkt
Held downtown at Karlsplatz, this market celebrates all things fish. There are all sorts of vendors but you'll mostly find food and drink at this one. It's a popular July festival that attracts people from all over the city. Here's the official link for more information.
Esslingen Erdbeer (Strawberry) Festival
The strawberry festival is quite popular and is held every May in Esslingen. Here you'll find food and drinks with a strawberry twist. There's jam, ice cream, syrups, liqueurs, wine, and everything in between.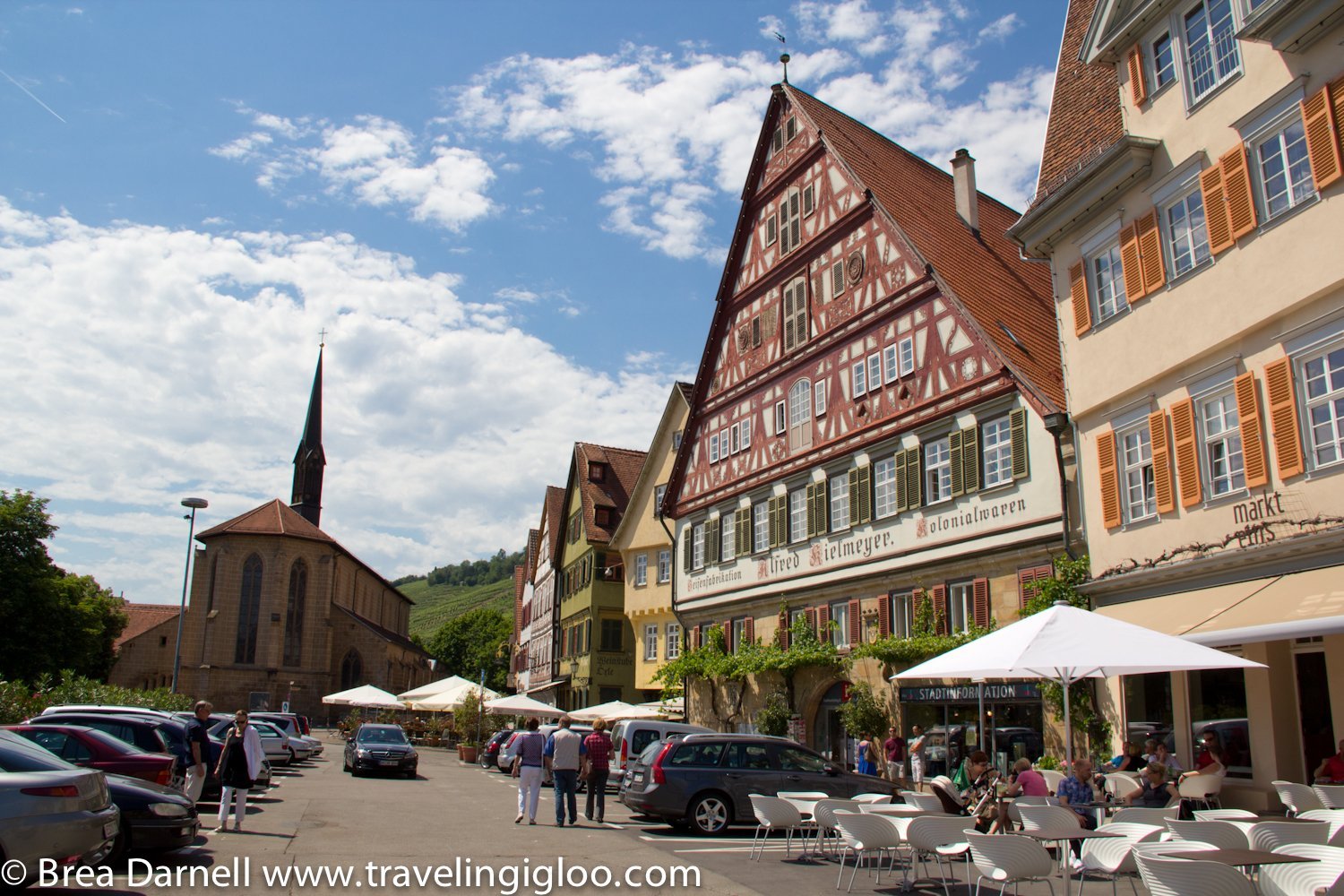 Echterdingen Krautfest (Cabbage festival)
I am completely partial to this festival because I lived in Echterdingen for four years. I'll never forget moving into our house the day before this massive festival took over our town. It was definitely a fun welcome to Germany.
Krautfest celebrates everything cabbage. Although Echterdingen isn't a large town, there's a long main street that runs through town. During Krautfest, the entire street shuts down and is filled with vendors, games, smaller rides, and many drink vendors.
You can even drink Baileys from a cabbage leaf (pictured below). Other cabbage-related foods include krautburgers and kraut pizza.
Restaurants and the Paulaner Biergarten are popular spots during this weekend festival.
Ludwigsburg Kurbisfest (Pumpkin Festival)
This festival is the largest pumpkin festival in the world!
It's art meets food. Each year there are new themes and every pumpkin of all shapes and sizes can be found. Since the festival is so long, the themes change multiple times each year. There are impressive statues and scenes built entirely out of pumpkins.
Be sure to try the kurbiscremesuppe (Pumpkin Creme Soup) and pumpkin wine!
If you have kids, the grounds also have Traumland. This little theme park is full of storybook rides and scenes from the most popular German tales.
You could spend a few hours just at Traumland, so I recommend planning to be out all day (i.e. bring snacks, extra clothes, etc).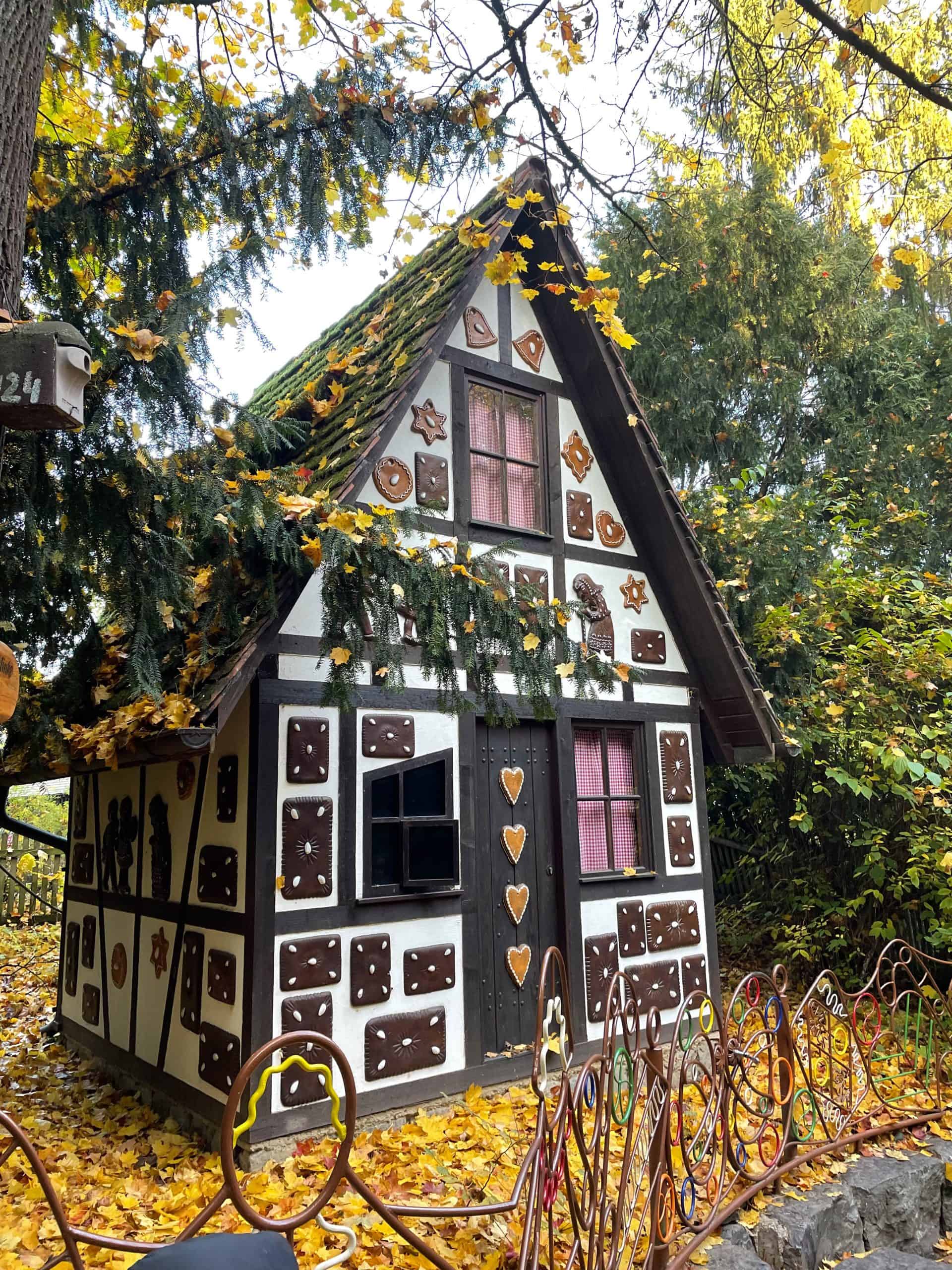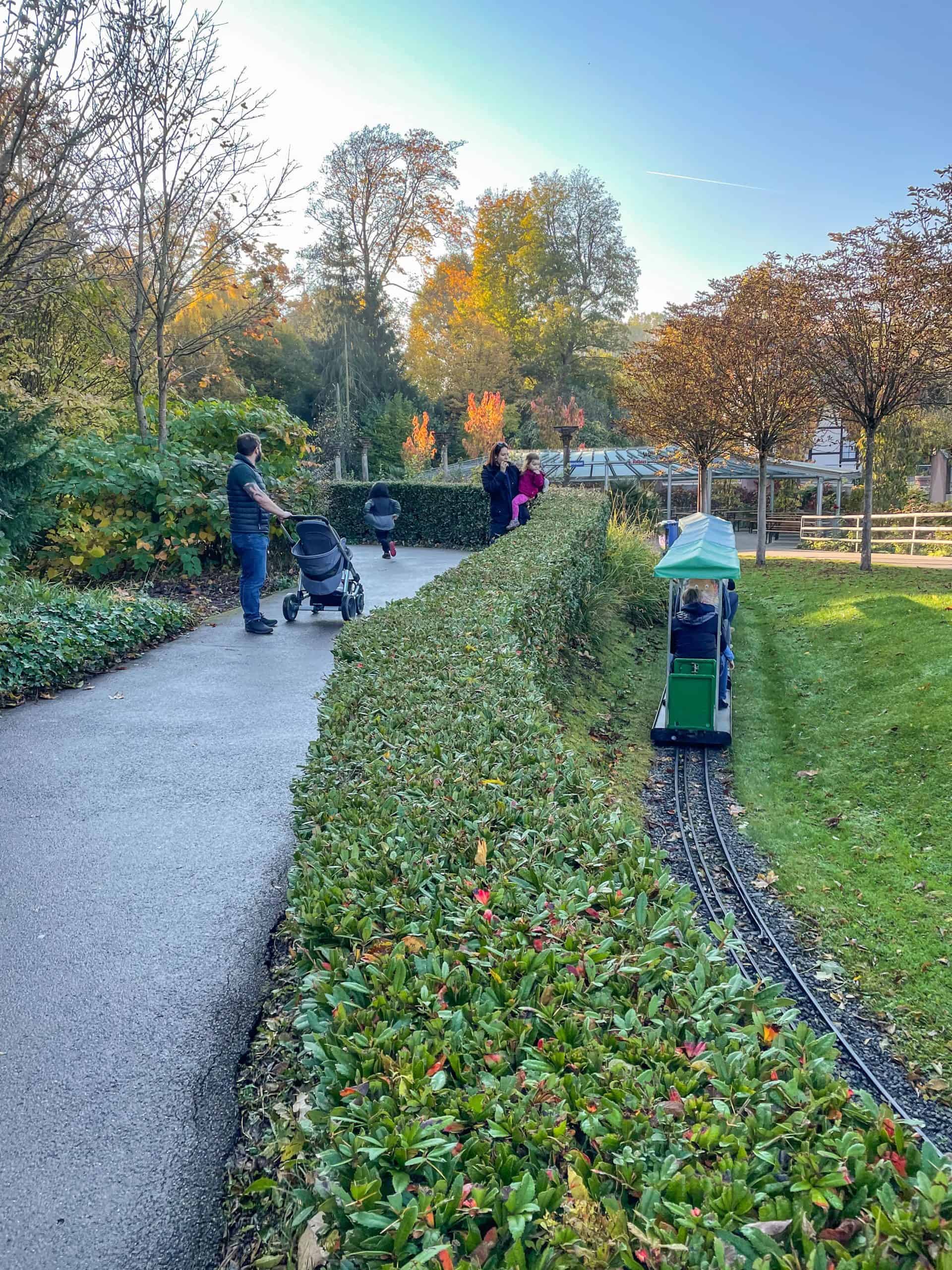 Zwiebelfest (Esslingen am Neckar)
The Zwiebelfest is all about onions and is tied to an old Esslingen folk tale. It's said that a woman drove the devil out of town by giving him an onion instead of an apple.
So every August there's the onion festival to celebrate. There's food, music, an onion competition, costume day, and crowning the onion queen.
STREET FESTIVALS
Stuttgart Sommerfest (Summer Festival)
Just when the sweltering heat hits Stuttgart in early August, the city opens up with a large festival downtown. The summer festival is full of great food, fantastic drinks, and plenty of live music too.
As you can see in the photos below, this is a very popular festival that gets jam-packed! But if you're willing to make your way through the crowds, it's a fun festival that brings the city together.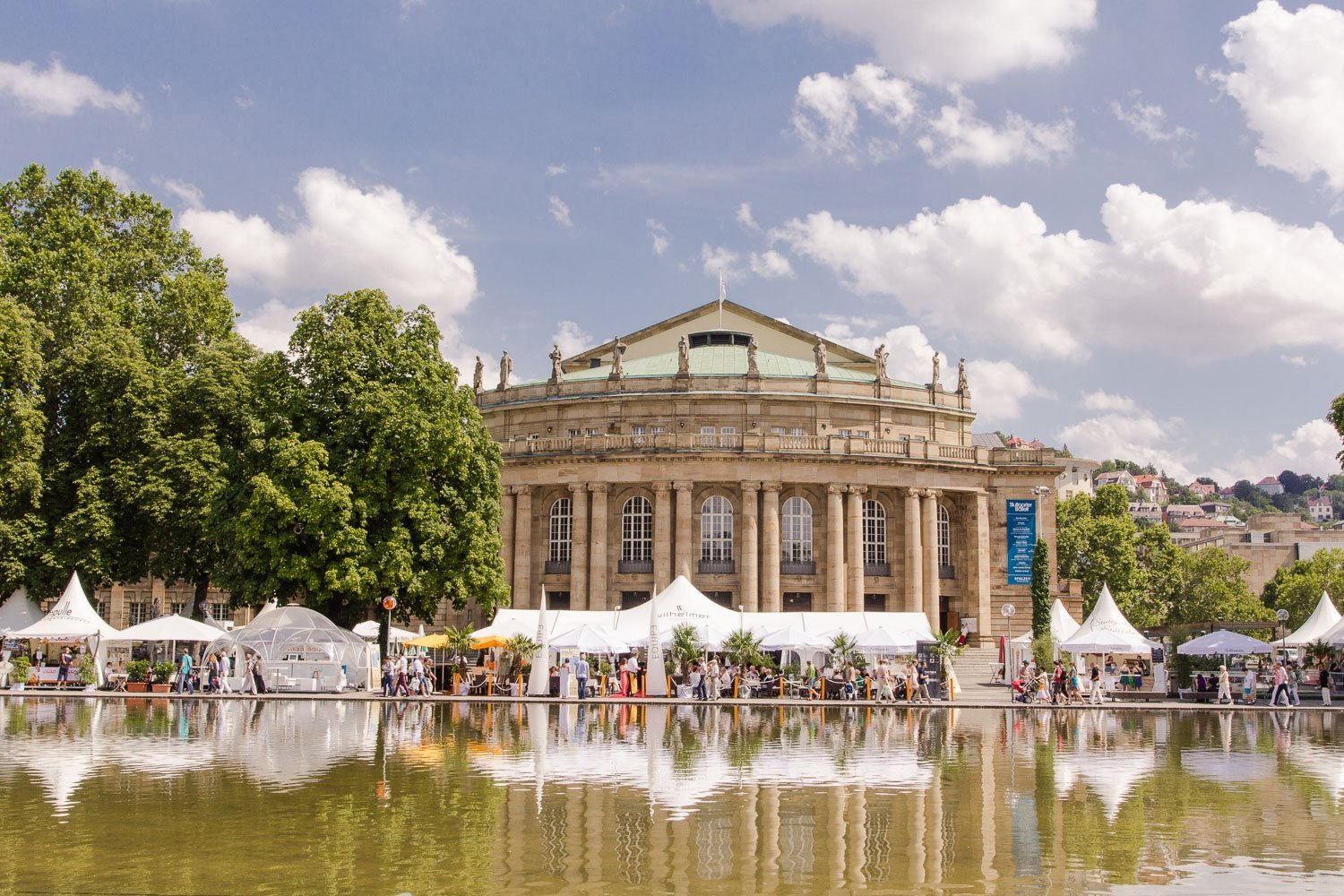 Sindelfingen International Street Festival
This is a large festival that fills every area of the Altstadt in Sindelfingen. Here the focus is on food, specifically food from all over the world. From African to Polish and even Caribbean fare, it's a festival full of culinary delights. There's also live music, plenty of drinks, and vendors selling local items.
This festival gets packed so I recommend taking the train or arriving early to find parking.
Bohnenviertel (Bean) Fest
This is a typical festival with food, local vendors, and drink. This area, just south of Stuttgart, used to be a poor neighborhood. Residents would plant beans in their gardens, hence the name of the area.
WINE FESTIVALS
Weindorf Stuttgart
The Stuttgart Weindorf, or wine village, takes place in downtown Stuttgart mostly around Marktplatz, Schillerplatz, and the surrounding streets.
Over 30 vintners from the area set up stalls with seating areas and tastings. It's a fun festival that marks the end of the wine-growing season.
BEER FESTIVALS
Volksfest
Although Volksfest isn't exactly a catchy name, this is the second-largest beer festival in Europe!
Think of Oktoberfest, just on a smaller scale. There's so much I can say about this festival that it needs its own post, but I'll quickly summarize it here.
Volksfest runs for three weeks straight every fall in Bad Canstatt. The tents open at 11:00am and close at 11:30pm each night. While it's strongly recommended that you purchase beer tent tickets ahead of time, we always found that we could get into a tent without a ticket (as long as you're patient).
The tickets include a few liters of beer and a meal, and it's usually only about $40 per ticket. My favorite tents are Gockelesmeier (the chicken tent) and Grandl's, although I slightly prefer Gockelesmeier.
There are eight beer tents, rides, vendors, food stalls, wine tents, rollercoasters, etc. It's essentially a large carnival with lots of massive drinking tents. Even if you're not a big drinker, it's an experience not to be missed.
For more information including reservations, visit this link.
Frühlingsfest
Think of quite literally the exact same thing as Volksfest, but a bit smaller and in the springtime.
MEDIEVAL FESTIVALS
Knights Festival in Horb am Neckar (Horber Ritterspiele)
This is essentially a medieval festival, in a medieval town, complete with a jousting match. I went a few years in a row and loved it each time. Here's the link to their official site.
If you like medieval festivals this one is a must! And if you love medieval festivals, check out the MUCH larger Kaltenberger Ritterturnier near Munich. Some say it's better than Oktoberfest!
CARNIVAL (FASCHING)
Fasching in Weil der Stadt
Carnival is a huge event all over Europe and beyond that takes place before Lent. Traditionally it was a time to let loose and eat and drink before the fasting of Lent began.
In Germany, it's called 'Fasching' and there are carnivals all over the country. While Cologne has the largest party, just south of Stuttgart there's a fun event in Weil der Stadt.
The highlight of most Carnivals is the large parade (there's also a children's parade the following Tuesday) where you'll see people in intricate costumes and decorated floats.
There are also rides and stalls nearby for additional entertainment.
OTHER FESTIVALS
Flammende Stern (Fireworks Festival)
Fireworks, a laser show, a market, and more can be found at this festival. This is one of the rare festivals that charge an entry fee (which varies depending on age and dates). For an awesome fireworks display, though, it's worth the fee.
Afrika Festival
This is another fun festival in early July. There's a lot of music, dancing, a children's program, and a fashion show.
Stuttgart Festival of Animated Film
Film festivals aren't exactly my thing, but this is a large film festival each year in downtown Stuttgart. Massive theater screens are erected on the grassy areas of Schlossplatz so anyone can enjoy the festival. Here's the link for more information.
CHRISTMAS MARKETS (Weihnachtsmarkt)
Christmas markets deserve their own post, but I wanted to highlight some of the best in the area.
Stuttgart Weihnachsmarkt
The Stuttgart Christmas Market is one of the largest in Germany.
Imagine over 250 stalls ornately decorated with holiday cheer. There's a competition each year for the best-decorated rooftop, and they take it seriously. The market spreads wide through the entire Konigstr. and into Schlossplatz and beyond. There's an ice rink and even a Finnish Christmas market.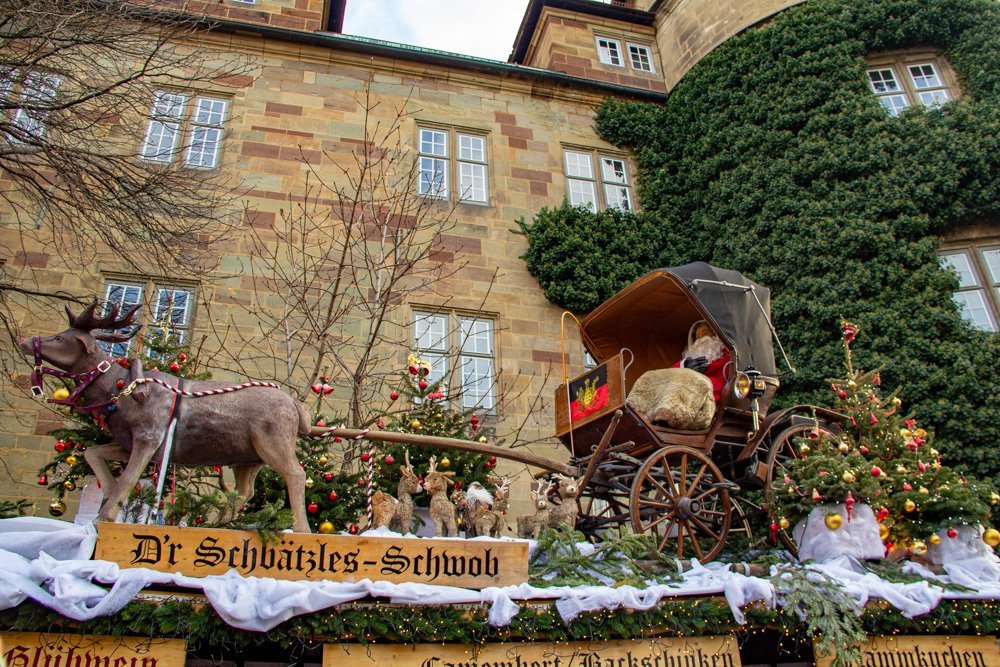 Esslingen Mittelaltermarkt (Esslingen Medieval Market)
If you're in the Stuttgart area, the Esslingen Medieval Market can't be missed. It's the best Christmas market I've ever been to (and I've been to a lot!).
As stated in the name, it's a Christmas market with a medieval theme.
Everything has a medieval look and feel. Not to mention that the town of Esslingen simply looks and feels medieval.
The vendors sell drinking horns and furs. You can buy swords and other medieval weaponry. There are even actors walking around such as the barefoot beggar, in December! People churn massive boiling pots of glühwein and hot chocolate.
There are shows and live events that are – you guessed it – medieval. There's even a 'fair' area with a wooden Ferris wheel that's manually turned. It is so cool.
Did I mention the hot outdoor wooden barrel tubs that you can reserve? Many people just go in naked…on a stage for all to see.
You feel completely immersed in the experience. Because it's just that, an experience not to miss.
Now that I'm writing about it I might just have to book another trip back this year!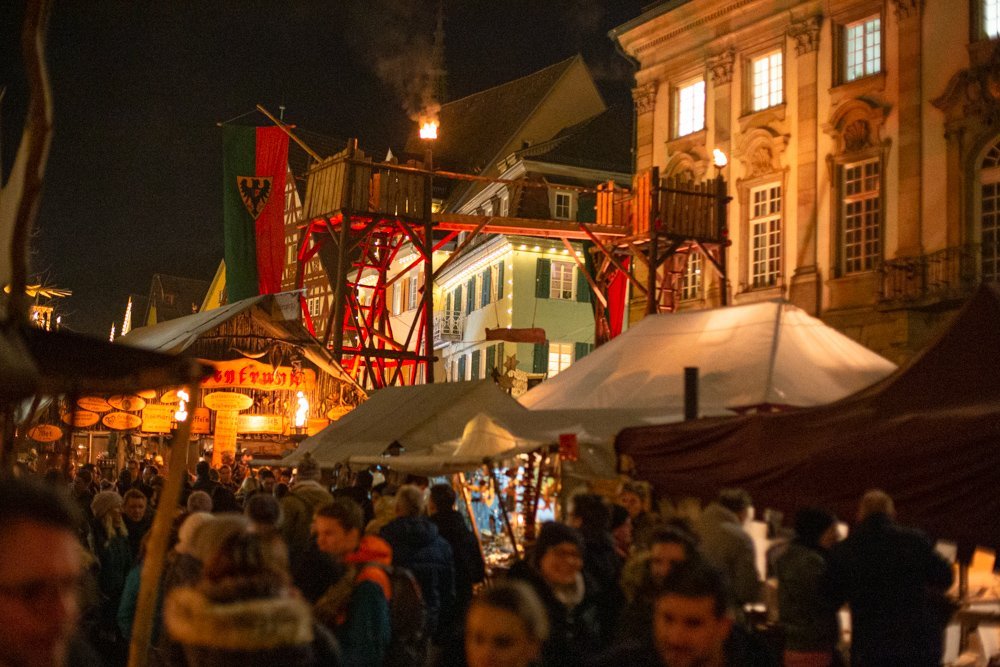 Hohenzollern Wiehnachsmarkt
If you want to experience a Christmas Market at a real German castle, head to Hohenzollern. This Christmas market runs a few weekends each year so be sure to check their website and book tickets ahead of time. The castle is quite popular in the area and is perched on a freestanding hill with a large inner courtyard. The market is both inside and outside the castle.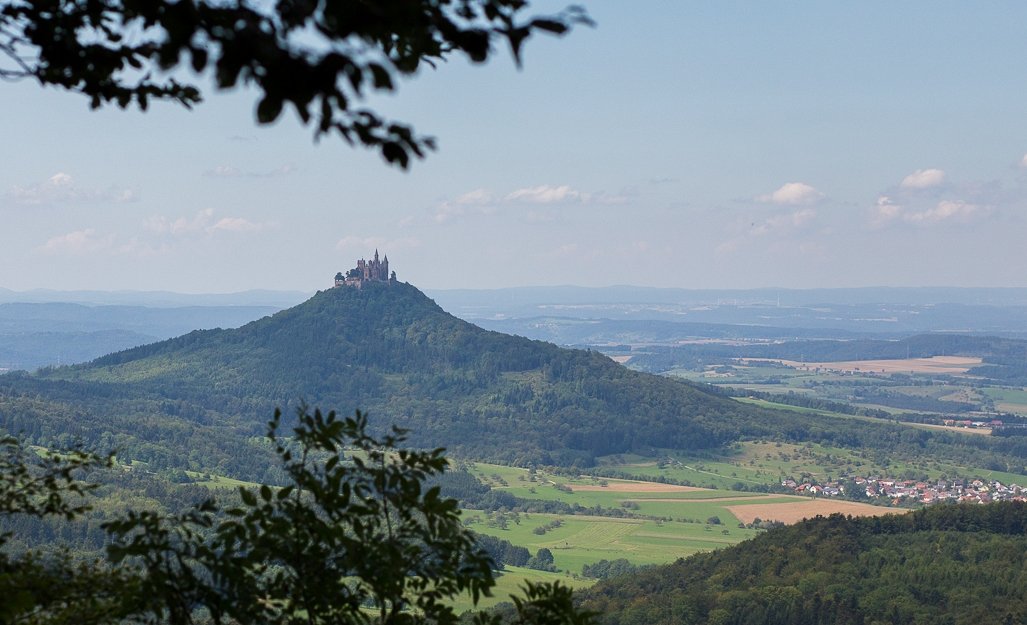 HONORABLE MENTIONS
New Year's Eve
This isn't a festival per se, but it is a huge event and party in Germany. Imagine going to a city where every single person has their own arsenal of fireworks to light off from their balconies, rooftops, and streets at once. Well, that's basically what happens on New Year's.
It's wild, it's crazy, and sometimes it can be a little scary. But overall it's a great time. I personally would avoid the streets as many people set their fireworks off horizontally instead of vertically to the sky. If it were me, I would rent an Airbnb with a balcony on the hillside or better yet find one with a rooftop.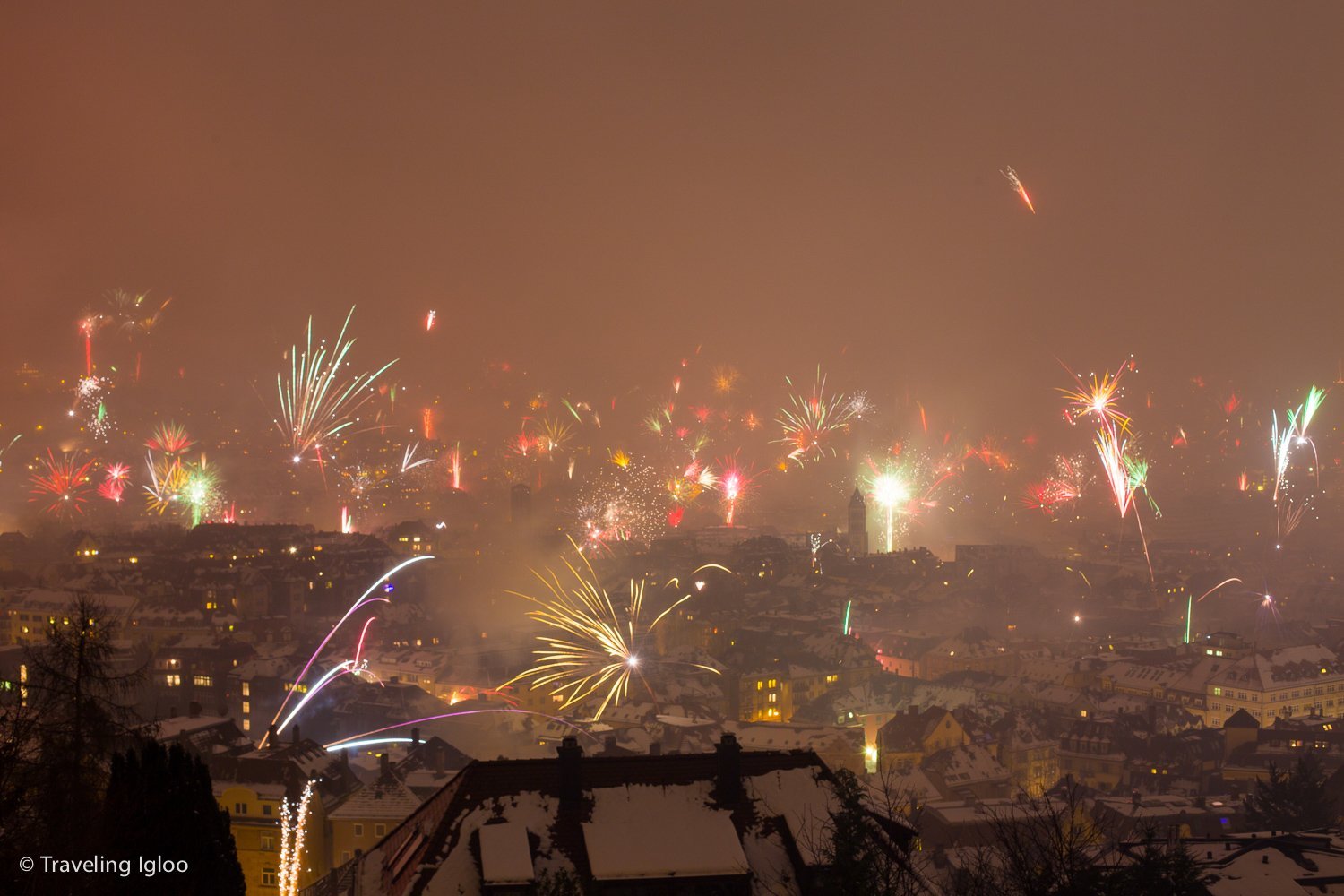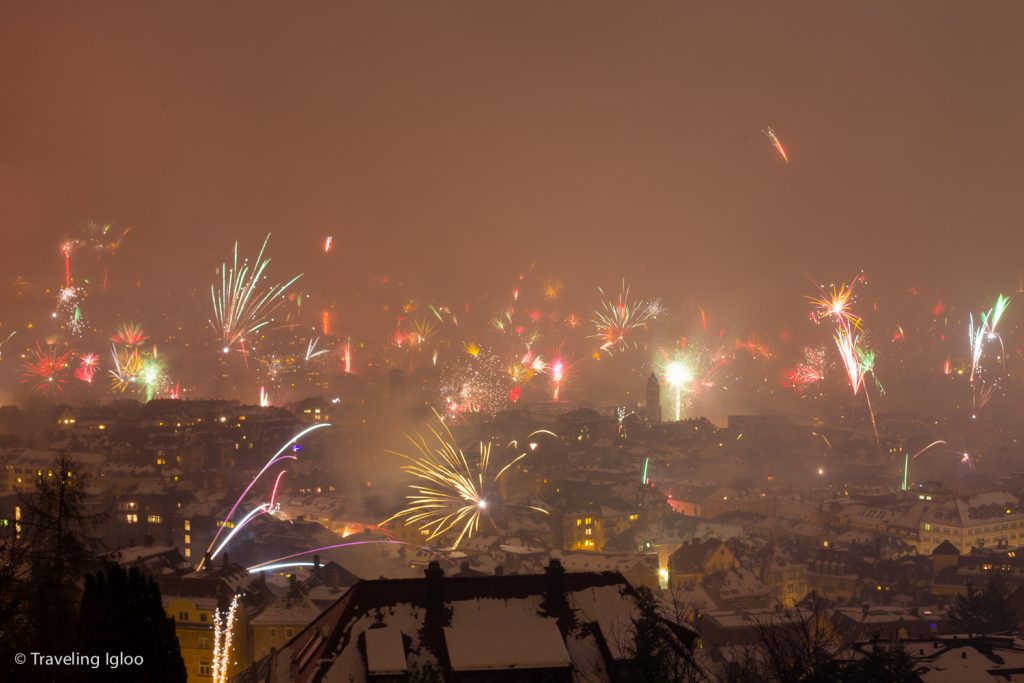 Wine Walks
Summer in Stuttgart means wine growing season, and around the city, there are many vineyards and vintners. The largest is the Esslingen Weinwandertag held in mid-May. You can find more information here.
You can also search for 'Weinwanderweg Stuttgart' to find wine trails with stores and shops along the way.
Messe Stuttgart
Also not a festival, but the Messe at the airport (Flughafen) in Echterdingen is a large event center with many large trade fairs and open events held year-round. You can check their calendar for a list of events – not all are open to the public but many are such as the baby fair, wedding fair, slow food festival, and more.
More Stuttgart Articles