The Best Restaurants in Stuttgart, Germany
Hey there!
This post may contain affiliate links, meaning I may be compensated if you click on one of my links, at no cost to you. As an Amazon Associate, I earn from qualifying purchases. Read my disclosure policy for more information.
Updated July 2020
Since moving to Germany, my husband and I have been trying out many different restaurants. We love eating out and finding new spots.
In my opinion, Germany has so many great options and Stuttgart is no exception. In this post, I will outline the type of food you will find in the Stuttgart area, my favorite restaurants, and some tips to help you become an expert when eating out.
Typical German Food – Stuttgart Edition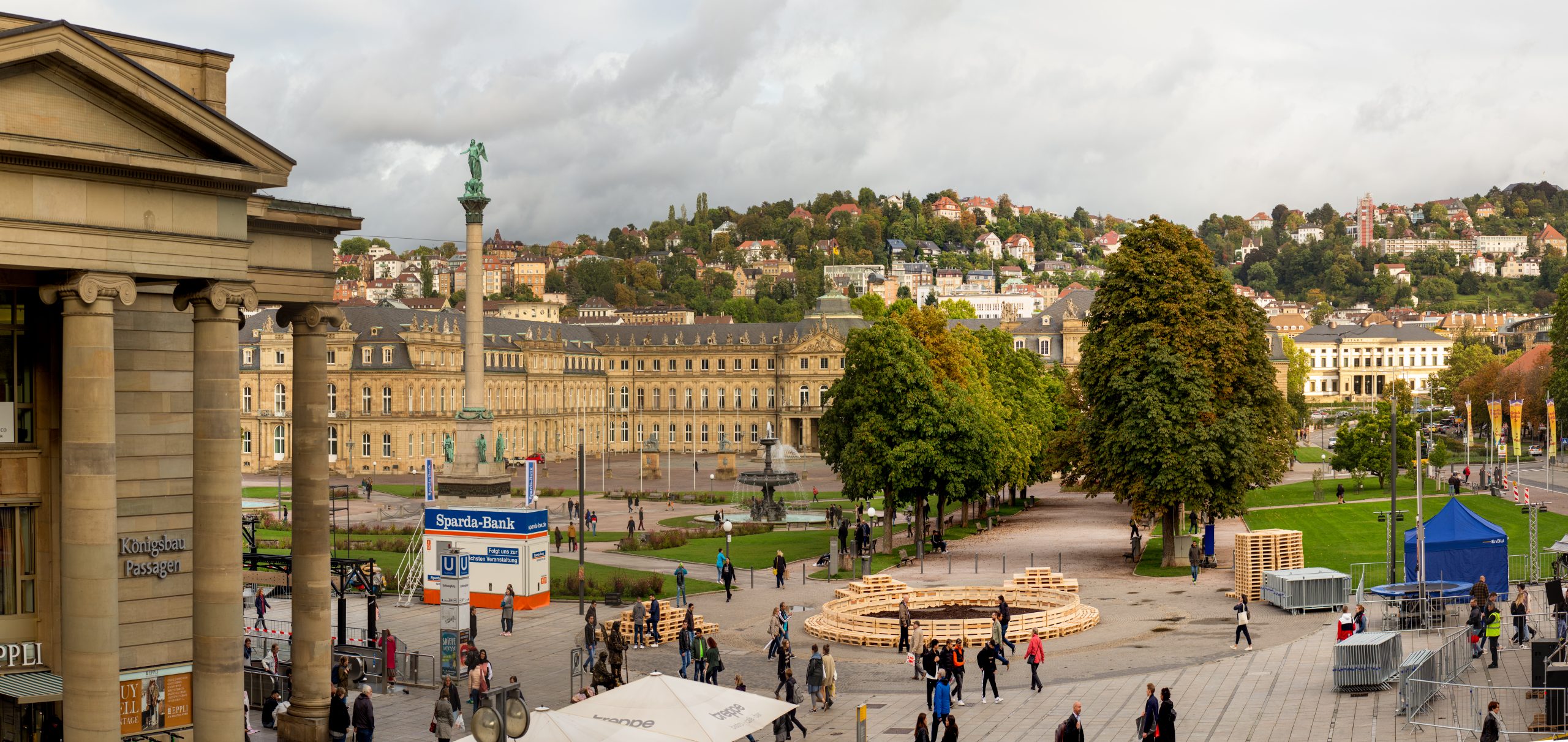 The Stuttgart area is in the heart of Swabia, a region defined by its historical roots. Swabia is a region that extends through much of Baden-Wuerttemburg (the state), west to the Alsace, and down through parts of Bavaria and Austria.
This region has a lot of traditional dishes steeped in Swabisch roots. So what is Swabisch food? It is comprised of a lot of pork, cured meats, potatoes, and spaetzle, cooked in every fashion you can imagine.
When we first arrived in Germany, we had a lot of these traditional dishes.
My favorite traditional dishes
Some of my favorite typical dishes of the area include maultaschen, Flammkuchen, and Käsespätzle.
Maultaschen is essentially a pasta pocket filled with meat and vegetables. During Lent, people would make this pasta and sneak in meat (which was forbidden during Lent) to conceal it from God. Today it's served in a variety of ways. The most typical is in soup, but I prefer mine as a salad or by itself.
Flammkuchen is like a very thin flatbread topped with creme fraiche, bacon, and caramelized onion. Sometimes begrudgingly referred to as the 'German pizza', it is a light and tasty dish and one of my favorites.
If you're looking for something hearty and filling, I highly recommend Käsespätzle. It is a cheesy dish (Käse) that's combined with Spätzle noodles, an egg noodle unique to Germany.
While it's not in any way equivalent to macaroni and cheese, there is some resemblance (noodles, cheese). Sometimes Speck (bacon) is added. It's a popular dish among children and a delicious hearty dish for adults, and one of my favorite indulgences when eating out in Germany.
Other Food Options
There are a lot of Italian restaurants around the city. Italian pizza is very different from American pizza in that it's always a thin crust and is usually made fresh. Most places serve them for one person. Chicago style pizzas don't exist here, and there is always a huge variety of toppings to choose from. We've tried many Italian restaurants and in general, they also have some good seafood options. Trout is a popular fish in this area and they know how to cook it!
Tip: If you order a 'Peperoni' pizza, you will get a pizza topped with pepperoncini's. For something closer to pepperoni that you'd find in the US, opt for Pizza Salami. There's also 'scharf' salami, which is a spicy salami.
There are also a lot of great Thai, Vietnamese, Turkish, and other international options. It would seem like this is obvious, but not every European country has a lot of diverse food options. In Italy, for example, I have a hard time finding food that's not Italian.
Germany, with it's large immigrant population, has a large variety of options
My Favorite Restaurants
Mexican
Let me be clear. Germany is not known for its Mexican food. If you are from Texas or California or anywhere with a lot of options, you will not be impressed. But, there are some decent options in the area.
Enchilada in Vaihingen is decent, and the food is prepared fresh. While it's not the best Mexican food, it does the trick after living in Germany for a few years.
Jose Penas is also pretty good. It's not directly in Stuttgart either, but southeast in Esslingen. The best part of this restaurant is the atmosphere – the restaurant itself is indoors and has a sandy ground and wooden boardwalks that weave throughout. The bar area is also fun and colorful.
It has a tiki beach feel and reminds me of an American style restaurant. I believe they even play music, which is uncommon in German restaurants. They also make the guacamole fresh right in front of you, and it is tasty!
For a burger
Burger House. I love this place. So much so, that we went just about every week once it opened. Their burgers are hand made (not frozen patties like many places we visited) and I love the chili cheese fries. We've since moved back to the states, but even when we went back to visit last fall, we stopped by for a burger here. The prices are great and the service is exceptional. I also love the atmosphere.
Burger House – Büchsenstr. 24, 70174 Stuttgart
For a steak
The [m]eatery is an upscale restaurant downtown near Rotebühlplatz. Reservations are encouraged and prices reflect an upscale steak house you'd find in the states. I wasn't always impressed with the customer service, but it's not unusual to find German customer service to be less than ideal.
I've also heard good things about Abacco's as well.
[m]eatery – Kronprinzstraße 24, D-70173 Stuttgart
Abacco's – Rotebühlplatz 10, 70173 Stuttgart
Indian
I love Tikka Masala and Butter Chicken. My husband usual opts for the Lamb Korma. Indian Palace is my favorite Indian place in the city. I've tried many, and this one's the best hands down! Add garlic naan and some mango lassi and you have a perfect (and filling!) meal.
Indian Palace – Steinstr. 11, 70173 Stuttgart
Thai or Vietnamese
I really like Thai Dat on Calwerstrasse. Prices are about average and I love the pad thai. Outside of Stuttgart, I really like Rainbow Thai which is located in Boeblingen. This is a favorite among Americans and is close to one of the four bases in the area.
Thai Dat – Calwerstr. 34, 70173 Stuttgart
German 'fast food'
In Germany, you can find American fast-food chains. But for locals, the fast-food favorite is Turkish kebabs.
There are these doner stands all over the city. Look for 'Döner Kepab'.
Typically you can get a large kebab for 5 Euro, which is more than enough food for one person. There are also Doner boxes if you want to skip the bread, and these are filled with french fries and topped with meat, sauce, and veggies. I personally like the Yufka (rolled like a wrap) and my husband likes the Lahmacun (also rolled up like a wrap with a spicy sauce added).
Brunch
If brunch is your thing, Germany is the place to be. Going to Sunday brunch here is an all-day event, starting around 9am and lasting through 3pm. Throughout the day, the menu changes from breakfast to lunch to desserts and afternoon snacks. Specialty coffees are typically not included, but some places such as Schönbuch Brauhaus have beer included on tap. Just be sure to avoid looking like an amateur and tip your glass to avoid drinking all foam.
Brunch is not cheap, it's around 22-30 Euro per person. But for the amount of food you can eat and the length you can stay, it's well worth it. Be sure to reserve a spot ahead of time, although we've been able to get in last minute with a few friends on many occasions (only after some back and forth with the staff).
My favorites are Amadeus and Schönbuch Brauhaus.
Amadeus – Charlottenplatz 17, 70173 Stuttgart
Schönbuch Brauhaus – Bolzstrasse 10, 70173 Stuttgart
Biergartens (Beer Gardens)
If you've ever heard about the infamous Biergartens (Beer Gardens) in Germany, they really do exist and they are awesome! They usually always have a huge outdoor seating area and sometimes a playground too. Most have blankets if you want to sit outside in the winter. Some shut down in the colder months, and others are large and have indoor seating.
My favorites in Stuttgart are as follows:
Tschechen & Söhne – Humboldtstraße, Stuttgart, Germany
My absolute favorite biergarten around. You can't beat the city views, and although you need to walk a little bit uphill to get to it, it's away from traffic and is the perfect way to spend a Saturday afternoon. This biergarten gets crowded FAST, so be sure to arrive early or expect to wait in line.
Biergarten im Schlossgarten – Am Schlossgarten 18, 70173 Stuttgart
This is my second favorite biergarten to visit, mostly because there's always somewhere to sit and it's near the main train station.
Currently, there is a massive construction project to bring all the trains underground, so it is noisier over here. The rail project is really impressive in itself, and I recommend checking it out while you can see the mass expanse into the train tunnels below.
On weekends there is often a band playing. There is a small playground here as well.
The biergarten is in a huge park called Schlossgarten (hence the name). There are miles of trails, grassy areas, and ponds to enjoy as well.
Teehaus im Weissenburgpark – Hohenheimer Str. 119, 70184 Stuttgart, Germany
This is another one with beautiful views. Here you have nearly panoramic views of Stuttgart and a beautiful Teehaus as well. It's not a typical 'biergarten' but it checks all the necessary boxes.
In my opinion, a biergarten is something everyone needs to experience in Germany.
Overall, Stuttgart has a lot of options when it comes to food. This is just a glimpse into the options in the city. Do you have a favorite place to eat in Stuttgart?