The Only Anchorage to Homer Driving Guide You'll Need
Hey there!
This post may contain affiliate links, meaning I may be compensated if you click on one of my links, at no cost to you. As an Amazon Associate, I earn from qualifying purchases. Read my disclosure policy for more information.
About Homer
I've driven to Homer many times over the years. To get there, you leave Anchorage, drive along Turnagain Arm and make your way through the Kenai Peninsula. Homer is at the end of the road on Highway 1, although locals just refer to it as the Sterling Highway.
It's a beautiful, but long drive, and one I'm always happy to make.
From glaciers to mountain ranges to lakes to wildlife, you will see it all on this drive.
Below I've included a detailed itinerary with the best stops between Anchorage and Homer. I also included some optional stops along the way.

About the Drive
Is it Easy to Drive from Anchorage to Homer? – Yes, it's a very easy drive. The most 'traffic' you'll encounter is due to either slower RVs or construction (which is usually a guarantee in the summer months).
How Long is the Drive from Anchorage to Homer? – It's 223 miles (359km) and according to Google Maps, it takes 4 hours. The actual drive time, however, is typically around 5 hours without any stops. When you add in breaks, scenic stops, lunch breaks, etc it ends up being around 5 1/2 hours or more.
Is the Road from Anchorage to Homer Paved? – Yes, the entire road is paved (unless there's construction). In 2023 there's quite a bit of construction along Turnagain Arm. Always check with Alaska DOT 511 for up-to-date information. Sometimes it's not recommended or safe for motorcycles to drive in these areas.
Can an RV go from Anchorage to Homer? – Yes, this drive is perfectly suited for an RV.
Are There Gas Stations and Rest Stops between Anchorage and Homer? – Once you leave Anchorage, there is a gas station and strip mall of shops in Girdwood. After that, there are no gas stations until you reach Cooper Landing (and it's a very small one at that!) and then Soldotna.

I recommend filling up completely in Anchorage, then waiting until you reach Soldotna or Homer to fill up again. The Girdwood gas station gets VERY busy in the summer months, that's why I recommend filling up in Anchorage before you go.
Tip! Alaska State Law requires that drivers pull over when there are five or more cars behind them. There are many rest stops and pull-offs along the drive, so you can usually find a spot every 10 miles or so.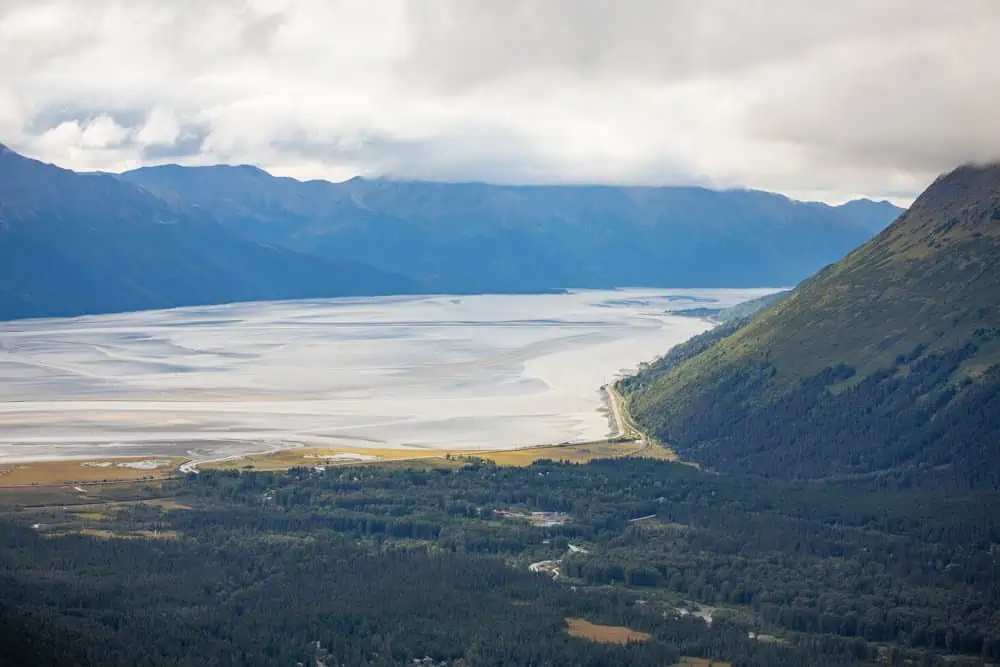 General Overview
The drive from Anchorage to Homer is beautiful. It takes you south out of Anchorage along beautiful Turnagain Arm. The road is wedged between the Chugach Mountains and Cook Inlet.
There are many hiking spots, waterfalls, scenic stops, and some paved trails for cyclists. You can often spot wildlife such as dall sheep and mountain goats along the steep cliff ridges, and beluga whales in Cook Inlet.
Once you leave Turnagain Arm you head up into the mountains. You gain some elevation, and eventually, you'll descend down until you reach your exit to Homer (the other road goes to Seward).
Then you wind your way along the Kenai River for a bit, passing through Cooper Landing.
After the Kenai River, you continue to move away from the mountains, and this area isn't terribly scenic. You'll pass through a large valley, much of it was burned in the Swan Lake Fire a few years ago (caused by lightning).
Then you'll make your way to Soldotna, and continue on past many small towns before finally making your way to Homer. As you get closer to Homer, you'll see that Cook Inlet isn't too far away.
Through breaks in trees and open areas, you'll be able to spot many of the volcanoes across the huge inlet.
The Best Places to Stop & Suggested Itinerary
Below I've listed the best places to stop along the drive between Anchorage and Homer. But should you stop at them all?
I wanted to provide all the great options on the drive down, and I laid out this itinerary so you can do them all in one day.
But realistically, this makes for a very long day. If you have children or are eager to get to Homer, then I recommend doing half of the list on the way down, then half on the way back.
I added estimated times for each stop, so you can plan accordingly.
Potter Marsh Bird Sanctuary
Potter Marsh is the first stop just as you're leaving Anchorage. It's a large marsh that's a popular bird-watching spot, and on occasion, you can also spot moose or bears.
There's a long 1,550 ft boardwalk that winds its way through the marshy areas. The boardwalk skirts the highway a bit, so it's an easy stop on the way out of town. Just be sure to add the address to your maps so you don't miss the turn.
Beluga Point
Beluga Point is a nice scenic viewpoint along Turnagain Arm. There are many other smaller rest areas, and you can stop at any of them. It's along a section that juts out a bit and has a large rocky area. There are also signs as you approach the area. It's a nice spot to take photos and look for wildlife too.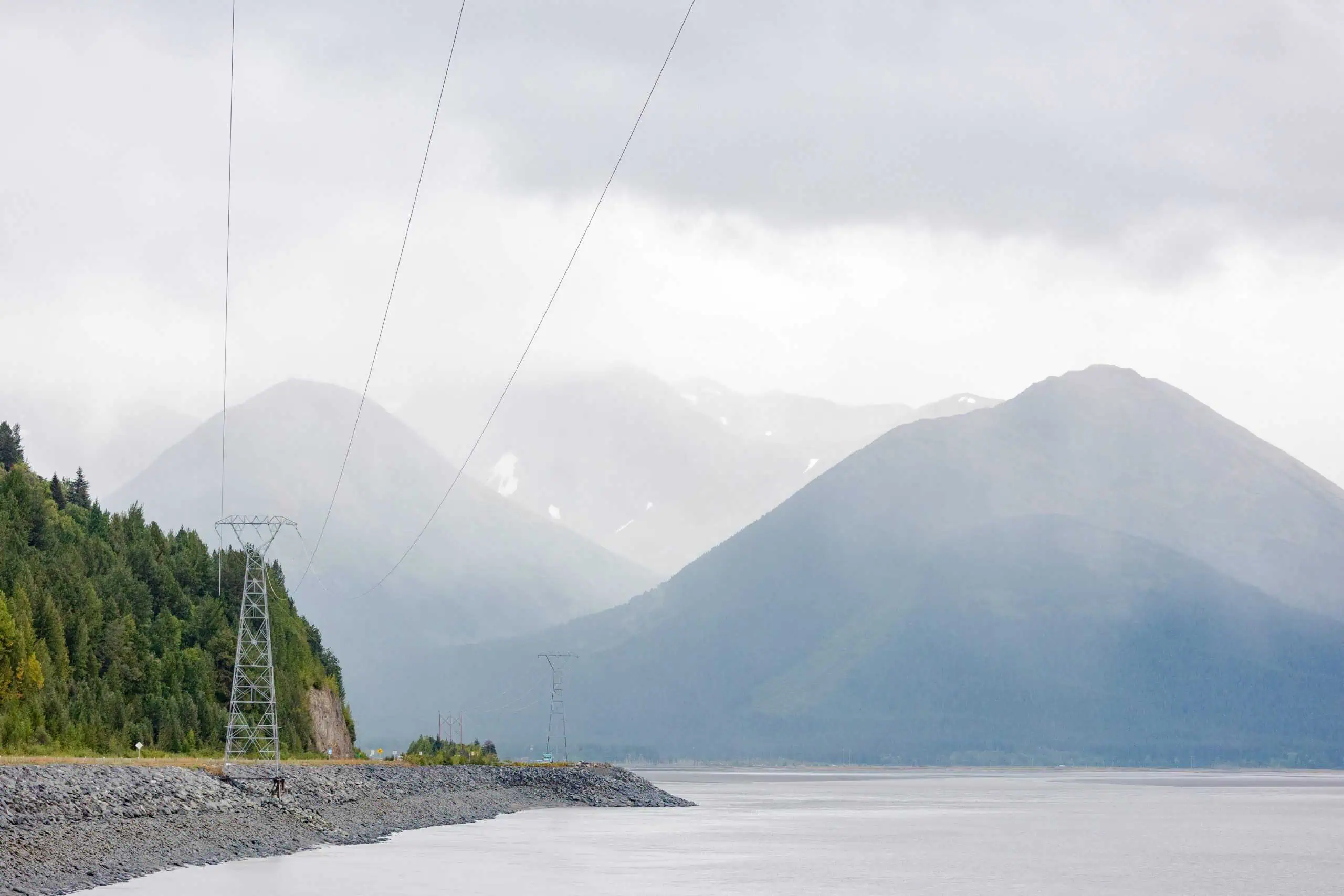 Girdwood
Girdwood is the most popular ski town in the state. There's a large resort here, Hotel Alyeska, and it's a popular spot year-round. Here you'll find the trees are taller, the winds calmer, and the views breathtaking.
I recommend doing the quick hike to Virgin Creek Falls (it's less than a mile and right in town), then stopping in at Girdwood Brewing for a drink and food at one of the food trucks. There's at least one food truck open daily.
There are a few other restaurants in town, but it is sleepy in the summer months.
The Hotel Alyeska has a brand-new Nordic Spa for adults only, which I recommend if you plan to stay here overnight (I wrote about it here). There's also a tram at the hotel where you can get sweeping views of the valley, mountains, and the inlet below.
You could easily spend a full day or so here. For more information about Girdwood and things to do, you can read more here.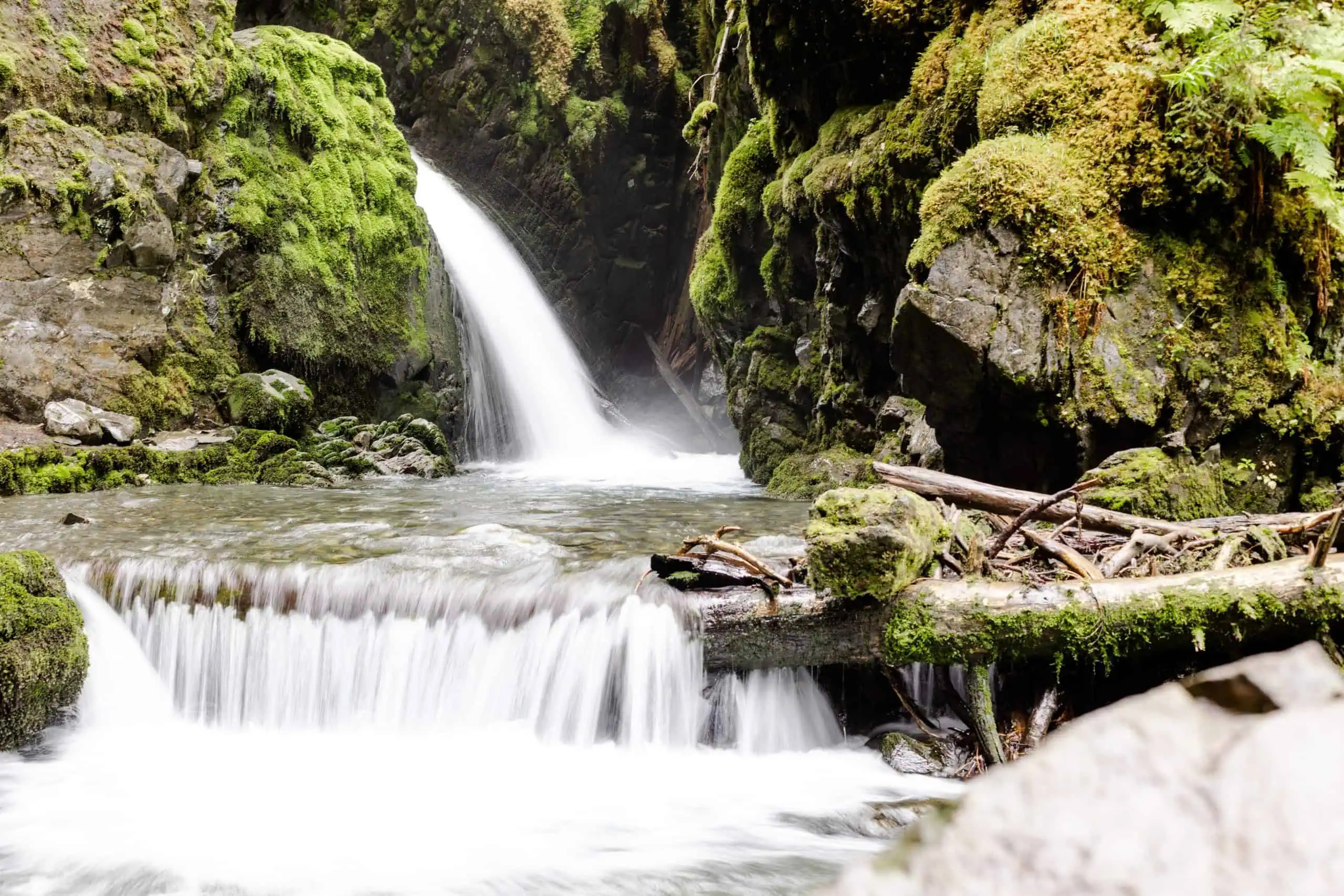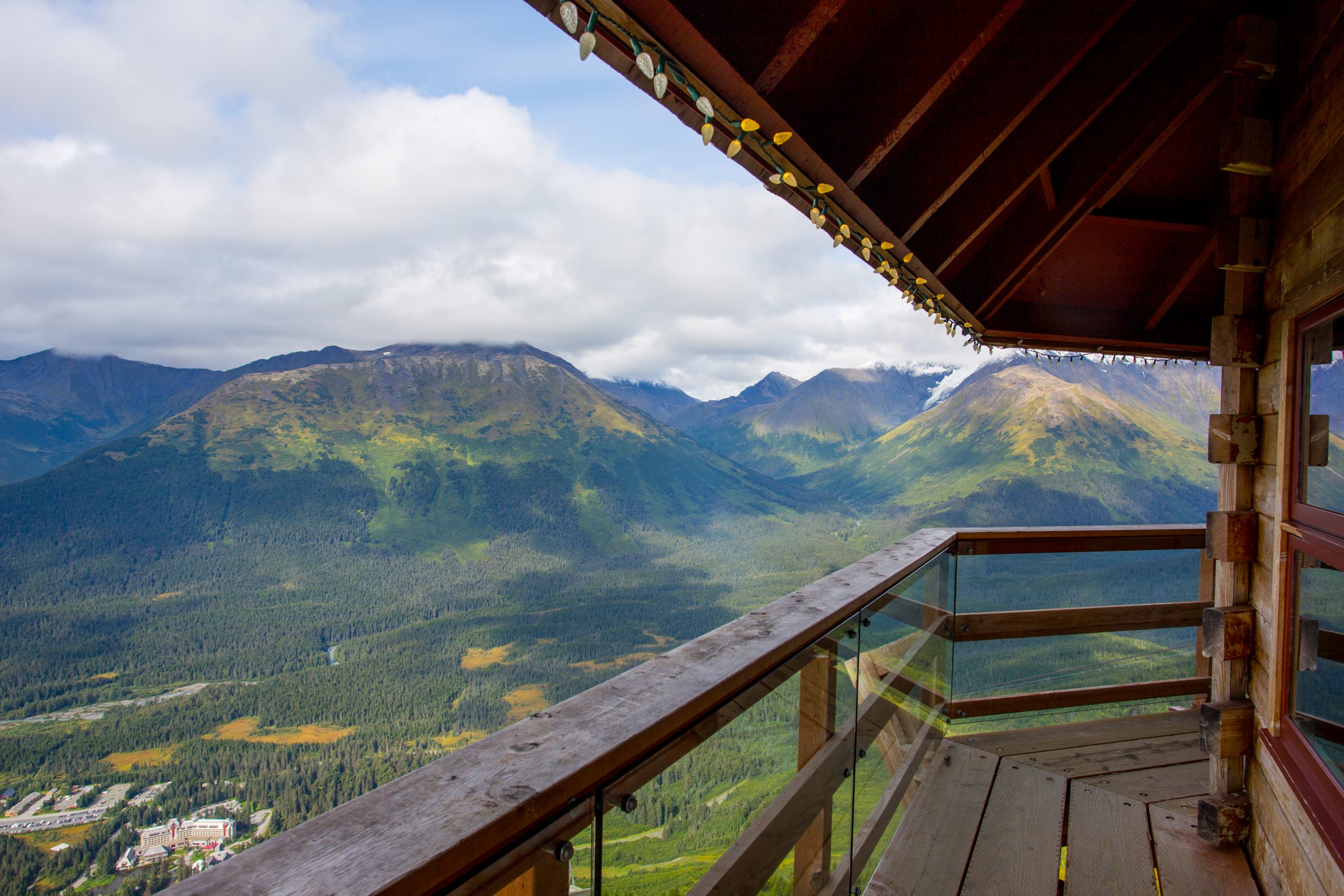 Alaska Wildlife Conservation Center
Once you leave Girdwood, you'll continue down the Seward highway for about 15 minutes until you reach the Alaska Wildlife Conservation Center. The turn is on the right and can be easy to miss, so look for the small 'AWCC' sign as you start to go around the end of the 'Arm' or inlet.
The Wildlife Conservation Center can be walked or driven. On a windy, rainy day, it's nice to have the option to drive.
Here you can see all the main Alaska animals – bears, moose, wolves, eagles, bison, deer (live in southeast Alaska), and more. It's not a huge place, but I like that the enclosures are large and they take in injured animals for rehabilitation.
They have regular educational activities and a gift shop. There is often a food truck and some vending machines available. Please note the lines for food can get long in the summer.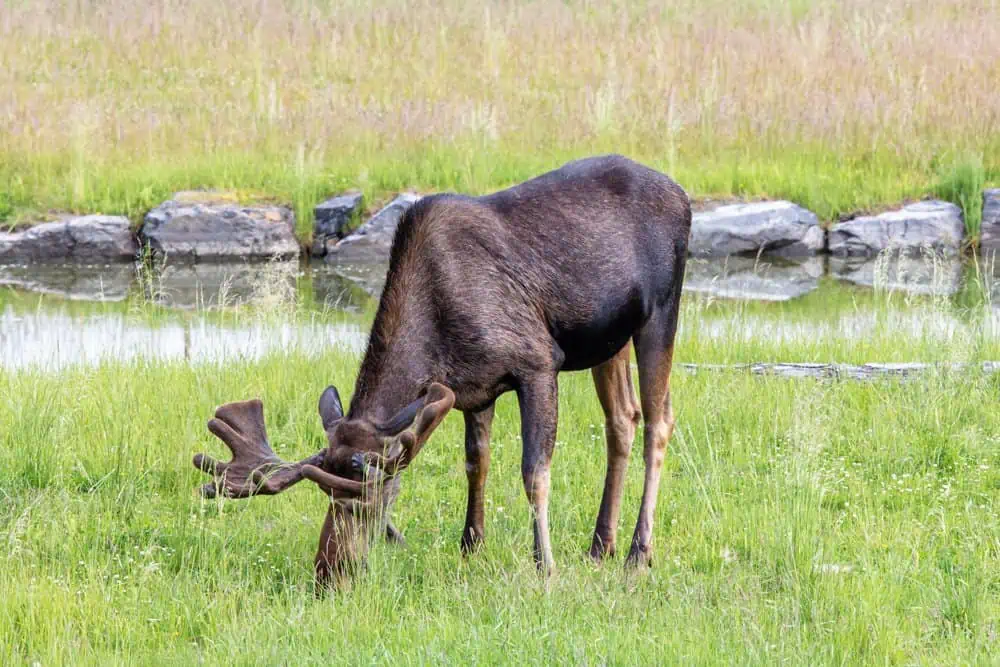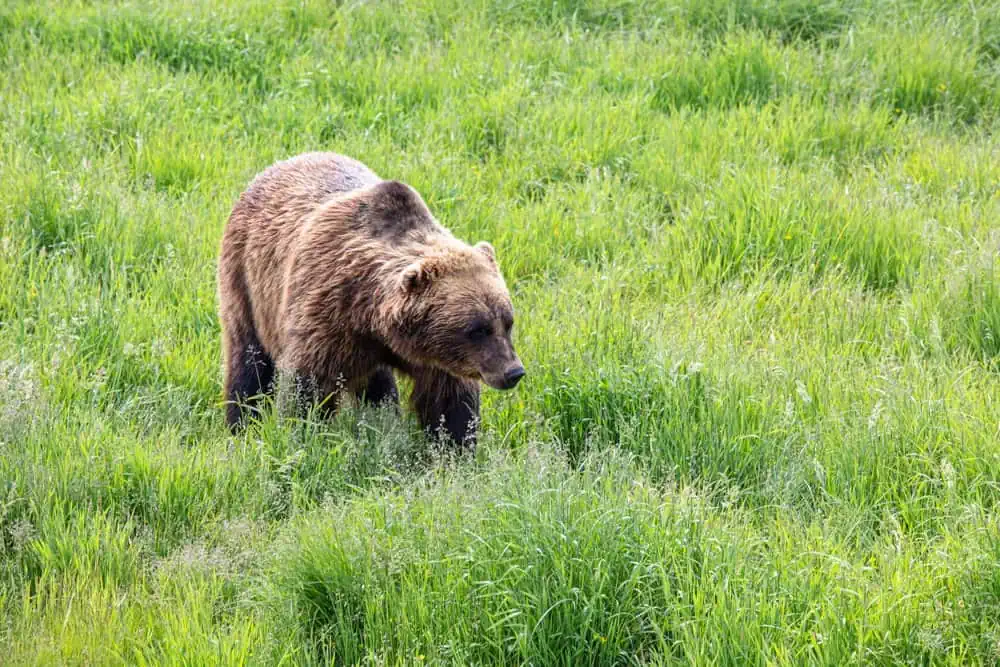 Portage Glacier
Right after you take a right onto the Seward highway, just a short distance ahead is a large lefthand turn on Portage Glacier Road.
Please note Portage Glacier could be a quick stop at Portage Lake to snap some photos (located at Begich, Boggs Visitor Center) or a longer trip. There are many things to do here; hiking, walking trails, or a 1-hour Glacier cruise on Portage Lake.
I recommend stopping at the visitor center and checking out the lake. If you have time, I recommend walking along the Trail of Blue Ice for at least a bit.
Please note you cannot see Portage Glacier from the road. Twenty years ago you could see it from the road, but unfortunately, it's been receding steadily each year (like many glaciers). But, there's often glacier ice floating on the glacial-fed lake (see photo below), and it's beautiful in this area.
There's a new 5-mile gravel trail called the Trail of Blue Ice. There are bridges and boardwalks, and it's away from the road for much of the trail. It's a newer trail and well-maintained.
The Portage Glacier Cruise is run by Grayline and takes you across Portage Lake right up to the face of the glacier.
This valley is notorious for strong winds, so there's always the possibility it can cancel in poor weather.
Note: If you continue down Portage Glacier Road you'll get to the Anton Anderson Memorial Tunnel, the longest highway tunnel in America (2.5 miles). On the other side is the town of Whittier. Whittier is a very small town that's a popular cruise port for its close proximity to Anchorage.
This is a single-lane tunnel that shares the road with the railroad. The one-way tunnel opens every hour to pass through from the Portage side.
If you're heading to Homer I don't recommend adding Whittier. It will add too much time and although beautiful, there isn't a lot to do in the town.
Summit Lake
After Portage, you'll head inland through the pass. There are many rest stops along the way that are worth a stop.
You'll see a turn for Hope, a small town across from Turnagain Arm, but it's quite out of the way and very small, so it's not on this list. In fact, I don't typically recommend going here unless you want to camp in the area.
Summit Lake doesn't require a stop unless you want to snap some photos, but it is a nice lake on the drive down. There is a lodge and a campground if you're interested in staying overnight.
Cooper Landing
After you get through the pass, you'll descend down until you reach a V intersection. There are only two ways to go – left to Seward and right to Homer.
Once you go right, you'll start to drive on a more narrow, windy road along the Kenai River.
Cooper Landing is a small community located along the banks of the Kenai River. This stretch of road winds its way along the Kenai for miles, a large river that doesn't look real at times because of its rich green hue.
Calling Cooper Landing a town is a bit of a stretch – it's easy to leave the town before you realize you're in it!
Here I recommend stopping at the Cooper Landing Boat Launch. Once you cross the first large bridge, there's a rest stop with bathrooms on the right. Turn in here, and there are many places to park. There's a boardwalk and river views, and it's a nice place to stretch your legs.
There are a few restaurants here, and a new large brewery too (Cooper Landing Brewery). If you're hungry I recommend Two Brother's Roadhouse, right off the main road.
If you want to fish on a river while in Alaska, this is the place to be.
Other popular activities include rafting. There are many outfitters here and you'll spot them on the drive. You can do a scenic float or a more advanced raft trip through Kenai Canyon.
Russian River
The Russian River is also in the Cooper Landing area, a very popular salmon fishing spot with a large population of bears. And by very popular, I mean it's the most popular sockeye fishing area in the state.
If you want to explore, head down the Russian River Campground Road and hike the Russian River Trail. It's about 5 miles out and back with 600 feet in elevation gain, so it's mostly flat.
The hike itself is mostly wooded and not that exciting, but at the end, you're rewarded with beautiful falls. Once the salmon are in (late June to late July) you can often see them swimming upstream.
Where there's fish there's bears, so take caution and be bear aware.
If you don't want to hike, you can easily drive to the river and see the ferry that takes fishermen back and forth throughout the day.
When we were kids, I would go fishing with my dad across the ferry. I was always on guard duty to look for bears….but now I realize my dad just didn't want me in the way of fishing, hah!
Soldotna
Once you leave the Cooper Landing area, you'll continue along the Sterling Highway for a while, passing through the small town of Sterling. You'll also pass through a burned forest from the Swan Lake Fire in 2019. You'll know you're in Soldotna when you see the 'Fred Meyer' and approach a stop light.
This is a great town to grab lunch. There are many different options. We usually grab something at St. Elias Brewing Company (great for pizza) or Kenai River Brewing (small but tasty menu). Addie Camp is delicious, but be sure to check their hours before heading there. There's also Pad Thai Cafe, Senor Panchos, Pizza Boys, and many other options along the main road.
Once you grab something to eat, get back on the road and continue toward Homer. You're about 90 minutes away from Homer at this point.
Ninilchik & Deep Creek
Ninilchik is a small town that was historically a Den'aina Athabascan fishing area.
There's a surprisingly delicious Thai food restaurant here called Keen Kow Thai Food.
Ninilchik and Deep Creek are famous for halibut fishing, and Silver and King Salmon fishing.
The Deep Creek State Recreation Area does beach boat launches using a large tractor. If you are passing through at high tide, it's worth seeing.
The beach has bald eagles year-round (although they're usually fighting with the seagulls over fish remnants in the summer).
You can also camp here too. There are other camping spots throughout Ninilchik and Deep Creek.
If you're looking for world-class halibut fishing, I recommend booking a halibut charter out of Ninilchik. It's a shorter ride out to open water than Homer, and the boat launch is definitely unique. It's an easy drive from Homer for a day trip fishing charter, but if you don't mind a longer trip, you can also go halibut fishing from Homer (you'll head to the same waters).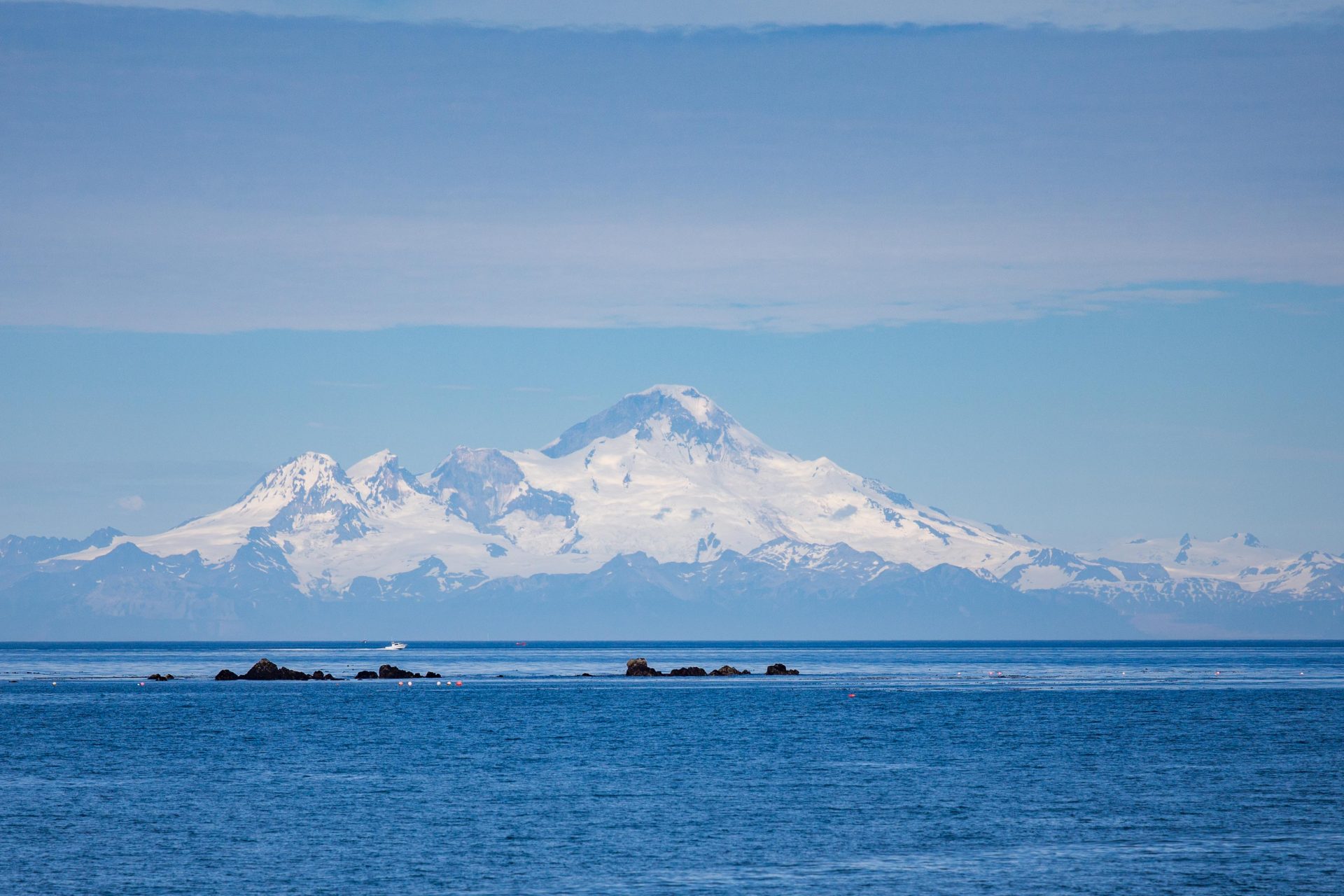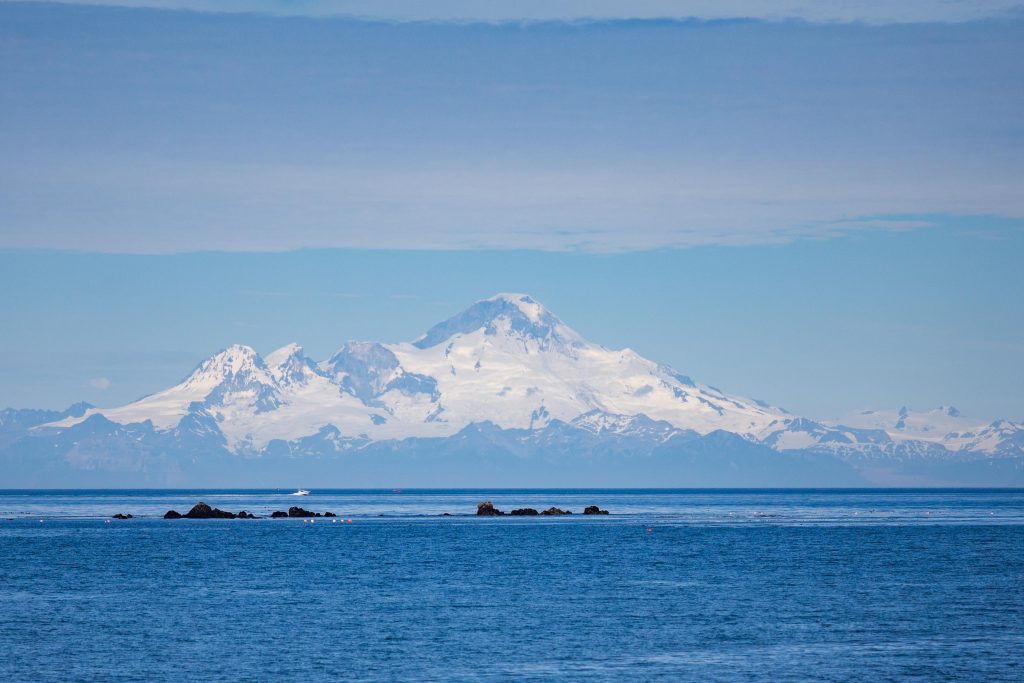 Scenic Lookout Points
As you get closer to Homer, you'll start to skirt Cook Inlet. Across the inlet is a long line of volcanic islands that are part of the Ring of Fire. Redoubt, Iliamna, and Augustine are large and imposing volcanoes that can be easily seen across the inlet.
As you drive, you can see these volcanoes come in and out of view along the drive.
There are a few nice lookout points as you approach Homer. There's the beautiful Mt Iliamna Viewpoint, which has a large hayfield in front of it. It's located at 21875 Sterling Hwy, Ninilchik, AK 99639. It's hard to miss though. Just keep an eye out for a large open field with parking on the right after the town of Ninilchik.
The Homer Baycrest Overlook Point is a prominent scenic viewpoint as you start to descend down to the town of Homer. It's also hard to miss as it's a large paved parking area with a large sign that says "Homer Alaska – Halibut Fishing Capital of the World". The address is 43501 Sterling Hwy, Homer, AK 99603.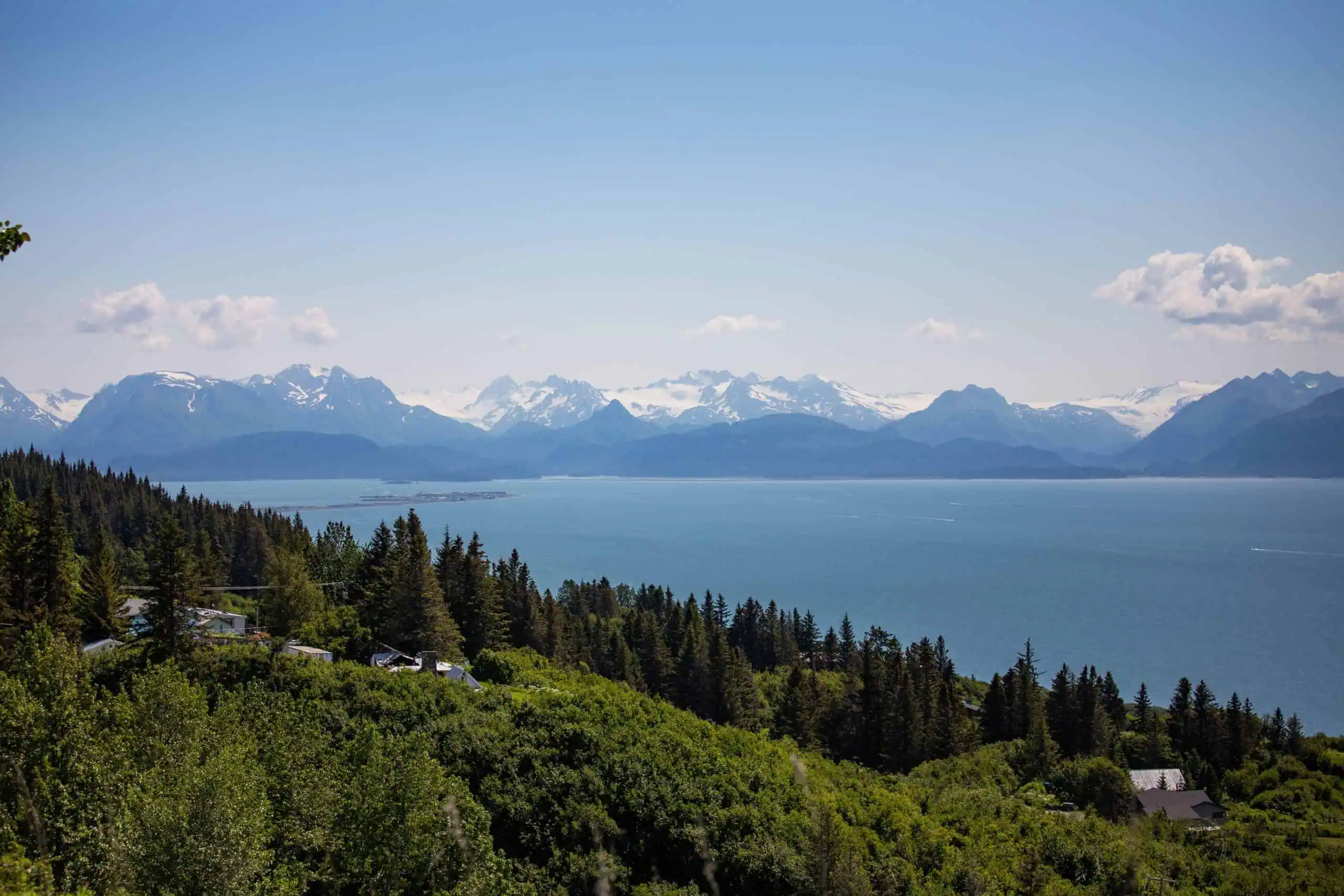 Optional Detours
Seward
Seward is a beautiful town set in a deep fjord. It's a fishing town turned tourist town as it's also a main cruise port in the state. I've written about things to do in Seward, and also my favorite place to stay in Seward too.
Although this article is about the drive to Homer, I also have a detailed guide on whether you should visit Seward or Homer. If you decide to visit Seward, I also wrote a detailed Anchorage to Seward Driving Guide. Many of the stops are the same until you take a left toward Seward.
Things to do in Homer
I wrote an article outlining all the best places to visit, the best day trips, the best restaurants, and my favorite things to do in Homer. You can read all about it here.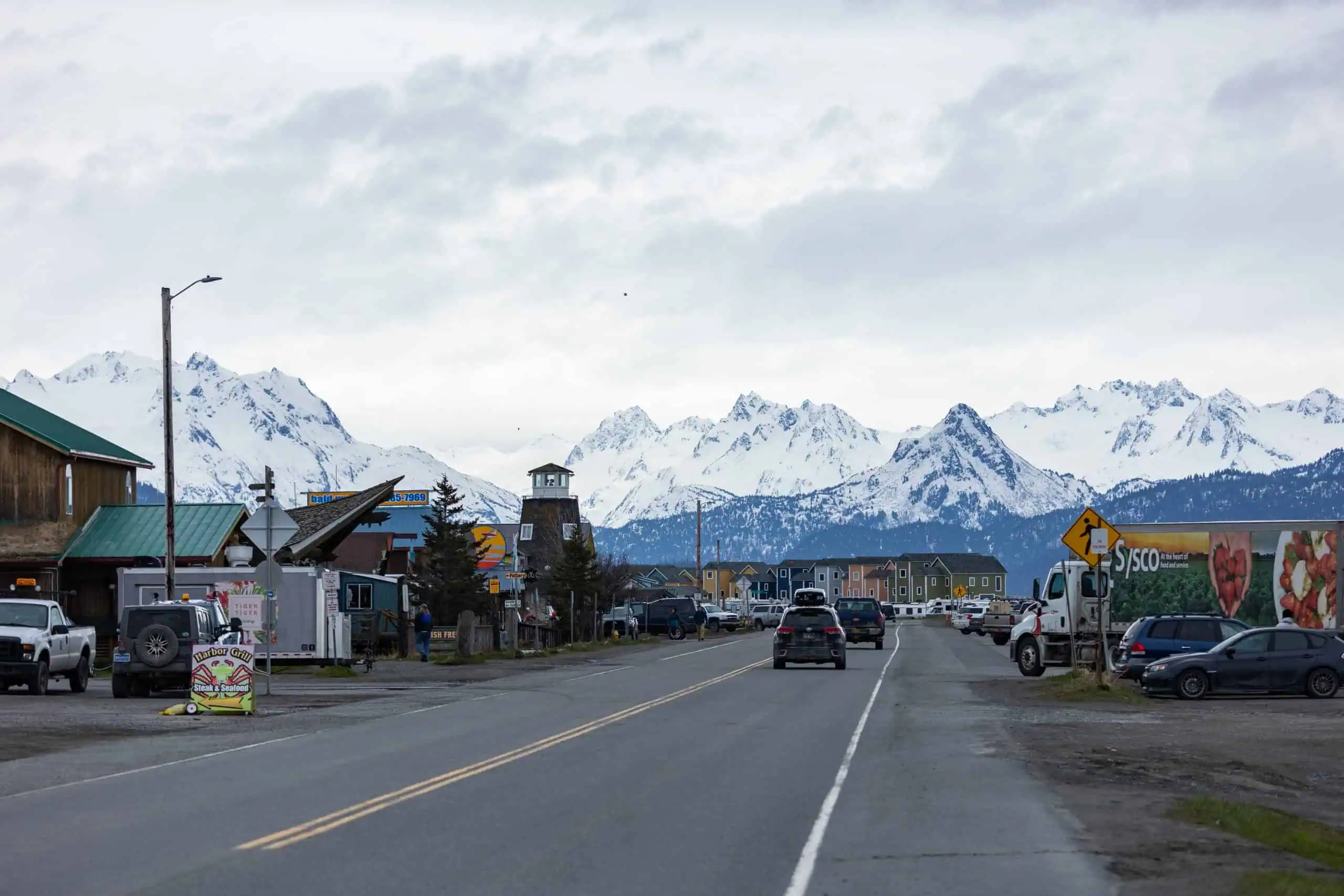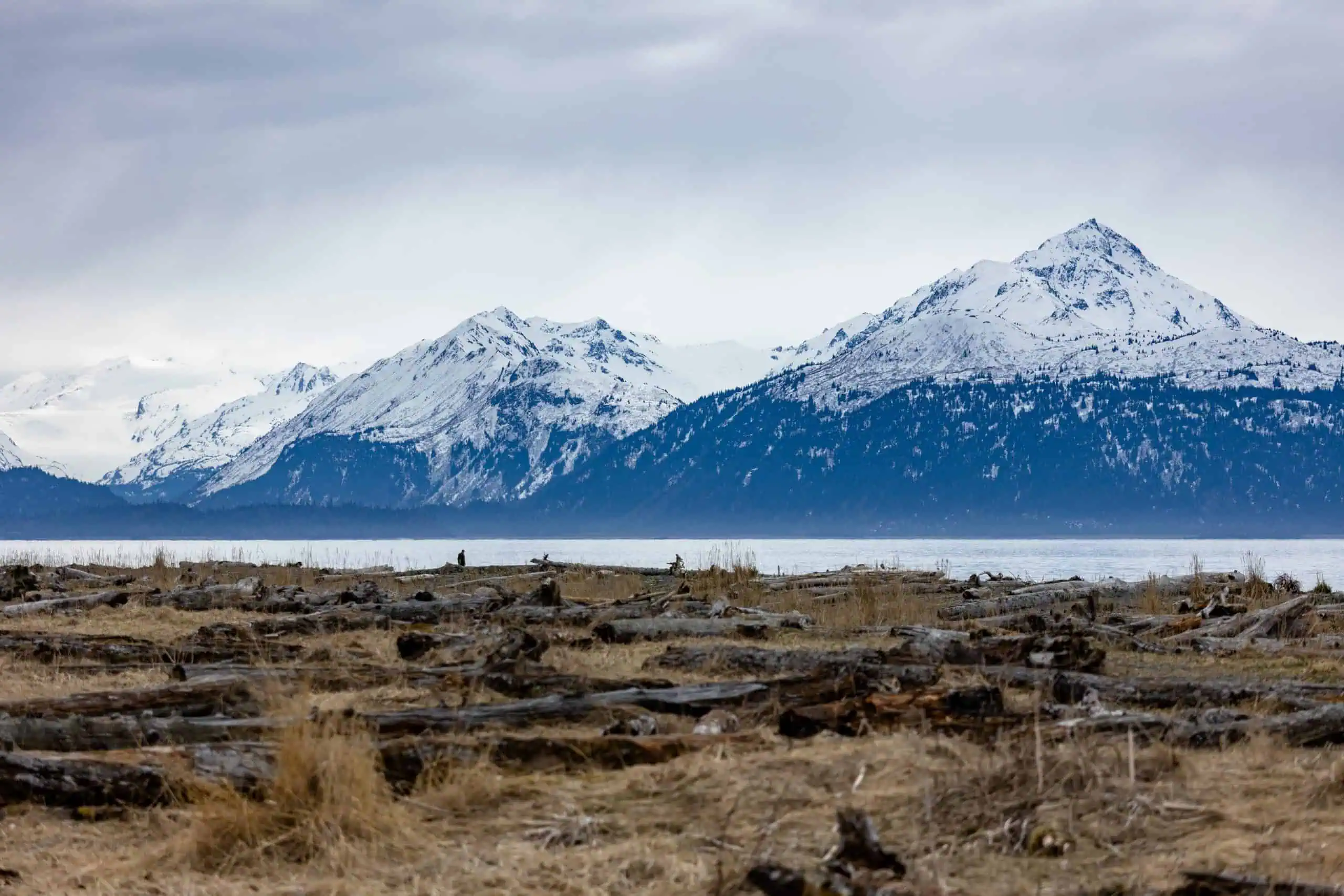 More Alaska Articles