The 22 Best Things to do in Palmer, Alaska [from a local]
Hey there!
This post may contain affiliate links, meaning I may be compensated if you click on one of my links, at no cost to you. As an Amazon Associate, I earn from qualifying purchases. Read my disclosure policy for more information.
Palmer is a small town located about 45 minutes north of Anchorage (43 miles). It's in a region known as the Matanuska-Susitna Valley, or Mat-Su for short. Nearby towns include Butte, Wasilla, and Sutton.
The town itself is quite small. There's a cute downtown area that retains an old miner town feel. Surrounding the area are mountains, rivers, and glaciers. It's a beautiful area with tons to do.
Best Time to Visit
Palmer is a great place to visit year-round. While summer will undoubtedly have the best weather and most activities, winter also has its perks. In the summer months, there's plenty of hiking, strolling the small downtown Palmer area, sitting at an outdoor patio for lunch, and exploring the outdoors.
In the winter, Palmer and the surrounding area is a great place to see the northern lights. There are also other winter activities available nearby including walking on a glacier, winter hiking, dog sledding, and snowmobiling.
Is Palmer Worth Visiting?
Palmer is a great launch pad for a variety of activities. Glacier trekking, helicopter tours, dog sledding, hiking, and much more are all within an hour of Palmer.
The town is small but has plenty of restaurant options and local shops for a few days' stay. If you are just passing through, I recommend stopping downtown to walk around and explore.
1. Visit the Reindeer Farm
Palmer is one of the only farming areas in the state. The farm fields extend from Palmer out to what's known as the Butte area. The Reindeer Farm is located here and is a fun day trip for families and adults alike.
To visit the farm, you'll need to purchase a tour ahead of time. This is a self-guided tour where you can feed and pet reindeer, moose, bison alpaca, yaks, and more. For a more involved tour, there's a VIP Tour available a few days a week.
There's also a small food truck, pony rides, and tractor wagon rides for an additional cost. Tours can be booked directly on their site.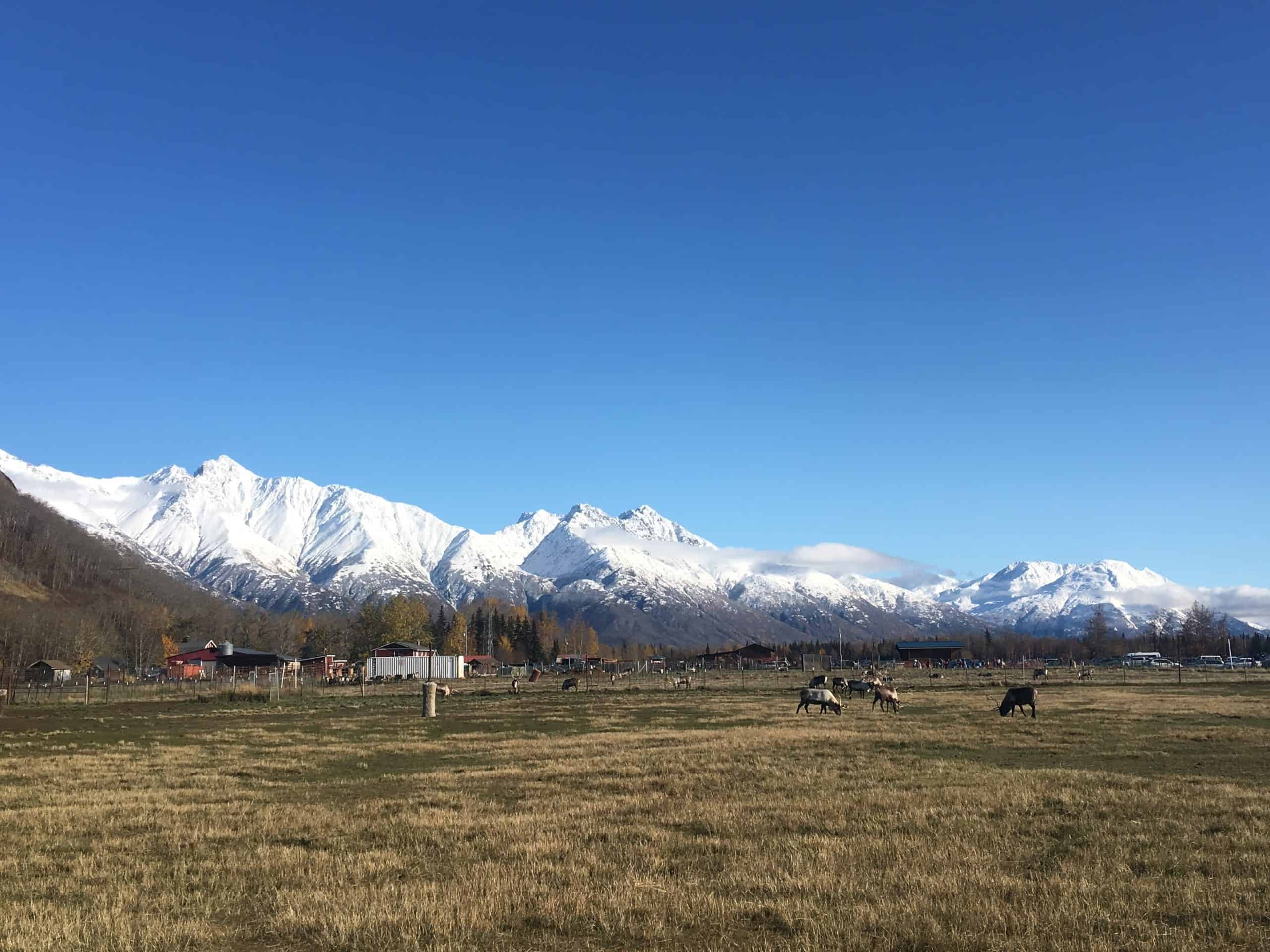 2. Ride an ATV to a Glacier
What is more fun than jumping on an ATV, driving through streams and trails for a few hours, and ending at a massive 24-mile glacier? Well not much, in my opinion. The 25-mile long Knik Glacier is near Palmer but isn't accessible by car.
Instead, you can book an ATV or Jeep tour that takes you across rivers, streams, and through nature, ending at this massive glacier. This tour can be booked from Anchorage or starting at Knik River Lodge.
3. Spend an Afternoon at Raceway Park
Near Palmer is quite a unique racetrack. It's set against a dramatic mountain background. Often the noise from the engines bounces off the mountains, giving it even more of an effect.
If you like watching drag races or speeding around the track, check out the full schedule for upcoming events. In the summer there are races every weekend.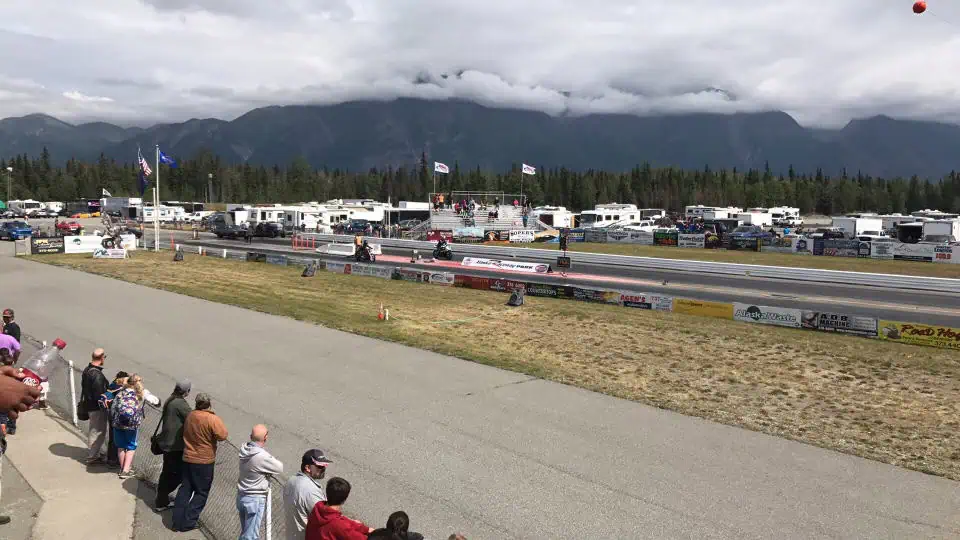 4. Head to Friday Fling
Every Friday in the summer months there's an outdoor farmer's market in downtown Palmer. Here you'll find local crafts and artists, local produce, and all sorts of local food trucks and cuisine. It's a great place to grab some unique and truly local Alaskan gifts and a nice way to spend an afternoon.
5. Visit 203 Kombucha
If you like trying local products, head to 203 Kombucha's tasting room just a few blocks from downtown Anchorage. Afterward, head to Poppy Lane Mercantile next door to find all sorts of Alaskan items and gifts.
7 Glaciers You Can Drive To From Anchorage
6. Grab Souvenirs in Downtown Palmer
Downtown Palmer may be small, but it's loaded with cute shops and Wild West looking bars. I recommend visiting Vagabond Blues, Nonessentials, Whimsy Gift Shoppe, Fireside Books, and Cobb Street Market. A few minutes down the road is Homespun Alley and Poppy Lane Mercantile.
7. Walk Along the Mighty Matanuska River
The Matanuska River is quite a large river that parallels Palmer. When the water level is low, you can walk along the riverbed and explore. There's an Old Bridge that makes for great photos and is a pretty area to stop. This is also a popular viewing spot for Northern Lights in the winter months.
There isn't an official parking area to get here, but it's quite easy to find. If you type in "Matanuska River Park" into Google Maps, you will be led past Palmer and down E Arctic Avenue for a bit. Don't turn into the park, keep going straight. Just before the new bridge, there's a small gravel parking area on the left. Turn left and park there.
You can also cross the bridge and turn right into another parking area, but it's not possible to walk along the river on this side.
8. Hike Lazy Mountain
Don't let the name fool you, this is a moderate to difficult hike. This 3-mile out and back trail gains 3,000ft of elevation as you ascend above the trees. There are three false summits along the way so don't get discouraged when it seems like the hike won't end.
It's quite steep, so expect to scramble or hold onto the trees in a few spots.
For a less steep route, head right onto Lazy Moose Trail when you begin. The trail will link back up with the main trail after many switchbacks.
Once you reach the top you get fantastic views of the Matanuska Valley and surrounding mountains.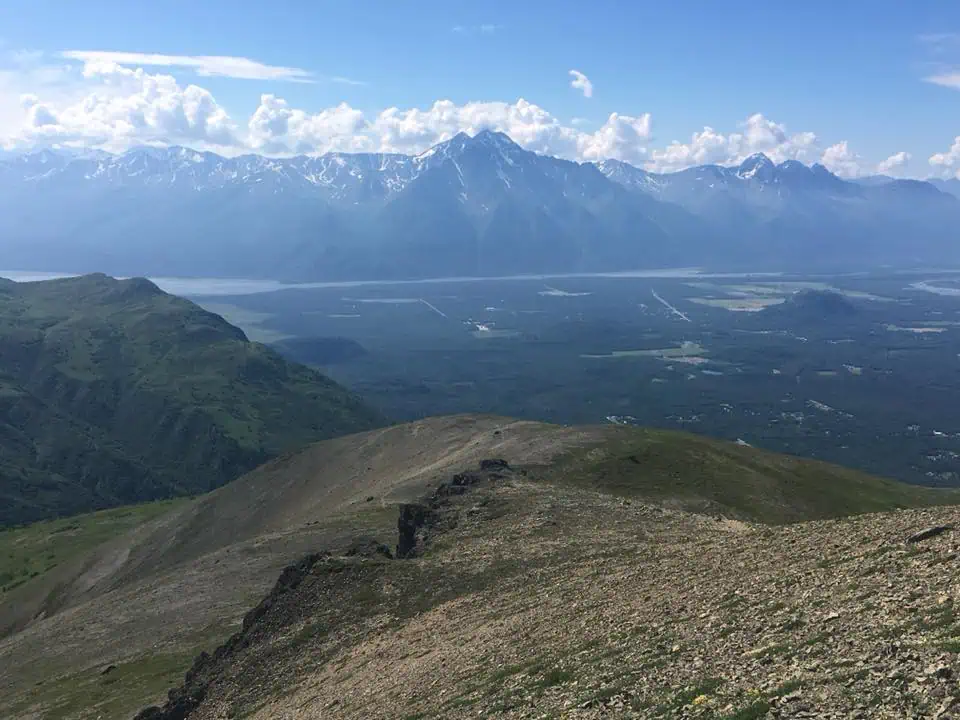 9. Hike Bodenburg Butte
For an easy hike with rewarding views, the Bodenburg Butte fits the bill! This hike is located about 10 minutes from Palmer in the Butte area. It's a popular hike with locals and relatively easy. There are switchbacks with some stairs, and the trail is well-groomed. At the top, you're rewarded with 360 views of the mountains and Knik Glacier.
10. Explore Hatcher Pass
About 20 minutes from Palmer is a beautiful 300,000-acre state park. This is one of the only places in the state where you can drive high up into the mountains.
There are rivers, streams, tons of hiking trails, and even a small ski area (Skeetawk).
Independence Mine Historical State Park is also here. You could easily spend a few hours walking around the old mine, reading about its history, and hiking around the area.
Some of the best hikes are Gold Cord Lake, Reed Lakes, Gold Mint Trail, and hiking around Summit Lake.
11. Enjoy the Patio at Palmer Alehouse
Palmer Alehouse not only has over 44 local beers on tap but also a large patio with stunning views of Pioneer Peak mountain. On weekends there's live music and a large grassy area to relax and enjoy the music. Try their black and bleu fries while you're there.
12. Head to the Alaska State Fair
For a truly local experience, head to the Alaska State Fair. It's the only state fair in Alaska and is held at the end of August each year.
Here you'll find everything typical at a state fair including rides, games, live music, and local crafts. You can also visit the annual produce contest where it's not uncommon to see a pumpkin weighing over 1,000lbs. Since Alaska is the land of the midnight sun, produce can grow quite large.
There's also livestock, a petting zoo, horse rides, and other animal exhibits.
For more information on what's included, you can visit their site here.
13. Visit the Palmer Museum of History and Art
Stop in at the Palmer Museum of History and Art to discover Palmer's history. It's quite small but worth a stop if you're in town. They also have bicycle rentals so you can stroll around town.
14. Visit One of the Many Breweries
Alaskans know how to make good beer. While you're in Palmer, stop by Arkose Brewery near the fairgrounds or head to Bleeding Heart Brewery next to downtown. Also nearby is Matanuska Brewery, which serves up a full menu.
15. Take a Day Trip to Matanuska Glacier
Matanuska Glacier runs right along the highway, making it one of the easiest glaciers to access in Alaska. At 24 miles long and 4 miles wide, it's also large. Currently, the only way to walk on the glacier is with a guided tour. There are quite a few tours that run daily year-round. It's located about 90 minutes from Palmer. The drive winds along the Matanuska River through valleys and between mountains, making it also a really scenic drive.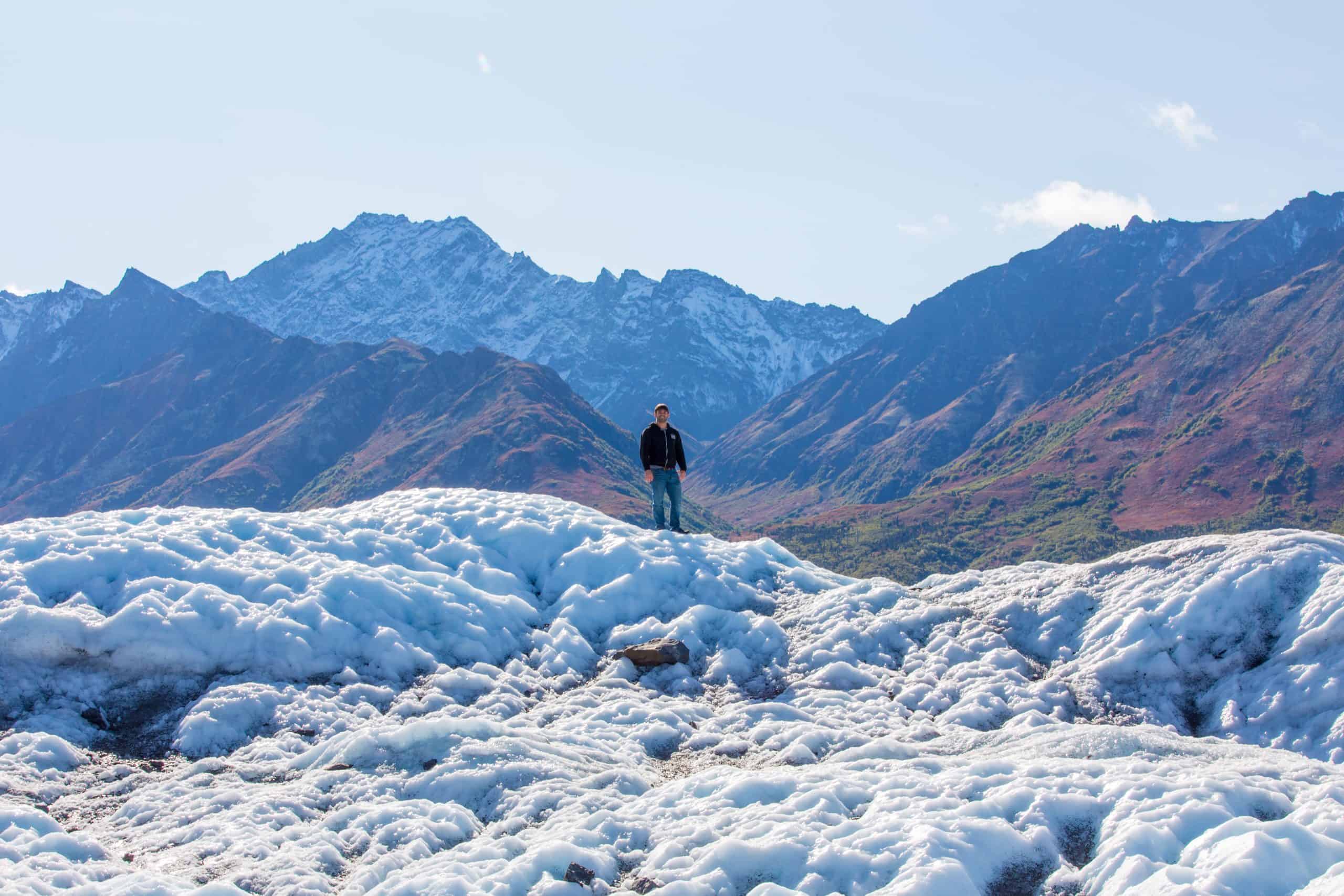 16. Visit the Muskox Farm
The muskox farm offers 45-minute walking tours where you can learn all about musk oxen. This is a fun way to spend an hour walking the farm.
17. Head to Eklutna Tailrace
Eklutna Tailrace is a beautiful spot about 45-minutes from Palmer. It's easily accessible via the Glenn Highway (the road between Anchorage and Palmer) or the Old Glenn Highway.
I recommend taking the Old Glenn Hwy. The road winds parallel to the mountains and is only used by locals. Once here, head to the bridge to see the beautiful emerald blue waters. There's a hatchery and often you'll see people fishing here. After the bridge is a trail that runs along the water.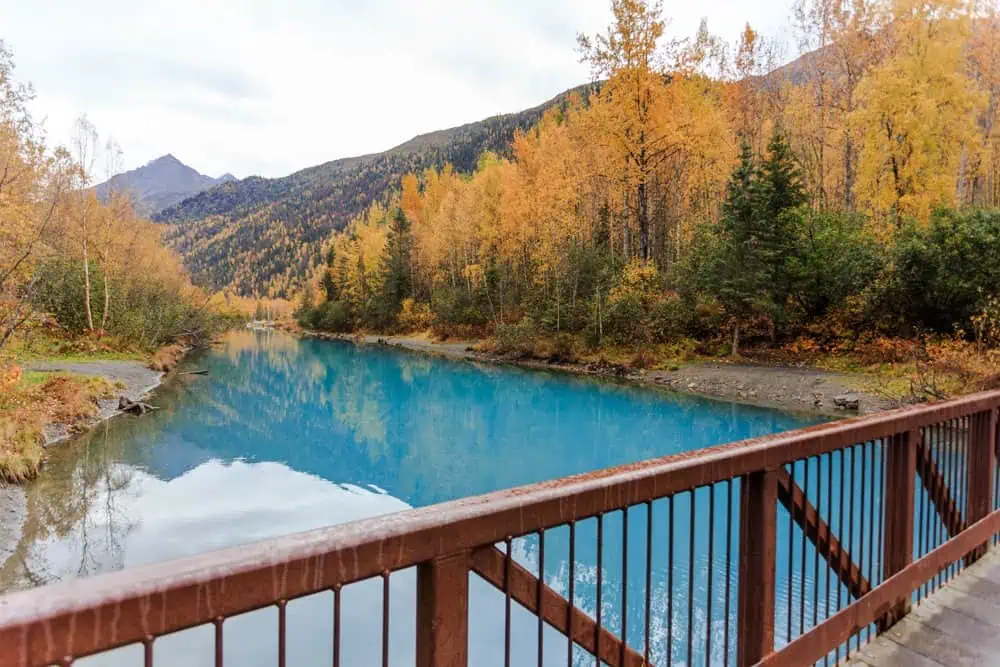 18. Go 4-Wheeling at Jim Creek
If you have an ATV, a really fun place to go riding is at Jim Creek. There are tons of trails, streams to cross, and long beaches that run along the Knik River. From here you can even ride out to Knik Glacier.
It's a popular spot for locals and I recommend it if you have an ATV. If you're just visiting, there are many ATV tours that take you to Knik Glacier.
19. Dog Sledding on a Glacier
There are many dog sledding opportunities around Alaska. Near Palmer, there's the large Knik Glacier which isn't accessible by car. There are many tours offered though including helicopter flightseeing with a glacier dogsled tour. There are quite a few tours available, and this is an experience you will never forget.
20. Hike Pioneer Peak Mountain
If you're looking for a grueling climb, Pioneer Peak is the hike for you. This is a 13.6-mile hike that climbs over 6,000ft and typically takes over 10 hours to complete. Once at the top you'll have spectacular views of Knik Glacier. This is a hard hike and is only recommended for experienced hikers.
21. Blueberry Picking
Every August, blueberries make their appearance at higher elevations around Alaska. There are many fantastic blueberry picking locations near Palmer. The most popular location is at Hatcher Pass.
Once you get near Independence Mine Historical State Park, you can walk around and quickly see blueberry bushes. They're free for the picking, so bring a bucket and get your fill!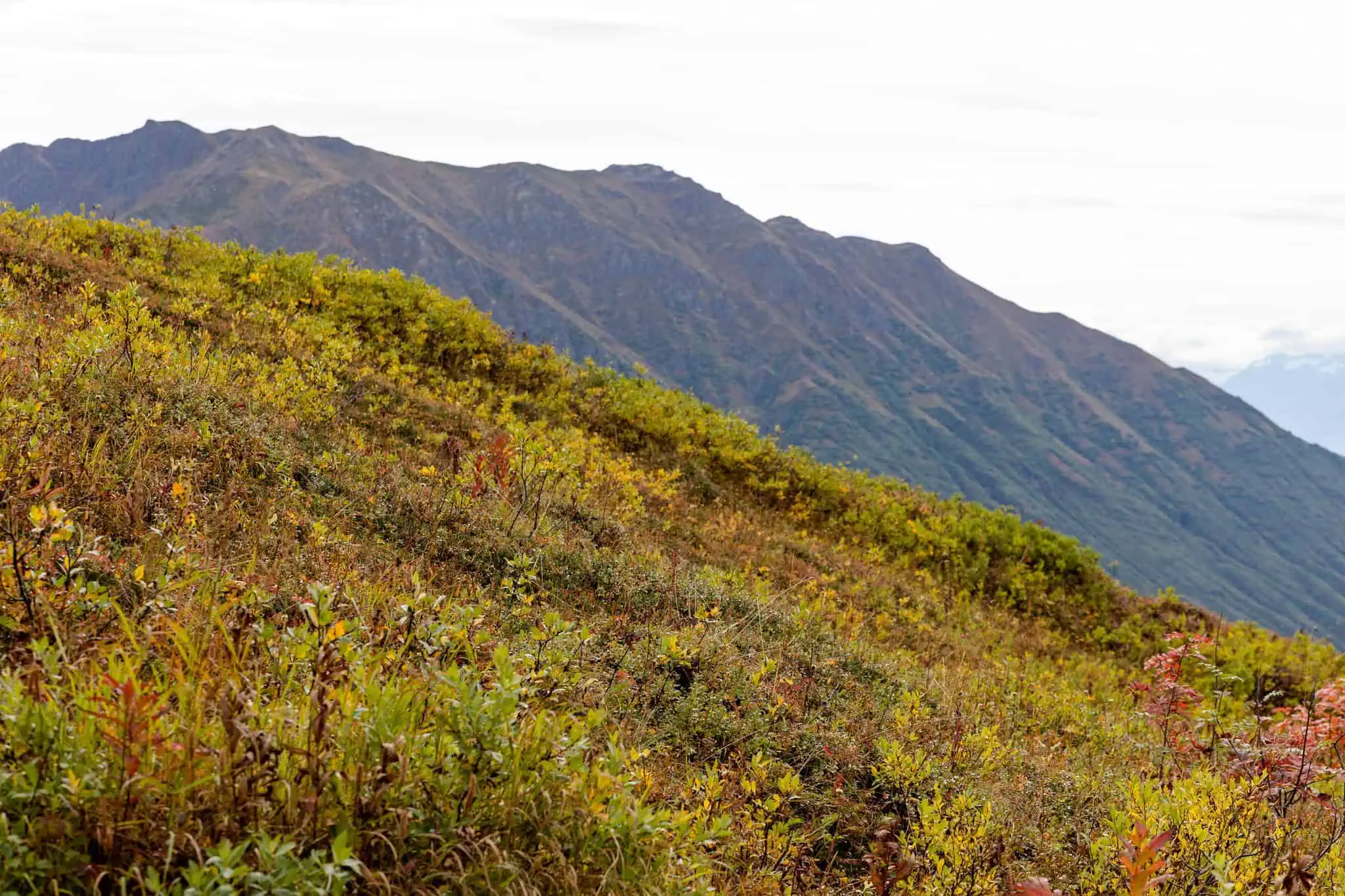 22. Bike Government Peak
Government Peak is a recreation area near Hatcher Pass. There are many trails including a 4.2-mile single track for bikes. There are also equestrian trails, walking and hiking trails, and cross-country ski trails in the winter.
More Articles About Alaska