The Best Things to do with Kids in Maui [From Free to Splurgeworthy!]
Hey there!
This post may contain affiliate links, meaning I may be compensated if you click on one of my links, at no cost to you. As an Amazon Associate, I earn from qualifying purchases. Read my disclosure policy for more information.
We've been to a few Hawaiian islands over the past few years and one place we've returned to many times is Maui. And for good reason. There is something for everyone here, and I've found it particularly great for kids and families.
People are incredibly friendly and so accommodating with children. As an example, our son was given a stuffed animal at one restaurant and received his own goody bag upon arrival at our first hotel. We experienced this all throughout our trip on the island and is a reason we plan to go back again.
But what exactly can you do with your minions to keep them entertained? I've compiled 16 of the best things to do with kids on Maui.
Is Maui a Good Family Vacation Spot?
I've found Maui to be an incredible family vacation spot. In addition, everyone is so accommodating with our 5-year old. On each trip he's received gifts from many people too such as a whale stuffed animal from a server or a welcome goodie bag just for him at the hotel.
There are many kid-friendly beaches and activities all around the island for both younger and older kids. Compared to bustling Oahu, I found Maui much more laid back with more beaches and more activities for kids.
How Many Days do you Need in Maui?
For a perfect trip that covers all the popular activities on the island, a solid 7 days (not including travel) is a perfect amount of time for Maui. If you want to experience different areas of the island, I recommend splitting your stay between West Maui (Kaanapali & Lahaina) and South Maui (Kihei & Wailea).
Best Area of Maui for Kids
There are two main areas of Maui where people stay; West in Ka'anapali/Lahaina area & South in Kihei/Wailea area. I wrote an article here about Kihei that also discusses the differences between the two places. Both are great for kids.
If you prefer to walk and use a stroller as much as possible, I'd look at staying at one of the resorts near Whaler's Village in Ka'anapali. There's a long boardwalk that goes along many of the resorts and it's all along the beach.
The waves at Ka'anapali Beach and Black Rock Beach are quite large so I don't recommend it for small children. You'd be better off to drive 5 minutes to Baby Beach or a calmer beach up north.
Ka'anapali has the large resorts that line the beaches near Whaler's Village. Kihei has a more local feel and in my opinion more food options. If you want more of a resort experience, stay in Ka'anapali or Wailea.
If you prefer a more local experience, then stay in Kihei. Kalama Village has many shops, restaurants, and bars so you could stay near there for easy access. We stayed right by Kamaole Beach III which worked perfectly for us. We'd wake up each day and head to the beach to play for a few hours. Our son loved it!
The West has more rain, meaning you'll see more rainbows. Kihei is the dry side of the island. When we stayed in Kihei one week it didn't rain once and there was hardly any cloud cover.
Either way you go, you won't be disappointed.
Best Kid-Friendly Accommodations in Maui
Resorts
Honua Kai Resort & Spa – We stayed here for two nights on a recent trip and LOVED it. One thing that's unique about these resorts is that many units are privately owned. So we booked our 1-bedroom apartment with a private company yet stayed at this large resort with all the amenities. It's worth shopping around to see if you can get a better rate privately or with the hotel. A downside to booking private is that you don't get access to room service.
This hotel has three large pools and many shallow pools for young kids. There are 5 hot tubs, a waterslide, poolside drink/food service, waterfalls, and an infinity pool.
Our apartment had a massive lanai that could fit 10 people comfortably, with mountains on one side and the ocean on the other. Duke's Beach House restaurant is here too which made it so easy to grab a quick bite or dinner to go when our 5-year old was wiped out from the day.
There are also 2-bedroom and 3-bedroom options here as well.
Westin Maui Resort & Spa – For a little more luxury, I'd recommend the Westin Maui Resort & Spa in Ka'anapali. For one, it's right next to Whaler's Village making it an easy few steps to access many restaurants and shops. It's always nice to have food you can grab easily after a long day of activities with kids.
Another reason it's great for kids is there are 6 pools and a designated family area. There's an interactive splash zone and a 270-ft waterslide for older kids. The Westin offers a kids club with daytime and evening camps.
Just like the other resorts, this one is beachfront so you also have access to the beautiful sandy beach right from your doorstep.
Grand Wailea – This is the most expensive resort on the island. If you are budget conscious like me, you might be thinking about skipping this one altogether. But this is a Hilton Hotel (Waldorf Astoria), so with a bit of planning, you could cash in points (Hilton Honors Points, Chase Points, etc) to get a free stay here.
The reason I'm listing this resort is because of all of the kid-friendly activities here. The highlight for most kids is the massive pool area with NINE POOLS on six different levels. There are five slides, a whitewater slide, a rope swing, waterfalls, caves, and even a sandy beach.
We walked around here one day and seriously considered splurging and staying for one night to access these amazing pools.
In addition to the spectacular pool area, you're on one of the nicest beaches on the island. There are also many experiences offered by the hotel included a popular lu'au.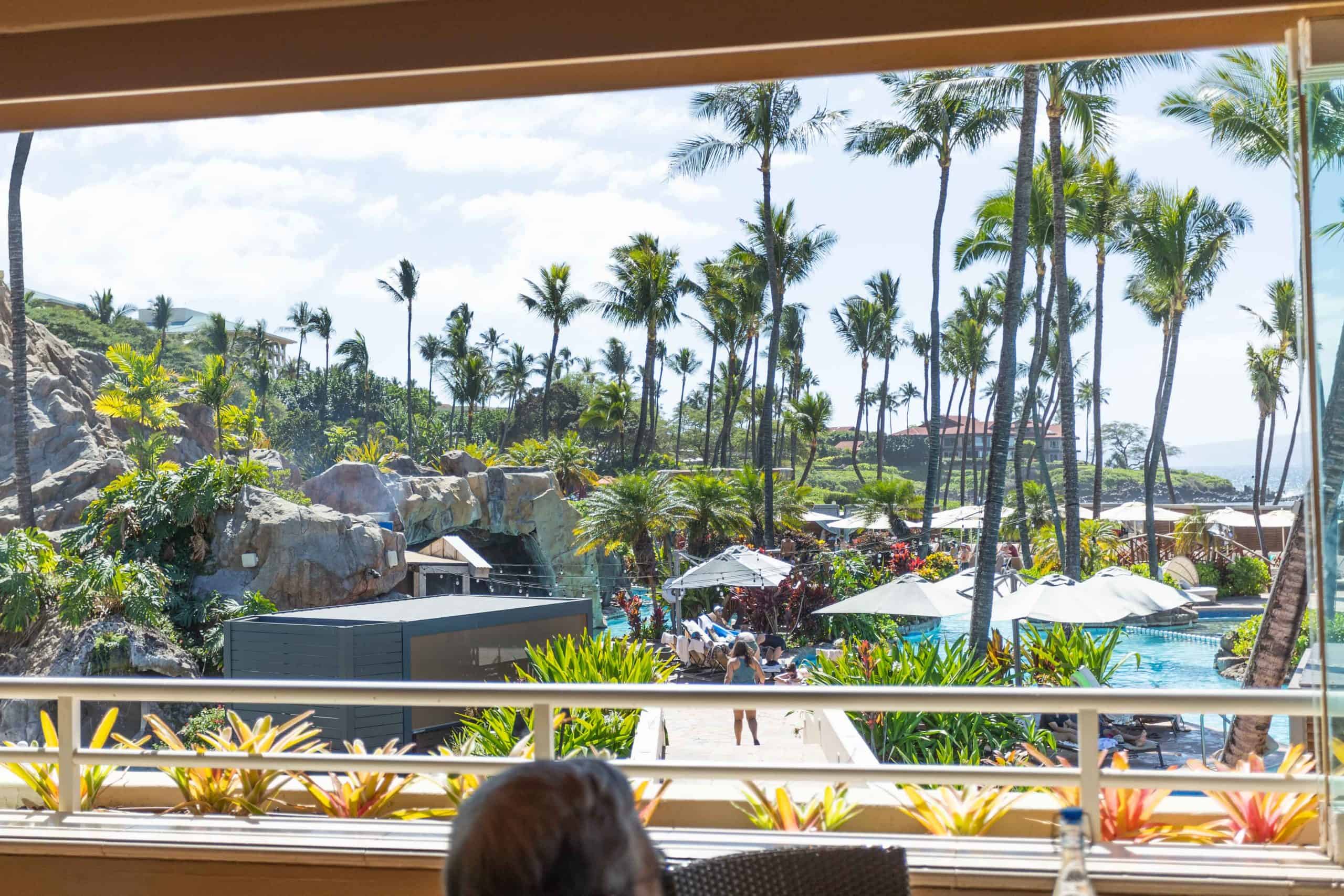 Apartments
While resorts have amazing amenities, they are usually quite pricey and typically offer a single or double bed layout. If you have kids, you'll likely want some extra room to spread out and relax. It's nice to have a kitchen so you can eat breakfast and other meals from the comfort of your place.
If you have young kids, having a bedroom allows you to put them to bed while you stay up and enjoy the lanai or simply some kid-free time. With kids, these kind of things are especially important.
We've traveled a LOT with our son all over the world, and usually opt for an apartment or home over a small hotel room. If you prefer a resort, there are many that offer 1+ bedroom options (like Honua Kai) so it's worth doing a bit of research to find your perfect spot.
When we stayed in Kihei we booked this place at Kamaole Sands, directly across from Kamaole Beach III. It was perfect for us; there was a large pool and a smaller shallow pool for kids. They also had a few hot tubs too. Just across the road is the beautiful beach that's very kid-friendly.
It wasn't within walking distance to the restaurants (at least not with a 5-year old) but they have DoorDash and a local company called Hopper Maui that delivers. Again, with kids, delivery came in handy more than once. If your kids are anything like mine then they get sick of eating out all the time (and we get sick of trying to keep him entertained each time we're out).
Free Things to Do with Kids in Maui
Visit a Kid Friendly Beach in Maui
Maui is packed with tons of beaches. About 30 miles, or one-quarter, of the island is lined with beautiful sandy beaches and most are easily accessible. But not all are great for kids and especially younger kids. Here's the best beaches for families:
Best for Babies & Toddlers
Baby Beach – This is hands down the best beach for young children. There are virtually no waves as it's protected by a natural rocky reef. The water is quite shallow and kids can sit down in the water without parents worrying about large waves. The beach area itself is long, sandy, and relatively flat.
It's located just north of Lahaina and can be found by searching 'Baby Beach Lahaina' in Google Maps. This is also a great spot for snorkeling and I've seen many sea turtles when snorkeling in this area.
Best for All Ages
Kamaole Beach III – Located in Kihei, this beach is a perfect mix for both younger and older kids. It's a flat beach and the water stays shallow for quite a ways out. Our 5-year old loved playing here and would entertain himself by running in the waves, sitting in the water, and making sand castles.
It's also a great beach for boogie boarding, making it fun for older kids and adults too. We noticed morning is best for calmer waves as the wind would often pick up in the afternoon.
Wailea Beach – This is a smaller beach, spanning a quarter-mile with easy access to other beaches nearby. There's great snorkeling here and boogie boarding too. The beach is in front of large resorts like the Grand Wailea, and as a result it can get quite busy. A nice feature of this beach is that you can easily walk to a lunch spot at one of the resorts once everyone is hungry.
Walk Front Street in Lahaina
Front Street, located in Lahaina, is really the only walkable street in Maui (Pa'ia can be walked but isn't as near as big). It's a condensed street that's less than a mile long but is packed with things to do.
If you have younger kids, you will want your stroller or to keep your kids close while walking as it can get quite busy. There are tons of amazing shops with local artwork. In total, there are over 40 fine art galleries along this long street. There are many restaurants, ice cream shops, and spots along the water to grab a bite to eat.
On Front Street, you'll also find one of the largest banyan trees in the world. It actually isn't native to Hawaii; the tree was brought over from India in 1873. It takes up an entire block and is a fun spot for kids to walk around and explore.
Our son loved looking at the artwork and grabbing ice cream at the Lahaina Ice Cream Parlor.
Where to Park on Front Street: I recommend parking at either Lahaina Free Public Parking on the south end or at the Lahaina Center Shopping Mall at the north end.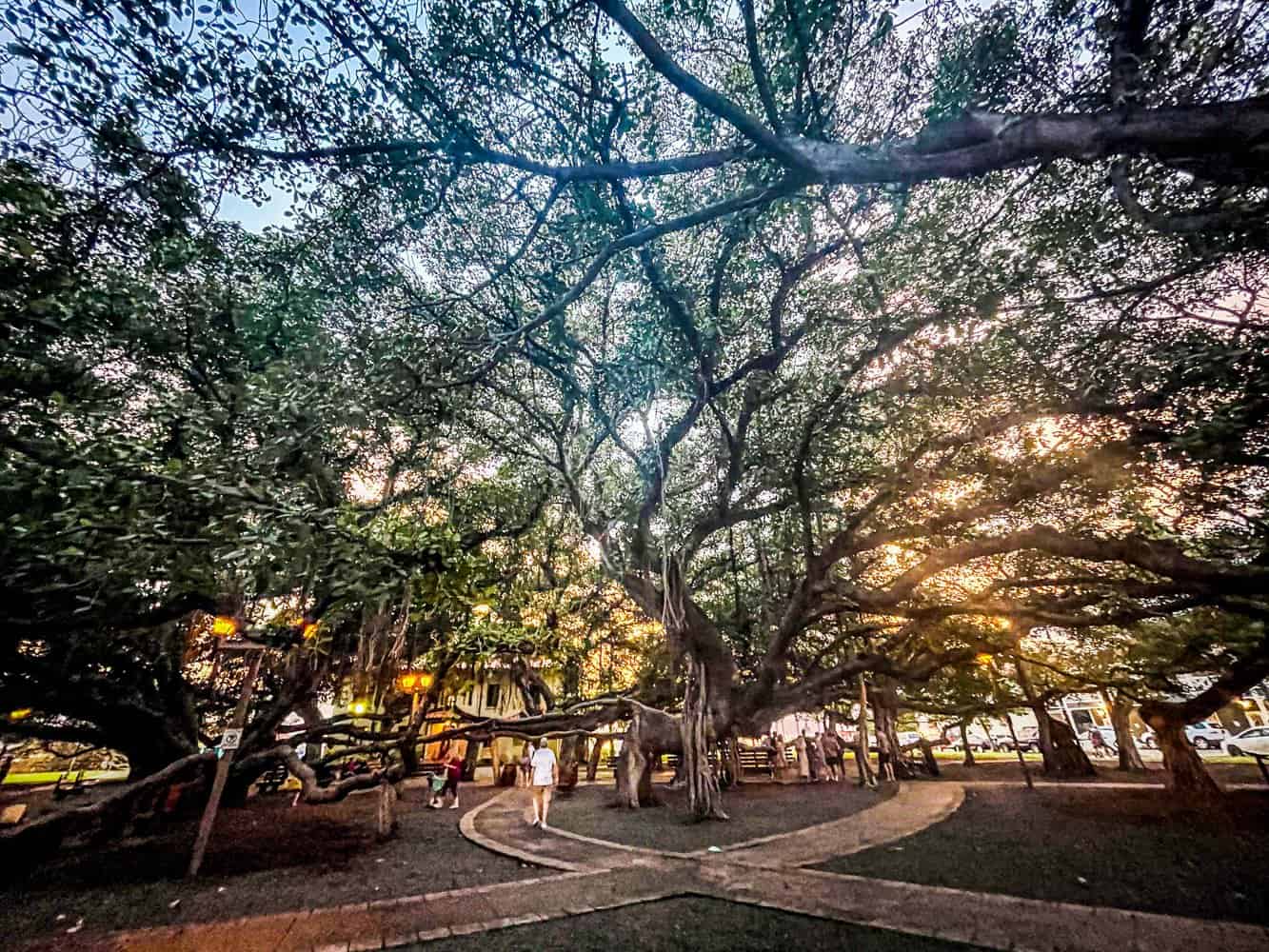 Watch Surfers and Huge Waves at Ho'okipa Lookout
If you visit in the winter months, take advantage by visiting Ho'okipa Lookout, a popular spot for big waves in the winter. Surfers and kite surfers gather daily to try and catch these big waves. This is not a spot for swimming, but you could spend 30-60 minutes exploring and watching the waves. You can also walk around on the volcanic rocks below (this may not be suitable for young children as you need to watch your step).
Find Sea Turtles at one of the Many Beaches
When it comes to turtle spotting in Maui, you can spot them at many beaches around the island. My best advice is to bring your snorkel gear to every beach and if the waters are agreeable, swim and see if you can spot them swimming around. I've spotted turtles snorkeling at Makena Beach Park and Baby Beach. We stayed near Pohaku Park one time and could watch the turtles swimming and 'surfing' in the water from our condo, and they went to the small beach each day as well.
If you have younger children that don't snorkel, the most popular beaches for spotting sea turtles are Maluaka Beach near Kihei, Honolua Bay north of Kapalua, and Ho'okipa Beach in the North. It is much more common to see them in the afternoon and evening.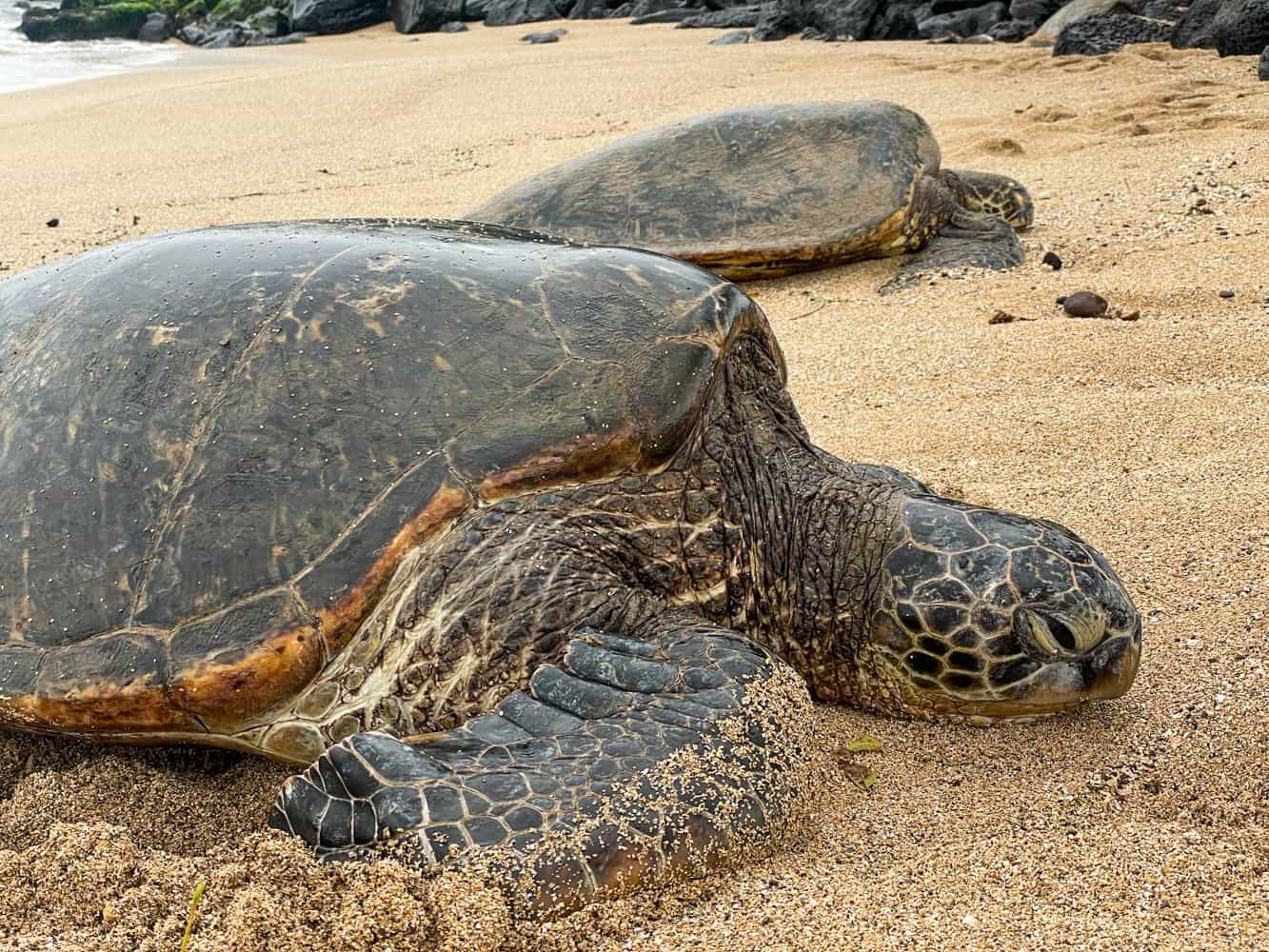 Watch the Sunset on the Beach
It seems like such a simple thing to list, but many people get wrapped up in doing activities and packing everything in that this often gets overlooked. Sunset is around 5:30-7:00 pm each evening so it's also prime dinner time.
We would eat early almost every day (and take advantage of happy hour food prices!) just so we could watch the sunset from the beach. Many locals would also gather and sit in their beach chairs to watch these gorgeous sunsets.
If you visit in the winter months, you'll also get the extra perk of seeing whales jump and breach at sunset. It's not a guarantee, but there's a good possibility of whale activity!
Hike the Iao Valley State Park
In Maui, there are large mountains in the center of the island but not a lot of access to them. The Iao Valley State Park is one of the ways to get up into these mountainous valleys. It's an easy drive and there is a small parking lot with a $5 fee. Many people park along the road as the parking lot tends to fill up quickly.
When we visited, we were surprised that there weren't too many hiking trails. The main 'hike' is a 0.6-mile walk with some stairs to get to a nice lookout point. For small children it's perfect, even a little too short. Once you're back down, you can take a short trail to the creek and walk upstream, or simply swim and enjoy the cool water on a hot day.
I'd recommend water shoes for the creek here as the rocks can get slippery!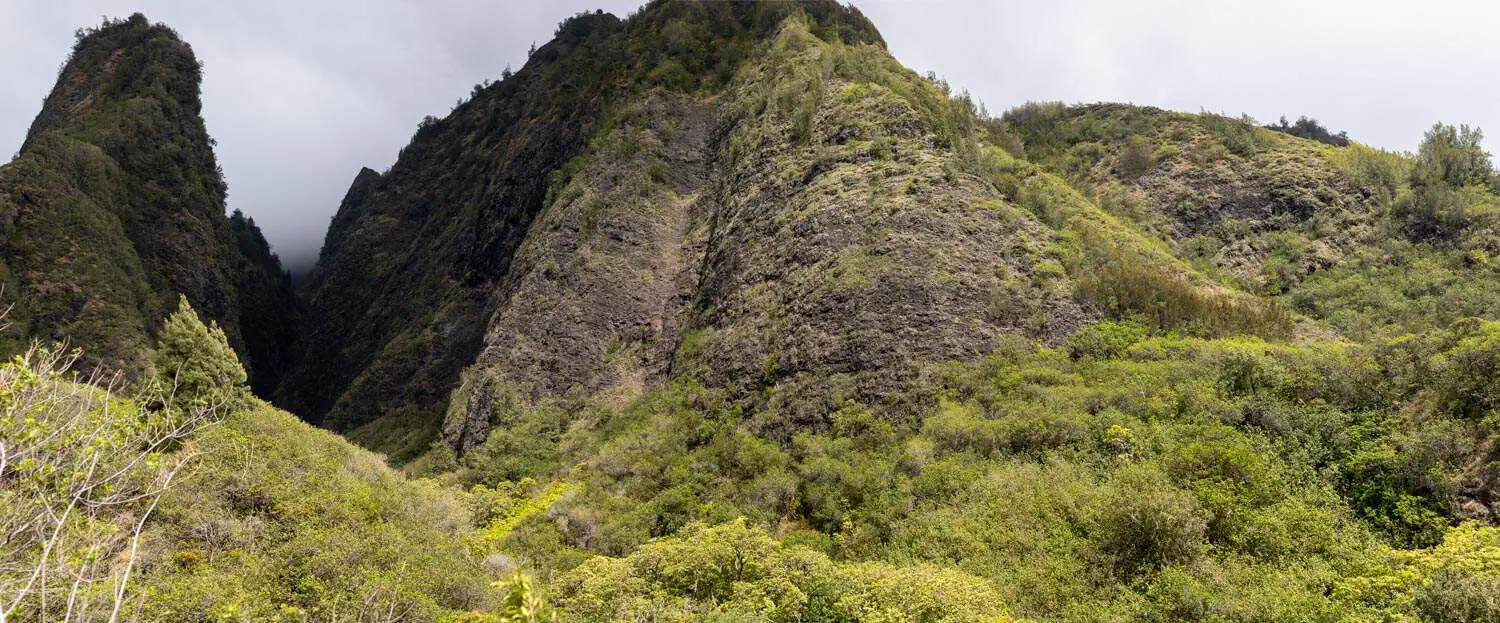 Visit Ulupalakua Ranch Store & Try an Elk Burger
We decided to visit here on a whim one day and am so happy we did. The Ulupalakua Ranch Store is located in Maui's Upcountry. The drive takes you up a windy road in south Maui past Makawao on Kula highway. As you ascend partially up the mountain, you pass these beautiful lush farms and fields.
Once here you can try locally raised beef, lamb, elk or venison burgers. There are also add-on's, sides, and a few plates too.
There's a store with a ton of local items. There's also a vineyard just across the street called Maui Wine.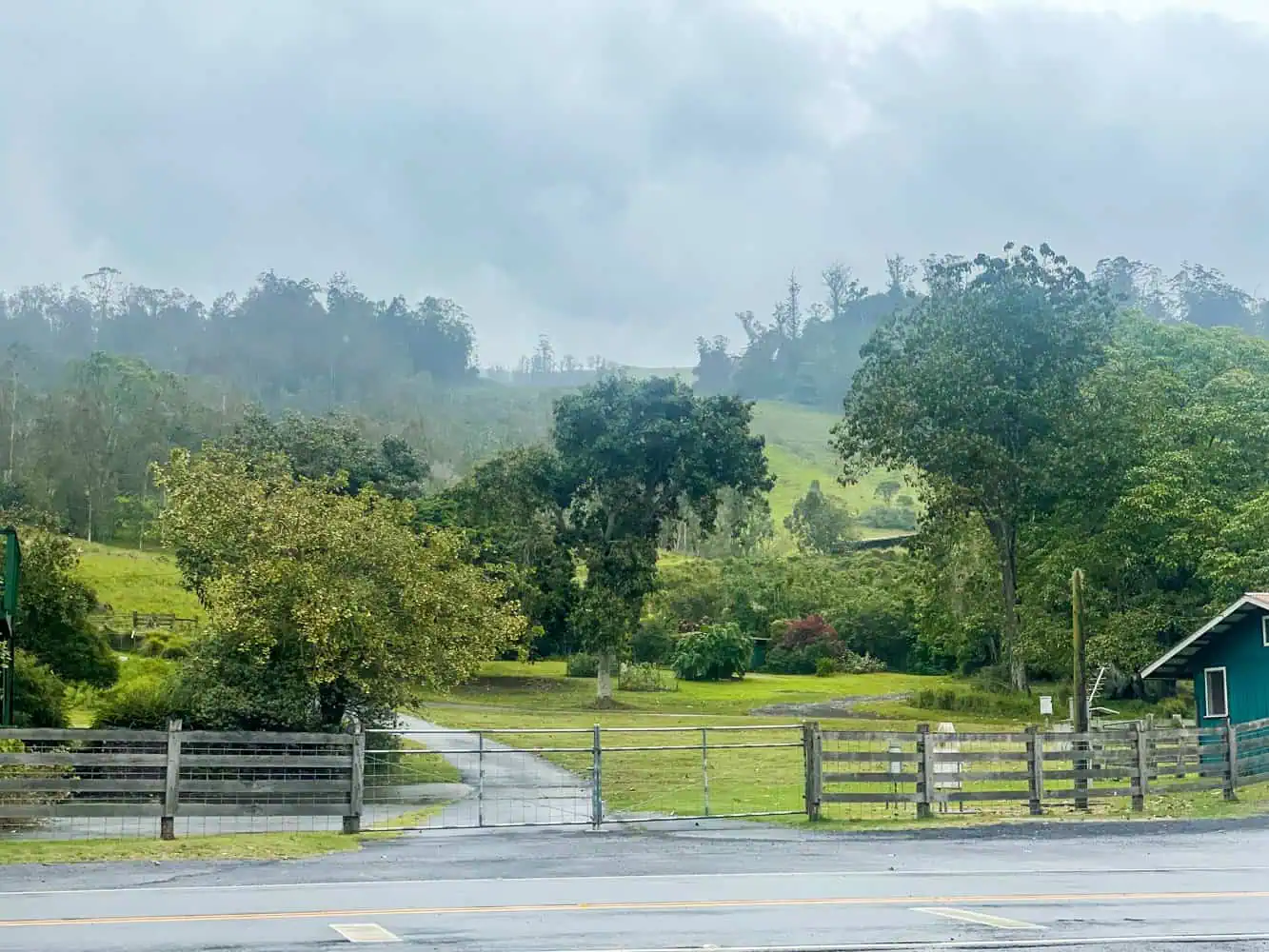 Low Cost Things to Do with Kids in Maui
Take a Drive to Haleakala Volcano
Haleakala is a fun drive and a great way to see a dormant volcano while climbing up past 10,000ft. Many people opt for the sunrise tours or self-drive, but you can actually visit any time of the day. With kids, getting up at 3am to catch the sunrise may not be a great idea. But you could head up anytime past 7am and head into the park yourself.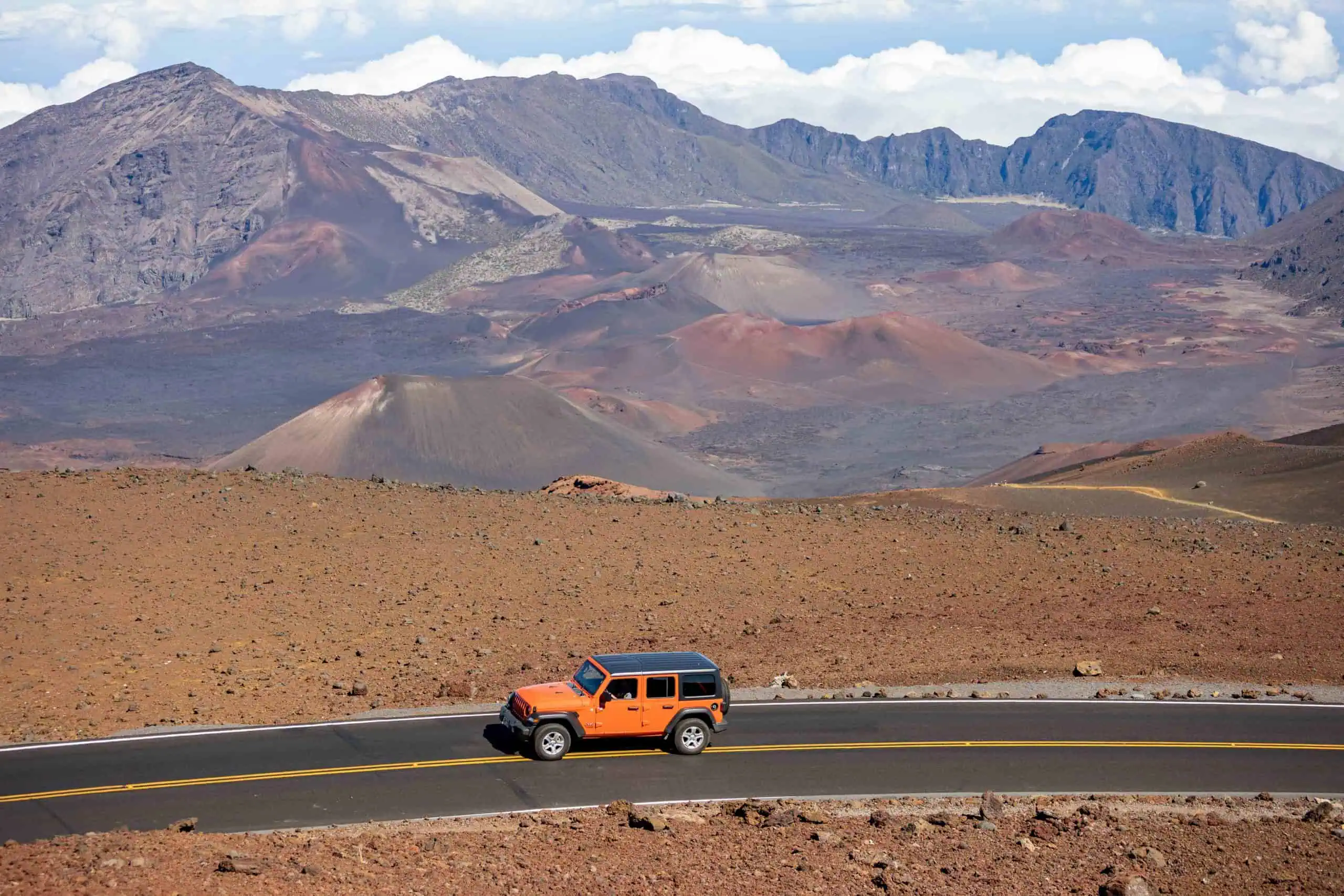 There is an entrance fee (free for military) and a few lookout points once you approach the top. Inside the volcano, there are many hiking trails. I recommend bringing some close-toed shoes so you can explore at least a bit of the trail (it's worth it if the kids are cooperating!).
This area looks SO different from the rest of Maui and is much colder too. When we got to the top it was around 55 degrees Fahrenheit. Our son was thrilled to drive above the clouds and see an area that looked like Mars.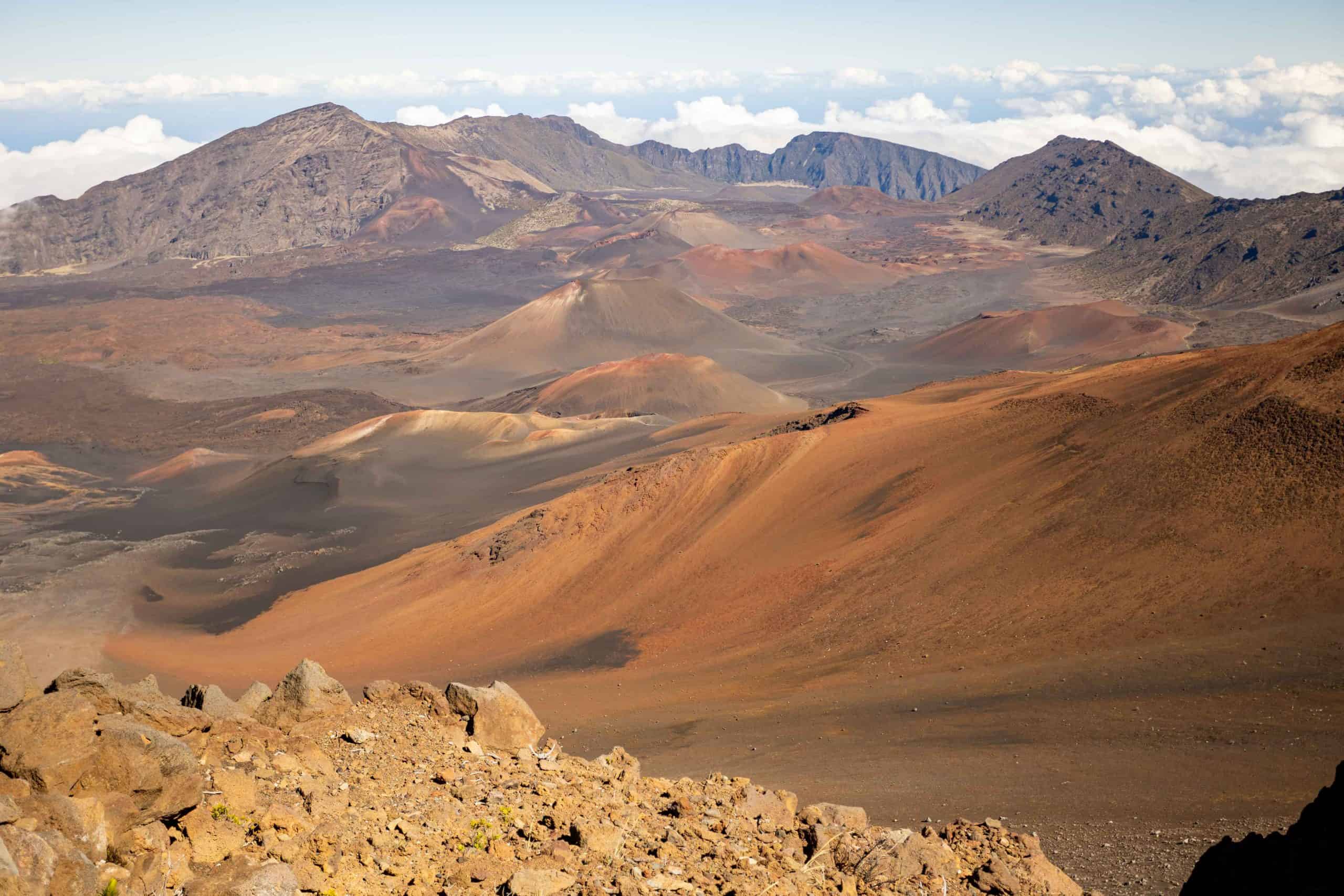 If you're interested in the sunrise bike tour, I highly recommend this one. My husband booked this tour and said it was his favorite activity of the trip.
Go on a Maui Tropical Plantation 'Train' Tour
I didn't visit the Maui Tropical Plantation until my third trip to Maui and wish I'd visited earlier. We had some time to kill one day so I looked up things to do and saw that this tour was recommended for kids. I booked it for midday and we headed out.
The tour is called the Tropical Express Tour and they drive you around the farm in a little open air caravan, talking about everything they grow and the specific varieties. There is a coconut husking demonstration about halfway through that was really informative. I was surprised at how much I learned on this short 45 minute tour.
At the end you're brought back to the large store called The Country Market. They have tons of locally grown fruits for sale (and will ship boxes straight to your home) and a lot more locally made items from around the island.
If you want something more exciting, they also offer zipline tours (including a family-friendly tour for young children!).
Drive the Road to Hana
The Road to Hana is the only road that takes you along the eastern windward side of Maui. It's a lush and rainy area full of waterfalls, cliffs, natural swimming pools, and much more.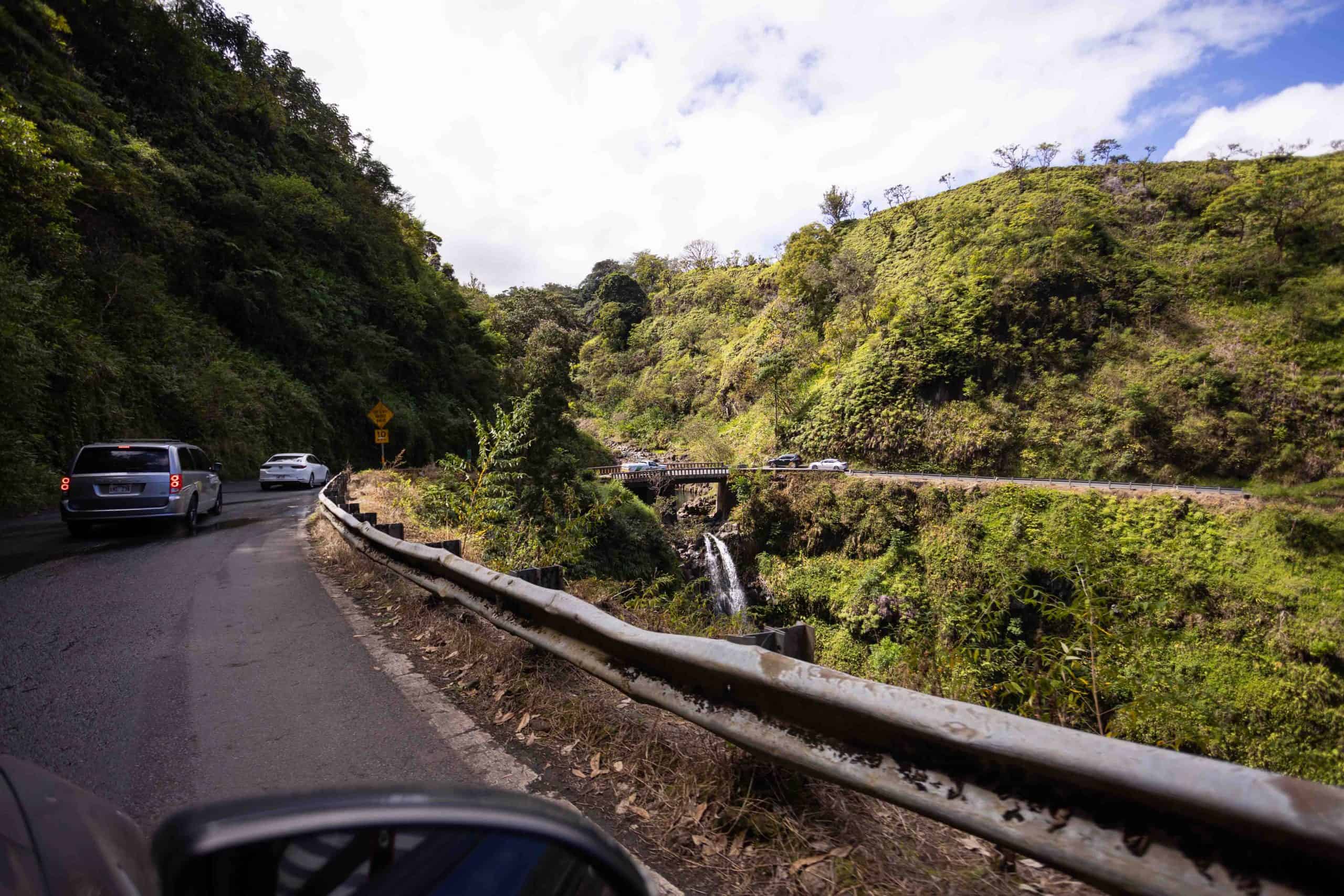 This drive is a perfect day trip with kids (as long as they don't get car sick too easily). I recommend heading out early (before 8am is ideal) and following the GyPSy Guide App. This is the best $10 you will spend for a self-guided tour of Hana. I've done this drive twice, and really wish I had this app the first time around. Also be sure to pack water, snacks, a swimsuit, and a camera.
Best stops with kids: There are so many! Your GyPSy Guide will, well, guide you to the best stops. We enjoyed stopping at many of the waterfalls to explore and stretch our legs. The Garden of Eden Arboretum is at mile marker 10 and is a beautiful place to explore with kids.
The state park that's discussed below is also well worth a stop. There are some food trucks and small vendors along the side of the road selling local fruits, juices, and other goodies (be sure to bring cash as there's no reception!).
Hana Farms has a store and restaurant with delicious pizza. Even if you only go to the halfway point, it's a great way to spend your day.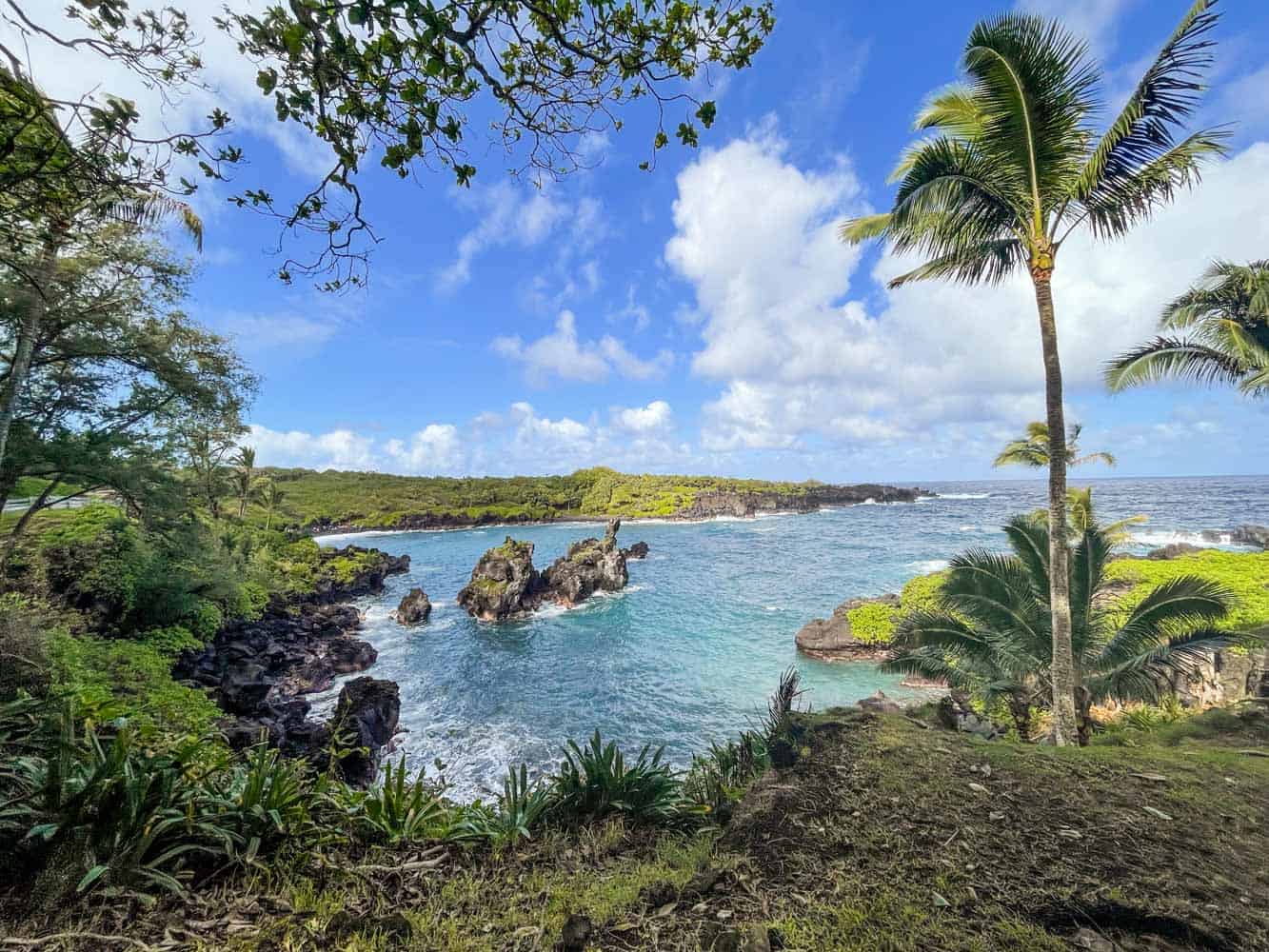 Visit the Wai'anapanapa State Park
As of 2021, reservations at least a day in advance are required to enter the park. When you reserve your time, you're actually reserving a window of time to visit the park (about 2-3 hours) so you'll need to plan your drive accordingly.
The reason why I recommend a stop here is that it's a great place to stop for a picnic, to stretch your legs, and to explore the beautiful park.
The park is famous for the black sand beach made up of volcanic rock. It's not a large beach and I found the waves to be much too large for small children, but it is a cool place to explore.
Beyond the beach. there's a trail that takes you up and around to view some massive blowholes. I recommend checking it out, it was one of the highlights of our stop (unless you have really young adventurous kids ). There is also another popular blowhole on the other side of the beach
Can you swim at Wai'anapanapa State Park? Yes! You can swim right from Pa'iloa Beach. The currents can be quite strong in the winter, especially in the afternoon, so proceed with caution. There are caves at the park that you can also swim in too.
If you want to break up your trip, this is one of the only places along the Road to Hana where you can book cabins.
Splurge-worthy Things to Do with Kids in Maui
Go on a Whale Watching Tour
If you visit Maui in the winter months, typically between December and early May, you have to go on a whale watching tour. Seriously, if there's anything you take away from this article, it's to do a whale watching tour.
Every time I've visited Maui I've booked a whale watching tour. Each time I've booked with this company as they are fun, easy going, and professional. They're also priced fair compared to other companies and as a bonus they offer free drinks!
These boats are kid-friendly and my son has so much fun every time we go out on these tours.
Visit the Maui Ocean Center
The Maui Ocean Center is a nice aquarium in Maui. It's not massive but you could spend a few hours here (be sure to reserve your tickets ahead of time online). There's a really fun virtual 360 immersive sphere experience. When we visited they were playing Humpbacks of Hawaii. My son thought the 3-D glasses were really fun and said it was his favorite thing at the aquarium, hah!
There's also an underwater 'open ocean' tunnel filled with sharks, stingrays, and many types of fish. There are many educational opportunities and I'd recommend checking the website for the daily schedule. We were able to watch them feed green turtles and learn more about this endangered species.
I always recommend a visit here. Kids love it and it's fun for all ages.
Snorkel at Molokini Crater
I'd read rave reviews about this tour so we booked it with our then 4-year old son. We booked ours with Four Winds (this one specifically). Overall it was a really cool tour and I'm glad we went but I'm not sure if I'd recommend it with young children (see below).
The boat is quite large with two bathrooms and plenty of seating on the upper deck (and many covered options too).
There's a glass bottom viewing area underneath the boat that our son loved. Once you arrive at the crater, they pull out a small waterslide and provide everything needed the day. They even have many other extras like boogie boards with clear bottoms for younger kids who don't want to snorkel.
The snorkeling itself was really fun and there were lots of beautiful fish swimming around the crater. There's no sand to kick up so the water is crystal clear. Unfortunately there were no turtles in sight.
For us, we found that it maybe wasn't the best tour with our newly turned 4-year old. This is because he didn't yet swim and refused to go in the water, even with the boogie board. At the time we decided for the cost it would have been better to just do a less expensive whale watching tour instead.
So, if you have a child like ours who is water averse and quite stubborn, this is something to take into consideration for this tour. For older kids though I would 1000% recommend it!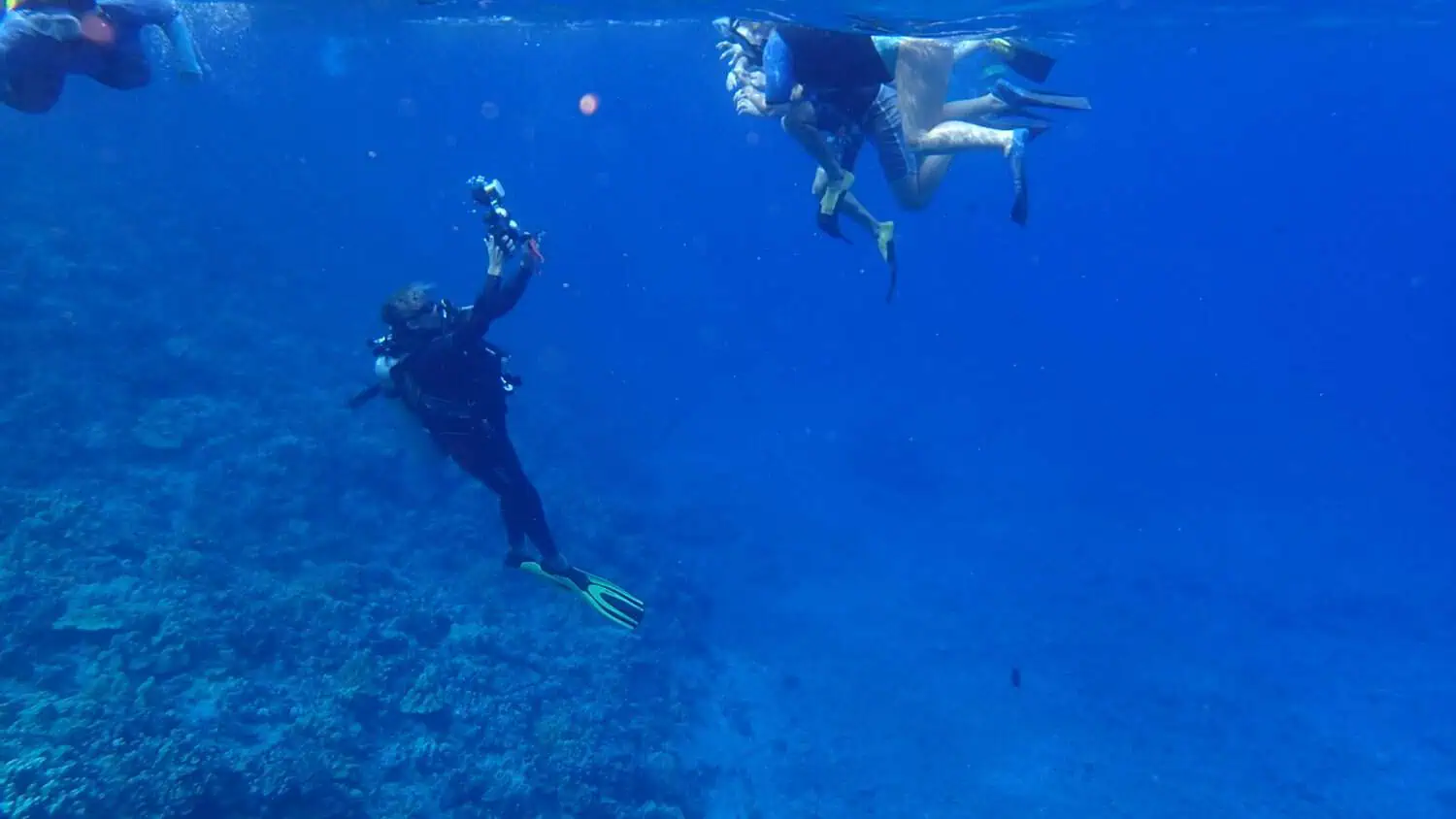 Go to a Traditional Luau
If you're traveling all the way to Maui, you may want to consider going to a luau. I think there are some caveats with kids. If you have young children, you may want to skip this one as you'll likely be trying to keep them quiet and in one spot the entire time. The luau may also be starting close to their bedtime which could be zero fun for parents.
There are options all over the island and I would narrow your focus to luau's in your area. There are many at the resorts themselves in both Kaanapali and Wailea.
The Westin Maui Luau has a kids buffet with all sorts of food they'll love. Down at the Grand Wailea Resort, kids can go onstage for hula lessons and they overall put on more of a show.
There are soo many more around the island, so to recap: 1. Narrow your search first look for luau's near you, then 2. check out what each one offers (kids menu, entertainment, time of show, etc). Also keep in mind that some have standard seating while others do traditional seating on the ground.
Costs will vary but many range around $150-250 per person.
Go on a Zipline Tour
There are some fun zipline tours in Maui. The Maui Tropical Plantation has this zipline tour for families with young children.
For a unique experience, this tour takes you through an old World War II base where you can see old planes and vehicles left behind.
Things to Skip
I've found that some activities on Maui are not worth the hype. Especially with kids.
The Pineapple Farm
There is an operating pineapple farm in Makawao that offers daily tours. The reason I don't recommend it, especially with kids, is because it's $75 – Yes, seventy-five dollars – per person and kids under 3 are not allowed. So for us to do a 90 minute tour of a pineapple farm it would cost us $225. That's just not worth the cost for me.
I would instead recommend the Maui Tropical Plantation tour.
See Also