Your Ultimate Guide: The Best Time of Year to Visit Alaska
Hey there!
This post may contain affiliate links, meaning I may be compensated if you click on one of my links, at no cost to you. As an Amazon Associate, I earn from qualifying purchases. Read my disclosure policy for more information.
If you landed here you are likely starting to plan your vacation to Alaska. Congratulations! Alaska is a big state with a lot to see and do. I should know, I grew up here and there's still a lot I haven't seen.
With Alaska's extreme temperatures and short summer season, deciding just when to visit should be at the top of your list. And believe it or not, the difference of just one week could make a big difference, so it's not a decision to be taken lightly.
This post will break down the best time to visit the last frontier. When you want to visit Alaska will really depend on your reasons for visiting. If you want to see whales, there are certain times of year you'll want to visit. If viewing Northern lights is your dream, then there are certain months that are better for viewing than others.
I will look at the best time to visit in a few different ways (click to jump to any area):
Overall Best Time to Visit Alaska
If you want the quick and easy answer, the best time for most people to visit Alaska is June – early August. This is when most people visit and as a result, it is the busiest time of year. During this time of year, you have some of the best chances of seeing wildlife, whale watching, and enjoying our 'warm' Alaska weather.
If you don't mind rainy or colder weather, then shoulder season in late August to September can be great alternatives. Late spring between late April to May can also be good, but will likely still be snowy or slushy. This time of year is called breakup as everything melts and the ice breaks. It's not a great time for hiking.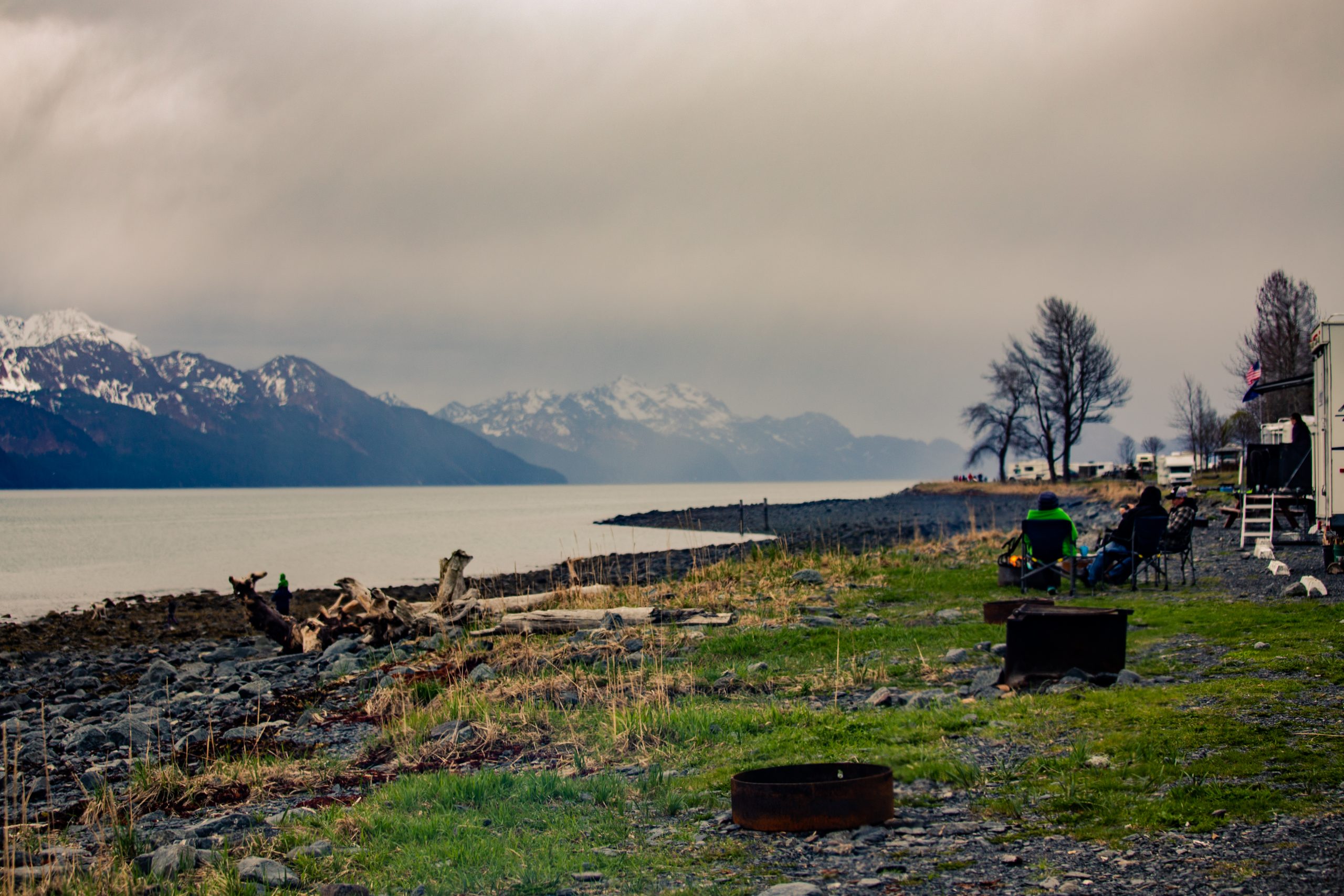 The Best Time to Visit by Month & Weather
In this section, you'll get an idea of what the weather will be like each month. Alaska is a large state that covers thousands of miles and varying landscapes. The largest temperate rainforest in the world is here. Further north, much of the state is in the Arctic Circle. As you can see, temperatures can vary dramatically depending on where you visit.
For the most part, people aren't going to the Arctic Circle but instead are visiting the southern regions of Alaska (with the exception of Denali which is a little further North). These recommendations cover much of these more popular areas, but things may be different if you're planning your entire trip to Fairbanks, for example.
Also, keep in mind that Alaska's version of a 'hot' day means temperatures in the high 70's to low 80's. But don't be fooled, it can get quite warm once the sun comes out.
Pro Tip: Layers are key for any time of year but especially during the summer months. The weather can go from sunny and feeling hot to cloudy to rainy and windy and back again.
January – February
Average temperatures: -3 – 15F | Daylight in Anchorage: 5 1/2 – 10 1/2 hours
Do you love 5 hours of daylight and negative temperatures? How about gale force winds for some extra fun? January and February are typically the coldest months of the year and the dreariest. This time of year isn't for the faint of heart. If you want to see the northern lights or go ice fishing, this could be a good time to visit. These months are typically great for skiing, snowboarding, cross-country skiing, and fat-tire biking as well. The sunrises and sunsets are dramatic and beautiful.
Just be prepared for it to be very very cold, likely really windy, and dark.
March
Average temperatures: 2 – 35 F | Daylight in Anchorage: 10 1/2 – 13 1/2 hours
Unless you have dreams of the Iditarod or enjoy winter, I personally wouldn't recommend visiting this time of year. Everything is brown, it's very cold, and it's still winter. Most tourist areas are still closed, except for some fun and uniquely Alaskan festivals.
March kicks off Fur Rendezvous, a popular winter festival with carnival rides, games, races, and more. I'll explain below in the 'festivals' section.
April – first week of May
Average temperatures: 16 – 46 F | Daylight in Anchorage: 13 1/2 – 17 hours
This is spring, also known as 'breakup' in Alaska. The first week of May is included because it may or may not still be the end of winter. Depending on where you go, you may encounter a snowstorm if you arrive in April.
The Slush Cup is a huge local event where people dress up in ridiculous costumes and ski down the mountain at Alyeska into a large pool of freezing cold water.
This isn't a bad time of year to visit, but if you want warmer weather and more green, then I would wait.
The rest of May
Average temperatures: 31 – 60 F | Daylight in Anchorage: 17 – 18 1/2 hours
Spring is finally here! If you come here in early May, things may not be very green. By the end of May it's pretty much guaranteed that things will be looking more green (we still haven't really hit summer though). Beluga whales start to come in this month as well near Anchorage.
June
Average temperatures: 41 – 72 F | Daylight in Anchorage: 18 1/2 – 19 hours
We finally made it, summer is here! If you like warmer weather and want the chance to see whales, this is a great time to visit.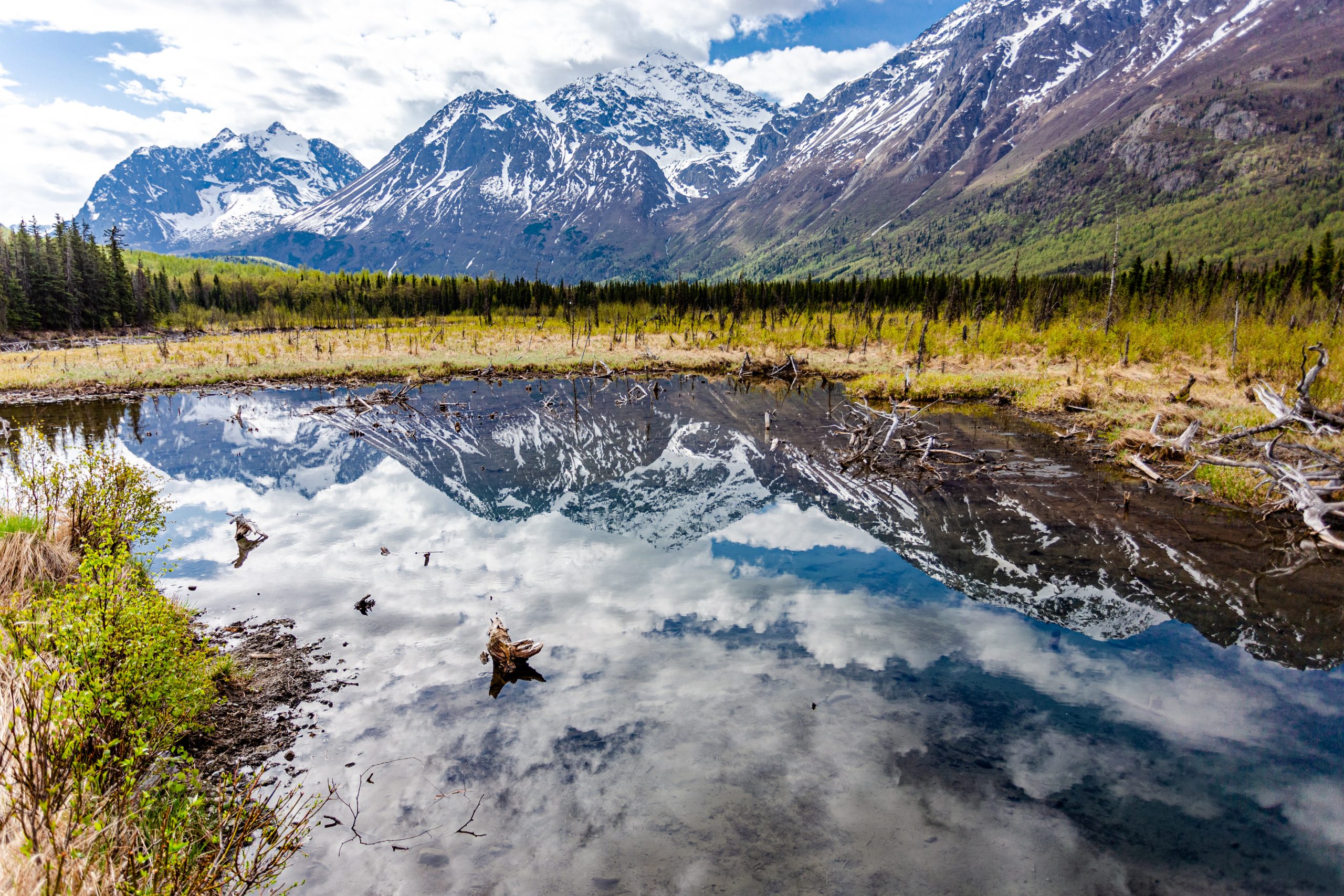 July
Average temperatures: 46 – 75 F (some places get up to 90 F) | Daylight in Anchorage: 17-19 hours
July is the height of summer in Alaska. Everything is as green as it will get and it's beautiful. The reds are running and Alaskans are outside soaking up as much vitamin D as possible.
August
Average temperatures: 42 – 62 F | Daylight in Anchorage: 14 – 17 hours
In early August through mid-August you'll likely still be able to catch good weather, but by the end of the month the season is usually starting to change. August can also be fairly rainy. This is a great time to see all the beautiful wildflowers on the sides of the road and in the mountains. Fireweed is everywhere and covers the landscape in pink for a few weeks each year.
September
Average temperatures: 41 – 48 F | Daylight in Anchorage: 11 1/2 – 14 hours
Welcome to the beginning of shoulder season. Most shops in Seward and Homer, as well as Denali, are closing up by the end of the month. Tourist towns become ghost towns. But you can usually snag a good deal if you don't mind places becoming deserted.
September also marks fall. The leaves turn quickly up here and you may only have a week or so of beautiful yellows and oranges before the landscape turns brown.
October
Average temperatures: 19 – 42 F | Daylight in Anchorage: 8 1/2 – 11 1/2 hours
It may be winter, or cold and rainy, or it could be decent still. It's anyone's guess really. Nothing is predictable in October, except that the weather will likely not be in your favor.
November
Average temperatures: -8 – 18 F | Daylight in Anchorage: 6 – 8 1/2 hours
If you want to ski Alaska in the winter, just wait, there may not be snow yet. I wouldn't recommend a November visit as the weather is cold and snowy or some form of ice rain is happening. Overall there isn't a whole lot happening up here in November.
December
Average temperatures: -13 – 14 F | Daylight in Anchorage: 5 1/2 – 6 hours
By now it is definitely cold. And likely snowy. And dark. So dark. By this time of year, the beautiful sunsets are back with bright reds and orange hues.
The Best Time to Visit by Activity
Hiking & Camping
The best months for hiking in good weather are June – September, and I think the sweet spot is July. Wildlife is quite active in the spring and encounters with momma moose and bears are much more likely when it starts warming up. In May and early June some hiking spots are still closed due to snow (or worse, mud), but by mid-June most places have opened up. And you will likely see snow if you are doing some serious hikes.
In July you have the best chance of sunny weather. The snow has melted and the mud is gone. The wildlife is certainly still everywhere but typically not as aggressive as they are in the spring.
For leisurely hikes, there are many around. Just be aware of wildlife and know some basic safety skills if you encounter a moose or bear.
Camping up here starts as soon as it's warm enough to get outside. If you don't mind chilly days and evenings, you can start camping as early as May. The camping season lasts until about mid-September, sometimes longer depending on your personal preference. I personally don't camp past September but I am a fair weather camper.
Of course there are always exceptions. Many Alaskans camp year round in every season. Many state public use cabins are available for rent in the winter. If you like winter camping or want to experience a dry winter cabin, be sure to prepare accordingly. A dry cabin means there is not running water and typically there's no heat, so you need to bring plenty of firewood and warm clothes and cold weather gear.
Fishing
Peak fishing season is from May to September. Ice fishing usually can start in December or whenever there's enough ice to make it out there and ends around March. I don't think many people visit Alaska just to ice fish (but if you do let me know in the comments!).
Hunting
Most popular hunting in Alaska is in the fall and runs from August – October, but you can also find hunting other times of year. There are a lot of rules and regulations when it comes to hunting, especially as a non-resident, so I recommend doing your research and possibly going with a guide for your trip.
The Best Time to See Denali
Renamed from Mt McKinley to Denali in 2015, this is the largest mountain in North America and a popular reason people visit Alaska. Sitting at over 20,000ft, it makes all the other mountains look small in comparison.
The mountain can be viewed year-round, but since it has its own weather system, it's said your chance of actually viewing the mountain is about 30% on any given day.
May is the driest month for the mountain, and by June the days are long with up to 20 hours of daylight. This means your chances of seeing the mountain are pretty good if it's clear. By July, everything is green and the wildflowers are out.
Just like other places around Alaska, August is a mixed bag. Summer is fading and it be fairly rainy, which obviously isn't great for seeing Denali.
If you visit in the winter, you may be able to get a crisp clear shot in the cold Northern air. Some of my best viewings from my house – 130 miles away as the crow flies – are on cold crisp days.
Spring, summer, and fall are the best times to see wildlife active. In August and September, it's prime berry picking time for bears (and humans too). Sometimes you can catch the northern lights in September as well. If you have more than a day in the area, your chances are higher that you'll see this towering mountain.
The Best Time to Visit for Northern Lights
The northern lights, or Aurora Borealis, can be best seen from February to April. The skies are much more likely to be clear in Alaska during this time of year versus fall. However, they can be viewed anytime from September to April if there's a lot of activity. Some years are better than others, as the northern lights are really a result of solar activity. The sun goes through 11-year solar cycles, making some years better than others for viewing.
If you are visiting Alaska with the intention of seeing the northern lights, I would recommend heading to Fairbanks where your chances are much higher. Fairbanks is further north and there's a lot more aurora activity up there versus Anchorage. If you have already planned your trip to Anchorage, don't fret, there can still be a lot of aurora activity in this area. I would recommend heading out of town to get away from city lights, or finding a tour company to take you out.
With a tour, they do all of the work for you and know the best spots to see the northern lights. I recommend this tour for Northern Lights viewing from Anchorage.
My Pick
There are apps such as My Aurora Forecast or the website Aurora Forecast where you can view upcoming activity.
The Best Time for Wildlife Viewing
Wildlife can be seen year-round and each season brings different animals. There are a lot of different animals to see in Alaska so not all are covered here, just the more popular ones. If you're a fan of our feathered friends there are many different varieties here. Sealife is abundant, and there are animals at just about every corner.
Whale Watching
Whale watching can best be viewed from April – September. Many whales make their way to Alaska during different points in the summer; gray whales visit in April and May, beluga whales can be seen at Turnagain Arm during spring and fall, humpback whales in June and July, blue whales in July and August, and orca whales in May and June.
If you fly into Anchorage, you can see Beluga whales along a stretch of road called Turnagain Arm. Stop at Beluga Point for more viewing opportunities. These whales are typically only in for a few weeks in the spring and fall weeks (April/September). For more whale watching, visit Seward and Homer where your odds of spotting a whale are really good.
I did a whale watching tour in Seward last year, and even though I'm from here, it was a highlight of my year. I did a 6-hour whale watching cruise that stopped at Holgate Glacier. They served food and drink onboard and you could also purchase drinks separately. If that seems too long, they also have shorter tours as well.
Check out this link on Alaska.org for more information on Alaska's whales.
Moose and Bears
Moose are everywhere. Sometimes you just need to drive around and take a side street to spot one. I've found in general moose and bear sightings are pretty good earlier in the morning. Moose and bears come out in full force the spring, and the moose can be especially aggressive with their new calves.
Bears are also everywhere but can be more elusive than moose. Some places such as Kodiak Island are full of bears, with nearly 1 bear per square mile. Of course, bear sightings are limited to the warmer months.
Eagles and other Wildlife
Eagle viewing is better in the morning and if you visit the coastal towns you are sure to see some.
Sea otters love to play in Resurrection bay in Seward, and also in Homer. There are also porpoises, puffins, seals, and sea lions, among others.
Festivals
If you want to experience some Northern festivals, Alaska has some fun ones to visit. Here are some of the more popular events and when they're offered. There are many more festivals and events around the state than what's listed here, but these are some of the bigger events.
Iditarod
The Iditarod, known as the last great race, is an International sled dog race that commemorates the life-saving penecilin that was delivered from Nenana to Nome. Today, it is a 975-mile sled dog race that starts in Anchorage and ends in Nome. It's a pretty incredible feat by both the mushers and dogs.
The first Saturday in March marks the ceremonial start of the Iditarod in Anchorage, then the official start of the race (called the restart) happens the next day in Willow. This is when the clock actually begins for the race.
Fur Rendezvous (Fur Rondy)
Fur Rondy is a large winter carnival in Anchorage that started in 1935. What started as a 3-day festival to stave off the cold dark winters has turned into a 12-day event today. The highlight of Rondy is the Iditarod, which marks the end of the winter festival and the start of the race. There are ice sculptures, carnival rides which include ferris wheels and other fair rides, vendor markets, and more.
Some of the popular events include the Running of the Reindeer (inspired by the Running of the Bulls in Pamplona), the Outhouse Races, the Fur Rondy fur auction, and the Blanket Toss, a Native Alaskan tradition.
Fur Rondy typically starts at the end of February each year.
Alaska State Fair
The Alaska State Fair is the largest annual event in Alaska. The state fair runs each year in late August and is a local favorite. Here you'll find everything typical at a state fair; fair rides, local vendors selling items, elephant ears, a petting zoo, and fireworks.
One unique thing you'll find at the Alaska State Fair are the giant produce and flower contests. There are world record size pumpkins, cabbage, marigolds, tomatoes, squash, and much more. Some former world records include a 42in beet and a 138in green cabbage. My favorite thing to check out are the pumpkins; in 2019 a pumpkin weighed in at 2051 pounds.
You can thank the midnight sun for all of this massive produce. With mild weather and nearly 24 hour daylight, it's possible to grow your veggies to extreme sizes.
If you happen to be in the Anchorage area during the state fair, it could be a fun day trip to get a glimpse into local life. I'd recommend going mid-week and arriving early (before it opens) to find a parking spot and avoid a long wait for tickets.
Girdwood Forest Fair
The Girdwood Forest Fair is known as more of a hippie festival held in Girdwood, about 30 minutes outside of Anchorage. Their slogan says 'No Dogs, No Politics, No Religious Orders'. There's a large stage with music and events on rotation, and it's a fun way to spend the day checking out local vendors, food, and listening to good music.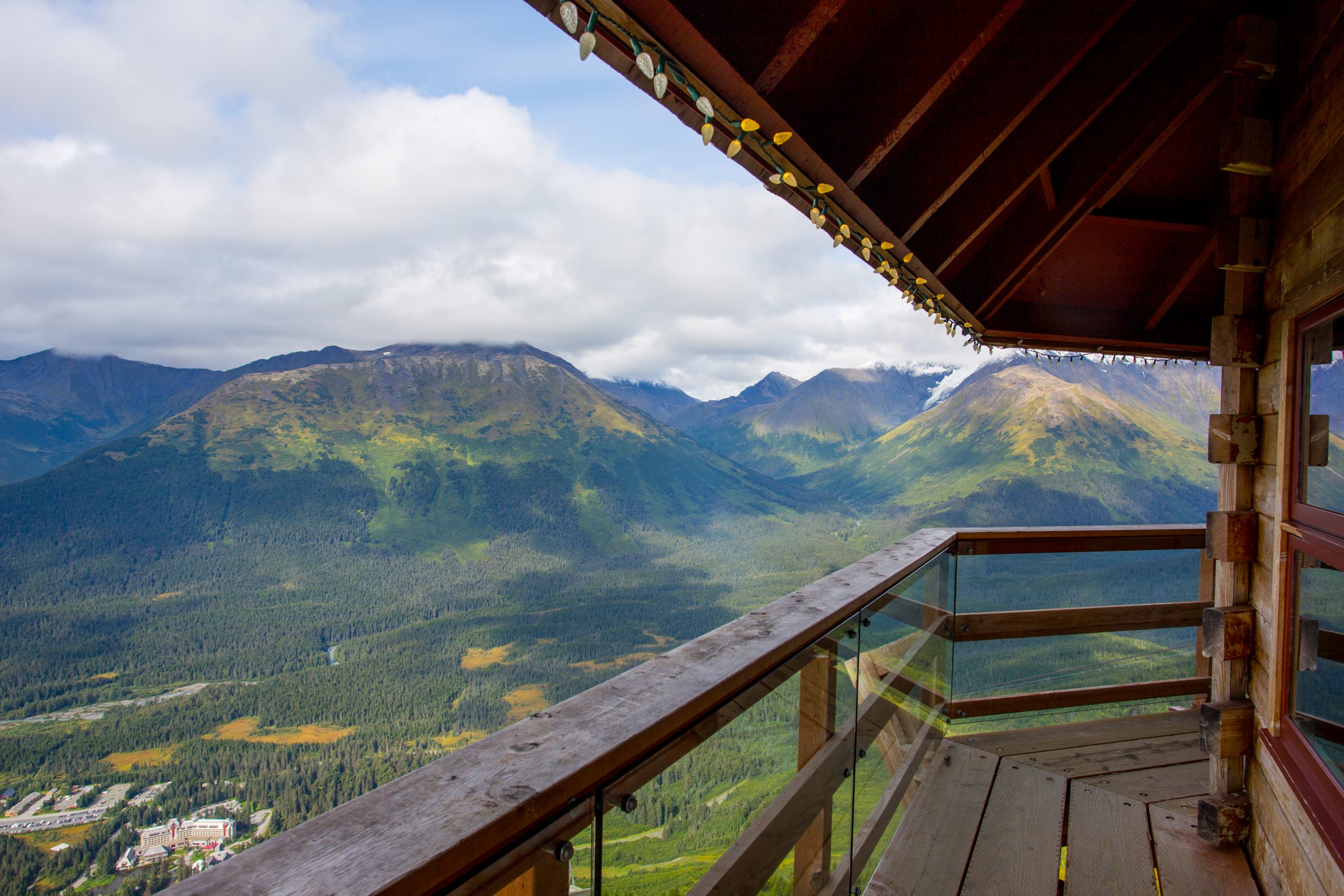 Iron Dog
The Iron Dog is the world's longest, toughest snowmobile race that takes place in February. The race covers more than 2,600 miles starting in Big Lake and heading to the Bering Sea towns of Nome and Kotzebue. Big Lake is a town a little over an hour away from Anchorage. The race starts on the actual lake, which is a large lake that freezes over in the winter and is converted to ice roads.
Arctic Man
Arctic Man isn't likely an event you'll find in many guidebooks. It's an unofficially official extreme snowmachine and ski event held each April and is uniquely Alaskan. In the main event, a skier links up with a snowmachine, grabs a pulley that's being dragged behind, and holds on at speeds up to 86mph.
If that sounds crazy, it is. In the snowmachine events, you'll see backflips and all sorts of shenanigans. There's no infrastructure, so you'll need a motorhome or a friend willing to lend you a spot on theirs.
The event is located in the middle of nowhere between Anchorage and Fairbanks and there isn't an address to get there. It's on the Richardson highway around mile 198. This event has been called the Arctic version of Burning Man, so if you like extreme events, this might be for you.
Summer Solstice
The Midnight Sun Festival is an annual event in Fairbanks to celebrate the summer solstice. There are also many other events, both official and unofficial, that happen around the state. In Anchorage, locals head to the top of Flat Top mountain and have a party at midnight. There are also other events including a Solstice Festival in downtown Anchorage, the Anchorage Mayor's Full and Half Marathon race, and a Salmon derby.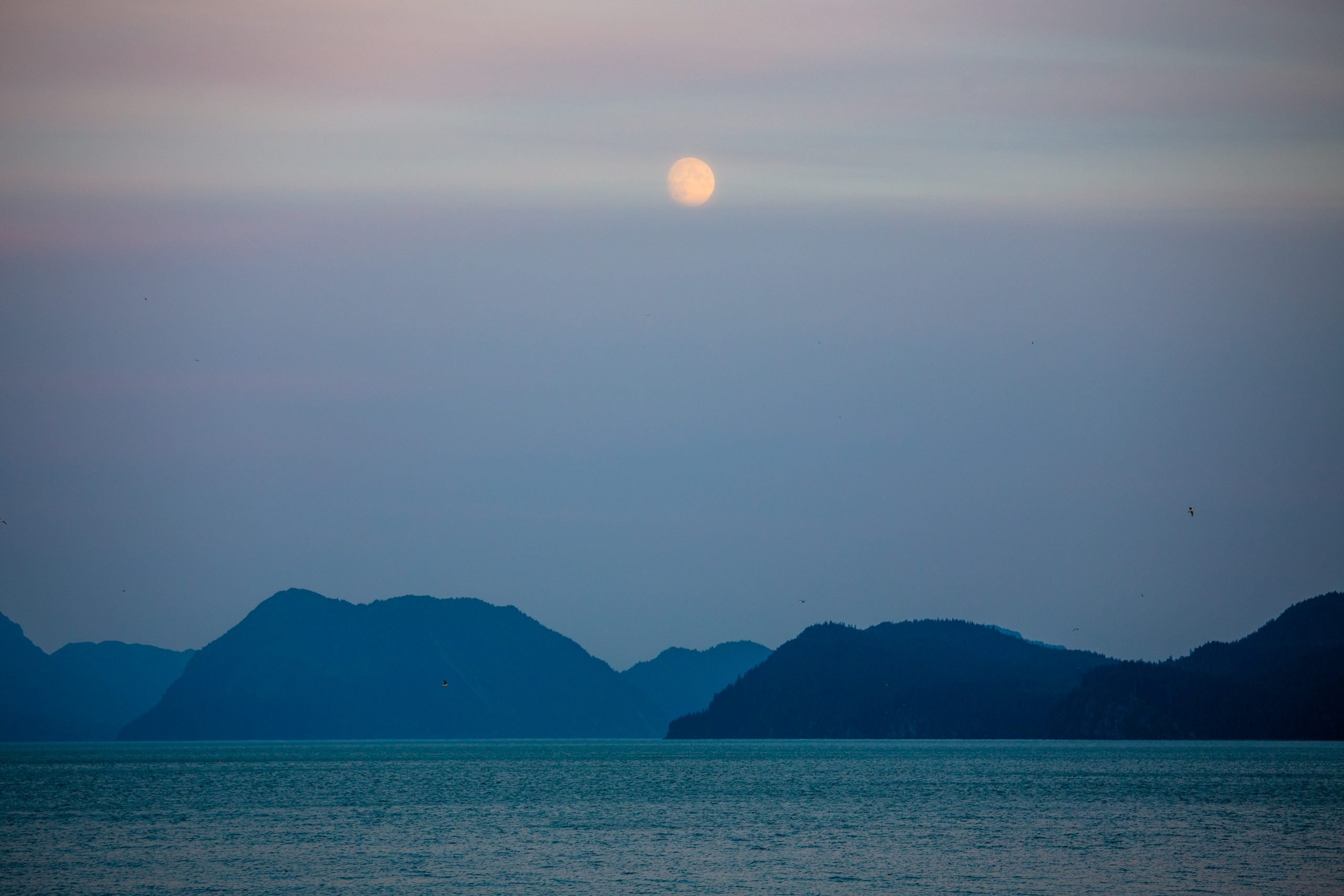 So there you have it. When you visit Alaska will really depend on what you want to see and do. If you have any questions about your trip, feel free to comment below, I'm happy to help out!