Everything You Need to Know About Camping at Brooks Camp, Alaska (Katmai National Park)
Hey there!
This post may contain affiliate links, meaning I may be compensated if you click on one of my links, at no cost to you. As an Amazon Associate, I earn from qualifying purchases. Read my disclosure policy for more information.
Congratulations, if you're reading this you likely reserved your spot at Brooks Camp Campground!
Or, perhaps you're in the planning stages and trying to figure out if camping is right for you.
Whether you're a seasoned tent camper or this is a brand-new experience, I've got you covered.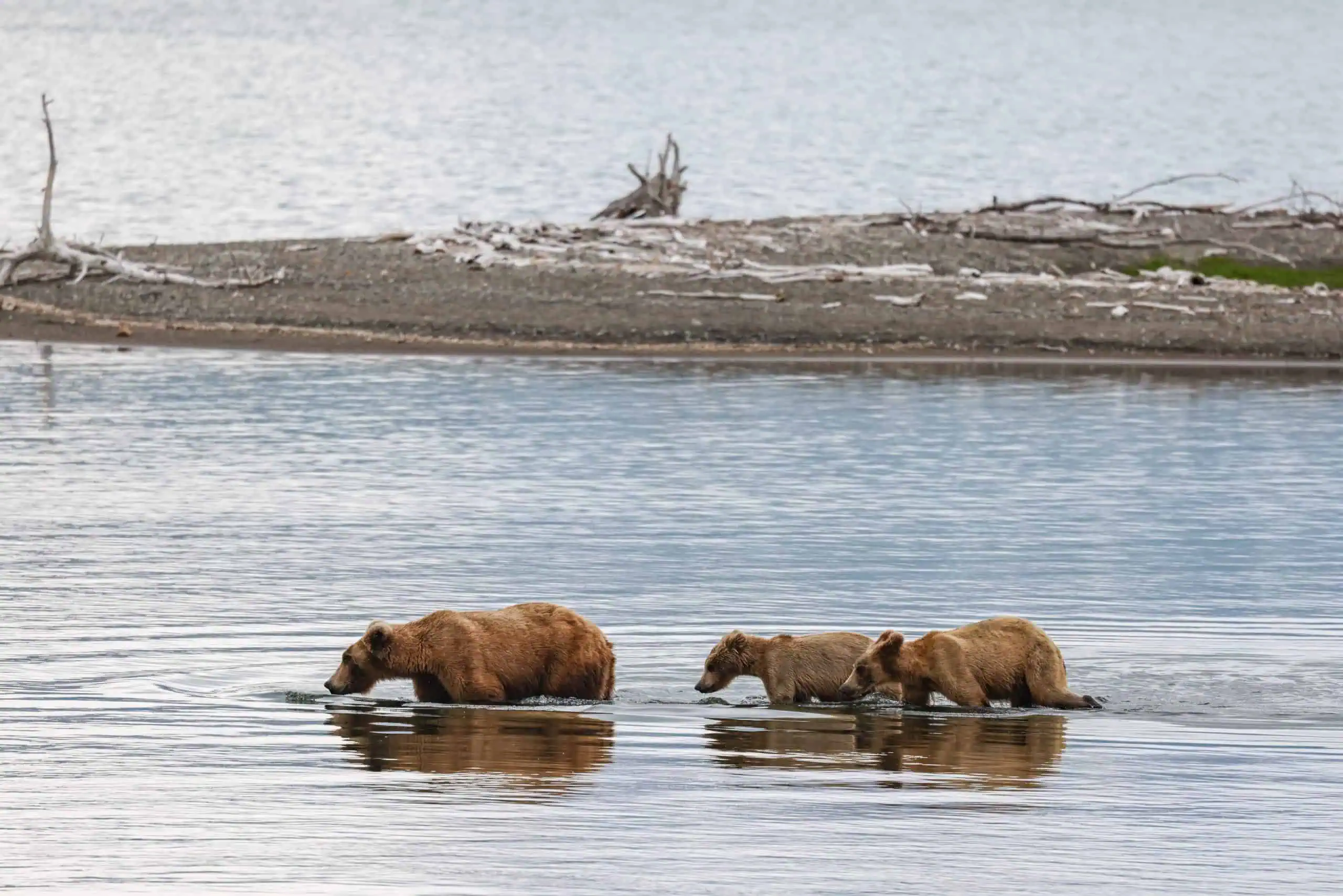 I recently camped for three nights in June at the campground.
I spent hours scouring the internet (do we call it that still? The web? The net?) for information about the campground and what it's like camping among bears. Admittedly I was a little apprehensive about the experience before we went (luckily the experience was much less daunting than I imagined it would be).
So I wanted to create an article covering all aspects of camping at Brooks Camp Campground. I included everything you need to know to prepare and plan your trip, and you can skip around using the table of contents.
Oh and if you're looking for a comprehensive article for planning your entire trip to Katmai, you can find that here.
When Can You Book a Spot at Brooks Camp Campground?
Reservations open in early January via Recreation.gov.
When we booked in 2023, reservations opened at 8:00am AKST.
I hit refresh as fast as I could at 7:59am until the page changed, then entered our dates and how many people were coming. This took about 3 seconds. By the time I hit enter, all of July was booked.
Yes, it was that fast!
So I recommend having multiple dates in mind when you go to book. I made the mistake of thinking I'd grab a July spot, so once I saw they were booked, I had to frantically figure out another suitable date. We grabbed 3 days at the end of June.
Sadly the salmon weren't yet in, but we still saw a lot of bears. If I did it again and couldn't get July dates, I'd try to book early September when the bears are nice and fat.
What's Inside Brooks Campground?
The campground accommodates 60 people per day. There are plenty of tent sites that are well-spaced with trees in between each spot.
There are gravel trails that lead to each campsite, and the tent sites are mostly level gravel pads. I say mostly level because a few were ever so slightly off, but for the most part they made nice flat spots.
Can You Reserve a Specific Campsite?
All campsites are first come first served. Some are closer to the amenities (food & gear cache, bathrooms) so those areas could get more foot traffic/noise. And others are closer to the lake, but there aren't any lakefront spots.
For the most part, people were pretty quiet inside the campground, but if you're sensitive to noise I recommend bringing earplugs. For example, I could hear the crunch of footsteps on the gravel path as people walked by in the mornings.
Can You Build Fires at the Campground?
There are three designated fire rings in front of each of the covered cooking shelters. Free firewood is available (pictured above) for use. Food is NOT allowed to be cooked over the fires.
Can You Eat Inside Brooks Campground?
Yes, the entire campground is enclosed, and inside are the food cache and designated cooking shelters (which are really eating areas).
Each cooking shelter has two long picnic-style tables which are covered for rain. It's open so you need to wear your bug spray.
Is It Safe to Camp at Brooks Campground?
This was one of the first things I wondered about when we booked the campground. I know bear attacks are incredibly rare here, but I wasn't sure if I'd feel safe inside the electric-fenced camping area.
The entire campsite, including the bathrooms, seating areas, food cache, and gear cache are all inside a large electric fence. It's not terribly tall but it is strong and works (we saw this firsthand when a cub got too close!).
Everyone is required to keep food inside the designated food cache area, and everyone followed the rules when we were there. I don't think anyone wants a bear to want to get inside the enclosure.
So overall I felt comfortable and safe inside the campground area. The tent sites are also well inside the enclosure.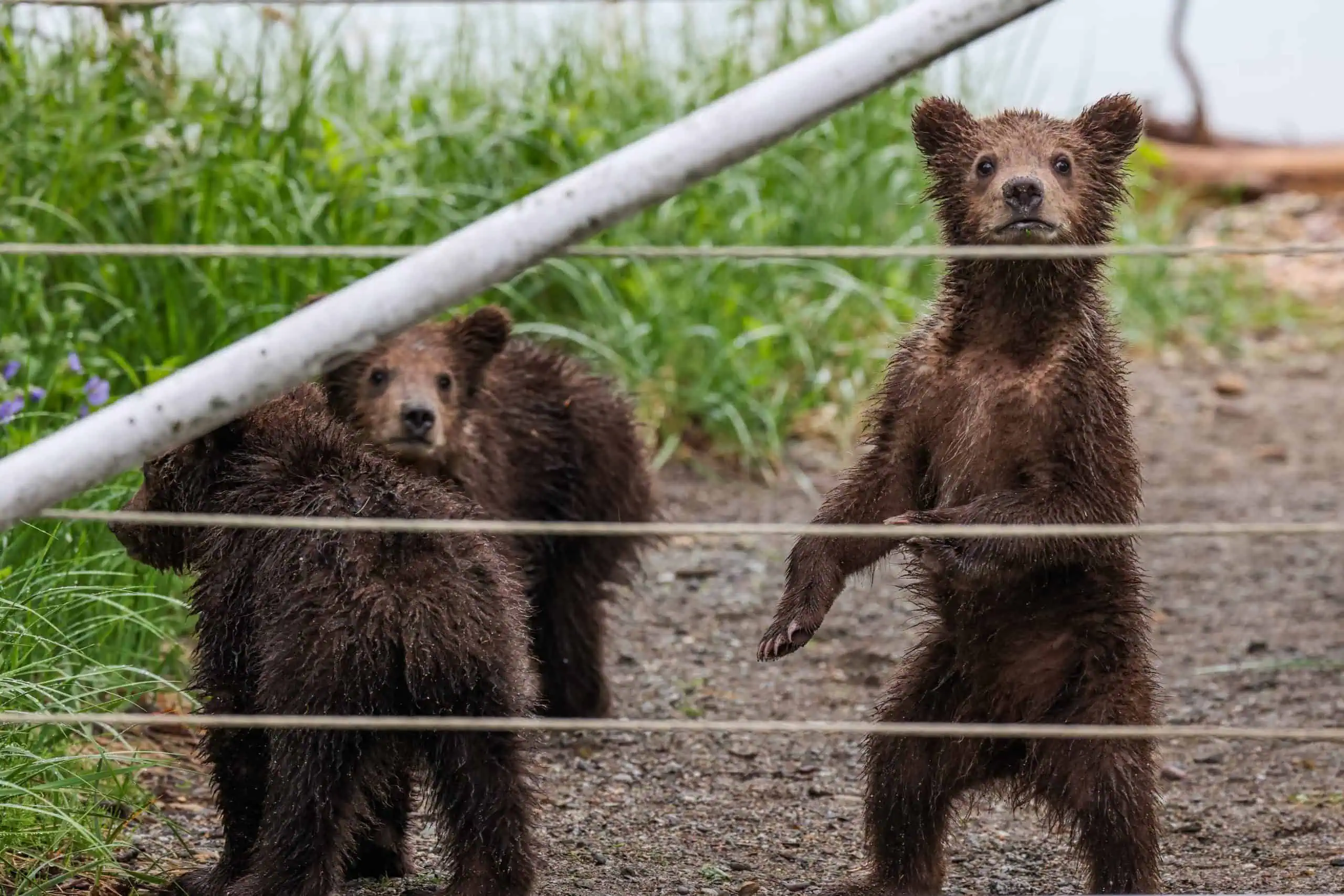 Is the Campground Secure?
There is an electric fence surrounding the entire campground. It's not tall (about 4 feet) but is on at all times. It's enough to deter the bears.
The rangers also made sure everyone knew that it's important that bears don't associate humans and human items with food. For example, you aren't allowed to set down your backpack or any items when you're out. This is so you don't accidentally leave anything behind and a bear gets curious about it.
This theme carries through with everything at the campsite. They do a great job of making sure bears don't associate humans with food.
What Are the Camping Spots Like?
Each campsite is a large gravel pad that's mostly flat. There are trees and wooded areas in between the campsites, so they feel private even though there are people nearby. The campground was larger than I anticipated. In fact, we didn't even walk the entire enclosure when we were there.
How Far Away Is the Campground from the Lodge?
It's less than a mile walk to the campground from the lodge and main buildings. You can either walk the wide gravel path through the woods, or stroll along the sandy beach. The sand is loose so you have to work a bit more to walk along the beach.
I was surprised to learn that the bears are seen more often along the beach than on the wooded trail.
Can You Use the Lodge Facilities if You're Camping?
This was something that I wasn't sure about, but I'm happy to report that there's no separation between those staying at the cabins and the campground.
Everyone has the same access to all meals, relaxing at the lodge, hanging out at the bar, using the shower and bathroom facilities, etc.
Are There Bathrooms at Brooks Campground?
Inside the campground, there are two simple pit toilets with a small sink. They are clean and well-maintained.
Can You Get Drinking Water at Brooks Campground?
Yes, there is a large sink basin for cleaning dishes but also for filling your water bottle. The water also tastes fantastic.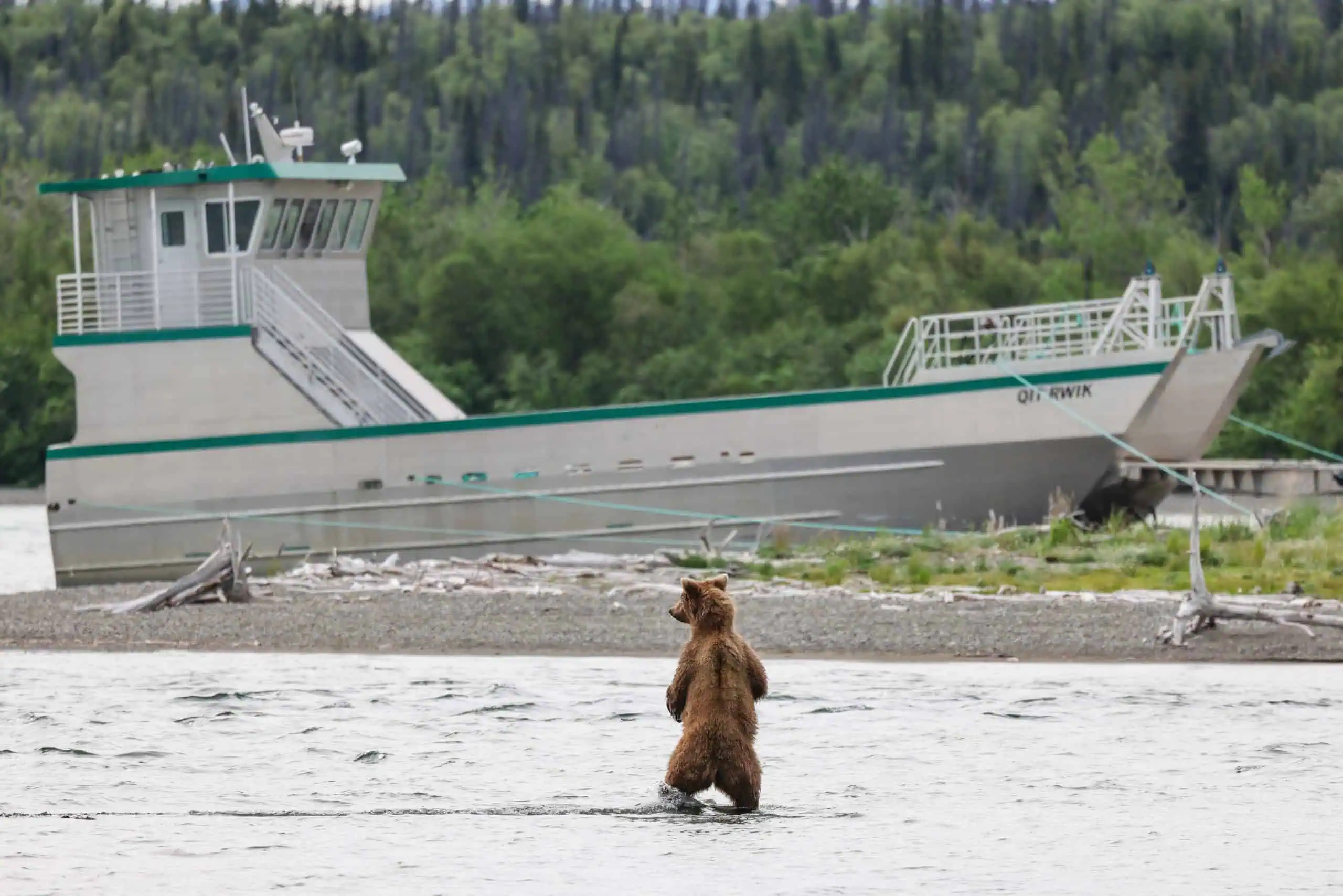 Can You Shower at Brooks Campground?
Yes, there's one shower in each of the men's and women's bathrooms next to the lodge. They are in their own cabin building. These bathrooms are regular modern bathrooms with flushing toilets and sinks.
The shower is in the corner and has a large shower curtain so you can change and shower in one area.
The cost is $7 per shower and runs on a token system. You can purchase the tokens AND a towel at the lodge or the trading post.
Do You Need a Bear Proof Canister?
The short answer is no, it's not needed. They have designated food caches to store your food. It's basically a room with shelves and a door. You're not allowed to walk around camp with food.
What Should You Pack for Brooks Camp?
I have a complete packing list for Katmai with a section specifically for camping. You can check it out here.
Overall Camping Impressions
As someone who is a self-described glamper, I was surprised at how much I enjoyed camping at Brooks Camp. I felt safe, it was peaceful, it was only a short walk to the lodge and first boardwalk, the beach was right there, and there were plenty of bear sighting opportunities.
If you get the chance to camp at Brooks Campground, do it! You won't regret it, I promise.
On that note, I need to set an alarm to book my spot for next year when it opens up!
More Alaska Articles