The Complete Guide to Chena Hot Springs in the Winter and the Northern Lights
Hey there!
This post may contain affiliate links, meaning I may be compensated if you click on one of my links, at no cost to you. As an Amazon Associate, I earn from qualifying purchases. Read my disclosure policy for more information.
I just returned from a 2-day winter trip to Chena Hot Springs to see the Northern Lights. We really lucked out and saw a great display of lights while we were there. To say it was incredible is simply an understatement.
We booked our entire stay right at Chena Hot Springs Resort. I learned a lot and will go over all of the details (including whether I'd stay there again). This article is not sponsored and all information is from my own personal experience during my winter stay.
About Chena Hot Springs
Chena Hot Springs is the most accessible hot spring in Alaska. It also has the added perk of being a resort. There's a restaurant, a small bar area, a pool house, many hot tubs, cabins & rooms, an ice museum, dog kennels, and many different tours.
The tours include dog sledding, kennel tours with the sled dogs, northern lights tours, ice museum tours, ice fishing, sunset tour, and snowmobiling (locals call it snowmachining).
There are rooms, cabins, and large family rooms that span many buildings. The basic hotel rooms run about $250-300 per night, and the dry cabins are around $240-300 per night. Many cabins can hold up to 8 people, just keep in mind that a dry cabin means there's no running water (showers are available at the pool house and there are outhouses at each cabin).
The family suites can hold up to 6 people and include a refrigerator, microwave, and coffee maker.
Hot springs passes are included with your stay and are open from 7:00am – 11:45pm.
There's also an Aurora Ice Museum which can only be viewed with a guided tour. Be sure to book your tickets ahead of time to secure a spot.
Getting There
Chena Hot Springs is 66 miles away but due to the icy/snowy roads, it takes a solid 90 minutes to get there. When we went, most of the drive consisted of incredibly icy roads with no gravel. It was clear, glare ice and we fish-tailed a few times on the drive out and back.
We paid for the resort shuttle because I didn't want to deal with renting a car or driving on the roads myself. Since this was only a two-day trip, I also wanted something easy and seamless. I prefer to only drive icy roads if I have studded tires and all-wheel drive, and one of those rentals would have cost much more.
If you're not comfortable driving on icy, snowy, wintery roads, I'd highly recommend the shuttle service.
The other option is to rent a vehicle and drive there yourself. Be sure to compare the rates of the rental car to the shuttle as rental cars can be quite expensive.
Know Before you Go
Chena Hot Springs is in the middle of nowhere, which is great for viewing the Northern Lights. This also means there aren't any amenities nearby. And since it's a 90-minute drive, it's not likely that you'll want to go back into town to grab things you forgot.
There is a small store at the resort which has some sandwiches, chips, snacks, bottled beverages, and some frozen meals. There weren't too many healthy options, and unfortunately, there wasn't any fruit for sale.
Hot springs are full of sulfur, and all of the water at the resort tasted like it. If you've never had sulfur water, it has an eggy smell and taste (and sometimes tastes like metal to me). It's not my favorite.
Our room didn't have a refrigerator, so unfortunately there was no way to keep anything cool.
Here's what I'd recommend grabbing at the store before you head out:
Water
Alcohol – the only alcohol available for purchase is inside the restaurant.
Snacks (we didn't have a refrigerator, so check your accommodation and plan accordingly)
Winter Weather
We went in mid-March and the average temperature was around zero (0F). At night it would get down to -15F without wind chill. It was breezy when we were there which meant it was much colder than -15F. We were told that the wind is not normal at Chena so it's unlikely you'll have much wind while there.
This is actually fairly warm for Fairbanks in the winter. It can get much colder – sometimes down to -50F. I'd plan for negative temps or around zero. It's better to over-prepare than under prepare when it comes to proper winter clothing!
The Hot Springs & Pool Area
I didn't go in with many expectations of the hot springs, but this was an area that completely exceeded my expectations. These hot springs are 100% worth the trip! The water was a perfect temperature and the setting was really beautiful with the frozen ice and snow surrounding the springs.
When you enter the building, you take off your shoes and socks and are met with a heated floor. Then you walk into the changing area with locker rooms (no heated floors here unfortunately).
There is a change machine in the lobby if you want to pay 50 cents to lock your locker. We skipped that and just put our belongings in an empty locker.
Then you walk down a small covered corridor to the springs. It's nice that that part is covered, otherwise, it would feel much colder getting there in just your swimsuit!
There is a ramp and railing to ease you into the water, and there are various levels once you're in. Much of it is around 3-4 1/2 feet, and some people were sitting on rocks that went around the perimeter of the springs.
The floor is covered in small pebble rocks, so if that isn't your favorite I'd recommend some water shoes.
Note you don't need to stay at the resort to enjoy the hot springs. Instead, you can purchase day tickets on their website (which I'd recommend doing ahead of time).
In addition to the hot springs, there's an indoor pool with a few hot tubs as well as an upper outdoor hot tub with a view of the springs below.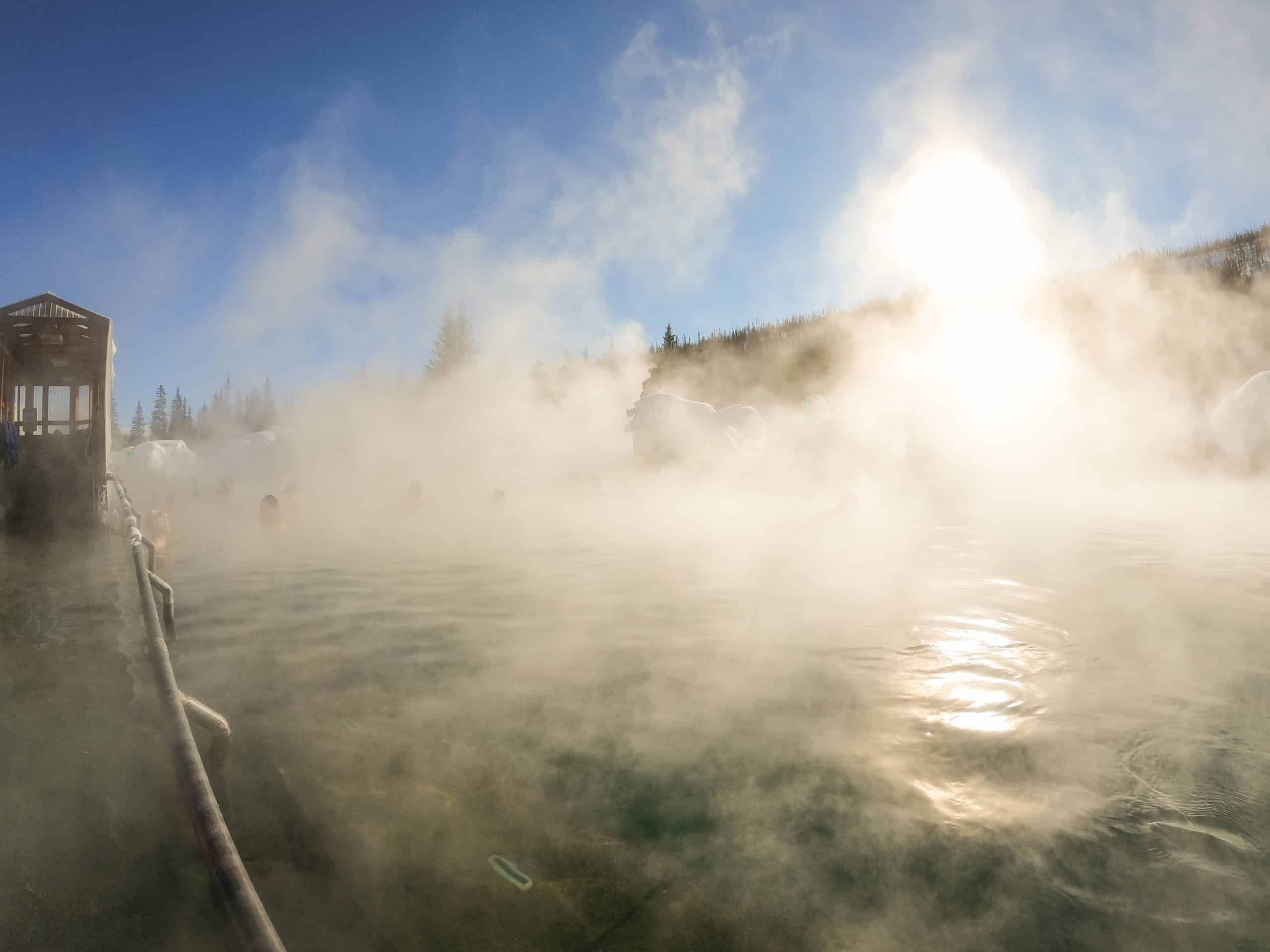 Dining Options
Restaurant
The only restaurant at the resort is located in the main building. This is also where the bar is at, so although the website makes it seem like they're two different places, it's all housed in one place.
There's no phone number to call and no phone lines in the rooms, so the only way to make your reservation is to walk up in person. They also do not have buzzers or any way to reach you, so you have to wait in the building for your turn.
Since there's only one restaurant serving hundreds of people, it gets quite busy, especially at dinner time.
We arrived at 6pm and weren't seated until 8:15pm (so we waited over 2 hours!). I believe when we put our name on the list there were about 18 people ahead of us.
We also were told that the main courses were taking about an hour. Since we had a 9:30pm Aurora Tour, we just grabbed some appetizers and salads since those were only taking 25 minutes and we were running out of time.
There is a room in the back to hang out. They have free coffee, tea, and there were some Godiva chocolates as well.
If you have kids, be sure to bring plenty to keep them entertained while you wait for dinner. I'd also recommend snacks and drinks to avoid eventual crankiness.
Breakfast and lunch weren't as bad. We grabbed breakfast the next morning at 10am and there was no line, but 10am is a bit late for breakfast.
We were told that there are some staffing issues currently, which could explain the long wait times, so your experience may be different.
Bar Area
The bar top is first come, first serve. There are only about 8 seats at the bar so if there are more than two of you, I'd stick to the reservations.
Small Store
There is a small store with sandwiches, soup, some salads, candy, and non-perishable snacks. There are also beverages. Check to see if your room has a fridge before purchasing the perishable stuff.
Vending Machines (Cash only!)
There's a vending machine in the activity center that's open 24hrs, so if you arrive super late like we did, this is your only food option. The drink vending machine does not have water.
There are also vending machines in the pool house, but it closes at 11:30pm.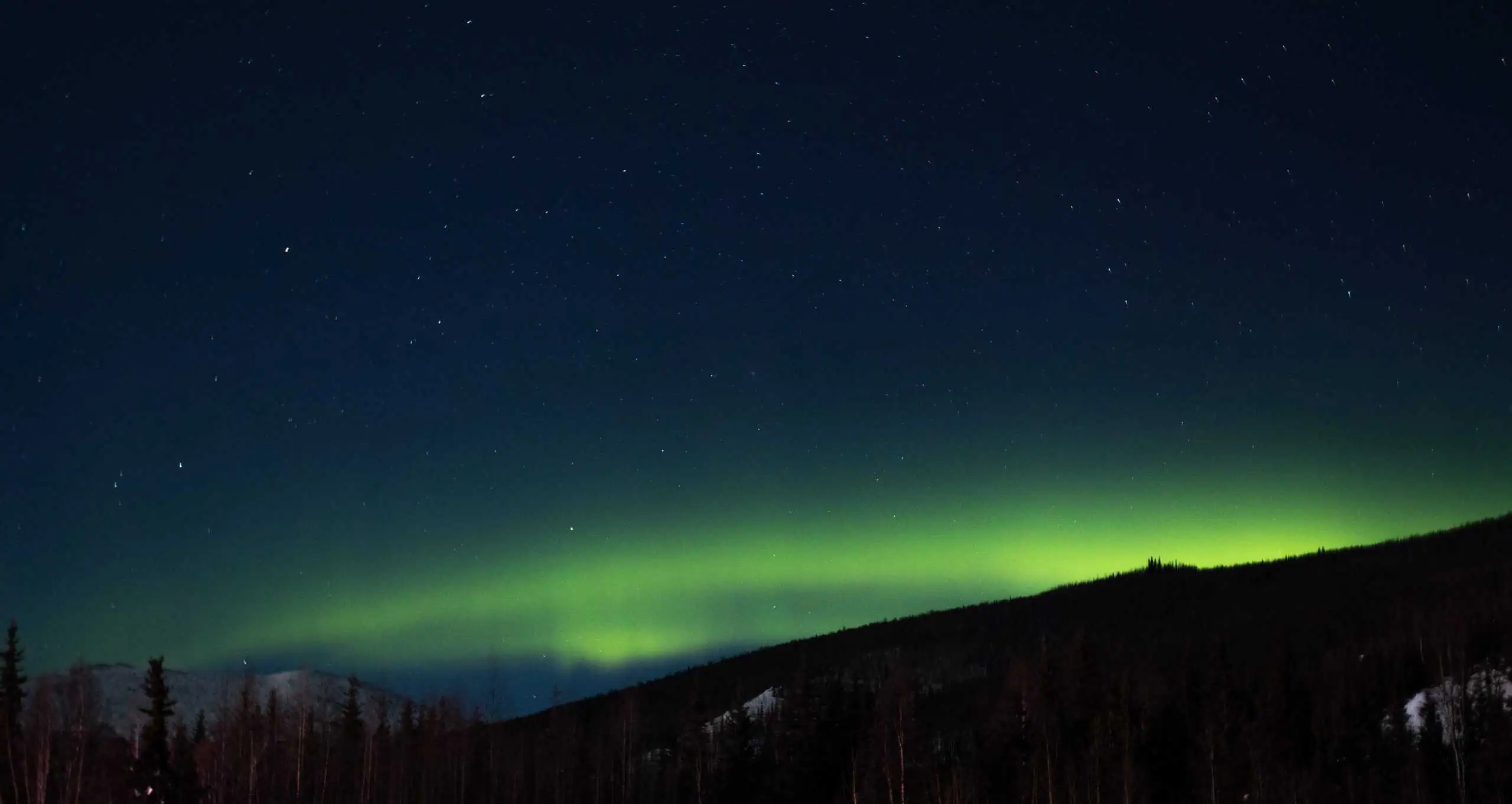 The Northern Lights Tour
We booked the 9:30pm Aurora Tour through the resort. We met at the Activity Center and once everyone was ready, we headed up on SUSV's, or Small Unit Support Vehicles. They are Swedish and pretty cool machines for the snow. They took us up to the top of the mountain.
At the top, we were led into a yurt. The yurt is heated and they provide free hot drinks (coffee, tea, apple cider, hot cocoa) and ramen noodles. There's a separate men's and women's toilet outside of the yurt. The women's is heated and the men's is not. Sorry guys.
Unfortunately the night we booked the tour, we didn't see anything. So we mostly hung out in the yurt all night. I didn't plan for this to happen. If I were to do it again I'd definitely bring my Kindle (the newer one with the light) or have some games or something to do on my phone.
Can You See the Northern Lights without a Tour?
Yes, you can see the Northern Lights right from the resort. And actually, the only northern lights we witnessed were the first night right outside the activity center.
In the activity center, there's an 'Aurora Viewing Room' that's open all night. It faces North where you're most likely to see the lights and has windows across the wall. There are many seats and it's heated, which is a welcome change from the bitter cold outside.
I was surprised that there were other tour companies using the facility as well. They drove in for a few hours and then left to check out other viewing spots. I think that could be another great way to see the lights and get different types of photos.
Since we saw the lights the first night (our tour was booked for the second night), our photos were taken from the parking lot. So there were some vehicles and a motorhome that made their way into the foreground. It's not a huge deal, but I ended up cropping out most of the lower portion of my photos.
How to Take Photos of the Northern Lights [and other tips to protect your DSLR/Mirrorless]
I wouldn't recommend learning how to use a camera in sub-zero temperatures. And actually, if you don't take the time to learn your camera before heading out, it's not likely that you'll get many shots. So learning your camera is my biggest piece of advice. Don't skip this part!
If you are renting or have recently purchased a DSLR or mirrorless, take the time to learn how to use your camera beforehand! Am I repeating myself? Yes, but it's that important!
Specifically, learn how to set it to manual and be able to change the shutter speed, ISO, and aperture (specific settings listed below). If you can set the custom dials, then set them so you can easily change these settings (or practice until there are no problems adjusting it).
Check to see if your camera can do intervals, meaning take a photo every 10 seconds or whatever you set it to. This setting allows you to set the number of images you want the camera to take and at what timing interval. I set my camera to 12 seconds and 30 images.
This way, you can set up your camera, then head inside while it gets to work.
Another way to do this is by controlling your camera remotely. Mine can be linked via Bluetooth or Wifi to my phone, although I kept getting an error while we were there. I'm not sure if it was too cold or if something else was going on, so I didn't end up using that setting.
Learn how to change your lens to manual focus and then get it to focus. I have a Canon R6 and it shows me when I get the lens in focus (the focus area I select has this green square and line indicating it's all in focus).
The Best Camera Settings
Shutter speed 5-8 seconds
ISO 1200-2500
Aperture 4.0 – 8.0
Change your lens to Manual Focus. Your camera will not be able to focus in the dark, so you will need to manually set it. Every time you zoom in or out, or change your location, update your focus.
Set timer to 2 seconds or take photo remotely via bluetooth or wifi. Many newer cameras have this as a built-in option, or you can purchase a remote timer that goes on your hot shoe. The reason for a timer is to avoid camera shake when you press the shutter.
My favorite settings were 5 seconds, ISO 1600, and an aperture of 5.6.
Get your settings ready before you go outside. Even if you're excited, it's much easier to do this inside where there's more light and it's still warm.
Camera Equipment Needed
Tripod – You simply cannot take photos of northern lights without one! There would be too much camera shake. If you don't yet own a tripod, I'd recommend not getting the cheapest one you can find, but also not spending $600 on a tripod (they get expensive!). For about $100, this is the best travel tripod on the market (and my personal favorite). It's light, sturdy, compact, and made of carbon fiber. It also comes with a stability hook that allows you to add weight in case there's wind.
Gloves with finger openings – This is so you can adjust your camera settings and not freeze your fingers. I recommend these ones.
Extra Batteries – the cold doesn't help battery life, so stock up on extra batteries!
Charging Station or Battery Pack – If your stuff dies, be sure to have a way to charge it back up.
Extra Storage Cards – If you luck out with multiple hours of northern lights, you'll definitely need more storage to capture all your shots. I brought two 128GB SD cards with me, but more is always better.
Wide angle or versatile zoom lens – I'd recommend a lens that can zoom wider than 40mm. I had a 17-40mm lens which worked great – I was able to capture most of the sky with just this lens. I do wish I had something a little more versatile such as the 24-105mm. This way I could have zoomed in on some more interesting foreground features and include the sky.
What about an iPhone?
I am not a pro at iPhone photography, but our guides said that if you don't have a 12 or newer, you cannot take good northern lights photos.
Preventing Camera Issues and Damage
Do not take your camera inside and then outside all night. Every time you take it inside moisture will build up inside the camera. Then when you go outside it will freeze. Our guides explained that many people have completely broken their cameras by doing this.
Instead, set your camera up outside and take the battery in with you. When the lights start, you can simply put the battery back in your camera and start shooting.
Other Shooting Tips
Set focus to manual. Continuously check your focus by reviewing your images. If I had blurry images, it's because I got excited and forgot to check that the ground was in focus.
Setup your settings BEFORE you go outside
Be willing to make adjustments as you go. If it's too bright, drop the shutter speed and/or ISO. If it's too dark, boost the ISO or add more time to your shutter.
Learn to use your interval timer and/or wireless function
Be gentle with your equipment. When it's below zero, things can get brittle and break easier, so keep that in mind when working with thousands of dollars of equipment.
This photo cracks me up. It was our attempt to take an iPhone photo with a long shutter speed. We didn't know how long the shutter speed would be, so we stayed still for about 10 seconds then moved….well, we should have stayed still longer. Hah!
Our Accommodation
I usually try to steer away from being negative on here, but I wanted to provide our actual experience and not just the fluff. I also had a hard time finding any real information online about what it's actually like at the resort.
We stayed in a 'Fox Room' in Building 101. When we entered our hotel room, it was hot and humid and had a funny smell. The thermostat had been turned up to 75 degrees F so we promptly turned it down. The room itself didn't have any ventilation, which is why it was so humid.
And since it's humid, the windows were completely frozen shut as well so there was no chance of getting fresh air.
Overall, the entire place looked like it had seen better days.
Aside from that, the actual bed and pillows were really comfortable. The water warmed up quickly, and the thermostat worked just fine.
It's also important to note that there's no refrigerator in the fox rooms.
I didn't mind that it wasn't completely clean, and honestly, I didn't expect it to be a nice resort so it essentially met my expectations. I knew I was booking the place to simply be able to rest my head.
The worst part was the stuffy air and the inability to open the windows. It made me feel a bit claustrophobic. The hallway was even warmer so that also wasn't an option.
This was just my experience in the fox rooms. It's very possible the dry cabins or larger family rooms are a different experience.
My Overall Experience
The Hot Springs and the Northern Lights were hands down worth the trip! I grew up near Anchorage which typically gets fewer displays of lights than further north (like Fairbanks and Chena). I wish we were able to see them on the night of our tour, but I really can't complain.
In fact, the apps and data predicted that the best lights would be on the night of our tour. But the storm (a solar storm, that is) actually hit hours earlier than predicted.
The best lights were out at 5:30am. Sadly we called it a night at 4am. This leads me to an important bit of advice: If the lights are out and still looking good, stay out! The sky was still a green hue when we went to bed.
I loved the hot springs. I'm pregnant right now so I was unable to fully enjoy them, but I still went in up to my hips. My friend stayed in for about 45 minutes, and you could come and go as you pleased.
It wasn't packed by any means and everything was clean. The setting looked quite magical, and it's open until 11:45pm if you want to experience the springs under the stars.
It'd be nice if they added a deli or cafe for more food options. But if you plan ahead of time, you can mitigate this issue.
The restaurant itself was in great shape and super cute. The inside reminded me of a German brewery with wooden walls, beams, and low ceilings. It was quite cozy. The food was good and there was surprising variety. They had salmon, halibut, and scallops, but also things like yellow curry and pho.
The way they have their service setup needs to be improved so you aren't waiting hours for a table. I'd definitely recommend heading to dinner at 4pm to avoid the long wait.
More Alaska Articles