Planning the Perfect Day Trip to Neuschwanstein Castle From Stuttgart
Hey there!
This post may contain affiliate links, meaning I may be compensated if you click on one of my links, at no cost to you. As an Amazon Associate, I earn from qualifying purchases. Read my disclosure policy for more information.
For most travelers, a vacation in Germany would be incomplete without a trip to the world-renowned Neuschwanstein Castle.
When I first found out we were moving to Germany, I admittedly didn't know a whole lot about this beautiful country. But, I did know Germany was famous for the so-called Cinderella Castle.
Every year, over a million visitors flock to King Ludwig's dreamlike palace, turning it into the most visited castle in the country (and possibly the world).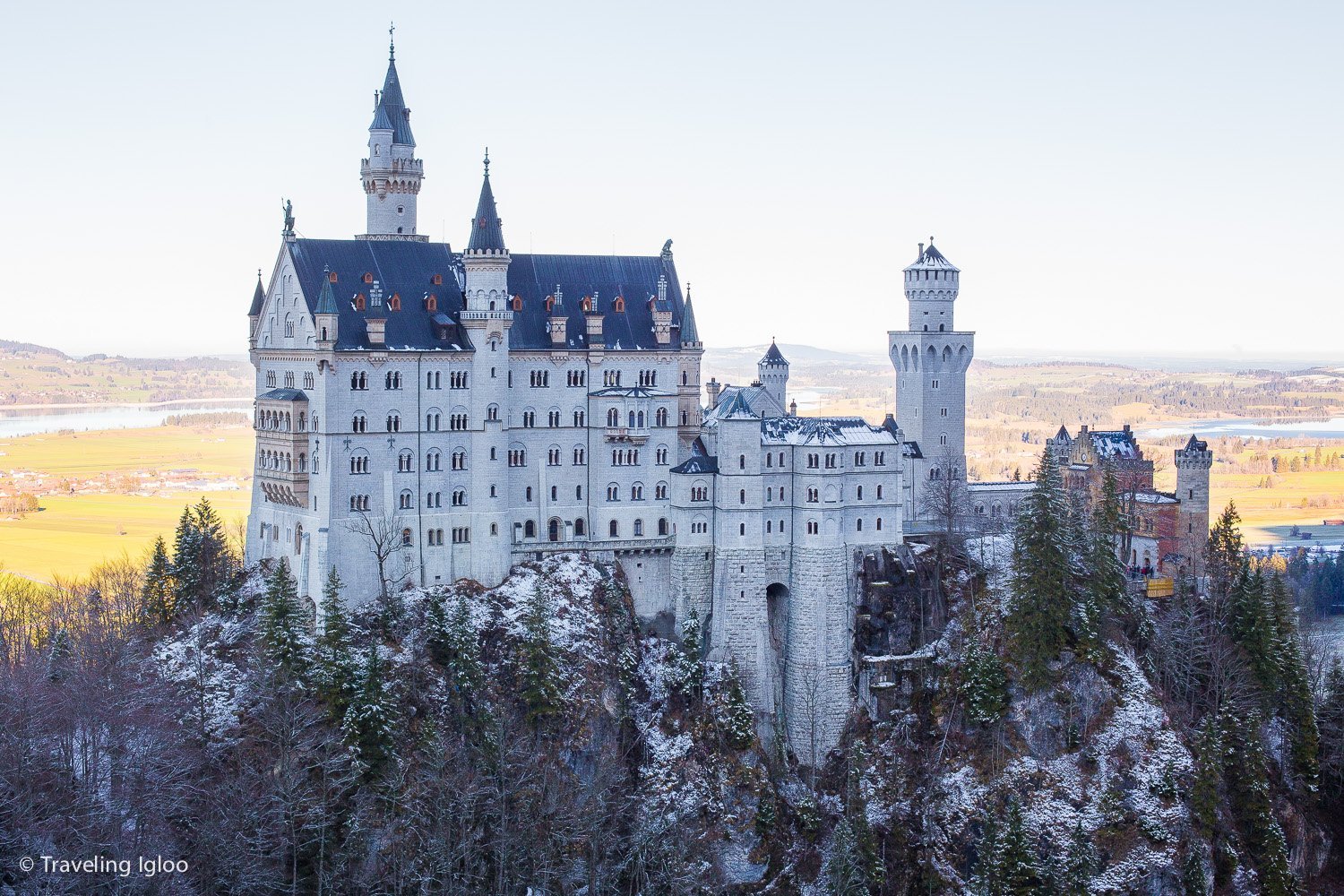 Some even say that going to Germany without visiting this magical castle would be like going to Paris without stopping to see the Eiffel Tower.
And while it is really touristy, there is a reason. I've visited three times in six years and am still happy to go back. Aside from the castle, the surrounding area is beautiful and makes for a scenic drive (especially as you approach the castle).
Also, the castle's extraordinary architecture, opulent interiors, and majestic surrounding landscapes are sights you won't want to miss.
If you're planning a day trip to Neuschwanstein Castle from Stuttgart, this article is for you! From transportation and tickets to touring the castle and nearby towns, we'll help you make the most of your getaway to this enchanting destination.
When to Go to Neuschwanstein?
With Germany's mild weather year-round, a trip to Neuschwanstein is great any time of year. I visited in December and also in May. Winter months tend to be a lot quieter, but even so, I'd recommend purchasing your tickets online ahead of time.
In the summer the area comes to life. The weather is warm and the area is lush with vegetation. Fall is full of oranges, reds, and yellow hues. Winters bring dustings of snow and a completely different landscape. So really, any time of year is a great time to visit.
How to Get Tickets?
So here's my take on the castle interior. It's a bit anti-climactic compared to the exterior, and especially compared to other castles around Germany.
If you want to have the full experience, then I recommend purchasing a ticket for the guided tour.
If you don't really care about the inside tour, you can walk up to the castle grounds yourself, walk to the Marienbrücke bridge (with the beautiful view) on your own, and explore the grounds for free.
If you decide to book a tour of the interior, make sure to book your tickets well in advance. They can be purchased online here.
Tickets cost 17,50EUR (ticket fees for children are 2,50EUR (as of 2023). There are discounts for students and seniors.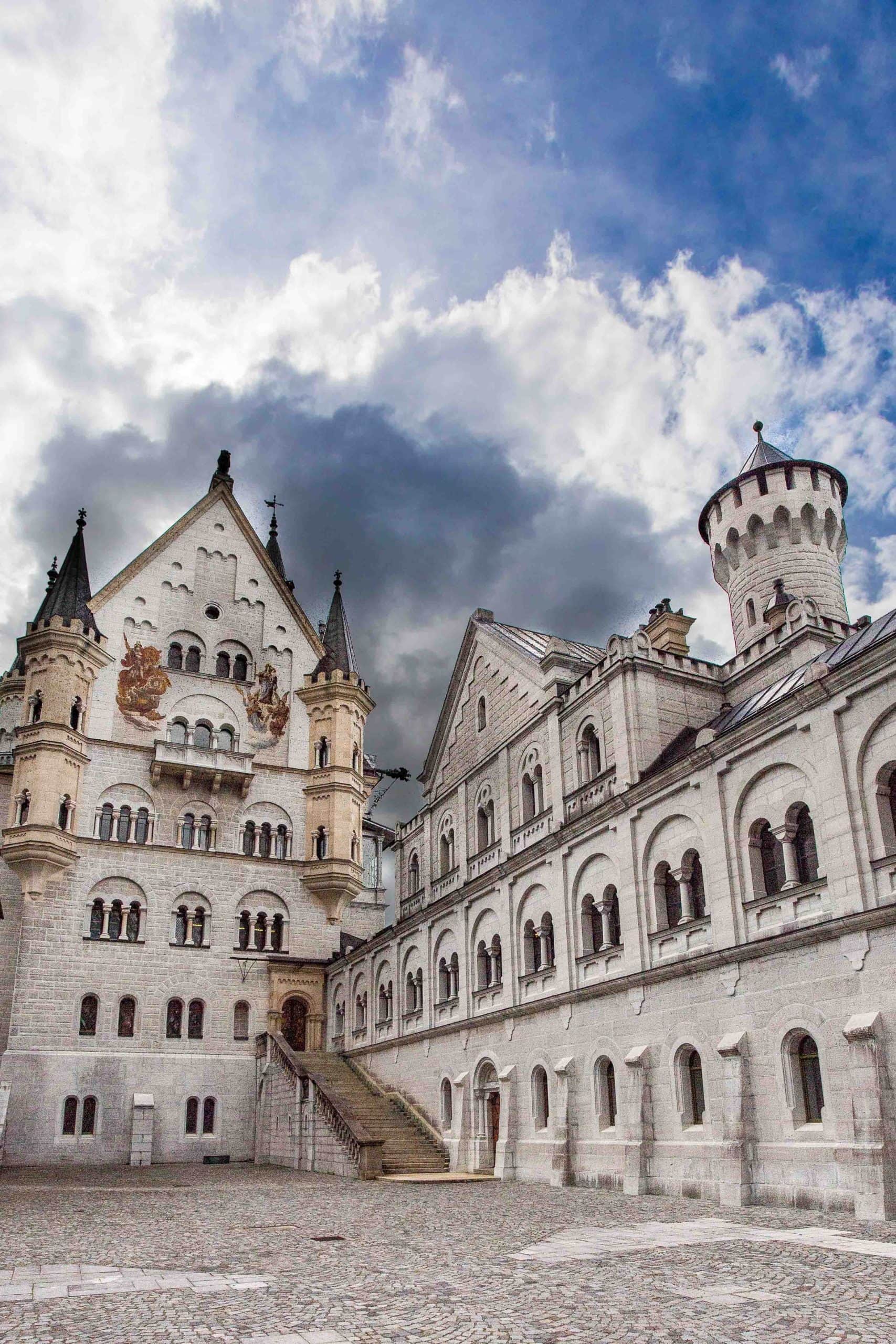 What If I Forgot to Purchase Tickets Online?
There are some tickets reserved for same-day purchases. Just be prepared to *possibly* wait in a long line. I've visited when there's no line, but then a large tour bus rolls in and the line gets 100 people long (or more!). You just never know.
How to Get to Neuschwanstein Castle From Stuttgart (and my recommendation)
The fairy tale Neuschwanstein Castle is perched high upon the foothills of the Alps in Schwangau, Southern Germany. The journey to this picture-perfect destination includes views of the Bavarian countryside, sprawling valleys, a beautiful lake, and several old-world towns.
Driving is by far the easiest way to get to Neuschwanstein. It's also the fastest and my recommendation.
If you don't have a car, you can easily rent one via Europcar or Discovercars.com. Rental vehicles in Europe typically run less than $50 a day (before taxes and fees), so it might be worth renting a car even for a day.
If you want to take public transportation (which I've outlined below), you'll have a few connections to make and the trip will take you quite a bit longer. But, it's still a possibility.
By Private Vehicle
Neuschwanstein Castle is located around 137 miles (222 km) south of Stuttgart, and it takes about 2 ½ hours to get there by car.
I recommend heading out as early as possible to avoid traffic and have a full day to explore the castle and surrounding castles nearby.
The fastest direct route to the castle involves taking the A8 motorway to Ulm and then the A7 to Füssen. Please note the A8 often has quite a bit of traffic, especially as you head uphill leaving Stuttgart, and again in Ulm.
Ulm has a few speed traps, so be sure to slow down through town and follow the speed limit!
Tip: If you want to make a weekend out of the castle, you could head south to Lake Constance (Bodensee) for a night. I prefer staying in the island town of Lindau. Then you could head east to Füssen and Neuschwanstein, then make your way back. Another option would be to stay overnight in Füssen or nearby, so you can experience the castle without the crowds.
More than 2 miles (4 km) from Füssen lies the quaint and charming Hohenschwangau Village.
If you forgot to get tickets ahead of time, note that entrance tickets to the castle are only available at the ticket center in this area.
Where to Park
Cars and bicycles aren't allowed on the road to the castle, so you'll be parking at the bottom of the hill. There are three main parking areas (Parkplatz) named P1, P2, and P3. P3 is the closest Parkplatz to the castle, but the other two are just a few minutes further away.
By Public Transportation
Public transportation options are available, but they will significantly lengthen your travel times. From the Stuttgart Hauptbahnhof train station, take the train to Munich for 1 hour and 40 minutes. Then, switch trains to Füssen for 2 more hours.
When traveling this way, it's best to book your tickets ahead and start your journey at an earlier time of day to reserve plenty of time to explore the town and castle grounds.
How to Visit Neuschwanstein Castle
There isn't a way to drive directly to the castle. Instead, you park or arrive below, then make your way up.
There are three ways to get to the castle:
Take a 30-minute uphill walk to the Neuschwanstein castle entrance.
Enjoy a 20-minute horse-drawn carriage ride to the drop-off beneath the castle (for a fee).
Ride the shuttle bus from the parking lot to the gorgeous lookout point (Marienbrücke) near the castle.
I usually opt to walk uphill. It's basically a road you walk up, not a trail or smaller path. But there are many carriages available and the shuttle bus is another great option.
Exploring Neuschwanstein Castle
From the castle's eccentric architecture, complete with legendary spires and turrets, to its scenic surrounding landscapes and forested mountains, there are plenty of sights to take in upon arrival at Neuschwanstein Castle. Wander around the medieval-looking courtyard and platform.
A walking tour of the grounds will reveal views of the neighboring Hohenschwangau Castle, a waterfall gorge, and Marienbrücke Bridge, where you can stroll around and take photos of the stunning scenery. Note that the bridge usually closes in the winter because of snow and ice (although we were able to get through when we went in the winter).
I highly recommend going to Marienbrücke Bridge. This is where you will get the quintessential photo of the castle. The bridge is narrow and quite high above Pöllat Gorge, so if you have issues with heights it might not be your favorite. But, it's the only way to really get that striking view of the castle.
The path is relatively easy; it's an uphill trail but doesn't get very steep. It takes about 12 minutes to get from the castle to the bridge.
Interior Castle Tours
If you want to step into the world of King Ludwig II, guided German and English tours inside the castle are available. There's an optional audio guide for other languages as well. Tours take around 30 to 35 minutes, organized and operated by castle staff and specialist castle guides.
As you pass through the royal residence's opulent halls, pristine kitchen, private chambers, and fascinating rocky grotto, you'll learn about the castle's architecture, fairy tale inspiration, and rich history, including mysterious tales about the "Mad" King Ludwig II.
It's worth mentioning that the palace has five floors! You'll have to take 165 steps upstairs and 180 steps downstairs, so comfortable shoes are a must. Taking photos and videos inside is strictly prohibited, so it's best to save the photo ops for when you're outside the castle.
As mentioned earlier, you can only get tickets at the Hohenschwangau ticket center. Tickets sell out fast during the peak travel seasons, so consider booking them online at least three days in advance for a small reservation fee.
Interesting Facts About the Neuschwanstein Castle
Did you know that the iconic Neuschwanstein Castle dates back to the 19th century? Ludwig II of Bavaria, the "fairy tale" king, ordered it to be built as a grand palace for him to withdraw after he lost his power in the Austro-Prussian war.
This castle was originally intended to have 200 lavish rooms, and workers labored day and night to finish construction. Unfortunately, King Ludwig II was mysteriously found dead weeks after moving in. After the king's death, the Neuschwanstein Castle was opened to the public.
Eventually, it became the most visited German castle and one of Europe's most famous tourist destinations. The castle's enchanting design and stunning scenery inspired Walt Disney's Sleeping Beauty castle in Disneyland and resembles the castle in his Cinderella film.
Other Things To Do Near Neuschwanstein Castle
Visit Hohenschwangau
Below the imposing Neuschwanstein Castle is the neighboring Hohenschwangau which was converted to King Maximillian's summer residence.
Visit the Museum of the Bavarian Kings
This museum is dedicated to the history of the two castles in the area. There are sixteen exhibitions across two floors. You can experience the museum on your own, with an audio guide, or a guided tour.
Hiking
Around this area are plenty of hiking options such as the Alpsee Loop. AllTrails lists many other hiking options.
Additional Day Trip Ideas From Stuttgart
But wait, there's more! One of the best parts about traveling around Stuttgart is that there's more than one castle to explore and enjoy in the area. If you've had enough of the Neuschwanstein Castle, check out the following destinations near Stuttgart:
Lichtenstein Castle, nicknamed "The Little Sister of Neuschwanstein"
Heidelberg Castle
Hohenzollern Castle
Ludwigsburg Palace
Linderhof Palace
Wrapping Up
When it comes to Bavarian castles, few can compare to the mesmerizing Neuschwanstein Castle. With its fairy tale king, mysterious history, and magnificent views, visiting this destination can be the magical experience you're longing for.
Hopefully, this guide has given you some useful tips and tricks for your next day trip to Neuschwanstein Castle from Stuttgart! Remember to book your tickets in advance and get to the castle early to enjoy the tour and the town to the fullest. Have a happy and safe trip!
More Stuttgart Articles