An Epic 10-Day Alaska Winter Itinerary (from an Alaskan)
Hey there!
This post may contain affiliate links, meaning I may be compensated if you click on one of my links, at no cost to you. As an Amazon Associate, I earn from qualifying purchases. Read my disclosure policy for more information.
Are you dreaming of snow-capped mountains and watching the aurora dance across the sky? Are you picturing stunning landscapes and winter adventures?
I grew up in Alaska and have lived here for much of my adult life. So, I have a lot of experience with winters here.
Alaska in the winter is completely different from the summer months. There are virtually no tourists, it's much quieter (literally, the snow really dampens the sound), and the days are much shorter.
It's a unique place to visit in the winter months, to say the least!
Why Visit Alaska in the Winter?
Alaska is one of the best places in the world to view the Northern Lights. It's also a popular spot for dog mushing, snowmobiling, glacier walking, and experiencing unique winter activities like ice skating on a frozen lake or fat tire biking through the snow.
While the bears are hibernating, you can often spot moose in town or along the roadside.
Getting Around (Do you need a car?)
I have a 7-Day Winter Itinerary that doesn't require a car. With this itinerary, a car rental would be the cheapest and easiest option, but you could book tours instead.
This itinerary starts in Anchorage and ends in Fairbanks, and you only need a car rental in Anchorage. The Fairbanks portion has shuttles and tours so a vehicle isn't needed.
If you are apprehensive about driving and would prefer someone else to drive the roads, then I included a tour option as well.
I have a comprehensive winter guide that goes over driving in the winter months.
Why Spend So Many Days Chasing the Northern Lights?
There are a few conditions needed to see the northern lights.
First, and most importantly, it needs to be dark. If it's a full moon, you're less likely to see the lights (plan your trip around the moon phases if possible). Second, you need clear skies. If it's cloudy, you will not see them. Third, and very simply put, you need energized particles from the sun to head toward Earth.
Because you need these three factors to align, your chances of seeing the lights increase the more nights you have to look up at the sky.
The northern lights also don't often show up all night. Sometimes you see them for 5 minutes. Sometimes you get a great show for 3 hours. You just never know.
Who Is This Itinerary Best For?
This itinerary is best suited for people who want a mix of Alaska activities sprinkled with a bit of downtime. There are activities (such as walking on a glacier) that require a certain level of ability, but you can always adapt this itinerary to suit your needs.
I put a heavy focus on the Northern Lights because it's one of the seven natural wonders of the world, and something you have to see in person.
If you follow my itinerary you will cross off nearly every winter bucket list item in Alaska!
This tour has a lot of movement so I wouldn't recommend it for small children.
Are 10 Days Long Enough to Explore Alaska in Winter?
Yes, you'll get a good taste of Alaska in the winter in 10 days. In 10 days you have plenty of time to do many Alaska winter activities and the chance to see the northern lights.
You could easily adapt this for a shorter trip, which I have outlined here in my 7-day winter itinerary.
10 DAY ALASKA WINTER ITINERARY OVERVIEW
Day 1 – Turnagain Arm | Alaska Wildlife Conservation Center | Girdwood
Day 2 – Matanuska Glacier Hike
Day 3 – Dog Sledding or Snowmobile Tour
Day 4 – Fat tire biking, skiing, or exploring Anchorage | Alyeska Nordic Spa
Day 5 – Alaska Winter Train to Fairbanks
Day 6 – Chena Hot Springs and Northern Lights Tour
Day 7 – Chena Hot Springs
Day 8 – Explore Fairbanks and Northern Lights
Day 9 – Arctic Circle Tour or North Pole
Day 10 – Fly Out
10-Day Itinerary
Day 1 – Turnagain Arm | Alaska Wildlife Conservation Center | Girdwood
Today you'll drive along the Turnagain Arm, stopping at the best spots along the way. You have the option to return to Anchorage or stay in the ski town of Girdwood overnight. Everything is outlined in detail, below.
Turnagain Arm is the 'arm' of Cook Inlet as you head south out of Anchorage. The road winds around the water, wedged between the mountains to the left and the inlet to the right.
In the winter, the inlet turns into huge ice blocks constantly moving in and out with the tide. With striking features everywhere, it's a beautiful sight to take in year-round.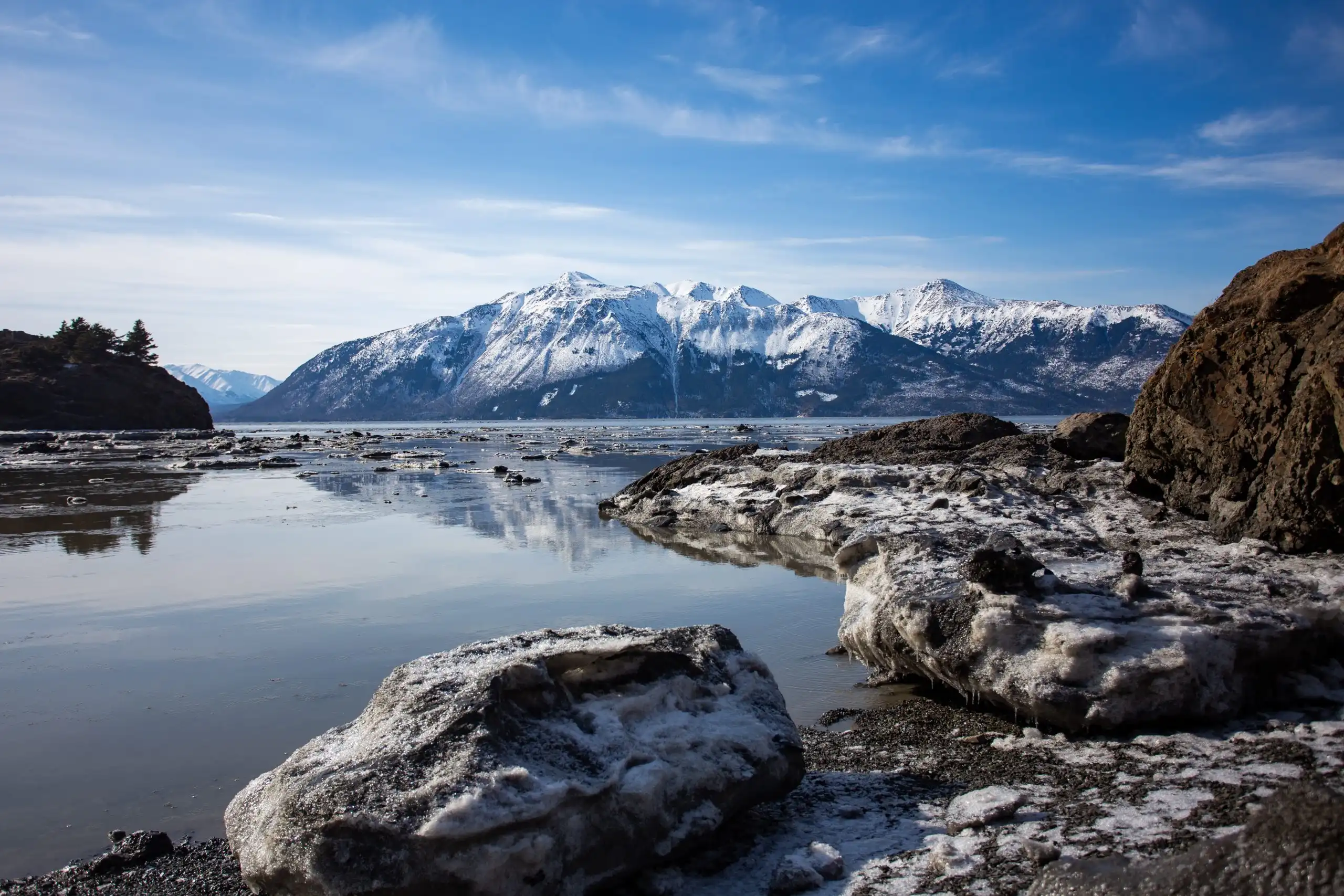 If you have a vehicle, this is an easy drive as you stay on one road (nearly) the entire way.
A word of caution; if there's a blizzard or if the roads are very icy, then this is not a fun drive. Use Alaska 511 to get information before you go.
If you don't want to drive or don't have a car, this is the best tour to see all the highlights listed below.
Here are The Main Stops
Beluga Point – a lookout point where you can look for dall sheep and take photos
Girdwood – a fun ski town with the largest ski resort in the state. Visit this link for all my recommended activities and stops in Girdwood.
Alaska Wildlife Conservation Center – Your guarantee to see wildlife. There are moose, lynx, bears, caribou, and much more.
Portage Glacier – Drive 5 miles down Portage Glacier Road to the glacier. It's receded so much that you won't be able to see much from the road, but you may be able to spot glacial ice stuck in the frozen lake. The lake is constantly moving due to the glacier, so it's not advised to walk out on the lake (although many people do so anyway).
Plug in 'Portage Lake Loop, Girdwood, AK 99587' and head out of town.
I recommend driving out to Portage Lake and Glacier first, then working your way back. There are a few places you can go once here. I recommend parking at the Begich, Boggs Visitor Center or driving to the Portake Lake Overlook a bit further down the road (but before the tunnel).
It's a beautiful stop and a great place to get some photos.
Portage is just before the Anton Memorial Tunnel that takes you to Whittier. It's open year-round so you can take it to Whittier. It's a one-way tunnel so you need to check the schedule and follow the instructions to get through.
I don't think it's necessary to go in the winter as the town mostly shuts down, but it is an option if you want to get a look at a very isolated Alaska town.
Then head back to the main road to the Alaska Wildlife Conservation Center. It's a well-maintained conservation area to rehabilitate wildlife. Here you'll see Alaskan animals including moose, bears, wolves, eagles, deer, muskox, and more. You can easily buy tickets when you drive up.
You have the option to drive or walk. I recommend driving in the winter as it can get really windy in this area.
Once you're done (about an hour or so), make your way back to Girdwood for lunch, a tram ride, and a hike. Girdwood has the largest ski town in the state, Alyeska, so you can also ski or snowboard (or rent a fat tire bike and explore). Be sure to visit my full guide to Girdwood here.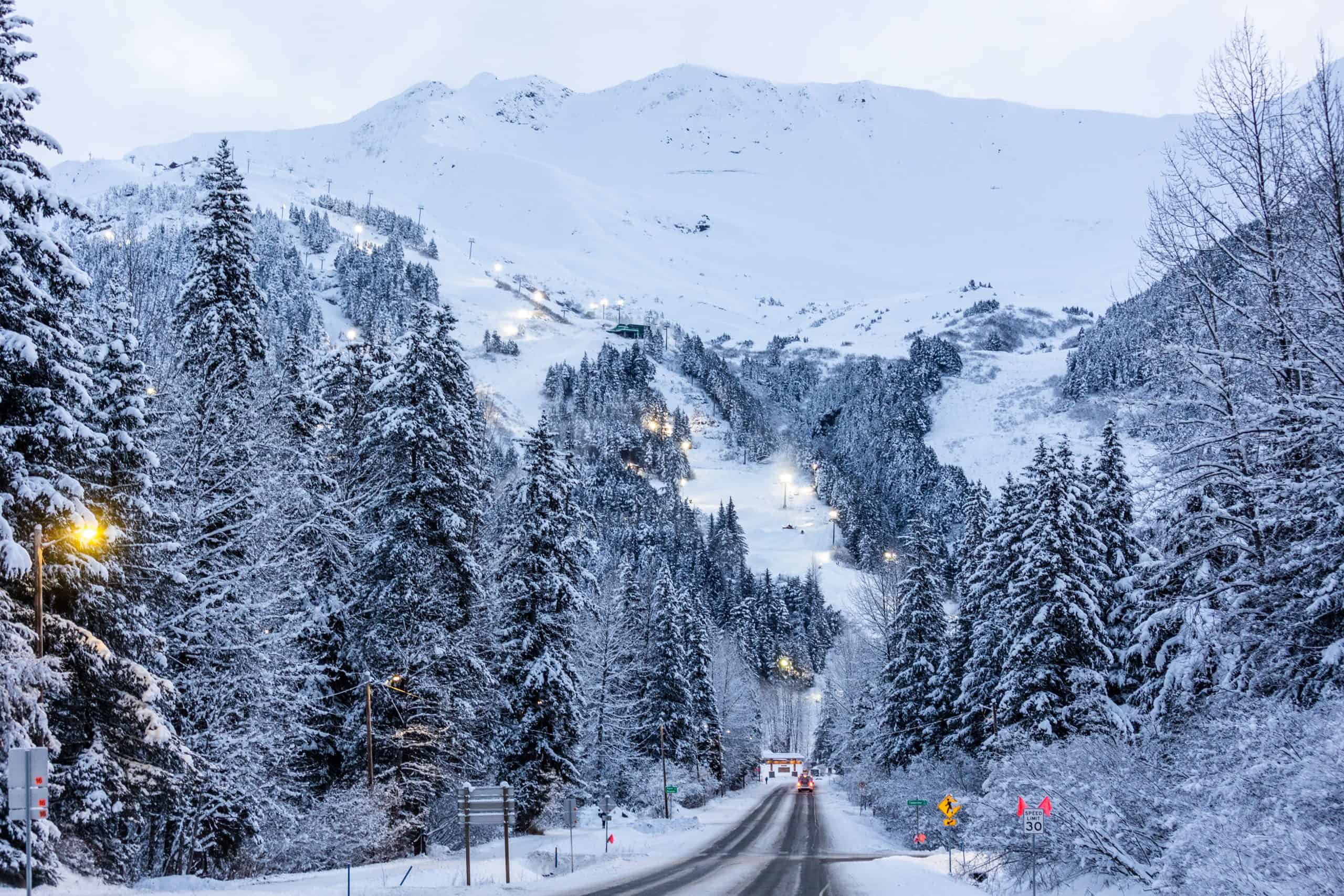 There are a few rest stops and overlook areas on the drive so be sure to stop for some beautiful views.
You have two options for your overnight accommodations.
If you want to stay in a ski town, then book a cute cabin or the Hotel Alyeska in Girdwood. Note that this town is expensive and accommodations fill quickly, so planning ahead is advised. The Ski Inn is the cheapest option in town. If you decide to stay in Girdwood, switch days 2 & 4 so you're not rushed tomorrow and can enjoy the Nordic Spa or ski/snowboard for the day.
If you don't plan to stay in Girdwood, make your way back to Anchorage for the night (see day 2 for lodging recommendations).
Day 2 – Matanuska Glacier Hike
Today you're going to walk on a glacier.
YES A GLACIER!
How cool is that….for this walking tour you need to go with a guide. They all do pickup from Anchorage, either at a central location or directly from your hotel.
I recommend booking this tour with Greatland Adventures. They are a local company and I love their service and experience. And, their tours are just a lot of fun.
This is an 8-hour tour that starts with pickup in Anchorage, then heads north along the Chugach mountains and Knik River.
You'll cross a few bridges and enter an area known as 'the flats'. Be sure to look for moose along this marshy area. Then you'll pass through the small town of Palmer and continue through mountainous valleys along the Matanuska River. It's a beautiful drive.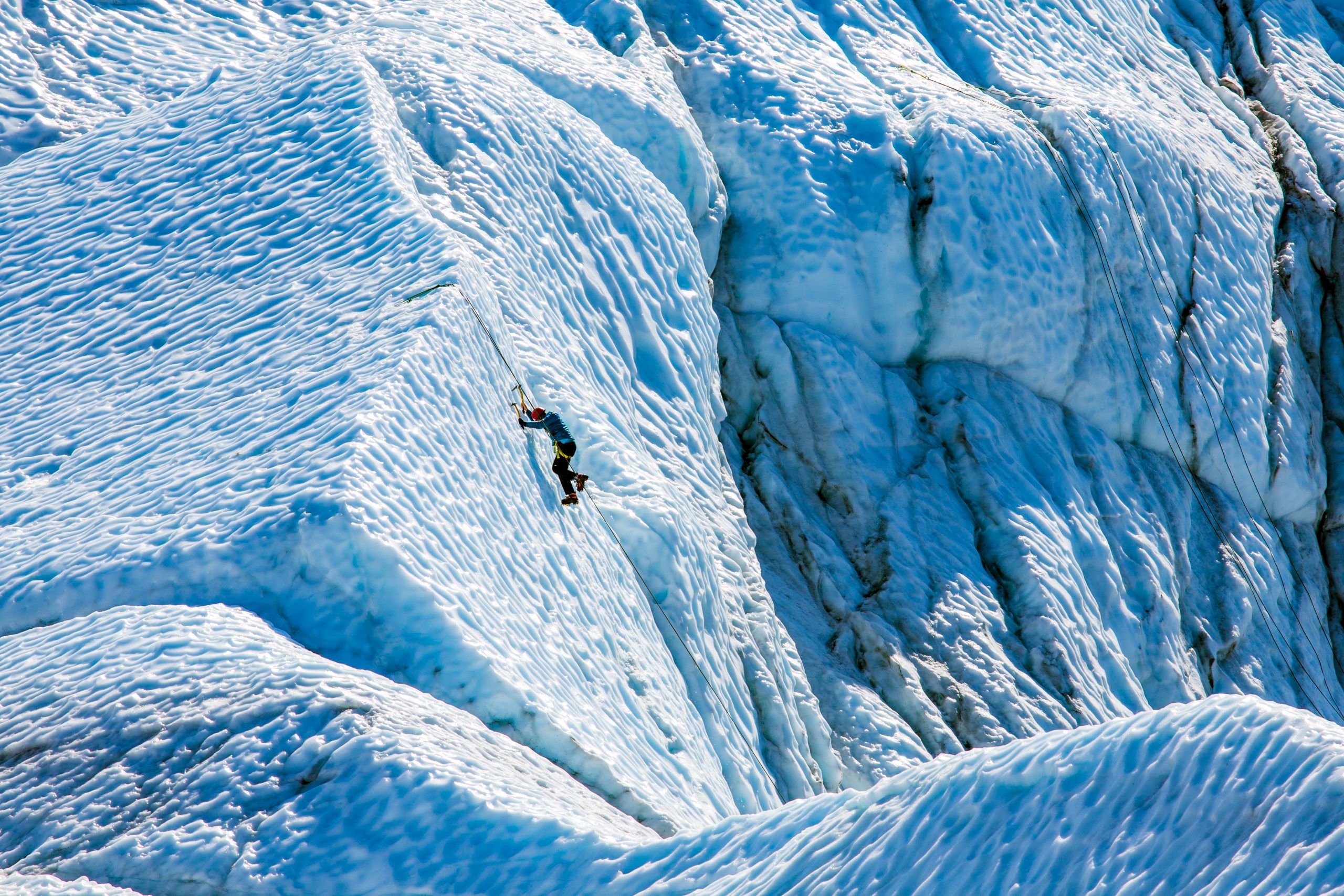 Once you arrive at the glacier, you'll spend about 2 hours covering 3 miles on the glacier. Matanuska Glacier is a 27-mile-long valley glacier and is set against the Chugach and Talkeetna mountains.
Once you return (around 4:30pm), you'll likely be hungry and tired from a full day of exploring. There are plenty of great restaurant options in Anchorage (see my full guide here on things to do in Anchorage, including restaurant recommendations).
Anchorage Where to Stay
Anchorage is not a walkable city, especially in the winter. I recommend staying downtown so you can easily get to restaurants and shops. Note there is not a grocery store downtown, so if you are staying at a VRBO or other homestay, you'll have to travel to get groceries. There are delivery services with Fred Meyer, Walmart, and other local stores if you don't have a vehicle.
Best Downtown Option with Spa – The Hotel Captain Cook is a popular option, and for good reason. They have a few restaurants in-house, including the popular Crow's Nest on the 20th floor. There are shops on the main floor. The rooms aren't fully updated but are clean and have everything you need. And you really can't beat the mountain and inlet views.
Best on a Budget – Alaska isn't known as being very budget-friendly, but there are some inexpensive VRBO options like this 1-bedroom rustic apartment downtown or this studio directly downtown. This is one case where I think you could find a cheaper VRBO (home rental) than a hotel, although most hotels include breakfast.
Best Large Home Downtown – This 3-bedroom, 2-bath home can sleep 9 people and is in a great location downtown. And although it's a traditional home converted to a rental, they've done an exceptional job. It has all the amenities you need and is within walking distance of downtown while still being in a quiet area. Check Prices Here.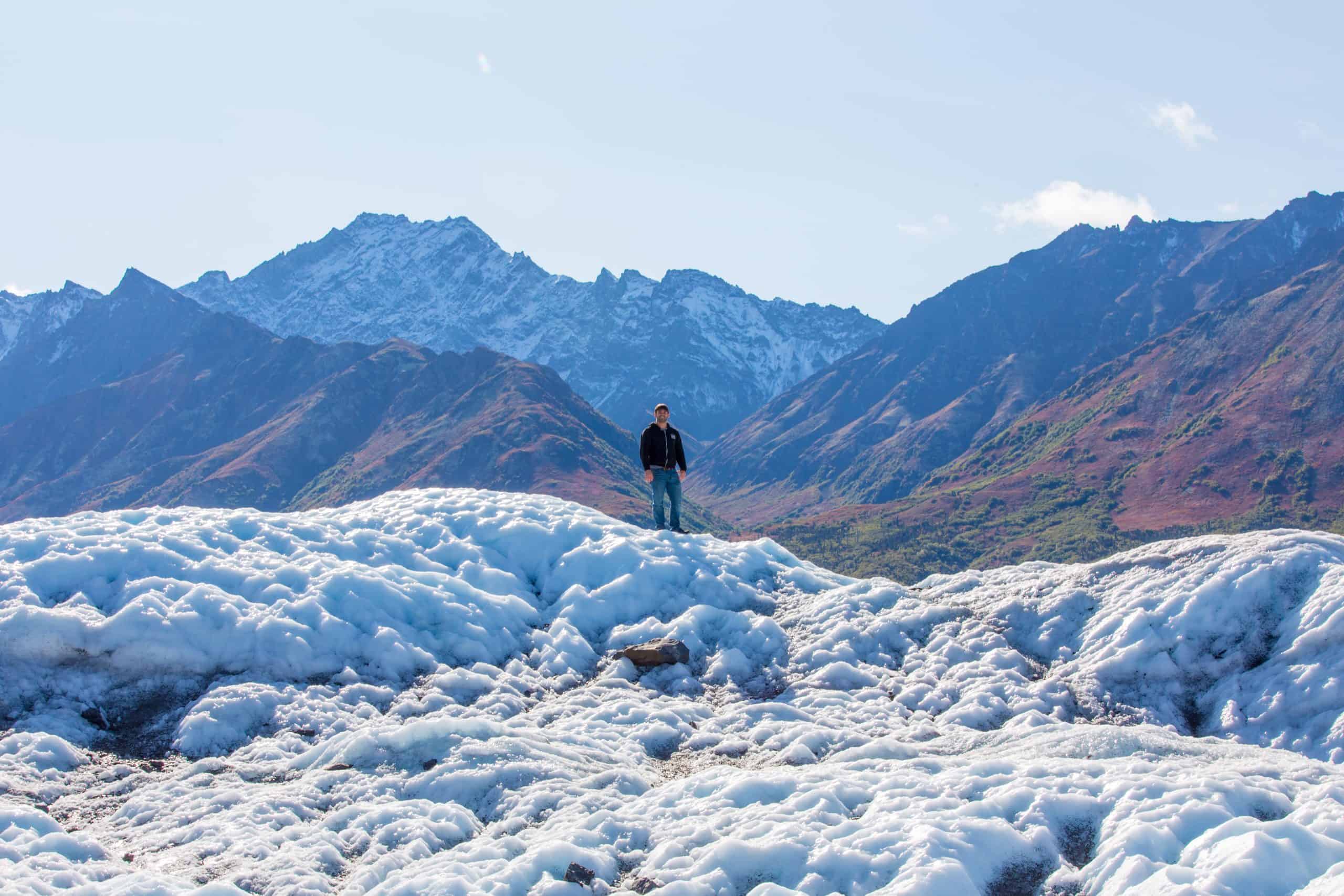 Day 3 – Dog Sledding or Snowmobile Tour
Anchorage is close to the home of the Iditarod, the most famous dog mushing event in the world known as the Last Great Race. There are many local mushers and kennels north of Anchorage in the Willow and Talkeetna area.
Today you can either drive out yourself for your tour or get picked up in town.
This tour offers pickup in Wasilla (about an hour's drive north of Anchorage) and is run by a local, family-operated kennel. The tour is about 90 minutes and includes meeting the dogs, harnessing up, and heading out on a sled dog tour.
Another option is through Snowhook Adventure Guides. They run tours daily and can do pickup in Anchorage for an additional fee.
If you'd prefer to go on a snowmobile tour, there are many options. This company has many tours including the Iditarod Trail and Nelchina Glacier.
Or, you could combine both!
Snowhook Adventure Guides has an epic overnight dog sledding, snowmobiling, and northern lights tour. I'm not affiliated with them, I just think they're a great company offering awesome tours.
Day 4 – Fat tire biking, skiing, or exploring Anchorage | Alyeska Nordic Spa
Today is a flex day. Here are my recommendations:
If you prefer to be on the go, rent some fat tire bikes and get out on the trails, or go on a guided tour around town. Anchorage has a robust trail network including the Coastal Trail and Kincaid Park.
If you love to ski/snowboard, head to Alyeska in Girdwood. It's a small but mighty mountain with some challenging runs. You can also rent fat tire bikes in Girdwood or cross-country ski at Moose Meadows.
Another option is the Nordic Spa in Girdwood. The Hotel Alyeska opened the first Nordic Spa in Alaska in late 2022. It's a stunning facility set back among the western hemlock trees in the forest. There are barrel saunas, hot tubs of various temperatures, Finnish saunas, Alaska saunas, steam rooms, and more. And don't forget to hot, cold, rest, repeat. You can read all about my experience here.
If you're a foodie, you're in luck. Anchorage has some fantastic dining options and some of the best food I've had anywhere. I recommend Snow City Cafe for breakfast, Tent City for a mimosa flight, Spenard Roadhouse or Sushi Sushi or Moose's Tooth for lunch, a cidery or brewery for an afternoon drink, and Haute Quarter Grill for dinner. Here are even more food recommendations and ideas while in town.
Day 5 – Alaska Winter Train to Fairbanks
After a fun day exploring yesterday, it's time to hop aboard the Alaska Railroad (the only railroad system in the state). There's a winter train that runs from Anchorage to Fairbanks with stops in between. It only runs on certain days so be sure to plan your days to coincide with the train.
It's a long journey – 12 hours – so mentally prepare for a day full of scenic views and relaxing while heading north.
The train requires advanced reservations. Call the Alaska Railroad reservation line to book your stay. This train only runs on certain days, so you'll want to plan your trip around this train.
I don't recommend driving from Anchorage to Fairbanks yourself. It can be a dangerous drive in the winter, and you never know what kind of conditions you'll encounter. If you don't want to be on a train for 12 hours, I recommend flying to Fairbanks from Anchorage (it's about a 45-minute flight).
Once you arrive in Fairbanks, stay at a hotel and get rested for a big day ahead. If you think you'll be rested after the train, you *could* add a Northern Lights tour tonight, but you will be out until 3-5am so do this at your discretion.
Since you had such a long train day, I recommend staying somewhere in town near the train station. My top recommendations are Sophie Station Suites and Pike's Waterfront Lodge.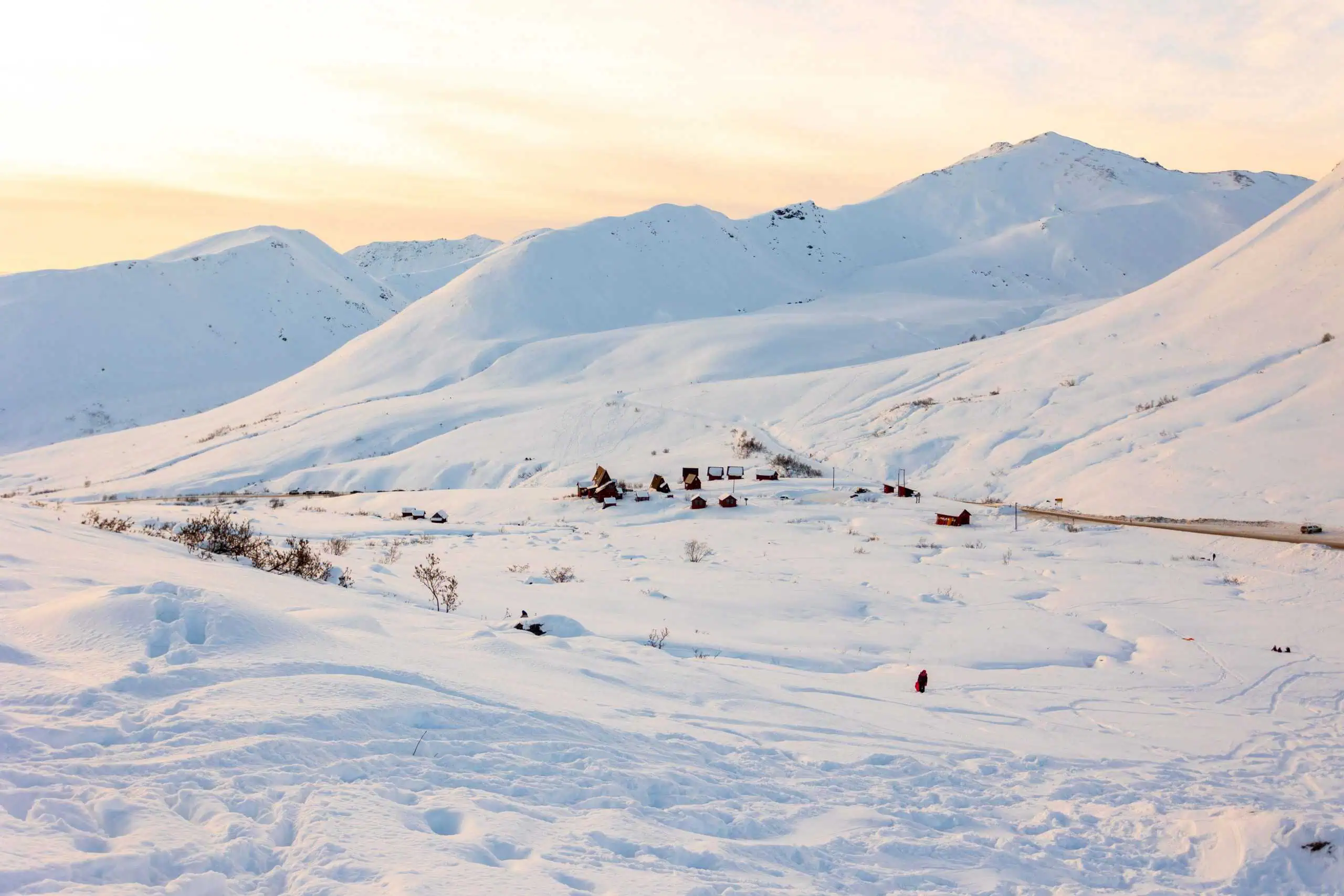 Day 6 – Chena Hot Springs and Northern Lights Tour
I added Chena to my itinerary because the hot springs are worth it. Based on my own experience, I found the resort and lodging lackluster, but it was really just a place to lay my head so I didn't mind.
It worked out fine for me, but if you want something nicer I recommend doing the hot springs as a day trip and then keeping your lodging in Fairbanks.
You can read all about my experience at the hot springs here.
There is a shuttle from Fairbanks to Chena via the Chena Resort. I recommend doing this to save on a car rental and avoid this drive. It can get really icy in the winter. When we went, the entire road was a sheet of ice for the 90-minute drive.
If you stay at Chena (my recommendation), be sure to book their Northern Lights tour. While you can absolutely see the lights from the resort area, their tour is a fun experience.
You can click here to view the Chena Hot Springs Resort and book your stay. Booking.com often offers free cancellations and discounts (I'm a Genius member so I often get 10-15% off). I recommend looking there first and then comparing prices directly.
With the tour, you'll board a SUSV (small unit support vehicle) and make your way through the trail uphill to the top of the mountain.
Once at the top, there is a warm yurt serving coffee, tea, cocoa, and noodles. There are seats to stay warm while you wait for the lights. When we went, we sadly didn't see anything. However, it was still a clear night so we were able to see the stars.
This tour runs until 1-3am, depending on the activity. I recommend stopping at the Aurora Viewing Room at the main lodge when you return (they drop you off out front). It's a heated room with windows to wait for the aurora. We used this room quite a bit in the two nights we stayed.
Expect long nights while you chase the aurora. If you are set on seeing the lights, plan to be up all night (even past 5am). I recommend making zero plans the next day and sleeping in!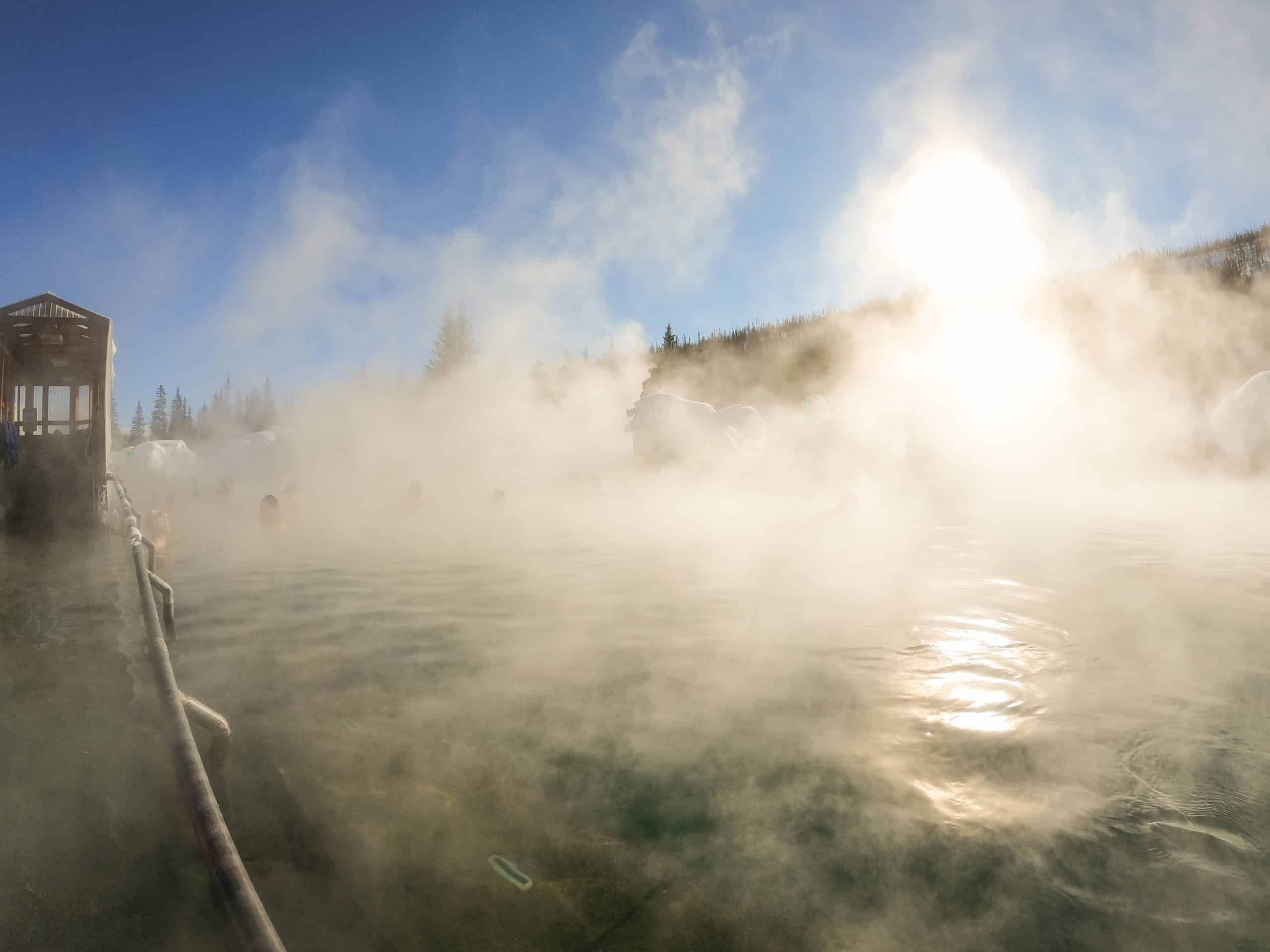 Day 7 – Chena Hot Springs
After a long night hopefully viewing the aurora, sleep in today as long as you want. Grab lunch at the restaurant, then make your way to the hot springs. The hot springs are open until 11:30 at night with final admission at 11:30, so you have plenty of time to enjoy them!
I also recommend visiting the Ice Museum and having one of their famous cocktails with your glass made of ice! Note that the ice museum requires reservations, so be sure to book this option ahead of your trip.
Tonight plan to stay up late again to try and catch the lights. You can simply stay at the resort and use the Aurora Viewing Room (mentioned in day 6) to wait in the warmth.
I recommend staying up as late as you can. You just never know when you'll see the lights. We called it quits at 4am when we were there, and later found out there was an explosion of color at 5am. I still regret going to sleep 'early'.
Day 8 – Explore Fairbanks and the Northern Lights
Today you'll say bye to Chena and take the shuttle back to Fairbanks. I recommend booking a shuttle back around lunchtime so you can sleep in.
Fairbanks is a small town but has some great restaurants such as Turtle Club, Pump House, and Blue Roof Bistro. Cookie Jar (brunch only) is also a good option.
If you want to stay in town, I recommend Sophie Station Suites and Pike's Waterfront Lodge.
Another option would be to stay at a cabin out of town where there's no light pollution and you can see the aurora. There are a few good options to choose from. For example, this cabin (available on VRBO) is set up perfectly for northern lights viewing. Note you'll need a car to get here.
The town of Fox, just north of Fairbanks, is another good spot to watch the northern lights. This no-frills studio (available on VRBO) is a great option for an inexpensive night watching the aurora.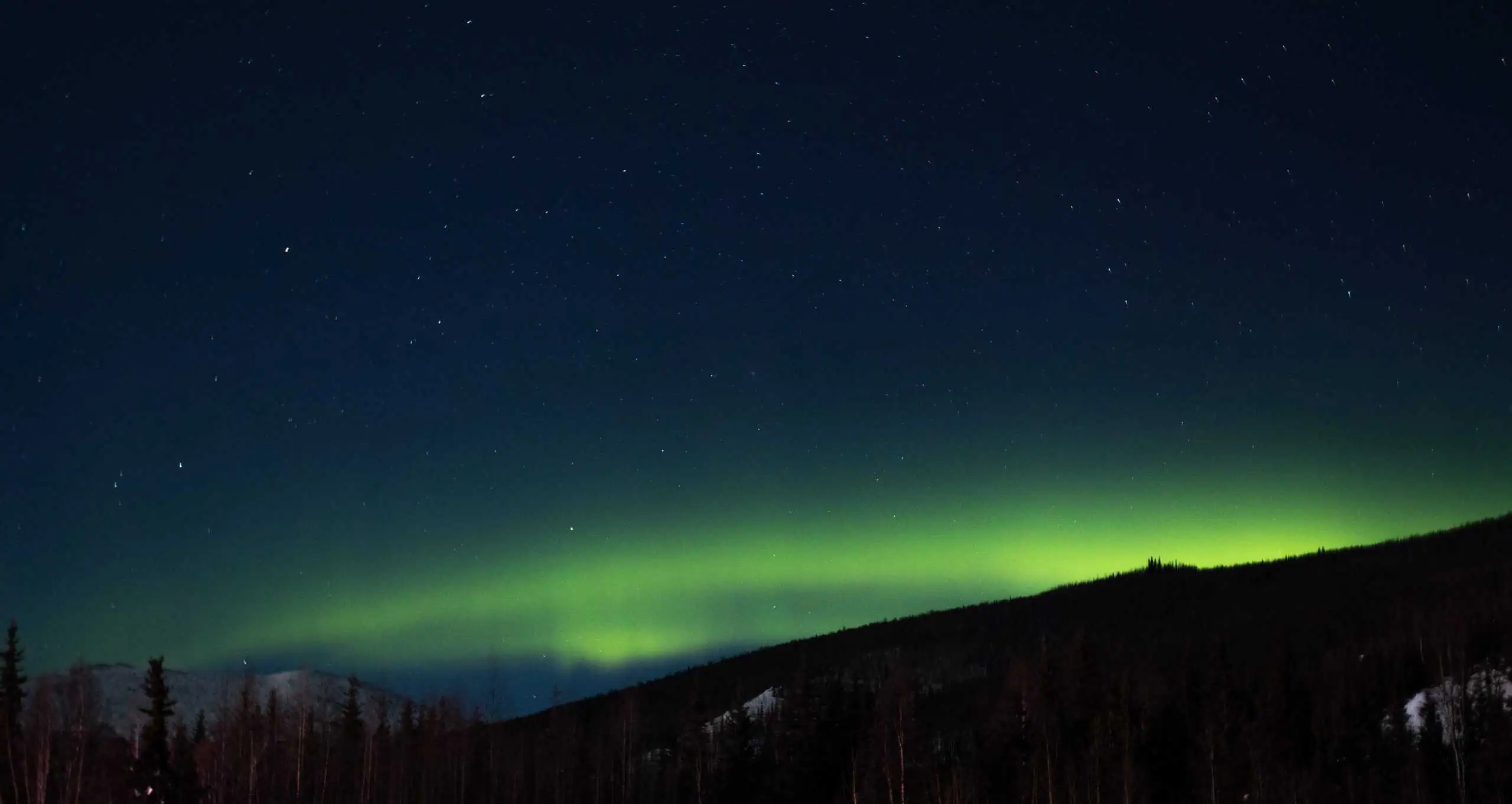 Day 9 – Arctic Circle Tour or North Pole
Going to the Arctic Circle is a bucket list item for many people. I do want to stress the time commitment needed for this tour, though.
From Fairbanks, it takes about 12-14 hours roundtrip to drive into the Arctic Circle and back. If you have little to no interest in being in a van for that long, I do not recommend this trip.
But if the Arctic Circle is on your list of must-sees, I highly recommend doing a tour. For some people, this is the highlight of their trip.
I recommend booking this tour with Alaska Wildlife Guide. They're a local company with a fantastic reputation and over 500 5-star reviews of just this tour!
You'll travel along the Dalton Highway, which is the same one the Ice Road Truckers use. With this tour, you start later in the day so you have the chance to see the northern lights as well. You will also receive an Arctic Circle certificate at the end.
If you opt to skip the Arctic Circle tour, I instead recommend driving to the North Pole for the day. It's a short 20-minute drive from Fairbanks and the popular thing to do is visit the Santa Claus House. In Fairbanks, there are some wonderful museums. My favorite is the UAF Museum of the North, considered one of the best museums in Alaska.
Day 10 – Fly Out
After a fun 10 days exploring Alaska and experiencing the best there is to see and do, it's time to say goodbye. You'll fly out of the small Fairbanks airport and make your way back home.
More Alaska Articles