Esslingen Medieval & Christmas Market Ultimate Guide [2023]
Hey there!
This post may contain affiliate links, meaning I may be compensated if you click on one of my links, at no cost to you. As an Amazon Associate, I earn from qualifying purchases. Read my disclosure policy for more information.
Barefoot beggars walk the cobblestone streets. Firebreathers provide entertainment in the squares. People walk high on stilts above the crowds.
If this doesn't sound like a normal Christmas market, well, you are absolutely correct. This is something completely different.
Esslingen's old town transforms into a medieval village every Christmas season. The medieval market (Mittelaltermarkt) is set around the main square, and the traditional Christmas market winds its way through the streets.
Both markets come together, but there is a striking difference once you enter the medieval area. While it's cliche, it really is something you need to experience firsthand!
I lived in Stuttgart for six years and visited this market at least a dozen times. It's my favorite market in Europe. There is absolutely no comparison, and I'll explain why below!
This article will go over all the important details and information about the Esslingen Medieval Market, including my personal tips on where to go, what to see, and how to make the most of your time.
About Esslingen am Neckar
Esslingen am Neckar, also known simply as Esslingen, is just southeast of Stuttgart and 6 train stops from the main train station in Stuttgart. It's one of those towns that hasn't been discovered by the masses and retains a lovely college-town feel. There are still 100,000 people living here, so it really borders on a small city instead of a town.
Esslingen sits in a hilly valley surrounded by vineyards. There are some industrial buildings and areas on the outskirts, but most of the main town is quite picturesque. The Neckar River winds through the town, and the Esslinger Castle and it's wall skirt the hills above town.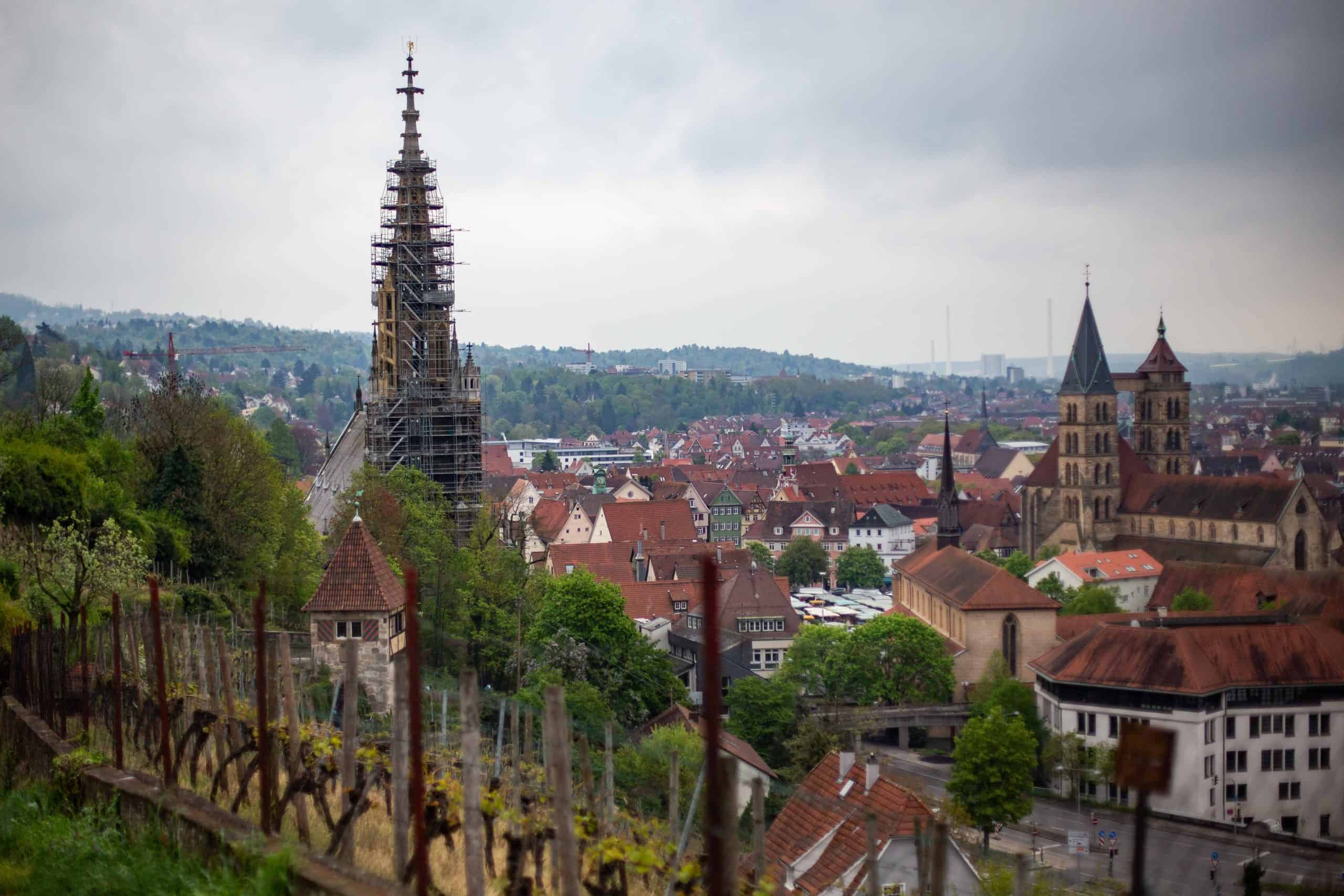 Some areas look like a little Venice (it even has a name – Klein Venedig), with small canals jutting from the main river and flowing through the old town. I love walking to Maille Park and watching the old water wheel (Wasserräder) under the streets.
In fact, I recommend walking through the entire old town area. It's beautiful, and many of the buildings are original too, with some dating back to the 13th century. The oldest building is Webergasse 8 located in the Altstadt.
2023 Market Dates
November 23 – December 21
Times: 11am – 8:30pm, Fri & Sat until 9:30pm
Why Visit the Esslingen Medieval Market (and Christmas Market)?
This isn't just a market, it's an event and an immersive experience. Every detail is so well thought out that at times you might just believe you've gone back in time. And with a backdrop of old half-timbered homes, it just adds that much more to the experience.
People dress up in medieval costumes and outfits, original wooden instruments are played on stage, medieval-style food is served, and you can even buy drinking horns and swords.
Here you can find traders and merchants selling all sorts of things from cloth, furs, jewelry, and handmade iron tools.
There are people twirling fire and dancing, bands marching through the market, and children climbing aboard the smallest hand-drawn Ferris wheel in the world.
Where is the Esslingen Medieval and Christmas Market Located?
The market is actually two distinct markets; the Medieval Market (Mittelaltermarkt) and the Christmas Market (Weihnachsmarkt).
Both markets are spread out at a few squares (platz) and fill much of the pedestrian area downtown.
The medieval market is the highlight spreading out from Hafenmarkt to Rathausplatz and around the New Rathaus.
The Christmas Market fills Marktplatz and has over 80 vendors here alone!
Then there's an advent market on weekends along Ritterstr.
Christmas Island is a small area with a live nativity scene with sheep, lambs, and a donkey. There are a few stalls here with food and drinks to warm up too. It's located at Fischbrunnenplatz.
How to Get to The Market
By Train: The easiest way to get to the market is to take the S1 from Stuttgart Hauptbahnhof to Esslingen. I recommend using the VVS App. You also get a discount if you purchase online. Parking can be a nightmare, especially if you head that way after 4pm, so the most convenient is by train.
By Car: Even though I recommend the train, we drove most of the time because we lived in Echterdingen, at the other end of the train line. And for us, Esslingen was an easy 15-20 minute drive from home. Typically we would drive the side streets to find free parking, but if that wasn't available, we'd go to one of the parking garages. Look for blue Parkplatz signs. They will have a sign showing how many parking spots are still available.

There are three parking garages with bus transport. These include Kiesstr (closest), Kurt-Schumacher-Str (next closest option), and Siemensstr (Sat/Sun only). Here's the map link.
By Bus: The bus system in Stuttgart is robust and generally on time. The buses run frequently and travel to areas not on the train line. Use the VVS App to find the best route based on your location.
By Taxi/Rideshare: Taxis are everywhere in Stuttgart. Blablacar is a really popular rideshare service in Europe where you can book a ride with someone privately. The Stuttgart International Airport is located in Echterdingen, which is about 20 minutes from Esslingen. I recommend a taxi or rideshare from the airport as the train will take well over an hour. Be sure to get some cash as many taxis still only take cash.
Best Time to Go
This market has always been popular among locals. Over the years, it's gained international attention and today gets over a million visitors.
If you plan to go on a weekend, especially starting in the afternoon through the evening, expect LARGE crowds. Expect long lines for bathrooms, food, and drinks.
If you want to avoid the crowds I recommend visiting on a weekday before 3 pm, with morning being the best. Monday through Wednesday will be the least crowded, while Thursday – Sunday will draw more crowds.
However, the market really comes to life when it gets dark out, so if you can, be sure to stick around for nightfall. There's just something about visiting a medieval market at night.
Weather & What to Wear
I've been to at least 50 markets over the years (many visited multiple times), so I've learned the best ways to dress for the Christmas Markets.
Although southern Germany has relatively mild winters, it can get bone-chilling cold. I'm from Alaska, and I thought it was often colder in Germany than back in the Arctic due to the higher humidity.
The biggest tip I can provide is to layer. Below is exactly how I layer each year. If I happen to be warm, I have a small backpack where I can change out my layers. I tend to get cold easily, so this list works best for me. If you run warm then you likely won't need to wear as much.
Also keep in mind you can dip into a restaurant, bar, or cafe to warm up if needed. And some markets have fires to stand around and warm up, but don't expect this to be the norm.
My main layers include (from bottom to top):
Warm wool socks (like these ones I love from Woolx)
long underwear with pants over them
Tank top, long sleeve, light jacket, and main large jacket. I make sure my main jacket is long, often to my knees. Land's End is my go-to for affordable yet long winter jackets. I also sometimes wear a long layer underneath my jacket. Wool is the best way to stay warm AND dry. There are many brands but I prefer Merino Wool from Woolx. In Germany it's humid and cold in December, so layers that keep you warm and dry are a must.
Other Items: A warm infinity scarf (again wool is best), a big hat, gloves (half gloves with fingers exposed also work)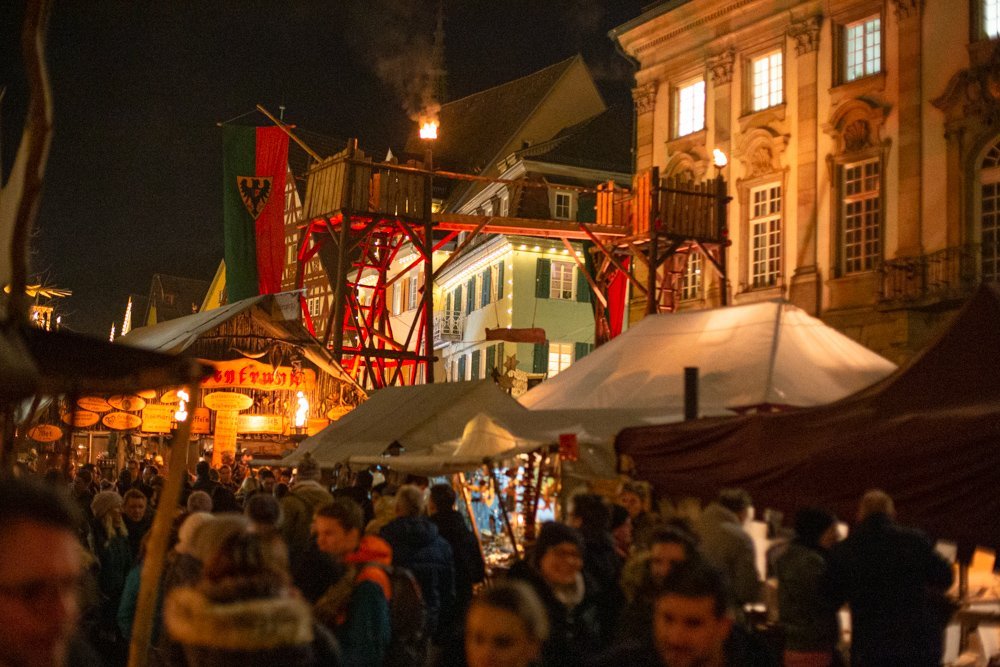 Top Things to Do
So what exactly is there to do at this market? Well, there's quite a lot going on, and I'll outline all the things you can do.
Enjoy a Show
There are many live performances and musical events daily at the Rathausplatz (town hall square). Performances take place at Marktplatz, Rathausplatz, Hafenmarkt Square, and Dwarfland.
You can find the full listing of performances at this link (although times are not listed).
Shop
Many of the 180 booths sell a variety of items with a medieval flare. There are drinking horns, handmade kitchen items and tools, swords and knives, and much more. I can spend hours just exploring all the unique items for sale.
There are also food and drink items, including berry wine, mead, and spices.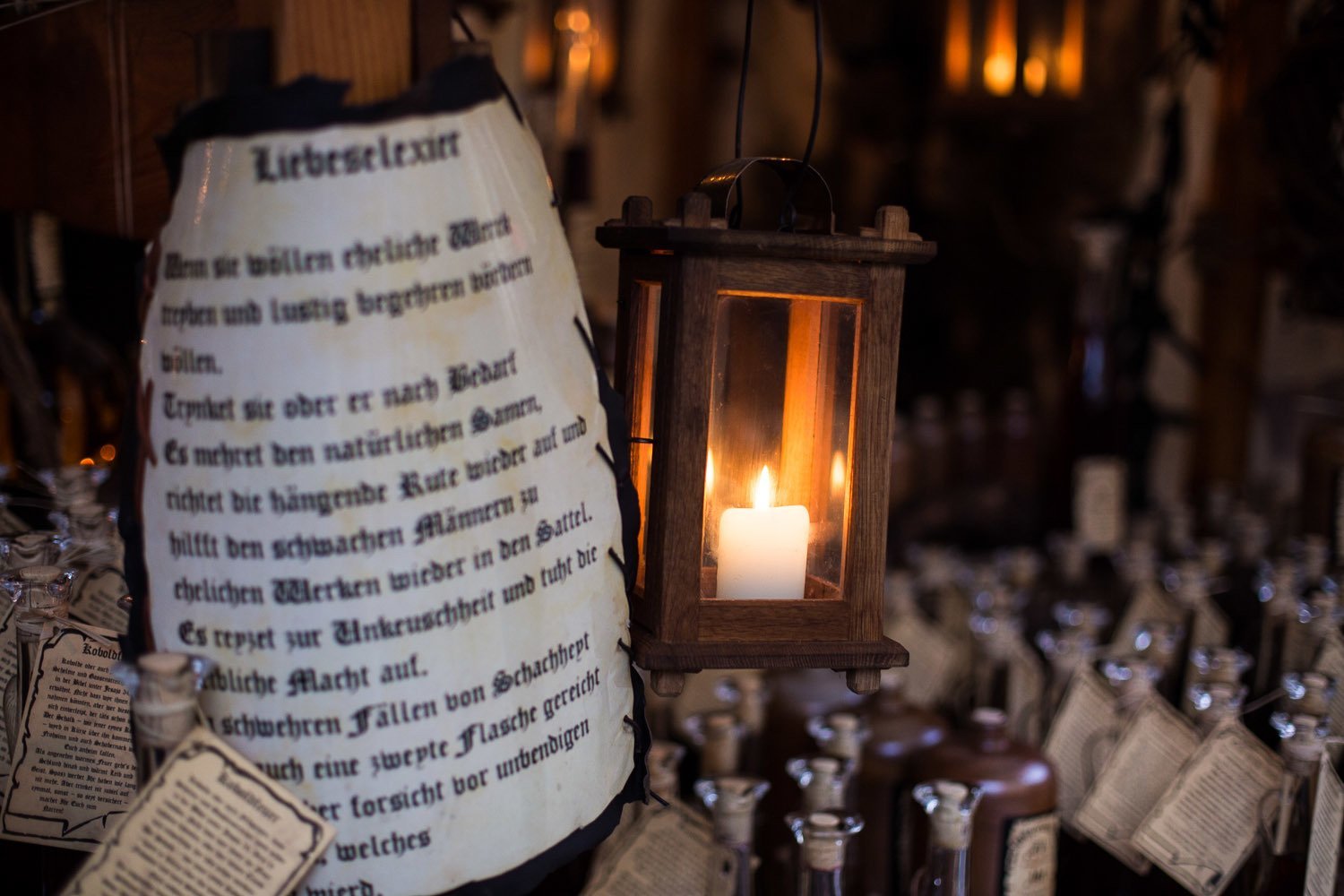 Admire the Craftsmen (and women)
In the Middle Ages, craft guilds were the ones that named Esslingen's streets such as Küferstr and Webergasse. Some of the craftsmen you can find include glassblowers, blacksmiths, calligraphers, stonemasons, and leather workers.
Learn a New Skill
Workshops including fencing and incense can be found at the festival (although it's all in German). In the incense course, you can learn about cleansing rituals inside and outside your home.
Play Games
From axe and hammer throwing to archery, there are many games to try out your skills. Most are located in Dwarfland, a small section near Marktplatz.
There's also a mouse game which is kind of like mouse roulette. Don't worry, they're not harmed in the game. Instead, you bet on which hole the mouse is going to run into.
Naked Barrel Hot Tubs
If you're not sure what you just read, let me explain. At Hafenmarkt, there is an area that looks like a stage with large barrel saunas. They require reservations in advance, and people enjoy a warm hot tub with servers bringing drinks and even offering massages.
Many people choose to wear nothing. I never quite figured out why, but I am guessing it has to do with Germany's large FKK (nudity) culture, and perhaps the fact that this would have been normal in medieval times.
You can book a hot tub slot by emailing marita@badezuber.de.
One last thing to note is that the barrel tubs are shared with strangers, just as you would have in the Middle Ages.
Kids Activities at the Esslingen Medieval Market
These markets aren't just for adults drinking glühwein (although there's a lot of that), it's also a really fun event for kids!
Here are the best kids' activities at the Medieval and Christmas Market in Esslingen:
Dwarfland (Zwergenland) – This fun area is decorated top to bottom and is filled with all sorts of fun for kids. From archery, axe throwing, and dragon hunting, there's so much to do (adults have fun here too!). Here is where you'll also find the smallest Ferris Wheel in the world. It's wooden and hand-turned too!
The Carousel at Market Square – Climb aboard a cute and fun carousel right at the market square.
Fairytale Tent at Hafenmarkt Square – Fairytales come to life inside the fairy tale tent daily!
Live Nativity Scene – Located in the traditional Christmas Market area at Postmichelbrunnen, you can find this small petting zoo open for children and adults.
Best Things to Eat and Drink
Food
My favorite two things to eat at the Esslingen Medieval Market are Dampfnudeln and Hempseed Pitas.
Dampfnudeln is a large steamed bread square (about the size of your fist) that's covered in a thick sweet cream and topped with either fruit or cinnamon. It is absolutely delicious, and probably one of my favorite desserts ever. The stand is located near the entrance to the main Christmas market on the walkway.
The hemp pitas are at the Hanfbeckery at the Rathausplatz. It's located on the opposite side of the stage and there's usually a large line. These pitas are delicious and taste unlike anything I've tried in Germany.
You can also try wild boar and a range of other wild meats and stews. I really enjoyed the venison goulash which hits the spot when it's bitter cold out!
If you're new to Baden-Wurttemberg, there are many local specialties to try!
My favorites are Flammkuchen and käsespaetzle. Flammkuchen is a large flatbread traditionally made with creme fraiche, bacon, and onions, but there are many different varieties.
Käsespaetzle is the spaetzle noodles mixed in cheesy deliciousness. It's so yummy! Another tasty option is Maultaschen which is a meat-filled Swabian ravioli.
If you're not full yet, I recommend trying Stockbrot or stick bread. It's warm bread on a stick, and it's delicious.
Warm nuts such as maroni and almonds are also very popular at Christmas markets.
Drinks
There's nothing like being in the middle of a medieval festival and sipping on warm mulled wine. At Christmas markets, Glühwein is the main drink and the perfect way to warm up. This mulled wine is traditionally made with cloves, oranges, and cinnamon. Here you can find other varieties including Apfelwein (apple wine) and glühwein with rum.
In the medieval festival, you can order or purchase honey mead, a typical medieval drink made from honey. It's a bit too sweet for my taste buds, but if you've never tried it, I recommend partaking. You are, after all, at a medieval festival!
For kids, there's Kinderpunsch (kid's punch) and heiße Schokolade (hot chocolate).
General tips
Both markets are completely free and there is no entry. You simply walk into town.
Because of this, you can bring a backpack with water, warm clothes, and whatever else you will need for the day.
Like many markets I've been to, there are only a few bathrooms located throughout the festival, and the lines can get long. In addition, there's usually a fee of around .50-1EUR, although .50EUR is most common.
Since the bathrooms require change, I recommend making sure you have change on hand.
Cash is another thing I recommend, and there are ATM's all around the old town to grab cash.
Although this is a large market, it closes surprisingly early. On weeknights, the market shuts down at 8:30 pm. On weekends, it's open until 9:30 pm. This is because many people live in the area, and they respect their quiet hours.
Other Things to Do Nearby
While you're in Esslingen, be sure to explore some of the other popular things to do in town. Here are my favorites, and you can find all my tips and information on Esslingen here.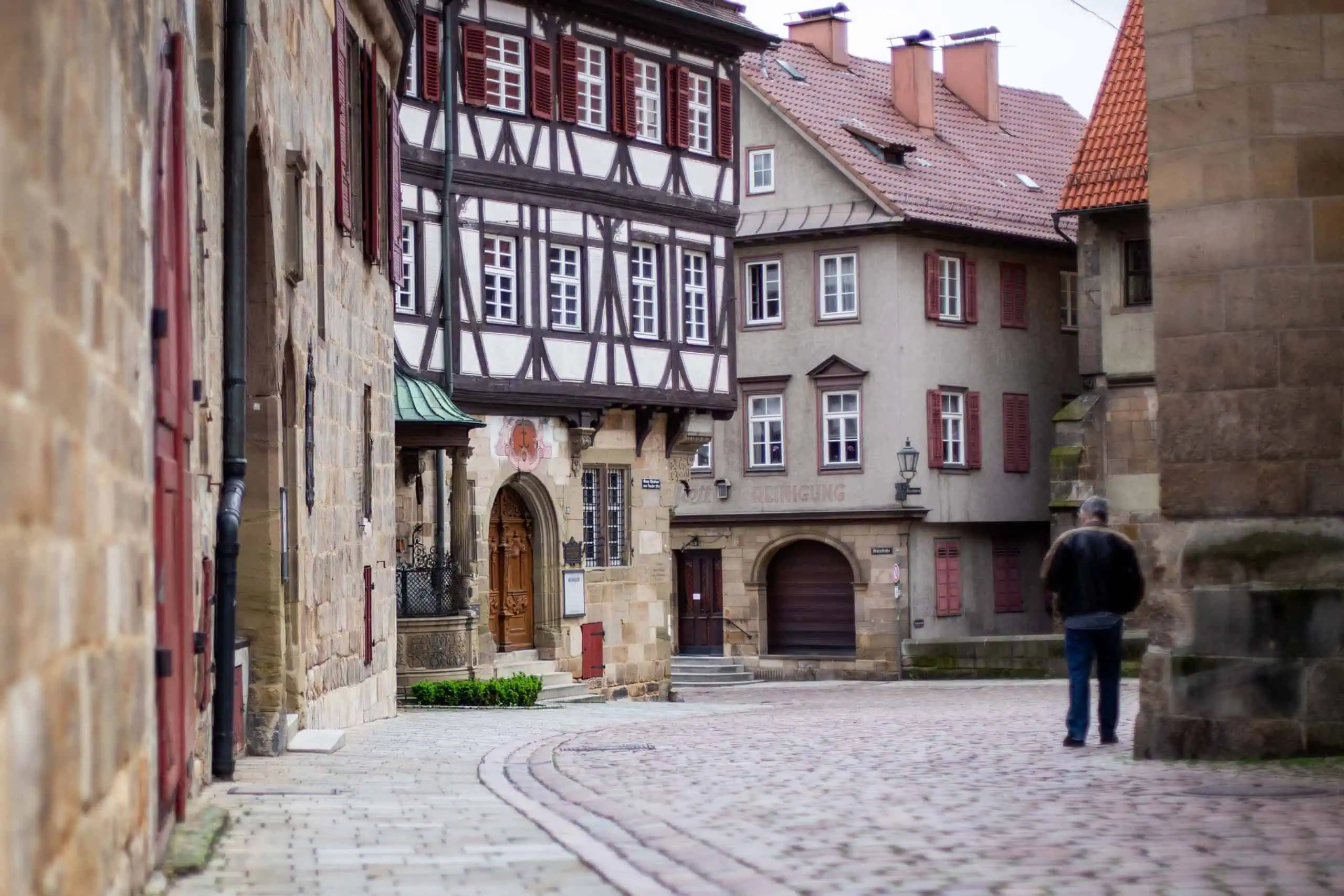 Visit Kessler Sekt
Esslingen has the oldest sparkling wine cellar in Germany, dating back over 190 years. While it tastes similar to champagne, it cannot share the same name because champagne is only made in the champagne region of France. In Germany, sparkling wine is called sekt.
The cellar (Keller) is open for tastings and purchase next to the large St. Diony's Church.
Hike up to Esslinger Burg
There's a short but rewarding climb up the steps to Esslinger Castle and fortification. No one ever inhabited the castle and the fortifications date back to 1314.
There are quite a few stairs to climb, but you are rewarded with views of Esslingen and the hills beyond the town. It's beautiful day or night.
Walk the Entire Altstadt (Old Town)
While the markets are located in the old town, it's a large area with a lot more to explore.
Be sure to cross Agnesbrücke for beautiful views of Little Venice. Klein-Venedig is another scenic viewpoint of the canals. Maille Park is large with canals on either side. There are beautiful stairs that lead you down to the park from the old town.
Esslingen's old town also has three gate towers still standing. My favorite one is Wolfstor, located at the entrance to Küferstrasse. Be sure to walk down Küferstrasse as well, it's a beautiful street.
Visit Stadtkirche St. Dionys
You can't miss the large church of St. Diony's in the center of town. It's located at the main Christmas market at Marktplatz square and dates back to the 14th century.
What sets this church apart are the two towers connected by a bridge. Often these churches are open so you can take a peek. You can also visit their site for more information.
Where to Stay
I recommend either staying nearby in Stuttgart or right in Esslingen.
Stuttgart is a large and lively city with a lot more to do at night, so if you are a night owl (like me), then I recommend Stuttgart. You can easily stay until the Esslingen markets close, then take the train back to Stuttgart. Then you can also explore the Stuttgart market until it shuts down (9pm Sun-Wed, 11pm Thurs-Sat).
If you prefer low-key quiet nights, a stay in Esslingen is perfect.
For Stuttgart, I recommend staying around downtown so you don't have to walk far. Motel One is a chain across Europe and a solid option. These hotels are clean, beautifully decorated, and well-priced. And unlike the name, they're beautiful modern hotels and not at all like motels in the states.
This Motel One is just a few minutes from the main train station and Stuttgart Christmas market. If you stay here on a weekend, be sure to visit the Brauhaus Schönbuch on Bolzstr, just a few blocks away. Brunch lasts about 5 hours and even has a self-serve beer keg! Here's my link if you want to take a look.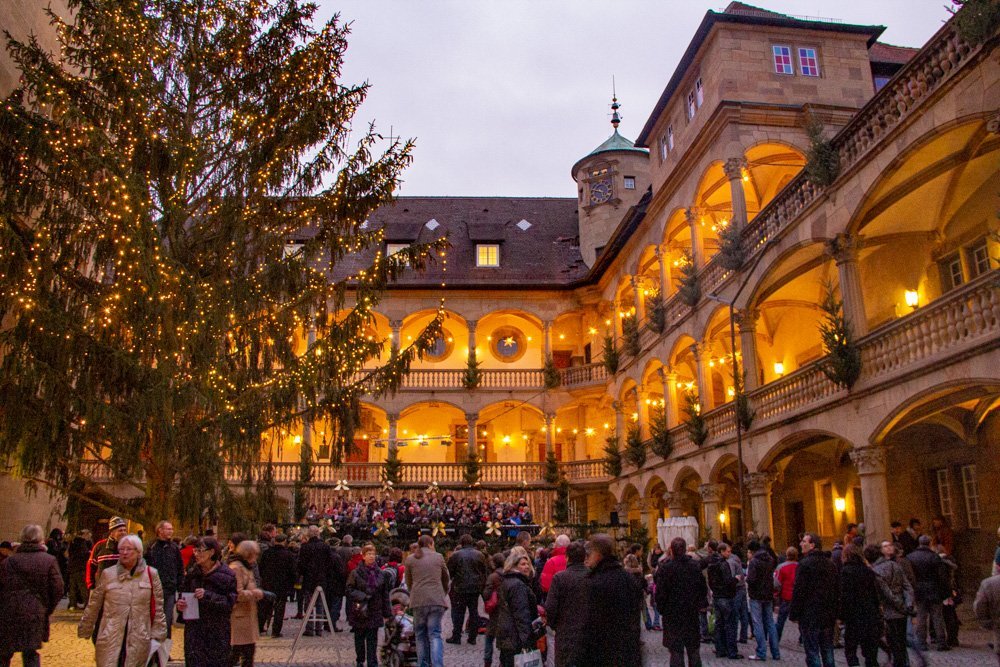 If you want to sleep in style, Le Meridien is one of the best hotels in Stuttgart. The hotel is just across from Schlossgarten, which is also where the main train station is located. The rooms are spacious and they have a beautiful spa with a pool, hot tub, steam bath, saunas, and a 24-hour gym. You can also book services including massage and beauty treatments. Here's my link to Le Meridien.
I know both of these areas in-depth so my recommendations are based on the best locations and overall best hotels in the area.
You can use this map below to easily search for VRBO and Hotel options, all in one spot!
Nearby Christmas Markets
While Esslingen is a favorite in the area, there are many other markets I recommend visiting!
10-Day Christmas Market Itinerary: To visit all the best markets nearby, use my 10-day Christmas Market itinerary for your trip! It includes Germany, Switzerland, and France markets all within a few hours of each other. I followed this itinerary with family and it was such a perfect way to see markets across three different countries!

Hohenzollern Castle: The most unique market nearby is at a castle on a hill! Hohenzollern Castle has a Christmas market each year, and you can read all about it here.

Stuttgart Christmas Market: The largest market in the area, and one of the largest in Germany, is located right in Stuttgart. You can read all about the Stuttgart Christmas Market here and why it's one of my favorites!

Ludwigsburg Baroque Christmas Market: Ludwigsburg has a fun Baroque-style Christmas Market. I recommend allowing additional time to visit the massive Ludwigsburg Palace. The ground alone are huge and you can take a guided tour of the palace in English.

Heidelberg Christmas Market: Just a short 40-minute train ride away from Stuttgart is the Heidelberg Christmas Market. Heidelberg is another fairytale German town set along the Neckar River. The large Heidelberg Castle perches on the hillside above the old town, and the Christmas Markets fill four squares in town.
More Stuttgart Articles