28 Unique Things To Do in Stuttgart, Germany [2023]
Hey there!
This post may contain affiliate links, meaning I may be compensated if you click on one of my links, at no cost to you. As an Amazon Associate, I earn from qualifying purchases. Read my disclosure policy for more information.
I called Stuttgart home for six years. While I loved living here I didn't write about it often. Stuttgart is the sixth-largest city in Germany with a population of over 600,000 (but over two million when you include the larger metropolitan area). It's a green city with plenty of parks and hilly vineyards surrounding it. Roughly 20% of the land is dedicated to parks and greenery.
About Stuttgart
In Germany, nature is revered as an important part of overall health, so there are trails everywhere in the city and connect to neighboring towns nearby.
Being the home of Mercedes and Porsche, it is also a wealthy area with low crime. Nightlife is abundant (as long as you know where to look) and with the after-hours clubs, you can party 24/7.
There are also many opportunities for families, cultural enthusiasts, and outdoor lovers.
This article provides 28 of the best things to see and do in this city. Whether you just moved here or just have a few days to explore, this list offers plenty of options to keep you busy.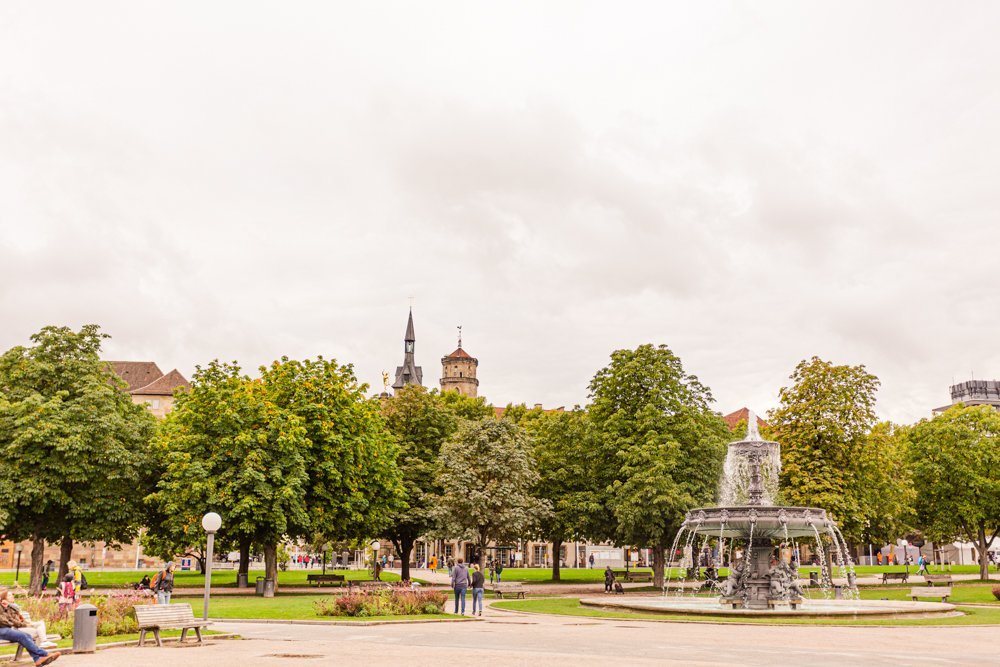 Getting Around the City
Germany has fantastic public transportation, and Stuttgart is no exception. The S-Bahn is the city train that will take you from town to town. Within Stuttgart the main stops are Feuersee, Stadmitte, and Hauptbahnhof (the main station).
They're not too far from each other, so if you accidentally step off at Stadtmitte, you can easily walk to Hauptbahnhof or wait for the next train.
Within the city is the U-Bahn that has many stops as well as a robust bus network. With the U-Bahn, you can easily get anywhere in the city quickly. The app for the S-Bahn is called VVS, and you can save a few bucks by booking directly through it.
28 Things To Do in Stuttgart
1. Visit Schlossplatz
Schlossplatz, or palace square, is in the center of the city. It sits along Königstrasse and is just a few blocks from the main train station (Hauptbahnhof) making it a perfect first stop. Surrounding the square are restaurants and many historical buildings including the New Palace.
On a hot sunny day, people can be seen lounging on the grassy areas or cooling off in one of the large (chlorinated) fountains. In the winter Schlossplatz is surrounded by Christmas music, hot mulled wine, and Christmas stalls.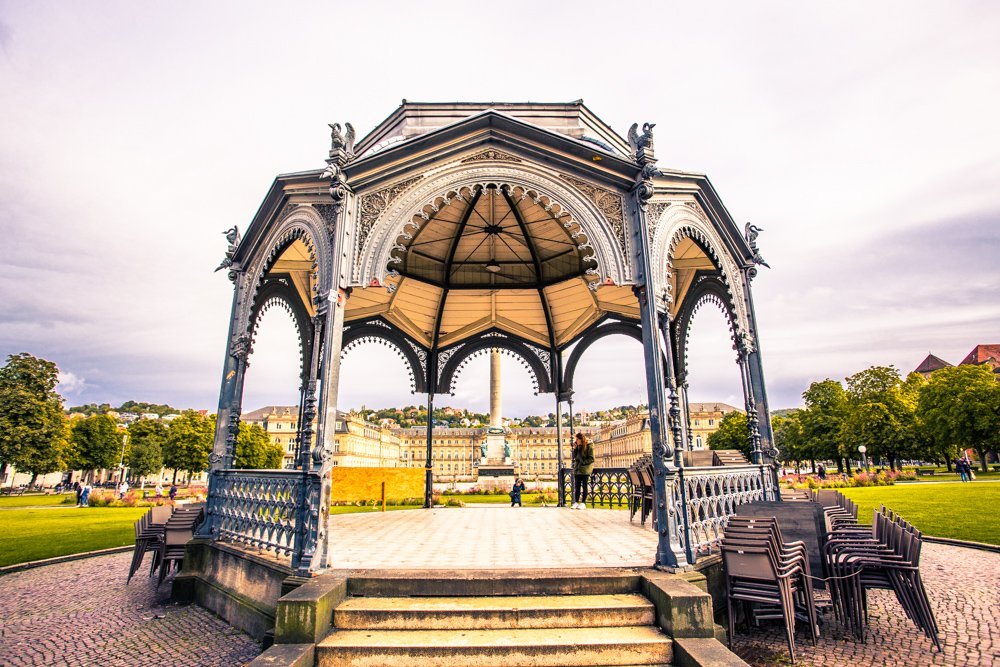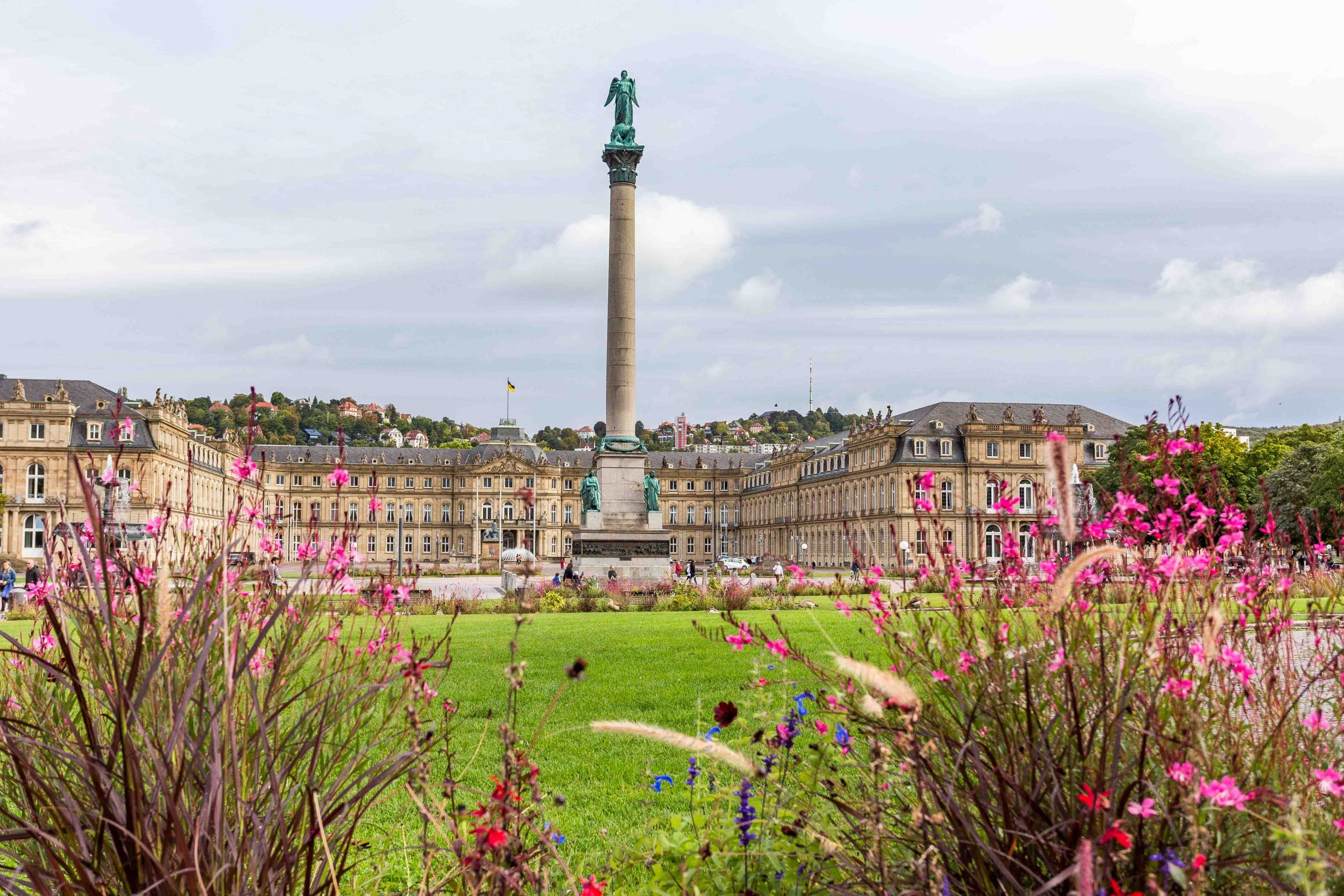 ---
2. Walk down Königstrasse
Known as the shopping mile, it is the longest pedestrian shopping street in Germany. I love popping into TK Maxx (not to be confused with TJ Maxx) to find great deals on products from Turkey, Portugal, and elsewhere. I would suggest taking some side streets to explore and get a little lost. In the photo below you can see the opening of the Schlossplatz, listed above (the street opens up on the left).
Königstrasse is the main street you see as you exit the train station and is in the heart of the city. There are plenty of biergartens, restaurants, and cafes to curb your hunger while you shop.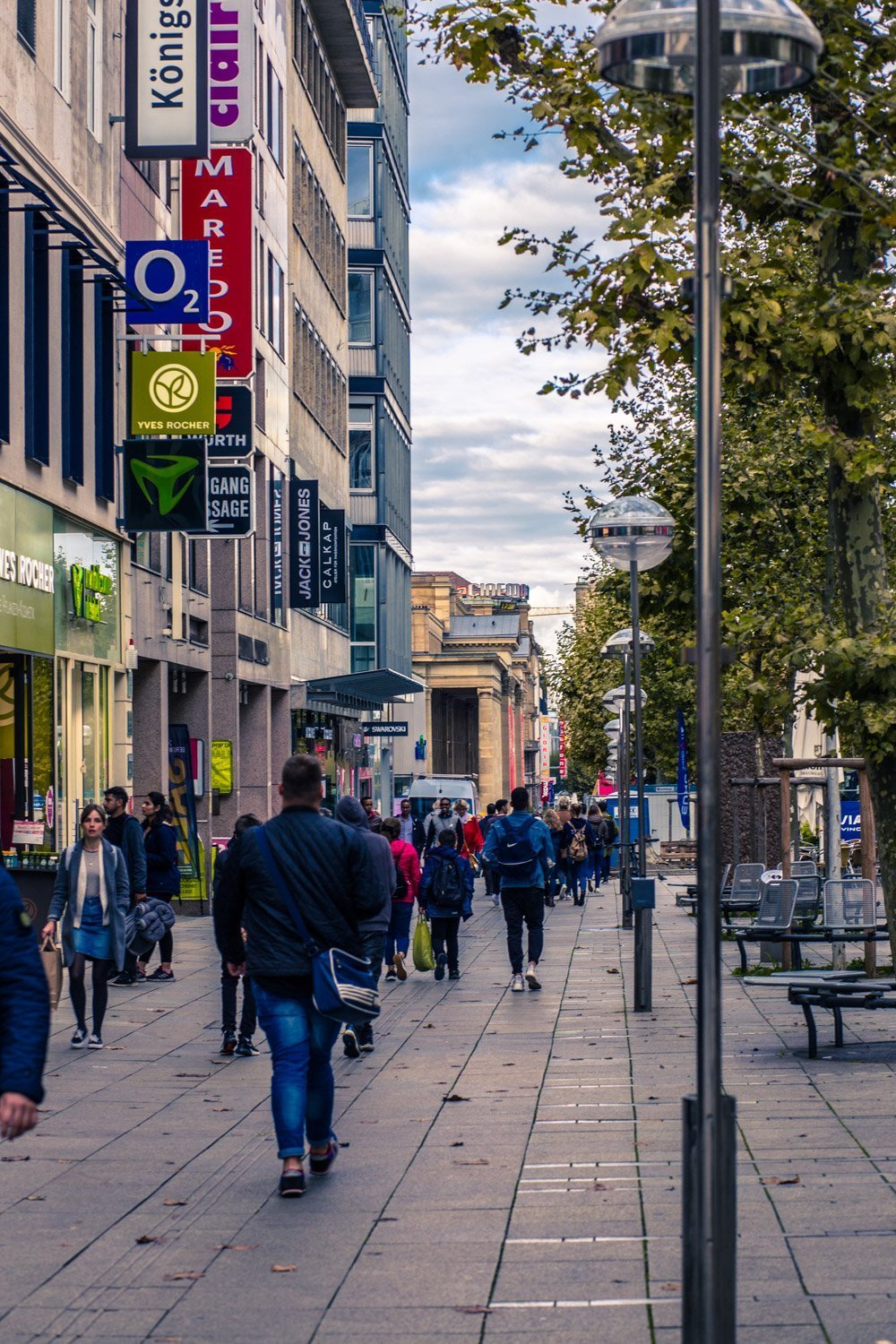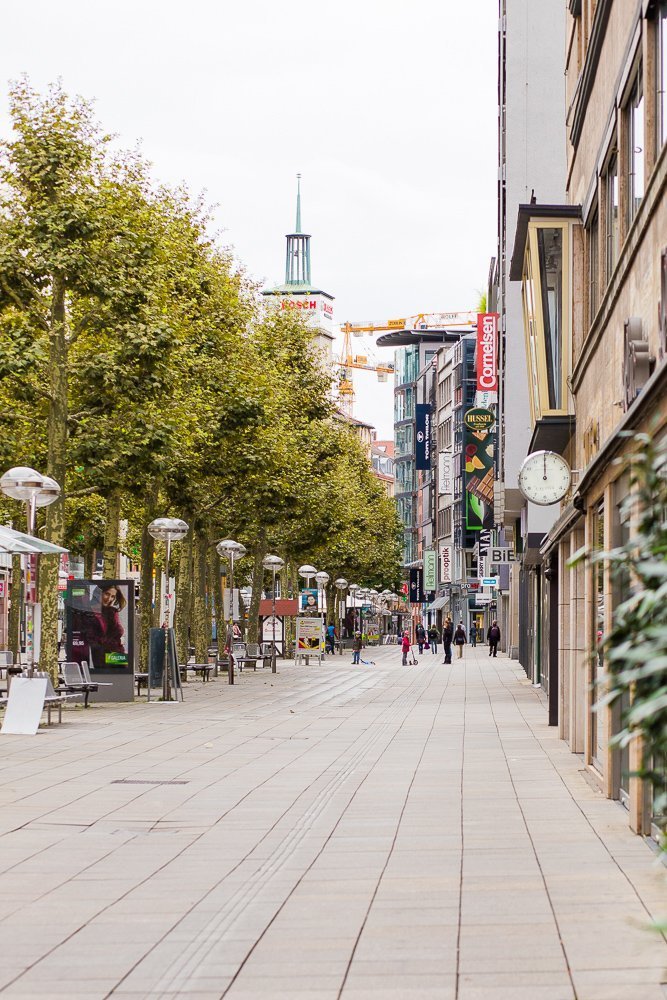 ---
3. Explore Birkenkopf (Rubble Hill)
To get a glimpse of history and a great view at once, head to Birkenkopf. Also known as Rubble Hill, this hill has been built up by rubble and remnants of war. This is evident by the pieces of buildings overgrown by shrubs and grass. At the top you can get a great view of the city.
To get here, you will need to drive or take public transportation. It's possible to get here by bicycle as there are bike paths and bike trails all over the city. Birkenkopf is located in Stuttgart-West and there is a large parking lot across the street. It's a short walk uphill to get to the top.
Address: Birkenkopf, 70197 Stuttgart, Germany
Ralf Κλενγελ (Flickr)
---
4. Vibrant Art & Culture Scene
With the Staatsgalerie, Stuttgart Opera House, Liederhalle, Porsche Arena, Stuttgarter Ballet, Staatstheater, and Kunstmuseum, Stuttgart has many performing arts centers and theaters to choose from. The Stuttgart ballet and Opera house are world-renowned with year round shows, and many are centrally located downtown in the heart of the city.
Stuttgart is also a city of culture. There are festivals throughout the year including the Stuttgart Summer Festival, Fish Market, Volksfest, Spring Fest, Stuttgart Wine Village, and many more.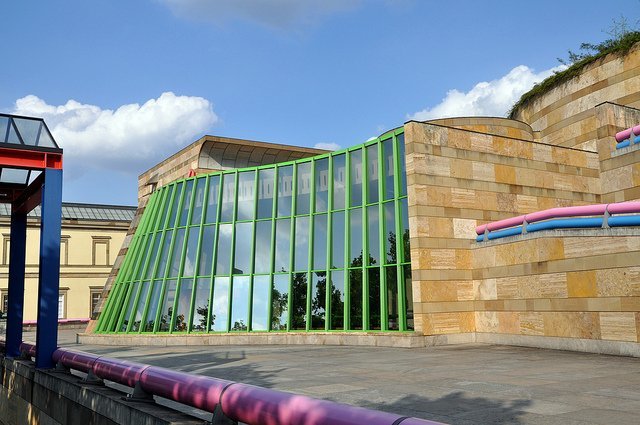 Below is the Opera House during the Stuttgart summer festival.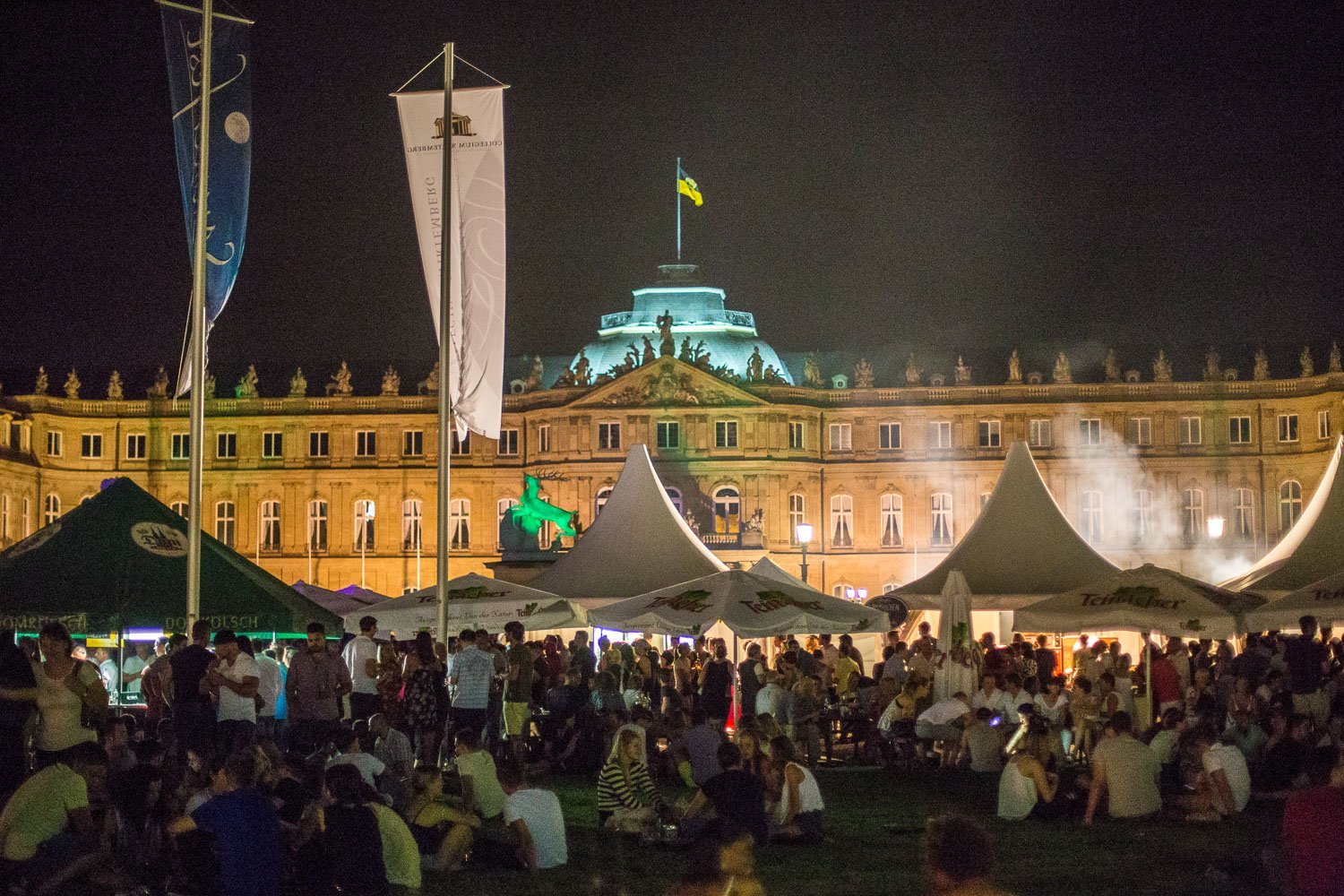 ---
See Also:
5. Mercedes Museum
The city is home to many automakers including Mercedes (Daimler) and Porsche. The Mercedes Museum is a multi-story complex that winds it's way up, taking you through over 125 years of car history.
---
6. See the Stadtbibliothek Stuttgart
The Stadtbibliothek, or public library, is worth a visit for its architectural interest alone.
The library is located at Milan Platz 1 70173 Stuttgart.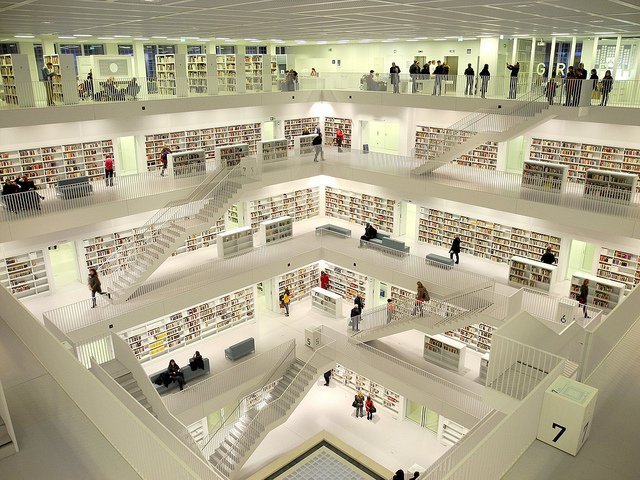 ---
7. Experience Volksfest!
Similar to Oktoberfest but without all the fame (and tourists), Volksfest is the second largest beer festival in the world. It attracts about 4 million visitors each year. There are 10 large beer tents and a large fair with rides, games, food, and more.
The atmosphere is more laid back than Oktoberfest, and it is much more likely that you will be able to snag a spot at a table inside the tents. Unlike Oktoberfest, you are also allowed to stand inside without first having a seat at a table.
Markus Jaschke (Flickr)
Pablo Yañez (Flickr)
---
8. Take in Schloss Solitude
Located west of Stuttgart just outside of the city, Schloss Solitude is a large palace built high on a hilltop. The views are great and the grounds are large with many trails and a large lawn area out front. Duke Carl Eugen von Württemberg built the palace in 1763 to be a lodge and hunting grounds.
Ralf Κλενγελ (Flickr)
---
9. Walk through Vineyards
Stuttgart, the largest city in the greater Baden-Württemberg state, produces local wines in the summer months. White and rose are most prominent in this region. In the spring and summer months many vineyards have wine tastings. Vintners set up stands throughout their vineyards, sometimes with food or music, where people can try and purchase different wines.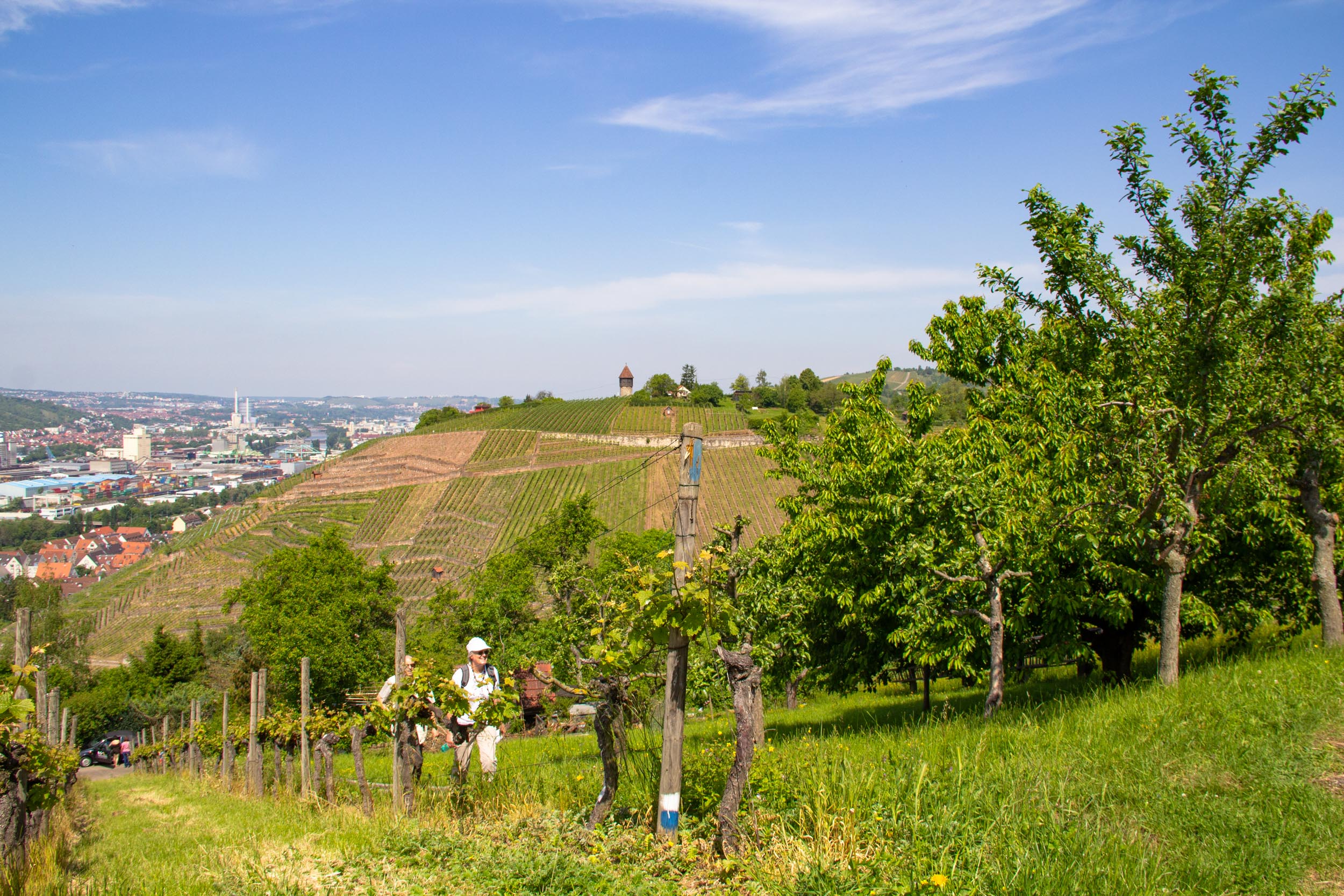 ---
10. Tour Ludwigsburg Palace
Just north of Stuttgart is Ludwigsburg Palace. It is a massive four winged palace, the largest Baroque palace in Germany and one of the largest in Europe. Inside there is a large courtyard and gardens. Ludwigsburg has two churches, over 450 rooms, and the oldest palace theater in Europe. It also has one of the longest guided tours that runs for 90 minutes. The english version is at 1:30pm daily and on weekends and holidays runs at 11am and 3:15pm.
More information: http://www.schloss-ludwigsburg.de/en/visitor-information/
---
11. Go to the Christmas Markets
Christmas markets in Germany are something special that everyone should experience at least once in their lifetime. Scents of cinnamon, nutmeg, mulled wine, and fresh bread fill the air.
The Christmas stalls have a friendly competition each year to see who has the most decorated rooftop. As a result each stall has an intricately decorated roof.
The market in Stuttgart is sprawled out across the entire downtown area. There are over 250 stalls total and it is one of the largest and oldest markets in Germany. There is also a Finnish market where you can get the best salmon and glögli (Finnish mulled wine) around.
More information: http://stuttgarter-weihnachtsmarkt.de/en/home/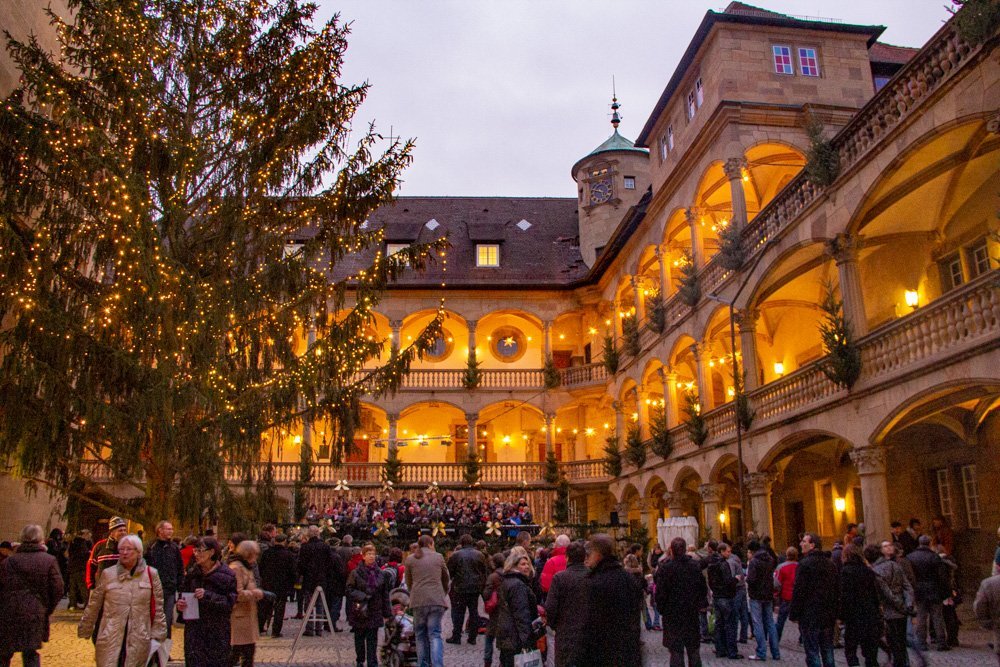 ---
12. Drink Beer at a Biergarten
Germany is known for beer, and Stuttgart is no exception. Biergartens (beer gardens) are a wonderful place to enjoy the fresh air, have a cold drink on a hot day, and even bring your kids to play too. Many have playgrounds at the biergarten.
Schlossgarten is a large biergarten in an even larger park near the train station. They have a playground and a stage for music and live shows. Please Note the train station is currently undergoing construction but the biergarten is largely hidden from the construction nearby.
Some biergartens are hillside and among the vineyards, providing great views of Stuttgart and the Swabian Alb. If you visit Stuttgart, you have to stop by at least one biergarten. If beer isn't your thing you can still get wine or Apfelschorle, a local favorite. Biergartens also serve basic traditional German foods such as bratwurst.
Here are some of my local favorites:
Tschechen and Sohne (this one has the BEST view in my opinion)
Schlossgarten (near the Hauptbahnhof or main train station, easily accessible)
Teehaus (Also has stunning views)
Bärenschlössle (A beautiful spot in Stuttgart)
Birger Hoppe (Flickr)
---
13. Walk Along Feuersee
Feuersee & Johannekirche are just southwest of downtown Stuttgart. The church is beautiful and it makes for great photos. The church was badly damaged during World War II and the tower was intentionally left incomplete to serve as a war memorial.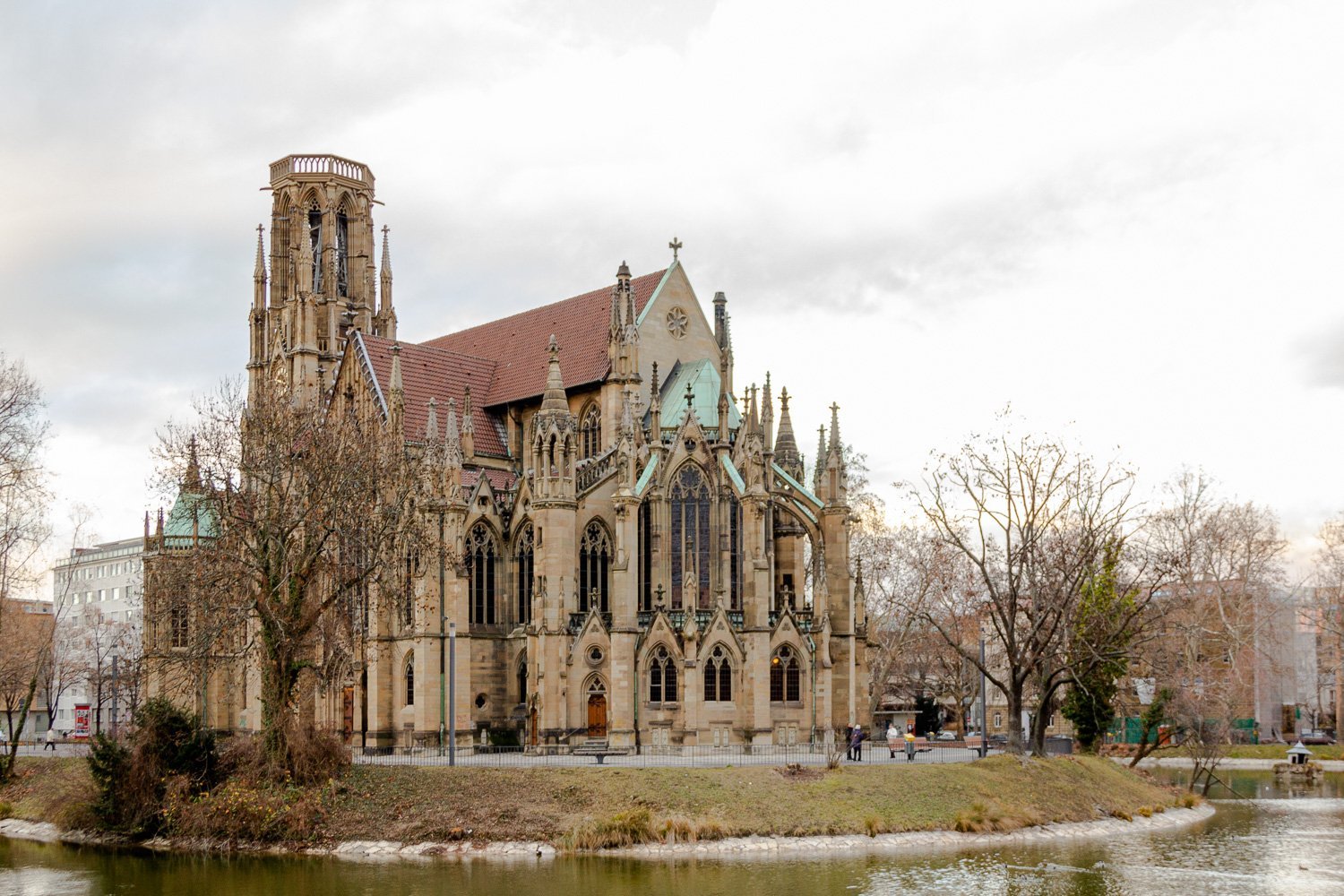 14. Visit Wilhelma Zoo
Right in the heart of the city, Wilhelma Zoo is a beautiful zoo with a large variety of animal species. It is also home to large botanical gardens with over 7,000 species of plants. In the summer the zoo is a magnificent display of color and greenery.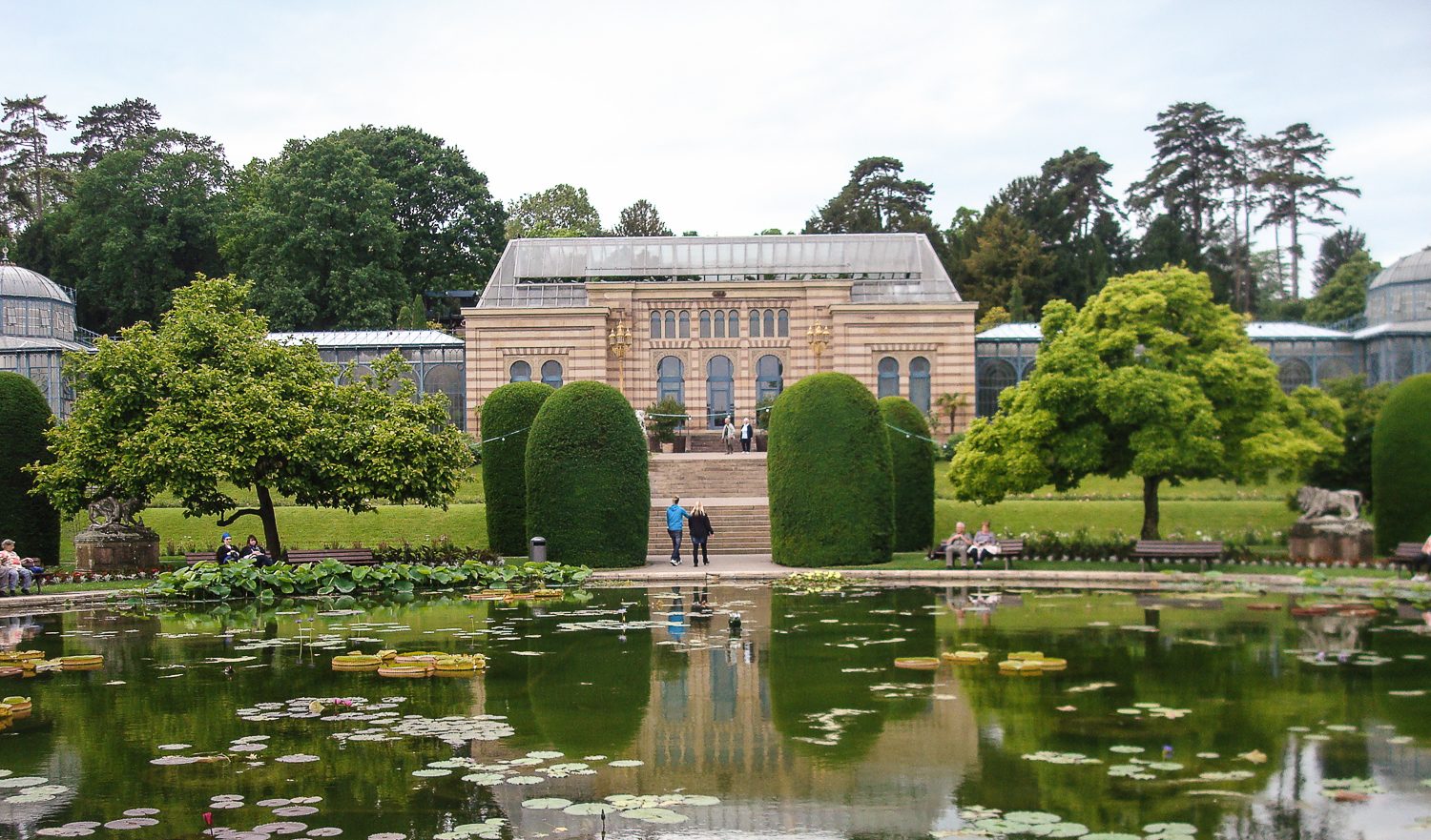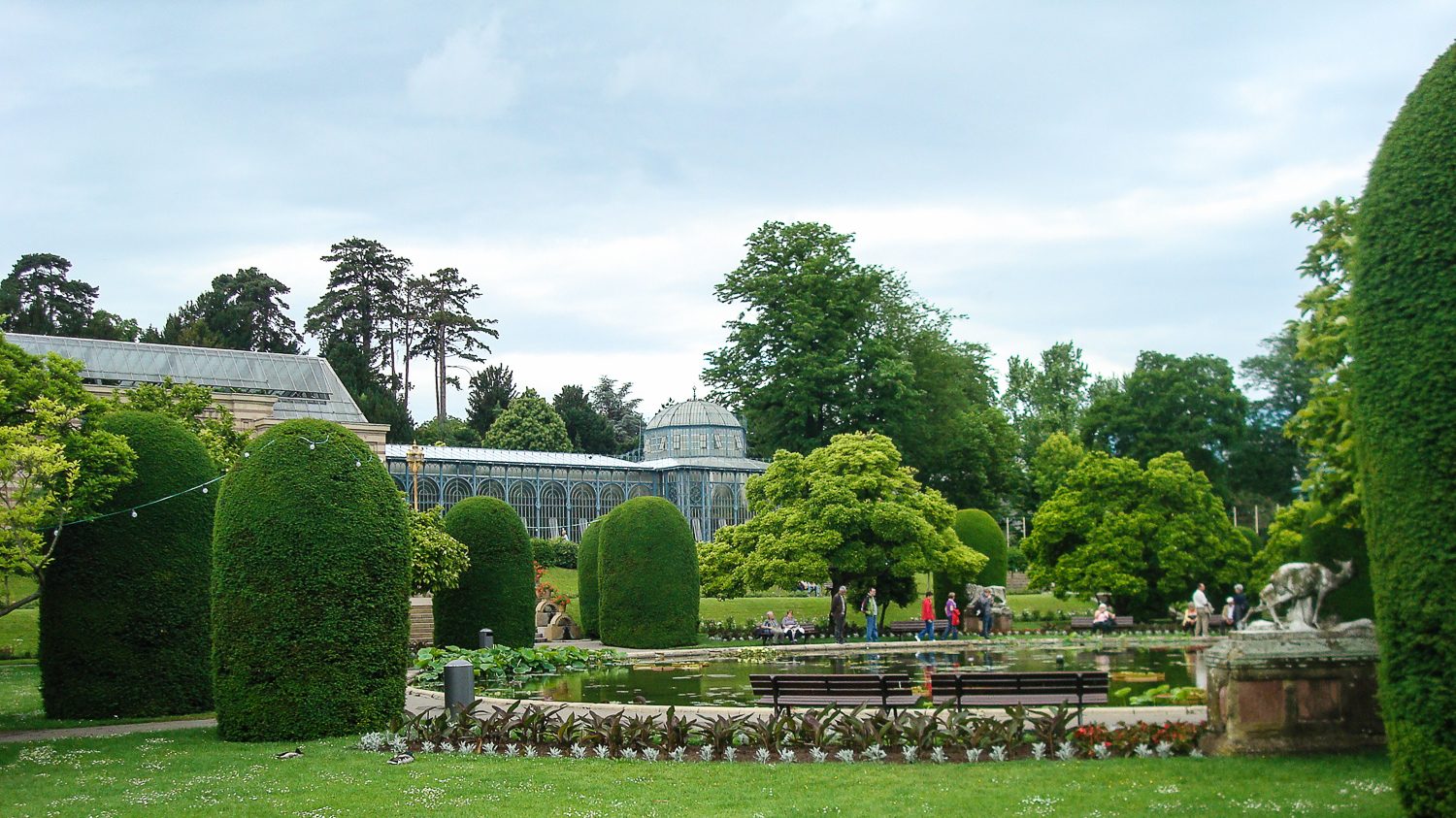 ---
15. Climb Turmtower
The main train station, called the Hauptbahnhof, in Stuttgart has a large tower that has become an iconic part of the skyline. At the top of it is the large Mercedes logo spanning five meters (over five feet) long.
What many people do not realize is that you can actually go to the top of the tower for great views of Stuttgart. Currently the entire station is being renovated under a massive project to move the rail network underground, so be sure to check the website to see if it's open. They are also running tours of the construction site, this work of engineering feat is a sight to take in!
The Stuttgart train station has a long history dating back to the 1800's. The Hauptbahnhof came as a result of the newly invented steam train, which was the transportation of the future. King Wilhelm I of Württemberg had the station first built in 1846, and less than 25 years later they had to expand upon the initial four rails as demand grew.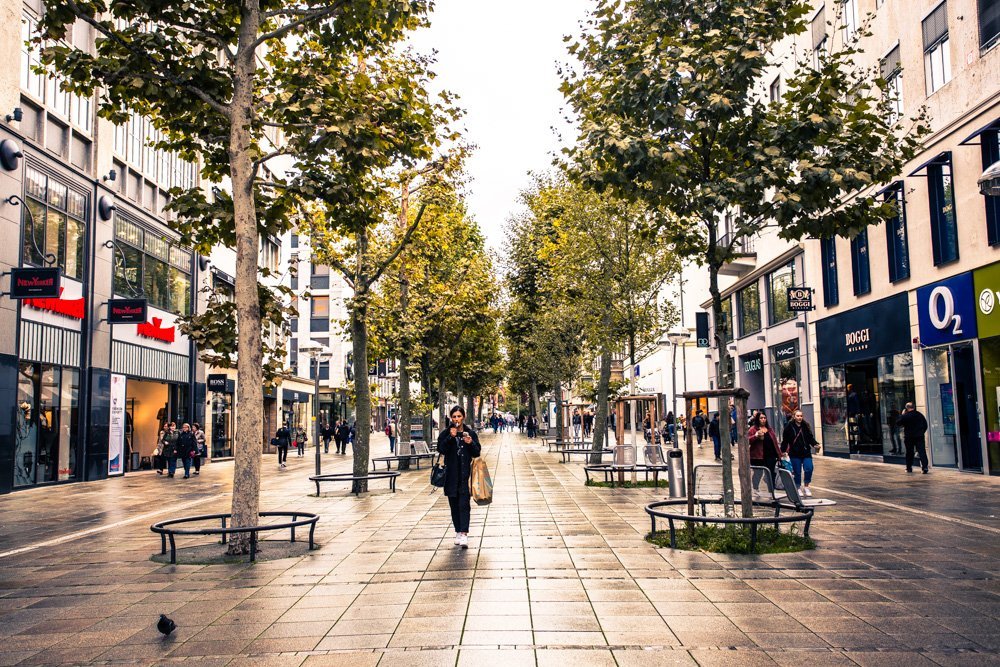 By the 1900's Stuttgart had grown so much that they decided to build a new station 500 meters away and held a planning competition for the design, which was completed in 1923. In 1952 the famous Mercedes logo was added as a way for the station to finance improvements.
---
Other posts about Stuttgart you might find interesting:
16. Satisfy Your Cravings at Markthalle
Markthalle, or market hall, is a large indoor market packed with vendors specializing in everything from Indian spices to Alaskan salmon, from French macarons to Italian wines.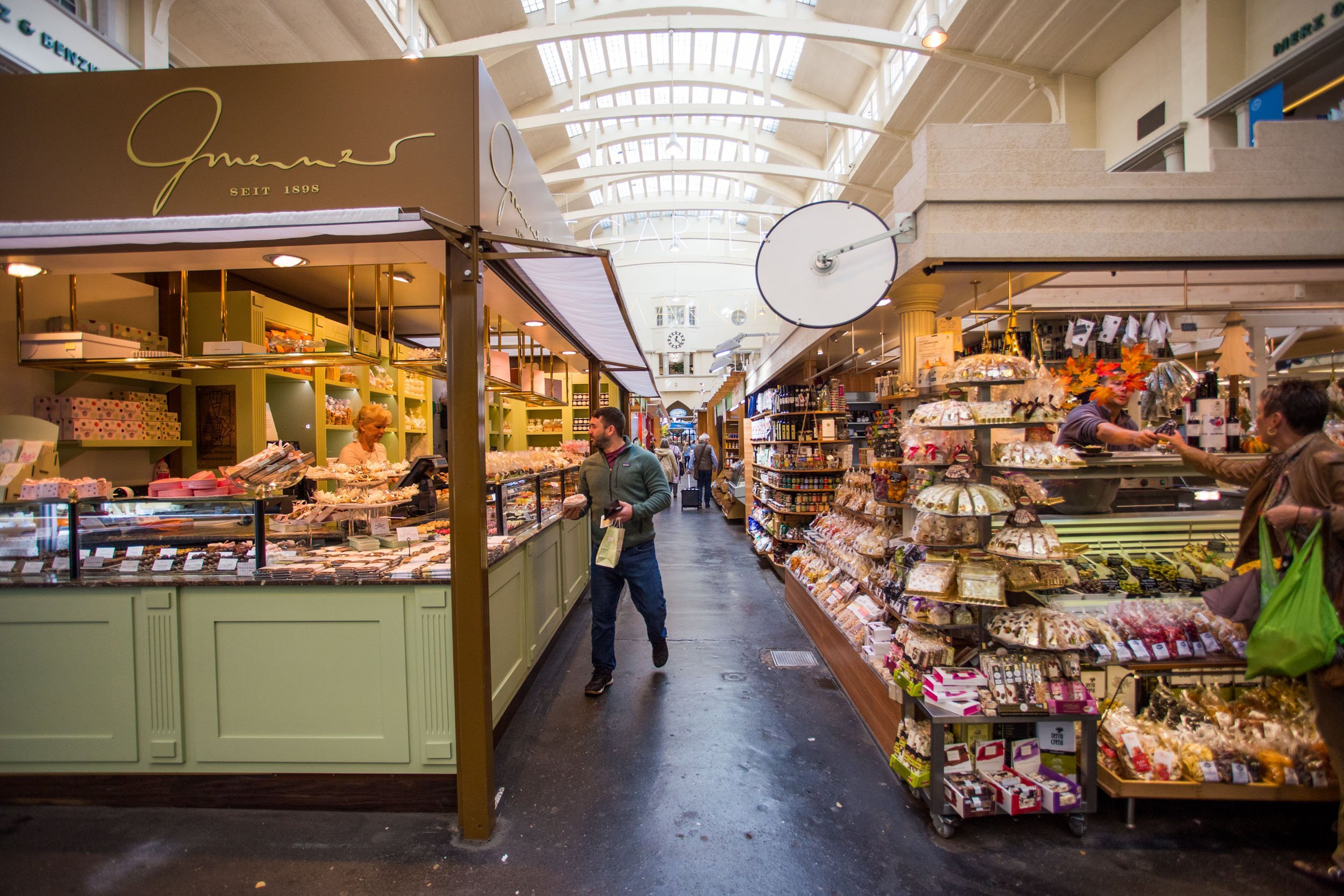 Built in 1914, there are 33 stalls with a massive selection of items to choose from. The second floor has a lot of home good items and a restaurant as well. If you are downtown this makes for an easy stop as it is right in the heart of the city.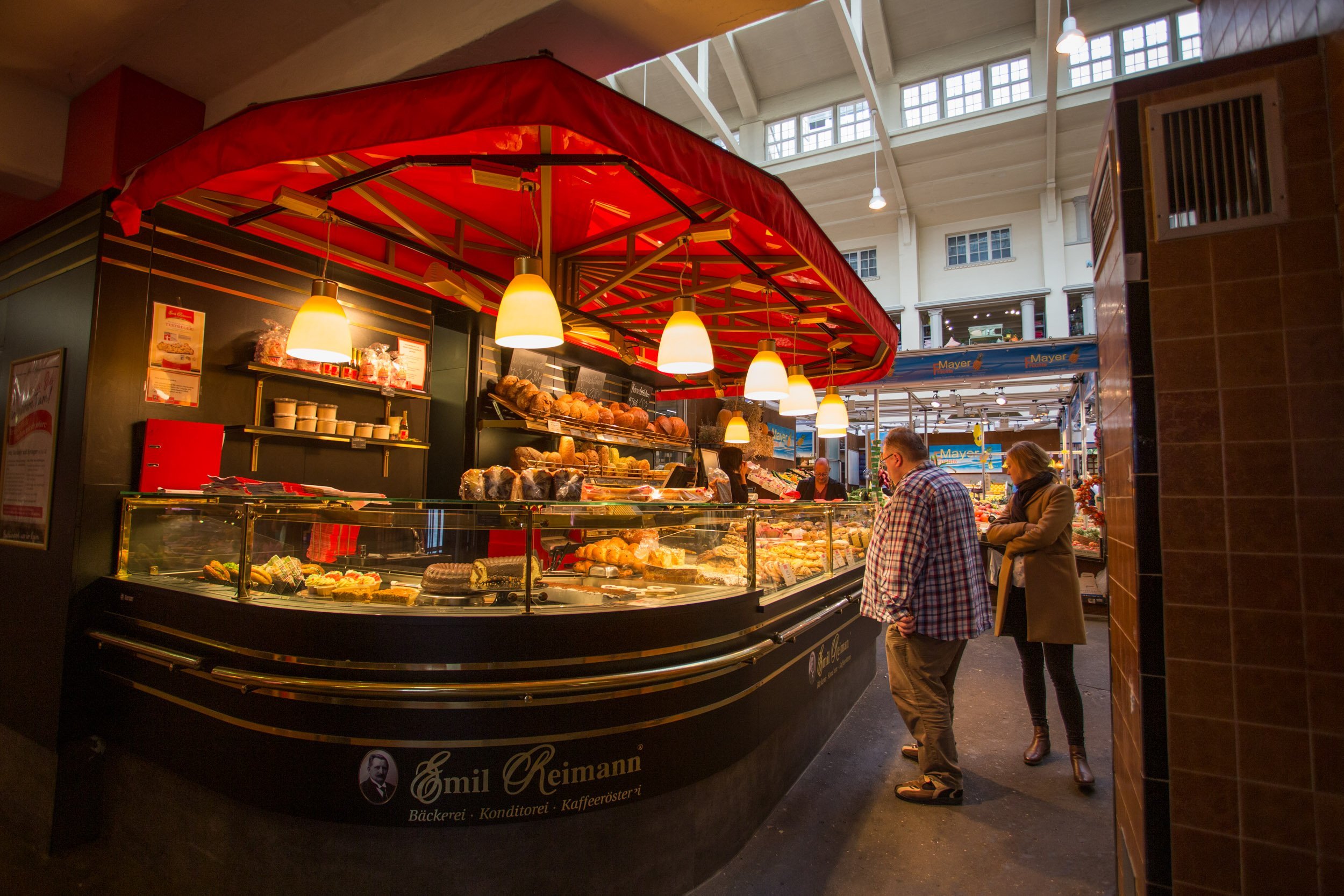 ---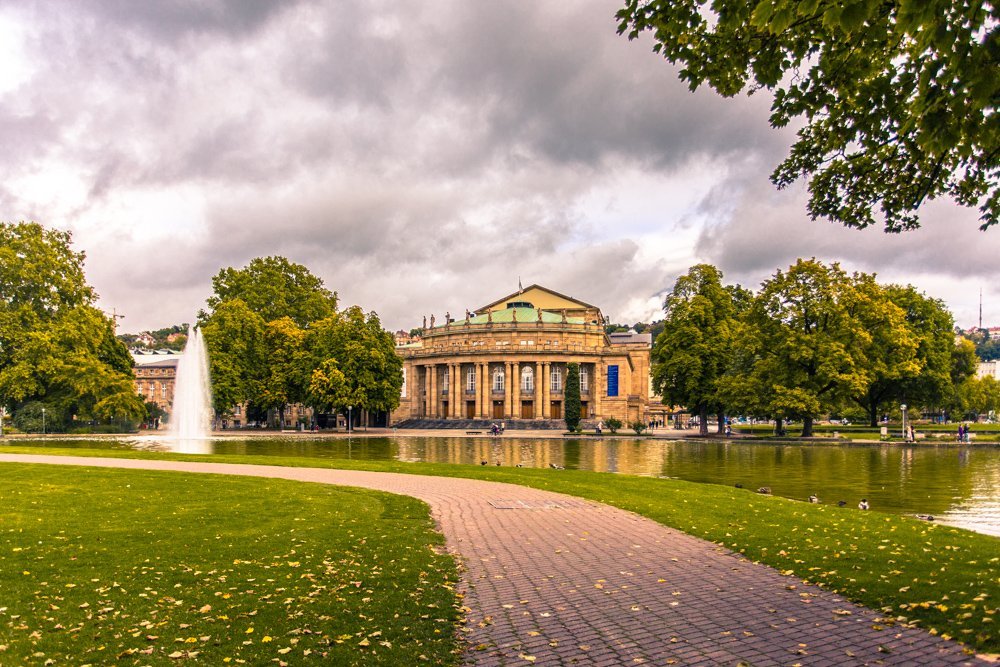 Take a Walking Tour of the City
Want an in-depth walking tour where you can learn all about Stuttgarts vibrant history and culture? I recommend taking a 120 minute guided walking tour where you'll visit the most popular areas of the city and learn about the history of the area.
---
17. Walk through Bärenschlosspark
The Bärenschlosspark area, (Bear Castle Park) is a wonderful place for outdoor lovers. It is a large park that has three lakes, the Bärensee, Neuer See and Pfaffensee, which are connected by a network of trails. There is a small castle called Bärenschloss in the middle of the park. It is more of a small palace, and today it has been converted to a seasonal restaurant. This makes for a great spot to stop and enjoy a coffee or glass of wine.
With the large network of trails in the area, you can also walk or bike from the Solitude Castle (Schloss Solitude) to Bärenschloss in less than two miles. Look for Parkplatz (parking lot) signs in the area. There is the Parkplatz Bärensee and a few others in the area. Just like many places near Stuttgart, parking can fill quickly, especially on the weekends.
---
18. Explore the Green 'U'
Stuttgart ranks as the greenest city in Germany and one of the greenest in Europe.
The large Green U is a greenbelt that extends nearly 5 miles just north of the train station. Currently there is a massive project (Stuttgart 21) to completely renovate the main train station, which will bring all of the train lines underground. When completed in 2025, this will open up even more green space to the area.
Inside the Green U is a large beer garden (biergarten) called Schlossgarten. There is a stage with regular live events and it is big enough that you can usually find a seat. The zoo, Wilhelma, is also part of the green belt. Northwest of the park is Killesburg which has a large tower overlooking the city (see #5).
A large network of trails connects this beautifully manicured area with ponds, large trees, and grassy areas to have a picnic or simply enjoy the outdoors.
---
19. Take a Hop On, Hop Off Bus Tour
Purchase a 24-hour pass aboard a Hop-On Hop-Off sightseeing tour. Take either the green line or blue line (or both) and check out all the beautiful areas of Stuttgart including Schlossplatz, Killesburg Park, Karlshöhe, the TV Tower, and more.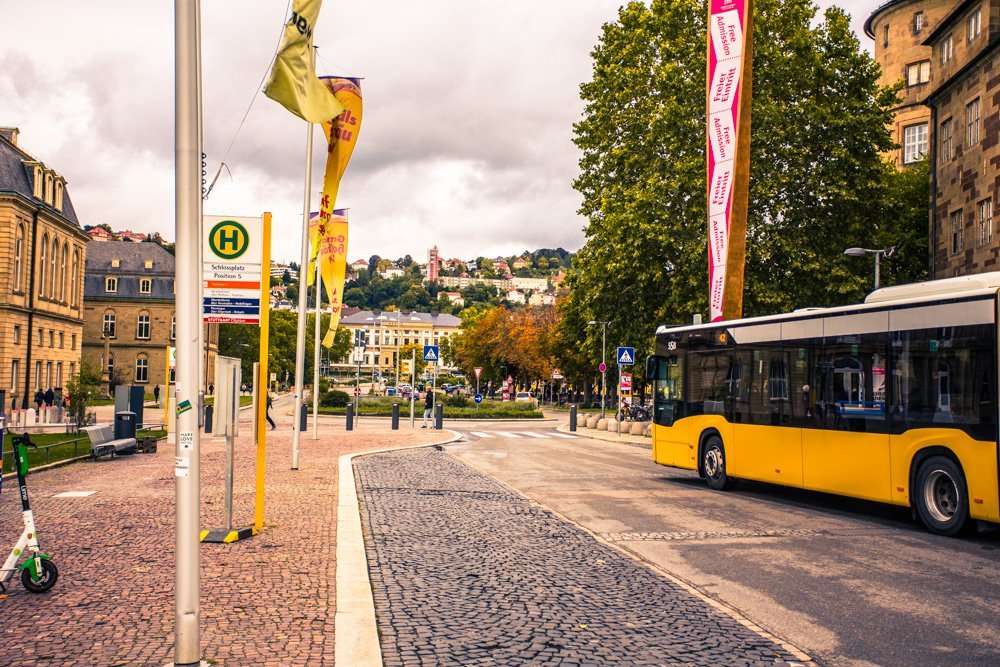 ---
20. Take a bike tour
If you enjoy getting on a bike to see the sights, I highly recommend doing a bike tour. I am not an avid cyclist but I found this to be one of my favorite ways to explore the area!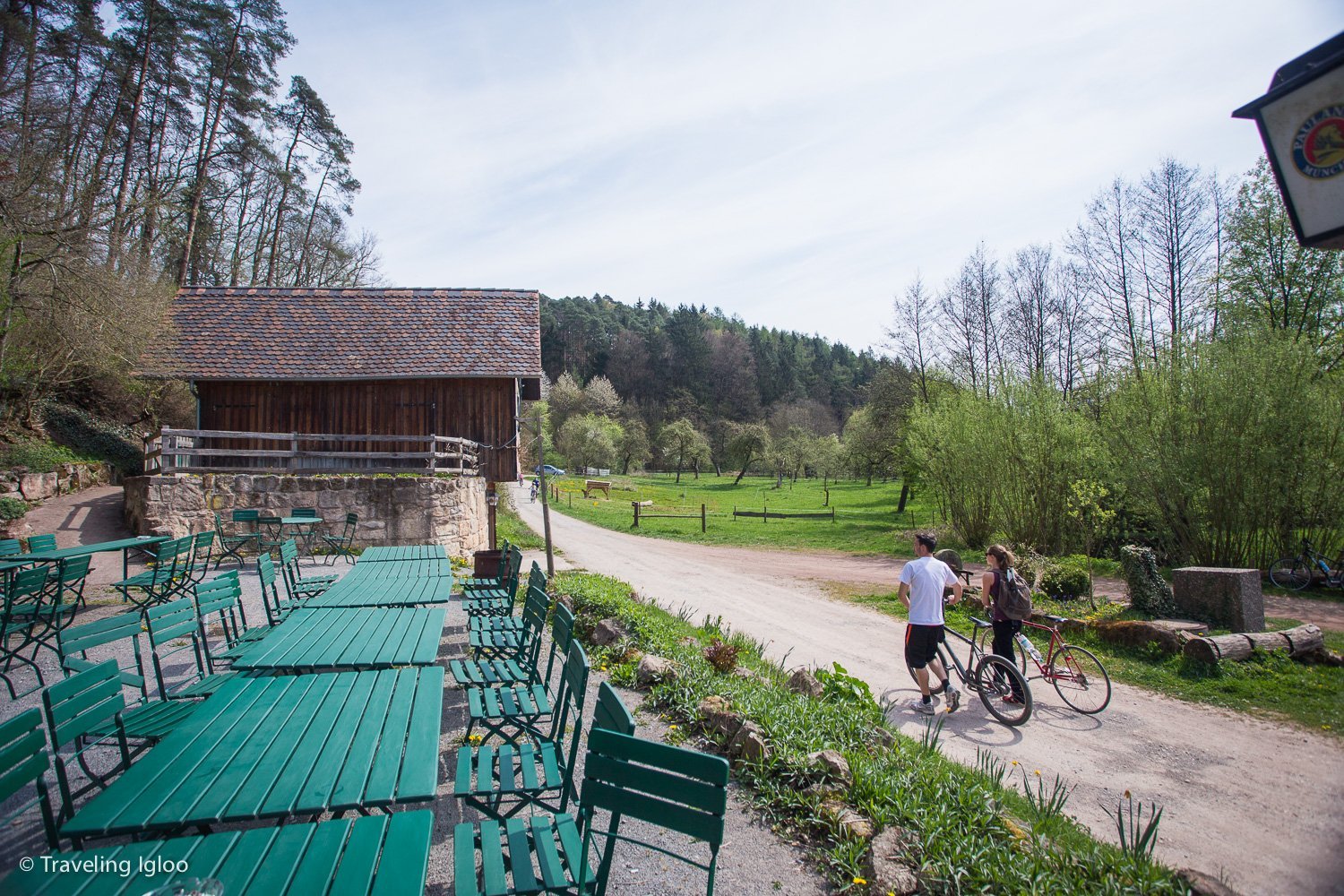 There are two ways to go about this. The first is to do a tour. There is a company called Stuttgart by Bike, which offers a lot of different tour options such as Stuttgart by Night and a Vineyards tour. They are reasonably priced too, starting at just 25 Euro and going up to 50 Euro per person.
If you have the time and want to explore outside the city, I would highly recommend Siebenmuhlental. This area, just south of Stuttgart and close to the airport, is made up of 7 mills (sieben = seven, muhlental = mills) that have been converted to biergartens.
I'd opt for the longer tour on Sunday so you can enjoy your time and see everything. It's a beautiful area of rolling hills, fields, farms, charming villages, and of course biergartens!
Read More: Take a Biergarten Bike Ride Through the Forest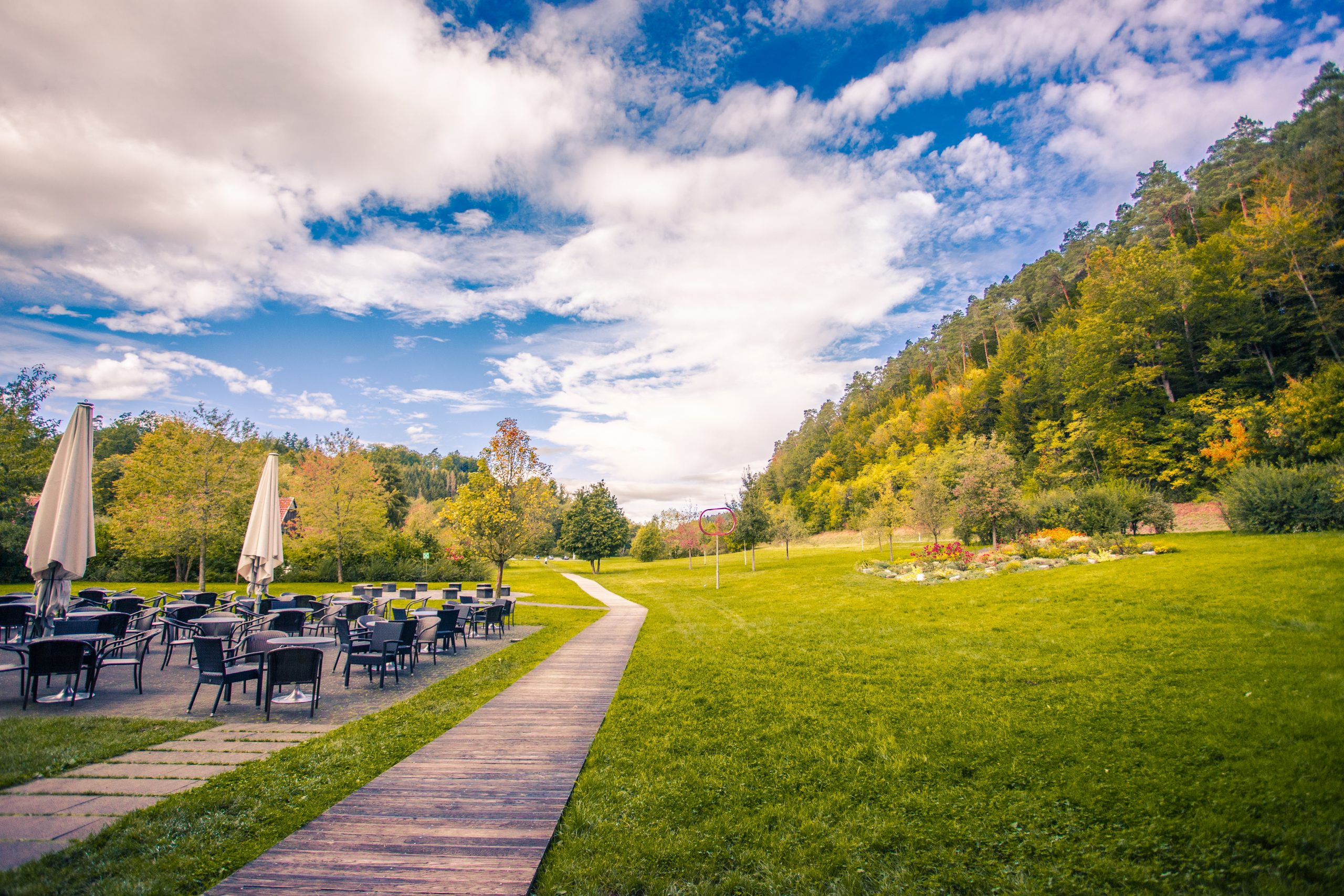 Self-Guided
If you decide to do a self-guided tour, there is a great app that has all the trails called VVS Radroutenplaner. There is an app for Google play, Android, and iOS. From here you can click 'English', then create your route.
There is also the option to search 'Themed Routes'. They have the Siebenmuhlentalroute as well as many other routes. If you click on one the route will appear. Other areas I'd consider exploring are the Neckar River, the Green-U, or getting a good workout and exploring some of the hilly vineyard areas that will take you outside of the city.
There are bike rental shops around the city which will be your best bet. DeutscheBahn has a call a bike service that makes it simple to rent. You register via their app, by calling, or visiting a terminal (search Google Maps to find one).
If you use the app, it allows you to find available bikes in the area. From here you can select and rent your bike, and it costs 1 Euro every 30 minutes. They also have a lock so you can stop, take a break, and not worry about it being taken. The website has more information about the bikes and how to rent them.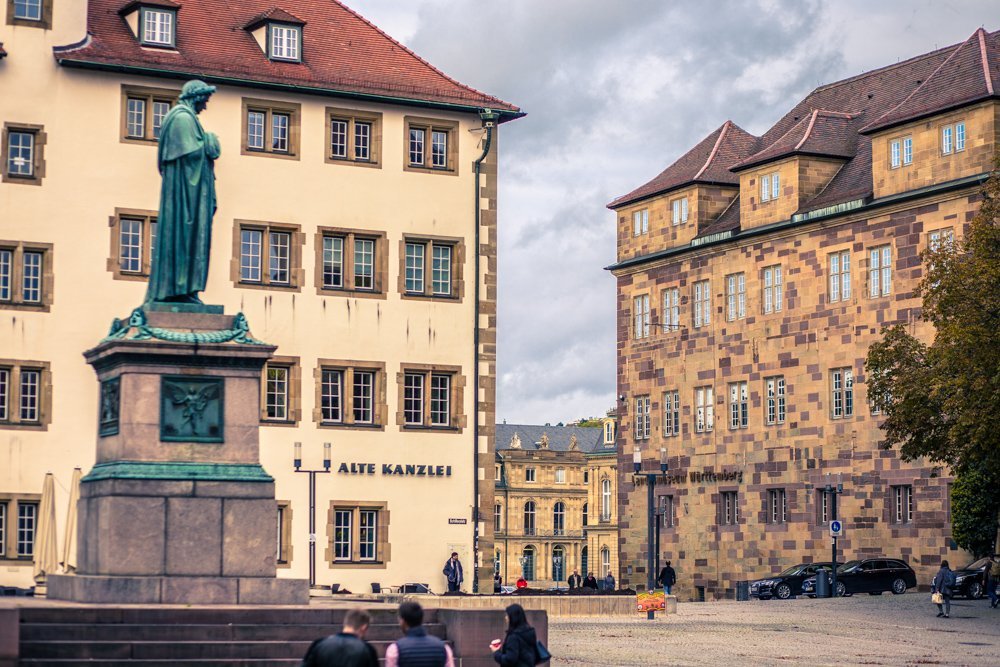 ---
21. Have brunch at Shönbuch Brauhaus or Amadeus
Something that many people may not be aware of is that Germany is known for their fantastic brunch! Brunch is not something you do for an hour or so, it is actually a great and leisurely way to spend time with family and friends on a Sunday.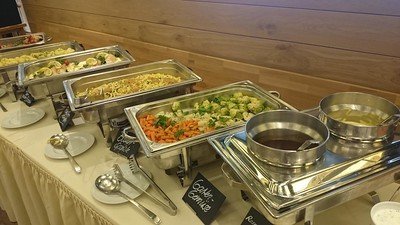 Typically brunch runs from around 10am – 3pm. Throughout the day the menu changes and different spreads are brought out in accordance with the time. In the morning they serve many breakfast items, then around midday they bring out lunch-type food, and in the afternoon they serve desserts.
At Shönbuch, beer is on tap and unlimited. It's also a great way to test out your beer pouring skills!
When we used to go to Amadeus, they had a fantastic dish with salmon and a horseradish whipping cream. The menu changes often so it's likely they'll serve different items each week.
Costs: It costs around 20-30 Euro per person and usually specialty coffees are not included.
---
Pro Tip: Get a StuttCard
If you want free entry to nearly all of the museums and attractions, and one ticket for entry on all public transportation, consider getting the StuttCard. You can purchase it for 24, 48, or 72 hours and get a discount on 46 partners around Stuttgart. A few options include the Mercedes-Benz and Porsche museum, the Staatsgalerie, and Ludwigsburg Palace.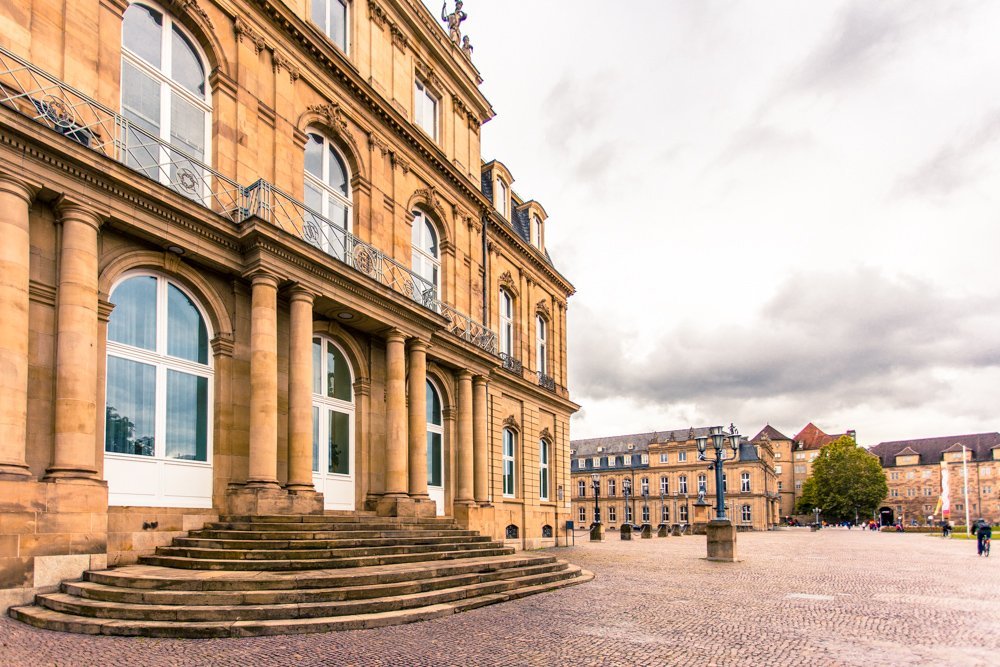 ---
22. Bierbike Through Stuttgart
Although this isn't unique to Stuttgart, going on a bier bike is always a fun experience. This makes for a fun event or celebration. The bier bike can hold up to 17 people and has a keg and bar top.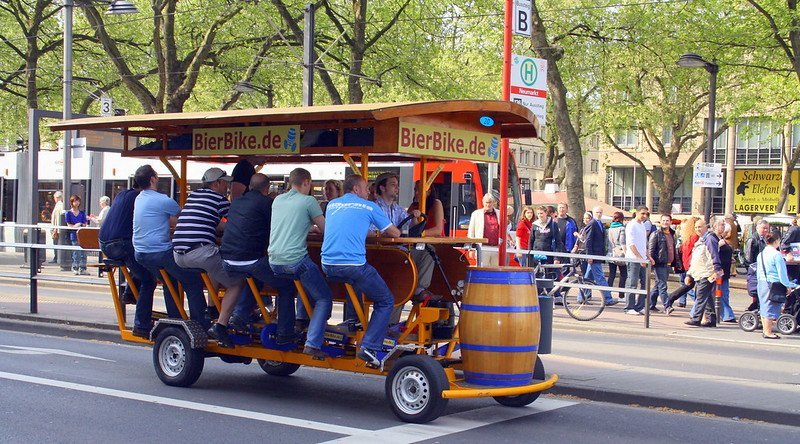 Don't think you can just sit back and relax, though, as there are pedals so you can keep it moving!
More information about pricing and scheduling your event can be found on their website. This does require that you plan ahead, so be sure to schedule your event well ahead of time.
---
23. Explore the Schwein (pig) Museum
Where else in the world can you have a birthday party all while learn about slaughtering pigs? But seriously, this Pig museum is massive. It has over 27 themed rooms all dedicated to the Schwerin. Many rooms have sculptures, knick-knacks, ceramics, and other pig items. It's a little quirky, but a fun museum to visit with kids.
---
24. Climb the Killesburg Tower
Located at Killesburg park (known to the locals as Höhenpark), the large tower overlooks the city. Once you climb the 174 steps you are rewarded with a view of the park, the city, and the hilly Swabian forest beyond.
There are many other things to do here and many are family-friendly. Take a ride on either a steam train or diesel train that is a favorite for the kids. It takes you around the park and is a fun way to see the area. There is also a petting zoo and a large playground.
Everyone can enjoy walking paths and well-maintained flower beds. These large gardens are magnificent and you'll find flowers of all varieties.
In the summer months there are many festivals and live shows held at the open air theater, with the most popular event being the annual festival of lights.
---
25. Enjoy a Night at the Museums (Lange Nacht Der Museen)
Once a year in March, Stuttgart opens over 80 museums and galleries for the annual Long Night at the Museums.
The exhibitions are open from 7pm – 2am and there are bus shuttles to bring guests to locations around the city.
I think the most interesting exhibit is the bunker under the city at Wilhemsplatz. The bunker is normally closed off, but on this night it's opened to commemorate the end of World War II. There are videos of witnesses recounting their experiences in Stuttgart and other exhibits discussing the events. Tickets are 20 Euros for adults and 5 Euros for children aged 6-11.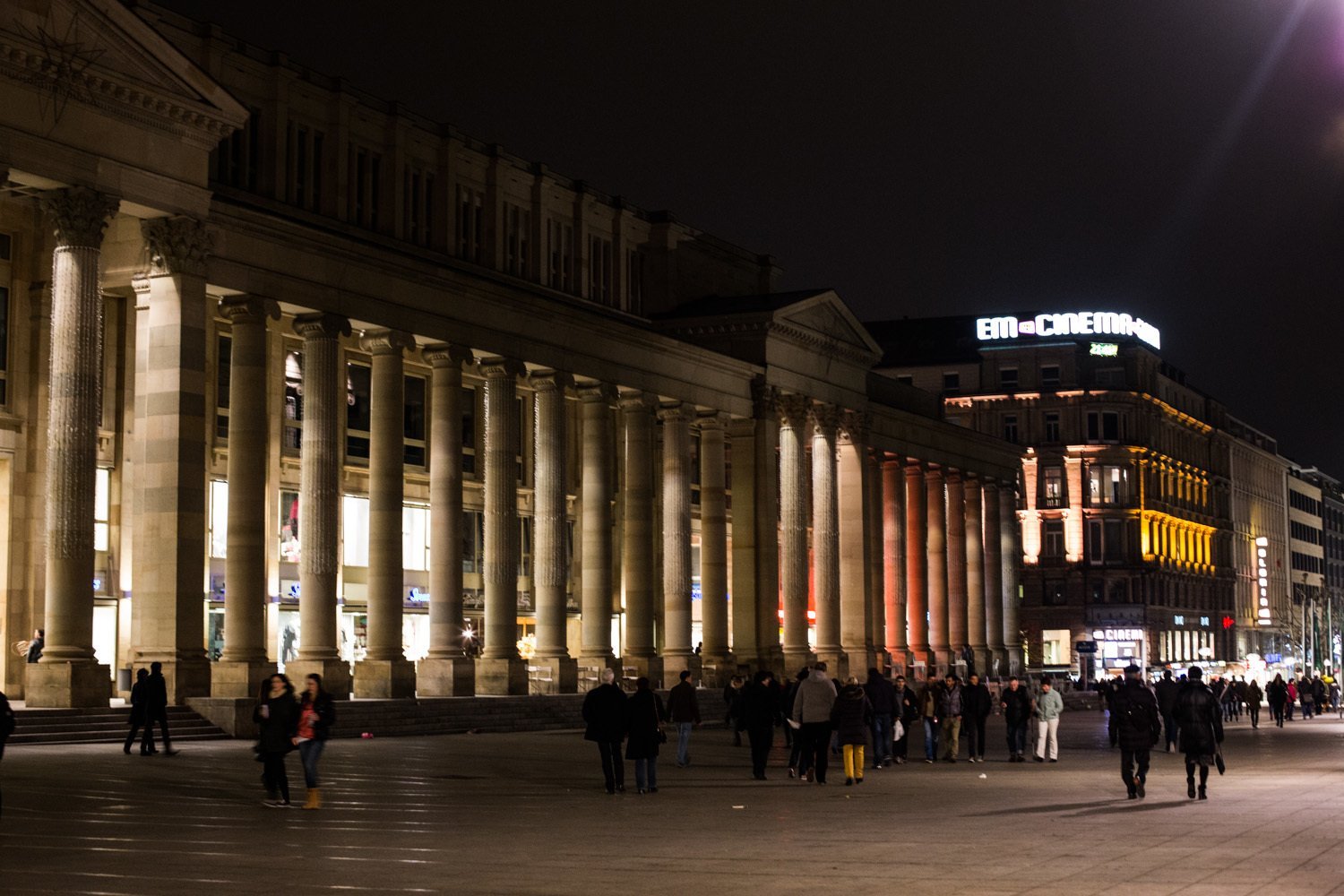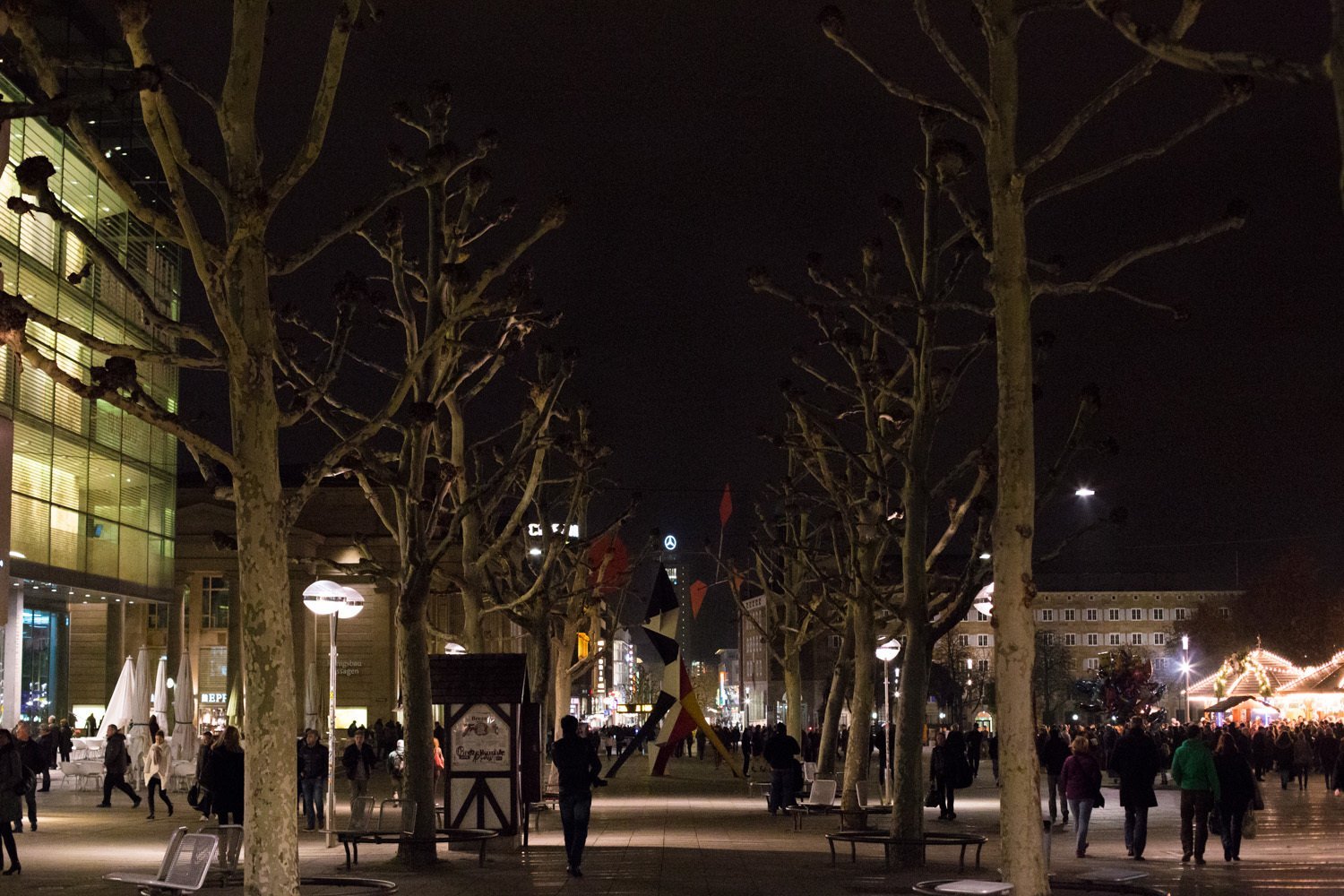 ---
26. Visit the State Museum of Natural History (Naturkunde Museum Stuttgart)
With over 11 million objects available for viewing, the Natural History Museum just north of downtown Stuttgart is one of the largest in the country. Check out fossils up to 250 million years ago, and learn about the natural history of the area. This is a great museum for kids and adults. There is an area for kids to dig for fossils themselves. Most of the information is in German, however, so be sure to have a translate app on your phone.
---
27. Stand Atop the TV Tower
Did you know the first TV Tower was built in Stuttgart? It's true. Built in 1956, the tower stands 217 meters high and can be seen from downtown Stuttgart.
While the antennae is no longer active, today it is open to the public where visitors can see the panoramic views of the city, vineyards, and countryside for miles.
There is also a panorama cafe at the top to take in the views. Book in advance for skip-the-line tickets and don't waste time standing in line.
For more information including hours and parking, visit their official site.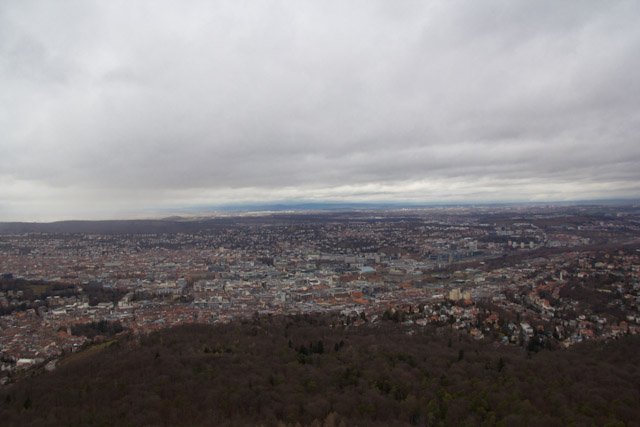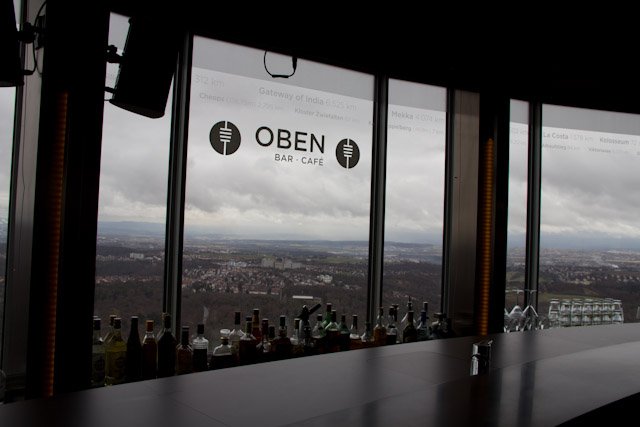 ---
28. Go on a Wine Tasting Tour
Is there anything better than walking among the vineyards on a warm spring or summer day and tasting wines from all over the area? In my opinion, this is about as good as it gets!
Weinwanderung, or Wine Hiking (yep, this is a real thing), is quite popular in the Stuttgart Region.
When you arrive in the city, one of the hallmarks of the hillside areas are the abundance of vineyards everywhere. Vintners from different regions get together to form these wine hikes a few times a year. Since there are many different regions and towns, many hold their own. In fact, you can probably find a wine hike every other weekend from May to September.
A nice feature of many of these wine hikes is that you can take public transportation right to them, so you don't need to worry about who's driving. This website has information on all the wine walks throughout the year and details for each one.
One of my favorites is the Esslingen Wine Walk. To get here from downtown Stuttgart, you can take the S1 toward Kirchheim. I like it because it's held in mid-May when the temperatures are perfect, and Esslingen is one of my favorite towns in the area.
Pro Tip! If you make it to every stand for a wine tasting, you'll get a free wine tasting at the end.
This is an incredibly popular wine walk, so I recommend getting there plenty early. If you are driving, you'll likely need to search for a side street if the parking garages are full. The train is much easier but I've driven there many times and found parking without much hassle.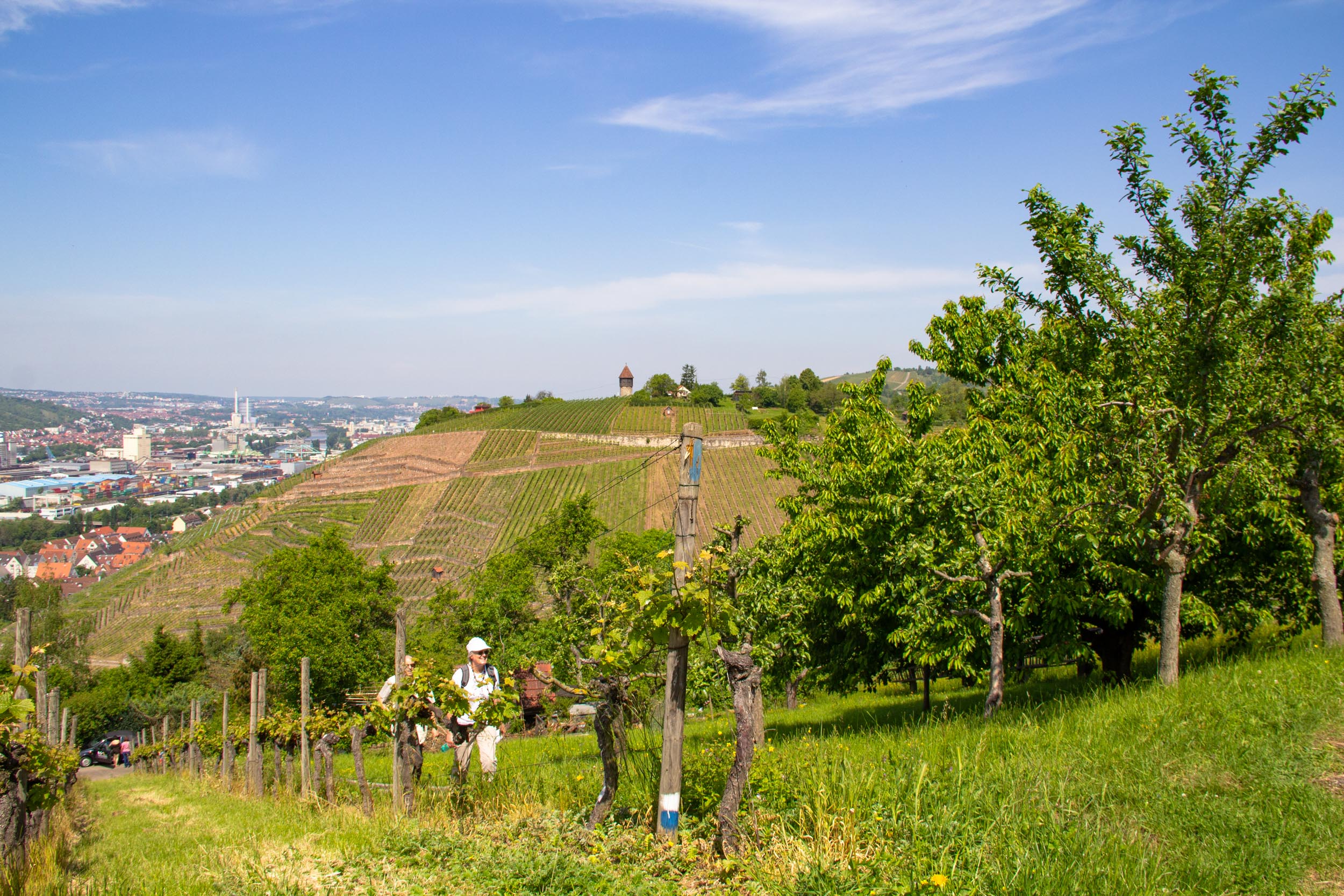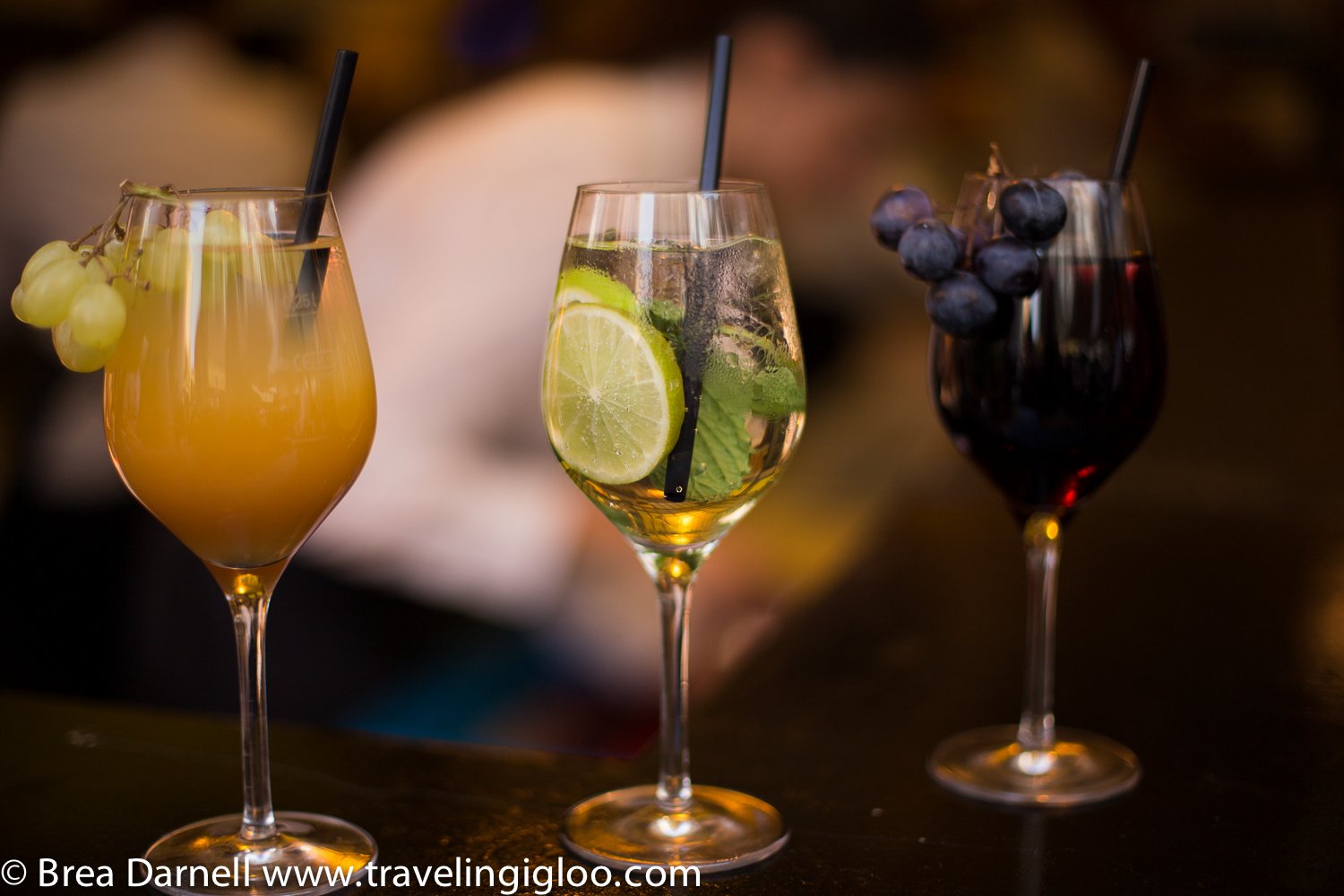 Another popular one is in Untertürkheim, an area just north of Stuttgart. There are five stands for tastings (but you are welcome to purchase as much as you want), and after 7pm there is a party that goes until midnight.
Short on Time? I recommend checking out a guided wine tour in the area.
Book Your Stay
I have been traveling Europe and the US for 9 years and have been to over 20 countries. I have tried many different companies over the years and these are the ones I highly recommend.