I love living in Stuttgart but don't write about it often, so here's a glimpse into some of the best things to see and do in this city. Whether you live here or just have a few days, these ideas offer plenty of options to keep you busy all within the city limits.
1. Schlossplatz
Schlossplatz, or palace square, is in the center of the city. It sits along Königstrasse and is just a few blocks from the main train station (Hauptbahnhof). Surrounding the square are restaurants and many historical buildings including the New Palace.
On a hot sunny day people can be seen lounging on the grassy areas or cooling off in one of the large (chlorinated) fountains. In the winter Schlossplatz is surrounded by Christmas music, hot mulled wine and Christmas stalls.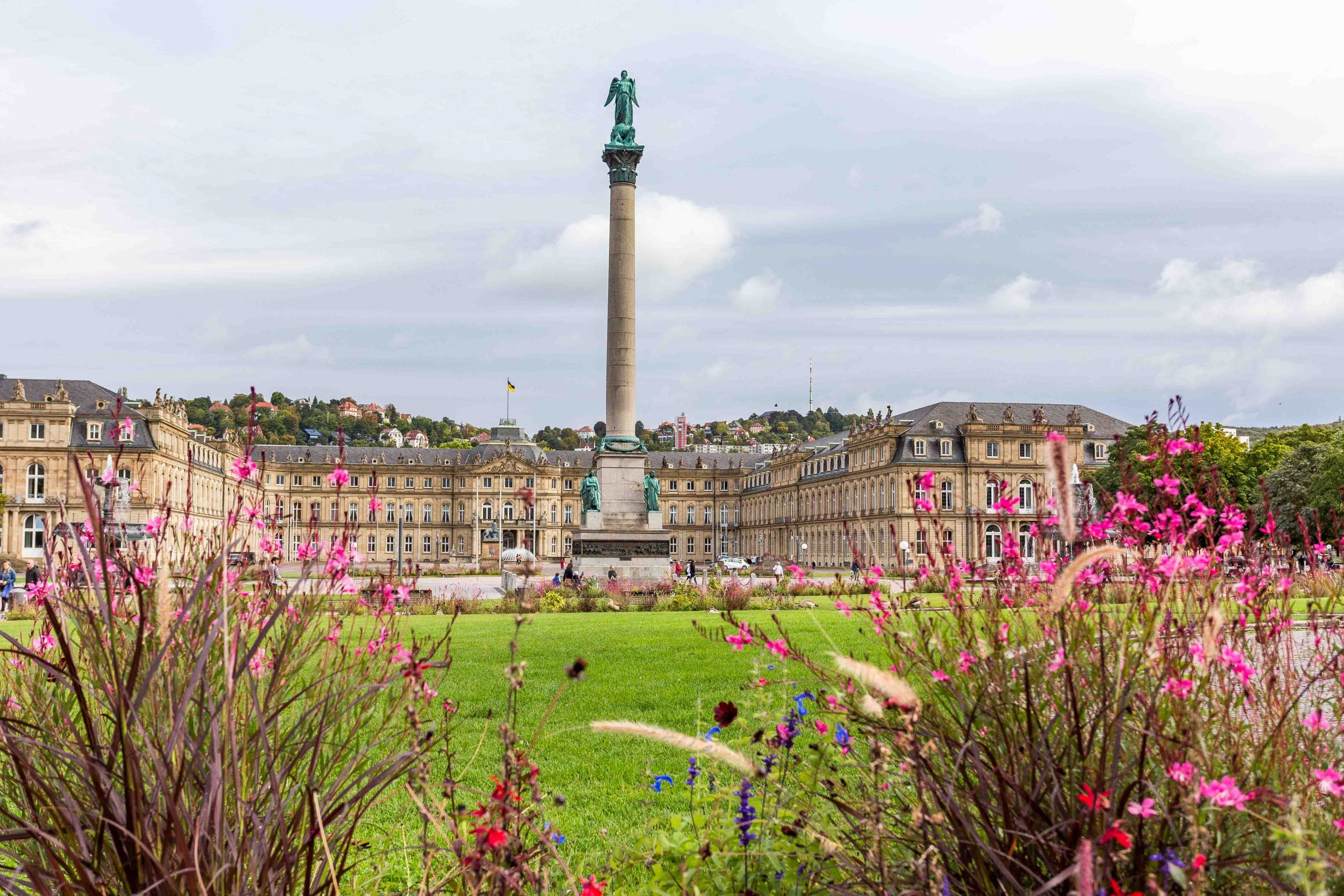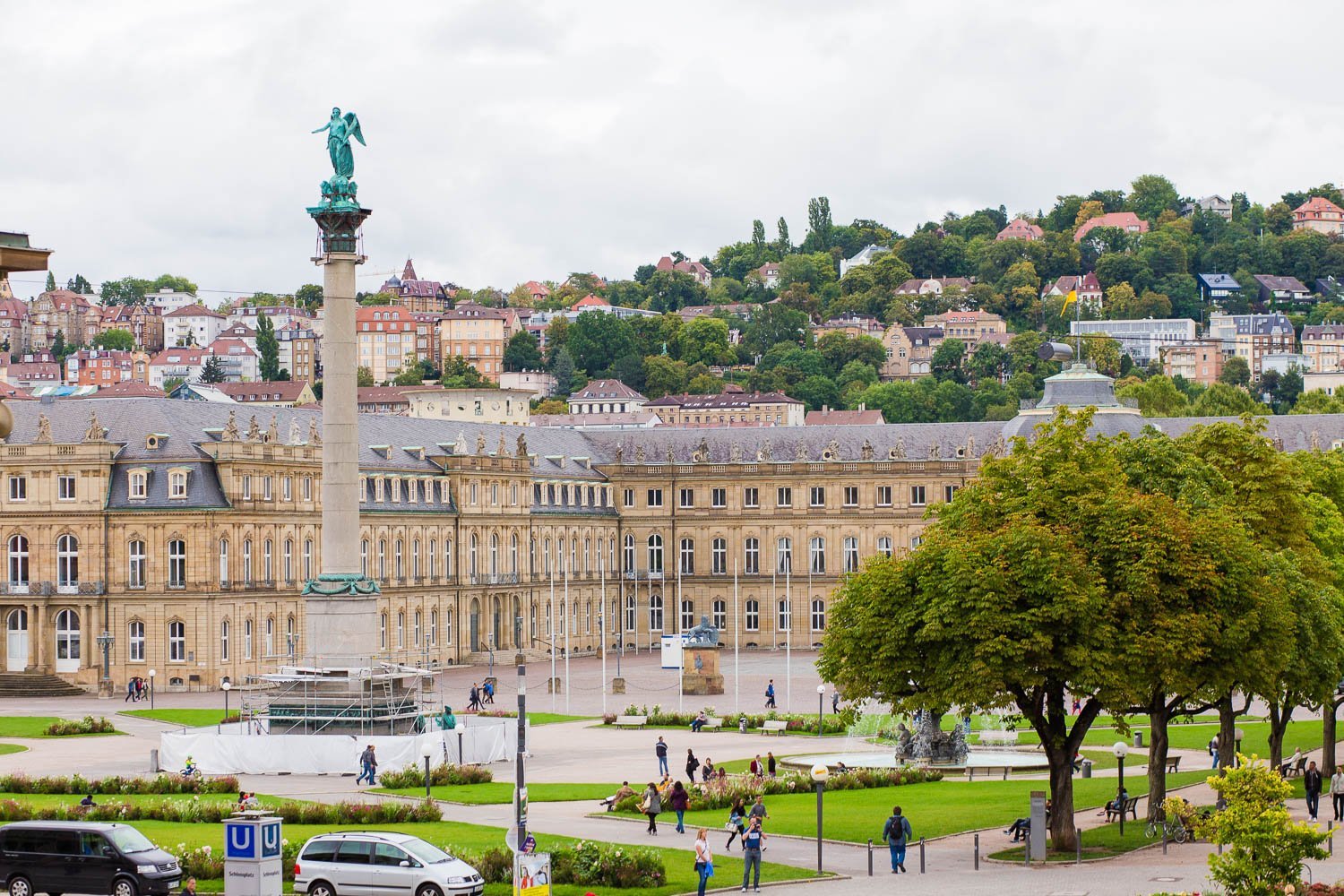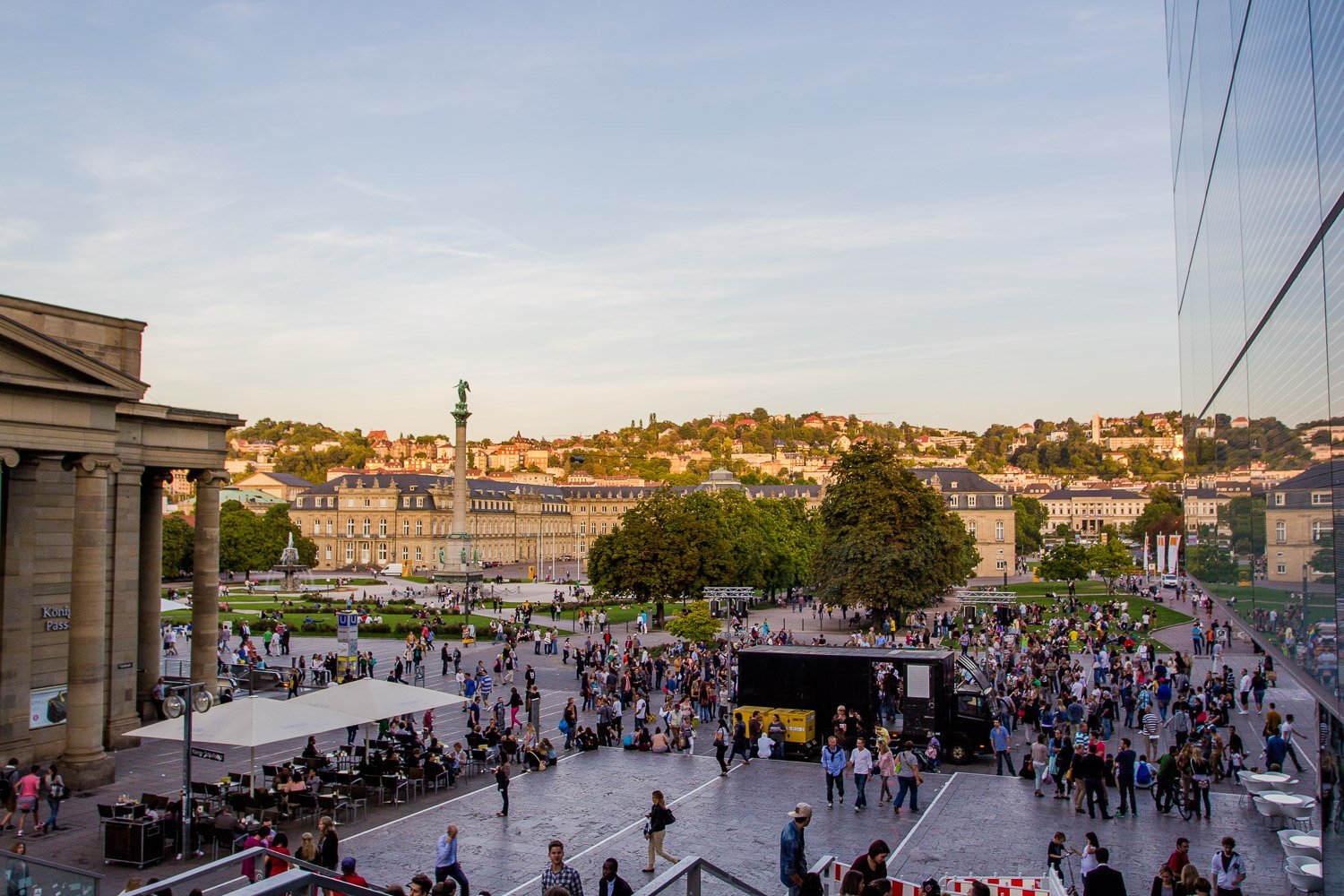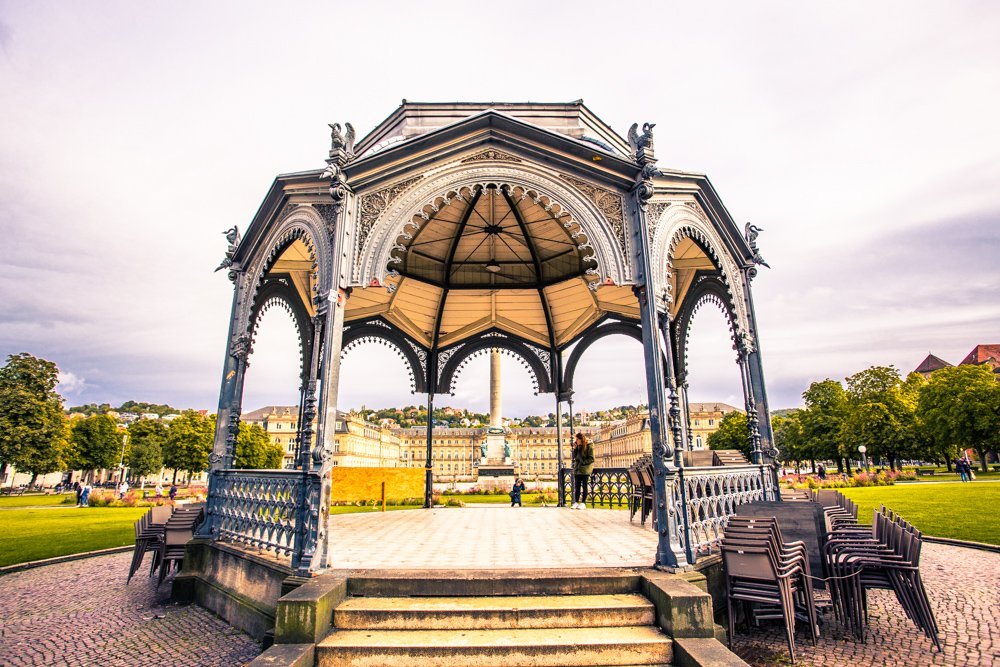 2. Königstrasse
Known as the shopping mile, it is the longest pedestrian shopping street in Germany. I love popping into TK Maxx (not to be confused with TJ Maxx) to find great deals on products from Turkey, Portugal, and elsewhere. I would suggest taking some side streets to explore and get a little lost. In the photo below you can see the opening of the Schlossplatz, listed above (the street opens up on the left).
Königstrasse is the main street you see as you exit the train station and is in the heart of the city. There are plenty of biergartens, restaurants, and cafes to curb your hunger while you shop.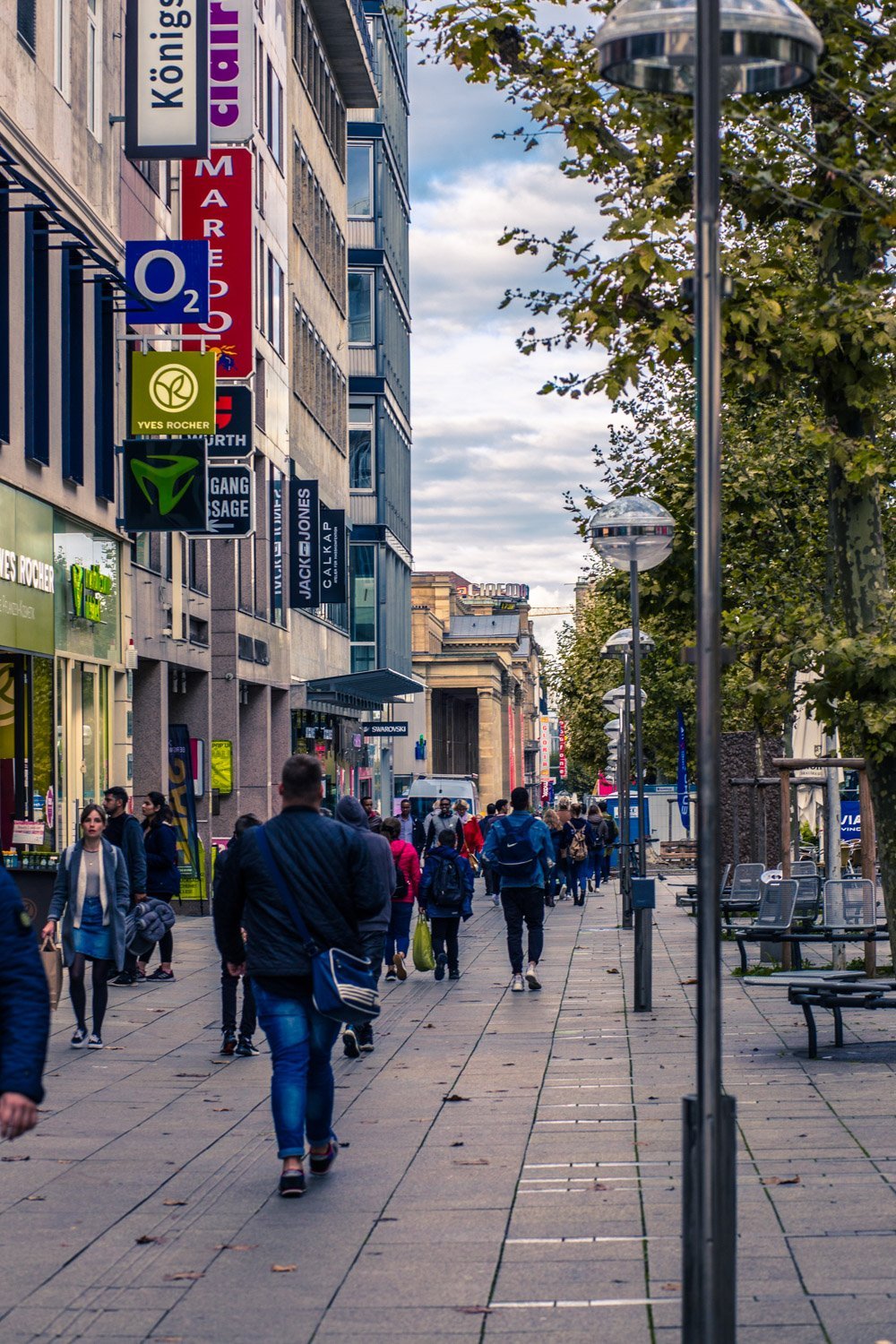 3. Birkenkopf (Rubble Hill)
To get a glimpse of history and a great view in one, head to Birkenkopf. Also known as Rubble Hill, this hill has been built up by rubble and remnants of war. This is evident by the pieces of buildings overgrown by shrubs and grass. At the top you can get a great view of the city.
To get here, you will need to drive or take public transportation. It's possible to get here by bicycle as there are bike paths and bike trails all over the city. Birkenkopf is located in Stuttgart-West and there is a large parking lot across the street. It's a short walk uphill to get to the top.
Address: Birkenkopf, 70197 Stuttgart, Germany
Ralf Κλενγελ (Flickr)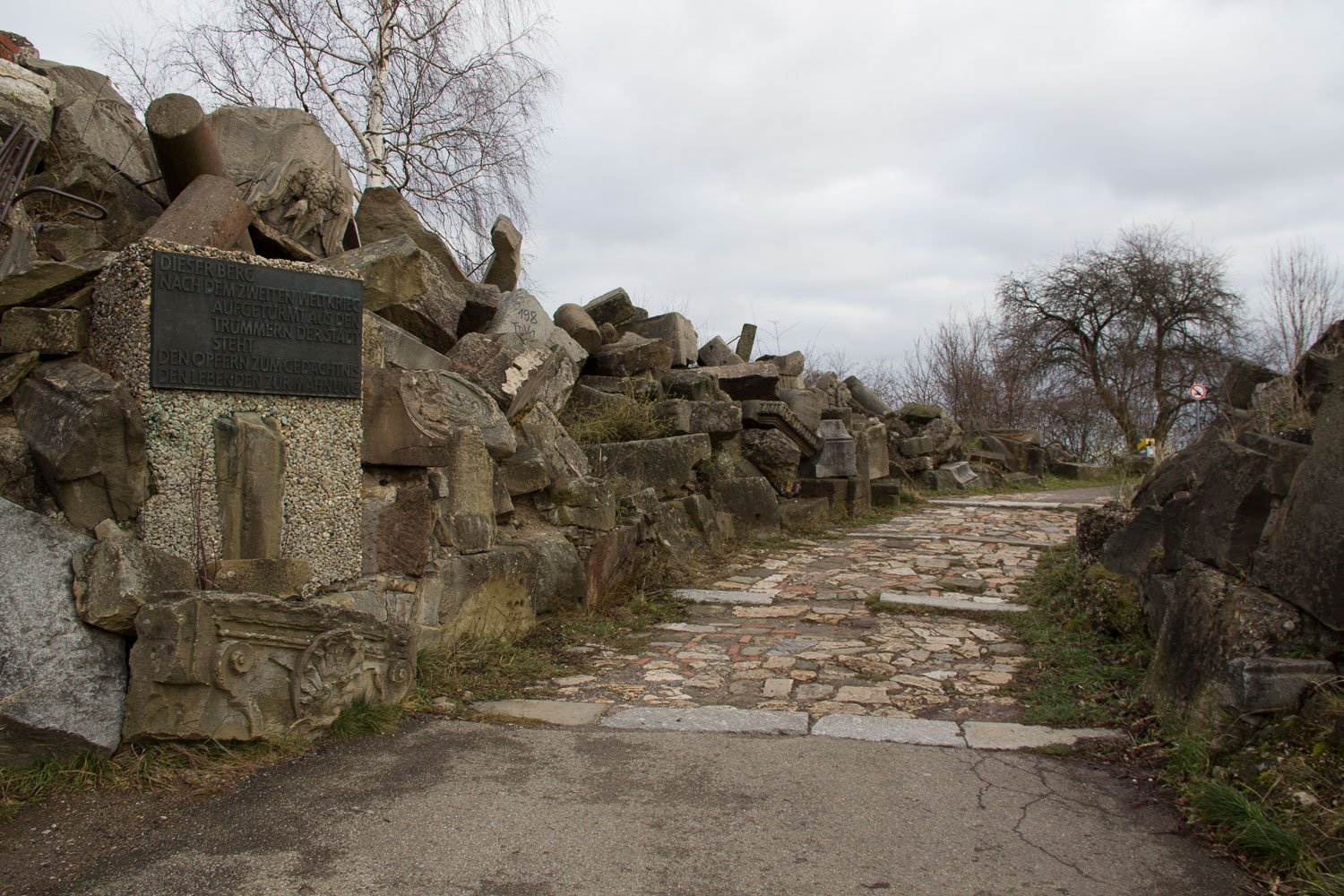 4. Art & Culture
With the Staatsgalerie, Stuttgart Opera House, Liederhalle, Porsche Arena, Stuttgarter Ballet, Staatstheater, and Kunstmuseum, Stuttgart has many performing arts centers and theaters to choose from. The Stuttgart ballet and Opera house are world-renowned with year round shows, and many are centrally located downtown in the heart of the city.
Stuttgart is also a city of culture. There are festivals throughout the year including the Stuttgart Summer Festival, Fish Market, Volksfest, Spring Fest, Stuttgart Wine Village, and many more.
Below is the Opera House during the Stuttgart summer festival.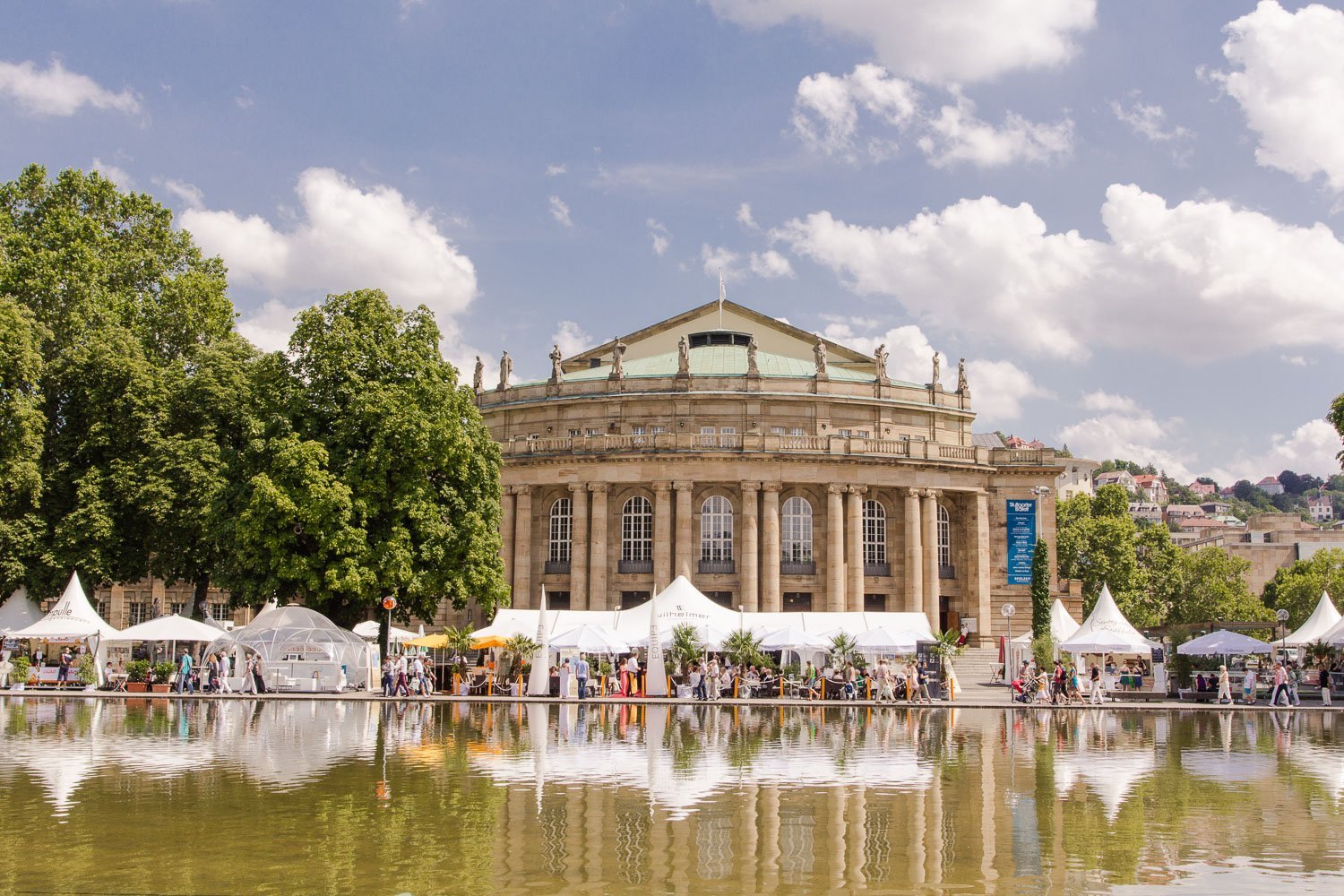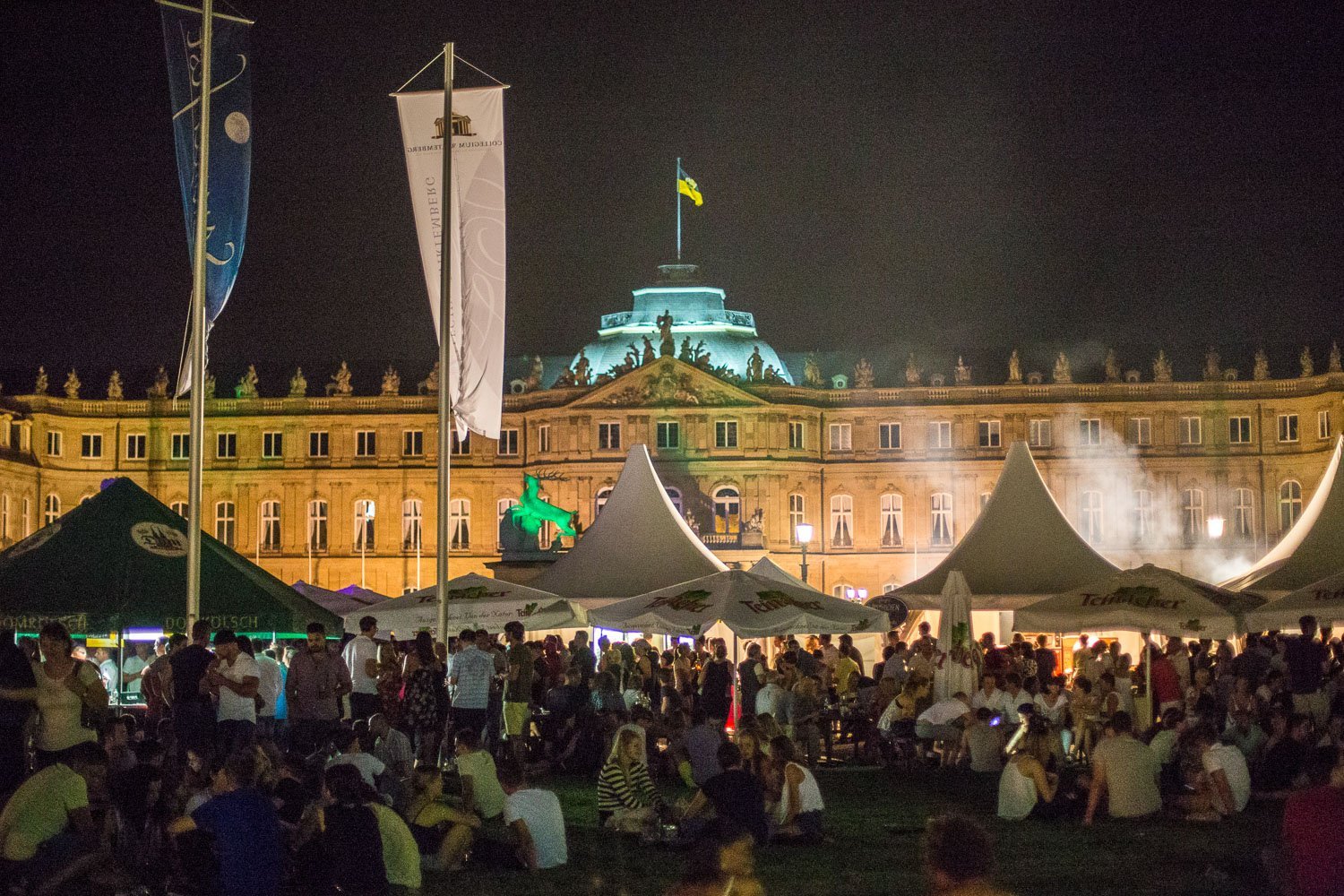 5. Mercedes Museum
The city is home to many automakers including Mercedes (Daimler) and Porsche. The Mercedes Museum is a multi-story complex that winds it's way up, taking you through over 125 years of car history.
6. Stadtbibliothek Stuttgart
The Stadtbibliothek, or public library, is worth a visit for its architectural interest alone.
The library is located at Milan Platz 1 70173 Stuttgart.
7. Volksfest
Similar to Oktoberfest but without all the fame and tourists, Volksfest is the second largest beer festival in the world. It attracts about 4 million visitors each year. There are 10 large beer tents and a large fair with rides, games, food, and more.
The atmosphere is more laid back than Oktoberfest, and it is much more likely that you will be able to snag a spot at a table inside the tents. Unlike Oktoberfest, you are also allowed to stand inside without first having a seat at a table.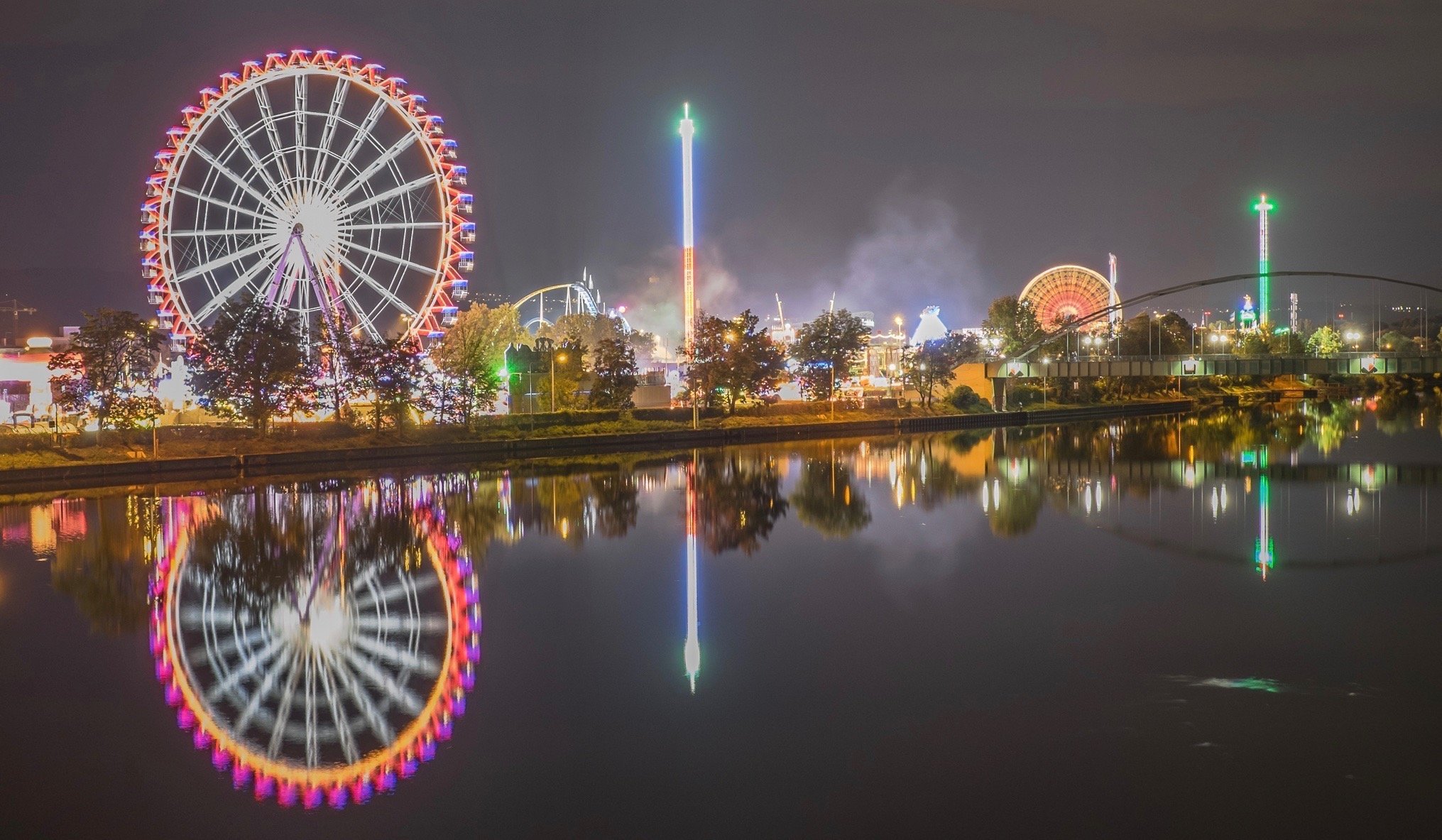 Markus Jaschke (Flickr)
Pablo Yañez (Flickr)
8. Schloss Solitude
Located west of Stuttgart just outside of the city, Schloss Solitude is a large palace built high on a hilltop. The views are great and the grounds are large with many trails and a large lawn area out front. Duke Carl Eugen von Württemberg built the palace in 1763 to be a lodge and hunting grounds.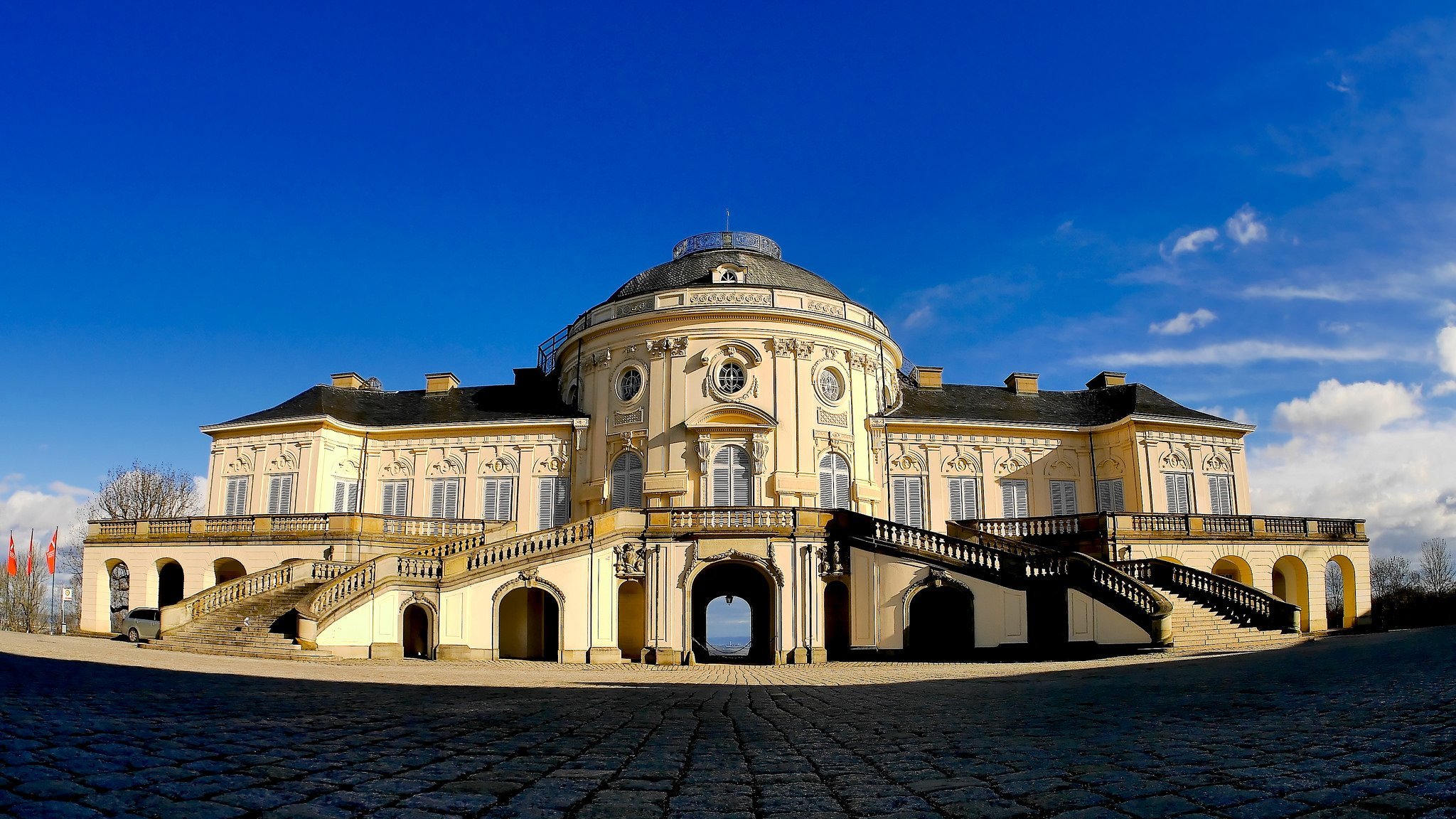 Ralf Κλενγελ (Flickr)
9. Wine & Vineyards
Stuttgart, the largest city in the greater Baden-Württemberg state, produces local wines in the summer months. White and rose are most prominent in this region. In the spring and summer months many vineyards have wine tastings. Vintners set up stands throughout their vineyards, sometimes with food or music, where people can try and purchase different wines.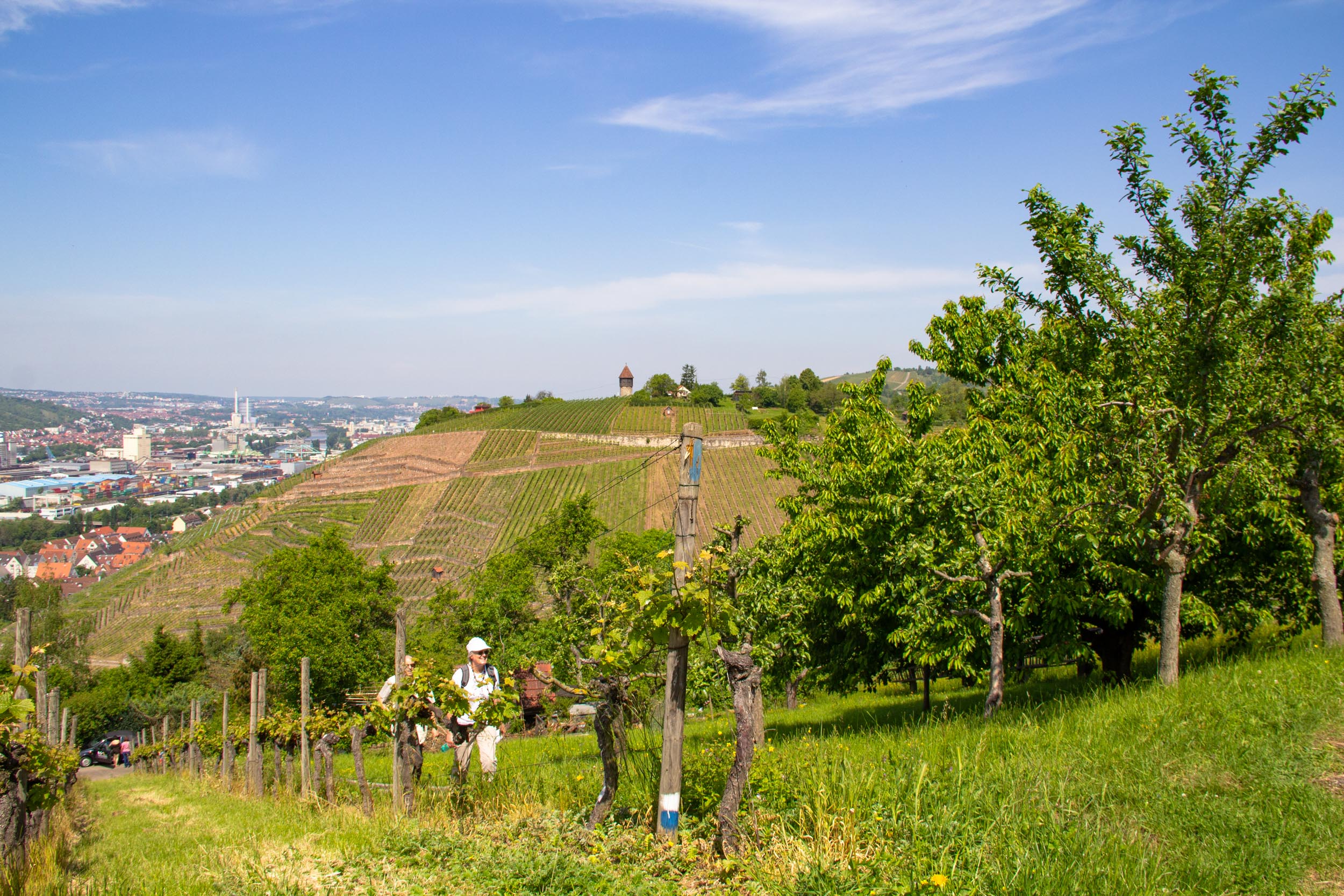 10. Ludwigsburg Palace
Just north of Stuttgart is Ludwigsburg Palace. It is a massive four winged palace, the largest Baroque palace in Germany and one of the largest in Europe. Inside there is a large courtyard and gardens. Ludwigsburg has two churches, over 450 rooms, and the oldest palace theater in Europe. It also has one of the longest guided tours that runs for 90 minutes. The english version is at 1:30pm daily and on weekends and holidays runs at 11am and 3:15pm.
More information: http://www.schloss-ludwigsburg.de/en/visitor-information/
11. Christmas Markets
Christmas markets in Germany are something special that everyone should experience at least once in their lifetime. Scents of cinnamon, nutmeg, mulled wine, and fresh bread fill the air.
The Christmas stalls have a friendly competition each year to see who has the most decorated rooftop. As a result each stall has an intricately decorated roof.
The market in Stuttgart is sprawled out across the entire downtown area. There are over 250 stalls total and it is one of the largest and oldest markets in Germany. There is also a Finnish market where you can get the best salmon and glögli (Finnish mulled wine) around.
More information: http://stuttgarter-weihnachtsmarkt.de/en/home/
12. Beer & Biergartens
Germany is known for beer, and Stuttgart is no exception. Biergartens (beer gardens) are a wonderful place to enjoy the fresh air, have a cold drink on a hot day, and even bring your kids to play too. Many have playgrounds at the biergarten.
Schlossgarten is a large biergarten in an even larger park near the train station. They have a playground and a stage for music and live shows. Please Note the train station is currently undergoing construction but the biergarten is largely hidden from the construction nearby.
Some biergartens are hillside and among the vineyards, providing great views of Stuttgart and the Swabian Alb. If you visit Stuttgart, you have to stop by at least one biergarten. If beer isn't your thing you can still get wine or Apfelschorle, a local favorite. Biergartens also serve basic traditional German foods such as bratwurst.
Here are some of my favorites:
Tschechen and Sohne
Schlossgarten
Teehaus
Karlshöhe
Bärenschlössle
Birger Hoppe (Flickr)
13. Feuersee
Feuersee & Johannekirche is just southwest of downtown Stuttgart. The church is beautiful and it makes for great photos. The church was badly damaged during World War II and the tower was intentionally left incomplete to serve as a war memorial.
barnyz (Flickr)
14. Wilhelma Zoo
Right in the heart of the city, Wilhelma Zoo is a beautiful zoo with a large variety of animal species. It is also home to large botanical gardens with over 7,000 species of plants. In the summer the zoo is a magnificent display of color and greenery.
Eagle1effi (Flickr)
Enjoyed this post? Check out my new post on 14 More Great Reasons to Visit Stuttgart!
Other posts about Stuttgart you might find interesting: