Riquewihr, France: Everything You Need to Know About This Town in the Alsace
Hey there!
This post may contain affiliate links, meaning I may be compensated if you click on one of my links, at no cost to you. As an Amazon Associate, I earn from qualifying purchases. Read my disclosure policy for more information.
Riquewihr is one of many small and charming towns in the Eastern part of France, bordering Germany. Situated in the Vosges mountain range in what's called the Alsace, the village lies in the Germanic region of France.
It has changed hands between Germany and France a few times, and as a result, many towns visibly have a mixture of both influences. This region was under German occupation until 1918, then after the First World War, it was ceded to France under the Treaty of Versailles.
The half-timbered homes are quintessential Germany, while the wrought iron details and flowing French wine let you know you are in France. There is even a unique language here, Alsacian, that is close to German in dialect.
Riquewihr just oozes fairytale at every turn, and it's hard to not find yourself pointing at everything while walking the streets. They also have a lovely Christmas market each year.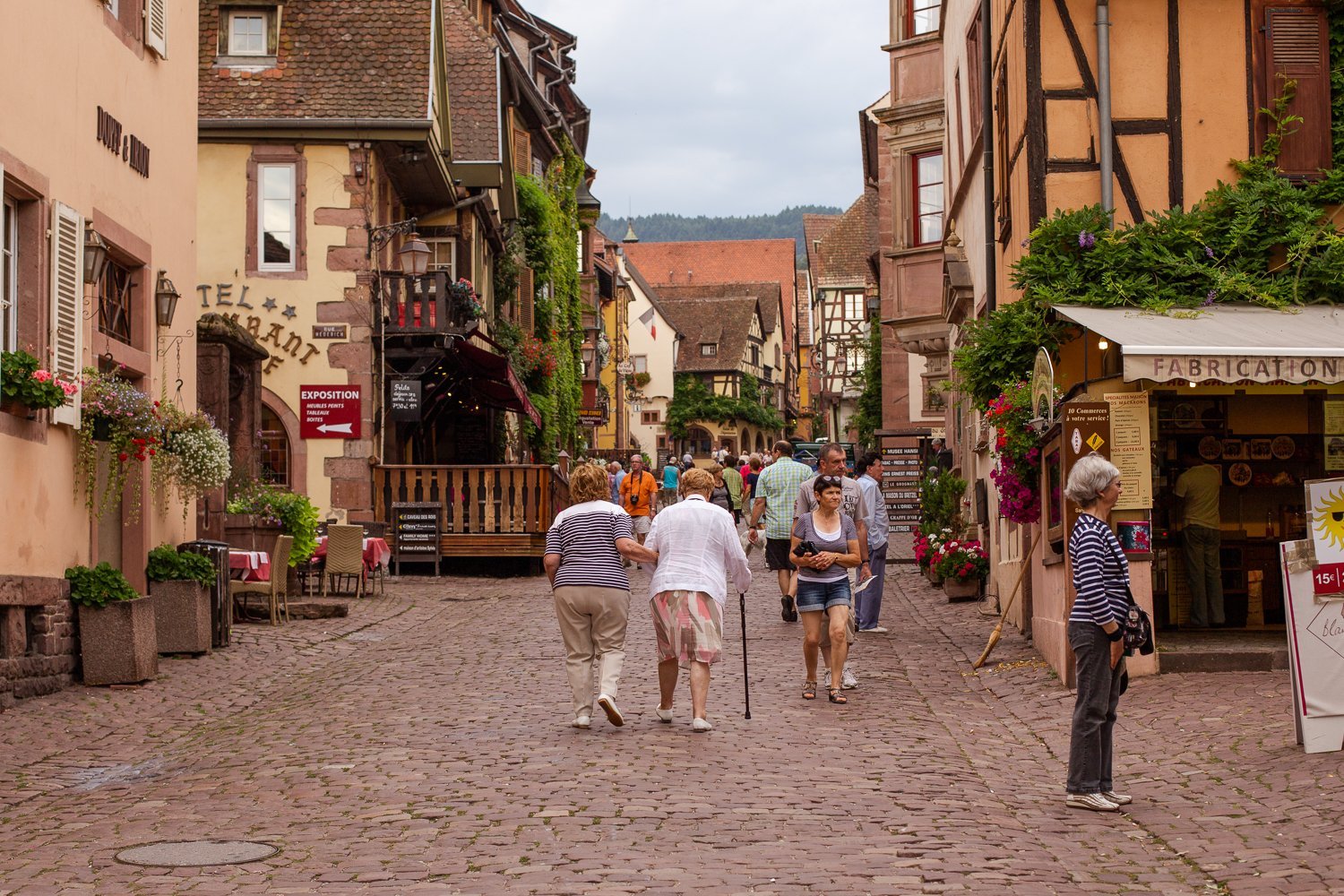 The Alsace Wine Region
The wine in the Alsace is world-famous and there is an Alsace wine route so you can try many local varieties. This takes you through many lesser-known villages as well as some larger towns like Colmar.
Riesling is the most popular wine, but there are also many other wine (vin) varieties.
I've found the reds are light (unlike the Northern Italian reds) and the white wines are crisp and refreshing. I'm no sommelier, but these wines do just the trick on a warm summer day.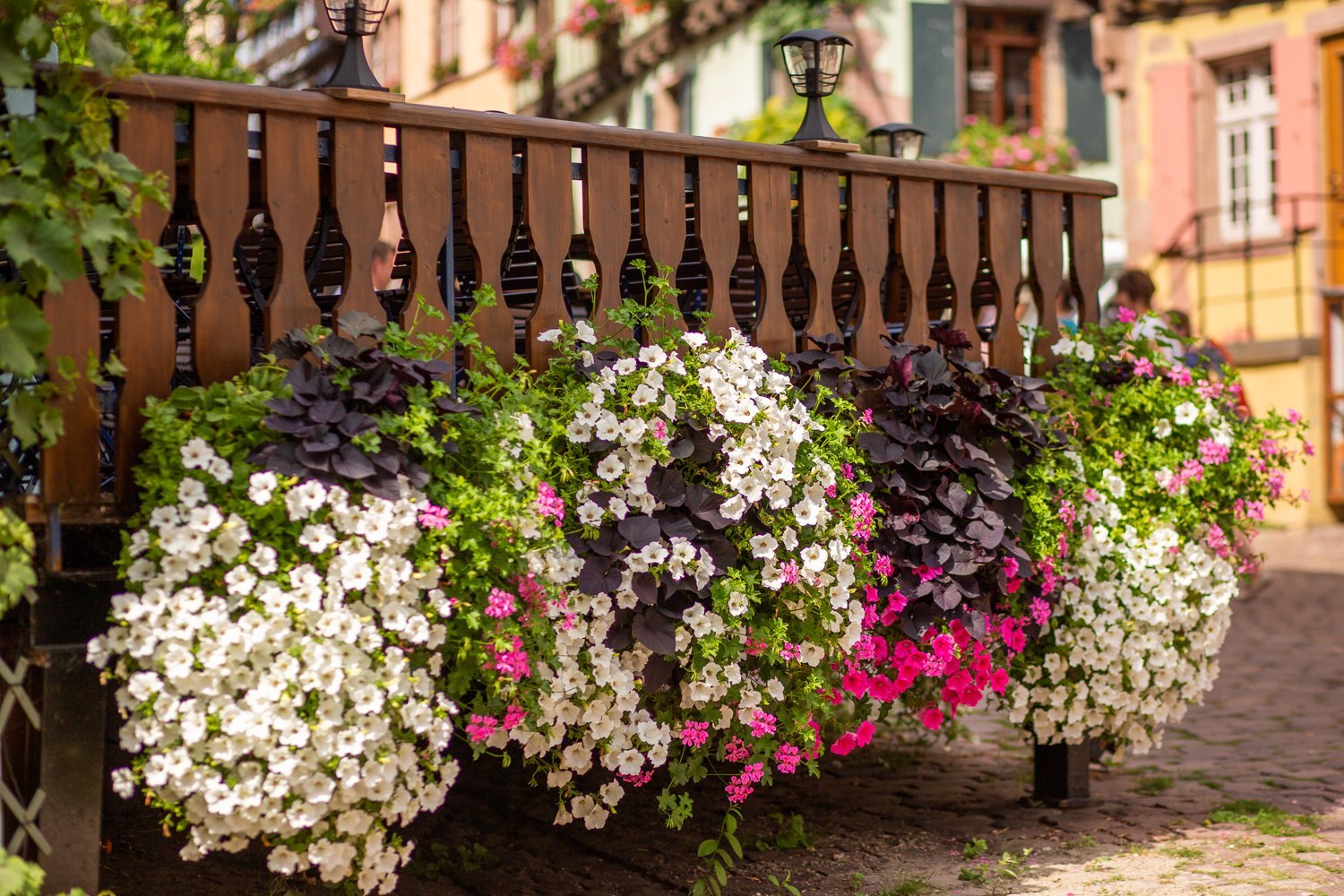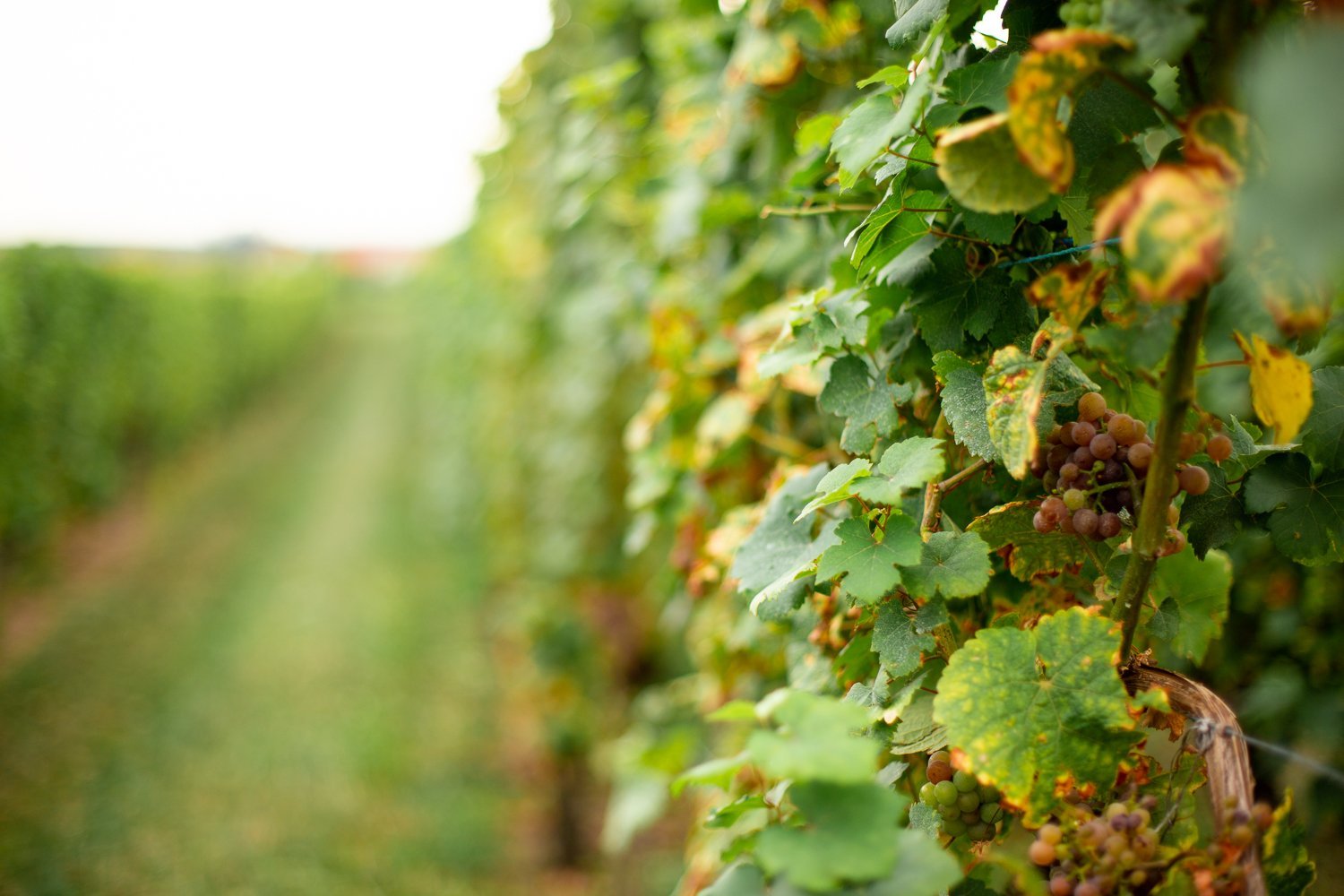 Getting to Riquewihr
The village is about a 15-minute drive from Colmar, another charming wine town albeit much larger and more touristy.
Zurich or Stuttgart are your closest International options. While Stuttgart isn't particularly well-known, I lived there for 6 years and highly recommend visiting.
If you want to get even closer, you could take a connecting flight to Strasbourg (43 miles) or Basel (50 miles).
Getting Around
Renting a car is really the way to go. There are many other villages among rolling hills in the area, and having a car to get around is the easiest way to see the area.
The entire area is beautiful, and you can easily travel between France and Germany. Driving in this area is fairly straightforward and easy.
I recommend booking your car through Discover Cars. I've booked with a lot of different companies over the years, and they are the best. They have fantastic customer service and their prices are always lower than the other big sites. They pull from all the major car agencies so you have plenty of options too. I definitely recommend checking them out (here's their link).
If you want to dip into Switzerland, be sure to purchase a sticker for your car at a gas station (they run about $40-50).
We parked outside the main entrance in a parking area right off the main road.
How much time do you need in Riquewihr? I wrote this as a day trip because really, you can see everything in a day or less. It's a small village that can even be done in a long afternoon. If you love pretty German half-timbered homes combined with French wrought iron balconies, you could spend many more hours walking around and taking in the scenery.
Things to Do
Visit a Wine Cellar
Riquewihr is known as one of the most charming villages in France, and for good reason.
The entire region is devoted to its wine which is evident in all the Winstub available. These are small wine taverns that offer tastings and a comfortable place to hang out and visit. Many also serve food as well.
I didn't realize that many of these are underground – during the hot summers it's nice to cool off in a cellar.
Walk the Winding Streets
The town is full of cobblestone streets that are better suited for pedestrians and not cars. This is the best part of Riquewihr in my opinion, wandering the streets and admiring the fortified walls and centuries-old buildings. It's a small town and can easily be walked in a few hours.
Visit a Market
I loved walking through all the streets here. We came across a small farmer's market that was going on with stands selling cheeses, cured meats, and others with jewelry and clothing. The main market is held every Friday.
Try the Local Food and Drink
When we stopped for lunch we tried some of the wine. It came as a surprise to us that the wine was much more expensive than it is in Germany.
When you order wine at restaurants in Germany it's generally a few Euro and they fill up your glass! I tried the cordon bleu, it was served with a side of steamed veggies and was quite tasty!
Many popular dishes share a resemblance to German favorites. Tarte Flambee is a thin pizza-type crust with bacon and onions. The German version is called flammküchen which has an even thinner crust. There are traditional dishes with meat and potatoes.
I always recommend dipping into a pastry (pâtisserie) shop to try something delicious. My personal favorites are macarons, in all flavors.
Check out this hummingbird hawk moth. At first, I was certain it was a hummingbird, but at closer inspection I realized that with the long mouth sticking way out there was no way that this was a hummingbird.
It is so named because it really resembles the hummingbird. It even moved around like a hummingbird, fluttering from flower to flower.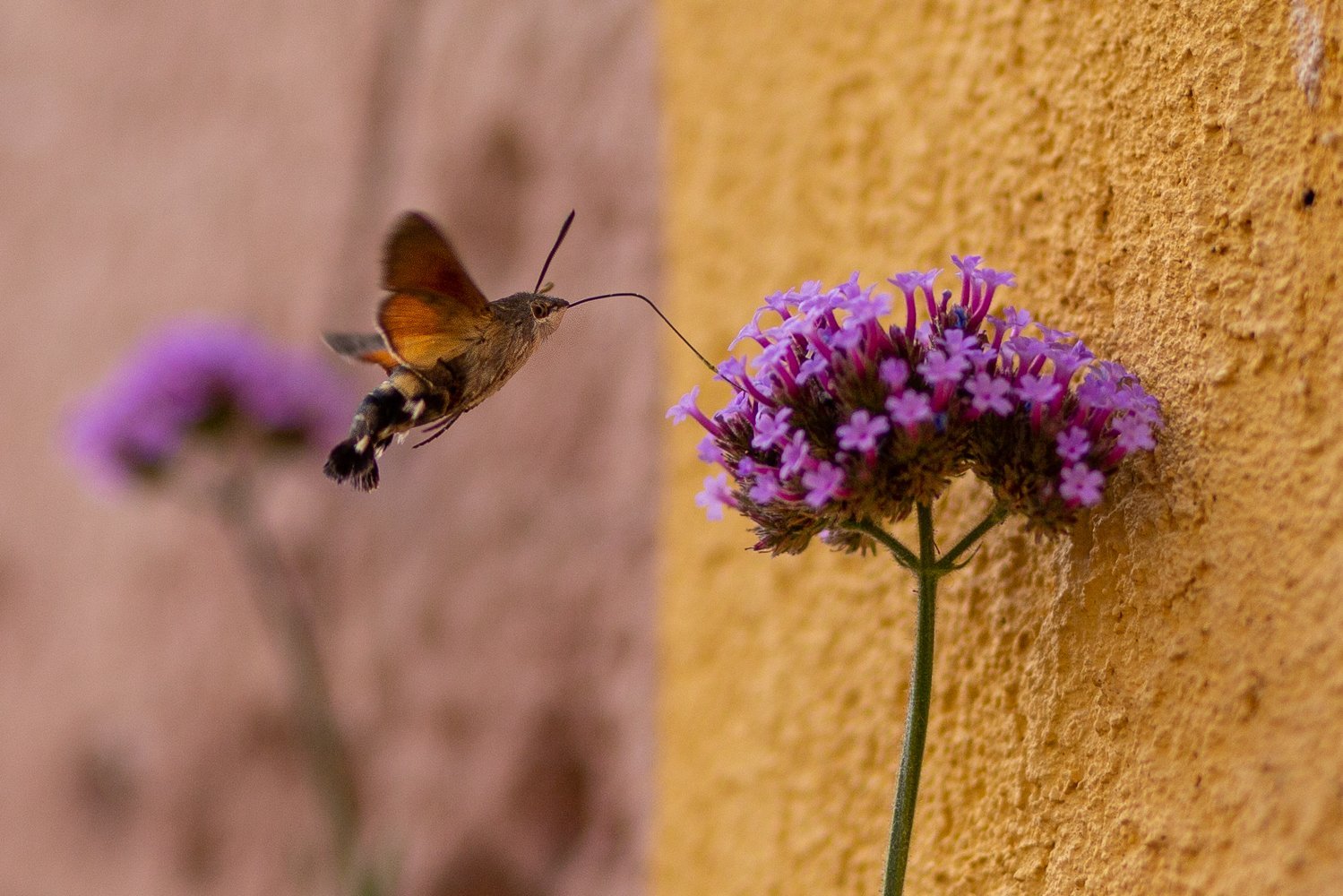 Things to do Nearby
Visit Chateau du Haut-Koenisgbourg
Like many castles in Europe, this one has exchanged hands many times. It was built in the 12th century and the Thirty Years War left it burnt and abandoned for 200 years. It's since been restored and while I've visited many castles in Europe, this one was one of my favorites.
To get here, you have to drive high up the mountain, over 2400 feet (757 meters). From here you can see the valley below, the Vosges mountains, the Black Forest, and possibly even the Alps. We went in the winter months and were able to experience an inversion.
Visit other Villages and Towns
I loved visiting Riquewihr, but there are other equally beautiful towns in this area. The most popular are the larger town of Colmar, then the smaller villages of Eguisheim, Kaysersberg, Ribeauvillé, and Turckheim. There are many more, but these are the most prominent.
Roughly 45 miles (72km) North is the city of Strasbourg, where you can visit the tallest Medieval building in Europe!
If you are staying in Colmar, you could book a day trip to all of the main villages. This small group tour takes you to Riquewihr, Eguisheim, and Haut Koenigsbourg Castle. Strasbourg also has a great day trip to these villages as well.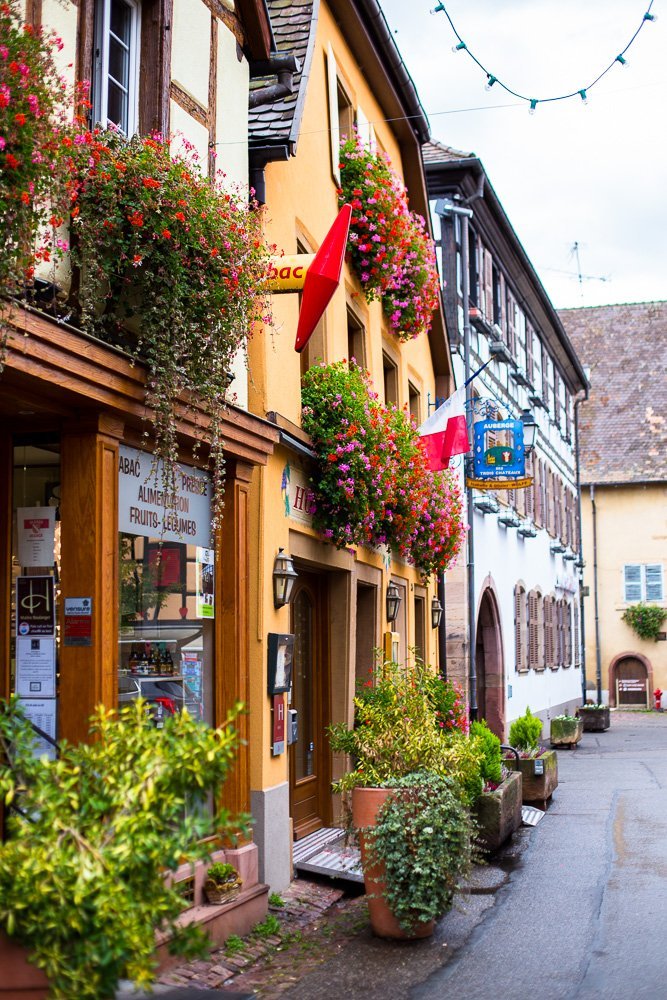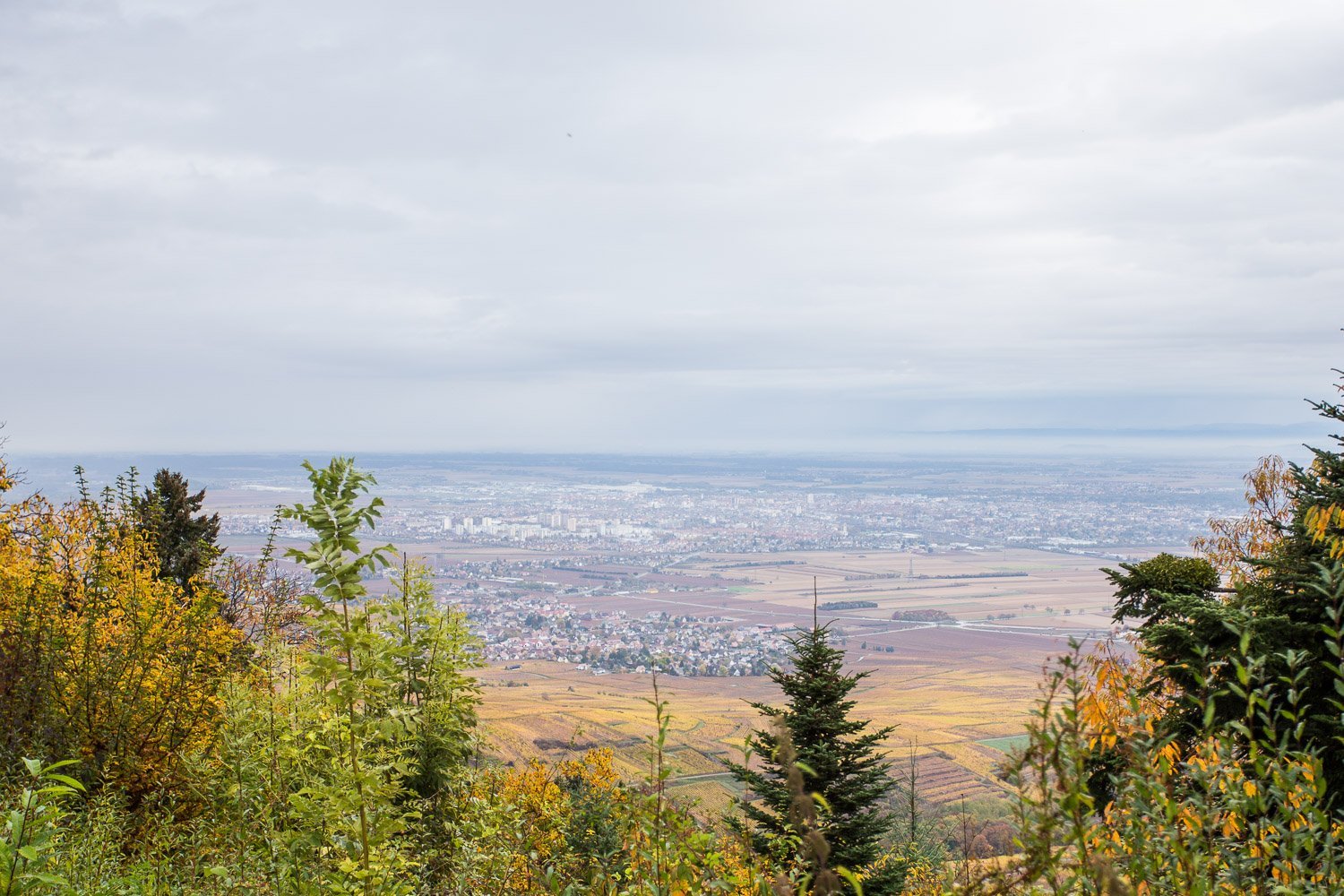 Drive the Scenic Alsace Wine Route
Located along eastern France and bordering much of Germany, the Alsace Wine Route looks like something out of a fairy tale. This route takes you through 105 miles (170km) and passes through an astonishing 70 winegrowing villages. Here you'll find over 1,000 winegrowers, making this area a mecca for wine lovers. There's even the oldest wine barrel in the world right here in Strasbourg.
Many of the villages listed above are along this route. For more information, visit this link which provides more information on the route and highlights of the trip.
Riquewihr was a really cute village and I'm so glad we decided to go. It's definitely small, a bit sleepy, and loaded with character.
Where to Stay
Most of the accommodations are quite reasonable. You could even land a hotel for around $50 a night (which is a steal in 2023).
Great for couples – For a very traditional French stay, I recommend Hotel à l'Oriel. It's very central and parking is nearby. Breakfast is an option and it has more of a B&B feel than a hotel.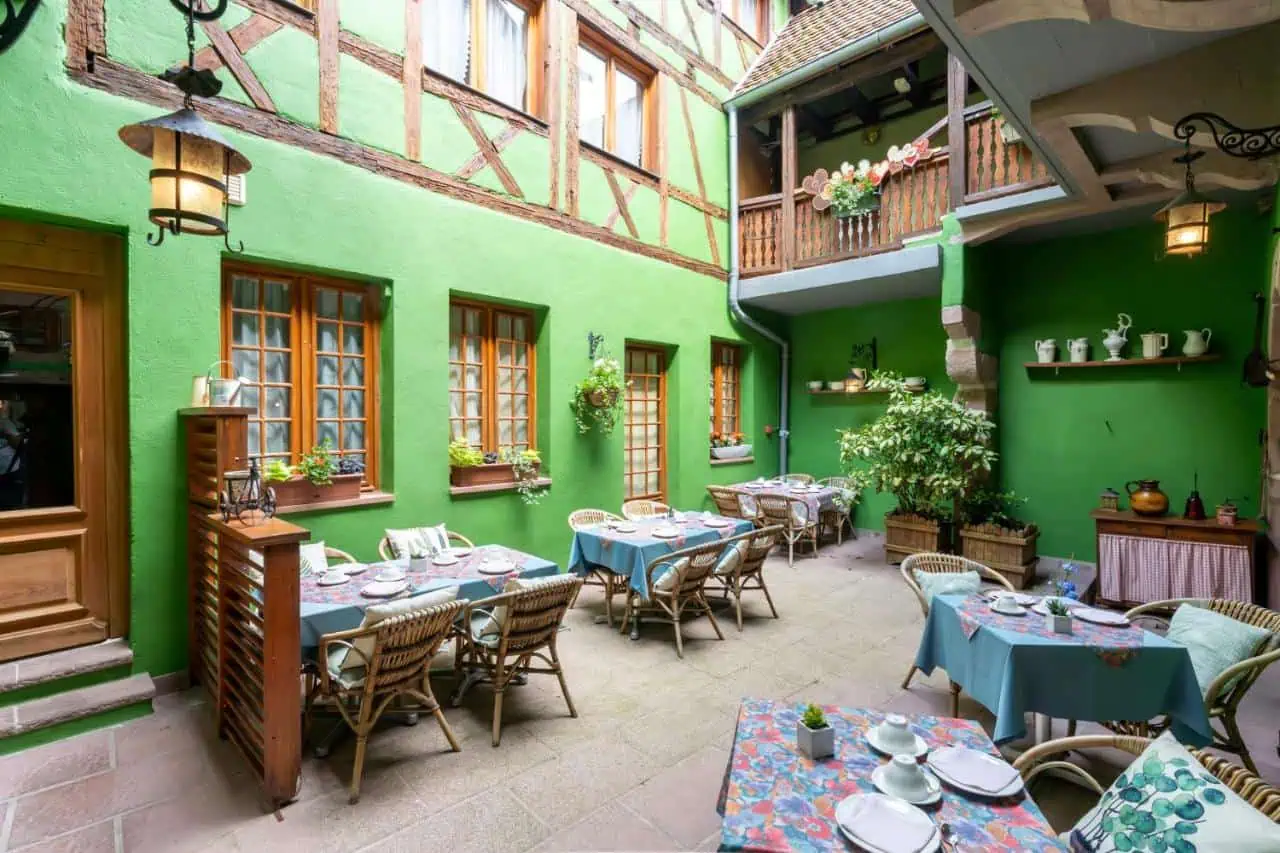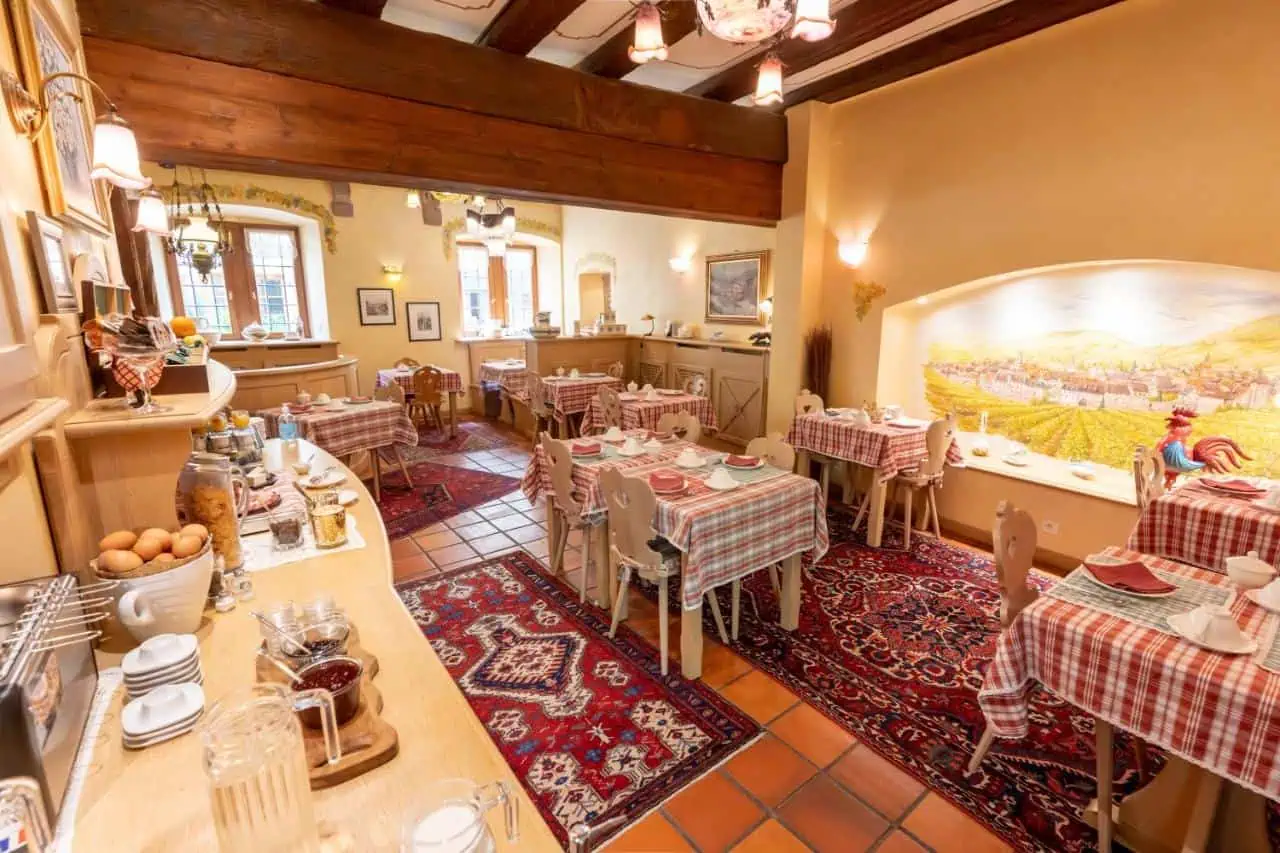 Best for Families – The Laterale Residences Riquewihr is a mix of apartments of different sizes. It's centrally located and electric bikes are available for rent. There is also a sauna and terrace available for use.
Read More