5 Beautiful German Towns You've Never Heard Of
Hey there!
This post may contain affiliate links, meaning I may be compensated if you click on one of my links, at no cost to you. As an Amazon Associate, I earn from qualifying purchases. Read my disclosure policy for more information.
When most people think of Germany, Berlin and Munich are usually the first places that come to mind. There are, however, many smaller towns that shouldn't be missed when visiting this beautiful country. Listed here are some great alternatives when planning your trip.
1. Trier
Image via Flickr by mK B.
With over 2000 years of history, Trier is the oldest city in Germany. Located in southwest Germany, it sits close to the border of Luxembourg. There are more Roman sites in Trier than anywhere else in Germany. The most famous is the Porta Nigra, the gate to the city that dates back to roughly A.D. 180.
2. Rügen Cliffs
Image via Flickr by unukorno
Rügen is an island in the northern part of Germany and along the Baltic Sea. At 926 square kilometers, the island is the largest in the country. The most popular sight is the Rügen chalk cliffs which formed from tectonic movements. The entire island of Rügen is quite romantic and as such is a popular destination for couples.
Related Articles:
Visiting Neuschwanstein Castle in the Winter
5 of my Favorite Towns Near Stuttgart
3. Tübingen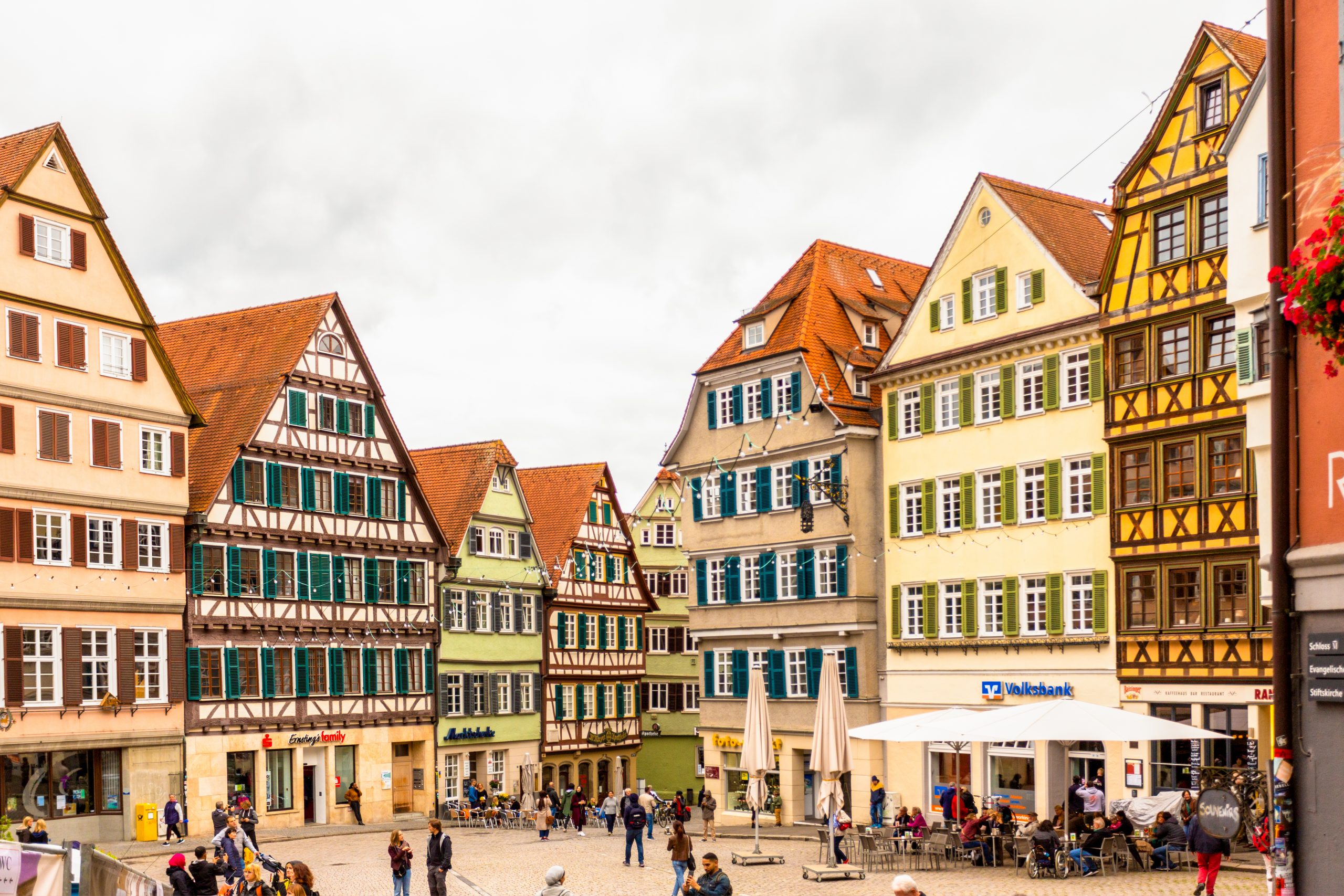 Tübingen is a small yet vibrant college town in southern Germany. It has a beautiful old town full of winding cobblestone streets, shops, restaurants, and opens up to a huge square with buildings dating back to 1435.
The town has a large international university, the Universitaet Tübingen. The university is one of the oldest in Europe dating back to 1477. The oldest campus prison in Germany is also here, and weekly tours provide a glimpse of the crimes that were committed. Skipping sermons, not adhering to the dress code, binge drinking, playing games with dice, and getting engaged without permission were just some of the mischievous acts of students.
4. Heidelberg
For most people visiting Heidelberg it's hard to not instantly fall in love. Quintessential and romantic Germany can be summed up in this sleepy town. The impressive remains from the Heidelberg Castle sit high above the red roofed town below. There is a long pedestrian street, and a large church rises up at one end and opens up to a square.
Did you know? If you're looking for great views of Heidelberg, cross the historic Old Bridge and walk up the steep steps of Philosophenweg (Philosopher's Way). It will take you high up through gardens for a very scenic view of the city.
5. Cochem
Cochem is a charming town situated in the Mosel valley. This romantic area has vineyards running up the hills on either side of the river. Riesling dominates the area with wine tastings and wine tours. There is also a large wine festival that takes place every year during the last week of August.
Near Cochem is the stunning Burg Eltz, a castle that was bypassed from war and has been owned by the same family since it was built over 850 years ago. It's about a 30-minute drive from the city but well worth the visit.
A trip to one of these cities will be a pleasant surprise and will provide relief from the crowds of tourists that flock to Germany each year.
Travel Recommendations
Car Rental: I Prefer booking with Discover Cars. They have a huge presence in Europe and I always seem to find the best rates with them. Discover Cars is a search aggregate, meaning they will search all the major rental sites for the best deals.
Favorite Packing Cubes: Packing cubes are the travel item I didn't know I was missing. I can pack so much more now that I use compression cubes. These packing cubes are made with quality material and stand up to my demands. They were created by a couple that loves to travel, which is an added bonus (I'm all for supporting small businesses)!
Accommodations

Best on a Budget: I've stayed at many hostels over the years in Europe with my husband and always book with Hostelworld. Many European hostels have private rooms with a private bath, meaning you essentially get a hotel room for a fraction of the price. Hostels usually have low cost tours as well. If you've never booked a hostel or are apprehensive, check out the Wombats City Hostel in Vienna. There are so many great options all over Europe, so don't limit yourself to just hotels!
Best for Groups/Families: VRBO has the largest presence in Europe for home rentals. Now that we have a child, I typically prefer a home rental so he can go to bed at his normal time and the adults can stay up.
Best Hotel Booking Site: I always use Booking.com for hotels and even apartments. They have free cancellation on most bookings so I can book something, then if I find a better place or deal, I can cancel and book the other place. They are an aggregate site, meaning they will search all the major hotel booking sites for the best hotel deals.