19 Fun Family-Friendly Kid Activities in Alaska
Hey there!
This post may contain affiliate links, meaning I may be compensated if you click on one of my links, at no cost to you. As an Amazon Associate, I earn from qualifying purchases. Read my disclosure policy for more information.
If I were to plan a family-friendly trip, Alaska would be at the top of my list. There are so many fun things to do in this state, and not just for kids, but for everyone! I've compiled a list of 19 fun kid activities you can do in Alaska. These will be sure to create fun and lasting memories for your kids (and they'll probably want to do them again and again!).
1. Alaska Wildlife Conservation Center
Located roughly an hour south of Anchorage, The Alaska Wildlife Conservation Center (AWCC for short) is a local favorite. True to it's name, the center is dedicated to conservation efforts and rehabilitation. There are many educational opportunities weekly to learn more about local wildlife.
At AWCC you can find all sort of animals from bears, moose, wolves, lynx, porcupine, muskox, deer, eagles, and more.
Getting There
The entrance is at a large turn on the highway and across from the turn for Whittier. It can sneak up on you so I recommend putting the address in Google Maps. There is a small AWCC sign where you'll turn right (if coming from Anchorage) and drive down a dirt road until you reach the entrance. The entrance fee is $18 per adult and $14 for children over 6 (rates are less for military/student/Alaska residents).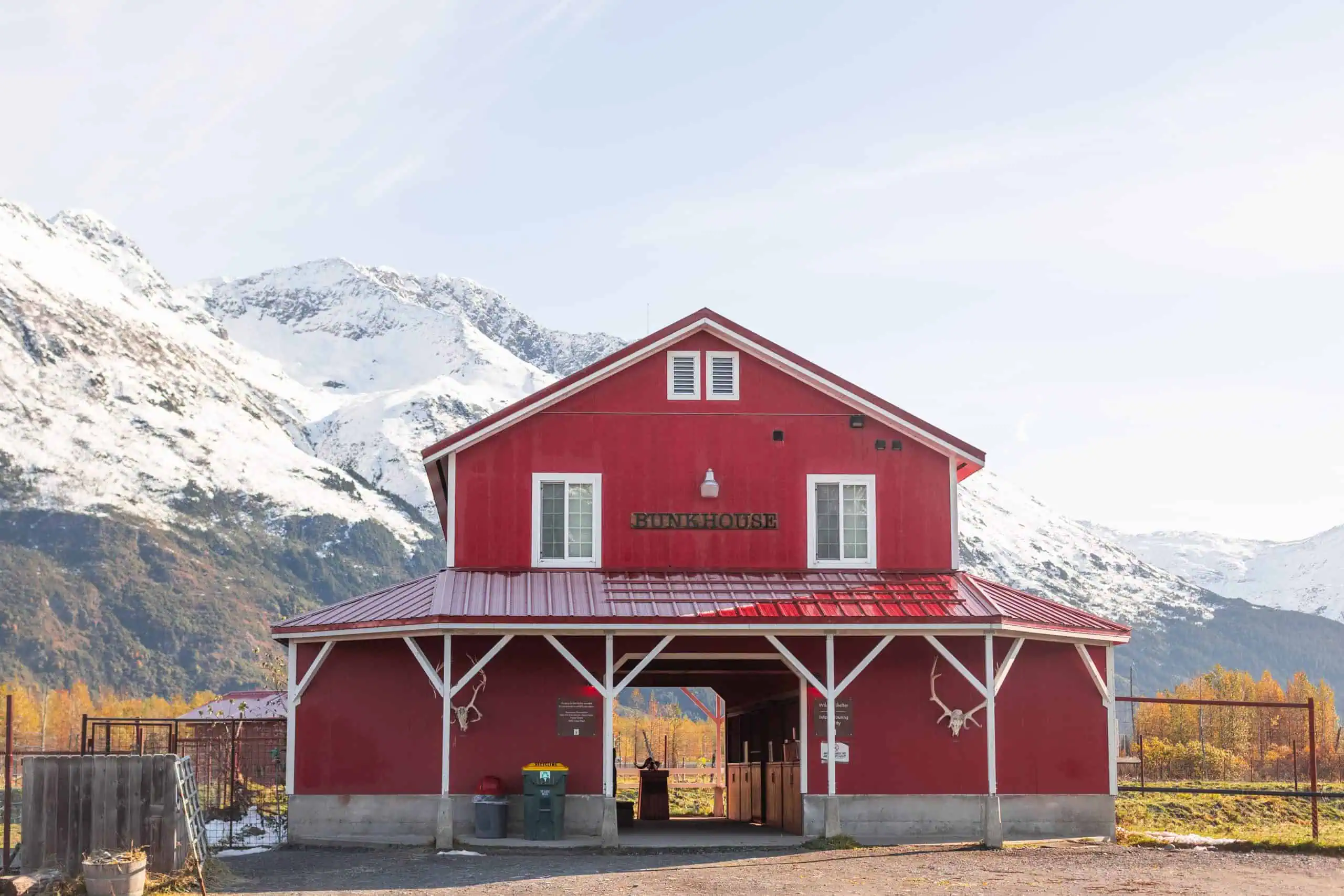 Getting Around with Kids
Once inside the gates, you will come up to a large parking lot with a gift shop and a small food truck area. If you wish to walk, then you can park here and start exploring. It's a dirt road and if you go in the spring it can get muddy, so I recommend rain boots for the littles!
If you prefer driving that's also an option. You can drive the entire route, stopping to check out wildlife along the way. There's a dedicated parking spot at the brown bear exhibit (and a nice bathroom as well!).
Activities
I recommend looking ahead on their website to see what presentations or exhibits are coming up. The last time we went, an expert talked all about the local hummingbirds (yes Alaska has them!). We were able to get up close with the hummingbird before she released it back into the wild. Those things are quick!
They do many different educational programs in the summer and winter months. Visit their website for the most up-to-date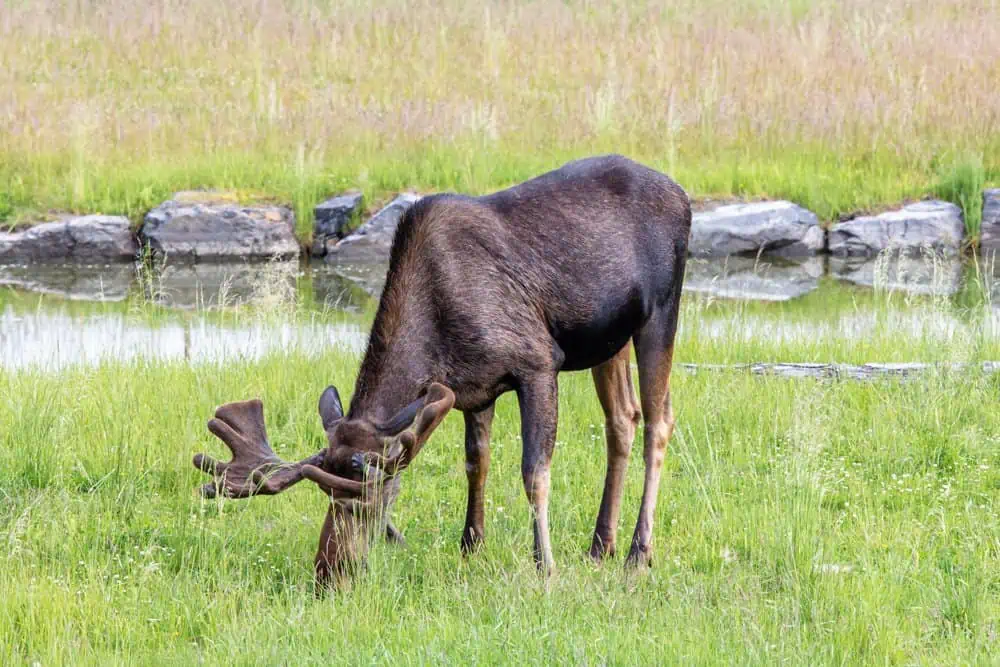 2. Girdwood & Seward Playground
I've visited many playgrounds with my son over the years, but it's hard to beat the Girdwood or Seward playgrounds!
The Girdwood playground is right off the main road (just before the brewery). With its large wooden structure and slides, you can't miss it. They have dedicated porta-potties (toilets) on-site, and there is also a skate park next door. If you head in the other direction, you will arrive in the 'downtown' area of Girdwood. There are a few restaurants and coffee shops, and a farmer's market every other Sunday in the summer months.
Seward Waterfront Park is set right along Resurrection Bay and parallels the walking trail that skirts the shores. Just look at the photo below, it's beautiful! They have some fun structures such as the train and dog mushing. There is an area for smaller children that is separated from the big kid's areas. Just like Girdwood, there is a skate park next to the playground.
There are no bathrooms here but you can go down the street or head into town and find some easily. We stop here every time we visit Seward.
3. Walk on a Glacier
This activity will depend on the age of your kids, but you can bring smaller children (either baby wear or wait until they're around 5) and do just fine. This will definitely depend on your comfort level. I don't trust myself to not fall on my face, so I probably wouldn't bring a baby, but that's just my clumsy self.
Around the state, there are a few glaciers you can drive to and walk on. From Anchorage, you can go to either Exit Glacier or Matanuska Glacier.
Exit Glacier
Exit Glacier is located south of Anchorage and just outside of Seward. There's a large parking area and quite a few informational signposts talking about how much the glacier has been receding. As you walk along the trail, it's marked by year at each point of glacier retreat. This one has retreated a lot, so you do need to walk along the low-grade trail for a bit to get to the glacier.
Once there, you can continue on to the Harding Glacier via the Harding Ice Field Trail. This is a much longer and more difficult hike (9.2 miles out and back) but is also quite rewarding.
Getting There
Exit Glacier is located about 12 miles outside the town of Seward. It is well marked from the highway, but I recommend plugging it into Google Maps to ensure you don't miss the turn. From there you drive down a road for a few short miles and end at a very large parking lot. There is RV parking along with regular parking. There is a bathroom and an information center that's open during the summer months.
Walking on the Glacier
If your goal is to hike around on the glacier, I recommend booking this tour. It's a full 8 hours and is intended for active individuals who are comfortable with a steep hike. They provide all the hiking equipment and are a highlight of any Alaska trip. This would only be possible with older kids.
The Glacier View Loop is only 1 mile RT and Overlook Trail is just anoth .6 miles, making is a great hike for kids. These trails are also mostly flat, so it's not a difficult walk. At the end, you are rewarded with a beautiful lookout point of exit glacier. While you probably won't walk on it, you will be up close and feel as if you can touch it from the trail!
Matanuska Glacier
Matanuska Glacier is north of Anchorage and about two hours away on the Glenn Highway. At 27 miles long, this is one of the largest glaciers that's accessible by car.
Getting There
Glacier access is located on Glacier Park Drive. Here is the exact address you can plug into your GPS: 66500 S. Glacier Park Rd, Sutton, AK 99674. This entrance is a bit unique because it's privately owned land (they don't own the glacier but some of the land). This is different as most places like this are state or federally owned. So the access is technically on private land, and they can charge their own fees.
Walking on the Glacier
It used to be that you could just pay a small fee and walk around yourself. That's not the case anymore – now the only access is via a guided tour. Tours can be booked directly through Glacier Tours. They run year-round and last about 1-2 hours. Military and Alaska residents can save a lot of money on their tour ($35 versus $100pp!).
If you don't want to walk on the glacier, there is a lookout point at the Matanuska Glacier State Recreation Area (mile 101 on the Glenn Highway). Walk the Edge Nature Trail for about 20 minutes to reach sweeping views of the glacier and mountain valley.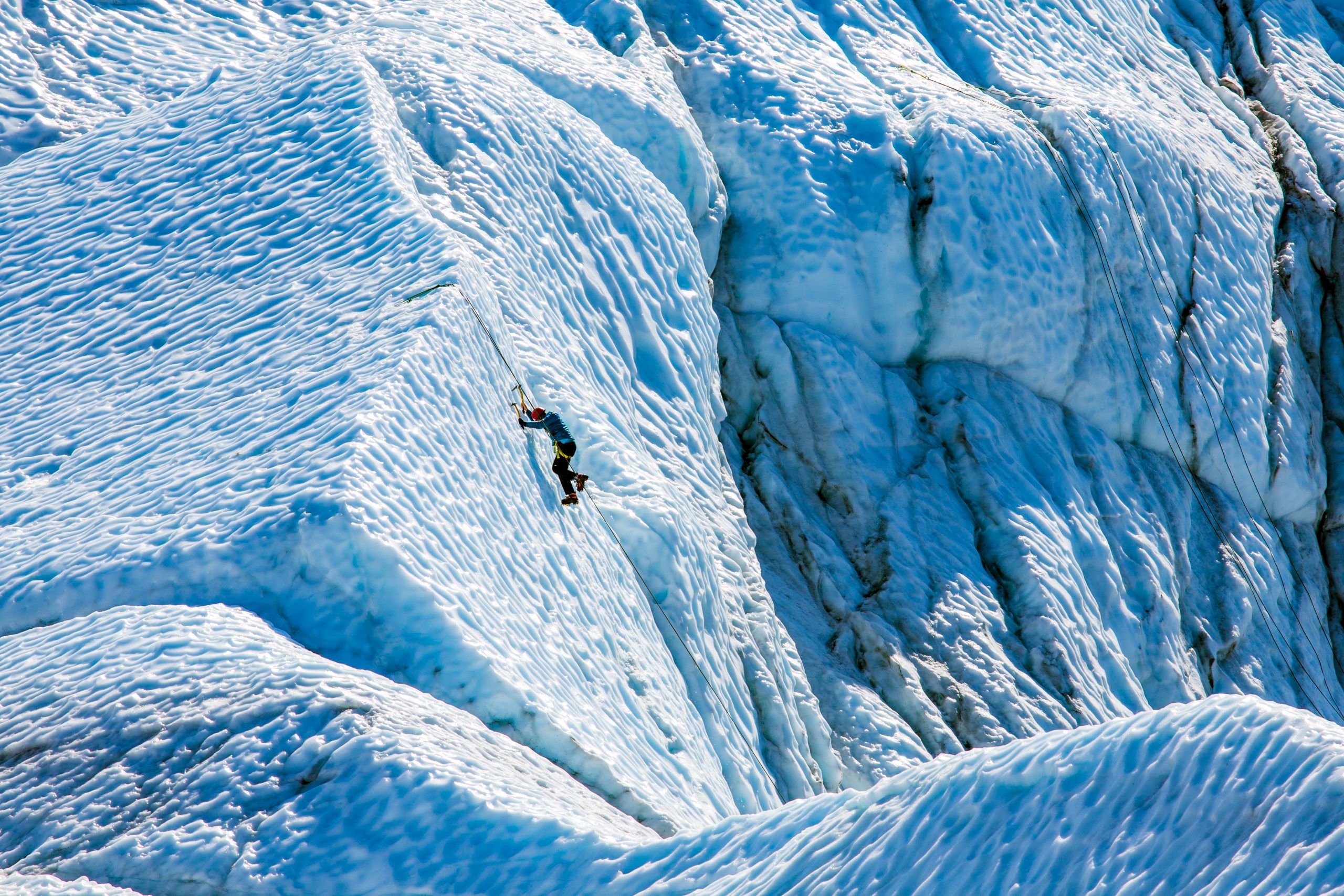 4. Wildlife & Glacier Cruise
Getting out on the water is such a great way to experience Alaska. There are a few towns that offer spectacular day cruises. From Anchorage, you can head out on a Phillip's Catamaran in Whittier, a Kenai Fjords Tour in Seward, or take a tour out of Homer. Since Whitter and Seward are in fjords, these are my preferred locations to get out and see both wildlife and glaciers.
If you're headed to Southeast Alaska, Juneau offers day cruises to nearby glaciers (this one is only 3 1/2 hours, a perfect amount of time for kids!).
Cruising with Kids
If you have younger children, I'd recommend sticking to a shorter tour. For many larger ships, the shortest cruises are 5 hours. Most of the larger boats are equipped with bathrooms, a snack/drink bar, and ample seating (including booth seating). There are smaller boat tours that offer shorter tours and personalized tours.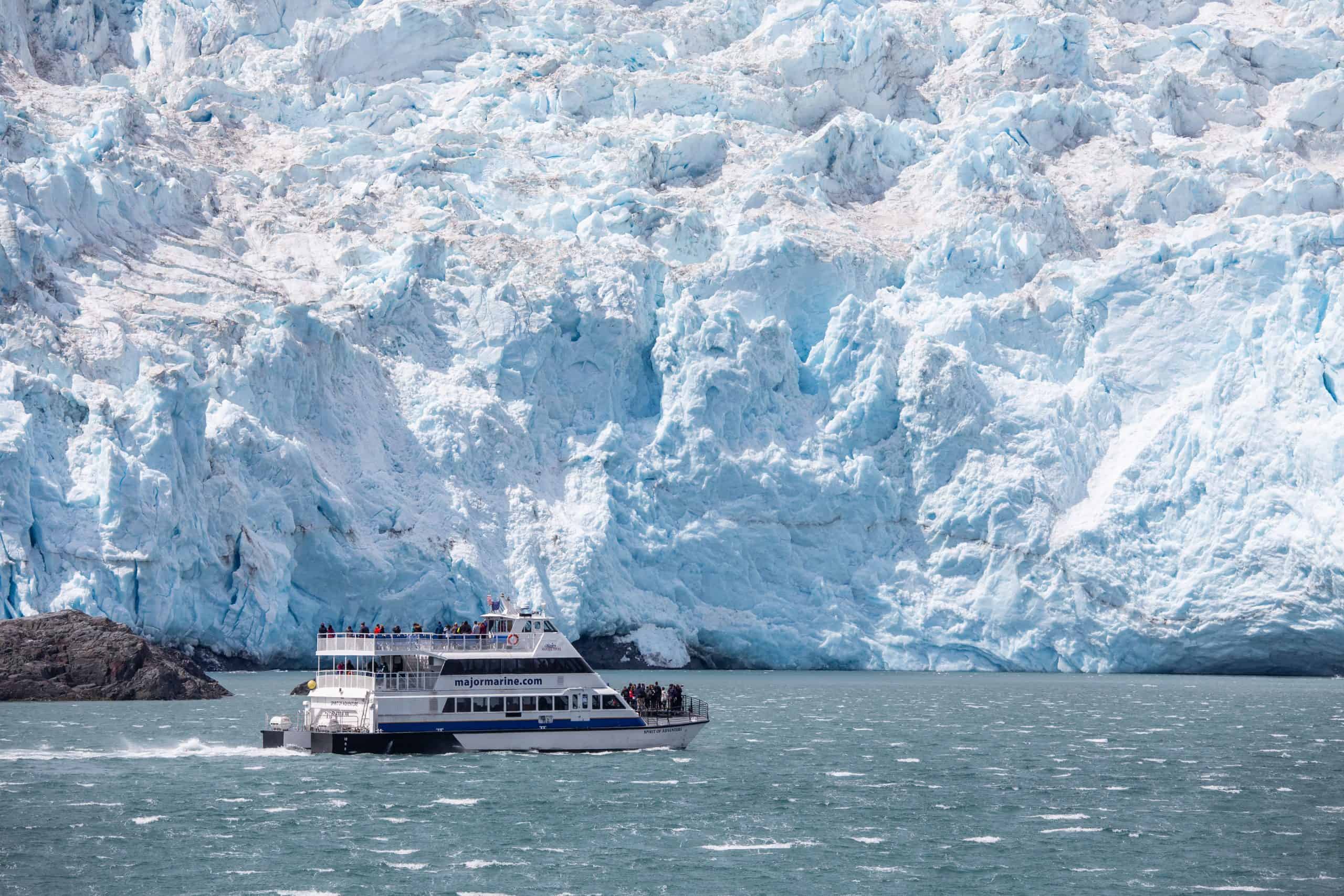 5. Dog Mushing
Did you know dog mushing is the official sport of Alaska? It's true! And there are plenty of dog mushers who call Alaska their home all around the state.
North of Anchorage in Houston, Willow, and Talkeetna there are quite a few dog kennels that guests can visit year-round. In the summer months when the snow is gone, they do dry tours with the musher on wheels, being pulled by the sled dogs.
There aren't many dog sledding tours in Southeast Alaska. Most are concentrated near Anchorage and Fairbanks.
A popular summer excursion is a flight tour and dog mushing on a glacier. It's a fun and memorable experience for everyone, and I recommend it if you have the opportunity to go! If you don't want to spend that much, then you can skip the helicopter and do a Wilderness Dog Sled Ride instead (and have just as much fun!). This tour may also be a better choice with small children.
6. Alaska State Fair
If you are in Alaska at the end of August, a visit to the Alaska State Fair is a fun experience for kids and parents. There is only one state fair in Alaska and it's located in Palmer, about an hour north of Anchorage. Kids will love the petting zoo, larger-than-life produce (the land of the midnight sun means produce gets exceptionally HUGE here!), monster truck shows, horse riding, and of course all of the rides and games.
Aside from the Iditarod, the state fair is the most popular event in Alaska and a uniquely Alaskan experience. I always enjoy walking around checking out the local booths, artwork, crafts, and more. It can get packed here, so if you have smaller kids, be sure to bring a stroller or a wagon for their tired feet.
7. Reindeer Farm
The reindeer farm is located in Palmer, about an hour north of Anchorage.
If you're visiting in the summer, I recommend taking the Old Glenn highway as it's quite scenic. Along here, stop at Eklutna Tailrace to see the most beautiful teal green waters and get some photos on the bridge.
Once you arrive at the Reindeer Farm, kids can see not only reindeer but also moose, alpacas, bison, and more. They offer summer and winter tours by appointment and also run a fall festival and Santa experience as well.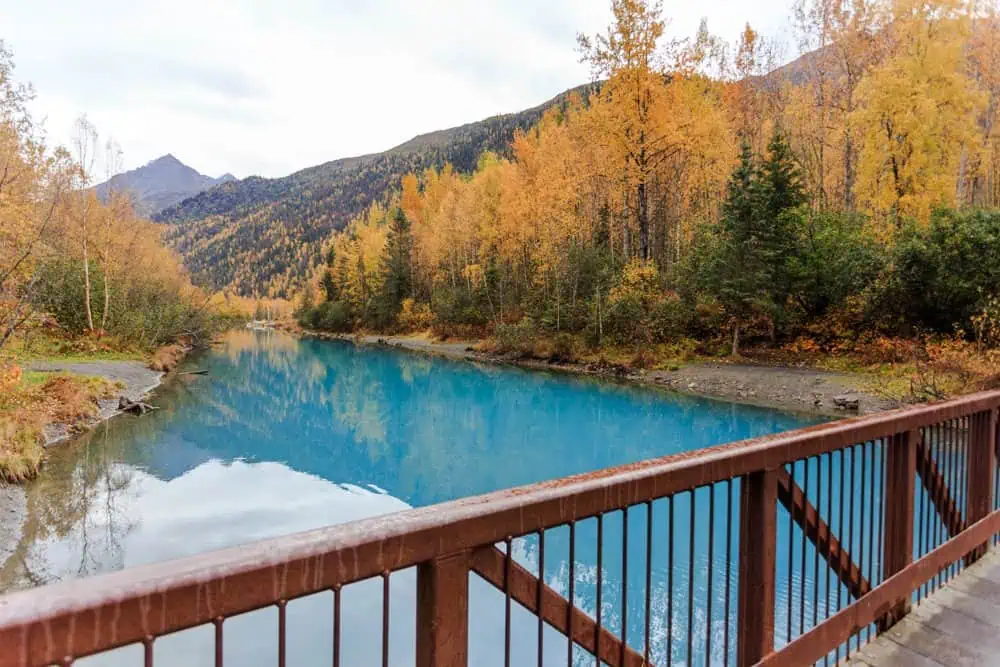 8. Hatcher Pass & Independence Mine
Hatcher Pass is located about 90 minutes north of Anchorage, near the town of Palmer. This is a large state park with a lot of outdoor nature activities to explore. It's a year-round escape for locals as well. In the summer months people hike, go blueberry picking, bike, or even cool off at one of the many lakes (brr!).
This area is home to Independence Mine State Historical Park, an old gold mine that hit its peak in 1941. While not in operation today, it's been well-preserved and has a lot of educational information. There are quite a few buildings including the post office and housing. There are also remnants of the old mine including some mining carts that kids can climb in.
There's a small visitor center that's open seasonally (mostly during the summer months). There's no entry fee but there is a $5 parking fee for Hatcher Pass, and most of the parking lots take electronic payments.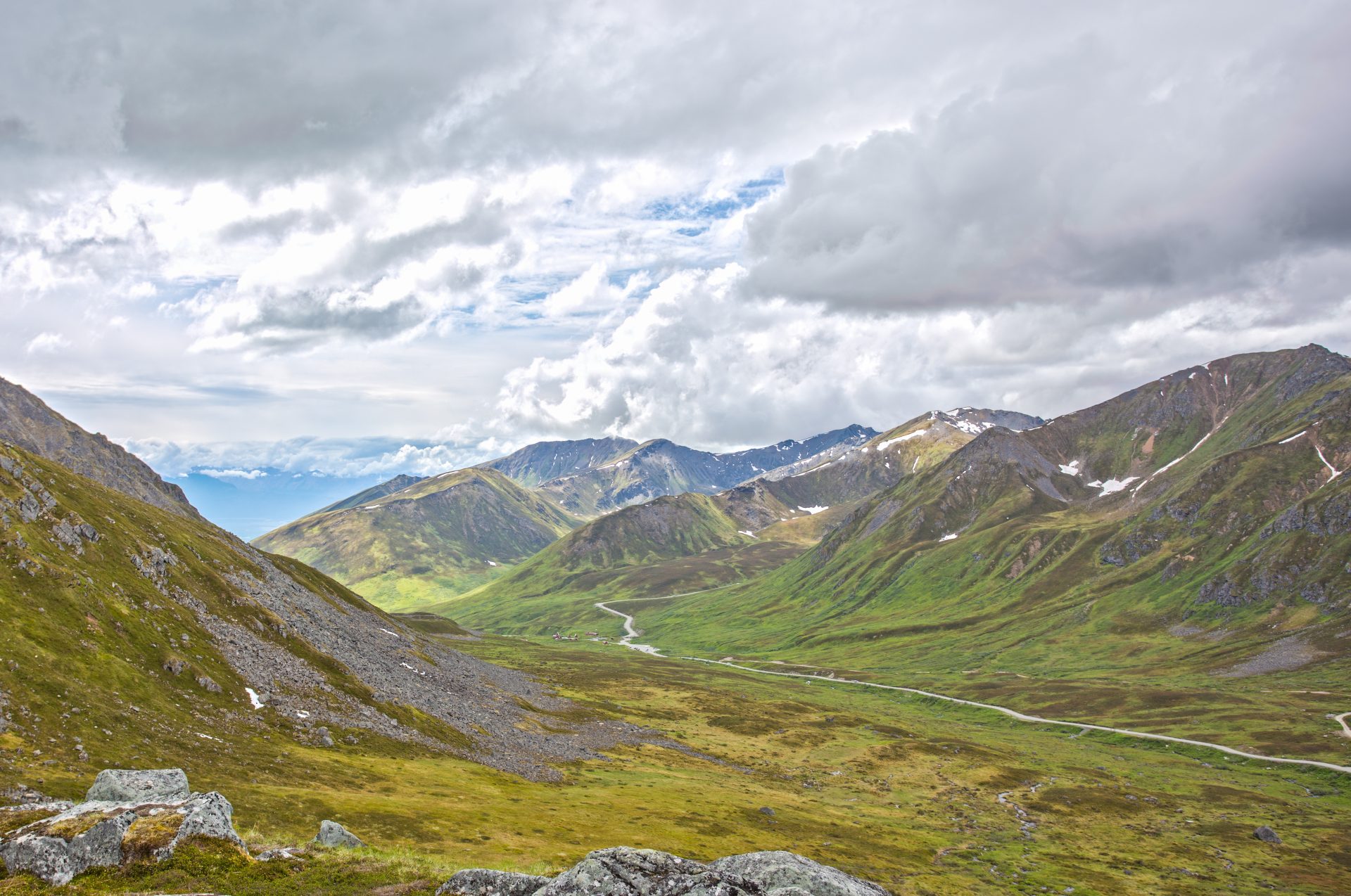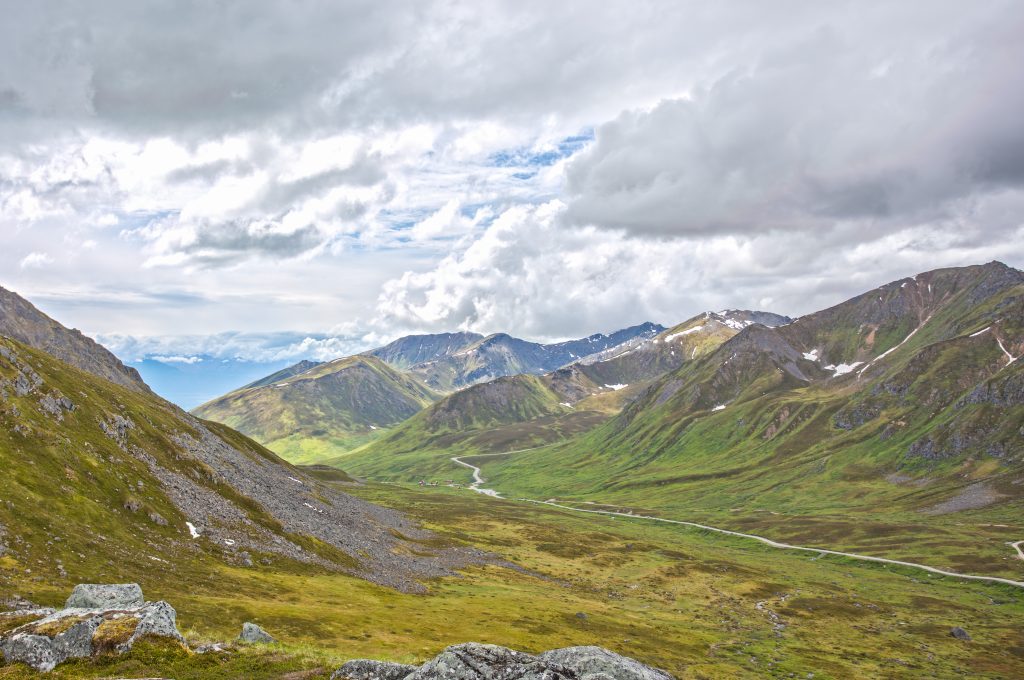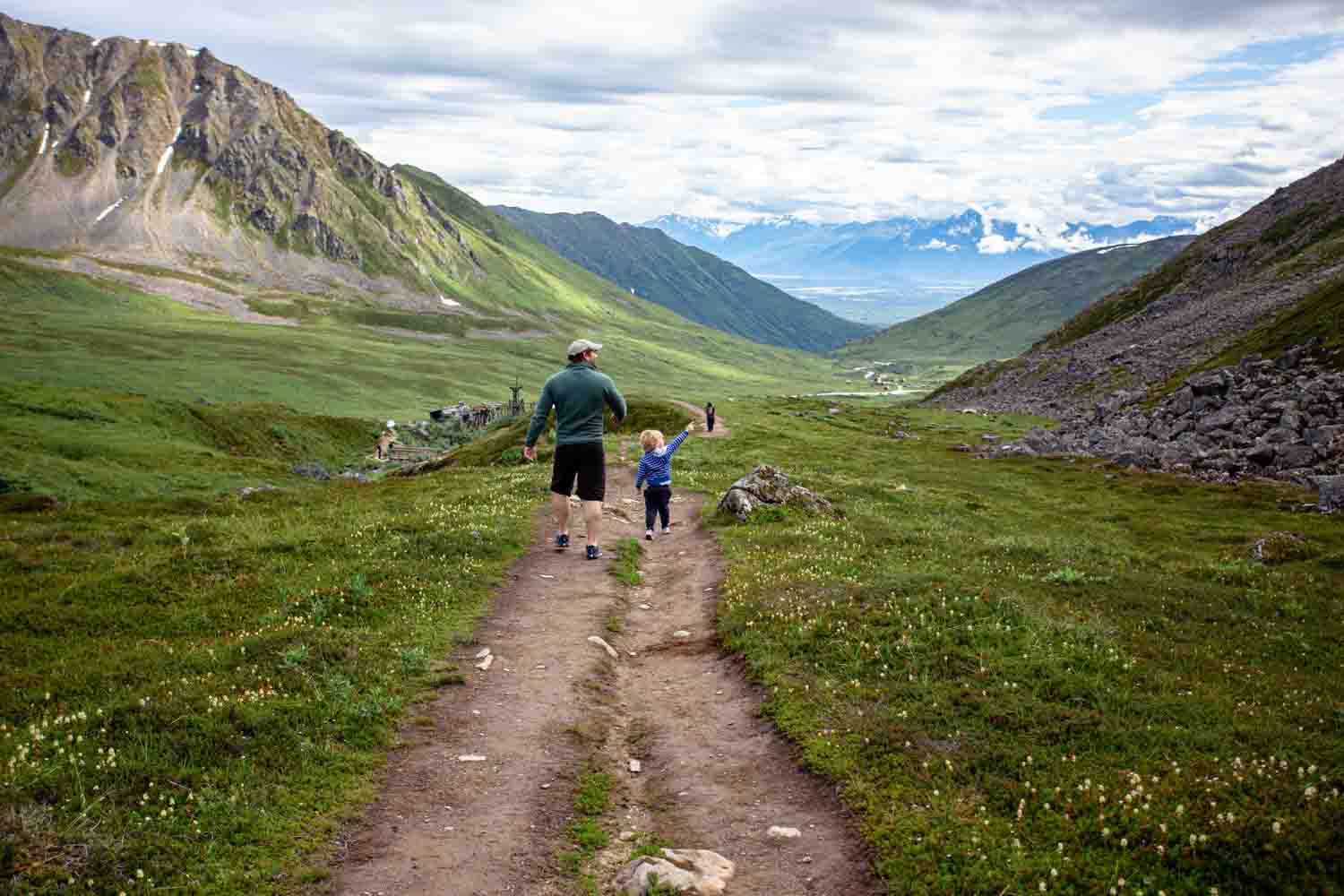 9. Camping & Building a Fire
Sometimes the best experiences are the simplest. My favorite camping spots are on the beach – either in Seward, Homer, or Valdez. Lakes are also a great place to pitch a tent (but they can get really buggy in the summer months). I prefer beaches because there aren't many bugs, there are so many things that kids can do/explore, and it's also fun for parents.
There's also plenty of wildlife to see including whales, sea otters, seals, sea lions, eagles, and many other types of birds. The best viewing months are May and June, but you can see whales all summer feeding and enjoying the 'warm' Alaskan weather.
If you're going with kids, I recommend bringing a small beach kit (bucket, shovel, beach toys) since much of the beach is sandy and rocky.
Beachcombing is also a fun way to get kids interested in and excited about the ocean. We typically see all sorts of things such as seashells, scales, starfish, lots of jellyfish, and dead crustaceans (what the whales eat!).
Keep in mind tides move very quickly up here, so be sure to keep an eye on it.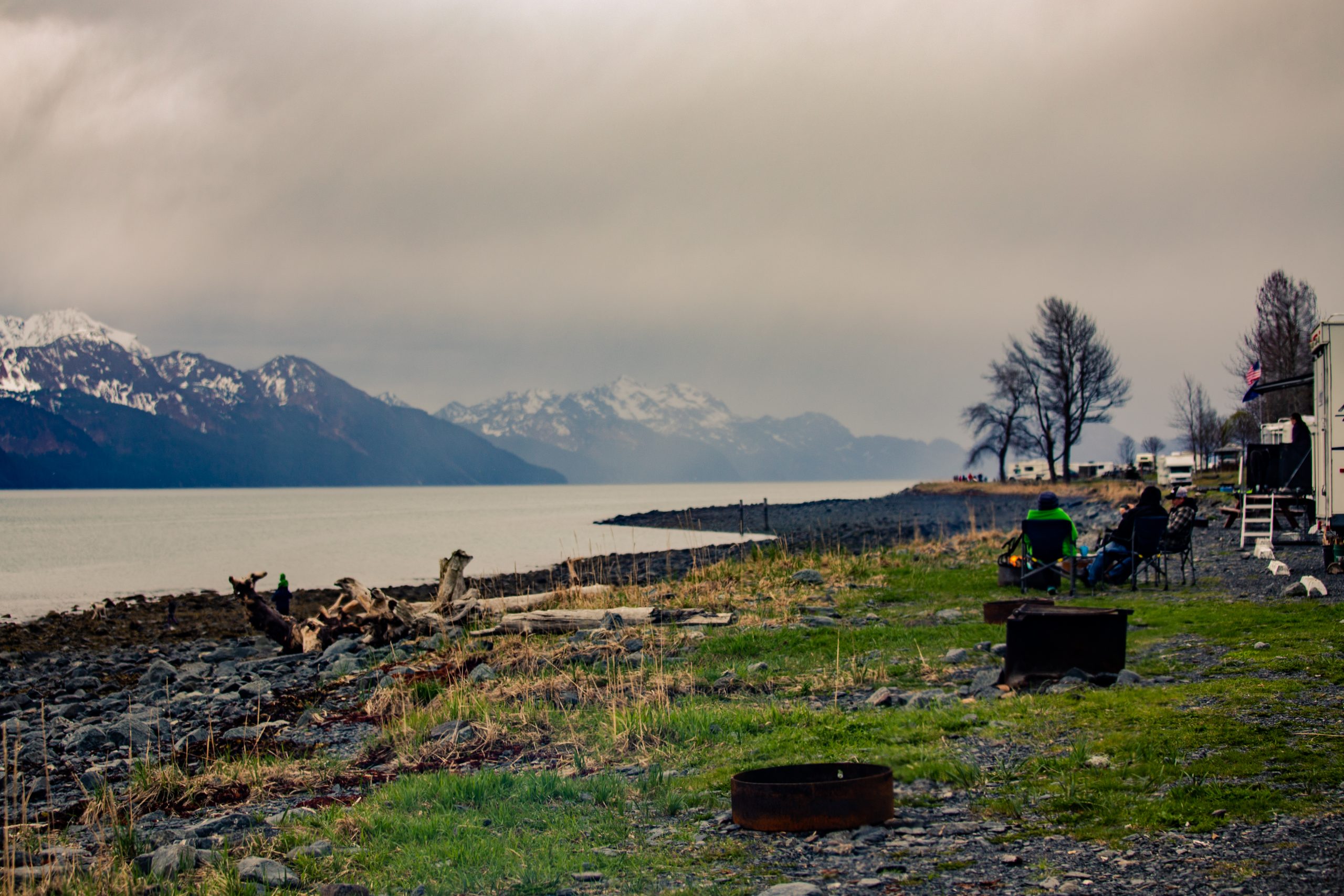 I also recommend bringing rain boots so kids can splash in the puddles and streams. In general, I recommend having rain boots on hand for any Alaskan situation as there is always the chance of rain (and the chance that my child will jump in the first puddle he sees!). I like the Bogs brand as these boots are well made and many have insulated options to keep little toes warm.
If you want to take it a step further, a rain suit is also a great idea. The coastal areas can get a lot of rain and you never know how it will be when you're there. Oaki makes the best rain suits, but if you're wanting to save some money then I recommend these ones.
Things to Bring:
Beach Toys
Rain Boots (Bogs and Xtratufs are my favorite)
Rain Suit
Eye mask
If roughing it is not your thing, there are a lot of accommodations in Seward and Homer. There are dry cabin options (no running water) and also many VRBO's. Valdez is a smaller town so there aren't quite as many options. If you go this route be sure to book your accommodations early, about 8-10 months in advance if possible (yes, really!).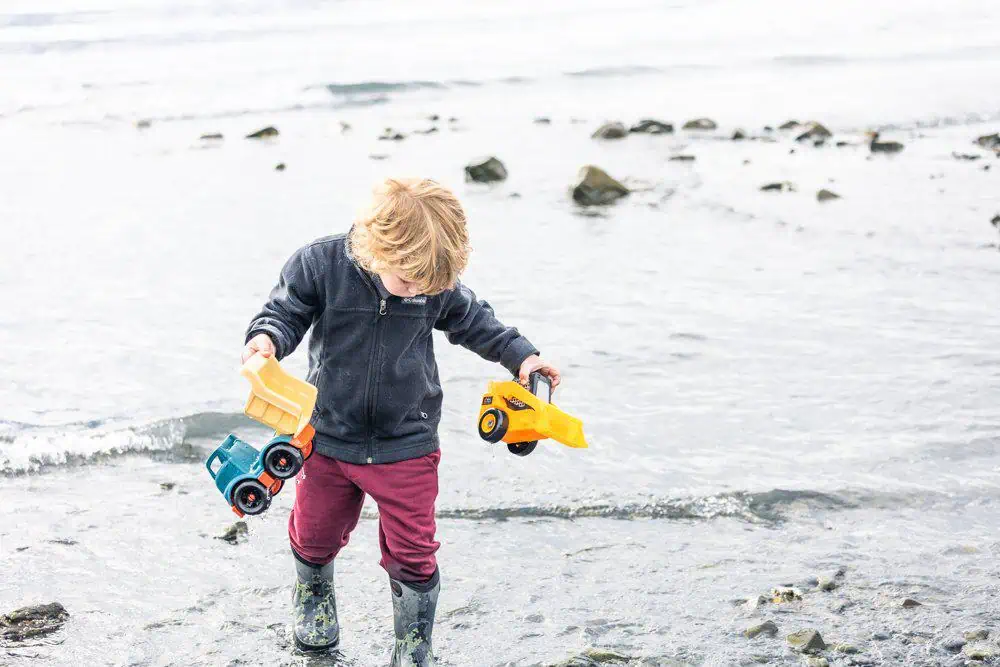 10. Try Your Luck Gold Panning
In the late 1800s, gold was discovered in Klondike and Dawson which sparked the Klondike Gold Rush. Some 100,000 people made their way to Alaska, although many did not make it.
While this was technically in Canada, Gold was soon discovered in Nome, Alaska. Mining camps and gold mines would then be set up all over Alaska as more and more gold was discovered. Towns today were likely formed because of gold. Today there are still six large producing mines in Alaska.
Today people can still try their hand at finding gold. It's only allowed at designated public lands or private lands, so I recommend checking out this list of options around the state. The Indian Valley Mine is located just 20 minutes south of Anchorage along Turnagain Arm. They provide all the gold panning equipment and you can purchase buckets of varying sizes to try your hand (they say there's gold in every bucket!).
Kids love getting their hands dirty and trying to find gold. I know it was a memorable experience for me when I was growing up!
11. Portage Glacier Cruise
Portage Glacier is ten stories tall and many miles long. it is easily accessible by car (although the only way to get close is by boat) and the neighboring Byron Glacier can be hiked.
Getting There
Portage Glacier is located 60 miles (1 1/2 hours) south of Anchorage along the Seward highway. To get here you turn down Portage Glacier Rd, just past the Alaska Wildlife Conservation Center. From here it's a short drive to the glacier. If you go too far you will get to the Whittier tunnel, but it's well-marked and hard to miss.
The Cruise
This glacier cruise is on a glacial-fed lake that formed over the past 100 years. Portage Glacier (like many glaciers) has been retreating annually, so each year the lake gets slightly larger.
There is one glacier cruise that runs 5 times a day in the summer season (May 28-September 6). The cruise is relatively inexpensive at under $50pp. If you don't have a car, they also offer a longer day tour that runs from Anchorage at a higher fee.
Things to do
While you're here, I recommend visiting the Boggs Visitor Center which goes over the glaciers and geology of the area. There's also a 5-mile long trail called the Trail of Blue Ice. It is a gravel trail with boardwalks that connects you to other glaciers in the area. It's mostly flat and makes for a nice stroll or bike ride.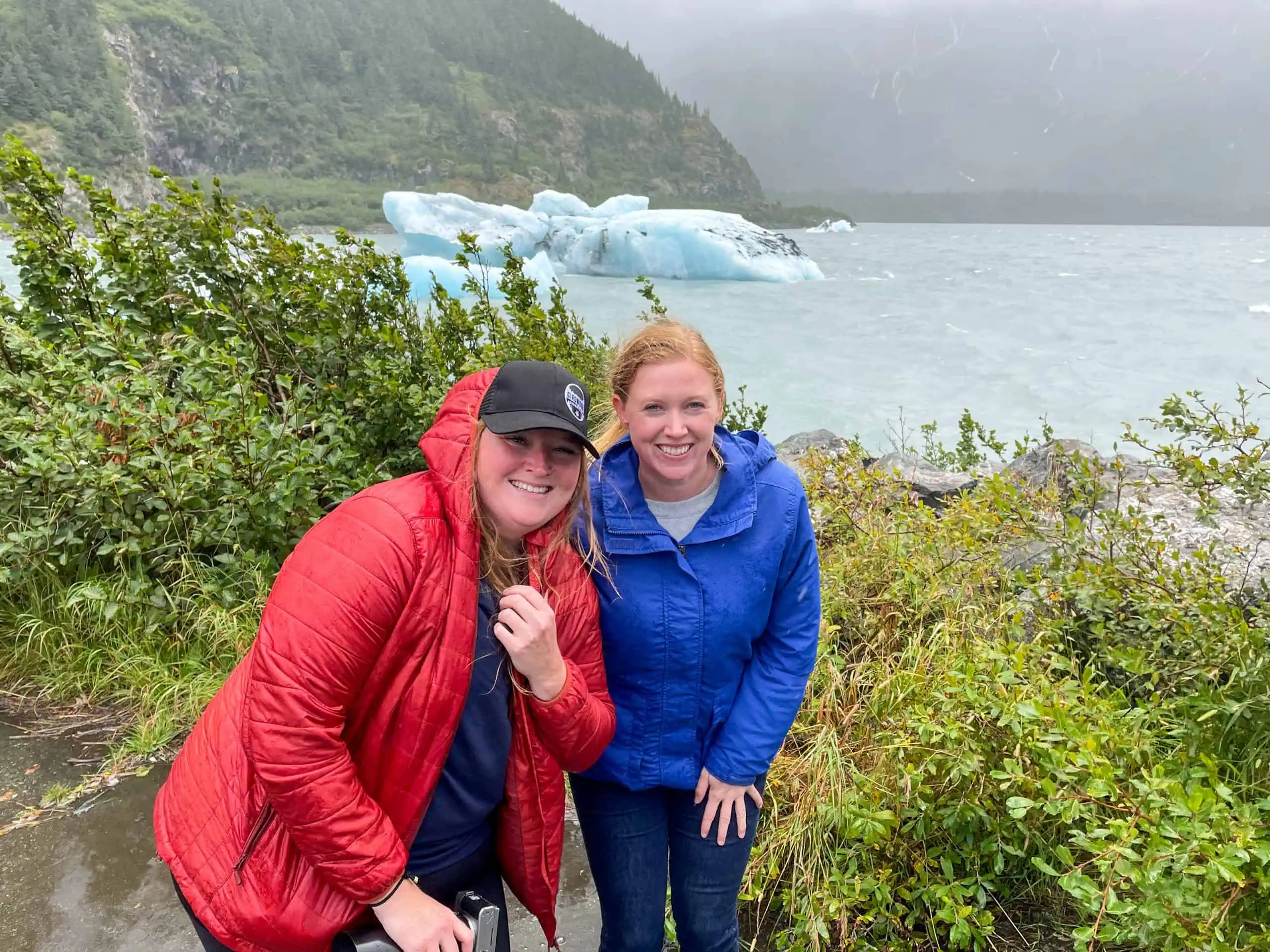 12. Visit a Fish Hatchery
There are some hatcheries around the state where you can check out the hatchery operations up close. In Anchorage, the William Jack Hernandez Fish Hatchery has a large observation deck to view the massive holding tanks and staff handling the operations. There are also informational videos and art displays. It's located at 941 N. Reeve Blvd at Ship Creek.
13. Anchorage Museum
The Anchorage Museum is a great way to spend a rainy afternoon with kids. On the main floor is a large room full of science experiments, large bubbles, and lots of hands-on learning for kids. Beyond that are the various exhibits with many highlighting the land of the Dena'ina people and various current events.
There is also a planetarium with scheduled programming. Admissions are discounted for Alaskan residents and there are quite a few other discounts in the winter months. We typically spend at least an hour or so here with our 4-year old.
14. Tubing at Arctic Valley (winter only)
Just 10 miles north of downtown Anchorage is Arctic Valley, a small local ski area with only two lifts. Here, there is also a large tube park where kids and adults can have fun tubing down the hill. Sessions run for 90 minutes from Thursday to Sunday. Intertubes are provided and there is a T-bar to bring you up the hill
I recommend purchasing tickets ahead of time.
15. Go on a Fishing Charter
What better way to teach kids than showing them where their food comes from! There are plenty of fishing charters, especially in Seward, Homer, Deep Creek & Ninilchik, Kenai, and Whittier.
The boat launch from Deep Creek has a tractor on the beach to launch you out, and typically boats don't need to go as far. This is a prime location for fishing charters.
Seward and Homer are also hugely popular spots for halibut and salmon. Seward is set in a fjord and will have plenty of wildlife sightings along the way. Along with Seward, Homer is known for having world-class halibut and salmon fishing.
16. Book an ATV tour
An ATV tour is a great way to explore locations that can't be reached just by foot. Perhaps one of the best tours near Anchorage is the Knik Glacier Tour with Alaska Backcountry Aventure Tours.
Knik Glacier cannot be reached by car, so the only way in is by plane or through the trail. With this tour, you get to experience 6-8 hours in the Alaskan backcountry crossing streams, valleys, forests, and ultimately ending at Knik Glacier.
In the Denali area, you can have fun on an ATV wilderness tour. They are hugely popular and a lot of fun! Children must be accompanied by an adult and riders need to be 16 years old to operate an ATV.
17. Alaska Sealife Center
If you are planning a trip to Seward, a visit to the Alaska Sealife Center is a must! It's a relatively small non-profit aquarium with a focus on marine research and wildlife response. Kids will love getting hands-on with the starfish and other invertebrates. It's a beautiful facility with all sorts of local marine life. There is also a large open aviary with puffins and other local birds.
We usually make it through in under an hour (my son does not waste any time!). His favorite part is the underground lower level. He loves watching the large stellar sea lions and seals swim around and play.
18. Take a Ride on the Alaska Railroad
The Alaska Railroad runs the only trains in the state. They run five different routes throughout the year including the Denali Star (Anchorage to Denali), Aurora Winter Train, and Glacier Discovery where you stop at many glaciers south of Anchorage.
While tickets aren't cheap, a train ride is a great way to see the state. The Glacier Discovery is fun because you get to visit Spencer Glacier which is only accessible by train.
I personally wouldn't do this with a young child because 1. it's expensive and 2. being stuck in a small space for many hours does not sound like my idea of fun. But for the older kids, I think it's a great experience and a unique way to see the state.
19. Get a Birds Eye View on the Alyeska Tram
Set in Girdwood, the Hotel Alyeska is home to one of the only ski resorts in Alaska. The hotel itself has a lot to offer; restaurants, artwork on display, a Nordic Spa (opening 2022), and plenty of outdoor activities just outside the doorsteps.
In addition, there is a tram that ascends 2,300 ft up Mt Alyeska and provides breathtaking views of glaciers, mountains, the inlet, and the valley below. At the top, there's the Boretide Deli and Grill and a bar with a view.
If you enjoy hiking, you can hike to the top then take the tram down for free. it's a mostly uphill hike with switchbacks toward the top. Tickets can be purchased at the ticket counter in the hotel. The tram runs regularly daily.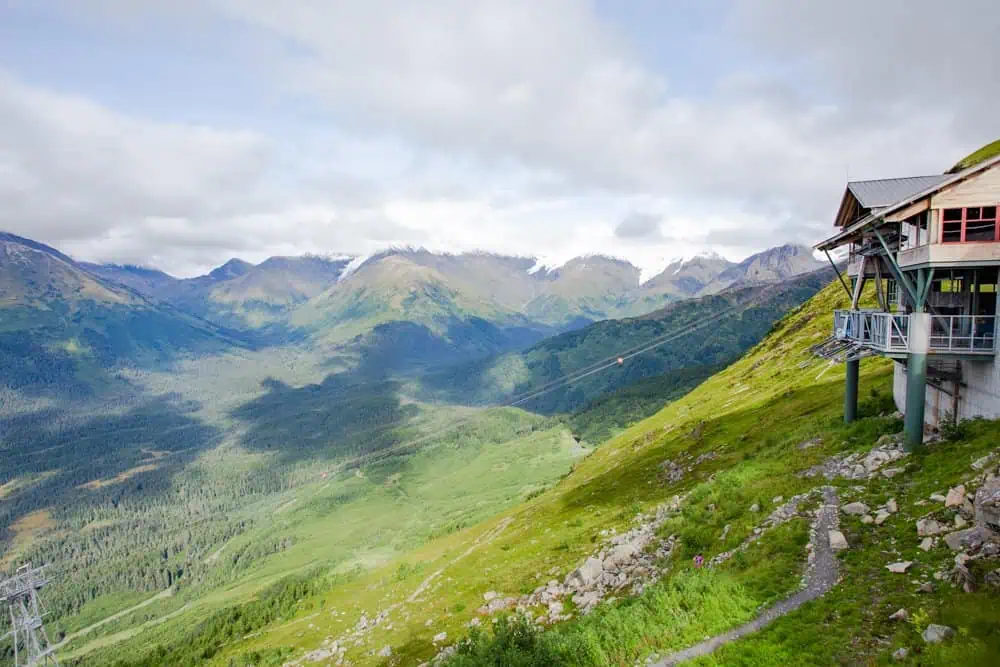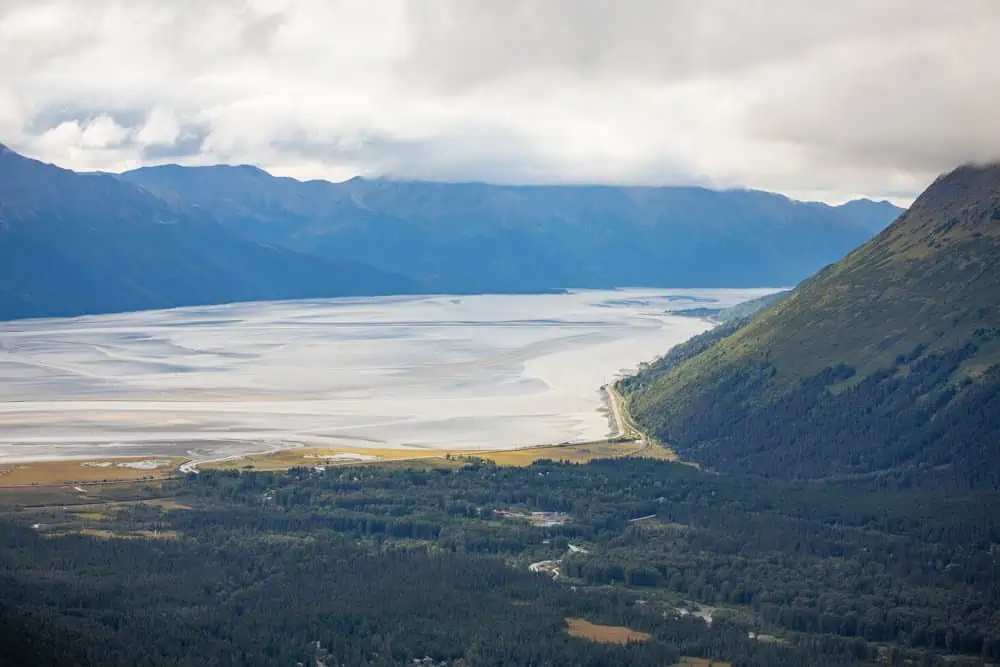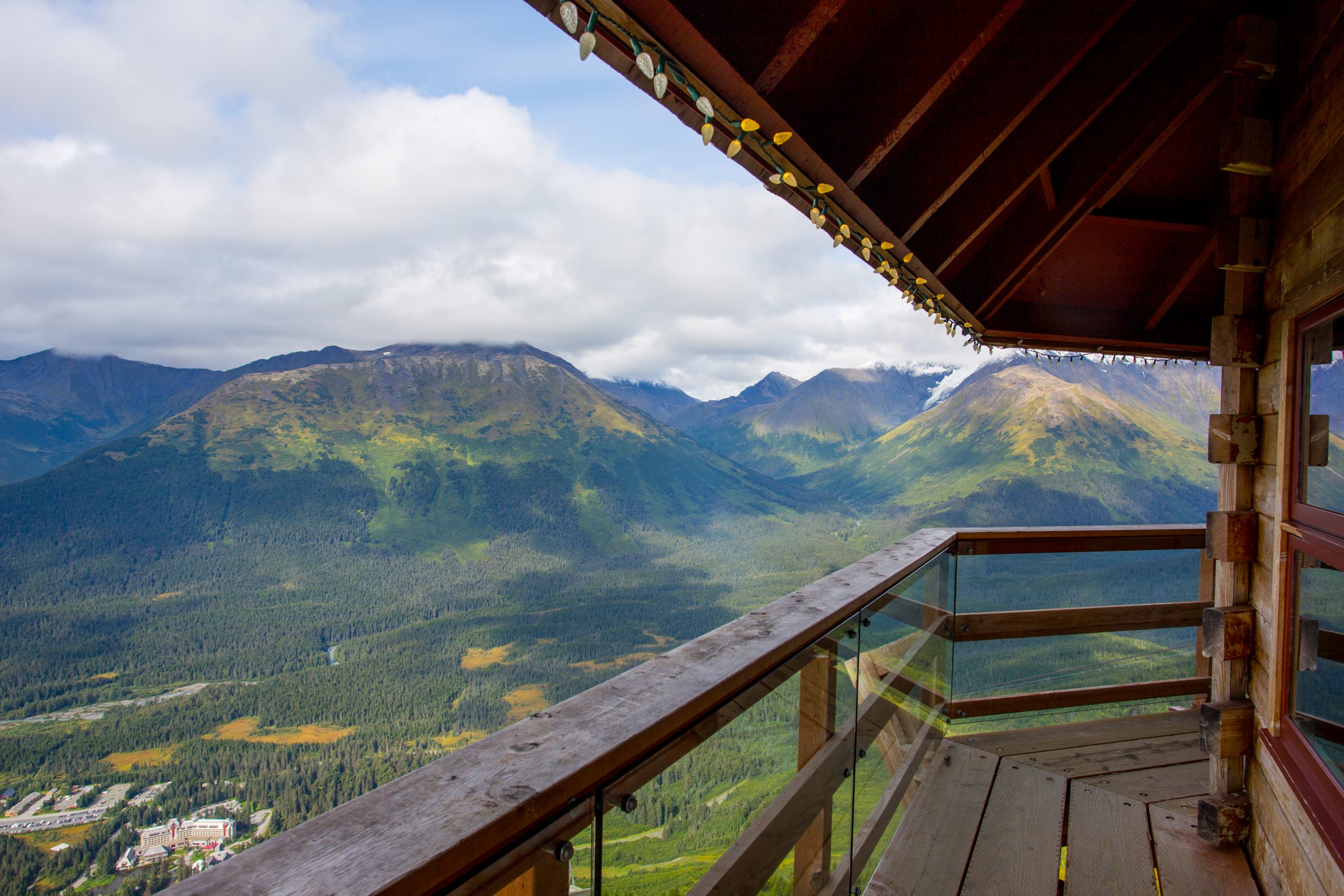 Read Next: