Germany Austria Switzerland Itinerary: 10 Days on the Road
Hey there!
This post may contain affiliate links, meaning I may be compensated if you click on one of my links, at no cost to you. As an Amazon Associate, I earn from qualifying purchases. Read my disclosure policy for more information.
You've decided on your Europe trip and you're now wondering how to plan it. I can help with that!
I lived in Southern Germany (Stuttgart) for six years and traveled to Switzerland and Austria more times than I can count. Since it was just a few hours away, we went for festivals, ski trips, summer hiking, and exploring beautiful villages and cities.
While I don't recommend trying to cram as much as possible into one trip, I think it's very doable to visit these three countries within 10 days.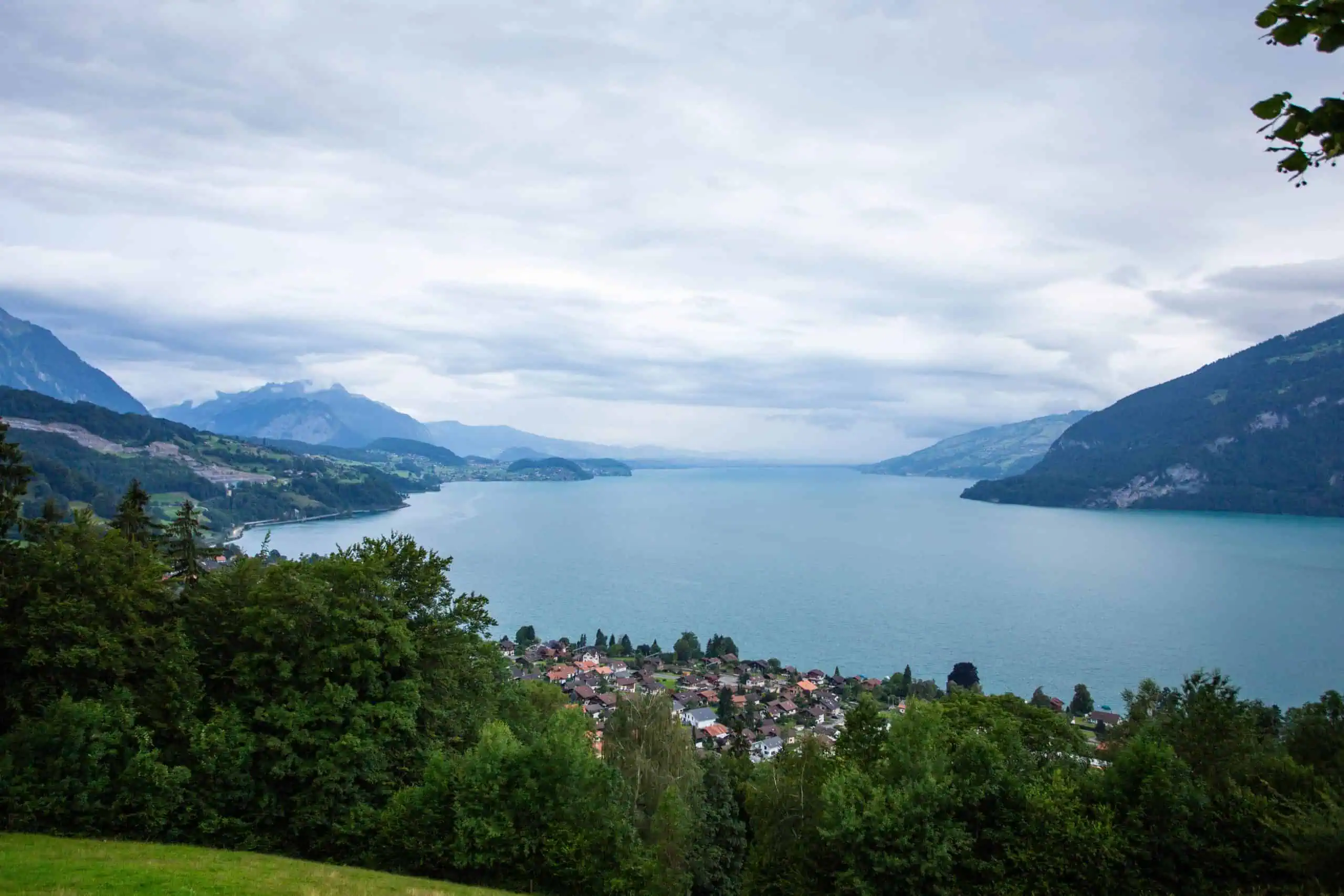 I'm sharing what I think is the best 10-day Germany, Austria & Switzerland itinerary that'll show you how to make the most out of your time.
With this itinerary, you will stay within certain regions of each country so you're not on the road the entire time.
You'll have a mix of scenery, busy days, tours, and downtime. The goal is to divide your time over as many activities and places as possible without rushing through them.
Overall, you'll be splitting your time nearly evenly in each country.
Keep reading for all the details about this itinerary. Every detail has been thought out for the most memorable trip you can have!
Why Combine Germany, Austria, and Switzerland on the Same Trip?
We all know Europe is full of amazing countries with wonderful spots for traveling, so why does this trip include Germany, Austria, and Switzerland instead of someplace else like Italy, Spain, or France? And why only these 3 countries?
Well, this combination has logical, geographical, and experience-related motives.
They're Close
First, it simply makes sense to combine Germany, Austria, and Switzerland. These 3 countries are very close to one another – they literally share borders.
If you check a map of central Europe, you'll see that Germany borders both Switzerland and Austria from the south, whereas Austria is to the east of Switzerland.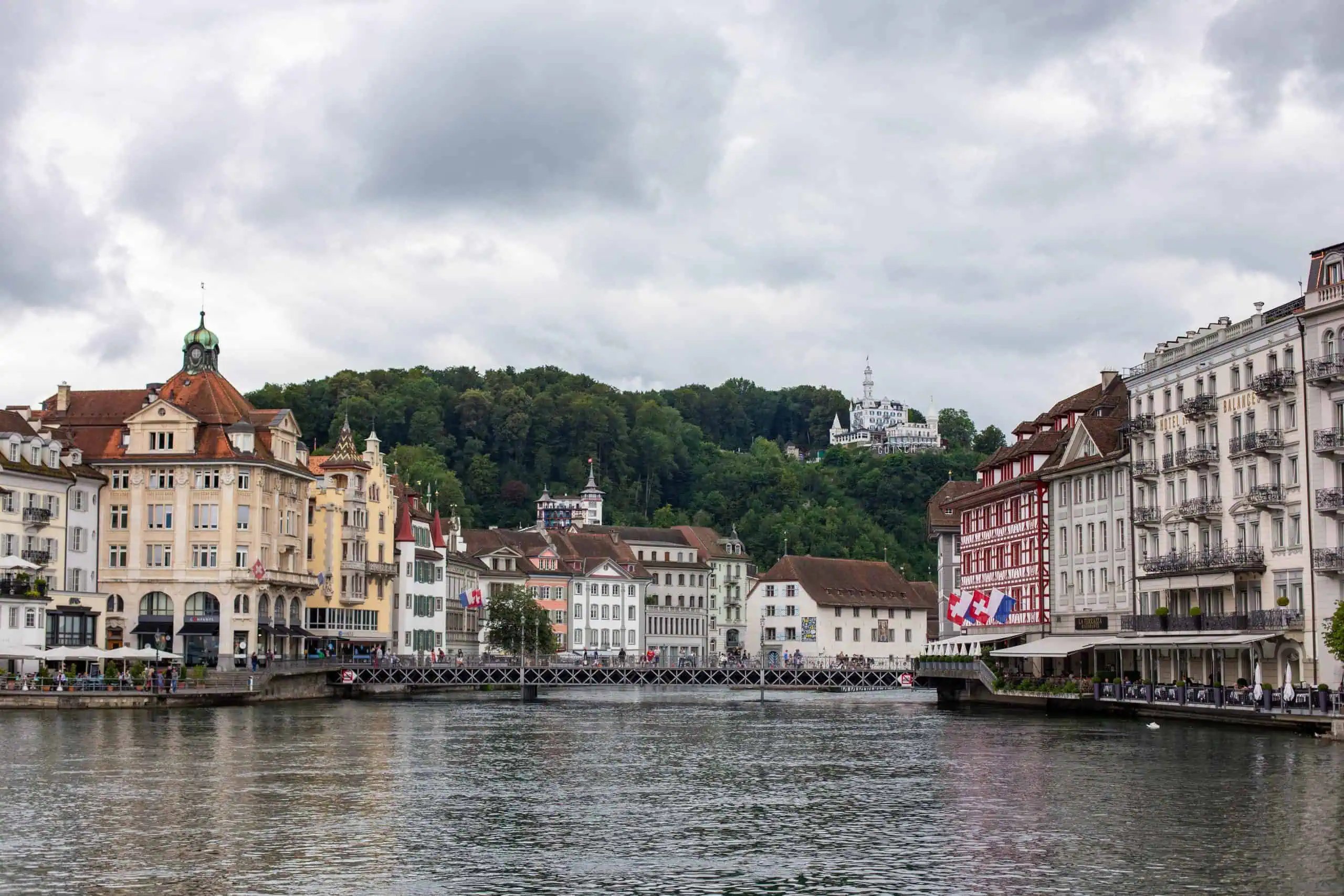 They Have the Same Language
Another reason why it's a good idea to combine Germany, Austria, and Switzerland into one trip is the common language.
All 3 of these countries speak German. It's one of the 4 official languages of Switzerland and the sole official one in Austria.
If you don't speak German, this combination means you can learn some basic phrases in German and use them for all the places you'll visit.
This isn't an obligation since you can get by just fine with English, but showing you know a few phrases goes over well with locals.
They're Versatile and Have a Lot to Offer
Last but not least, combining Germany, Austria, and Switzerland gives you a rich experience with a wide range of activities to satisfy different interests.
These countries have natural landscapes with lakes, waterfalls, rivers, mountains, and more. They have historical sites, museums, art, architecture, adventures like hiking or paragliding, and cuisine among many other cultural aspects.
This means you're guaranteed to enjoy your visit no matter what you're looking to do.
Are 10 Days Enough for Visiting Germany, Austria, and Switzerland?
The answer to this heavily depends on your travel style and what you're looking to accomplish with the trip.
If you're a home base type of traveler who likes to deeply explore a single location at a time, 10 days likely won't be enough for you to thoroughly cover even 1 of the countries.
If you're a go-go-go traveler who aims to see as much as possible of the places they go, then 10 days are probably enough to see a lot of the 3 countries since they're quite close to one another. However, this approach isn't the most comfortable or rewarding in my opinion.
If you prefer a balanced approach, then I believe 10 days will be enough for you to experience and enjoy a bit of each country to a pretty satisfying level. This travel style is what I've gone for with this itinerary.
How to Get Around During a Germany, Austria, and Switzerland Trip?
Making your way around Germany, Austria, and Switzerland (or Europe in general) is basically a choice between 2 means of transportation: car or train.
Each option has its pros and cons, so I'll highlight them in this section to help you choose what works best for you.
Taking a Car
This itinerary was created for a car, but you can just as easily take a train too.
The upside of getting around with a car is that you don't need to worry about sticking to a departure schedule. You can set off according to your own time and you'll never miss your ride.
A car can also be the faster method to reach some places since you can take shortcuts and don't have to make stops along the way. Not to mention, taking a car allows you to go on side trips and make detours.
That said, taking a car in Europe can be more expensive than taking a train. Not only because of the rental cost but also the gas and road tax.
Car Costs
Vignette: Austria and Switzerland both require a vignette, which is a sticker you purchase at a gas station or store to go on your windshield. In Austria, you'll spend less than 20EUR, but the Swiss vignette runs about 40-45USD (depending on the exchange rate).
Gas: Gas in Europe is much more expensive than in the US, about 3-4 times the cost.
Car Rental: Compared to places like the US, a rental car will be considerably cheaper in Europe. Typically you can find a small to midsize sedan for $30-50/day. I always book through Discover Cars, an aggregate company that helps you find the best prices (often lower than through the company directly). They also have fantastic customer service, which can be hard to find in the rental car industry.
Driving in Europe can sound daunting, but these three countries are fairly easy to navigate. The roads are well-maintained and drivers follow the rules of the road. There are plenty of well-marked signs and it's likely that your rental will have GPS included.
Taking a Train
While in Europe, trains are a great way to get around. They're fast, clean, and efficient (especially in these countries!). And train stations are in the center of towns or cities, so once you disembark you're not too far from your hotel.
They're also pretty affordable, so you can save much of your budget for the actual visit. Also, you'll be relieving yourself from the hassle of driving in a new/foreign country.
The downside to trains, however, is having to plan your time around their schedule. Besides the lack of flexibility, you're also likely to take a longer time to get to your destination by train vs by car.
Some of these trips require multiple connections, so you'll need to pay attention as well.
Additionally, some places are tricky to reach by train. You'll get off at the nearest point but have to figure out how to make it to the specific spot you want to visit.
There are many different ways to book train tickets in Europe which deserves its own post. I priced out this trip in May via RailEurope and it is $324 per person (I'm looking about 9 months out). With the Eurail Pass, it's $292 (but you still need to pay a few euros to reserve seats).
The Eurail Pass is more flexible (i.e. you can change train times if there are open seats) which can be more appealing. Please note the train from Salzburg to Berchtesgaden cannot be booked via Eurail.
Booking your train tickets early is key to finding low prices. If you wait until the last minute, you could end up spending a lot more on your tickets.
Children under 15 travel free via train.
TRIP OVERVIEW & MAP
10 DAYS SWITZERLAND | AUSTRIA | GERMANY ITINERARY
DAY 1: Arrive in Zurich & Head to Lucerne
DAY 2: Lucerne to Interlaken/Lauterbrunnen
DAY 3: Grindelwald & Junfraujoch
DAY 4: Travel to Innsbruck & Overnight
DAY 5: Travel to Salzburg & Explore
DAY 6: Berchtesgaden | Königsee | Eagle's Nest
DAY 7: Salzburg Day Trip
DAY 8: Travel to Munich & Explore
DAY 9: Neuschwanstein Day Trip
DAY 10: Fly Home
Click on map below to see full map in Google Maps.
Germany Austria Switzerland 10-Day Itinerary
Day 1: Arrival in Zurich & Head to Lucerne
Your 10-day trip to Germany, Austria, and Switzerland will start with your landing in Zurich, Switzerland's capital
Assuming you arrive early in the morning, you'll have 3 full days to explore Switzerland.
With this itinerary, I didn't plan a day in Zurich because it's a massive business city and one of the most expensive in the world. The town of Lucerne is much more quintessential Switzerland and a much cuter town.
If you would like to get a taste of the city, however, I recommend heading to the old town (Altstadt) and exploring for a few hours before heading to Lucerne. It's only 6 miles from the airport to the city center and easily accessed via train or car.
Lucerne is only about 45 minutes from Zurich, so you could spend most of your day in Zurich and then make your way to Lucerne for the evening.
If you decide to head straight to Lucerne (which I highly suggest), here's how to spend your day.
Grab a bite before on your way to Lucerne or have breakfast when you get there. Some of my favorite places to fill up on breakfast or lunch are Richemont Gastronomioe, Mill'Feuille, and Antons Restaurant.
After food, you'll start exploring the old and new towns. You can walk around on your own or join a walking tour such as the one to Chapel Bridge and Old Town or one with a local via LocalBini.
While exploring the old town, don't miss the sight of the iconic Lion Monument. It dates back to the 1820s and pays tribute to the Swiss Guards who were murdered during the French Revolution.
You can also wander along the lake or catch a boat ride over it with a 1-hour cruise.
If you're into museum visits, here are some great options such as the Richard Wagner Museum, Sammlung Rosengart Museum, Swiss Museum of Transportation, or Chocolate Adventure Pavilion.
Don't forget to snap some pictures at the Chapel Bridge. It's a covered wooden footbridge that crosses the river Reuss. It contains various interior paintings dating back to the 1600s and features a unique flower pot decor along its guard rails.
When dinner time rolls in, be sure to try the country's world-famous dishes such as fondue, raclette, Älplermagronen, and Rösti. Among my top restaurants for Swiss cuisine are Restaurant Balances, Hermitage, and Gasthaus Schlüssel.
Hotel Recommendations
Most hotels are located in the Old Town, so head over to Waldstatterhof Swiss Quality Hotel or Ibis Styles Luzern for the night whenever you're ready.
Day 2: Exploring Lauterbrunnen & Interlaken
Start the day with breakfast at your hotel or at one of the restaurants I mentioned above. Then, you'll leave from Lucerne to Lauterbrunnen.
Lauterbrunnen looks like something out of a storybook. Here you'll see mountains jutting out of the ground and 72 waterfalls all over the mountain valley.
These mountains are sheer rock faces overlooking a wide valley. It was formed by glaciers over millions of years. You'll often spot base jumpers and other extreme sports enthusiasts enjoying nature's playground.
Interlaken is a beautiful little town between the green glacial lakes of Thunersee and Brienzersee ('see' means lake). It's about a 20-minute drive from Interlaken to Lauterbrunnen, and you can stay at either location for beautiful views (although Lauterbrunnen sits right in the valley).
Tip: This area has many cable cars going up mountains, boat rides on the lakes, funiculars, and trains to the tops of mountains. There are a lot of ways to see this area! If you want to dig in and explore, I recommend purchasing the Jungfrau Travel Pass. It covers nearly everything with a few exceptions that you can read about here.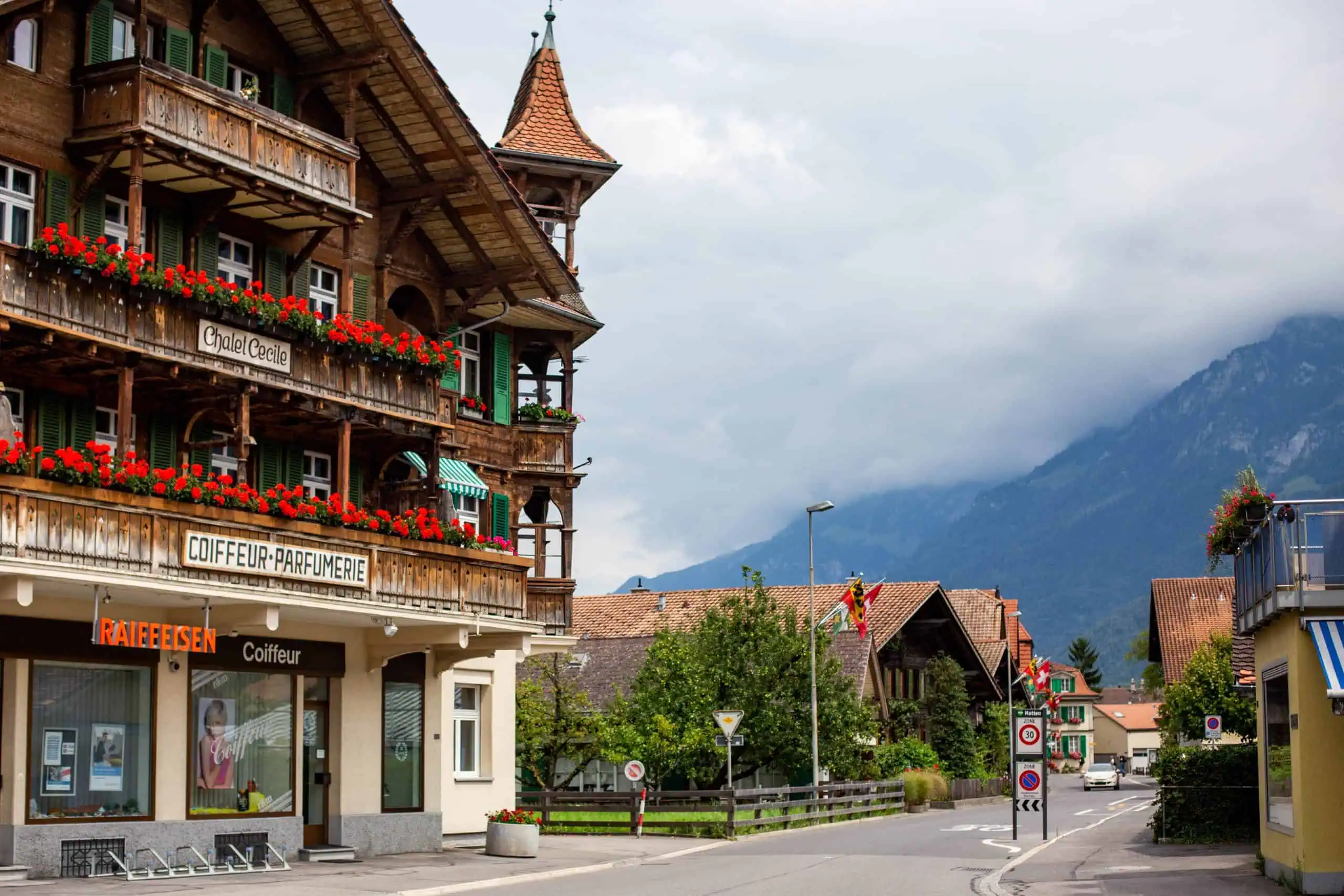 Here are my top recommendations for a day in Lauterbrunnen:
WALK THROUGH THE BEAUTIFUL VALLEY FLOOR
Make your way into the valley and park at Lauterbrunnen. From here, walk one of the many trails throughout the valley. You could go on for miles or take a quick stroll.
If you want to really see all the highlights, though, book this guided tour from Interlaken. You'll see the best waterfalls in the area and learn about the history of this beautiful valley. This is a great option especially if you don't have a car.
GO PARAGLIDING IN INTERLAKEN
Paragliding in Interlaken was my absolute favorite activity the last time we visited the area. We went nearly 10 years ago and we still talk about it today. It was a highlight for sure! Because you just drove in today, I recommend doing this early the next morning so you can really explore the valley. I booked with this tour company and loved them.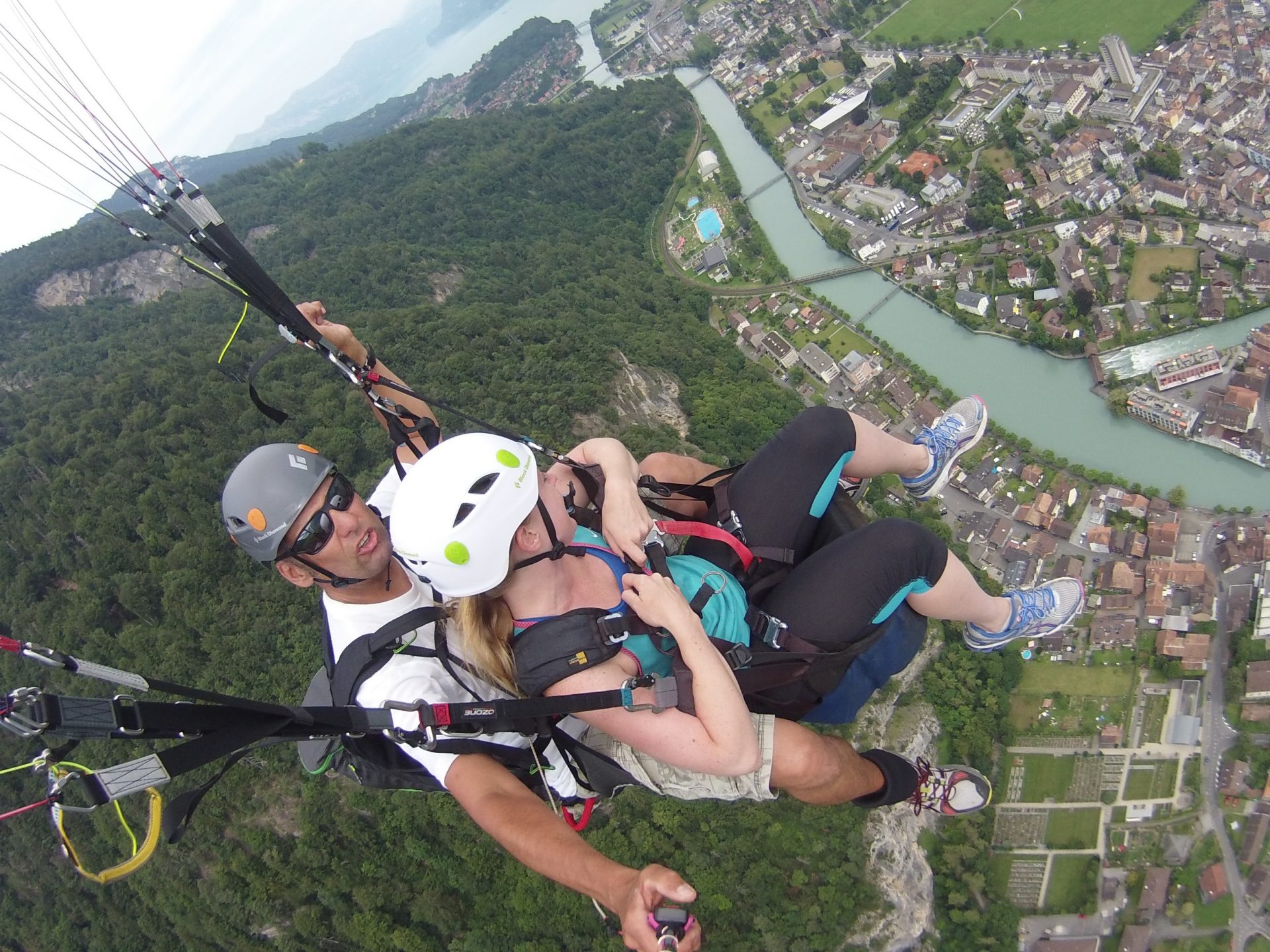 VISIT TRÜMMELBACH FALLS
Trümmelbach is the only glacier waterfall in the world that can be accessed underground. These are Europe's largest subterranean waterfalls and are impressive to see in person.
There are three glaciers feeding meltwater through here to create these falls. And it's a lot of water! At 20,000 liters per second, you can imagine how powerful and mighty these falls are.
HIKE ONE OF THE WATERFALL TRAILS
There are tons of hiking opportunities throughout the massive valley. And some lead to villages such as Murren or Wengen.
Hotel Recommendations
Some hotels I'd recommend for your stay are Chalet Rosa B&B and Hotel Oberland.
If you don't wish to stay in Lauterbrunnen, there are so many options in this area. One time we stayed at this small hotel in Leissigen, a small town above Lake Thun (Thunersee). I liked it here because it's so quiet and you stay at a traditional Swiss mountain home that's been converted into a hotel.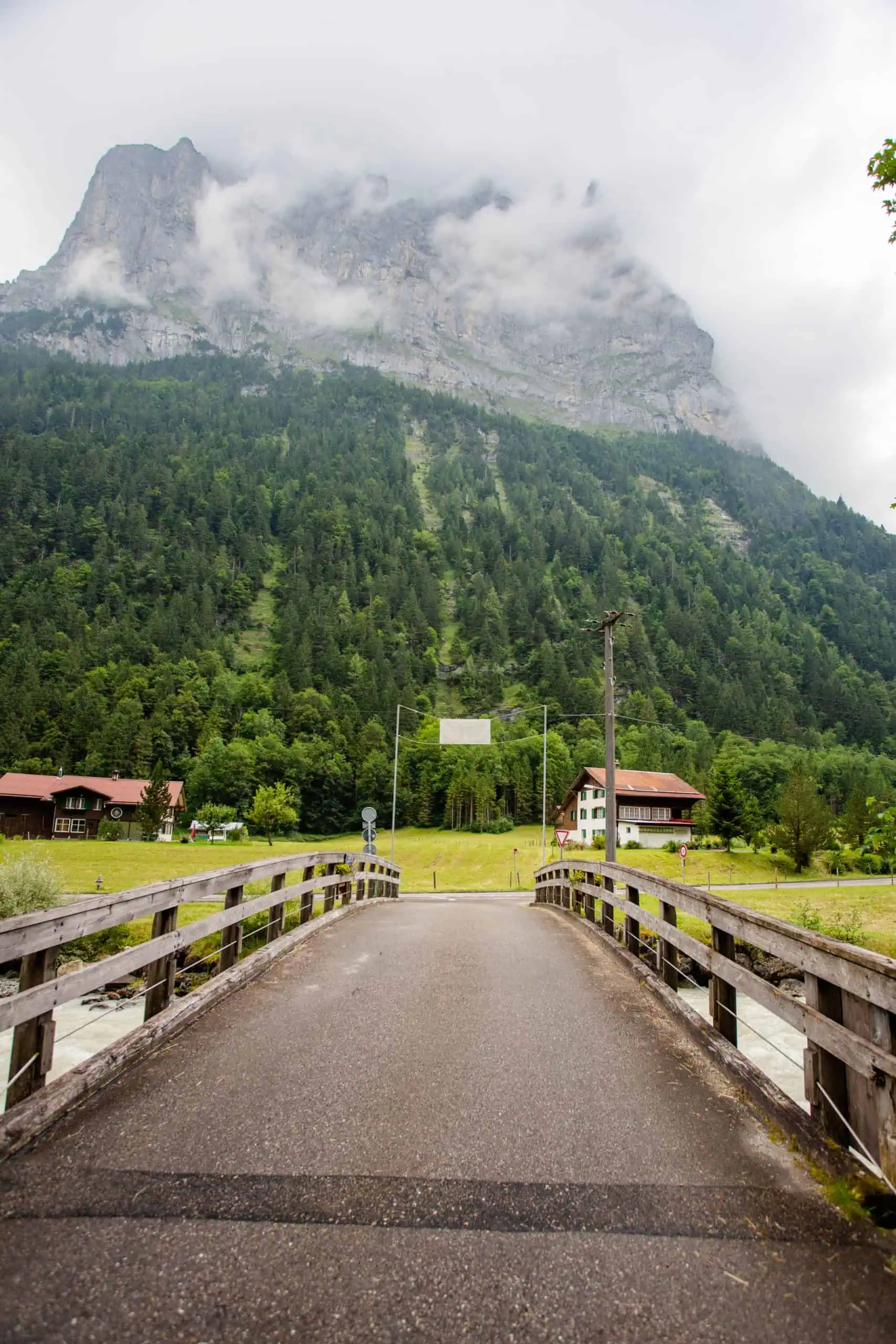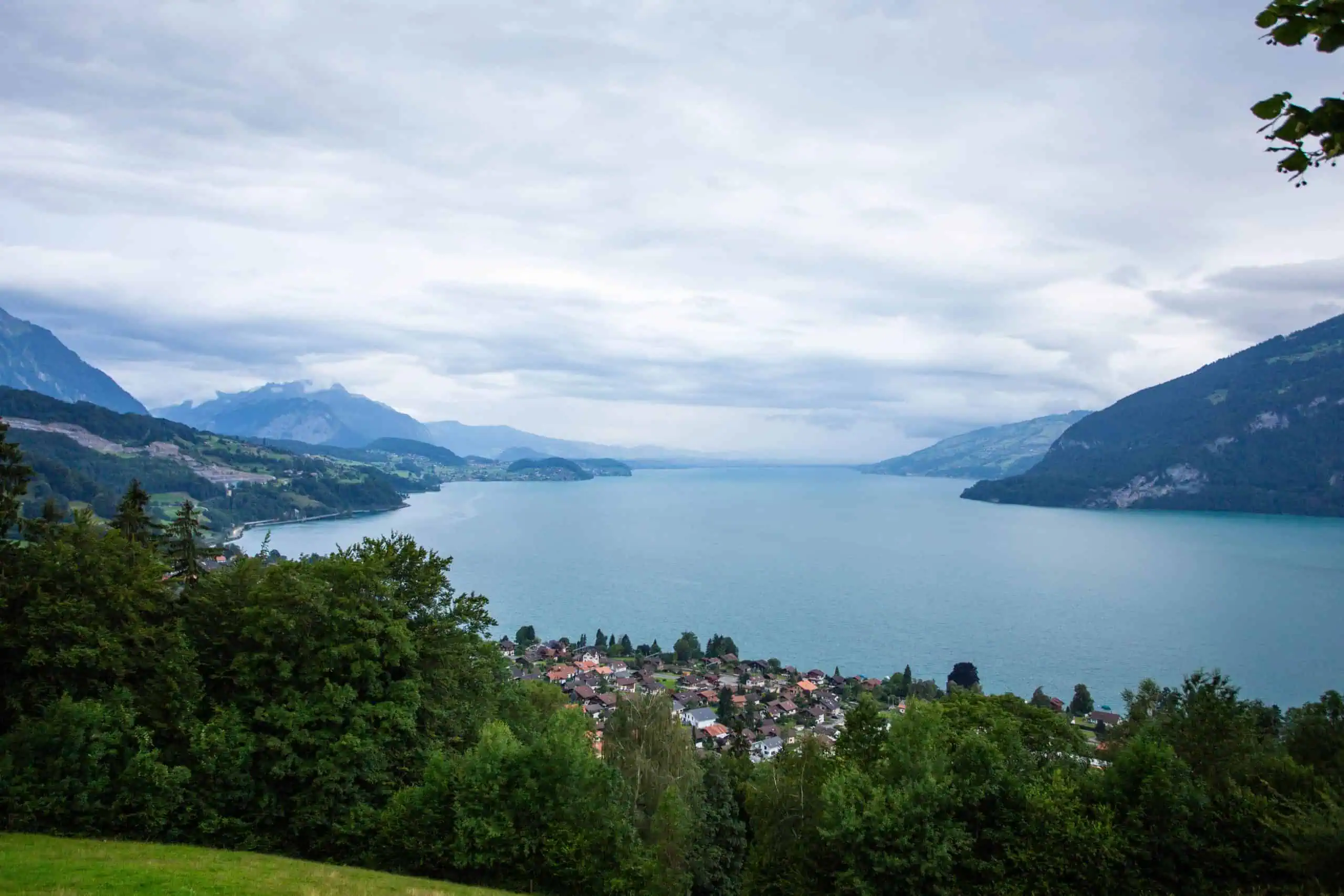 Day 3: Exploring Grindelwald and Jungfraujoch (Top of Europe)
Today you'll head to Grindelwald and then to Jungfraujoch, called the Top of Europe. This trip takes a bit of time so I recommend starting early. To reach Jungfraujoch, you need to take a train from Grindelwald.
Grindelwald is a small Swiss village in the beautiful Swiss Alps. It's also a great launching point for Jungfraujoch, a massive mountain at 11,000ft and the tallest in Europe!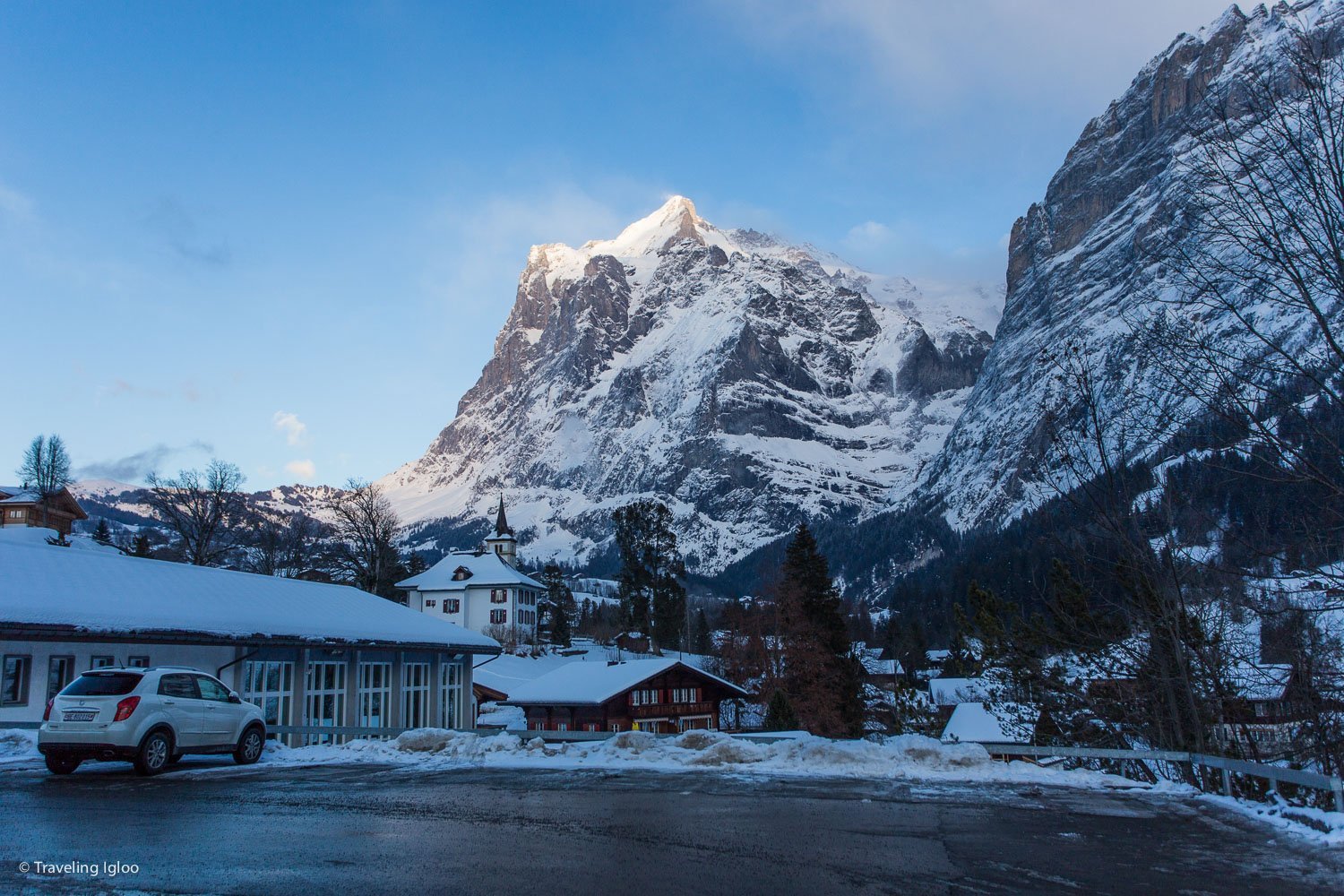 GO TO THE TOP OF JUNGFRAUJOCH
From Grindelwald, you can take the Eiger Express train to the top and back (be sure to book these tickets ahead of time). When you book, you can select how long you wish to stay at the top. There's plenty to do, including seeing the longest glacier in Europe, taking in the sweeping views, and exploring an underground ice palace with ice sculptures.
I recommend going up Jungfraujoch in the morning so you can spend your afternoon at Grindelwald, but it's really up to you how you want to plan your day. I prefer to not feel like I'm waiting around to board a train, so I prefer to do those activities in the morning and then be free to explore the rest of the day.
EXPLORE GRINDELWALD
Grindelwald itself has tons to do. Since you're short on time, I recommend walking the town and grabbing a bite to eat.
For something more adventurous, there's plenty to do! Soar like an eagle on a fast-moving glider, walk on the cliff walk overlooking the mountains below, or drive a mountain cart, among other things. Note that some of these things require a gondola or cable car ride.
If you prefer to keep your feet planted, go on one of the many hikes in the region such as the Kleine Scheidegg.
At the end of the day make your way back to Interlaken or Lauterbrunnen for your last night in Switzerland.
Day 4: Explore Innsbruck
The following morning you'll travel from Interlaken to Innsbruck, a cute college town in the mountains of Austria.
This town makes for a great stopping point between Switzerland and Salzburg.
If you went straight through, the drive would take about 7 hours (assuming there's zero traffic and you don't stop), and even longer via train. So I recommend a stopover night in this beautiful and historic town to break up your trip.
I also like this drive because you go through some spectacular mountain scenery, and even cross through the small country of Liechtenstein (look out for the black license plates!).
If you prefer something a bit quieter, I recommend looking into the Achensee, a pretty Alpine lake about 55km (34 miles) from Innsbruck.
If you're driving, don't forget to get a Vignette sticker before you cross the border to Austria. It'll cost you around 10 EUR, and if you don't buy one you could get a huge fine of over 100EUR. Vignettes are available at all gas stations.
Since the drive will fill a good portion of your day, here is how I recommend spending your afternoon/evening:
Walk the cute old town (Altstadt) and check out some of the shops, cafes, and restaurants.
Visit OlympiaWorld and learn about the 1976 Olympics.
Climb the town tower for beautiful views.
Each time we've been to Innsbruck, we've stayed at these beautifully maintained apartments just up the hill from the old town. There are hiking trails from the apartment and a lovely farm-to-table restaurant on the mountainside called Gasthaus Planötzenhof Andreas Heis. If you like pretty views with your meal, then I recommend this place!
Day 5: Explore Salzburg
Today you will make your way to Salzburg, just a few hours from Innsbruck. As you're likely tired from all this travel, you'll get a chance to relax and enjoy a few nights in the Salzburg area.
Expect more scenic views and an easy drive. If you're driving, there are three routes to get there, and you can't go wrong with any of them.
When you arrive at Salzburg (aka the City of Mozart), you'll probably be ready to explore.
Make your way to the Old Town (Altstadt). It's a small but packed old town filled with shops, restaurants, cafes, bars, and cathedrals.
A must-see spot is Mozart's birthplace at the intersection of Hagenauerplatz Square and Getreidegasse Street.
There are various walking tours, but you can easily walk yourself. If you want to learn about the history of the area, I recommend this 2.5-hour tour that starts at Palace Mirabell and takes you through the Makartplatz, New & Old Town, Mozart's Birthplace and ends at the top of Mönchsberg Hill (optional).
You'll also see River/Mozartsteg, Toscanini Hof, St. Peter's Cemetery/Church, Alter Markt, Mirabell Gardens, Kapitelplatz, and many more places.
There are also food tours where you can see the city while experiencing Austrian cuisine. I recommend this one for food tasting or this one for beer tasting in Old Town
It's hard to miss the imposing Hohensalzburg Fortress perched above the Altstadt. To get there, you can either walk the switchback path to it or take the funicular for about 5EUR (ascent and descent, admission included).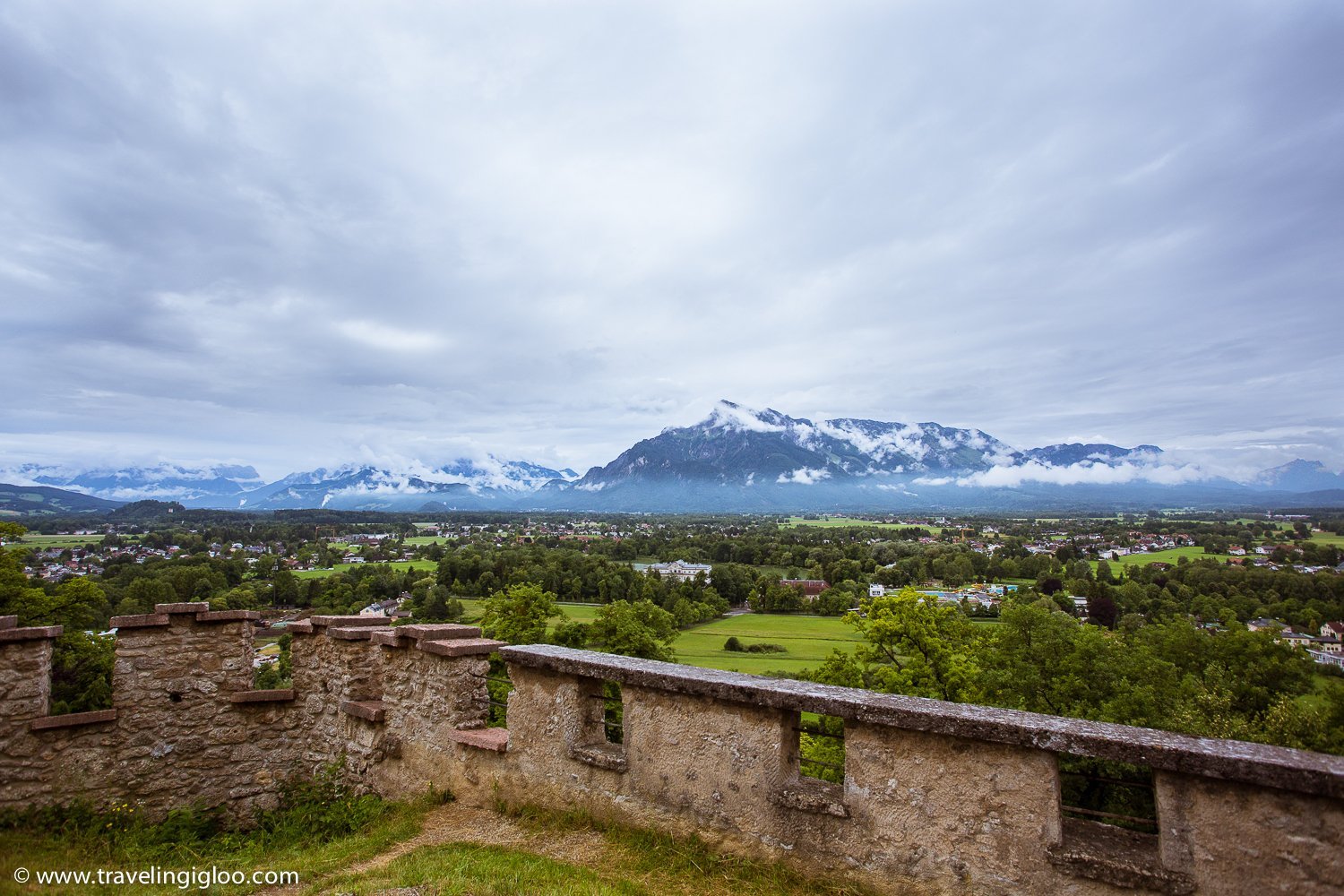 Once at the top, get ready to be blown away by the 360 views. Explore the medieval interior of Europe's largest intact medieval castle. You can see the Salzburg Bull, the Archbishop Chapel, Golden Hall, and Golden Chamber.
Don't go back down too soon. You can take the Monchsberg road to reach Augustiner bräu – Kloster Mülln, Austria's largest beer tavern. For a delicious meal, try the Gasthaus Burgschenke.
My top recommendation for dinner is the Mozart Dinner Concert at St. Peter Stiftskulinarium in the old town. It's the oldest restaurant in Central Europe.
Hotel Recommendations
Call it a night at Altstadt Hotel Hofwirt Salzburg or MEININGER Hotel Salzburg City Center.
Day 6: Explore Salzburg/Berchtesgaden
Since Berchtesgaden is a short distance from Salzburg, we'll keep our base in the city and do a day trip from here.
Today you'll go on a day trip to Berchtesgaden, a national park with the looming Eagle's Nest. There are a few options for your day, depending on your interests:
TAKE A BOAT RIDE AT KÖNIGSEE
The Koenigsee is a beautiful large lake in the southern German Alps. There's a popular boat ride that takes you along the lake to St. Bartholomew's Church. They even have a trumpet player that shows you how well this mountain valley can echo! Once at the church, you have time for lunch and a drink before heading back. It's a beautiful way to spend the day.
VISIT THE EAGLE'S NEST
Alternative to Lake Königsee, you can visit Hitler's Eagle's Nest at the top of Mount Kehlstein and the Documentation Museum. You can take a guided tour from Salzburg or a bus directly from Salzburg to the documentation center.
You can also drive yourself as well.
Once you're done exploring, head back and recharge for the next day.
Day 7: Explore Around Salzburg: Hallstatt | Sound of Music Tour
In and around Salzburg, there are many day trips and activities that you can enjoy early in the morning. Here are some of my recommendations.
Hallstatt has become really popular in the past few years, but there are many other lakes in the area. Surrounding Salzburg, there are a total of nine lakes in this region.
Mondsee is a good option for a cute town on a pretty lake (but you won't have the same striking town as Hallstatt). This lake is also on the Sound of Music tour as well. Attersee is the largest in the region and the most striking with mountains in the background.
Alternative Option: If you're excited to get to Munich, you could alternatively head there today to have an extra day to explore.
Day 8: Explore Munich
Today you'll make your way to Munich, the beautiful capital of Bavaria and home to BMW.
Although it's a large city, the central area is quite walkable and easy to navigate.
There is also a robust train system. The trains within cities in Germany are called 'U-Bahn', so look for those signs when walking around. Tickets can be purchased at the kiosks directly at the stations, or you can use their app to book your tickets.
EXPLORE MARIENPLATZ
Once you arrive and get settled, head to the center of town, Marienplatz. This has been Munich's center square since 1158. I recommend walking around the area and exploring the shops and one of the many breweries.
You'll see the New and Old Rathaus (town hall), St. Peter's Church, and the Marian Column among many others. Interestingly, this place was rebuilt in the traditional style years after its demolition at the end of WWII, so it may not be physically old, but it looks the part.
CLIMB ST PETER'S TOWER & GLOCKENSPIEL SHOW
From there, make your way to St. Peter's Tower (best to arrive about 30 minutes before 11 or 12 to make the climb before the show starts). Go up to the observation point for a spectacular bird's eye view of the Platz and a chance to catch the Glockenspiel show away from the crowds.
The Glockenspiel show is a 15-minute spectacle that reenacts bits of the city's history. It takes place at 11 and 12 daily, ending with 3 chirps from a golden rooster at the top of the square's mechanical clock.
TAKE A WALKING TOUR
If you're into walking tours, there are many free options that start right at Marienplatz.
For something a bit more in-depth, I recommend this 1.5-hour tour of the inner city. It starts at the Marienplatz, showing you the highlights, and then heads to the Frauenkirche church, the Royal Brewery, as well as the cathedral and Theatine Church. The tour ends at the Viktualienmarkt.
When it's time for lunch, the daily food market (Viktualienmarkt) is a fantastic option. It's about 4 minutes from the city center. Alternatively, you can go to a beer garden for a meal and a drink.
After eating and depending on how late it is, you can explore Munich's iconic cathedral; the Frauenkirche, the Nymphenburg Palace, or the English Garden.
WALK THE ENGLISH GARDEN
The English Garden (Englisch Garten) is a massive public park in the center of Munich. It's even larger than Central Park.
Inside there is a huge network of trails that can keep you busy for days. If you prefer a guide to show you around, there are some great tours like this one (via GetYourGuide) that take you through Marienplatz and the English Garden.
The English Garden is close to Marienplatz, so you can simply head here once you're done exploring the Marienplatz area.
Here are my top 3 things to do:
Watch people surf at the Eisbachwelle. This is located at the very south end of the English Garden next to a road. But stopping here is worth it! I thought it was so fun to watch people surfing in the center of a huge city. If you are heading to the English Garden from Marienplatz, you can stop here first.
Visit the Chinese Tower (Chinesischer Turm). The Chinese Tower was built as an observation tower. Sadly it was destroyed in WWII, but has been rebuilt in its former style. The second largest beer garden is here, and it's a great place to grab a beer and have something to eat. It's about a 15-20 minute walk (less than a mile) from the surfing area.
Stroll Around and Explore. Aside from the beer garden (biergarten) at the Chinese Tower, there are many other biergartens and restaurants inside the park. There's also a Japanese Tea House, areas to relax in the grass, ponds, and even a sheep farm.
DINNER AT A BREWERY
Wrap up the day at the Hofbrauhaus restaurant near Marienplatz (a 5-minute walk) for a taste of German cuisine, beer, and atmosphere. The Augustiner restaurant is also a great choice (a 20-minute walk from Marienplatz) with its delicious beer, schnitzel, and maultaschen.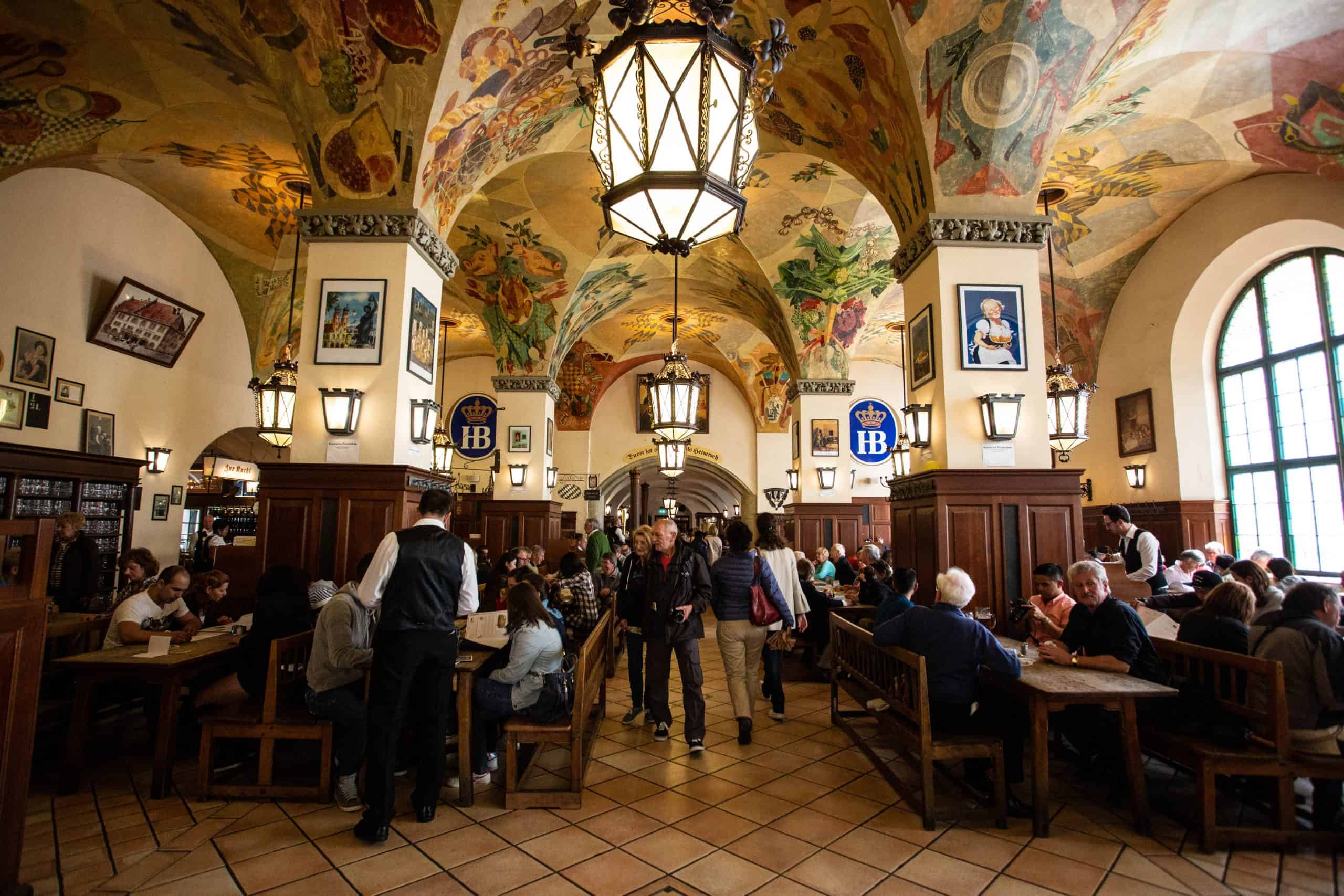 Hotel Recommendations
For accommodation, I recommend the Arthotel Munich or Bento Inn Munich Messe.
Day 9: Explore Neuschwanstein Castle
Today you'll be going on a day trip to Füssen, south of Munich.
If you have time, start with a hefty white sausage breakfast – classic Bavaria style. It's called Weißwurst in Germany, and you can have a tasty one at Schneider Brauhaus, Airbraeu Brauhaus, or Hofbraeukeller.
Füssen is the town that sits at the base of Neuschwanstein Castle, Germany's most famous castle. It's the inspiration behind Disney's castle in Sleeping Beauty.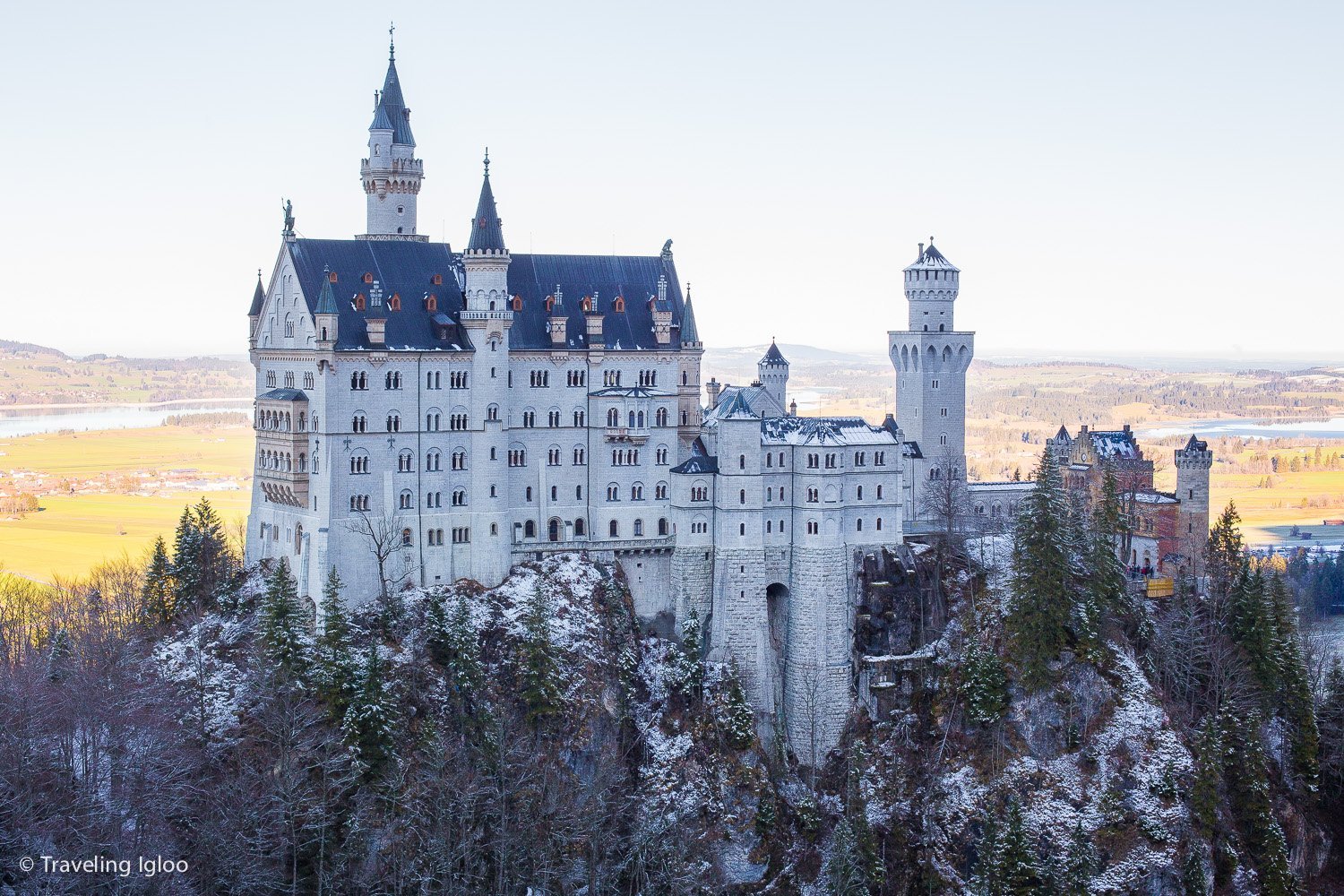 The fastest way to get to the castle from Munich is by car, and there's also the option to take the train (which requires many connections).
Or, you can book an inexpensive day tour like this one and have everything done for you. This is my personal recommendation to avoid parking, purchasing tickets, and a lot of waiting.
I recommend booking your tour ahead of time as the line can get really long quickly.
There are actually a few castles in this area. The tour of Neuschwanstein is a bit anti-climactic, so if you don't want to wait in line for tickets, you can simply walk up to the castle and explore the courtyard.
The Marienbrücke Bridge is where you can get the famous photo (see above) of the castle. It's free and is a short walk to the right.
Please keep in mind the bridge site is high above a gorge and can get absolutely packed with people. The boards you walk on are not well secured either, so take caution if you decide to walk across it. From here you can continue a bit further up for even better views (note it is steep).
The only way to avoid the crowds is to arrive early.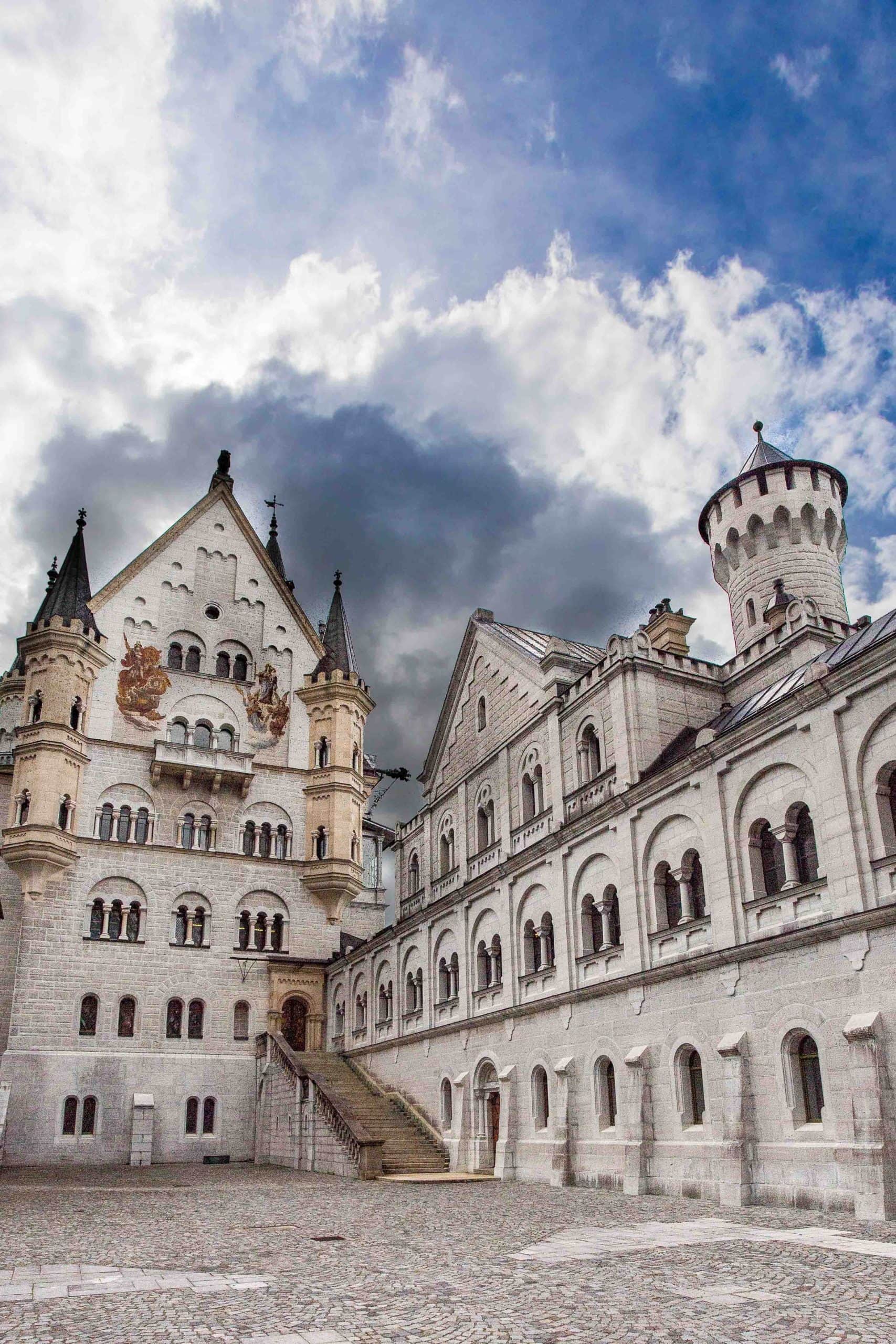 If you're into a mesmerizing, adrenaline-packed activity, don't miss out on paragliding in the Alps (over the castle too!). Fly Royal is a fantastic team to book this activity with; you'll take off from Tegelberg Mountain and the duration of the flight depends on the package you choose.
Alternatively, you can stay on the ground and explore the lake, take a bus or train ride through the castle's surroundings, go to vantage points, and discover the tale of King Ludwig, it's all in this tour.
Once you're done exploring the castle and area, you'll head back to Munich. That's your chance to get your fill of Bavarian beer and cuisine at Steinheil 16, Schiller Brau, and Servus Heidi.
Day 10: Munich/Departure
The last day is all about wrapping up your time in Munich and making your way to the airport to fly back home. If you have time, you can do some last-day shopping at Maximilianstrasse.
If you're flying from Munich Airport, it'll take you about 30 minutes by car and around 1 hour by train from the center of Munich.
If you're departing from Zurich Airport (only because you booked a two-way ticket), a car drive will take you there in about 3 to 4 hours while a train will do it in 5 to 6 hours. Be sure to factor in construction or train delays so you don't miss your flight.
Things to Keep In Mind When Traveling to Germany, Austria & Switzerland
Here are a few pointers to keep in mind during your Germany, Austria & Switzerland trip:
All 3 countries speak German, so you only need to learn common phrases in that one language. That saves you a lot of time and hassle, although English will get you by just fine.
All 3 countries are included in the Schengen visa agreement.
Germany and Austria use the Euro, but Switzerland uses the Swiss franc.
Scheduling your trip during the shoulder season (March through April and September through November) should get you lower rates and fewer crowds.
While getting around by train is more affordable and less confusing, it typically takes longer and may not reach all locations.
Getting around by car is more costly and forces you to worry about direction/parking, it offers more flexibility and usually takes less time.
Final Thoughts
That brings us to the end of a full-packed 10-day Germany, Austria & Switzerland itinerary for an unforgettable trip. The only thing left for you to do is actually get the show on the road!