Innsbruck is often overlooked in favor of other larger, more popular cities. In my opinion, it's an underrated area with a lot to see and do.
If you like the crisp mountain air with plenty of outdoor activities, read on to see why I recommend visiting Innsbruck for your next vacation.
Visiting Austria
If you've never been and love the mountains then Austria is absolutely worth adding to your list. The enormous Alpine mountains span across seven countries, with each country sharing its own unique flavor.
Innsbruck is in the Tyrol state of Austria and is the largest city in the Western part of the country. Tyrol has over 40 alpine lakes that shimmer an emerald green color. One in particular, the Achensee, is nearly 6 miles long and almost half a mile wide.
In Austria, the fare is much cheaper than it's Swiss counterparts, and the local food is hearty. If you want a spirit to warm you up, schnapps can be found at every corner; in little shops and all of the restaurants and cafes around. Many of these shops let you taste samples of their schnapps. In fact, they will usually let you try as many as you like.
The schnapps pour readily out of spouts connected to these large glass fishbowls that line the stores (see below). In some of the shops we saw schnapps sitting in large tubes running along the walls with a backlight to illuminate all of them.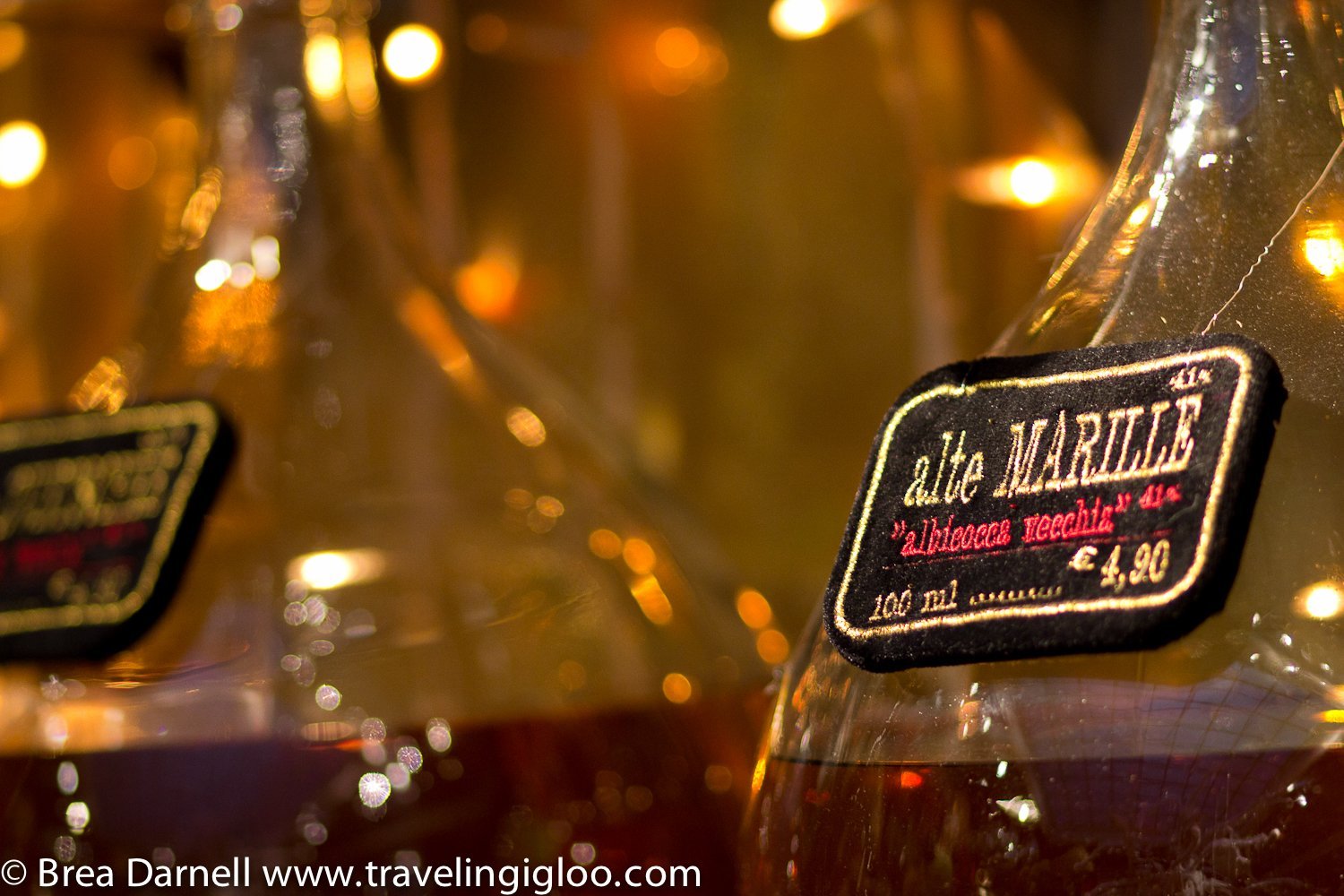 About Innsbruck
Innsbruck is a larger mountain town of about 120,000 and is the capital city of the Tyrol state.
What's nice about staying in Innsbruck is that it's a great home base to explore other areas. From here you are only a 30-minute drive to Italy, a 30-minute drive to Germany, and a few minutes to many ski resorts and stunning lakes nearby.
There are hiking trails all over, and if you want to hitch a ride one way (or each way) you can take one of the many ski lifts and cable cars found all over. This link has a lot of information on hiking in the Innsbruck area.
The Olympic winter games were held in Innsbruck in 1964 and 1976, and you can still visit the main ski jump perched on the mountain. There is a restaurant inside the Bergisel as well as a museum, and there are still ski/snowboard events held in winter months.
The Old Town "Altstadt" of Innsbruck
Our Apartment Rental
We wanted to stay on the outskirts of town, mostly because we were bringing our dog but also so we could easily access hiking trails and be closer to the mountains. I found a place online called Kasperhof Apartments.
They are relatively inexpensive and the area and views are amazing. There was a bus stop about 200 meters from the apartments which took us on a short 13 minute ride into the Old Town in Innsbruck. Also, these apartments are nearly new and very well kept.
This would work really well if you have a pet (like us!) or if you have a family. The apartments were much larger than our needs, so they would work perfectly for a family.
Also, We paid only 90 Euro a night and our place had two bedrooms.
Inside the apartment
View from our balcony
Things To Do
Hike to a Restaurant
We only visited for four days but managed to cram in a lot during our stay. There were hiking trails leading out from our doorstep, and a few of the trails had restaurants along the way.
We checked out one recommended by the property manager and I am so glad we did! It was about a 40-minute walk through the forest alongside the mountains, and it opened up to a huge farm with an attached restaurant.
They made many dishes from their garden and the milk was also fresh. We had homemade pumpkin soup which is a popular dish this time of year.
The view from the restaurant
Visit the Achensee
If you like the outdoors, the entire region of Tyrol is a natural paradise. We went to the Achensee one day, it's a large lake 40 minutes away that many call the 'Fjords of the Alps'. It looked pretty in pictures and was even better in person.
Our yellow lab was in heaven. The Achensee has plenty of activities, from cable cars running up the mountains to get a better viewpoint, hiking, paragliding (we saw so many people doing this when we were there), and in the summer kiteboarding and sailing lessons.
The Achensee is one of hundreds of lakes in Austria. We drove by many on the way to Innsbruck and almost all of them are very green in color and so clean that you can easily see to the bottom.
Achensee
Achensee
Achensee
Visit the Old Town/Altstadt
In the center of Innsbruck there is the Old Town or Altstadt. It is a pedestrian walking area with shops, bars and restaurants. The University is nearby as well. There are a lot of beautiful Baroque-style buildings throughout the city to see, and overall there is plenty to keep you busy for a few days.
We went into the Old Town a few times to grab something to eat and check out the stores. The last night we were there the entire Old Town had transformed for shopping night. This meant the stores were staying open later and offering deals. Where we live in Germany they also have shopping night a few times a year. After seeing the one in Innsbruck and how lively it is, I think I need to check out the one in Stuttgart.
Innsbruck is a college town so cheap drink and food specials are abundant. This was a happy surprise for us. We went to a rooftop bar that had an outdoor area and a 365 degree viewpoint of the city. I was able to get some good photos from up there as well.
A photo of the center of Innsbruck and the Old Town
Castles and Palaces
If you are interested in learning the history of the area, there are many castles and palaces to visit nearby. We visited Schloss Ambras which is the oldest museum in the world. It's fairly large and has many interesting rooms and things to see.
We didn't make time for it, but there is a cable car that runs up the mountain overlooking the city. I'm sure the views from the top are stunning.
Have you ever been to Innsbruck? What was your favorite part about the city?