Have a Few Hours in Anchorage? Here's What to Do
Hey there!
This post may contain affiliate links, meaning I may be compensated if you click on one of my links, at no cost to you. As an Amazon Associate, I earn from qualifying purchases. Read my disclosure policy for more information.
Anchorage is a small city of about 300,000 residents. It's built on a grid and is easy to get around with a car. No matter where you're going, it will usually take at most 20 minutes to get there.
So if you have a few hours before heading to the airport or starting your trip (or if you just want some ideas of what to do in Anchorage), this list provides tons of options to suit everyone.
Is Anchorage a Walkable City?
Aside from downtown, it's not a walkable city. There are public buses or you could easily Uber/Lyft/taxi if you don't have a vehicle. If you rent a bike, there is a network of trails that connects through Anchorage and an 11-mile trail along the inlet called the Tony Knowles Coastal Trail.
Where Can I Rent a Bike?
Most of the bicycle rental shops are downtown. Just a few options include Pablos' Bicycle Rentals, Trek Bike Rentals, and Alaska Trail Guides.
Where Can I Get Souvenirs?
When looking for authentic Alaska souvenirs, you want products with the 'Made in Alaska' sticker.
Downtown is a great place to start for authentic Alaskan souvenirs. Most shops are between 4th and 6th street from C & L street. Here are the popular souvenir shops: Tiny Shop (I love this one), Cabin Fever, Polar Bear Gifts, Grizzly's Gifts, The Kobuk, Ulu Factory, Oomingmak Musk Ox Coop, Once in a Blue Moose, and Alaska Fur Gallery.
Here are some great options outside of downtown: Alaska Wildberry Products, Ak Starfish Co., and Alaska Fur Exchange.
If you are in Anchorage on Saturday in the summer months, head to the Dimond Mall Parking Lot. There's a huge Saturday market with all sorts of local items as well as food trucks and a bounce house for kids.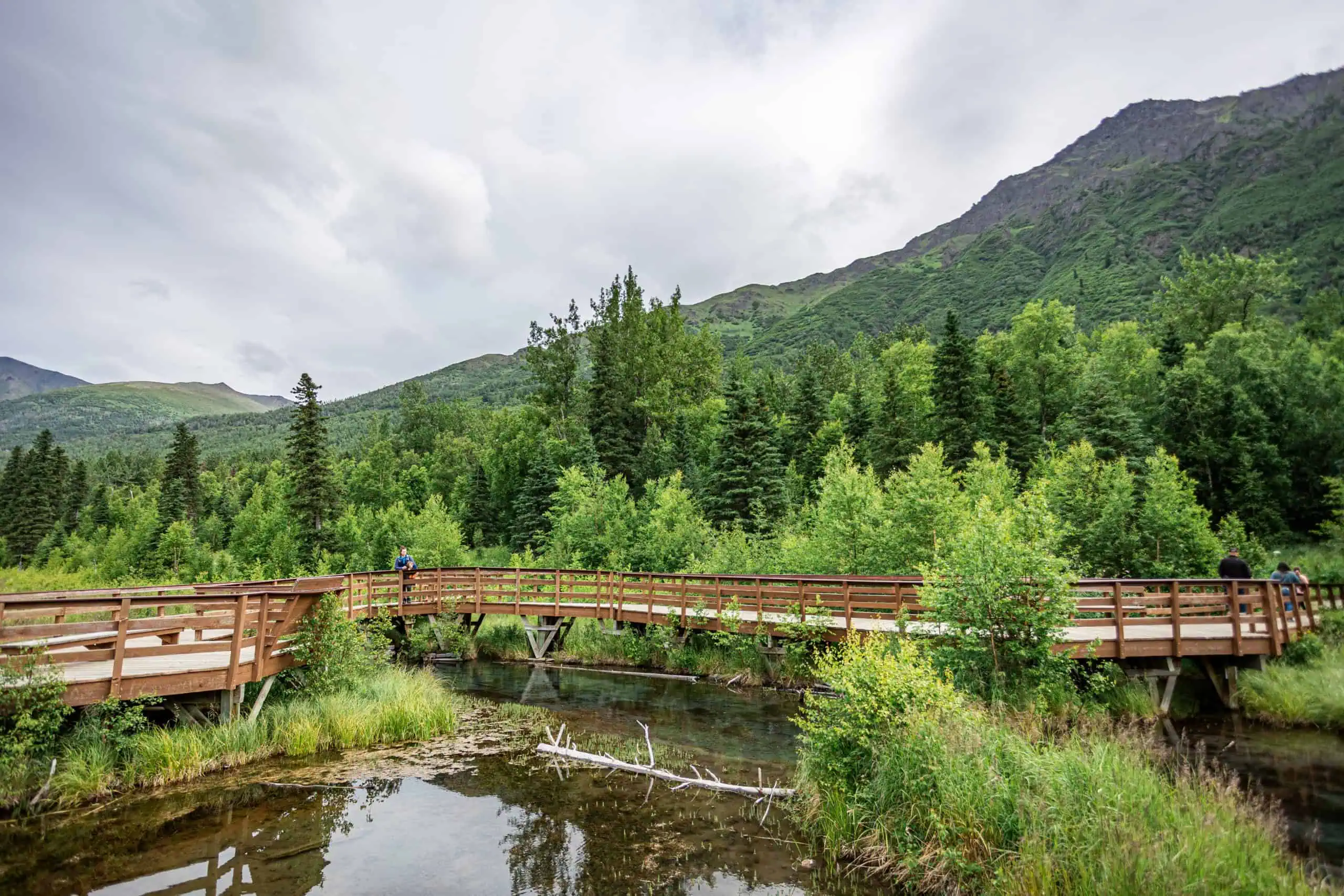 How to Spend a Few Hours in Anchorage
1-2 Hours in Anchorage
If you only have an hour or two but want to see some of Anchorage, here is what I recommend:
Walk downtown and check out the shops: Many shops are between 4th and 6th avenue, from C to L street. It's a small downtown, but you could easily spend an hour or so shopping for local art and Alaskan-made items.
Head to Westchester Lagoon and walk the Coastal Trail: If you want to stretch your legs before a long car ride or flight, I recommend heading to Westchester Lagoon. The area is pretty and there's also a playground if you have children (and ice cream in the summer months).
What I love about Westchester is that it connects directly to the Coastal Trail. This is an 11-mile paved trail that runs along Cook Inlet in Anchorage. It's a beautiful and popular trail, and a nice way to get some fresh air.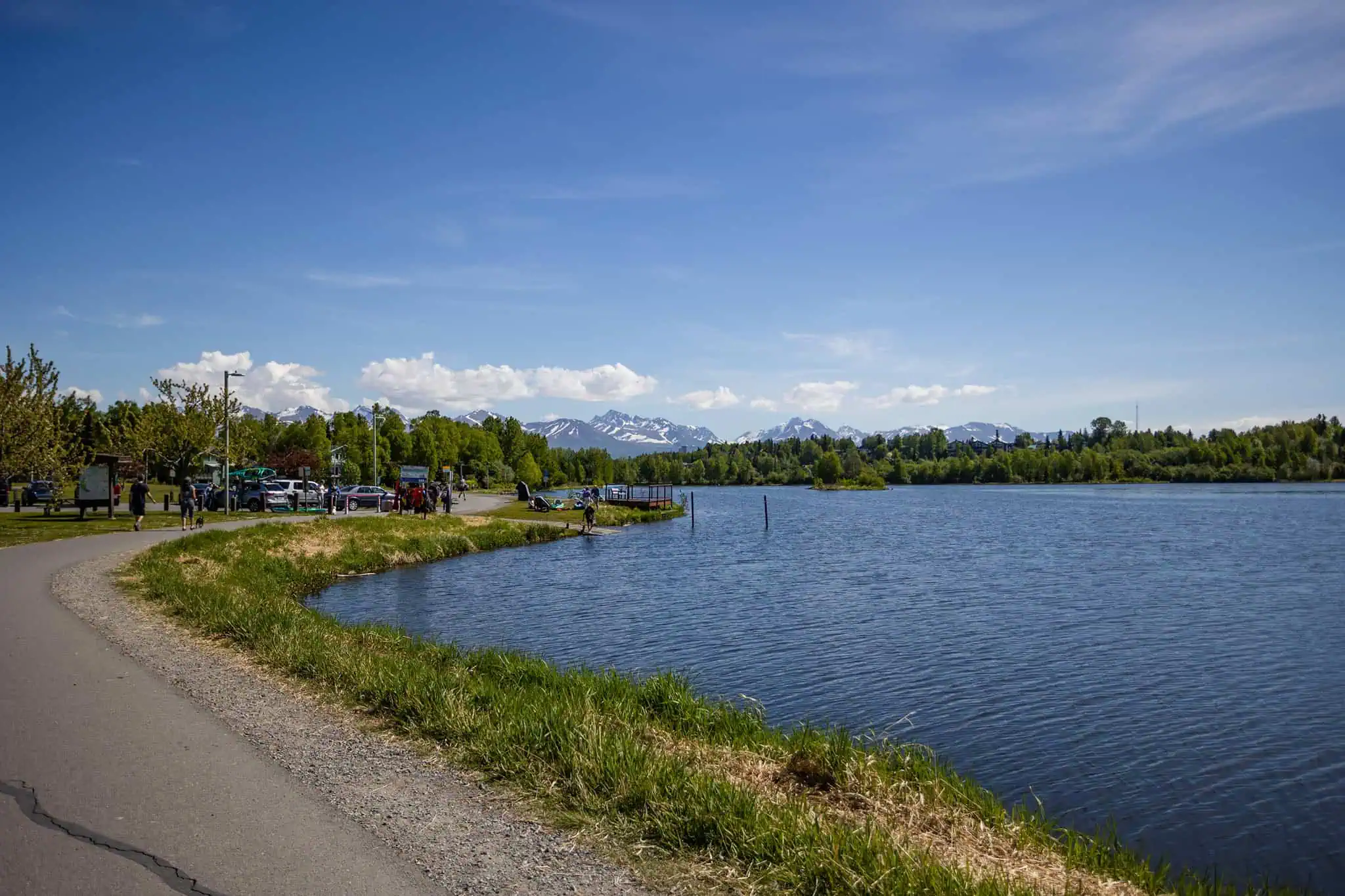 Watch Float Planes Take off at Lake Hood: Lake Hood is the busiest seaplane lake in the world. I'd recommend heading to The Lakefront Hotel and grabbing a drink on the patio, watching planes take off every few minutes. It's right by the airport so this is a good stop if you have less than an hour before you need to check-in.
Or, on the way to the airport, you can stop at the Department of Transportation Building (4111 Aviation Ave.) to watch the planes. There's a grassy area with picnic tables.
Visit the Alaska Aviation Museum: Also on Lake Hood is the Aviation Museum. There's an entry fee and four large hangars full of planes to explore. There's also a hangar where they're currently restoring a WWII Curtiss P-40. While it's not a particularly large museum, you could spend an hour or so walking around and reading all about Alaska's unique history with airplanes.
Stop at Point Woronzof: This spot is on the Cook Inlet waters. It's also right next to the airport so it's an easy and quick stop before the airport.
There's a parking area and a beach (well, Alaskan beach) where you can watch planes take off and see Sleeping Lady mountain across the inlet. This is also where you can get that postcard picture of downtown Anchorage. The Coastal Trail connects to Pt Woronzof for a nice walk along the inlet.
Check out Ship Creek: Ship Creek is just down the street from downtown Anchorage and is a popular spot for fishing. There's the 2.5-mile ship creek trail that winds along the creek. Here you can watch salmon make their way upstream. Along the trail, you'll find quite a bit of educational signs about the history of Anchorage as well.
Take the Anchorage Trolley Tour: The Anchorage Trolley Tour runs a few tours throughout town. Their most popular tour is the 1-hour Anchorage tour. The tour winds through 15 miles of the city including downtown, Earthquake Park, and Lake Hood. Along the way, you'll learn about the history of Anchorage and hear stories from locals.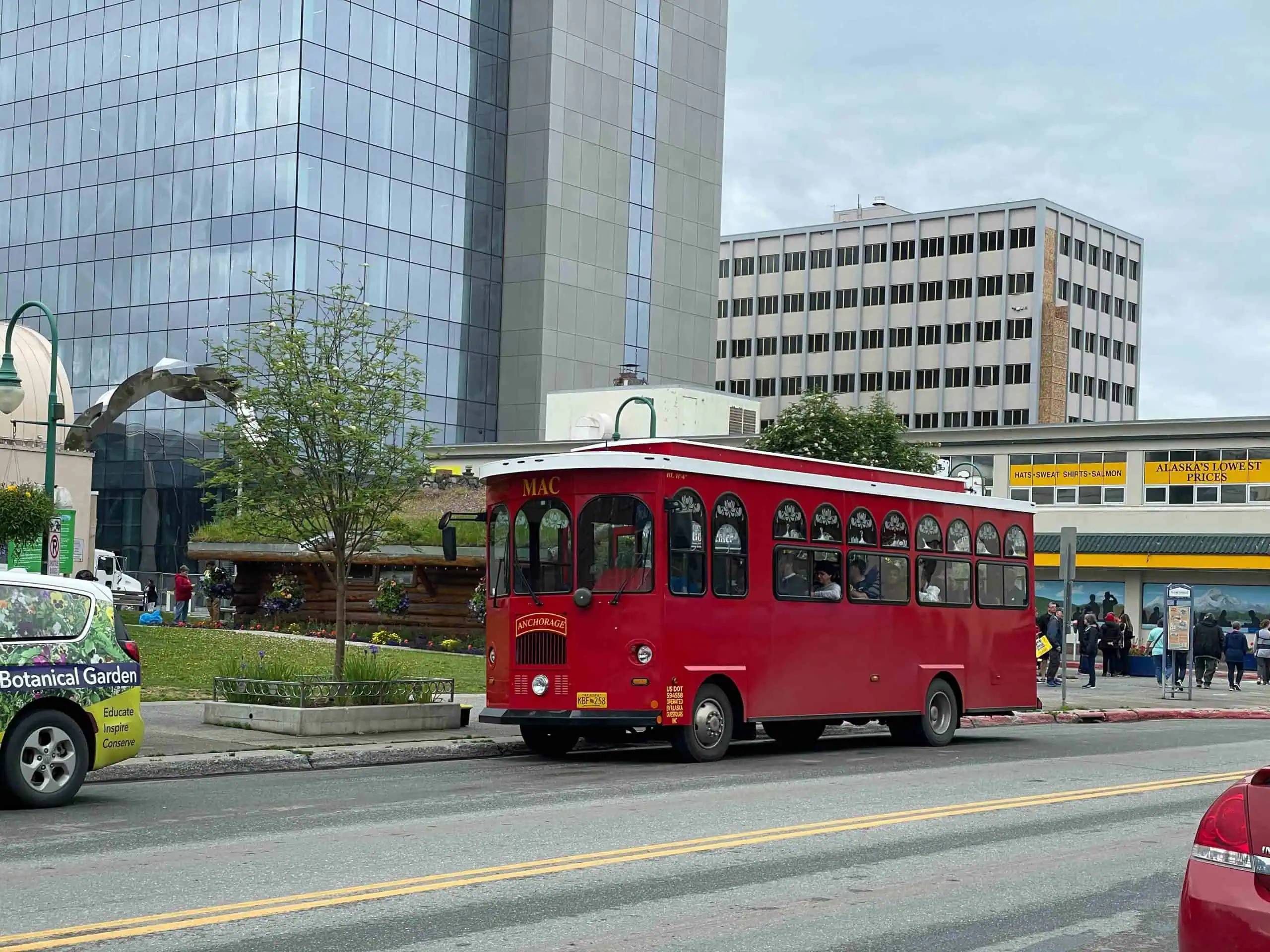 Visit the William Jack Hernandez Sport Fish Hatchery: This hatchery has visitor access from 8am-4pm where you can watch salmon, rainbow trout, and Arctic char being produced. It runs along Ship Creek so it could easily be combined.
Visit the Alaska Botanical Gardens: For something a little different, book your tour of the Alaska Botanical Gardens. They offer shuttle service from downtown and tours are offered by reservation. Otherwise, you can head over and walk around yourself. If you're interested in Alaskan horticulture, this is a great way to spend an hour or so.
Walk Potter Marsh: This is located about 15 minutes south of downtown as you're heading out of town. Potter Marsh is a short .5-mile boardwalk that ends at a large viewing area. The marsh is big and you'll see all sorts of wildlife and it's especially great for bird viewing.
Depending on the time of year, you can spot eagles, Canadian geese, Arctic terns, and more. Moose can often be spotted in the wetlands as well. And in the warmer months, you can spot various fish in the waters.
This walk doesn't take 2-3 hours, but you could easily spend 30-60 minutes enjoying the views and spotting wildlife. Since it's a marshy area, I highly recommend mosquito repellant.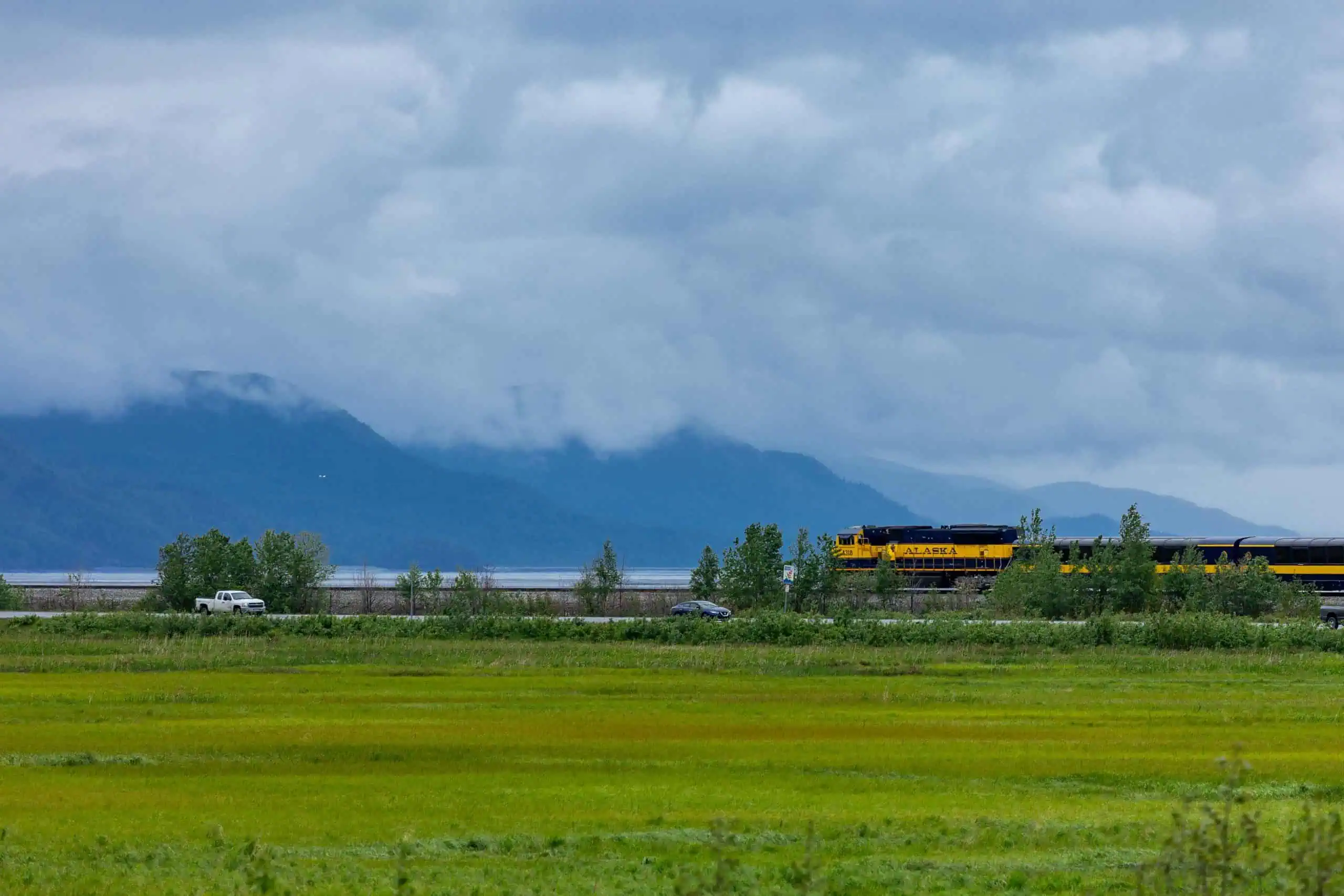 2-3 Hours in Anchorage
Explore the Tony Knowles Coastal Trail: The Coastal Trail is an 11-mile long trail that runs along the Cook Inlet waters. There are many entry points along the way. If you're downtown, drive past L street on 5th Avenue to Elderberry park. From here you can start walking along the trail. It's a pretty walk where you can often spot all sorts of birds (even eagles).
Kincaid Park: Kincaid Park is a massive 1,400+ acre park that's loaded with trails and is very popular with locals. And, just like many areas I've already mentioned, it's along the Coastal Trail. There are four parking areas to start exploring. The main spot where all the easy trails begin is at the stadium. Just type in 'Stadium Parking Kincaid' and head to the end of Raspberry Rd.
The Kincaid Sand Dunes Park is also pretty fun. Just type it into Google Maps as it's at a different parking area. You take a short trail along the motocross track to get to the sand dunes and beautiful views of Cook Inlet and even Turnagain Arm. There are trails all around to explore as well.
So pick a parking area and explore a bit. There's also a good chance you'll run into wildlife such as moose and bears. Since these are popular trails, you'll likely get a forewarning if there is large wildlife on a trail.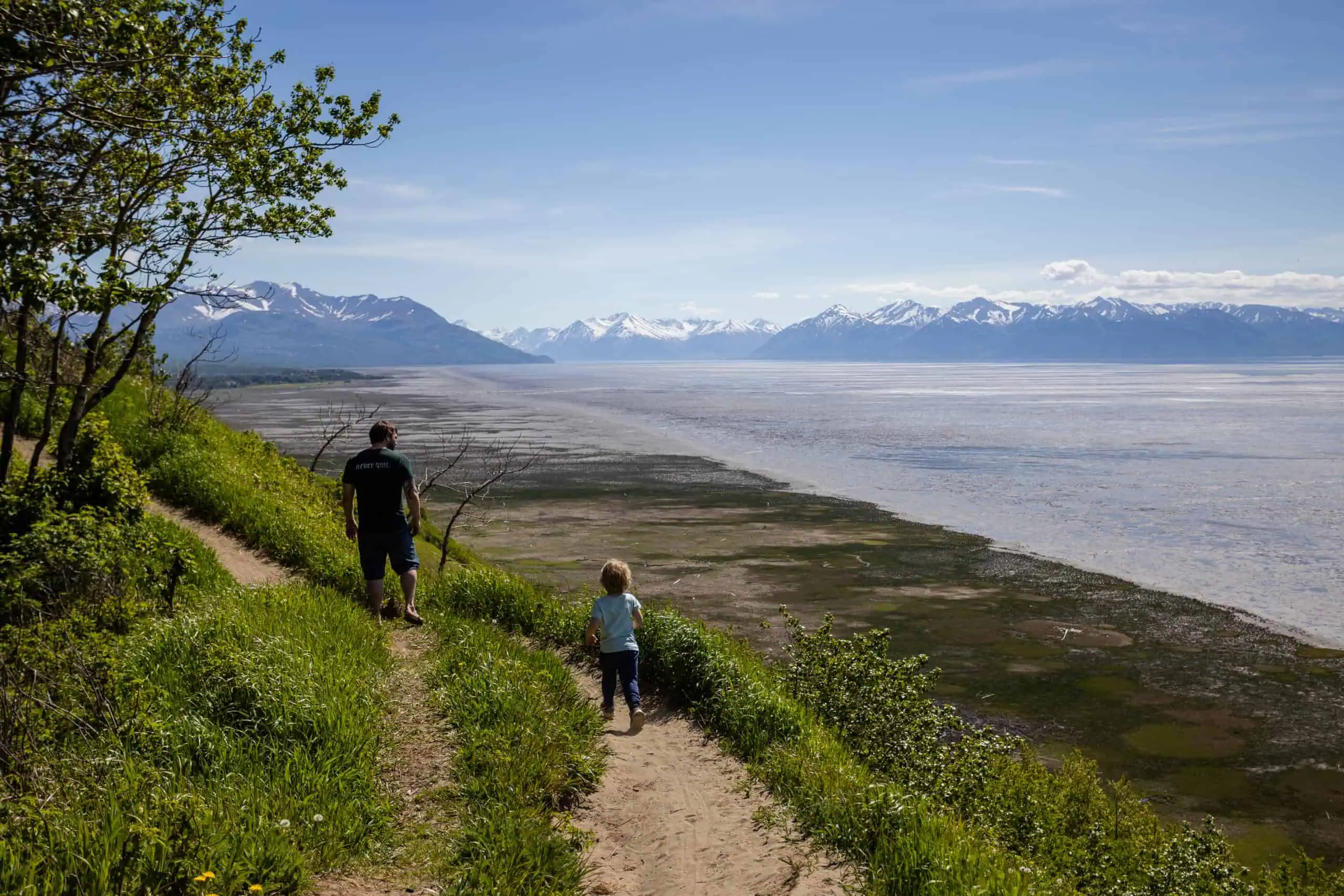 Anchorage Museum: Located in downtown Anchorage, the Anchorage Museum is a great way to spend a few hours. There's a fantastic Discovery Center where children and adults alike can explore Alaska's landscape, northern lights, and do a lot of hands-on activities.
There are many rotating exhibits throughout the rest of the museum, all centered around Alaska. I'd recommend 1 1/2 – 3hrs at the museum (this depends on how long you like to look at exhibits).
3-4 Hours in Anchorage
You can combine any of the activities listed above or choose from the following:
Alaska Zoo: The zoo is located along what's known as the hillside, which is heading to the hills and mountains in Anchorage. For reference, it's about a 20-minute drive from downtown Anchorage.
I've visited many zoo's around the world, and what I like about the one in Anchorage is that it feels wild. The trails are all through the woods and much of the landscape has been left in its natural state. There are all sorts of animals including Alaskan wildlife and also animals not native to Alaska.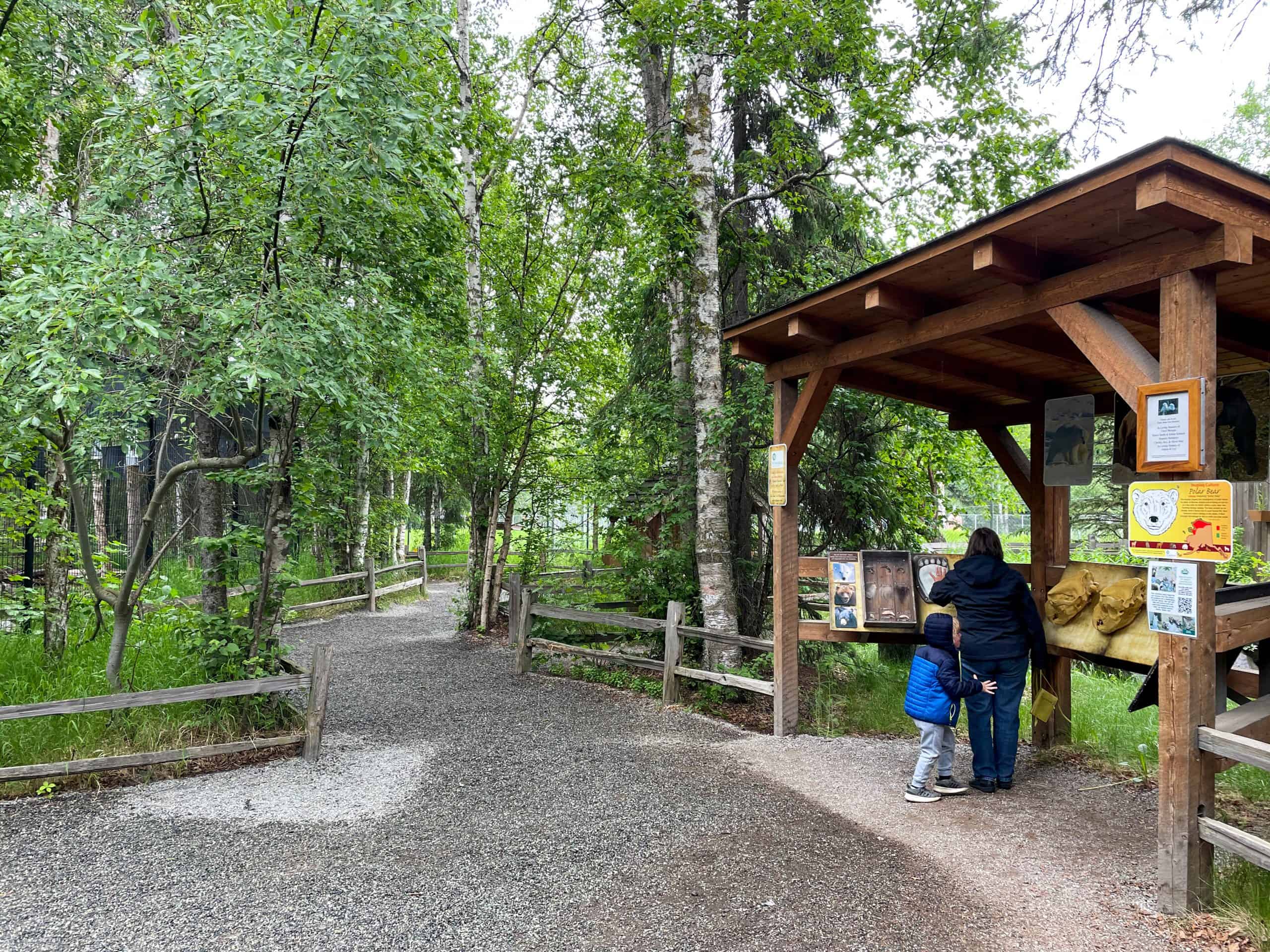 Hike Flattop: If you want a good workout, Flattop is a popular trail that's right in town. It's about a 30-minute drive from downtown Anchorage and is a 3.5-mile out-and-back moderate hike (it's fairly steep just before the top). You'll gain over 1,500ft of elevation, and once you arrive at the top, you'll have panoramic views of the inlet and sleeping lady.
Drive to Beluga Point: If you didn't get the chance to drive south of Anchorage, I recommend heading to Beluga Point. The views once you leave town are spectacular and this is considered one of the prettiest drives in the state.
It's about a 30-minute drive and there's a small parking lot where you can pull off to take photos. The drive can be substantially longer if there's an accident (it's the only road in and out of town), so I recommend ensuring you have plenty of time to do this.
Along the way you'll pass Potter Marsh which you can add on to the drive.
Bike the Coastal Trail: You can either rent a bike from one of the many places downtown (see list of options near the top) or book a tour that includes everything needed.
This tour is a 3-hour guided tour that starts and ends in downtown Anchorage. Along the way, you'll stop at Kincaid Park, Westchester Lagoon, Earthquake Park, and Point Woronzof. Since the trail runs along the coast, it's mostly flat the entire way. You can easily book it with this link.
Bike tours are a fun way to see a place from a different perspective, and I personally try to book them whenever I travel.
4-5 Hours in Anchorage
You can combine any of the activities listed above or choose from the following:
Drive to Girdwood: Girdwood is a ski town about an hour south of Anchorage, along Turnagain Arm. This could be a risky move if you have a flight to catch, as it's always possible there will be an accident along this road (there's only one road). But if you have wiggle room then this is a great way to spend an afternoon.
If you haven't already been this way, it's beautiful. The road takes you between cliffs with dall sheep and the inlet with beluga whales in the spring and fall.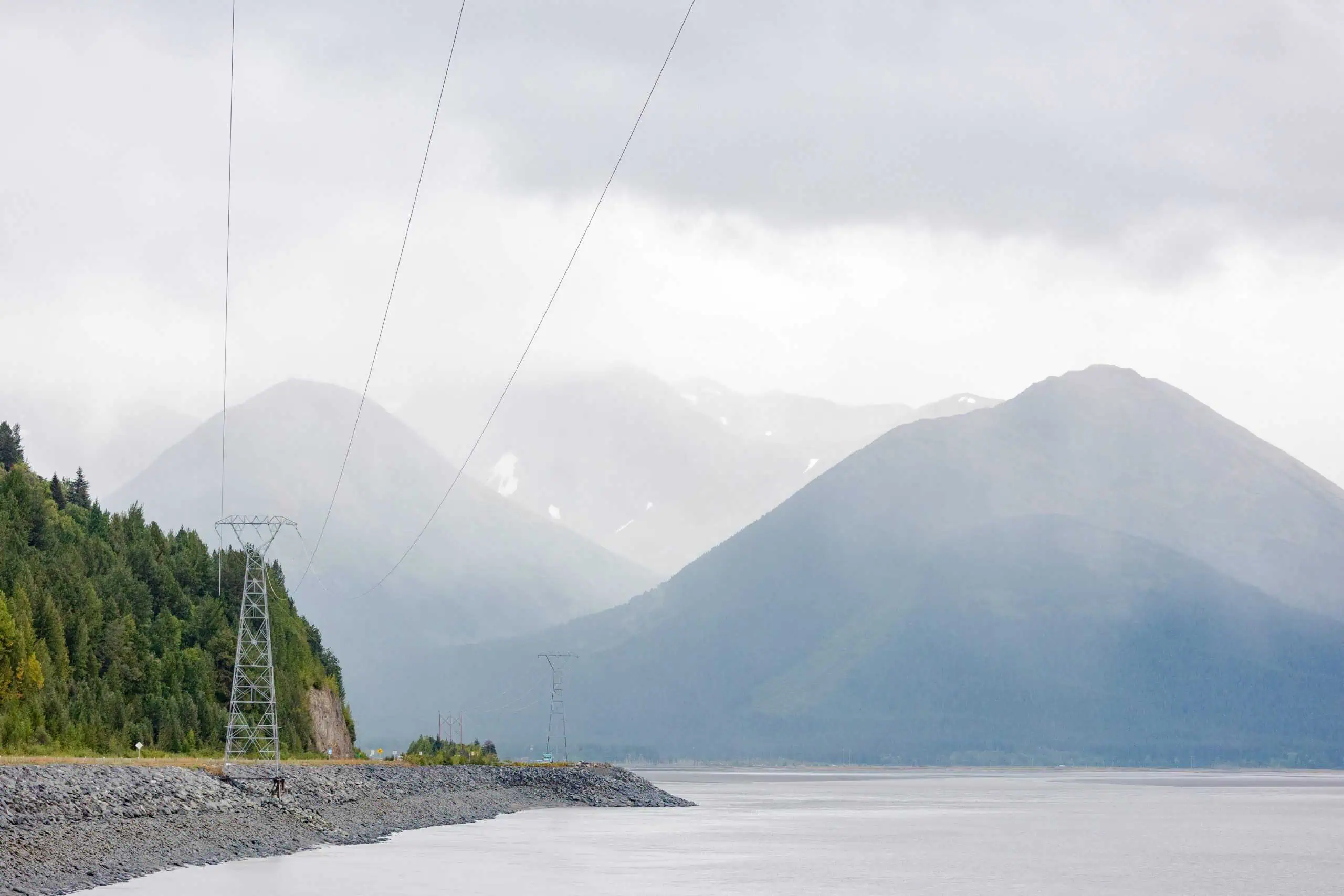 Once in Girdwood, there's plenty to do. You can easily combine a visit Virgin Creek Falls (about a .5-mile hike) and stop at the Girdwood Brewery for a drink (and a bite at the food truck).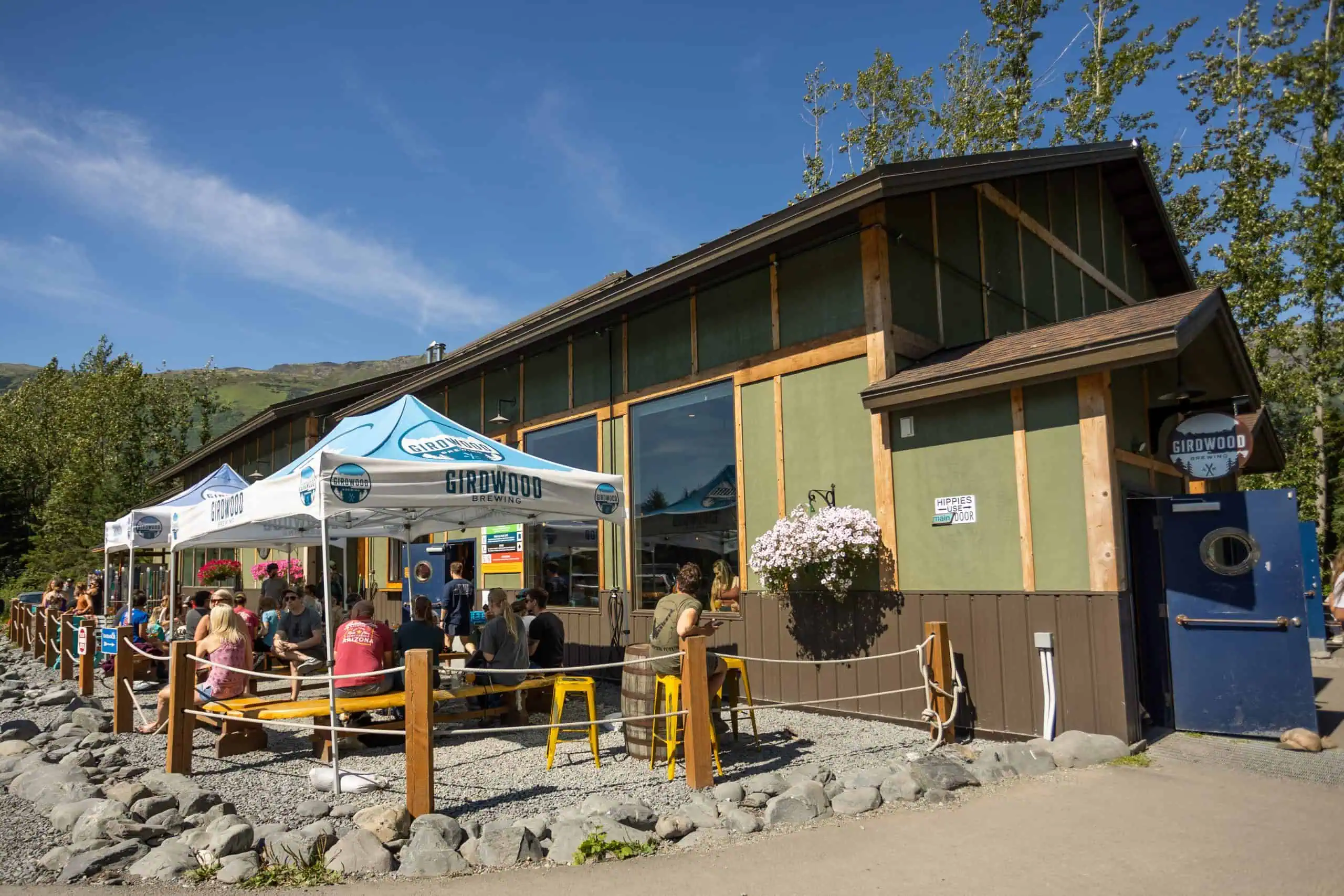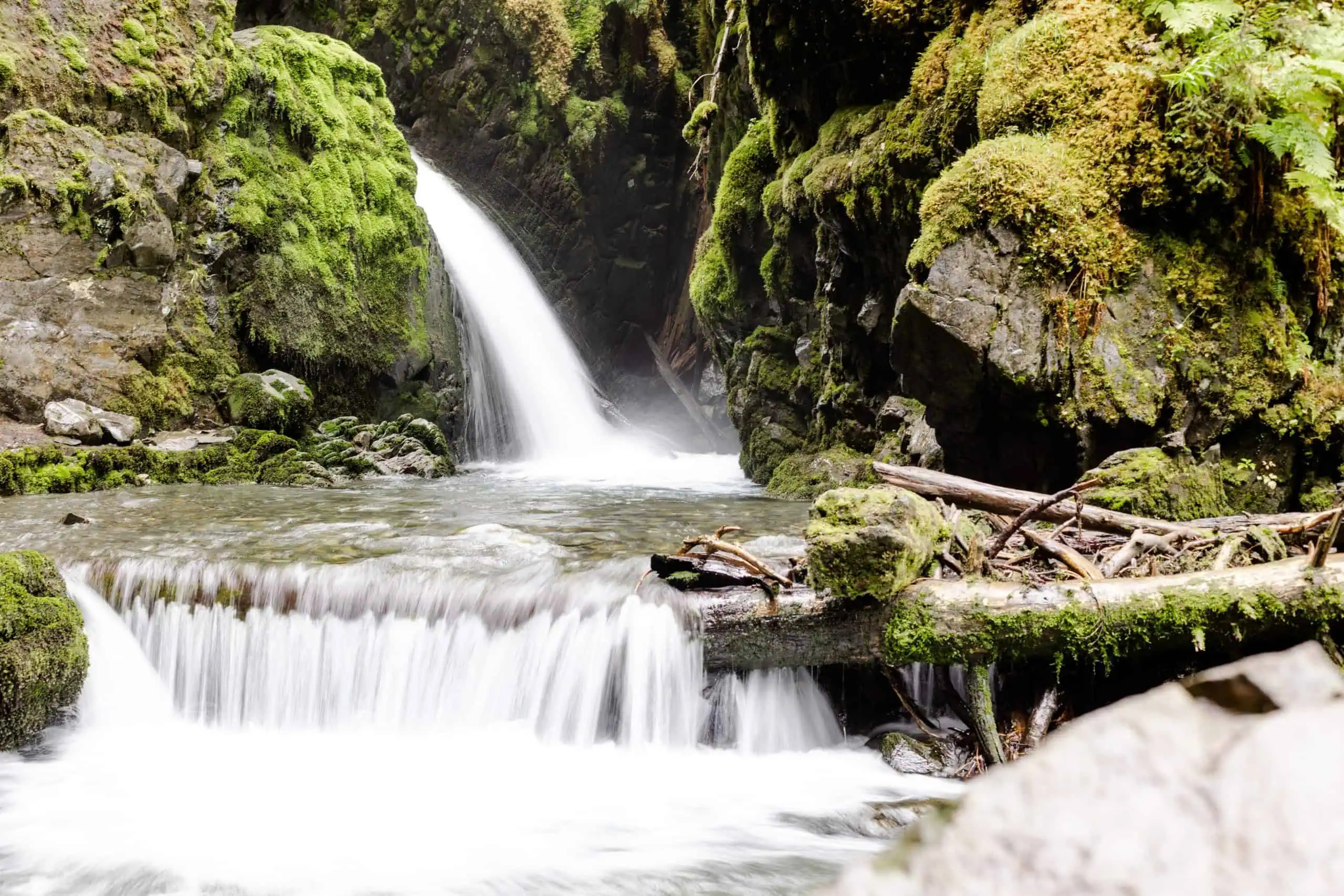 Visit the Eagle River Nature Center: About 35 minutes north of Anchorage, the Eagle River Nature Center is a great way to spend a few hours hiking and exploring.
Once you exit the highway and make your way to the nature center, the views are quite beautiful as you head down the mountain valley.
When you arrive at the nature center, be sure to stop in and learn a bit about bear and moose safety (this is bear country). You can also see some cool artifacts from the area.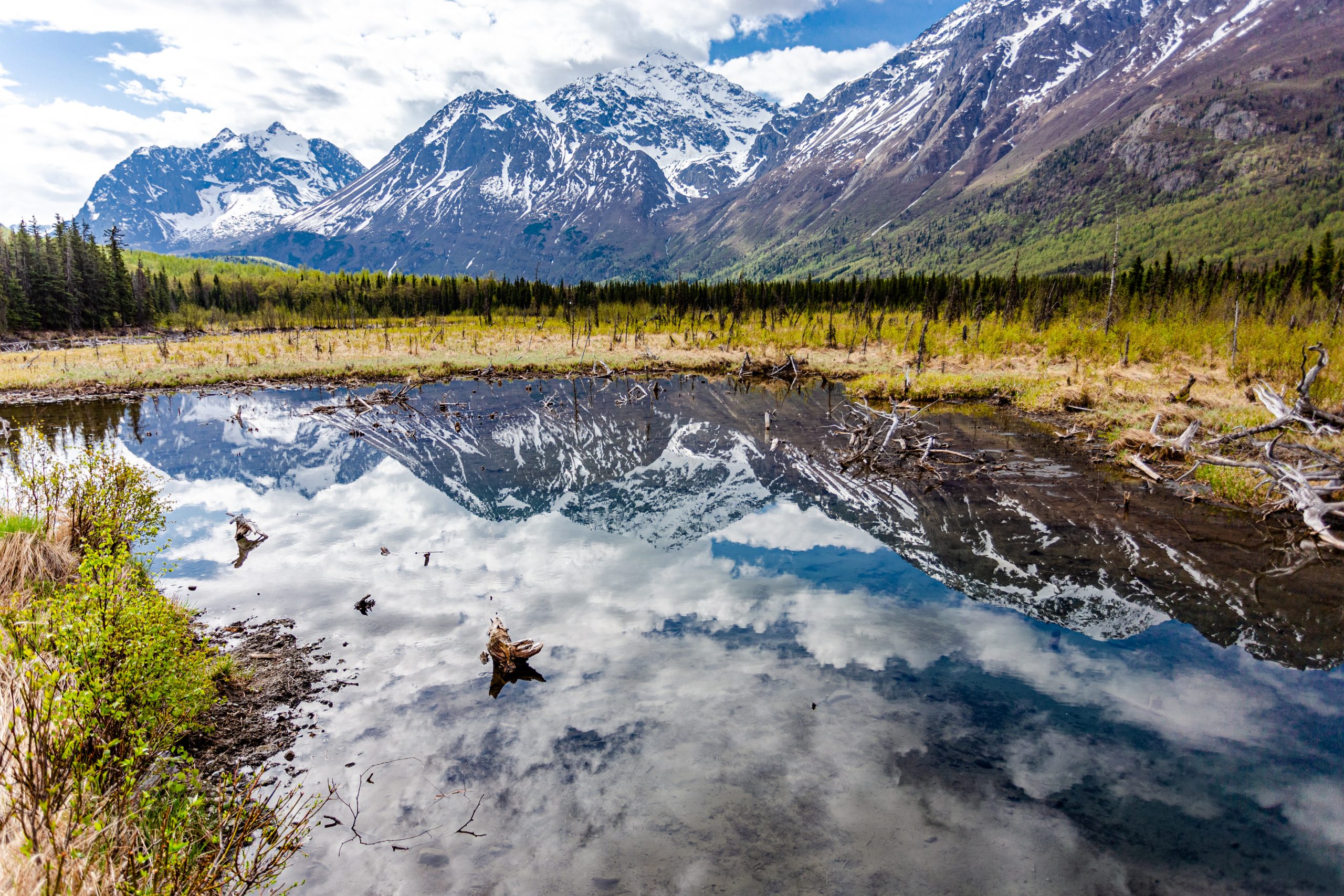 There are many hikes and walks you can take here. The shortest and easiest paths are to the boardwalks and overlook areas. In less than .5-miles, you have beautiful scenic views of the wetlands, mountains, and glaciers.
Albert Loop is a popular 3.3-mile walk. There is a long boardwalk to cross and much of the path is in the woods. On the other side of the trail is the large Eagle River that you'll parallel as you make your way back.
Read More Alaska Articles