How to Travel Alaska on a Budget
Hey there!
This post may contain affiliate links, meaning I may be compensated if you click on one of my links, at no cost to you. As an Amazon Associate, I earn from qualifying purchases. Read my disclosure policy for more information.
Alaska is expensive. Every time I travel out of state I am reminded that nearly anywhere in the world (except Switzerland) is cheaper than up here.
Okay, maybe that's an exaggeration, but it is pricey to not only live here but also travel. In fact, I'd argue that visiting Alaska is more expensive than living here since you likely won't have the equipment and gear needed.
It's expensive for two main reasons:
Alaska is really far away. It takes longer to drive from Anchorage from Seattle than it does to drive from Seattle to DC. Because of this, shipping anything here is costly which translates to overall higher costs.
Tourist season is short. There's only a few months of summer which are the best times to visit. A strong demand to visit in the short 4 months of summer means prices are higher. Although accommodations may be cheaper in winter (off-season'), it carries a lot of other potential expenses due to bad weather, extra gear, and cancellations.
But fear not! I have come up with many ways to create an unforgettable trip to Alaska on a budget. I personally love to save money where possible, and through experience, I know that you can have an amazing time without overspending.
I included options for those on a really tight budget and those with some wiggle room.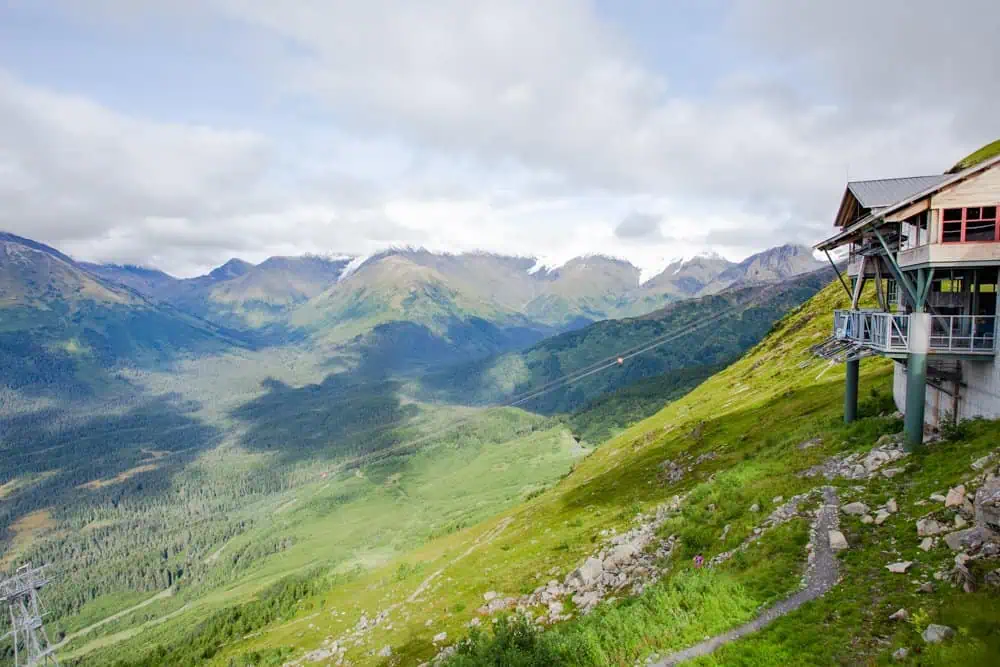 Best Time to Visit on a Budget
Alaska is a highly seasonal place to visit. Summer is the most popular, winter is the least popular, and the shoulder season is growing in popularity.
I have some different thoughts on this.
Traveling in the off-season to save money could be a good idea. However, that means you are visiting in the winter. With snow….and ice…and potential problems or cancellations. You need to bring more gear (which can be costly) to get around and explore.
Many things are closed. Sometimes the roads close due to weather and your plans need to change last minute (but maybe you can't cancel last minute). You can't pitch a tent or rent an RV in the winter. So although Alaska's off-season could be less expensive, it may not be as cheap as you think.
Summer is the most popular time to see Alaska, which means it's also the most expensive. Summer in Alaska, for the most part, is the end of May, June, July, and August. It's a short season. The height of summer is June and July.
If you want to visit in these months and stay on budget, you will want to book super early to get the best rates. This means booking about 9-12 months in advance. In the summer, you can pitch a tent, rent an RV, and bring less clothing and gear which will also save you money.
The other time to visit is in the shoulder season. This is early May, September (after Labor Day), and possibly early October (although it could be snowy and many things are shut down by then). It's a short season, but you can snag some great deals.
How to Have a Budget Trip
Book Early!
When it comes to Alaska, booking early is the way to save. And not just 6 months in advance, I'm talking 9-12 months in advance or more.
Some places only open for reservations a year in advance, so typically you'll need to wait until you're in that window, but I know people who stay at a place and book it for the next year while they're still there! The good places go fast and always seem to be booked up, so listen to this advice and BOOK EARLY.
Be Flexible
I've also found from my personal experience that traveling on a budget may require some creativity and patience. Maybe you need to book your flights in separate flights. Or use your miles/points creatively. Maybe you will need to visit outside of high season.
It's likely that you'll need to do a bit more research to find the best deals. This guide will certainly help you, but there is still research and work to be done to stay on budget.
Stay on the Road System
This budget is not intended for Southeast Alaska (unless you plan on cruising) because it's not on the road system. This budget guide covers the areas from Homer to Fairbanks as they are all on the road system. There are many places in Alaska only accessible by plane which can obviously get pricey, so this budget guide covers areas you can access with a vehicle.
Stick to One Region
Alaska is huge so covering multiple areas around the state not only takes time but is quite costly. Let me save you the research and tell you if this is your first trip, fly to Anchorage and visit the Kenai Peninsula (and yes this means skip Denali). This area is loaded with glaciers, mountains, larger-than-life animals, and so many inexpensive and free activities. I've written a few posts on this region that you can find here and here.
If you've been before, you may want to consider seeing the Interior and Denali. If you're on a tight budget, avoid Southeast Alaska; it's not on the road system and the ferry isn't cheap. The only other alternative is flying to each place which would be quite costly. Even if this isn't your favorite way to travel, a cruise is actually the most cost-effective way to see Southeast Alaska.
By sticking to one area you'll save a lot on gas and drive times.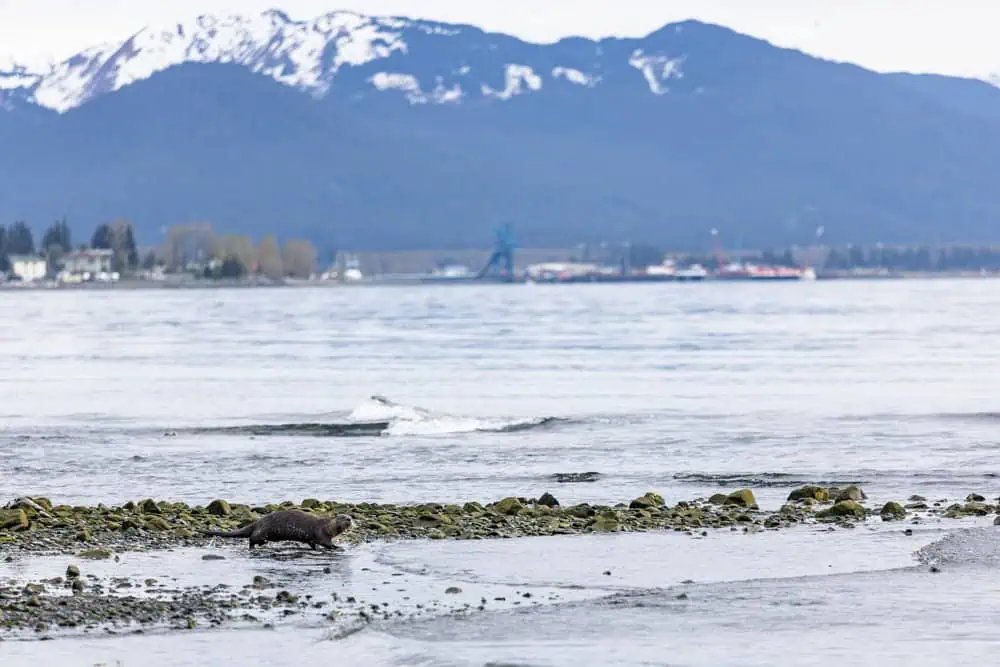 How Much Does it Cost to Visit Alaska?
If you want quick answers, here's a table with average prices for different budgets. I recommend reading through this extensive guide for more information and tips on how to save, but this table gives a nice breakdown of costs.
Item
Super Budget
Wiggle Room Budget
Flights
Use miles or points, book when flights are the cheapest using Google Flights or Skyscanner.
$0 – 50
No miles or points are used, but use Google Flights or Skyscanner to find deals.
$200-400
Accommodations
Pitch a Tent!
$0 – 25 / night
Or stay for free with Trusted Housesitters or Couchsurfing
Book a private room or share a place with friends.
$60-$150 / night
Tours & Excursions
Varies – see 'Experiences & Excursions on a Budget'
Varies – see 'Experiences & Excursions on a Budget'
Groceries
Bread – $3-5 /loaf (or visit local bakery and purchase day old for around $1)
Eggs – $3-5/dozen
One yogurt – $1.25-$1.75
Strawberries – $6-9

Same as Super Budget
Dining Out
Don't dine out or if you do, share the large portion meals.
Appetizers – $10-22
Main Course – $12-28
Pint of Beer – $5-$12
Gas
It varies but costs more than any other state.
It varies but costs more than any other state.
Rental Car
Use Turo or book through a credit card to find the cheapest rental.
Average Price: $100-200+ / day
Same as Super Budget
RV Rental
Combine lodging and getting around.
$200 – 400 / night
Same as Super Budget
Note: Best Viewed on a Desktop.
Getting to Alaska
First things first, you need to actually get to Alaska. There are two ways I'd recommend if you're trying to save money, and that's either flying up or driving up (if you have a lot of extra time). Either way, getting here will likely be one of the larger expenses.
For your destination, I recommend Anchorage as your starting point. It has the largest airport (which means better deals) and you are 5 hours from Denali and a few hours from the Kenai Peninsula. Here you'll find the most car and RV rentals and better deals overall.
Booking your Flights
Let's start with flying. There are many ways you can save money when booking your flight. My absolute favorite tool for finding cheap flights is through Scott's Cheap Flights. There is a $50 annual fee (although you can get free months by referring people to them!) but I've found it's worth its weight in gold.
I get sent daily deals flying from either Anchorage, Seattle, or San Francisco. When you register, you pick your departure cities and preferred destination cities or places. With this, you could plug in Alaska as a top destination.
In 2021, there were quite a few great deals to Alaska and I hope that trend continues. If you're interested in flight hacking, Scott himself wrote a book on the subject that you can pick up here. This guy knows his stuff, and I trust him with all things flights!
If you don't want to wait for a deal, Skyscanner and Google Flights are my other favorite tools for finding the best deals. I tend to use Google Flights more often as I'm more familiar with their interface, but both are great options.
Using Google Flights to find a great deal
Booking with Google Flights
Go to Google Flights
Click on the 'Explore' option on the left
Type in your departure and destination airport (ANC for Anchorage, FAI for Fairbanks)
IMPORTANT: For the dates, change to the 'Flexible Dates' tab. Then, select either a 1-week or 2-week trip in the next 6 months, or specify the month. I recommend May, June, July, August, and early September travel. The only downside is that you can only book 6 months in advance.
Or, if you need to book out further than 6 months, then you can use the calendar feature.
Go to 'Flights'
Type in your departure and destination airport (ANC for Anchorage, FAI for Fairbanks)
For the dates, click on the departure date and scroll to find your month. Once you do, the calendar will populate and show you the prices for any given day. Here's a screenshot example:
| Flights | How to Save | Estimated Cost |
| --- | --- | --- |
| Super Budget | Use accrued miles or points. | $0-50 |
| Average Budget | Use Google Flights or Scott's Cheap Flights to find a great flight deal. | $100-300 |
| Wiggle Room | Use Google Flights or Scott's Cheap Flights with more specific dates in mind. | $100-500 |
Using Miles and Point with Credit Cards
In my personal opinion, the best way to save on flights is through miles or points. These are accrued with credit cards and some are more catered to travel than others. This route isn't for everyone, and I do not recommend using a credit card unless you can pay it off each month. Otherwise, the interest that you pay may negate any potential savings or perks.
Alaska Airlines
Let me preface this by saying I make zero dollars by talking about Alaska Airlines. I truly just love them so much. From their perks to flight experience, it's all top-notch.
Perks
Annual Companion Fare ($99 + taxes & fees)
Generous Sign up bonus (currently 60,000 mile sign up bonus!)
Baggage fee waived for the first bag (and up to 6 guests on the same reservation)
Earn miles for miles flown
Earn extra through the Mileage Plan Chrome Extension
Miles needed to fly start at 7k (although most common are 15-30k each way, depending on your location)
Kids can earn miles with their own account. Then you can transfer them to your account ($10 per 1,000 miles transferred). We do this with our son.
No blackout dates, super easy to book
Cons
Companion fare and miles cannot be used in the same booking.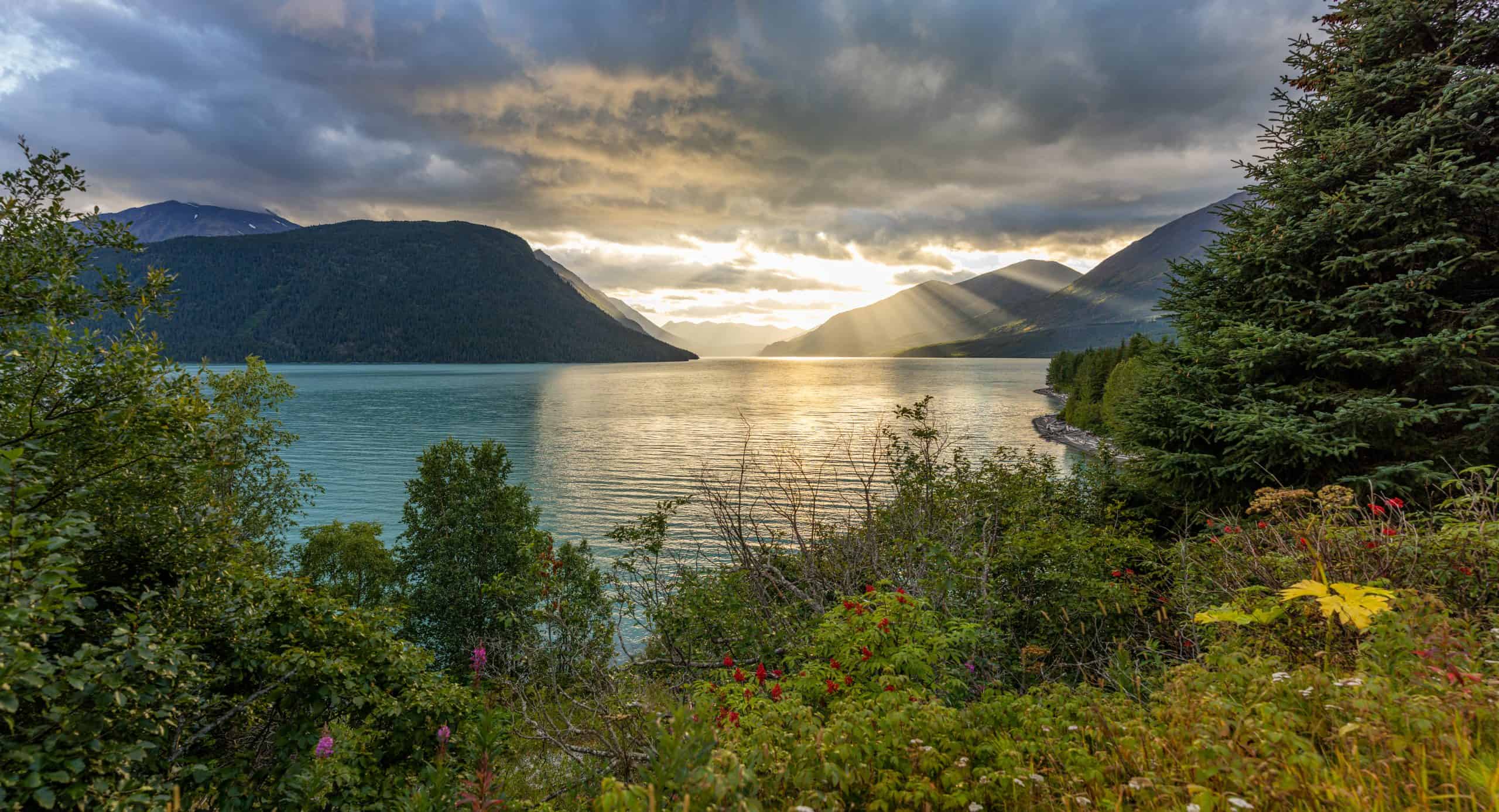 I have an Alaska Airlines credit card, and they offer many perks that I love. First, you get a generous 60,000 miles sign-up bonus when you spend 3,000 in your first 90 days. That's enough for a free flight in itself!
Then you get an annual companion fare, which is perfect for a traveling couple or friends. This allows you to book a second flight for another person for only $99 + taxes and fees. And when you fly, you earn miles for each mile flown. Some credit cards only do miles based on the cost of the flight, which is always less than the actual miles flown. For example, when I fly to Seattle and back, I get about 3,000 miles. And, there are no blackout dates
And unlike other credit cards, you don't need hundreds of thousands of miles to fly. Alaska offers many flights for as little as 7k or 10k each way. You can also use miles with their partner airlines. For example, I could book a flight to Germany in May for 30k miles each way (via Condor).
To take it a step further, you can earn even more miles by adding the Mileage Plan Shopping Chrome Extension. If you shop online, there are so many sites that give extra miles.
For example, I use StitchFix and get 20 miles per dollar spent. With the Chrome Extension, I get a pop-up when I shop letting me know if there are extra miles available. Some subscriptions give a flat rate of miles when you sign up. I've seen some offer 750 miles or more. You can search online here to see all of the deals.
So, if you get a new Alaska Airlines credit card and make the minimum spend, then you'll earn 60,000 miles. This will likely be enough for a free RT ticket. If you're traveling with someone else, the other option is to use the companion fare (purchase one ticket then get the second for $99 + taxes & fees).
If you're a couple, you could both get an Alaska credit card and each earn 60,000 miles toward free flights. If you plan to make any big purchases, this would be a great idea.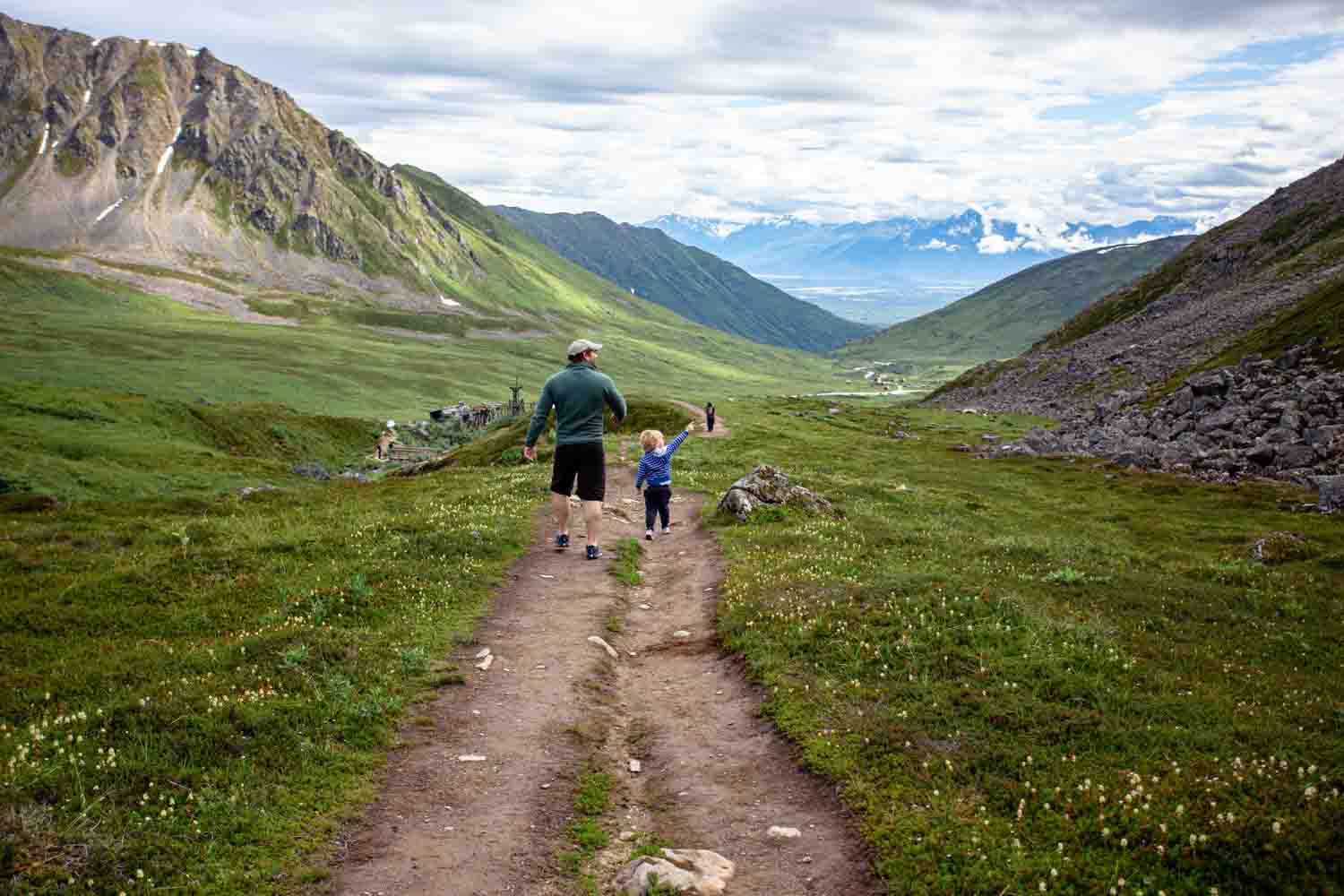 Chase Sapphire Preferred
My other favorite travel credit card is the Chase Sapphire Preferred. They also offer a generous sign-up bonus of 60,000 miles with a certain spend.
Once you have a card with them, you get access to their online interface. It's really robust and easy to use. For travel you can book flights, hotels, tours (activities), car rentals, etc.
There are other ways to make your points go even further such as transferring points somewhere else (Hyatt is a popular one). I personally haven't done this but if you can get creative you can really stretch this.
Other creative ways to save money when you fly
Sometimes, for reasons beyond my comprehension, it's cheaper to book each leg of your flight separately. For example, it may be cheaper to book a RT flight to Seattle, and then book a separate RT flight from Seattle to Anchorage.
We recently did this with our trip to Germany last fall. We saved over $1,000 by booking RT flights to Seattle, then RT flights to Frankfurt. And we had fewer layovers booking this way. Of course, there is some risk to this method; if you miss a connection, they may not be as forgiving when it comes to rebooking as it wasn't technically their fault for the delay.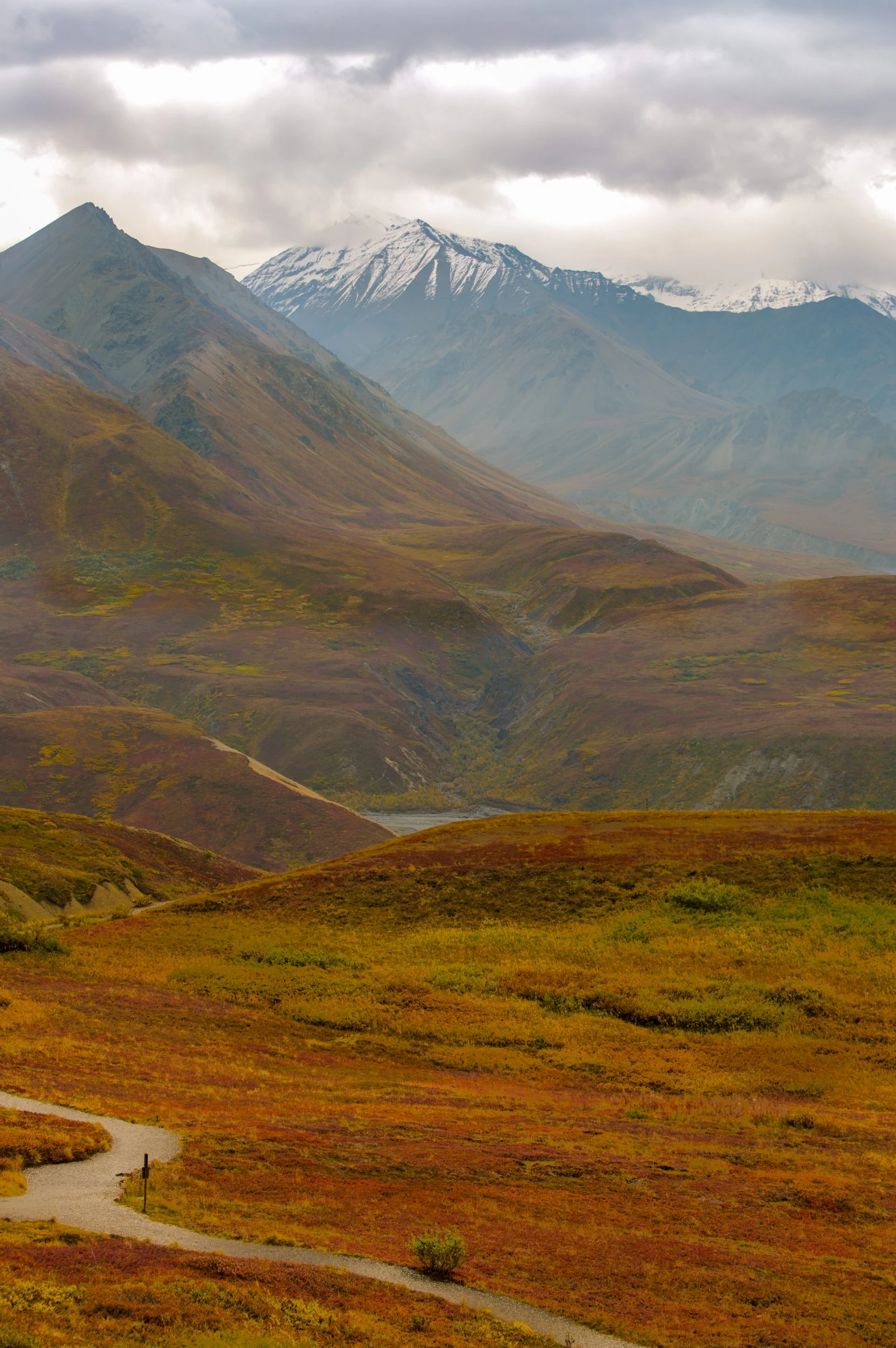 Driving to Alaska
Driving to Alaska is not a simple decision and requires quite a bit of planning. There's also a timing factor to when you should drive up, especially if you're planning to tent camp to save money. I don't have an extensive guide on this yet, but I'd recommend purchasing the Alaska Milepost if you're serious about driving to Alaska (it's updated annually – 2022 version will be available in March).
Driving also carries risks that could end up costing you money. If your car breaks down or you need to scramble for last-minute accommodations, this will add to your overall costs. Gas in Canada is MUCH more expensive than in the US, so be sure to factor those costs in. It's also a long drive. You're looking at 44 hours of drive time alone from Seattle. If you're coming from further away, it will be more.
To put this into perspective, it is about the same driving distance from Seattle to Anchorage (2315 miles, 44 hours) as it is from Seattle to Washington DC (2763 miles, 41 hours). Yes, it's THAT far away!
Getting Around Alaska
When it comes to getting around the state, it's a very large place with large distances between towns and stops. There's really no way around it, you'll need a vehicle to get around here.
Outside of the larger cities (Anchorage and Fairbanks), there is not much for public transportation. And ride-sharing isn't a thing here either (although I really wish it was!). While there is a train, it is very expensive and would cost MUCH more than renting a car.
I don't recommend flying all the way up here and not getting out to explore. Don't plant yourself in Anchorage to save money, that's not seeing the real Alaska. I also don't recommend trying to see it all, that is a sure way to spend all your time driving and little time exploring.
I have an overview article on planning your trip to Alaska that covers the different regions to visit in more detail. I love the Kenai Peninsula (I grew up near here so maybe I'm partial) so if it's your first trip I recommend exploring this area. The drive down to the Kenai Peninsula is one of the most scenic routes in the state, and think it should 1000% be part of your first trip.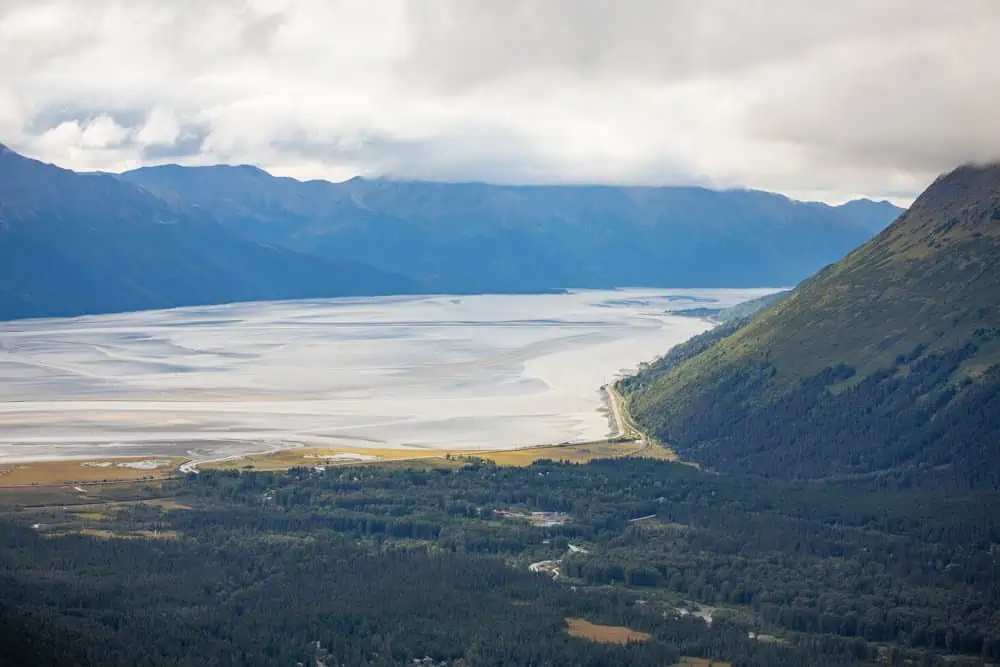 Option 1: Hitchhike
Let's start with the absolute cheapest option; hitchhiking! Yes it's legal in Alaska, yes it's still a thing, and yes people still do it. Well, not that frequently but people do hitchhike around the state. I've personally never hitchhiked, but I see quite a few people looking for a ride along the roads in the summer. There are obvious risks and frustrations that come with hitchhiking, so do this at your own risk.
Option 2: Car Rental
If you prefer to not hitchhike, your next best option is renting a car. I first recommend checking out Turo. People can list their own vehicle on Turo for rent, and it's often cheaper than going through a rental agency.
I also recommend checking if your credit card offers discounts for car rentals (more often than not they do). I've always gotten the best rate by booking through Alaska Airlines.
Option 3: RV Rental
Another option that combines both a place to lay your head and a way to get around is by RV. And what better way to get the quintessential RV experience than in Alaska! I personally think this can be a great option on a budget, with some caveats.
If you are traveling solo, renting an RV can be quite expensive for just one person. But, if you are a family of four or more, or you're a couple traveling with another couple, then renting an RV can save you a lot of money. This is because most RV's sleep 4 or more. So instead of getting two hotel rooms or booking a larger home rental that costs more, you can save with just one RV.
RV Share is similar to Turo in that you are renting from an individual and not a company. What's nice about RVshare is many come with utensils and additional amenities that could cost extra through a traditional site.
With RVshare there's are taxes & fees as well as owner's fees (typically a cleaning fee), but prices are competitive and sometimes you can find good deals. These rent for about $275 – $375 per night.
Be sure to check the daily mileage limit and generator use as this is set by each individual owner (and will drive up the price).
Alternatively, there are a lot of good RV rental sites in Alaska. Great Alaskan Holidays has the newest fleet and costs an average of $315 – $380 per day. A perk to Great Alaskan RV's is you can book unlimited mileage, there's unlimited generator use, and you get 24/7 assistance.
For example, if you travel with another couple and the RV costs $300/night, then each couple is paying $150/night for both lodging and travel (plus RV site costs for about $25-50 per day). In Alaska, that's a decent price.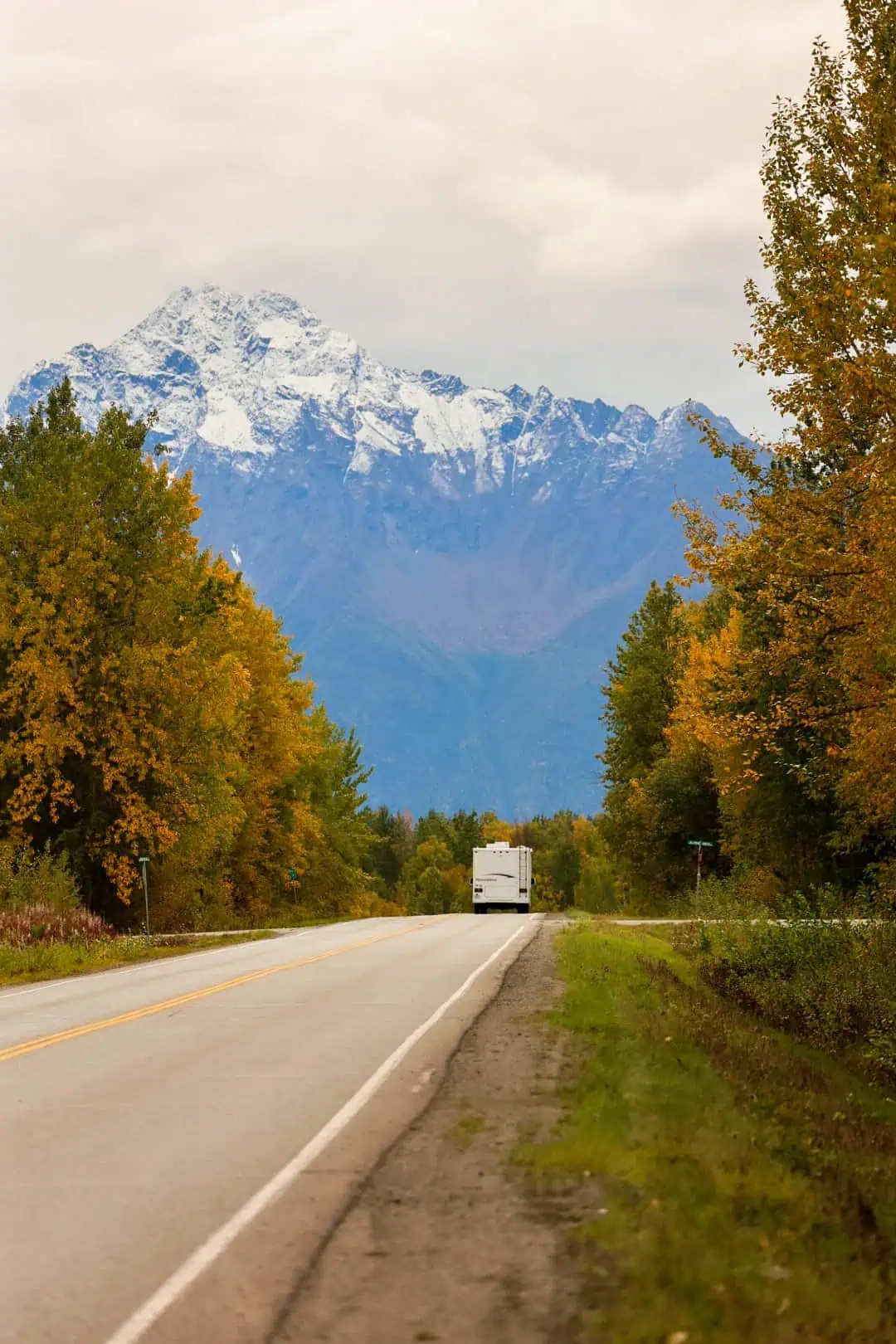 Option 4: Bus
There is a bus service to most of the major towns and parks around the state (well, the ones accessible by car anyway). It's fairly expensive ($100 one-way from Anchorage to Denali) and wouldn't really make sense if you had plans to visit a few different places (because at that point it's cheaper to rent a car).
However, if you plan to plant yourself in one spot (likely a national park) then this may make more sense than paying for a daily car rental. But in most cases, it's cheaper and more convenient to rent a car.
Accommodations on a Budget
Tent Camping
Tent camping is one of the most economically friendly ways to sleep up here. There are campgrounds all over the state and you can free camp (boondock) at many non-designated places as well. To save the most, bring your own tent or borrow one from a friend. Make sure it's rainproof, and you'll probably want it to be windproof as well.
There's a small fee around $20 to pitch a tent at campsites.
You can pitch a tent on any public land in the state. If you are at a state park, you'll likely need to pay a $5 daily fee (or an annual $50 pass if you plan to stay at a lot of state parks). Keep in mind that some state parks do not allow fires so be sure to look for signs. There are so many places to stay around the state that it would be impossible to cover in this post. Just be sure to avoid private land as people may not be too happy about it!
If you don't own a tent and need to purchase one, I'd check out Facebook Marketplace, Craigslist, or second-hand shops to find a gently used one.
Stay for Free
Couchsurfing is also an option. Unfortunately due to the pandemic, there is a small monthly fee of $2.99 to get access to the website, and it's not quite the same as its former heyday. Another (possibly better) option is Trusted Housesitters, where you take care of someone's beloved fur babies in exchange for a free stay.
Book Private Rooms
Unfortunately, hostels aren't really a thing in Alaska (there's one in Anchorage and a few in Fairbanks). The next best option is booking a private room through Booking.com, Airbnb, or Homestay. In Alaska, Airbnb has the largest amount of choices. Just be cautious as some charge just as much as an entire place. So, always price shop when you're looking for accommodations.
For example, in all of Homer, I was only able to find seven private rooms for under $75 a night. If you're on a tight budget, then tent camping would be a better choice.
Stay in a State Cabin
Around the state of Alaska, there are public-use cabins that can be rented for a small fee. These are dry cabins, meaning there's no running water and likely no electricity. Typically they're heated with a wood stove, meaning you'll need to bring your own firewood. A firewood bundle costs about $5-6 each, and you'll need 2 or more over 24 hours.
They also do not have a traditional bed with a mattress. Instead, you have an elevated space that looks like a wooden bed frame. So in addition to firewood, you will also need sleeping gear and any extra items for your overnight stay (mosquito repellant, food, bear spray, lighter, etc).
A lot of the cabins require hiking, a boat, or a plane, so do your research before booking. These cabins are also quite popular, especially with locals, so like everything else you will want to book this in advance.
If you're a camping pro and do some research on the extra gear and know how needed for Alaska, then this could be a great option for you.
Book a rental home
If you are traveling with friends, you can save a lot of money by splitting costs. This is especially true with accommodations. If you can find a 1-bedroom with a sofa couch, or a 2-bedroom at a good price, it is usually cheaper to split the cost vs stay at a hotel. This is also the case if you want to splurge a bit and get the house/apartment right on the water. Just be sure to check the cleaning fees and taxes when you are ready to book. The host sets their own cleaning fee price and it can vary greatly from place to place.
With a quick search on VRBO, I found many homes for rent under $100 in Kenai and Homer (as an example). Many slept 4 people, and a few had extras including riverfront access or a sauna.
Book in the shoulder season
Often you can get a great deal in the shoulder season. As tourists leave and shops close up (sometimes even towns shut down), prices drop. Locals often travel during shoulder season to avoid the RV summer traffic and take advantage of good deals.
Stay out of Town
The main tourist towns around the state are limited in lodging and can get really expensive. To save money, look for places that aren't in the major tourist hubs (Homer, Seward, Whittier, Valdez, Kenai, etc). This will require more driving, but it may be worth it to book a place that's half the price but 30 minutes away from your destination.
Use Booking Credits
One of my favorite and little-known tools to save on hotels and accommodations is called booking credits. They tend to have more competitive rates and even give cashback on most bookings. Most of their listings are hotels and I highly recommend checking them out in your search!
Do a Google Search
There are many rentals listed on major sites such as Booking.com, VRBO, and Airbnb. But in Alaska, there are also many that can only be found through a Google search. I realize this sounds like a silly thing to list, but you'd be surprised at how many places can't be found on the major booking sites. I find this to be especially true in Seward.
Experiences and Excursions on a Budget
This is where some creativity and adjustments will need to be made. If you are on a tight budget, then a flight tour or halibut charter may not be possible. But that doesn't mean you can't experience Alaska. Here are a few travel hacks to still have a great time without overspending.
If possible, I do recommend setting a budget for excursions. In many cases, the only way to get to certain spots is by going with a guide. Some that are well worth the money include a boat cruise and a fishing charter.
Alaska TourSaver
There is a pretty awesome deal book called the Alaska TourSaver. It costs just under $100 but has a lot of great deals that you can view for free on their website. If you plan to do a few excursions, I'd recommend checking the TourSaver first to see if you can save more by purchasing it. A lot of tours are 2-for-1 or can be used multiple times (some can be used up to 8 times!) making it a great deal for families and groups.
On the Water
One of the most economical tours you can take in Alaska is a boat tour. It's infinitely cheaper than a flight tour and less expensive than many day trips you can do yourself (i.e. hiking or driving tours).
If you want to get out on the water but not spend a fortune, consider a water taxi. For example, in Seward, you can book trips to many remote islands and areas. Caine's Head is one of the top hikes in Alaska, so if you'd like to get some water time without spending a lot on a cruise, you could book a one-way water taxi for $45 to Caines Head and then hike back. This hike can only be done at low tide so be sure to do your research before you go!
In the spring in Seward, the orcas arrive. There is an Orca Quest Tour that's a good deal for what you get; about $100 for a 4-hour boat cruise that takes you through breathtaking views of Resurrection Bay. It's obviously still not cheap but is less than the $200 cruises. With the Alaska Tour Saver, they offer a few 2-for-1 tours on many of the day cruises out of Seward
Alternatively, instead of a boat, you could rent kayaks for a few hours. Backcountry Safaris out of Seward does $45 kayak singles rentals.
Seward is just one example. You can also search for individual rentals in other towns.
Lakes are another way to get out on the water on a budget. Eklutna Lake is a beautiful 7-mile long lake that also supplies the drinking water in Anchorage (fun fact!). There's a 26-mile trail that winds around the lake and is a popular place for cyclists and 4-wheelers. It's also a great spot to paddle around. There are daily kayak rentals available ($45 for 2hrs, $55 for a half-day).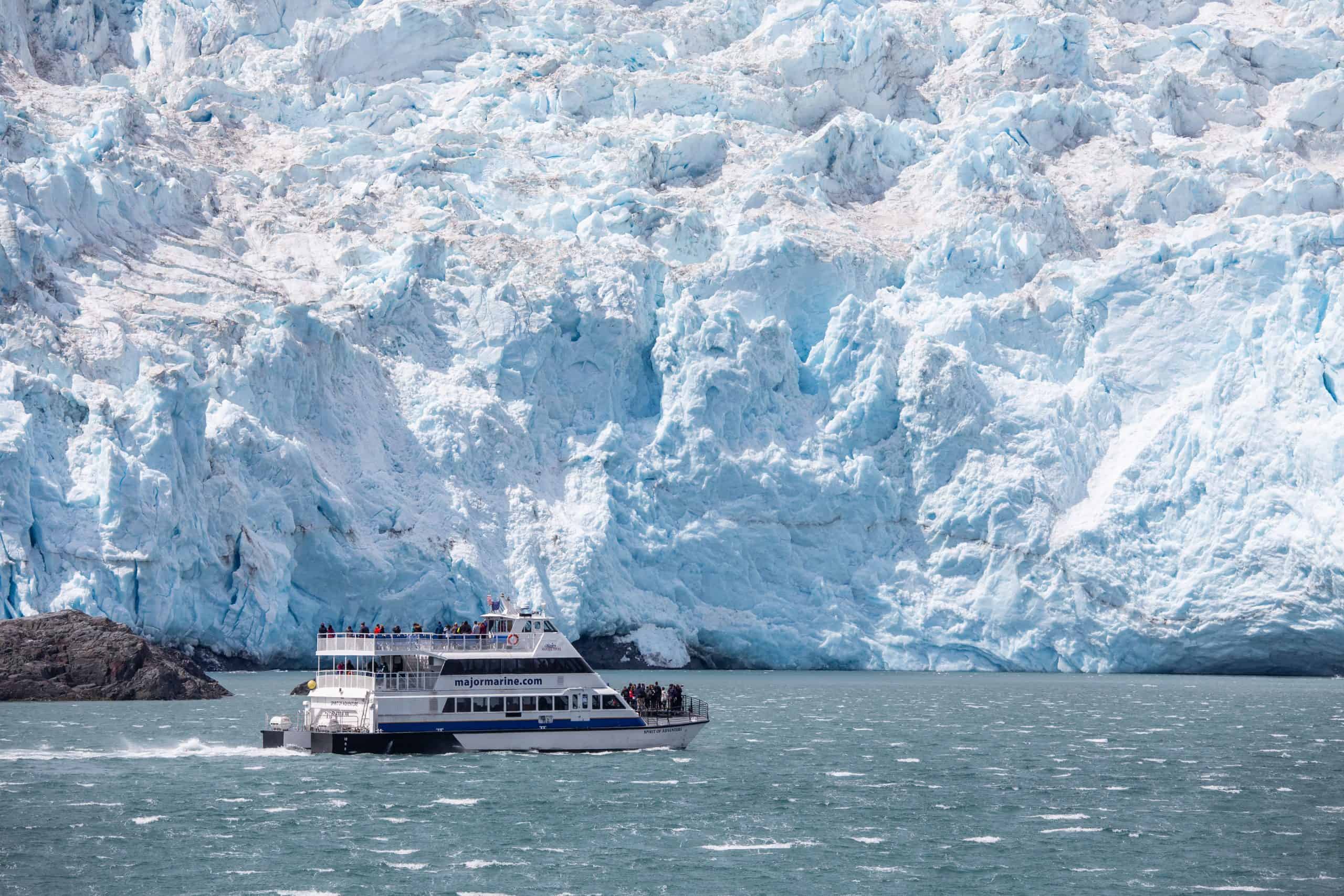 Hiking
This one is pretty simple. Instead of paying for a guided hike, do it yourself! There are hikes ALL over Alaska. I recommend using the AllTrails app when searching for different hikes. While I'm not going to go into detail in this post on hiking spots, here are some of my personal favorites: anywhere in Hatcher Pass (Gold Cord Lake, Reed Lakes, Summit Lake), Twin Peaks (Eklutna), Flattop (Anchorage), and Mt Marathon (Seward).
It's also possible to hike to glaciers such as the Harding Icefield near Seward or get sweeping views at the top of mountains (versus paying for a flight tour). When hiking you may see eagles or the occasional bear or moose. If you're able, I recommend fitting in a few hikes while you're up here.
Wildlife
One of the best ways to see guaranteed wildlife is with the Alaska Wildlife Conservation Center. There is a fee of $18 (less for children, military, and seniors). It's set in a beautiful location at the end of an inlet with surrounding mountains. There are free educational programs daily. We visit a few times a year and enjoy it just as much each time.
If you'd rather see wildlife in – well – the wild, then driving around and taking side roads will be your best friend. Hiking is a great way to spot wildlife (but may not be your first preference), just be sure to keep your distance and know how to handle these encounters.
Places like the Eagle River Nature Center have a visitor's center where you can ask questions and get information on what to do if or when you come across a moose or bear.
Gold Panning
Gold panning is a fun experience and a way to get to know the history of Alaska. Panning is sold by buckets of dirt where you can sift through to find gold. Some places like the Indian Valley Mine guarantee gold on your visit. Buckets typically start at $20 and can go up to $50.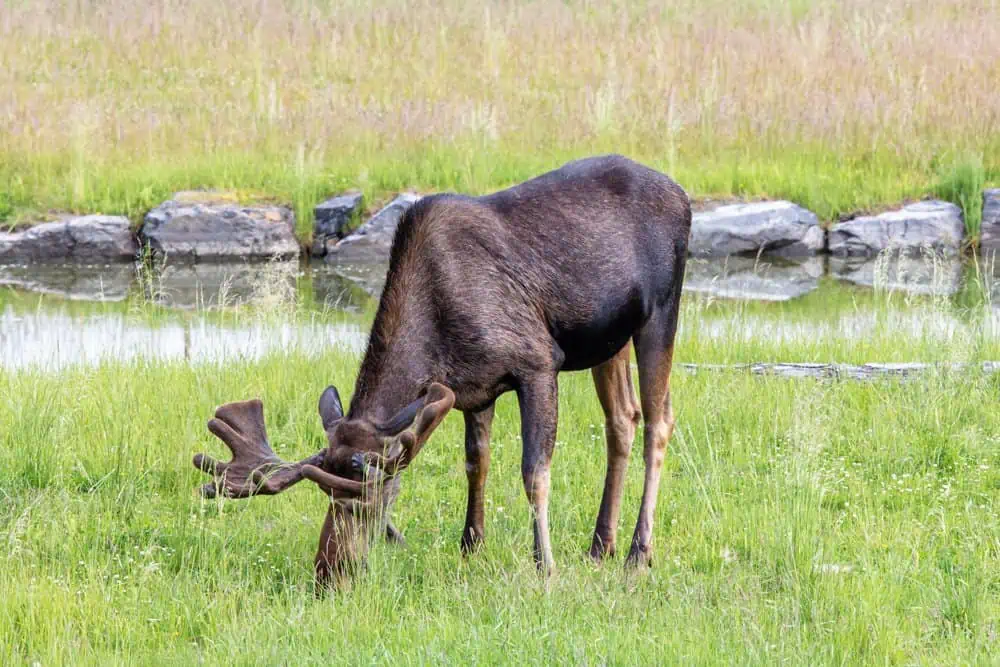 Visiting National & State Parks
Most state parks have a $5 day use fee.
Most national parks are free with the exception of Denali. Denali National Park is the main state park that's visited in Alaska and costs $15 per person for 7 days, or the Denali Annual Pass for $45 (good for up to a group of 4!). Obviously, with a group, it's cheaper to buy the annual pass.
Tours to Skip
Flightseeing
Flightseeing is very very expensive. I've been on one helicopter tour up here and while it was amazing, it was also really REALLY expensive. Plane tours are cheaper than helicopter tours, but they're all fairly pricey. It's understandable that they cost so much, but if you are budgeting I'd suggest saving your money for other things.
Bear Viewing
Bear viewing usually involves a plane and lots and lots of money. I've never been on a bear viewing tour. I hear they're awesome, but you can see many bears in the wild if you know where to look.
Not surprisingly, bears like to hang out where the fish are at. The Russian River and other popular fishing spots are great ways to spot bears. Just be bear aware! I've also spotted many bears driving around. There are quite a few down Eagle River Rd toward the Eagle River Nature Center and the road to Eklutna (typically in the early morning).
A sure way to spot bears is by visiting the Alaska Wildlife Conservation Center (on the drive from Anchorage to Seward).
Hiking or Driving Tours
If you have a way to get around, there is no need to book a hiking or driving tour. You can do these yourself.
Dining and Food
If you are sticking to a tight budget, I'd recommend skipping dining out altogether. It's fairly expensive in Alaska; most appetizers are $10-22, main meals run $12-28, and a pint of beer runs $5-$12 each. So one meal out can easily cost over $30 once you add in tipping (about 15-20%).
Dining Out
If you are in the wiggle room budget, there are a few ways to save while dining out. I would recommend ordering only water and splitting meals as they are usually quite large.
Also, since you're in Alaska, eat local! Do not eat at a chain restaurant, there are SOOO many better local options. I've lived in many places around the world and I am shocked at how amazing and diverse the food scene is in Alaska.
Many breweries have food trucks and while it's not always cheap, many do have good deals and portions are typically quite large. Avoid the tourist traps and seek out places off the main streets. The food is often better and prices typically are too!
Grocery Stores
Even if you're not dining out, food in Alaska is expensive, much more expensive than the rest of the country. Alaska is pretty remote and shipping everything here costs money. Milk is $4-5/gallon, eggs are $3-4/dozen, and bread is about $3-4 per loaf. Still, buying a loaf of bread and sandwich necessities will be a lot cheaper than buying a pre-made sandwich.
The main grocery stores include Fred Meyer, Carrs, Safeway, Walmart, Costco, and Three Bears. If you have a membership, Costco has the best deals but as you know everything is in bulk and may not be ideal for a shorter week-long trip.
Three Bears is the next best when it comes to price. It's a locally run store that is similar to Costco (they also carry many Kirkland brand products), so many items are sold in bulk but they also have some smaller items.
In my experience, you can find good deals at Fred Meyer and it's often my go-to store. Join their club card (it's free to sign up) and look for club card discounts as well as digital coupons for further discounts (those digital coupons are my secret to saving a ton of money). If you're not too picky and shop for just the coupon items, you can save a lot.
Walmart has some food items at good prices, but I'm surprised at the markup on things that should be inexpensive. They also don't have a large selection of gluten-free or specialty food items, but it works if you're in a pinch.
Other Tips
Avoid overspending at gas stations by getting all your necessities at the store.
Most tap water around the state is perfectly drinkable, so keep a water bottle on hand to fill up.
Purchase groceries in the largest towns before you head out i.e. Anchorage or Fairbanks.
Buy a cheap cooler for $20 at Walmart or another store and fill with ice.
Read Next!