Katmai National Park Packing List: What to Bring (and What to Leave at Home)
Hey there!
This post may contain affiliate links, meaning I may be compensated if you click on one of my links, at no cost to you. As an Amazon Associate, I earn from qualifying purchases. Read my disclosure policy for more information.
If you're reading this article you likely just booked your trip to Katmai. Congratulations!
You are going to experience something incredibly unique that only a few people in the world ever get to witness in person.
I recently returned from a trip to Katmai (as of 2023). Before I went, I had so many questions about what to bring. I wasn't sure what to pack, what not to pack, and what was available at the lodge.
I created this article to answer all of these questions and lay out what exactly you should bring…and also what to leave at home.
This post contains affiliate links from products I personally use and recommend.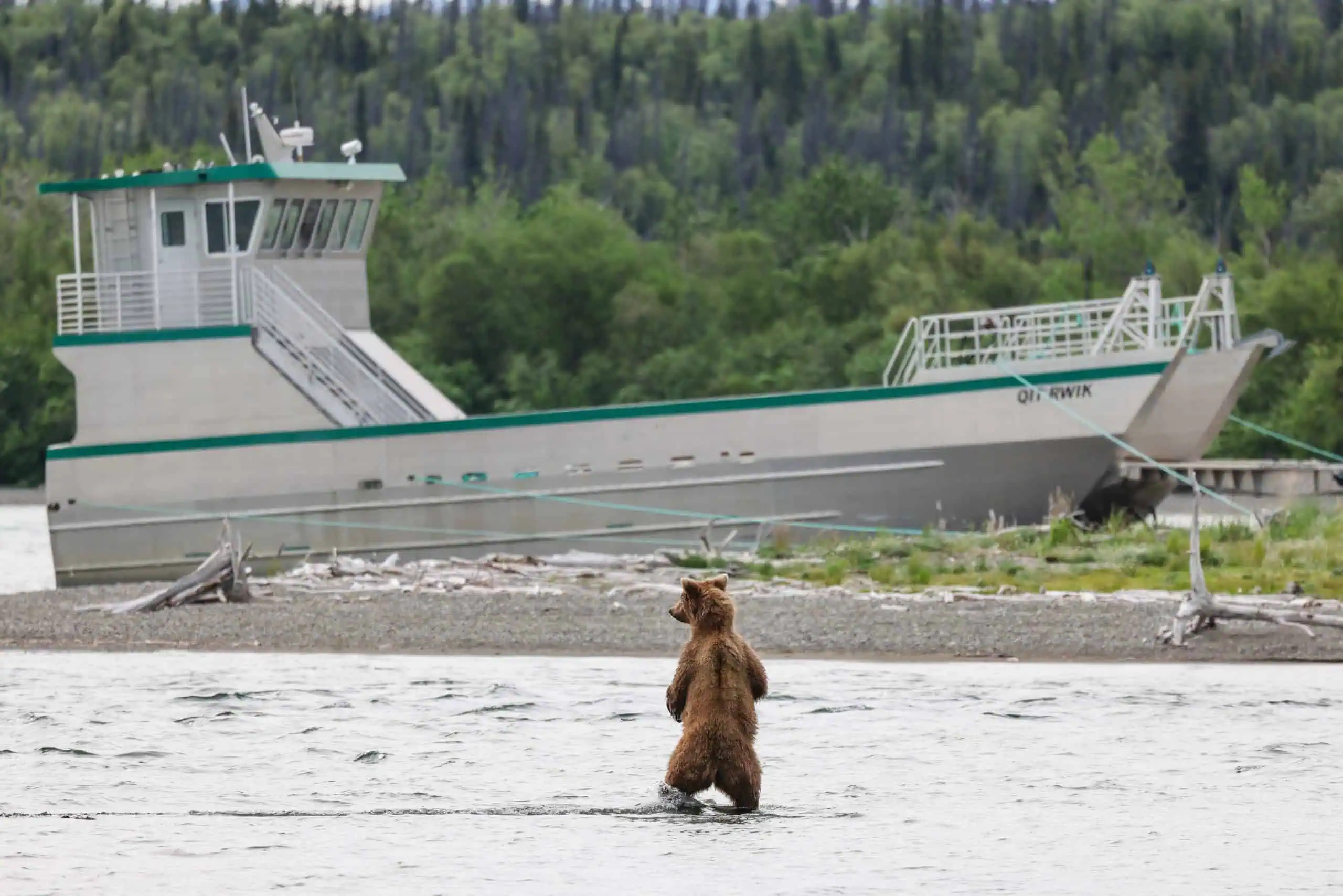 Can You Purchase Items at Brooks Camp?
I personally wouldn't completely rely on Brooks Camp for all your necessities, but they do carry a wide range of items.
There's a small store, The Katmai Trading Post, that carries many items. Here you'll find things like propane, jetboil fuel, snacks/candy/drinks, mosquito head nets, mosquito repellant, and souvenirs.
Tip: I'd call the Trading Post before you go to ensure they have an item you need. For example, if you plan to purchase jetboil fuel, I recommend taking a minute to call them and see what's available.
If you forgot your fishing license, you can pick one up here.
This is also where you can rent all sorts of things like kayaks, canoes, fishing gear, towels for the shower, binoculars, and single stoves.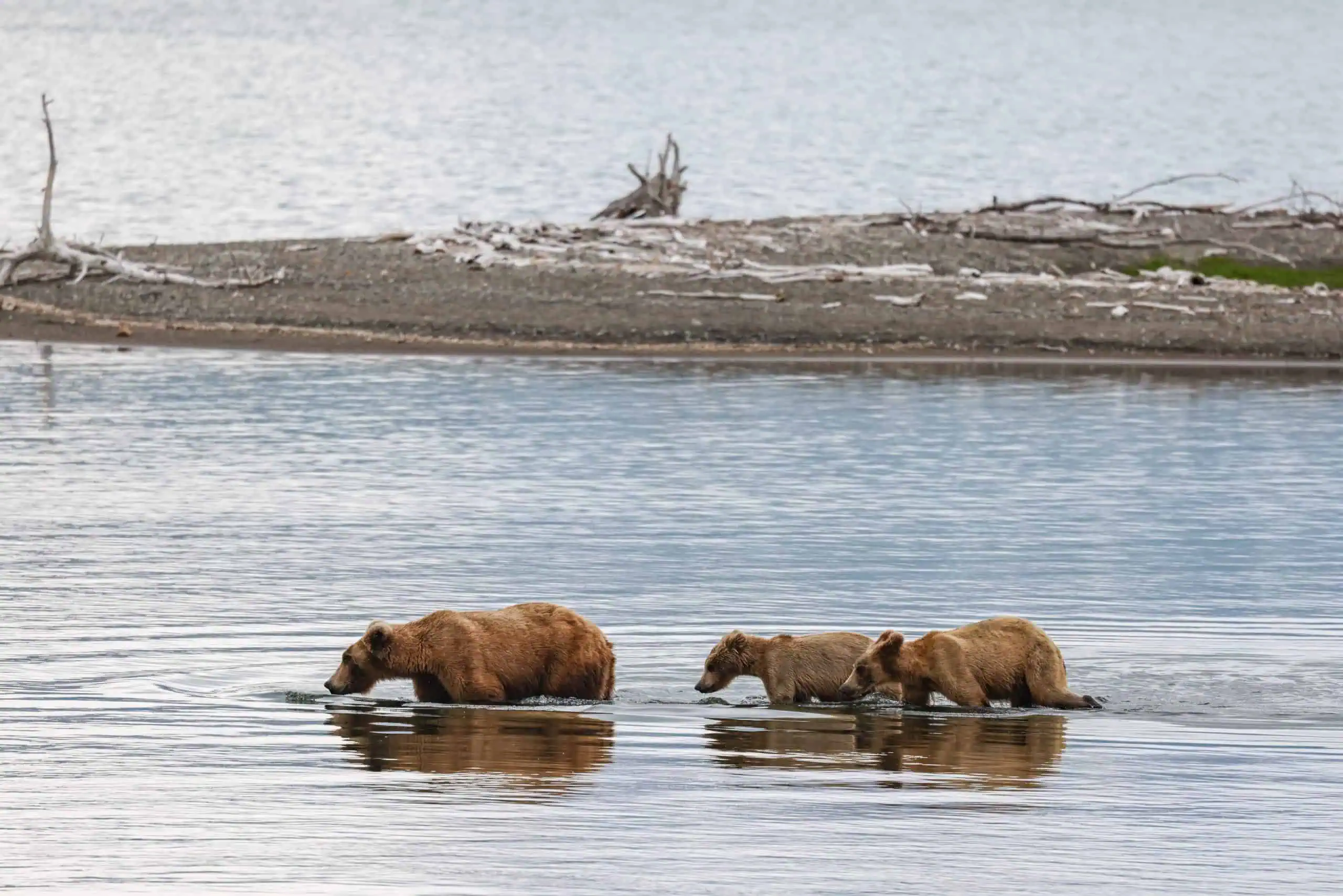 Essential Packing List for Katmai (Day Trip and Overnight)
Battery Pack – Is a battery pack necessary? I brought mine just in case I'd need it since I knew we'd be off the grid. Personally, I'm glad that I had it as I could charge things while I slept.
But do you need it? Well, not exactly, but I'd still recommend one, and here's why.
The lodge has outlets available for use so you can charge your stuff there. The downside to this is that you never know if there's an outlet available to use.
With a battery pack, you can charge stuff in your tent or cabin when you sleep. Or you can simply carry around your battery pack and charge things as needed. I found that the peace of mind of having that battery pack was well worth it.
Mosquito Net – This was a last-minute purchase (we grabbed these Sea to Summit ones – Amazon link) and I'm SO GLAD we bought them. The mosquito nets were a lifesaver. Keep in mind you'll want a way to keep the net out of your face so a ballcap or brimmed hat is needed.
Hat – A ballcap or brimmed hat will help protect you from mosquitoes (and the sun). There are many available at the trading post too in case you forget yours at home.
Mosquito Repellant – Deet is an absolute requirement at Katmai. I bought 100% Deet for this trip. I prefer these spray bottles since they're not aerosol and you don't have to rub the Deet on you with your hands. I'm typically a more natural-minded person, but I make exceptions for blood-sucking mosquitoes.
Loose Hiking Pants – I do not recommend thin leggings or tight pants when you're around that many mosquitoes. Although those pesky insects are small, they can puncture through clothing, so wearing something looser like these Baleaf pants are ideal.
Rain Gear – Katmai National Park isn't exactly known for good weather. The National Park Service estimates that the sun appears about 20% of the time. The area is quite rainy and strong winds (gale-force) are common. So good rain gear that's also windproof is necessary.
Wool Layers – Wool layers are the best for the wet and cool conditions of Katmai (and honestly the best for most of your Alaska travels). I brought this long sleeve underlayer along with these pants (at night) from Woolx and basically wore them all weekend (another perk is they are naturally odor-resistant, hah!). Oh and don't forget wool socks (I love these ones from Woolx…they're the best!).
Camping Packing List for Katmai
Camping at Katmai requires an entirely different packing list. In addition to everything else listed above (and the camera gear you'll see below), you'll need all the gear to actually sleep and stay dry.
Before you go out and buy everything like I did, you can save quite a bit of money by renting an entire camping set through REI. A two-person full camping gear set for 3 days is around $200 at the REI in Anchorage.
Just be sure to really look through all the items in the rental and ensure they will work for your circumstances. I wanted my own sleeping pad and am particular, so I preferred purchasing my own stuff instead.
Here's what I Packed for Camping
A Camping/Hiking Backpack – I borrowed one from a friend that I liked but didn't love. I recommend looking for one that has plenty of exterior straps, can expand at the top if needed, has plenty of space inside, and can ideally also hold camera gear.
A Tent – I brought an old tent we've had for years. There are plenty of great options at REI which are likely much better than the old one we used.
A Sleeping Bag – I borrowed this Sea to Summit sleeping bag from a friend and LOVED IT. It packs small and kept me warm.
Insulated Sleeping Bag Liner – I didn't actually know this was a thing before our trip. I get cold easily and was terrified of freezing at night. So in a last-minute REI trip, I snagged this liner from Sea to Summit. The sleeping bag was warm, but I really think this liner was the perfect addition to keep me cozy every night.
Sleeping Pad – I haven't camped in years, I'm more of a glamper these days. I assumed that my side-sleeping self would never ever be comfortable sleeping in a tent. Well as it turns out, sleeping pads and camping gear in general have come a LONG way since I was a kid. After a ton of research (truly, it took me months) I finally settled on this sleeping pad from Exped. It's actually made for side sleepers and had great reviews. Sleeping pads also have an R-value rating for warmth, and the one from Exped is rated an 8.1 (but they have one rated at 11) And I can confirm, this thing has changed my thoughts on camping. I slept better on it than in my own bed.
Camping Pillow – I bought this camping pillow and loved it. You can cinch it tighter if you want a firmer pillow, or loosen it too. I was worried it'd be too small since it's so compact but it worked perfectly.
Extra Blanket – I packed a woobie just in case and while I didn't need it, I'd probably always bring one just in case of cold conditions.
Other Camping Items to Consider
Mini Propane Tank for Cooking
The Trading Post at Brooks Camp carries propane and jet boil fuel. I recommend calling them before you go to ensure they have some in stock.
The campground also has an area with free propane tanks left by other guests.
If you'd rather bring your own, you can pick some up in King Salmon at Alaska Commercial Company (the local grocery store). It's about a 5-minute walk from the airport. Just make sure you can bring it from King Salmon to Brooks Camp (some flights don't allow it).
Propane and types of fuel are prohibited on airplanes.
Jetboil
A jet boil is a compact way to boil water quickly (I prefer this one that boils water in 2.5 minutes). I didn't end up bringing mine since I planned to eat at the lodge and was trying to pack light.
Logistics to Consider with Camping Gear
When we were mapping out our trip, we realized quickly that we needed to have items that could pack very small.
Originally our plan was to put everything into our backpack and fit some of the bigger stuff on the outside of the packs. However, since we were checking our bags, we couldn't have anything on the outside. This meant that we had a lot of gear that didn't fit in our backpacks.
So we quickly pivoted and decided to add a tote to our checked luggage. I had a simple black and yellow tote from Walmart. We used it to pack our tent, sleeping pads, extra blanket, and sleeping bags. Totes are completely normal to check at the airport so be sure to write your information all over it.
Note we also added two tarps and wrapped everything in garbage bags individually in case the tote was going to sit on the runway (it had holes on the side). Luckily it wasn't raining too much and nothing got wet, but it might not be a bad idea to wrap your stuff if you're in the same situation.
We also each had our carry-on bag which was our camera bags.
So we had a large hiking pack on our back, the camera backpack on the front, and then a tote to haul around.
We looked pretty ridiculous. I should have taken a photo.
Luckily once we were at camp they had rolling carts to get your stuff to and from the campground. They were a lifesaver! It's less than a 10 minute walk from the visitor center (where most planes and the water taxi park) to Brooks Camp.
Things to Leave at Home
Bear Spray
Bear spray isn't allowed in a carry-on or checked baggage on commercial airlines. It's also not allowed on most small planes. If it is, they'll put it in the floats of the planes and not directly in the plane.
What's interesting is that it's not strictly prohibited in the park.
But, and this is a big but, it's really discouraged by the park rangers. And honestly, it's not necessary.
There are so many people at Brooks Lodge and so many park rangers walking around during the day that you never feel isolated.
Also, you take a bear safety class as soon as you land to get oriented. And once you experience being so close to these bears, you realize that they really aren't interested in you.
Whistle, Bell, or Other Bear Deterrent
We talked about bringing some sort of bear deterrent, but once we arrived and had our bear orientation, we learned that the best bear deterrent is simply talking and making human noises.
Camera Gear Needed for Katmai
I think I did a decent job considering what would be needed for Katmai. However, I think I missed the mark on one very important item that I'll talk about below.
Camera Backpack – I have the WANDRD Prvke 31 Camera Backpack and really need an entire post dedicated to it. This is my fourth camera backpack and by far my favorite.
If you're in the market for a new camera pack I recommend taking a further look at the WANDRD Prvke.
For one it just looks cool.
But more than that, it's really functional.
It has a false back for safety, a side opening for my camera, plenty of pockets with zippers, and a soft outer zipper pouch that holds my wallet and phone for easy access.
Aside from the functionality of this backpack, what won me over is the large expandable storage space at the top of the bag. You can fit a jacket, a power bank, and other things in there.
I wanted something that was a camera bag and also could hold a lot of other things too, and this fits the bill.
DSLR or Mirrorless Camera – I rented the Canon R5 from Stewart's Photo in Anchorage. If you can, I really recommend bringing some sort of camera with a good zoom lens. If you luck out with bears at the falls, you can get away with an iPhone or other phone camera (although the photos still won't be great). But if they're not at the falls, your encounters will likely be too far away to get a good shot with your phone.

If you're reading this section, though, I'll assume that you plan to bring a DSLR or mirrorless. I own a Canon R6 but I knew I wanted more megapixels in case I needed to crop my photos. So I rented the Canon R5 which has 45MP versus the 20.1MP in the Canon R6.
Long Camera Lens – I also rented the Canon 100-500mm RF lens. I loved having the 100-500mm. It was especially handy as the bears weren't yet at the falls, so many of my shots were taken from far away.
If you do visit when the bears are at the falls, you may not need to go to the 400-500mm range, but you can get really close up if you want.
For example, the photo below was taken at 100mm from the Brooks Viewing Platform. I wasn't able to get the entire falls into the shot at 100mm. As you can see, you're already quite close, so 500mm would be incredibly close up.
This photo was taken at Riffles Falls Platform (the platform a bit further from the Brooks Falls platform). With a 100-500mm, you could get some great shots from this angle.
Wide Angle Lens – I brought my Canon 17-40mm. I wanted a wide-angle just in case I needed some landscape shots. I didn't end up using it, but in hindsight, a few wide-angle shots would have added variation.
Lens Raincover – I bought this cover at the last minute. It never rained enough to need it, but it was nice to have an inexpensive backup if needed.
Tripod – So this is where I failed. I have a cheap plastic old tripod that I figured would be 'good enough' for the trip. But mine is so clunky that I never ended up using it.
I naively was only thinking about the sunlight, and since it doesn't get dark in Alaska in the summer months, I didn't think I'd use a tripod much.
Note: Tripods aren't allowed on the Brooks Falls Viewing Platform, however, monopods are okay. I have the perfect solution for this below.
There were many instances where the bears stayed in one location for a long time. I'm not a wildlife photographer and didn't consider the fact that this long lens I rented would get very heavy very fast.
If I had a better tripod that could work well as a monopod, I'm positive I would have gotten sharper shots and definitely steady video.
Most of the video I was able to get was so shaky because I was zoomed in at 500mm and hand holding the camera. I'm so bummed I didn't plan this part better.
Having a tripod you could very easily put on your camera AND use as a monopod is super important. I was going to rent this tripod from our local photo shop but sadly decided not to. I definitely regret that!
The Benro tripod is actually incredible in what it can do. Usually, I find tripods quite boring, but this one is seriously cool (you can check out their video on it here).
It has the smallest footprint of a tripod in its class. And it's a 6-in-1 tripod which includes a tripod, a monopod, a selfie stick, and more. It even has a smaller tripod inside of it that goes under the monopod setup.
I've tried too many cheap tripods in my life. Don't make the same mistake as me. Either rent or purchase one for this trip.
2 Extra Batteries – I think this was fine for three days. I only went through two batteries and took about 3,500 shots and 20 videos.
Cord to Charge Camera – With Canon, the charger plugs directly into the wall. So I ensured I had a USB-C so I could charge directly from the camera to the power bank.
Extra Memory Cards – I had a 256GB I rented and two 128GB. I didn't need to switch out the 256GB but I'm glad I had extra just in case.
Backup Camera – I packed my R6 in the event the R5 stopped working. Luckily this didn't happen. I saw some people had a two-camera setup. If I had a camera strap that would support this, I might have worn my other camera for wider shots.
More Alaska Articles