Katmai National Park: Everything You Need to Plan Your Trip to Brooks Falls
Hey there!
This post may contain affiliate links, meaning I may be compensated if you click on one of my links, at no cost to you. As an Amazon Associate, I earn from qualifying purchases. Read my disclosure policy for more information.
There are some things in life that are difficult to articulate without experiencing it firsthand. And Katmai is undoubtedly one of those experiences.
There's nothing quite like walking in the woods less than 50 yards from a massive animal that could easily kill you. It's honestly exhilarating.
I was a bit worried about being so close to these large bears, but once we were there, we found that they are quite used to humans and not too interested in you.
This isn't to say you shouldn't take precautions, but I was fairly comfortable walking in a group around the camp (I still kept my eyes on the woods around us though!).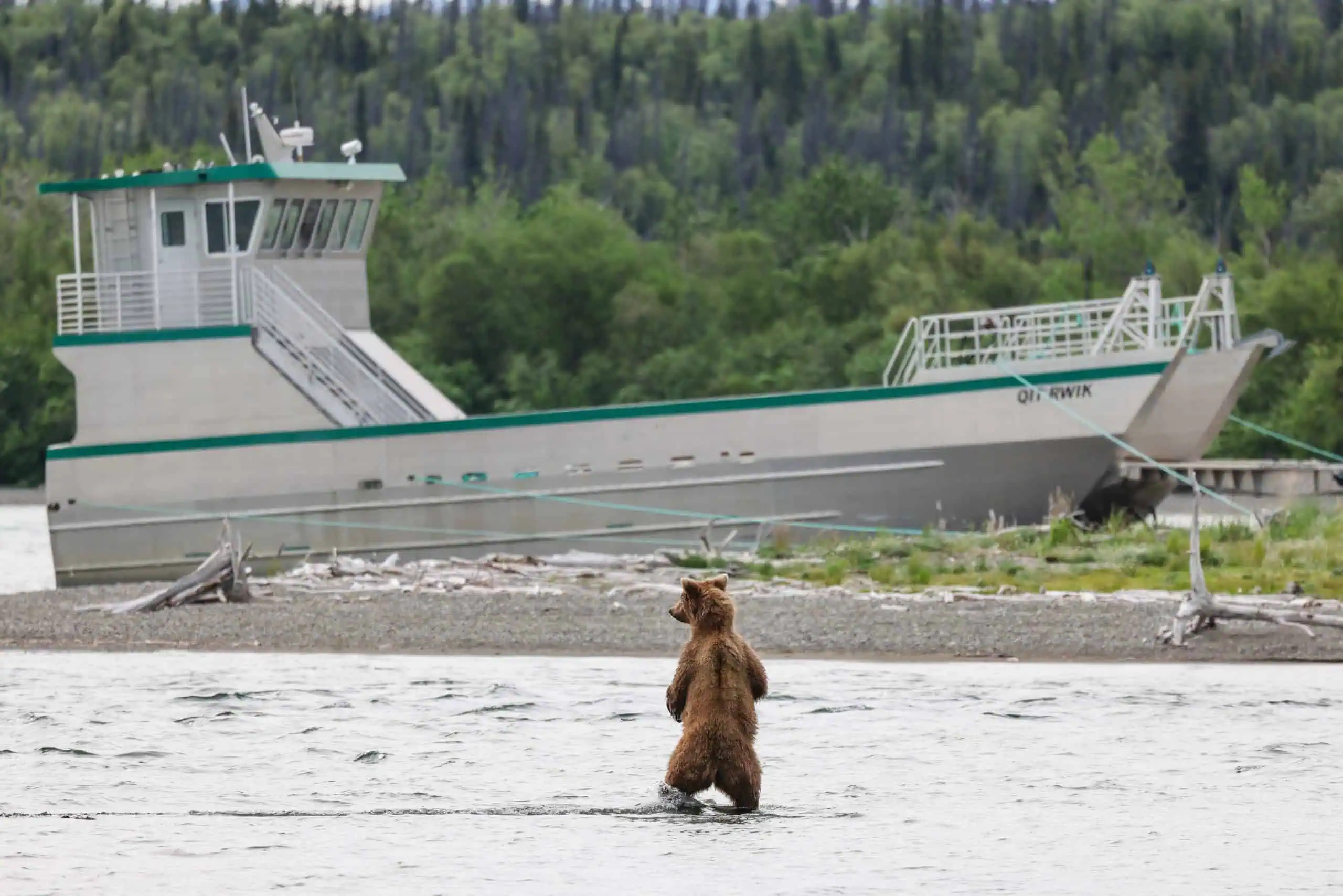 I assumed the park rangers were there to protect us, but I realized that much of their job is keeping us humans far enough away from bears and giving them space.
If you've been thinking about a trip to Katmai, this guide is for you!
I included every detail I could think of to help you plan your trip. This is all based on my experience visiting in 2023 and from many talks with other visitors and park rangers.
Where is Katmai Located?
Katmai is located about 300 miles Southwest of Anchorage. It's only accessible by plane or water taxi (although a plane is far more popular).
The closest town to Brooks Camp, which is the camp area inside Katmai, is King Salmon. It's not so much a town as a village that supports the commercial fishing industry. About 70% of the world's sockeye salmon comes from this area in Alaska!
King Salmon has an airport with daily flights from Anchorage (Ravn Air or Alaska Air).
Below is a zoomed-in version showing where King Salmon is in relation to Brooks Camp.
As you can see, the camp is a bit far away from King Salmon. It takes about 90 minutes via shuttle and water taxi, or you can take a 20-minute float plane trip.
Naknek Lake separates the camp from King Salmon. At 40 miles long, it's the fourth-largest lake in Alaska.
There is no road from King Salmon to Brooks Camp.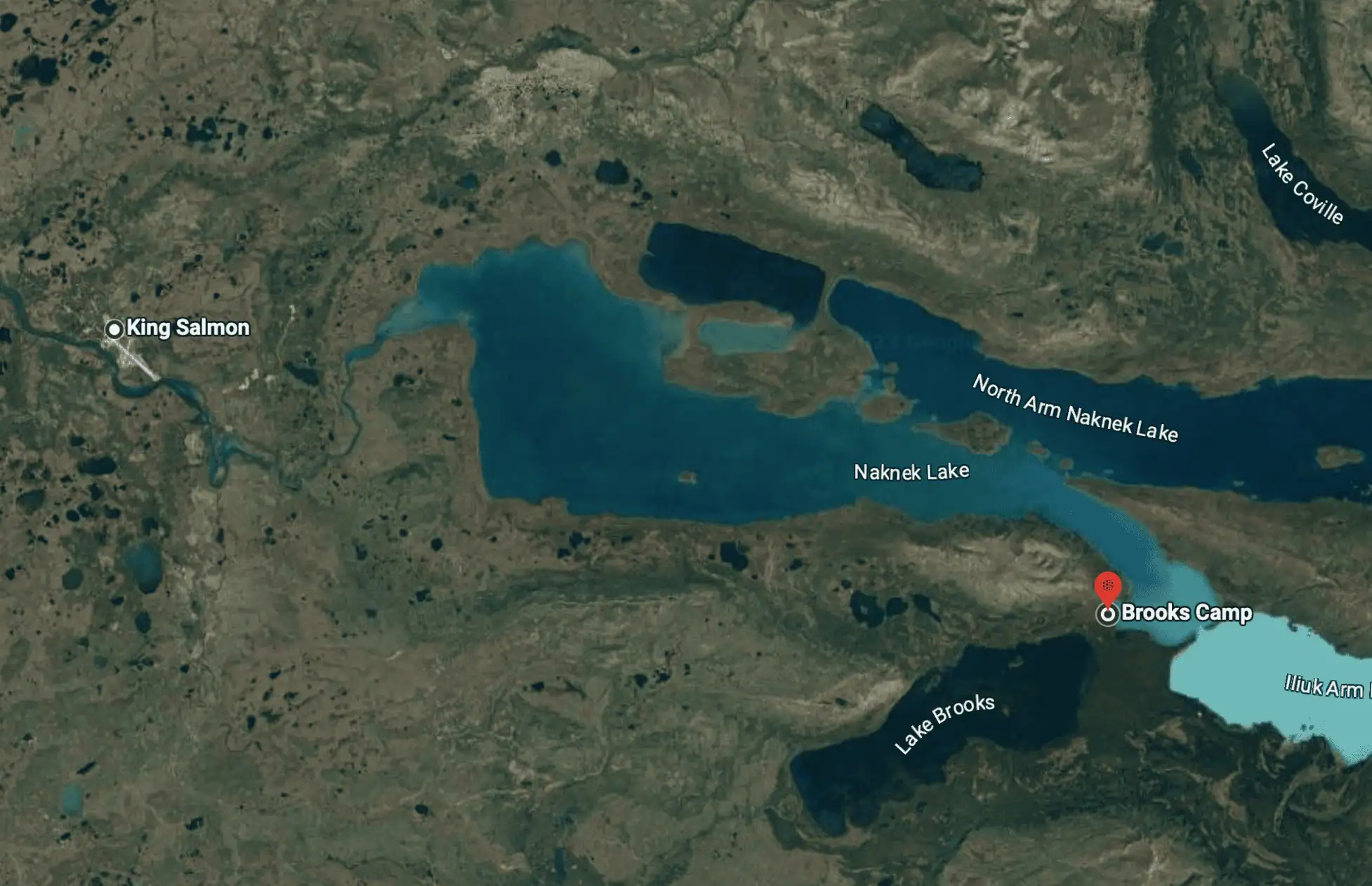 What is Katmai National Park Famous For?
BEARS!!
This area of Alaska is home to 70% of the world's sockeye salmon population, and bears love salmon.
Katmai is considered one of the best places in the world for bear viewing. There are roughly 2,200 bears active in the area.
Around late June through July, they feast on the large salmon run that goes through Brooks River. There's a waterfall area called Brooks Falls, and this is where you'll find the famous images of bears catching fish as they jump out of the water.
Sadly when we were there the salmon weren't running yet, so these were our photos from the falls. Heh.
Even if the salmon aren't yet running, bears are everywhere.
For three days we spotted them all around Brooks Camp. They'd often walk along the beach and even came right up to our campground one morning. We discovered the electric fence surrounding the perimeter of the campground does in fact work when a cub got a bit too close.
We saw a mama bear with three cubs, another with two older cubs, and a few males wandering around. We saw these groups multiple times over our few days there. It was incredible.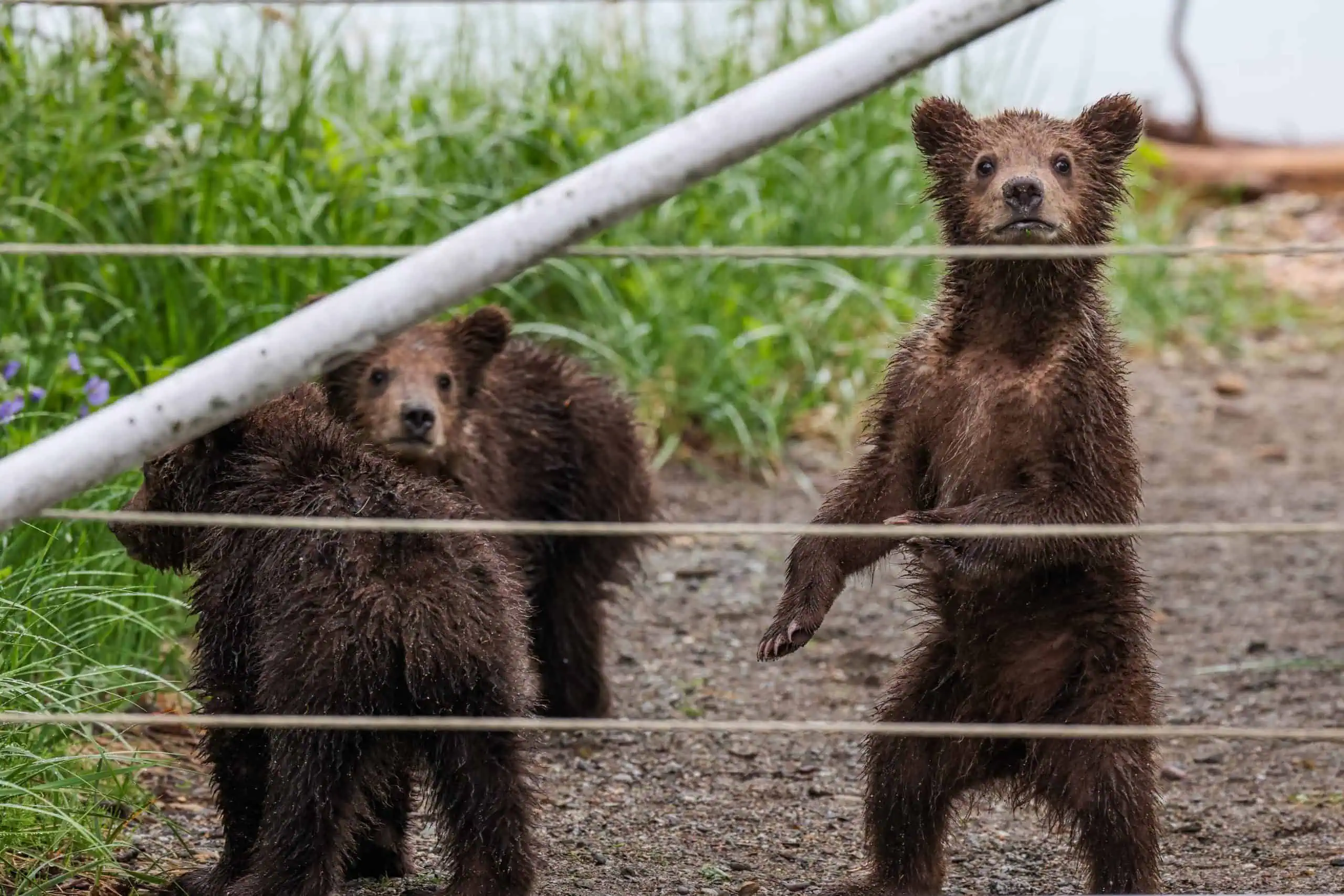 How Do You Get to Katmai?
There are three ways to get to Katmai:
Fly to King Salmon via Ravn or Alaska Air. Then take the Katmai Water Taxi (there's only one) across Naknek Lake
Fly to King Salmon via Ravn or Alaska Air. Then take a float plane to Brooks Camp.
Take a float plane from Anchorage or Homer to Brooks Camp (often these are day trips)
We did the first option, however, I wouldn't do that again. I would actually do option 2.
The reason is that the water taxi is notoriously unreliable. One of the park rangers told us that it's quite common for the water taxi to cancel. This is typically due to bad weather, mainly strong winds that make the trip unsafe across the large lake.
When we were there, the water taxi didn't run for TWO DAYS because of a possible storm (that never happened). So even though there was no storm, they still didn't run. It was a bit of a running joke that no one ever knew if or when the water taxi would come.
However, we saw 10-20 float planes flying in and out each day. The prices are comparable, so if I go again I will book a float plane instead.
How Do You Stay at Katmai?
The only place to stay is at Brooks Camp, located inside Katmai National Park. And getting a spot at Brooks Camp is a feat of persistence and a bit of luck.
Within Brooks Camp, there are two options:
1. The Cabins at Brooks Lodge
The cabins work on a lottery system two years out. So if you put in for the lottery in 2023, you are requesting to visit Katmai in 2025. The lottery opens in December for one month, and then they reach out if you are selected. More information on the process can be found here.
2. Brooks Camp Campground
The campground opens for reservations in early January and is only bookable via recreation.gov. In 2023, it opened on January 5th at 8:00am AKST (the date could change).
When it was 7:59am, I was hitting refresh as fast as possible until it turned 8:00am. By the time I added my preferred day and how many people (which took all of 3 seconds), everything was booked up for July.
So, I frantically searched for other dates around July and the closest I found was June 23-26 open. So I booked it.
Unfortunately for us, the salmon run was late this year so we missed out on bear viewing directly at the falls.
I am not sure how you can book this faster. Maybe a faster internet connection? Or have everyone in your group try to book at the same time.
Another option is to book in early September. This is when the bears are nice and fat from a summer of eating salmon and topping up for winter. But the fish aren't jumping out of the water.
If you don't get a spot at Brooks Camp but want to stay close, another option is to book at hotel at King Salmon and do day trips. And there's always the option of booking a day trip.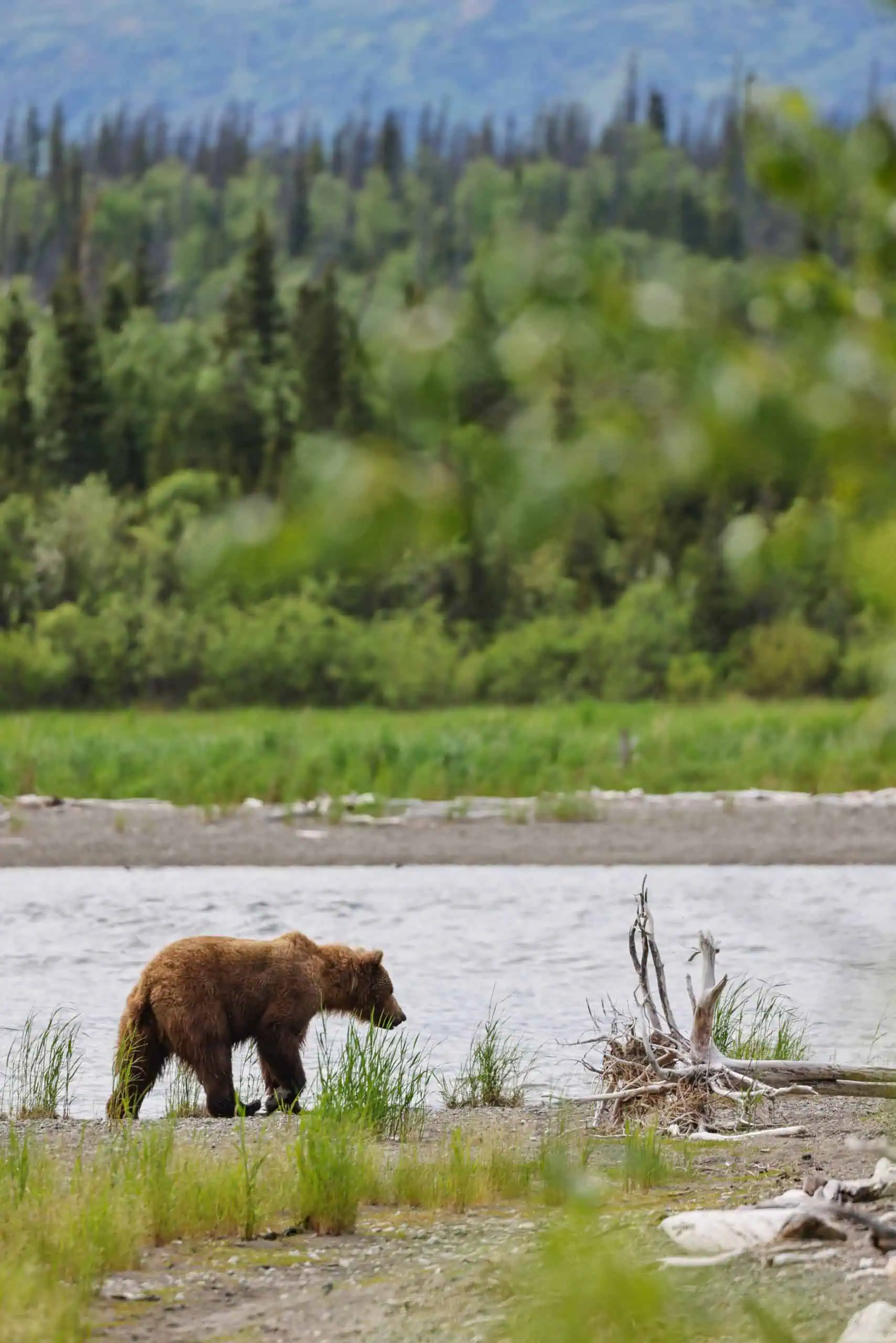 How Much Does it Cost to Go to Katmai National Park?
This is an interesting question that deserves a little bit of a deep dive. I added a chart below to easily compare prices as well.
When I first did my research, it seemed that using miles or the companion fare to King Salmon via Alaska Air, and then booking the water taxi would be the cheapest.
So that's what we did. The flights were $298 one way, per person. This came out to just under $1200.
That was way too much for a one-hour flight, so we used a companion fare with Alaska Airlines. This meant we paid for one flight plus $99 and the taxes and fees for the other (which was around $120).
So in total, we paid about $700 for both of our flights (still a lot but less than $1200).
Then we booked the water taxi which was $330 each way per person (it's $400 if you wait for high season to book).
Then we had to pay a $25 rebooking fee because Alaska Airlines changed our flight. I called Alaska Air and they said that's fairly normal to have your flight changed to King Salmon. Sometimes it's changed a few times. So we waited until we were two months out to change the water taxi time.
Per person, this came out to just under $700 per person.
Camping at Brooks Camp Costs
The reason this is a loaded question is that we didn't consider all the extra costs of camping. We were able to secure a campsite in January for three nights. Camping is only $18 a night (in 2023) but there are many additional hidden costs we didn't consider.
When you're flying on a commercial plane, you have to follow their baggage rules, which usually means limited baggage. I have an Alaska Airlines card and a Club 49 card, so I can check 3 bags. I ended up checking my large hiking backpack and a plastic tote (this held our tent, sleeping pads, extra blankets, etc).
But then we also needed camping gear that was compact.
So we needed a sleeping bag that could pack small, a tent that packed small, a way to cook food, a sleeping pad (I always thought I hated camping until I used this sleeping pad btw), a large camping/hiking backpack that could hold everything, a pillow, etc.
If you don't own these things, and can't borrow them from someone, this will become quite an expensive trip. Not to mention that you're likely flying it all up to Alaska from somewhere else.
But there is a great way around this.
REI does camping rentals, and not only that, they have camping and backpacking kits that include everything you need and more. They have a package that includes everything you need for less than $200 for two people. There's a location in Anchorage, so it's worth checking out.
I really wanted a sleeping pad for myself for future use, and luckily was able to borrow just about everything else from friends. Then I also grabbed this insulated sleeping bag liner that I never knew existed and it really helped keep the warmth in.
I also brought this lightweight but warm blanket (also called a woobie). My husband was in Special Forces and swears by these when out in the cold…and he's been out in the cold. A lot.
Additional Costs to Camp
Lightweight and compact sleeping bag ($200-400)
Lightweight and compact tent ($200-500+)
Sleeping Pad – I'm a side sleeper and after TONS of research, I purchased this one and apparently now love camping because I slept like a baby. ($250)
Additional things to stay warm (insulated sleeping bag liner and woobie) ($100)
Travel Camping Pillow – I purchased this one and really liked it. You can make it firm or loosen it for a softer pillow. ($50)
Total extra costs = $800-1300USD
That's a lot of potential extra costs.
So, although camping is the cheapest option on paper, it may not be so cheap once you add up the costs.
But, as I stated earlier, to keep costs down I recommend renting gear at REI in Anchorage or borrowing it from friends instead of purchasing it.
The Lodge at Brooks Camp
The lodge is very expensive. In 2023 the cost is $955 per night (higher if you can snag a cancellation in the same season).
The lodge isn't what you might think. At least it wasn't for me. There isn't a big lodge building. Instead, you have a main lodge building for food, drink, and relaxing by the large ring fire.
Then there are sixteen separate cabins (some individual and some connected) located around the lodge. Each cabin has a bathroom and two sets of bunk beds.
Day Trip via Floatplane
This is a popular way to see the bears of Katmai without staying at the camp. The most popular day trips are from Homer and Anchorage.
While I haven't personally gone this route, there are plenty of day trip options from either location.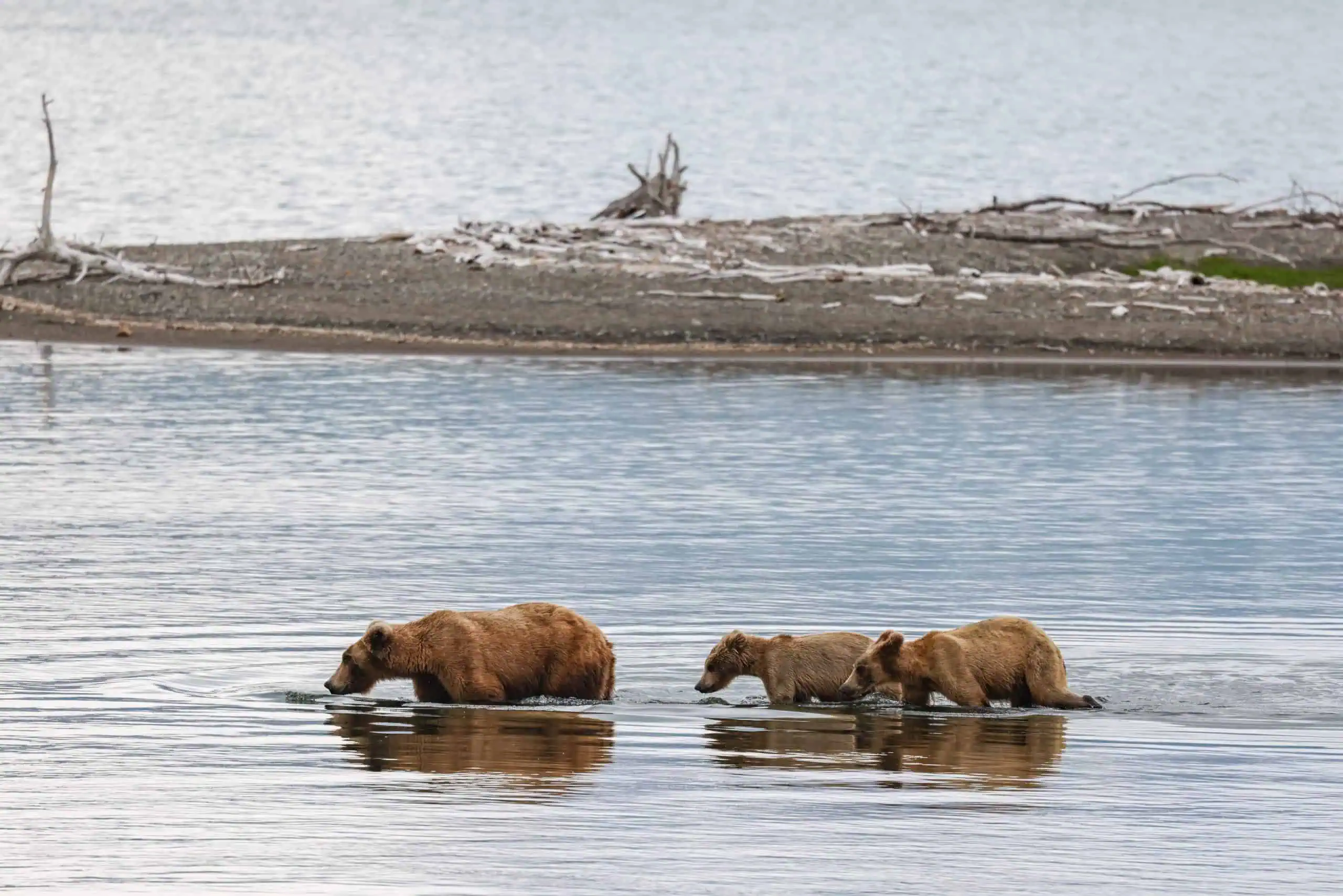 Is Katmai Better for a Day Trip or Overnight?
If you only have time for a day trip then I recommend that. If you didn't get a campsite or the lodge, then a day trip is a great alternative.
However, if you have the time and are able to book a spot at Brooks Camp, I'd say that is the better option. This is completely subjective, and there's no knowing for sure if the bears will be at the falls, but your chances of seeing multiple bears greatly increase the longer you stay.
Another perk of staying overnight is that you get prime viewing time at Brooks Falls. The day tours end around 7pm and the camp really clears out, so overnight guests get to enjoy the falls without all the people.
When is the Best Time to Visit Katmai?
The best time to visit Katmai is when the salmon are running. See below for a monthly breakdown.
The salmon run starts in late June** and goes through most of July. The salmon run is in full swing by mid-July and this is when you'll see bears catching fish jumping out of the water. Historically there are no salmon runs in August. By September the salmon are spawning, meaning they've run their lifecycle and are dying off, and many bears take advantage of this easy feasting.
Bear Viewing Months
June: The salmon run may or may not have started by the end of the month (there was an early run in 2022 and a late run in 2023).
July: In early July the salmon are showing up at Brooks Falls, the famous viewing area for bears. By mid to late July the run is in full swing and you'll see a lot of bears catching the fish jumping out of the water.
August: The run is over and the bears go to different spots to find fish. However, you may still spot a few bears around the falls.
September: The salmon are spawning and dying off. You can find the bears eating downstream from the falls where these dying fish end up. This time of year you won't see fish jumping. There is the occasional bear that will head to the falls, but you likely won't see more than one at a time.
Some years there are late sockeye runs so you can still spot bears fishing in August. Or other years there's an early run and they are out in mid-June (like in 2022). You just never know.
July is very busy at the viewing platforms.
The platforms are not large and if it gets too crowded you have to get on a list to stand on the viewing platform. When it's your turn, you can stand for 30 minutes or an hour, then you have to leave. You can get on the list as many times as you want.
So when the bears are really in, you could be waiting hours to get your chance on the platform. We had it completely to ourselves a few times – although we never spotted any bears.
**Even if there isn't a large salmon run happening when you visit, you're sure to spot bears while at camp. This is what happened to us. We went in late June 2023 when the salmon were 'supposed' to be in. But, we had a really late spring this year and everything has been running a few weeks behind. So they didn't start showing up until after July 1st.
What Facilities Are Available at Katmai?
Katmai Lodge
The lodge is the central meeting point of Brooks Camp. I had no idea what to expect of a 'lodge' at a remote camp. It's basically a long log cabin that houses the restaurant, the bar, and a large seating area surrounding a massive fireplace. There's another small seating area with couches at the entrance.
We visited at the end of June and found seating inside the lodge every day.
Many people relax in between bear encounters, share photos, and enjoy life without an Internet connection. Many day trippers stop in for lunch and to relax before their flight out.
There is a section with many games, and in between meal service you can sit in the dining area.
Food & Drink
Speaking of dining, there is a restaurant inside the lodge that serves three meals a day. And they are not cheap. Breakfast is $23, lunch is $28, and dinner service runs $42 (as of 2023). There's the option to do a smaller meal but that only includes cold items, so we found it was worth it to do the full meal.
There's also the option to tip, so it's likely you'll spend over the meal price.
The meals are served buffet style. For lunch and dinner, there is typically a salad bar or some sort of other prepared salad, a meat or seafood option (or 2), a side or two, soup, and dessert. Lemonade and fruit punch are offered at each meal as well. The meals are different each day.
Breakfast is American style with all the main options (bacon, sausage, eggs, cereal, coffee, juice, bread, etc).
Coffee is available all day at the lodge for $2. They ask that you pay $2 each time you leave the lodge and return, even on the same day.
They take cards for the mail meals and drinks. Coffee requires cash so be sure to have some on hand.
Alcohol
There is a bar that opens at 4pm each day. It stays open until any time between 11pm-1am (depending on when the bartender is ready to call it quits). The first night we were there things got rowdy and people were still partying at 11:30pm when we left.
The entire lodge is open for drinking, but just like food, it all needs to stay inside the buildings or electric fence.
Katmai Trading Post (Store)
There's a small cabin with a store next to the main lodge. There's propane, jetboil fuel, souvenirs, hats, sweatshirts, some candy and drinks, and a few essential items like bug spray and mosquito nets in case you forgot something.
This is also where you can get a fishing license and rental items including fishing gear, canoes, and kayaks.
Do You Need to Bring Food to Katmai?
No, you don't need to bring any food to Katmai if you don't want to.
However, paying for breakfast, lunch, and dinner at the lodge will get expensive really quickly (about $100 a day).
We decided to bring our own breakfast snacks (nothing that required heating), then pay for lunch and dinner. Because we'd heard how expensive the food and drink are, we weren't really surprised by the prices.
If you're wanting to budget, you can absolutely bring your own food (whether you're at the lodge cabins or staying at the campground). Many people packed their own meals and had a jetboil for coffee, oatmeal, etc.
The lodge has a designated eating and cooking area inside an electric fence. And within the campground, there's a designated eating area.
Both the lodge and campground have a food cache where you're required to store your food.
What is a Day Like at Katmai?
A typical day staying at Katmai is really up to you.
There's no internet service, so you really feel like you're out there in the wilderness. We had slow mornings sleeping in, eating breakfast, then spending our days looking for bears.
Often this meant we'd hang around the lodge, walk the boardwalk, sit at the beach, walk to the falls, and do it all over again. When it comes to bears, it's really a waiting game.
There are plenty of hikes in the area, so you could spend your morning hiking, grab lunch at the lodge, then hang out at the boardwalk or falls and wait for bears.
We had a lot of luck seeing bears on the boardwalk just outside the main lodge. The beach was another popular spot for bear sightings.
If you like to stay busy, in addition to the above-mentioned, there are also other things to do like:
Guided Fishing (including fly fishing)
Tour one of the largest volcanic eruptions in the world (Valley of Ten Thousand Smokes)
Rent a canoe or kayak
Participate in a ranger program
My favorite program title was "If not friend, why friend shaped".
What Should You Bring to Katmai (and what should you leave at home)?
I wrote an entire article dedicated to this topic and you can click here to check out my in-depth article outlining everything needed and not needed for your trip. I included options for camping, lodging, day trips, and what you can purchase directly at Brooks Camp.
Is Katmai Worth Visiting?
This is a resounding yes!
Experiencing Katmai is like nothing else in the world. There aren't many places where you can see as many bears up close as you can at Katmai.
And if you book at the right time (and get lucky with the salmon run), then you can see the bears at Brooks Falls.
After my three-day trip, I am already planning to go back next year with my husband.
More Alaska Articles