Lake Como is worth the hype. George Clooney, I get it. I would happily live in one of those villas for the rest of my life. I don't know why I go to cities when amazing places like this exist.
Combined with the beautiful Italian architecture and with the Mediterranean feel it just doesn't get any better.
We drove south from Stuttgart, Germany, through Switzerland, and into Italy. It's always impressive how much the scenery changes. Going from farmlands and an Alpine climate to humidity and warmer air with palm trees and a completely different landscape. It's surreal.
If you have the chance to drive to Lake Como and take in some of the scenery, I highly recommend it.
TIP: If you ever are traveling through Switzerland just know that there is a 40 CHF decal you must buy for your car. Also, unlike Germany, speeding tickets are not cheap so be sure to watch those speed limits.
Why Stay in Menaggio?
When I travel, I do a lot of research on the places I plan on visiting. If I am spending my precious leave and money then I want to make sure I am happy with my choices. So when looking at Lake Como, I found it pretty daunting just how many towns and options there were for our upcoming stay.
There were two necessary criteria that really helped me choose Menaggio over other towns.
Menaggio is Centrally Located
When I get somewhere I like to park my car and be free to roam on foot, and in Lake Como, I wanted to easily be able to catch a ferry to other areas. If you want to check out the most beautiful towns and do some exploring, you'll want to stay in Menaggio, Bellagio, or Varenna.
I have since stayed in the town of Como which is at the southern end of the lake. It's also a good choice (but relatively far from the main three by ferry). Como could be a great option for people flying into Milan or wanting a larger town with more options and nightlife.
Costs are Reasonable
Bellagio and Varenna are also great choices and are larger than Menaggio. I found Menaggio to have better prices and a more local feel. The views from this side of the lake are also spectacular. Since we were traveling in the off-season, we were able to snag a lakefront property at this hotel with a massive balcony for about $130 per night, which is a steal.
Overall Thoughts on Menaggio
Overall, if you're looking for a small and quiet town that is centrally located, Menaggio is a great pick. It has a square and there are many restaurant options to choose from. Since it's centrally located on the lake, it is relatively easy to catch a ferry to neighboring Bellagio, Menaggio, or the other towns in the area.
Weather in April
We went in late April and were met with sunny skies and warmer weather. It still was chilly on the ferries and at night, but overall the weather was such a pleasant change from gloomy Germany. If you are wanting sundresses and warmer weather, you will want to wait a few weeks.
Getting Around The Lake
Ferry System
Menaggio, Bellagio, and Varenna form a triangle at the center of the lake and have the most ferries running during the day. Although Lake Como is a wildly popular tourist destination, the ferry schedule is limited. The ferry system starts around 7:30am and stops before 8pm so you need to do some planning if you want to see more of the lake. Fees range from just a few Euro to hop from one town to the next (which is the case between the three main towns) or up to 29 Euro for a day pass. It's possible to purchase a six-day pass which provides
During high tourist season ferry tickets are booked in advance and it's possible to be left stranded at the end of the day or stuck on a 3 hour slow boat on the way back. For this reason I recommend booking ahead and getting an out and return ticket so you are guaranteed a spot.
If you purchase a day pass or multi-day pass, be sure to have a plan b in case you can't catch a ferry. For many ferries, you'll want to be waiting at the platform at least an hour ahead of schedule to get your spot in line (well, the Italian version of a line anyway).
Private Boat Tour
A private boat tour is a great way to enjoy all there is at Lake Como. These can be private organized tours, personal tours, or you can even rent a boat for a reasonable price. We rented a boat for 3 hours for around 150 Euro one time and brought paninis with us. We stopped at a quiet spot and caught a swim while enjoying our lunch. It was definitely a highlight of that trip. Oh and there's no license required to drive a boat here!
There are also many private tours available including a kayaking trip or a sailing cruise.
If you happen to be staying at the Grand Hotel Tremezzo, which sits on a villa, then you get access to their private boat rentals.
Bus
There is a large bus network to get around the lake. It may be useful if you want to head to lake Lugano for the day or get a different view of the lake. Here's a link to the lines and timetables (use Google translate to view in English).
Our Stay in Menaggio
Below is one of the many wonderful views from our hotel balcony. We stayed at Hotel Bellavista and had a large balcony overlooking the expansive lake views and mountains. If you're in Lake Como, spend the extra money for the lake view because it is absolutely worth it.
Below: View of Menaggio from the ferry.
Things to do From Menaggio
Take the Ferry to Varenna and Explore a Villa
I see why Rick Steve's recommended Varenna as the place to stay at Lake Como. The town is pedestrian-only with hilly narrow cobblestone streets lined with shops and restaurants. The feel of the town is serene and peaceful. I am telling you I could stay here forever. Give me mountains and a lake and I'm in heaven.
Below is hiking up to the castle above Varenna.
You can see the town of Varenna with the church steeple to the right and Menaggio across the lake.
Alleyways, colorful buildings, and beautiful flowers for days…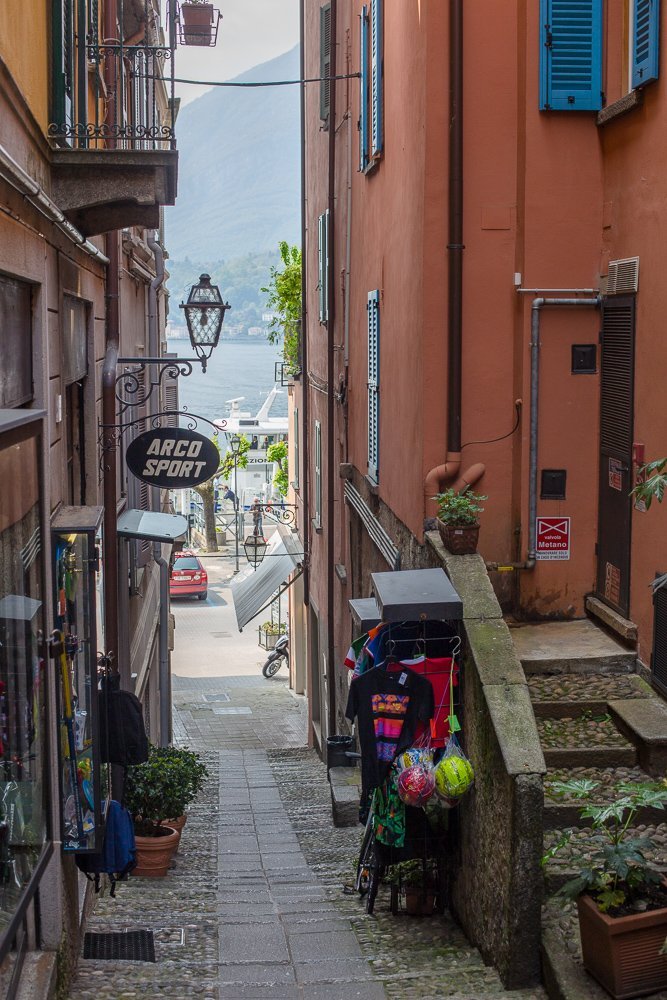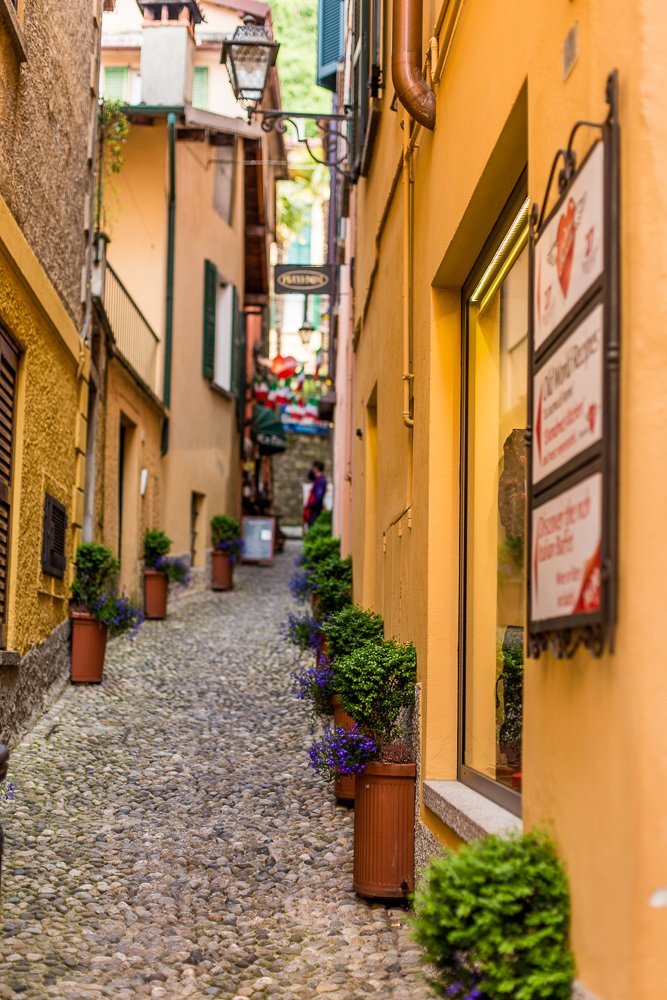 Check out Bellagio
Bellagio, or the Pearl of Lake Como, is also fantastic. In Bellagio there are a lot of cute shops and local artwork. Villa Melzi d'Eril is one of the most popular attractions near Bellagio. This town is hilly with mostly pedestrian streets in the main town and can be walked in a few hours.
Truly, whether you decide to stay in Bellagio, Varenna, or Menaggio you can't go wrong. I'm writing this because I scrutinized each town and scoured the web trying to figure out which is 'best'. I can't tell you how many Fodors and trip advisor reviews I read trying to find the best town. There is no best, they're all fantastic. Don't be like me and worry about it, and plus the ferries are quick and you can visit all the towns in one day if you like.
Back to Menaggio
The evening view from our balcony. Just…wow.
And the day view!
Ciao for now Italy. I will be thinking fondly of you often and dreaming of the next time I will be back.