Everything You Need to Know About Lowell Point, Alaska (and why it's better than Seward)
Hey there!
This post may contain affiliate links, meaning I may be compensated if you click on one of my links, at no cost to you. As an Amazon Associate, I earn from qualifying purchases. Read my disclosure policy for more information.
I'll be honest, I've been holding myself back from writing about Lowell Point. I mention it in a few articles about Seward, but a part of me has been wanting to keep this little slice of paradise all to myself.
But no more!
I had a friend reach out the other week asking where to stay in Seward. I immediately provided way too much information about this little area I love called Lowell Point. I realized that this area needs to be shared with more people. It's such a special little spot.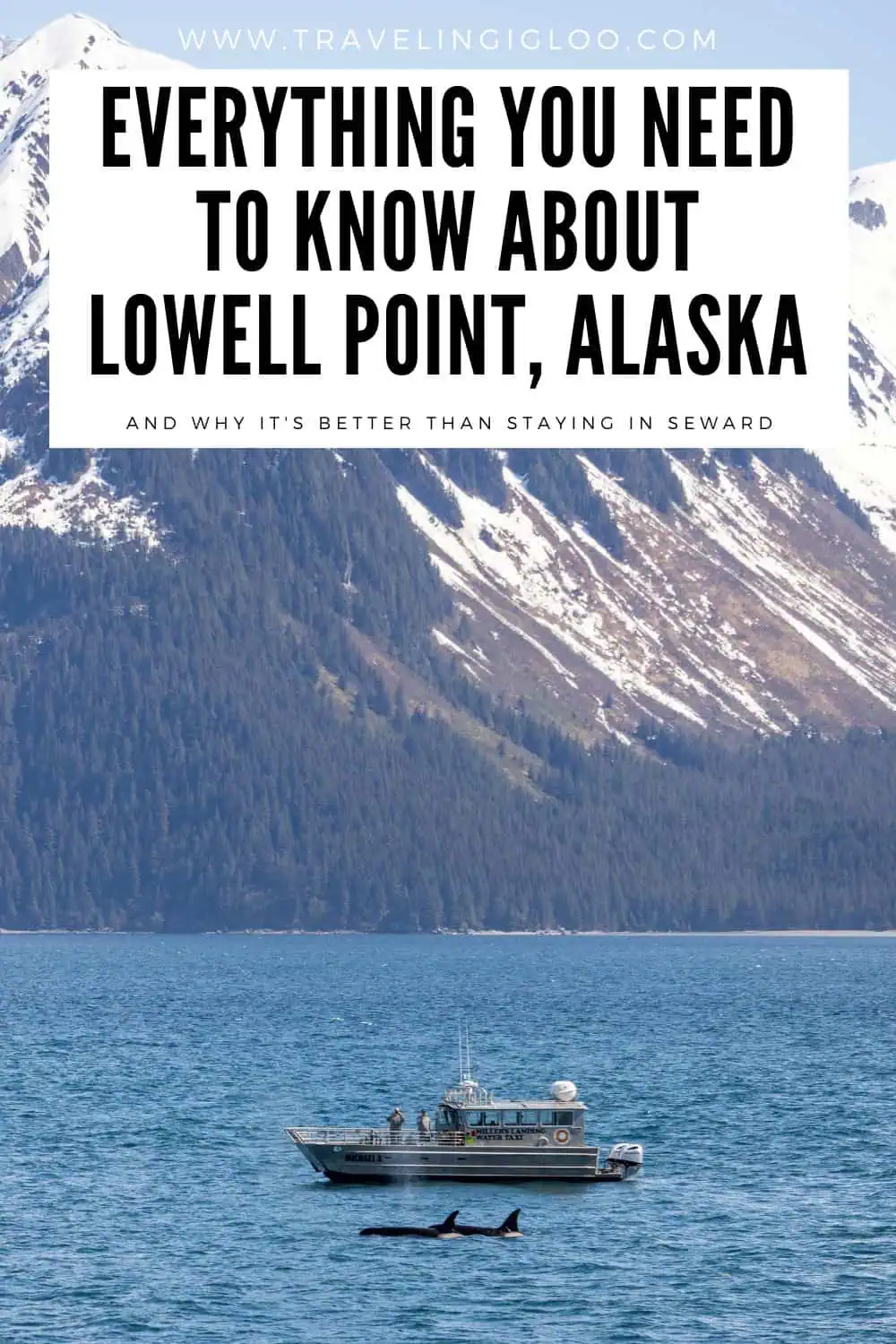 This is my favorite place in all of Alaska. Not 'one of' my favorites. No. This is hands down my favorite place.
If there ever was a piece of land available there (which there isn't, it's all word of mouth and I am not in the loop) then I would sell everything I have to buy it. It's that special.
Where is Lowell Point?
So where is Lowell Point? It's just 2 1/2 miles past the town of Seward at the end of the road. There's nothing past this point but mountains, glaciers, and water.
Lowell Point is not part of Seward. It is a separate census-designated area, and it can be easy to miss when you visit Seward.
To get there, you drive through Seward, and once you reach the last 'T' in the road, take a right. This will lead you past the UAF Seward Marine Center and to a bridge with a large man-made waterfall.
The bridge can be a bit dicey, so drive with caution and watch for potholes. Once past that, drive slowly along the dirt road as it winds its way between Resurrection Bay and the steeply sloping mountainside.
Landslides are always a concern (there was a massive one in 2022), so watch out for loose debris and falling rock.
What's So Special About Lowell Point?
Even though it's only 2 1/2 miles from Seward, it feels completely different. The trees are taller. You are in a temperate rainforest that extends down to Southeast Alaska.
Lowell Point provides a panoramic view of the fjord and mountains surrounding it.
It's quieter here and is a small area, so most people walk around or bike.
If you love to kayak, there are plenty of options (more on that below). This is also a launching point for many fishing charters and boat tours.
Seward has a nice walking path along the water, but there isn't a large beach area to walk around. To reach the water in Seward you have to walk on large rocks and boulders. It's not ideal (or fun).
At Lowell Point, you can walk for over a mile along the beach (er, cold Alaska beach), build a fire, and easily spot wildlife.
There also aren't many bugs, which I believe is due to the salty ocean water. Alaska can get VERY buggy in the summer. But here, you don't have to swat at mosquitoes every second and can much more easily enjoy the views. There are definitely still bugs, but it feels less buggy here.
When Should You Visit?
Just like most places around the state, the best time to visit is in the warmer summer months. Summer in Alaska is June – August, with spring and fall in May and September. It's a short season.
The roads aren't covered in snow and everything is green and beautiful. The wildlife is out in full swing and everything comes to life!
But, there are many people who want to see Alaska in the off-season. As long as you don't mind braving the icy roads in the winter, you can enjoy many perks in the winter.
Shoulder season is appealing for many people; there are less tourists, prices are lower, and the weather is genearlly more mild than winter (although the random snowstorm is not uncommon in September and April).
In Seward and Lowell Point, people live here year-round. The highway from Anchorage to Seward is maintained year-round.
Many of the cabins and apartments are open for guests all through the winter months. In the winter you get to enjoy snowy scenic views of Resurrection Bay and a quieter pace of life (although it's always quieter here). Off-season rates are also much lower than high tourist season (typically May 1 – the first weekend of September).
I prefer to visit in the warmer months to avoid snowy, icy roads. It can get pretty dangerous if you're caught in a storm. But this is all dependent on your comfort level and there are many who travel these roads all winter long.
Is it Really Better than Seward?
Okay okay, so Seward is pretty awesome by itself. I've written many articles about this cute little fishing town. But, if you want a more secluded area while still being on the water, this is the place to be!
Where to Stay
Over the past five years of visiting, I've stayed in yurts, dry cabins, apartments, and motorhomes. From a personal experience standpoint, I have quite a bit of knowledge about the local accommodations in this area.
Here are my favorite places to stay.
Oceanfront Inn
This is my favorite place to stay at Lowell Point. It's near the end of the road and faces the bay heading out toward the open ocean. There's an upstairs and downstairs unit and it's pet-friendly. As you can see in the image below both units have large covered patios with plenty of seating.
Inside both units have been completely updated with large walk-in showers. They also included blackout shades for those long days in the midnight sun.
The property is just above the beach and has a large gravel area for fires. I've also found that it's a great space for kids too! There are steps leading down to the ocean and at high tide, the stairs go right into the water. When it's out you can easily walk along the beach and explore.
Two-story Cabin with a Large Deck and Views!
We stayed here in the fall and I was really impressed with this home. It was immaculately clean and had a large covered deck (it can get very rainy here, so you want it covered!) and big bedrooms. There's an upstairs loft for additional sleeping too. And downstairs there was a wraparound porch.
I would love to stay here again with friends. It's not directly on the beach but it's just across the street and you can see the ocean from the deck.
I think I preferred that it was tucked away – we were protected from the winds and surrounded by nature, while still having a nice view. There's also a private little beach area to build a fire. You can find it here on VRBO.
Salted Roots Cabins
These cabins are some of the newest and most impressive in the area. I mean, just look at them!
They are typically booked out well in advance and are also used for weddings and yoga retreats.
In addition to the two cabins below, there are two other buildings listed as 'cottages', though they're really much bigger than that. This property is set a bit back away from the beach but is only a short walk across the street to the water.
You can use these links to book either their red door (aff link) or blue door (aff link) A-Frame cabin.
A Dry Cabin or Yurt
There are many dry cabins available at Lowell Point. They are all run by Miller's Landing, and you can view them all on their website here. I've stayed at the Rocket House, Orca Cabin, Humpback Cabin, and both of the yurts.
The dry cabins and the smaller yurt either have outhouses or access to their public bathroom facilities if it's close by.
The larger yurt has a full bathroom with an incineration toilet. It quite literally burns anything you flush down. But because of this, the yurt has a funny smell if you leave the bathroom door open. There is an outhouse next to it too if you'd rather use that.
The Rocket House is a bit out of the way from the rest of the cabins. If you prefer more solitude this is a great choice. Just don't be like us and leave the windows open and let a stray bird fly in.
One thing that I didn't like about both yurts is they have large clear plexiglass in the center of the ceiling. It doesn't get dark in Alaska in the summer months, so the sun amplified the light in the yurts. It appeared light as day inside at 11:00pm. Because of this, I recommend bringing an eye mask (which I recommend anyway).
Tent Camping and RV
There are also many campsites available for different sized RV's and tents. Some are nestled in the woods but still close to the beach. Others are beachfront. I'd recommend calling or emailing Miller's Landing directly to book as it can be hard to see what's available online.
Things To Do
Tide Pooling
Lowell Point is in a high intertidal zone, meaning that the tide changes by sixteen vertical feet, making it one of the largest tidal differences in the world.
The tides change quickly, happening about twice a day (it takes just over 24 hours for two tides here).
So when it's out, you can go 'tide pooling' and see all sorts of small sea creatures lurking about. The large beach area also makes for a nice long walk, and it's easy to spot harbor seals and sea lions from shore.
Whale Watching | Wildlife Viewing
When the tide is in, whales can come close to shore. I've spotted a massive humpback whale coming up for a snack seemingly right in front of me. He was only about 100 yards from shore.
On another occasion, we witnessed a pod of orcas hunting two sea lions, all from our deck on the beach. They were so close to us that we could easily make out their unmistakable white markings.
Sea otters and sea lions love to hunt and play here.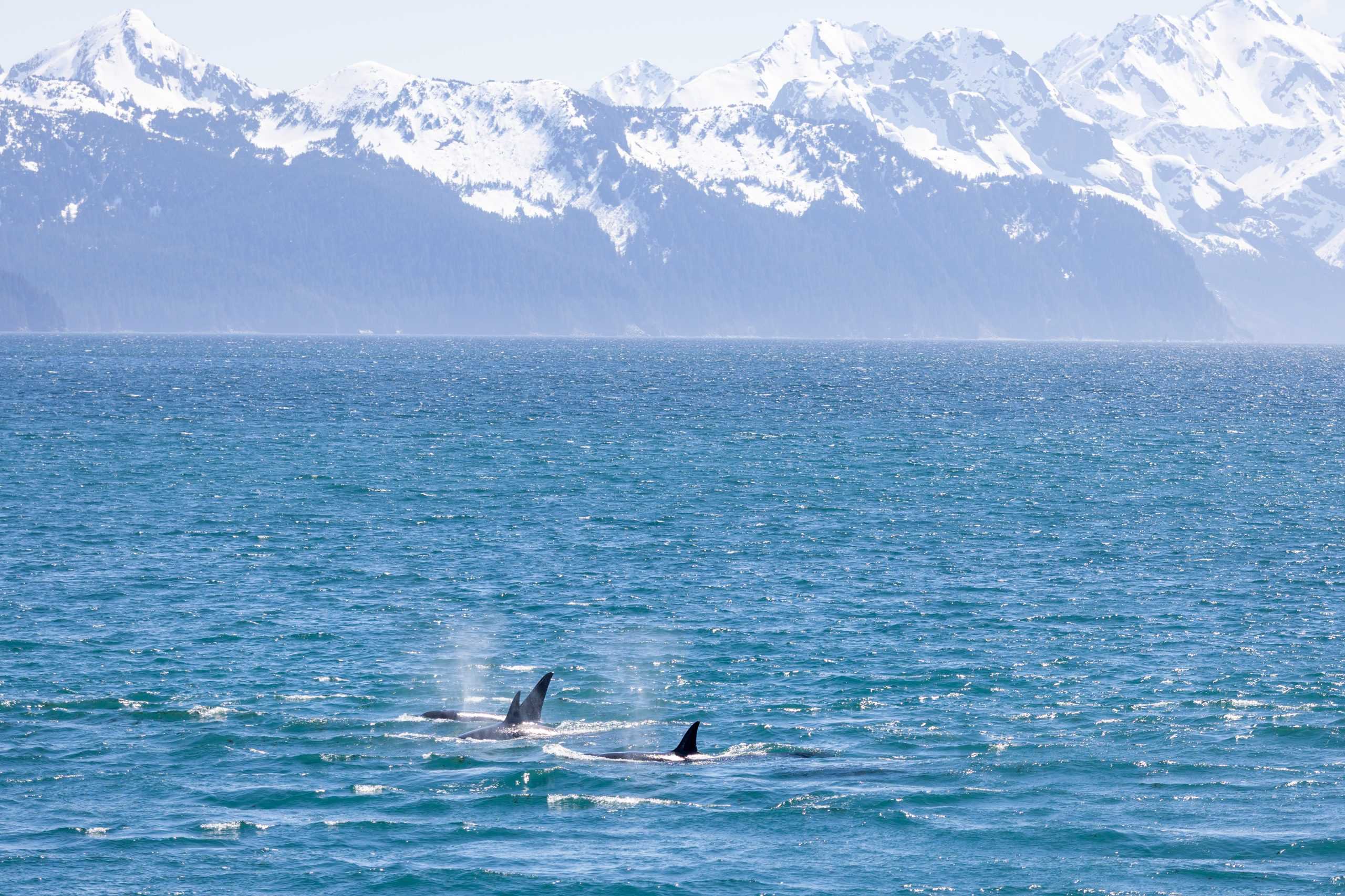 Kayaking
From Lowell Point, there are many kayak outfitters. Sunny Cove Kayaking has many tour options that start at Lowell Point (they also do hiking tours).
Miller's Landing, which owns a large area at Lowell Point, has many kayak day trips and multi-day trips available as well. They even have an 8-hour trip that combines kayaking and hiking to an old WWII Army Fort in the forest.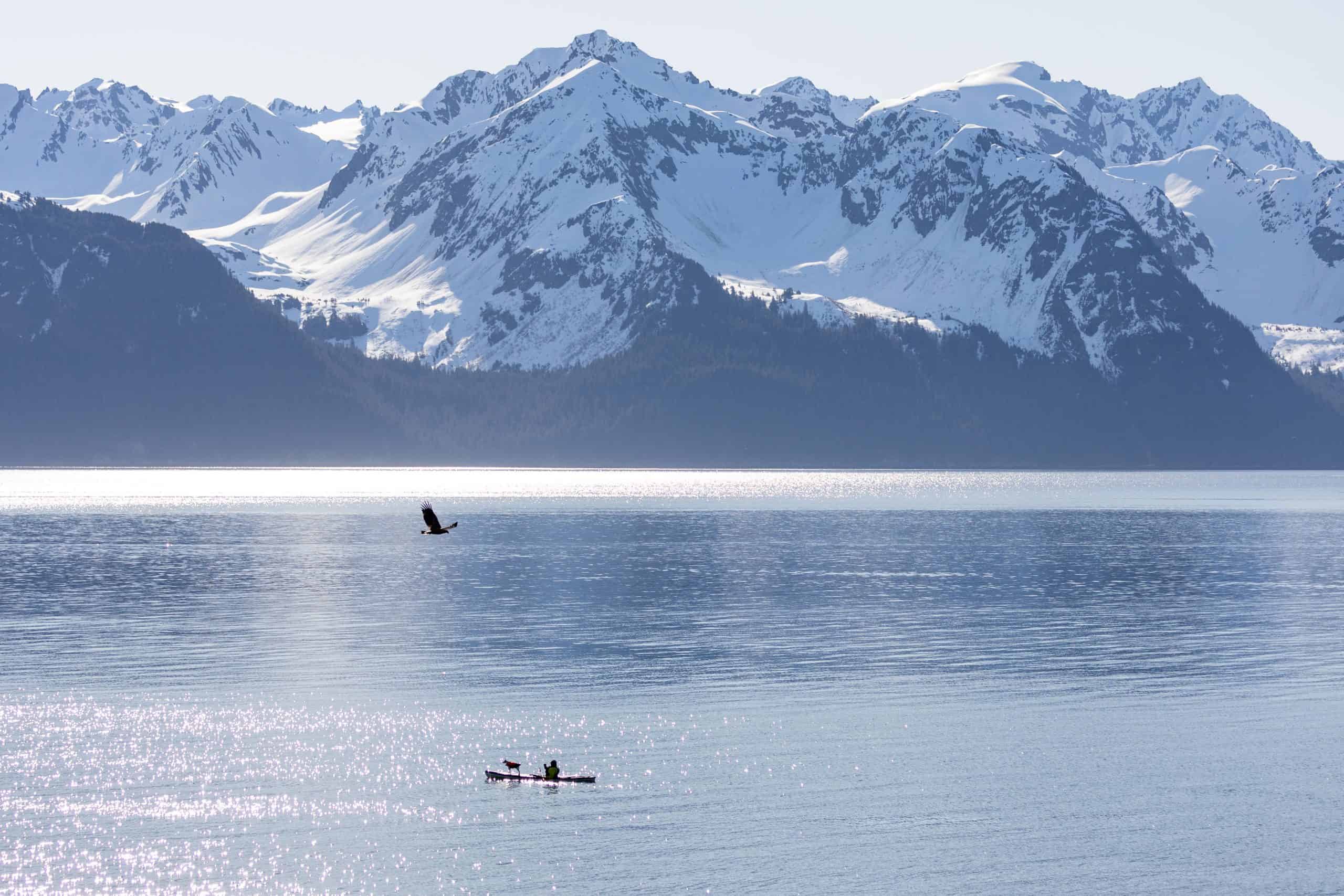 Hike Tonsina Point and Caines Head
There aren't too many hiking options from Lowell Point. There is, however, a very popular hike here (it's one of the most popular in Seward). It starts at Tonsina Trail and takes you through an uphill and heavily wooded area (no views) for a few miles. Then you start to descend down boardwalks and switchbacks through the forest until you eventually cross a bridge and reach a large beach area.
From here you can choose to head toward the beach area or continue on the path. The path will eventually spit you out on the beach where you can continue on to Caines Head and the old WWII bunkers of Ft McGilvray.
This is a unique hike as you can only walk the beach at low tides. It's typically recommended to make this an overnight trip or plan to have a water taxi pick you up. If you wait too long and the tide comes back in, you will be stuck until the next low tide.
Enjoy a Beachside Campfire
If cozying up to a beachside fire with beautiful views of a fjord, all while watching sea lions and sea otters and whales, sounds like you're idea of a good time…then you're in luck!
There are plenty of open campfire locations along the water, and many accommodations have a fire pit. If you forget your firewood you can purchase some at Miller's Landing.
After a day on the water or a day hiking, this is my absolute favorite thing to do.
Go on a Fishing Charter
There are many fishing charter options available at Lowell Point. Miller's Landing runs quite a few charters, but there are many other companies as well. Halibut and rockfish are popular in the area.
Explore Seward
Since Lowell Point is just two miles past the town of Seward, you can easily drive or bike into town and explore this little fishing and cruise port town.
There's plenty to do in this little town. You can shop local artists and brands, grab a nice meal with a view, head out on one of the larger whale watching tours, visit the playground, and more. Here's 15 of the best things you can do in Seward.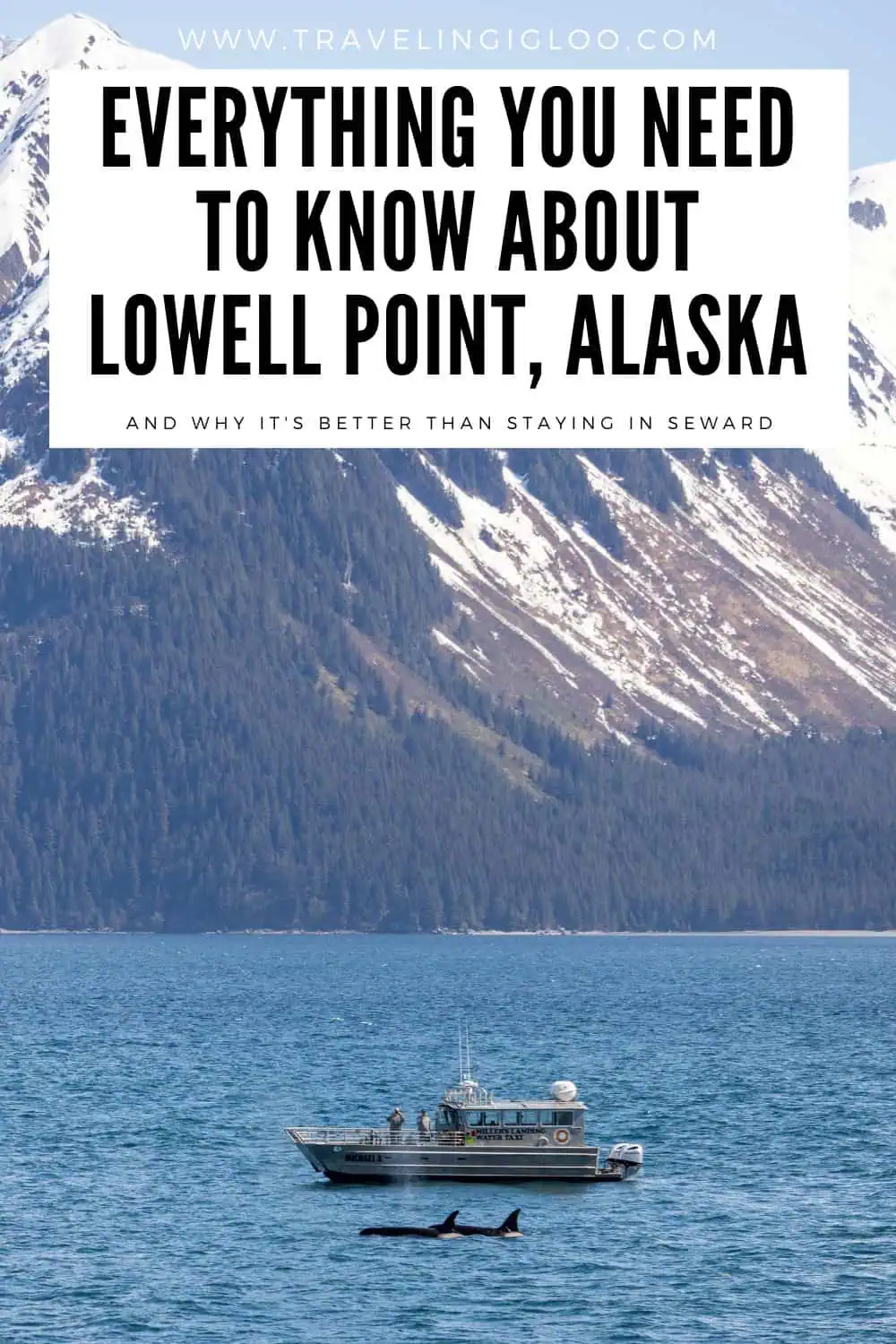 More Alaska Articles