My new favorite European retreat – Lake Como and the Italian lakes region
Hey there!
This post may contain affiliate links, meaning I may be compensated if you click on one of my links, at no cost to you. As an Amazon Associate, I earn from qualifying purchases. Read my disclosure policy for more information.
We visited Lake Como last year for the first time in the spring and loved it so much we went back again in the fall. Then we did a third trip in Fall 2019. I love this place. It has my heart. Every cliche about Lake Como and it's beauty and romance are true. I kind of want to move here forever. I love it.
If you're not familiar with the area, Northern Italy is worth every superlative I can think of – stunning, beautiful, amazing, gorgeous.
When I first visited Lake Garda I knew I would be back to that area again. Pictures truly do not do this place justice, and I am in awe every time we go.
This article will cover everything you need to know for your trip to Lake Como. I've visited a few times and have stayed in three towns on the lake, all in different areas.
The Lakes Region
This area in northern Italy is known as the lakes region. There are many lakes but the largest and most famous are Lake Garda, Lake Como, Lake Maggiore, and Lake Iseo. They are all situated in the Lombardy region and will quickly whisk all your troubles away.
They are also huge; at Lake Garda and Como it's impossible to see across the entire lake. If you didn't know any better you could very well think they are part of an ocean.
Since this post I've visited both Garda and Lake Como a few times. We already have plans to go again this year and have had serious chats about buying a vacation/rental home there.
Did you know? Lake Como is about 29 miles long and is as wide as 2.5 miles across in some areas.
Which Town Should You Stay In?
Around Lake Como, there are many small villages, each one unique with its own charm. The most popular are Varenna and Bellagio, followed by Menaggio. The largest is Como at the Southern end of the lake.
I've stayed in Menaggio and Como, and would love to stay in Varenna (it's so stunning there). We also stayed in Bellano, a small town further north when I was pregnant. If this is your first time visiting the lake, I'd recommend staying at one of the main four towns – Bellagio, Menaggio, Varenna, or Como – for the following reasons:
They get the most ferry traffic and have the most to offer in terms of restaurants, shops, and activities. They are also all located in close proximity to one another and form a triangle in the center of the lake, making it convenient to visit all three while there. If you're driving, there is a car ferry and it's fairly cheap – just keep in mind that even though this is a touristy area the ferries don't run too often and stops in the early evening.
When you read elsewhere on the internet that you can't go wrong staying at any of these towns, that is correct. Especially if this is your first time to Como. If I had a preference, though, it would be in this order: Varenna, Como, Bellagio, then Menaggio. This is also evident by the many other people who stay on the lake and is also reflected in hotel prices.
Getting Around The Lake
Ferry System
Menaggio, Bellagio, and Varenna form a triangle at the center of the lake and have the most ferries running during the day.
Although Lake Como is a wildly popular tourist destination, the ferry schedule is limited. The ferry system starts around 7:30am and stops before 8pm so you need to do some planning if you want to see more of the lake. If you miss the boat, there are public buses that run regularly, but it will take quite a bit longer to get to your destination.
Fees range from just a few Euro to hop from one town to the next (which is the case between the three main towns) or up to 29 Euro for a day pass. It's possible to purchase a six-day pass as well. There are fast boats and slow boats. They have free time tables available which indicate the fast and slow boats. I recommend getting acquainted with it, especially if you will be hanging around for a few days.
During high tourist season ferry tickets are booked in advance and it's possible to be left stranded at the end of the day or stuck on a 3 hour slow boat on the way back. For this reason I recommend booking ahead and getting an out and return ticket so you are guaranteed a spot.
If you purchase a day pass or multi-day pass, be sure to have a plan B in case you can't catch a ferry. For many ferries, you'll want to be waiting at the platform at least an hour ahead of schedule to get your spot in line (well, the Italian version of a line anyway).
Private Boat Tour
A private boat tour is a great way to enjoy all there is at Lake Como. These can be private organized tours, personal tours, or you can even rent a boat for a reasonable price. We rented a boat for 3 hours for around 150 Euro one time and brought paninis with us. We stopped at a quiet spot and caught a swim while enjoying our lunch. It was definitely a highlight of that trip. Oh and there's no license required to drive a boat here!
There are also many private tours available including a kayaking trip or a sailing cruise.
If you happen to be staying at the Grand Hotel Tremezzo, which sits on a villa, then you get access to their private boat rentals.
Bus
There is a large bus network to get around the lake. It may be useful if you want to head to lake Lugano for the day or get a different view of the lake. Here's a link to the lines and timetables (use Google translate to view in English).
When Should You Visit?
When we went in April there were few tourists and it wasn't crowded at all. The weather was also quite nice with temps in the high 60's/low 70's (F). It wasn't warm enough to swim but that didn't bother me.
We went again for Labor Day in September and it was warm out, probably in the low to mid 80's (F) with decent humidity. We stayed in Bellano in the fall, a village along the same side as Varenna, and went swimming at the local beach everyday. If you want a town with a beach be sure to research this as not every town has one.
---
Lake Como Towns
Varenna
I love Varenna. This village is chock full of winding narrow stairways and many shops and restaurants. Visitors can lounge at one of the many patio areas and enjoy a nice glass of vino along with their pasta or pizza dish. If ever you needed a place to fall in love again, Lake Como would be my top pick.
---
Bellagio
Also known as the "Pearl of the Lake", Bellagio is the largest of these three towns. It is a hilly town full of pedestrian cobblestone walkways lined with artists and shops galore. And of course, don't forget about the wine!
There are plenty of things to do when you are staying in Bellagio. You can easily spend your days walking the windy cobblestone streets or hopping on a ferry to the neighboring Varenna or Menaggio. You can also visit Villa Melzi which is situated on a hill above the lake. This is one of the most beautiful villas that overlooks Lake Como and has been home to many distinguished guests. If you want to enjoy some spectacular views, visiting Bellagio is a must!
This is where you will find Villa Carlotta which was originally built as a hunting lodge and later turned into a royal palace by King Gustav III of Sweden. It is one of the most important landmarks in Lake Como and was also featured in the movie, "The Pink Panther". Discover more at: http://www.comoturismo.it/en/towns-and-villages/bellagio
---
Menaggio
The first time we visited we stayed in Menaggio (I wrote an entire post about it here) . Since we went in April it was still off-season so we were able to land a great hotel at a really good price.
The prices were good and we were able to get a fantastic lakefront hotel room at Hotel Bellavista with a balcony as large as our room. We paid about 130 Euro per night for the upgraded balcony room. If you don't want to pay extra for the balcony, I think the prices were about 30 Euro less per night.
Not bad for lakefront on Lake Como.
Even though it was April the weather was quite nice. It wasn't warm enough to swim but nice nonetheless. The center of Menaggio isn't hilly like the other two towns and doesn't have quite the same amount of charm. It is still a cute little town with some restaurants and shops.
One night we went to a bar near our hotel and they were doing country line dancing in the dance area. COUNTRY LINE DANCING IN LAKE COMO. And, these people were really good! I think this was one of my favorite parts of the weekend and can be chalked up to another one of those random things that happen when you travel.
Como
If you want an area that's more lively while staying on the lake, Como would be my top recommendation. We found the nightlife to be a lot of fun, the restaurant's plenty, and many shops with all types of items.
Como is also a great place for children as there is plenty to do.
It's also the closest town on the lake to Milan (about an hour by train or car).
I really enjoyed Como. While smaller towns are nice, I generally enjoy being around more lively places with nightlife and more things to do. So, it suited me well.
It really is much larger; there are a few piazzas, streets lined with shops, many great restaurant options, and the main pedestrian area is really pretty. Once you venture further away from the lake it's more industrial, but it would take a lot of walking to get away from the main area.
Things to Do Around Lake Como
This lake is packed with all sorts of fun things to do and you can typically find something to suit anyone's style. Here are some of my top recommendations.
Visit Brunate or One of the Mountain Towns
From downtown Como, there is a steep funicular that ascends to the top of the mountain in just a few minutes. At the top are these beautiful villages and some fantastic restaurants. We ate at the Bellavista Brunate – just look at that sunset view! The food was fantastic and I wish we would have stayed up here for a night.
If you want to get some exercise, there are also hiking trails to get here as well.
Hike the Area
Lake Como is the perfect place to go on a hike. Whether you're a well-seasoned hiker, or just looking to get some fresh air, there really is something for every fitness level.
If you want to skip the research, there are many guided tours. This hiking tour is highly rated and you'll get some great shots from high above.
Villa Monastero
We visited a villa in Varenna called Villa Monastero. This was the first and only villa I've visited so I have no idea how it compares, although from a boat trip we did I think there are other, more glamorous villas at other areas around the lake.
However, I think this one still is worth a visit. It has a large botanical gardens area and a house museum as well. If you want to enjoy it all I'd say give yourself at least 90 minutes (not including walking to or from the villa from Varenna). The villa is in Varenna and located at the top of the hill or town past the main square. If you visit Varenna I would add this to the list of must-see places. It was inexpensive and conveniently located as well.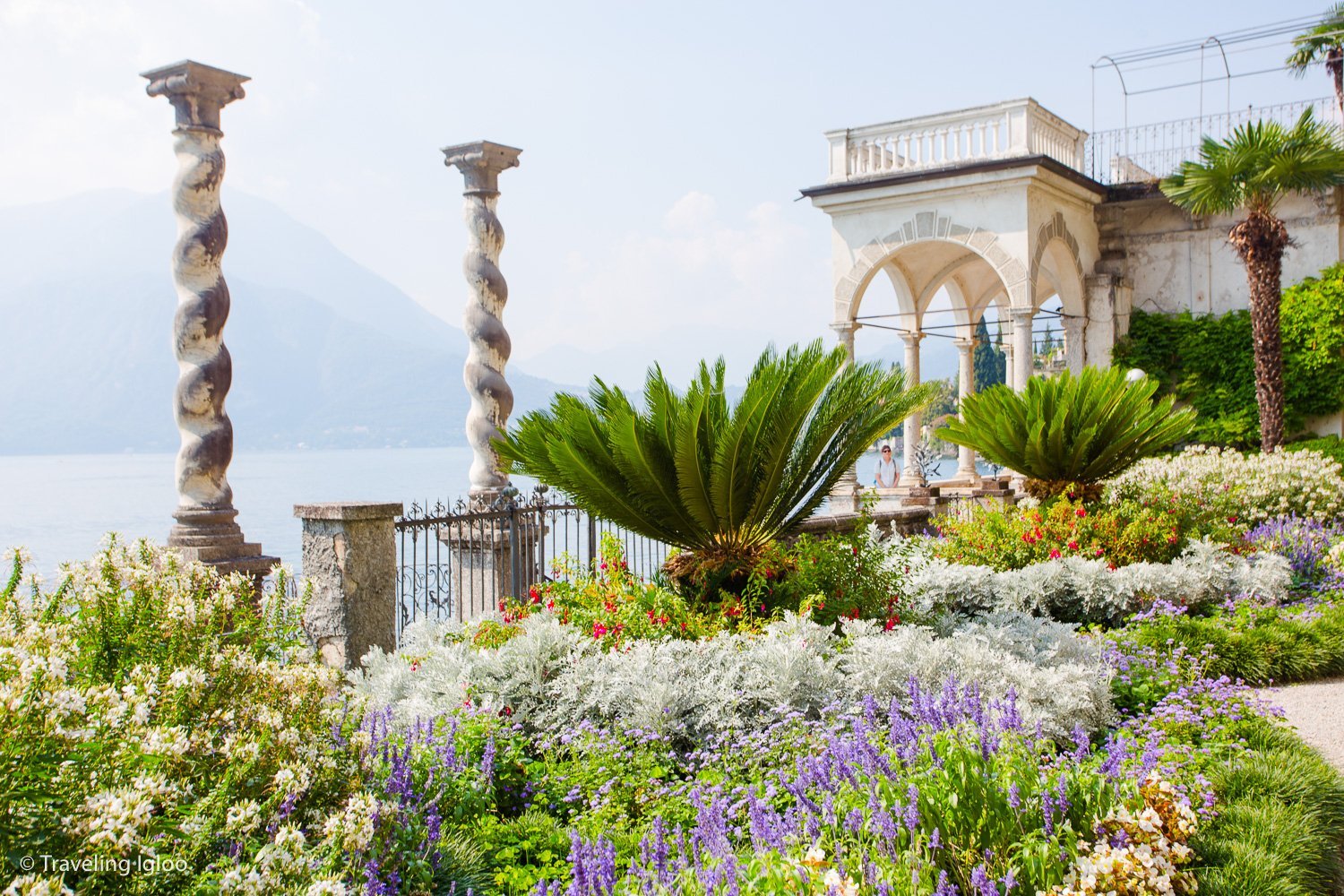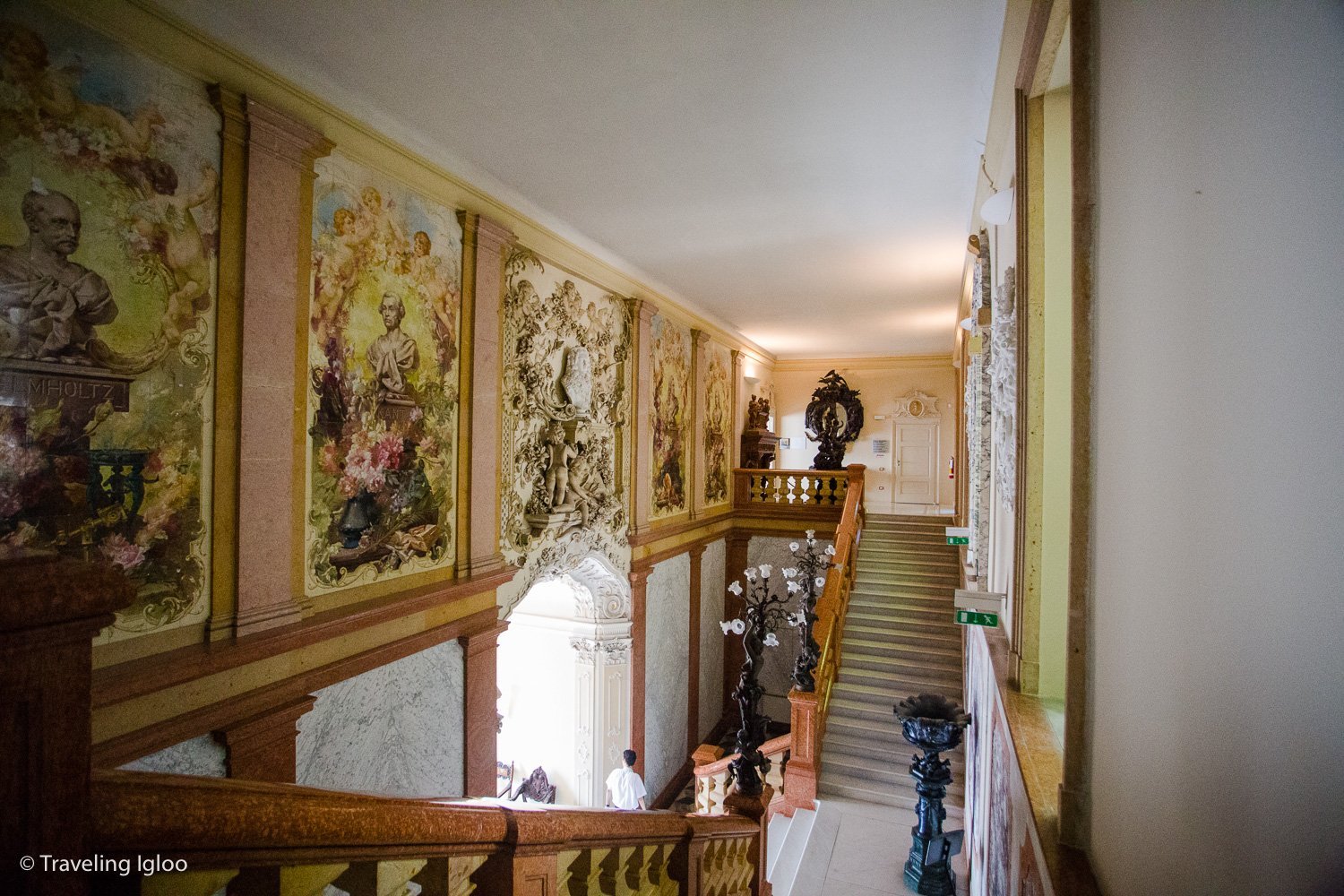 Rent a Boat
When I was pregnant we rented a boat out of Varenna for 3 hours and it was a highlight of our trip. We grabbed some panini's, showed them our ID's, and were given a short 2-minute instruction on using the boat. It was really that easy!
Visit a Gorge
Bellano is a small town on the ferry system, northeast of Menaggio across the lake. There's a small beach, a few restaurants, and a massive gorge tucked away in the center of town.
We stayed here when I was pregnant and were shocked that you could visit a beautiful gorge a few minutes from our apartment. Sadly I don't have any photos (pregnant and walking was a feat in itself), but we loved it so much we visited twice.
It's a very short walk just past the main square, just up a few steps. There is an entry fee, and once inside you enter a massive natural cave system with waterfalls and long boardwalks winding high above the floor.
Here is the link with more information about the gorge.