How to See the Northern Lights from Anchorage, Alaska
Hey there!
This post may contain affiliate links, meaning I may be compensated if you click on one of my links, at no cost to you. As an Amazon Associate, I earn from qualifying purchases. Read my disclosure policy for more information.
Aurora borealis, northern lights, the lights…no matter what you call them, they're a stunning sight to take in. In fact, the northern lights are considered one of the seven natural wonders of the world.
But what are they? The northern lights occur when energized particles from the sun hit Earth's atmosphere. These particles are then directed toward either the northern or southern poles.
The exact science of the northern lights still isn't well understood, making it that much more magical to see in person.
This article covers everything you need to know about seeing the northern lights and viewing spots around Anchorage. If you just want the locations, use the table of contents to jump to that section. If you have a little extra reading time, I added a ton of helpful information for a better experience.
How to Dress for the Northern Lights
Every time I've been aurora chasing, I am grateful for every layer I'm wearing. It's dark, very cold, and likely windy which makes it even colder with the wind chill.
If you plan to take pictures, your hands and fingers will be out in the elements. Even if you set up your camera correctly beforehand and plan to shoot remotely, you'll inevitably end up needing to mess with your camera in some way. So, you'll need a way to keep your fingers warm.
Hand Warmers
If you're in a pinch or don't want to shell out a lot of money (completely understandable if you live somewhere warm), the Hot Hands disposable warmers work fairly well. I'd recommend getting the variety pack which includes toe and body warmers.
If you want to spend a bit more, these nifty hand warmers fit in your pocket or mittens. They're rechargable and while they cost more than disposable warmers, they won't break the bank. Here's the Amazon link to check them out.
If you want something that will warm your hands AND charge your phone, This Sophilo Hand Warmer & Power Bank is seriously cool. It will not only keep your hands warm but will also charge your devices (and can keep them warm as well).
It charges super fast and won't burn your hands either. This is so important when your phone is out in the cold…those batteries don't work as well in the elements!
Layer recommendations
Warm socks. I really like my Smartwool socks. If you want a boost of warmth, you can get heated socks that are temperature controlled from your phone. What is this world?!
Warm winter boots. There are a lot of good brands but my favorites are Sorel, Solomon, Ice Bugs, and Oboz. I look for something that goes at least mid-calf and also has room for my big socks. I have wide feet so Oboz and Keen work better for me.
Mittens or Gloves. Overall, mittens will keep your fingers warmer than gloves. The only downside is that you have to take your entire mitten off to change your camera settings. A good alternative is convertible mittens. The top slips off if you need to change your camera or phone settings. If your fingers get cold really easily, make sure you also have hand warmers.
Long underwear or some sort of warm leggings. The most important element of your base layer is the fabric. It needs to wick (breathe and keep sweat off your skin) and not be too loose. A great fabric (and my favorite) is merino wool and Smartwool carries everything you need. Other options include synthetics and silk.
Snow pants. Buy snow pants or snowbibs (overalls) that have insulation and are also windproof. Not every type of snow pant is built to keep you warm. Some are meant to be more breathable and may not have extra layers. Often these are made for people who are being active outside or don't live in extreme weather. If you're just standing in subzero temperatures, you'll want something that is much warmer.
Longsleeve base layer. Stick with something breathable and lightweight. Don't just use a sweatshirt, you'll want something tight on your body. I like merino wool but also have some synthetic tops that work really well.
Mid Layer. In between my base layer and jacket, I add another layer. This is typically some sort of zip-up, but it's not necessary. I prefer one with a zipper so I can unzip it in case I get too warm. The midlayer adds more warmth and is necessary once the temps drop below 10F (although I typically always wear one regardless). Patagonia and North Face make some of my favorite midlayer options.
Warm winter jacket. Make certain your jacket is windproof and rated for very cold weather. I like mine to have an inner layer and come with a hood that I wear over my hat. I also like to be able to button or zip it up over my neck for extra warmth. While I have a few winter jackets, I almost always grab my long one from Lands End. If you opt for a longer jacket, make sure it works with your snow pants.
Neck warmer or face mask. This little product is soo important for staying warm in frigid temperatures. If you don't love the feel of a face mask, you could instead wear a neck warmer (gaiter) and a hat. Some people don't like facemasks because condensation can build when you breathe into them. But, if you're not working up a sweat or breathing heavily, they're perfect. I love Skida and have used them for years.
How to Increase Chances of Seeing the Aurora
Here are some tips to better your chances of seeing the aurora. Since nothing is 100% guaranteed when it comes to seeing the aurora, these tips might not always work or may not always be true. So consider this general advice and not hard and fast rules.
Set Aside a Few Days to See the Aurora
Since it's random whether you'll see them or not, even in perfect conditions, I recommend giving yourself at least 2 nights. More is better.
It could be cloudy or even clear skies but no aurora. The data could say you're certain to see the lights but then nothing happens. Then the next night it could look abysmal but then the sky explodes. You just never know.
Avoid Light Pollution
Light pollution refers to any light source around you. To see the northern lights, you want to get away from city lights and really any light sources. Even leaving your headlights on can make the difference between seeing them or not. Sometimes the northern lights are faint, so it must be really dark to see them.
But there are other times when you can witness them from downtown Anchorage. This is the exception though and not a normal occurrence.
Check the Moon Phase
Although a full moon is beautiful, it's not so great for seeing the northern lights. Believe it or not, the moon can make it too bright to watch the colorful hues dance across the sky. So if possible, visit Alaska when it's not a full moon.
Access to Sky
Alaska is full of mountains. While it may be tempting to head to somewhere pretty like the ski town of Girdwood, the reality is you will be surrounded by mountains and tall trees. Since the aurora is best viewed looking north (see next point), and the mountains are covering the northern sky, your chances of seeing the aurora here aren't as good. It's absolutely possible and there have been many great nights in Girdwood, BUT, if you want the best chance you need more open sky.
To meet this requirement, you'll either want to make your way to higher ground or find a lot of open space (the best locations are listed below).
Are you Looking North or South?
While it's possible to see the lights in any direction, most often they will be visible looking north.
Don't Always Rely on the Apps & Data
I recommend using the aurora apps as a very loose guide, not the end all be all for information. Most experts would advise you to ignore them altogether.
I've found the best way to find out if there are lights nearby is to join an aurora Facebook group. Trust me, these groups will let you know when they're out! I'm in the Aurora Borealis Notifications Group. There are 90,000 members from all over the world, with many in Alaska.
There are also webcams around Alaska you can check. Here's one in Wasilla and there are a bunch in Fairbanks. The Facebook group has a huge list of them all.
Best Time of Year To See the Northern Lights
The best time to see the lights are anytime the sky is dark and clear. For Alaska, this is between the winter months of October to April. It doesn't get dark in Alaska between mid-May to mid-August. And it's rare to see the northern lights in May or even September (but not impossible).
Could you be here on a magical night in late August and catch a fantastic display of lights? Yes, but it's really not likely. If your bucket list dream is to see the lights, see below for my recommendations on when to visit.
So what month is best? Here are some stats around Anchorage:
The cloudiest and darkest month of the year is December. So while it's dark out a lot, there's also a lot of cloud cover. December 21st marks the winter solstice and gets 5hr 24min of daylight.
The coldest month is January (average low of 13F and high of 24F).
March doesn't see as much precipitation and averages 10 degrees warmer (F) than January.
April is the driest month so more clear skies are possible.
If you're looking for the best month, I would personally opt for late February or March. By this time of year, the weather is much milder and your chances of seeing the aurora are still quite high. But if this time doesn't work for you, that's okay, anytime in the winter has the chance of lights!
As for the actual time, some people say they are best between 11pm-2am. In my 22 years living in Alaska, it does seem like the lights are often viewed the most from 1-4am, but there's no rule about it.
When we visited Chena Hot Springs in March, we went to bed at 4:30am and then found out later the really good show started around 5:30am. You just never know. There was a fantastic display of lights recently at 10:30pm (although that was a bit unusual).
My advice? If you're in Alaska and want to see the northern lights, plan to stay up as long as possible. This means you'll be sleeping in late and adjusting your schedule. I recommend limiting daytime activities and focusing your time at night on light chasing.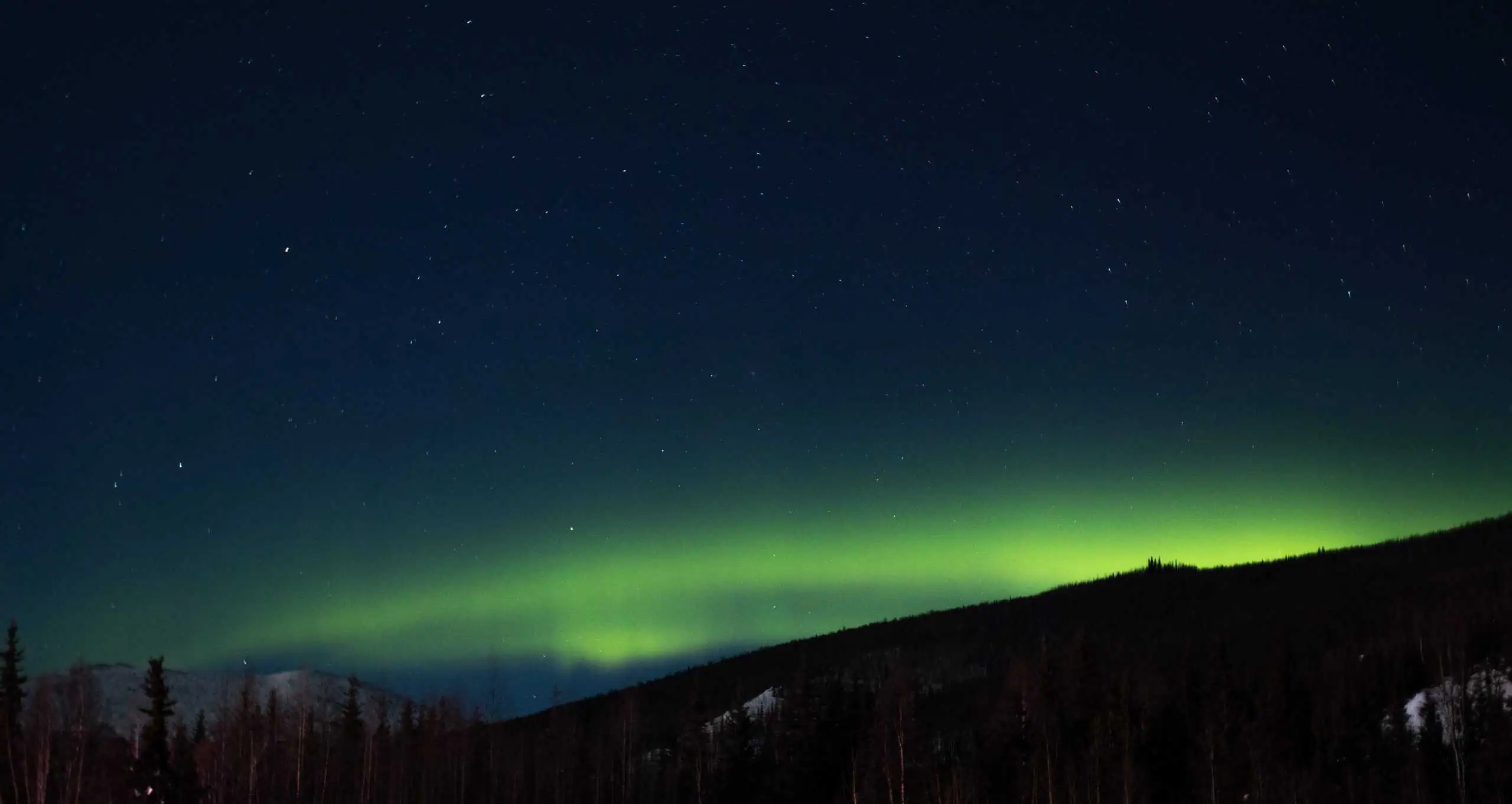 Top Aurora Viewing Locations Near Anchorage
Something to keep in mind with the aurora – it typically gets better the further north you go. Popular spots north of Anchorage are Palmer and Talkeetna. The strongest bands are nearly always around Fairbanks which is over 350 miles north of Anchorage. If you're curious what I mean by bands, visit the Geophysical Institute website here.
So most of these recommendations have you driving just a bit further north out of town and away from the lights.
Glen Alps & Flattop Area (Anchorage)
This is a popular spot in Anchorage. It's higher up and away from the city. It gets crowded quickly and parking can become an issue, especially if it's supposed to be a good night.
Address: 13101 Glen Alps Road
Skyline Drive/Mt Baldy (Eagle River)
Roughly 12 miles north of downtown Anchorage is the town of Eagle River. While the town is in a valley, there are a few good viewing spots here. Skyline Drive winds its way up to the base of Mt. Baldy. It's a popular hike year-round and has a great vantage point for seeing the lights.
There's a decent amount of parking at the trailhead but it can get crowded quickly, especially when it's supposed to be a good night.
Address: Just type in 'Mt Baldy Trailhead' or 12900 Golden Eagle Dr, Eagle River, AK 99577
Matanuska River (Palmer)
This massive riverbed provides a large open area with many great viewing spots. There are parking lots on either side of the bridge along E Arctic Avenue.
Directions: If you're coming from Palmer, the first parking area is not listed on Google. It's a quick left turn just before the bridge. You can park at the top or drive down closer to the river (depending on the time of year). The riverbed is a popular winter spot for walking and cross-country skiing. The riverbed is great due to the amount of open sky.
On the other side is a parking area to the right. It's also easy to miss so go slow.
Both parking areas can have a lot of potholes so be cautious if you are driving a vehicle closer to the ground.
Eklutna Tailrace (Palmer)
This is not the lake but a hatchery and popular fishing spot From Anchorage, you'll head north to Palmer. Just before the Knik River bridge, take the Old Glenn Highway exit. This road winds its way along the mountains. Eklutna Tailrace is a few miles down the road and can be a great stop to see the lights.
The gate can be closed in the winter, but you can park and walk in yourself. Outside the gate, there's only room for a few cars, so it may be full if it's a good night. If this is the case read my next option or head to the Matanuska River.
Address: Type in 'Eklutna Tailrace' on Google Maps.
Knik River Road & Lodge (Palmer)
From Anchorage, head north to Palmer and take the Old Glenn Highway exit (just before the Knik River Bridge). Along the Old Glenn Highway, there are random parking/stopping areas, so if the lights are out you have many options.
I recommend heading to the parking areas around the 'Old Knik River Bridge'. There is open access to the northern sky and a few parking areas on either side of the river. They're not well marked but are just before the bridge.
If you head an additional 11 miles down the road, you'll end up at Knik River Lodge. There is little light pollution here and it feels quite remote even though it's just an hour from Anchorage.
There are also cabins here (and a restaurant and bar) if you want to stay overnight. Accommodations can be combined with one of their signature Knik Glacier tours too!
Directions: Type in Knik River Lodge on Google Maps. Stop along the way after you exit the Glenn Highway.
Hatcher Pass (Palmer)
A lot of people like Hatcher Pass because it's in a mountainous area away from light pollution. Because of this, it can be a good spot to see the lights.
The only issue is that you have mountains to the north which is where you're most likely to see the lights. If they are low on the horizon, you may not see them at all. This is where Facebook groups and webcams come in handy.
I still think this is a good option, but people tend to have better luck along Matanuska and Knik River.
Directions: Type in Hatcher Pass Lodge on Google Maps.
Talkeetna (2hr drive)
If you don't mind driving a bit further, Talkeetna is a fantastic spot for seeing the aurora. It's a little over a 2-hour drive (114 miles from downtown Anchorage) but this entire area is known for seeing the lights.
Talkeetna is a small town with a historic Alaskan feel. There will be more light pollution in town, but if you drive down the road a bit you'll find many spots with clear skies. Christensen Lake is a good viewing spot. You can even walk to the river from town as there's lots of open sky.
Directions: Type in Talkeetna
Areas Not Mentioned
Eklutna Lake: This drive in the winter is narrow, windy, and can be dangerous. And once you reach the lake you are looking south. There is little light pollution though, so if you want a unique view and a little adventure, this is a good option. It's just not my first pick.
Eagle River Nature Center: While this location is absolutely beautiful, it's surrounded by mountains. This means there's less open sky to look at. So unless the northern lights are high in the sky, you may miss a band that's low on the horizon.
Point Woronzof: This is located in Anchorage. If the lights are really bright and can be seen in the city, you can get even better views here. However, there is still light pollution, and the really bright displays of light aren't very common. You're also not supposed to park here past 11:00 pm, so there's a chance the cops could kick you out.
Beluga Point: This viewpoint is south of Anchorage along Turnagain Arm. If the lights are bright, you can get some stunning photos here. This stop overlooks the inlet facing south. As you look north though there are cliffs and mountains blocking your view. If the lights are bright over the inlet though, this is a pretty spot.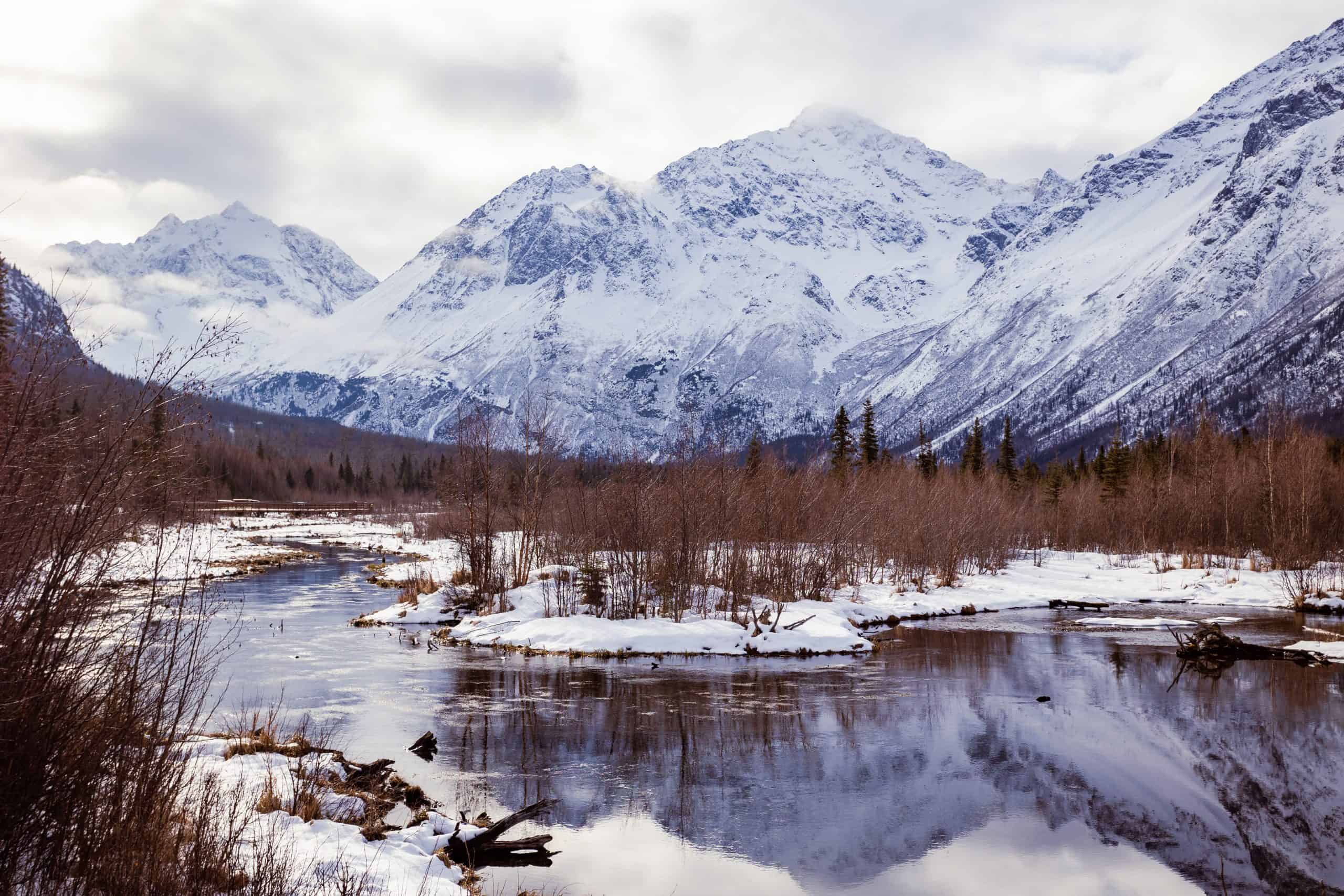 Aurora Chasing Etiquette
When you park at your location, be sure to turn off all of your lights. This includes not only your headlights but the lights inside your car as well.
Camera Equipment Needed for the Northern Lights
Any new smartphone has the ability to capture the northern lights.
I prefer a DSLR or mirrorless camera personally, but only if you already have one. I have a Canon R6, but any will work.
Aside from your camera, here are the essentials to capture those lights!
Tripod – It's not possible to capture the aurora without a tripod. You need to slow your shutter speed enough to get a decent shot. If you slow your shutter speed but are hand holding your camera, then it's likely that the image will be blurry.
Battery Pack – When it's really cold, camera equipment and any electronics that use batteries will die much quicker. I recommend keeping a battery pack in a warm spot (your vehicle or inside somewhere) so you can recharge your equipment when needed.
Extra Batteries – I recommend at least two charged batteries. Nothing is worse than that epic shot being missed due to a dead camera.
Extra Memory Cards – Make sure they can hold enough photos. I stick with 64gb cards. Extras are also important in case one fails.
Hand Warmer – Read my 'How to Dress' section above for more information.
How to Get Photos of the Aurora
Prepare your Settings Beforehand
There is nothing worse than getting outside and realizing you need to change your settings in subzero temperatures. Unfortunately for me, my fingers don't work as well when it's -15F outside, so I often have to run back to my car to get set up.
Don't make this rookie mistake. Instead, get setup before you go outside. Even if the lights are dancing, taking 10 seconds to set it up before you go outside will work in your favor.
Camera Settings
Shutter speed 5-8 seconds
ISO 1200-2500
Aperture 4.0 – 8.0
Change your lens to Manual Focus. Your camera will not be able to focus in the dark, so you will need to manually set it. Every time you zoom in or out, or change your location, update your focus.
Set your timer to 2 seconds or take photo remotely via bluetooth or wifi. Many newer cameras have this as a built-in option, or you can purchase a remote timer that goes on your hot shoe. The reason for a timer is to avoid camera shake when you press the shutter.
Other Camera Tips
Don't bring your camera inside and outside all night. I've known people that did this and their cameras ended up having moisture inside the actual cameras. This is because they brought it from negative dry temperatures to warm and more humid temps, over and over.
How do you deal with this? We left our cameras outside and took the battery with us. It worked perfectly.
To avoid camera shake from pushing on the shutter button, set up your interval timer or remote shooting. If you're not sure what interval timing is, it's simply a setting on your camera that allows you to take a photo on an interval. I set mine up to take a shot every 5 seconds, but you can do any interval. Then you can just let it run or you can limit it to a certain amount of shots. In my opinion, more is better, so I'd just let it run and take a bunch of shots.
If you want to use the internal wifi, it may not work well in the extreme cold. I found mine wouldn't link up. I've also had issues with my iPhone once it gets below -20F but that may not be the case for everyone.
Read More Alaska Articles