The Perfect 10 Day Alaska Road Trip + Itinerary
Hey there!
This post may contain affiliate links, meaning I may be compensated if you click on one of my links, at no cost to you. As an Amazon Associate, I earn from qualifying purchases. Read my disclosure policy for more information.
Looking at a map, it's easy to see that Alaska is a big state. Since it's such a big state, it can take a lot of driving time to cover any amount of distance up here.
People often don't realize how long it takes to get anywhere up here. I've talked to many people who loved their Alaska trip but regret being in the car so much.
So I created the perfect itinerary for a 10-day trip in Alaska. I made sure to limit the time in your vehicle while still covering a lot of ground and exploring much of this beautiful state.
This itinerary covers much more than your basic recommendations. It's incredibly detailed and has all information regarding the best tours, best places to stay, restaurant recommendations at each location, etc. I've also added local spots that aren't well known, unique tours, and local hiking recommendations.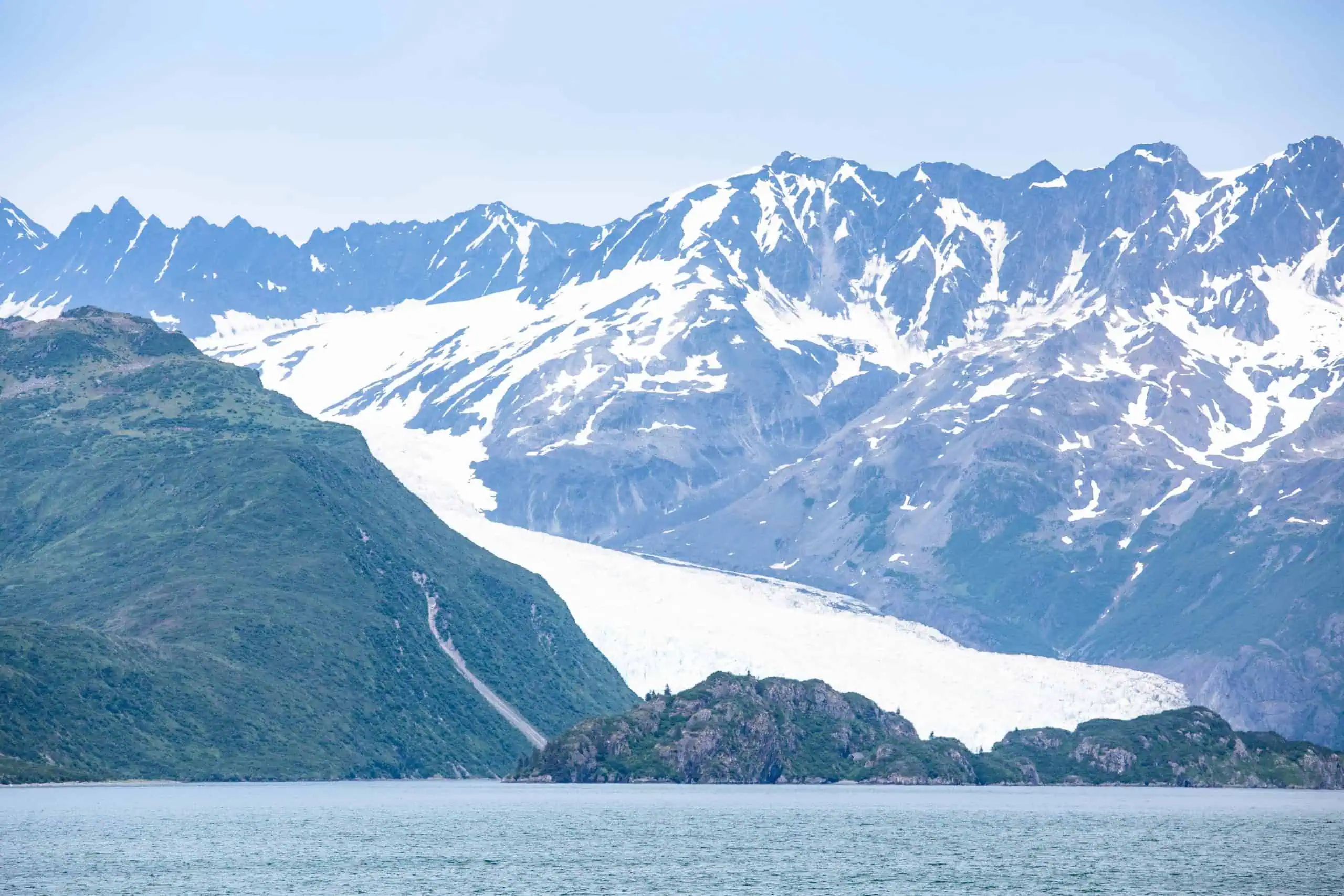 With this itinerary, you will walk on a glacier, go whale watching, do some hiking, see Denali, go on a bear viewing trip, try a tasty beer flight (or cider), and more.
The itinerary can easily be tailored to suit your needs and will give you plenty of ideas for your own trip.
This is your first time visiting, after all, so you definitely don't want to miss some of the bucket list items. Even if you've been before, check out my suggestions – you may see something you didn't think about! I also have some lesser-known and equally worthwhile things to do as well.
Things to Pack
I created a packing guide exclusively for summers in Alaska. Be sure to read through all of the information as there are some good tips in there unique to Alaska.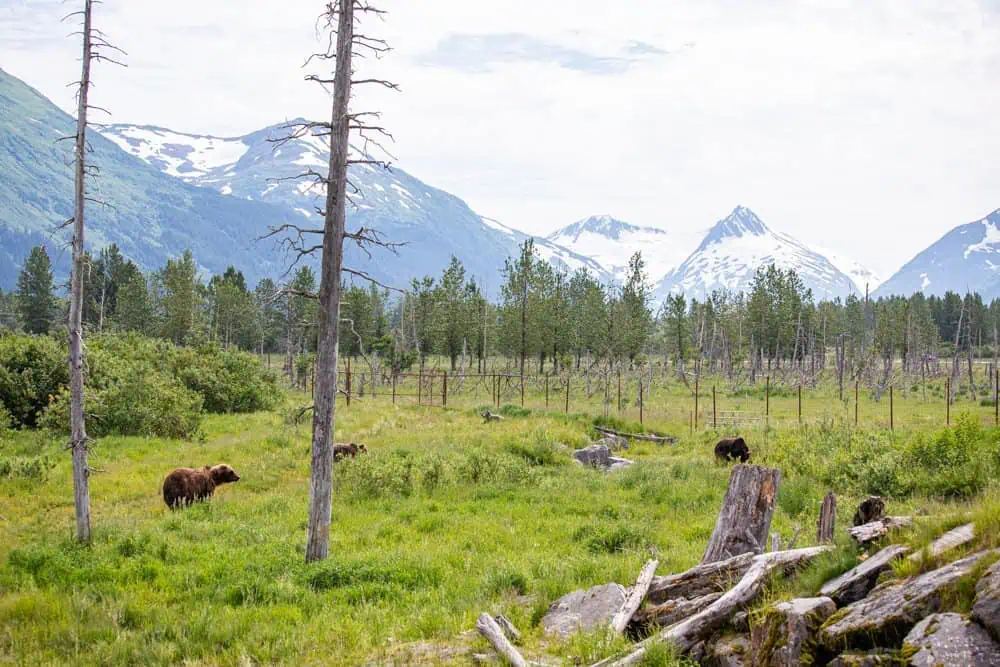 Getting Around
This trip is designed for driving, either via car or RV. There are pros and cons to both options.
Travel via Car
If you plan out far enough, you can get a car at a much lower rate than if you wait until the last minute.
In 2022, decent rental prices are much more difficult to find. There has been a resurgence in tourism in Alaska and 2022 is on track to be a big year.
There are some alternatives to car rentals. Turo is an app where people rent out their own vehicles. This does carry some risk as the owner of the vehicle can cancel 24 hours prior to the trip.
In the height of summer, the average price for a vehicle rental can run as high as $250+ per day, and it only goes up from there.
Turo has vehicles starting at $60/day with an average of around $150/day.
Since vehicles are limited and booking early, it's important to book your car rental ASAP to ensure you have a way to get around.
Travel via RV
If you're traveling with a few kids, or a small group of friends, an RV could be a great option (or it could be a terrible idea, hah). With an RV, you don't have to book a place to stay and you can much more easily make your food. For these reasons, if you plan it right, you can save quite a bit of money going this route.
According to RVshare, you can save up to 57% on costs by renting an RV.
An RV in Alaska costs about $250-$375 per night. A hotel room costs about $220+ per night. Homestays (VRBO, Airbnb) have a wide range depending on how many people are going and whether you book a private room versus an entire place. When you add in the cost of a car rental, it could be cheaper to book an RV instead, especially if you're on a budget.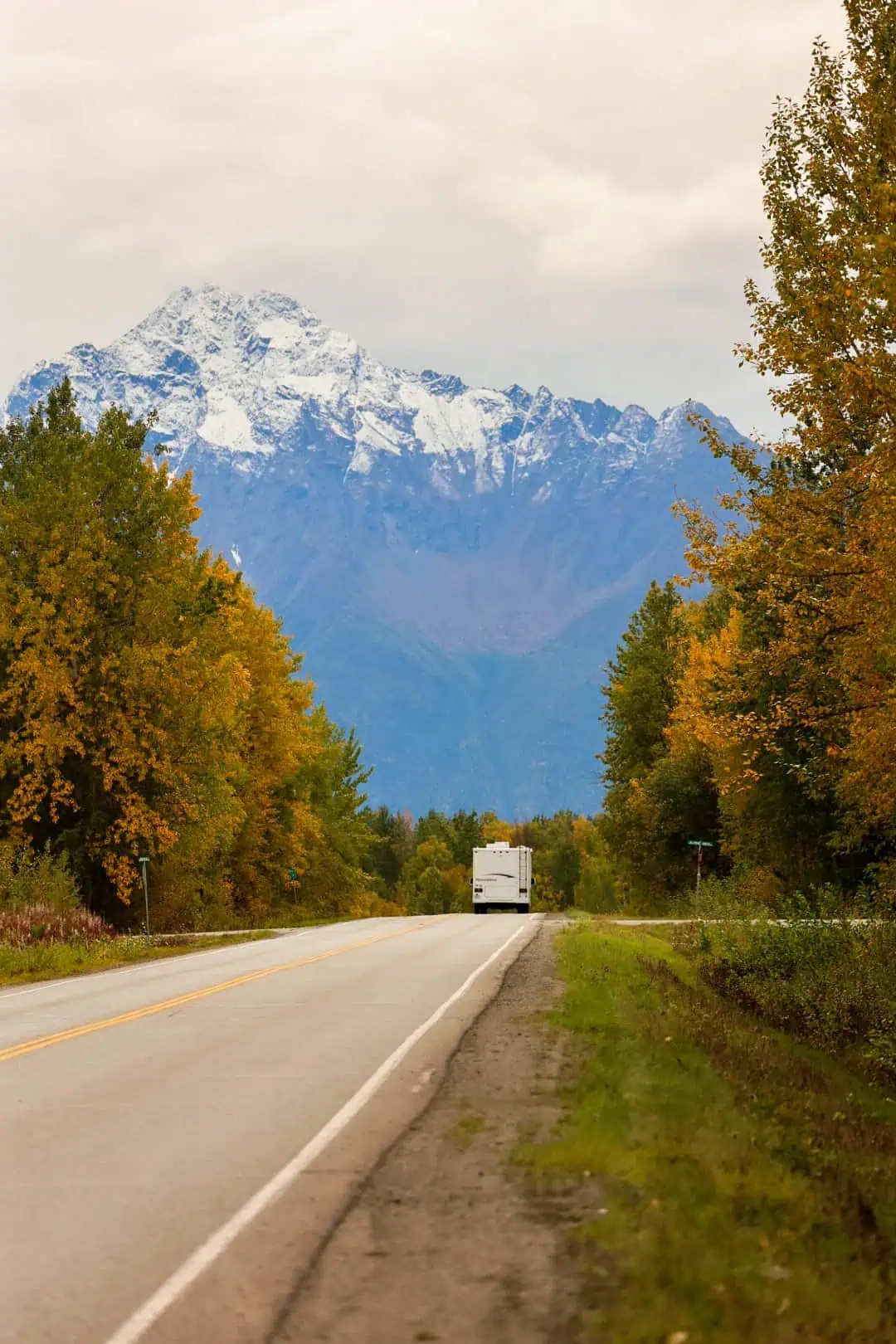 With an RV, you get to combine lodging and getting around into one. And you can skip going out by cooking many of your own meals (either inside or by the fire).
Around the state, there's a mix of campgrounds that either accept reservations or only do first-come, first-served. With COVID, some campsites have changed to reservations only. Seward Waterfront Park changed to reservations only in the past year, which is a nice campground within walking distance of all the shops in town.
One downside is that it is your only way to get around, so it's not as easy to quickly stop or park at a smaller location (ie a brewery or downtown spot). Also, keep in mind you will be slower on the road, although most people find the drive to be one of the highlights of visiting the state.
If you decide to rent, I recommend using RVShare. It's like Turo or Airbnb but for RV rentals. Individuals list their RV, trailer, pop up, etc., and you can rent directly from them. I've found their prices are more competitive than many other companies.
What Time of Year Should I Visit?
This trip is meant for the warmer months (May to September). If you want to determine the best time to visit for your specific needs, check out my post on the best time of year to visit Alaska.
How Far Out Should I Book My Trip?
Accommodations and vehicle rentals are limited up here, and for that reason alone, I recommend booking at a very minimum of 6 months in advance. With the large resurgence in Alaska travel, 9-12 months in advance is ideal. So by December-January, you should have your summer trip booked.
Of course, if you are reading this and traveling soon, there will still be some options, just not your first (or third) pick.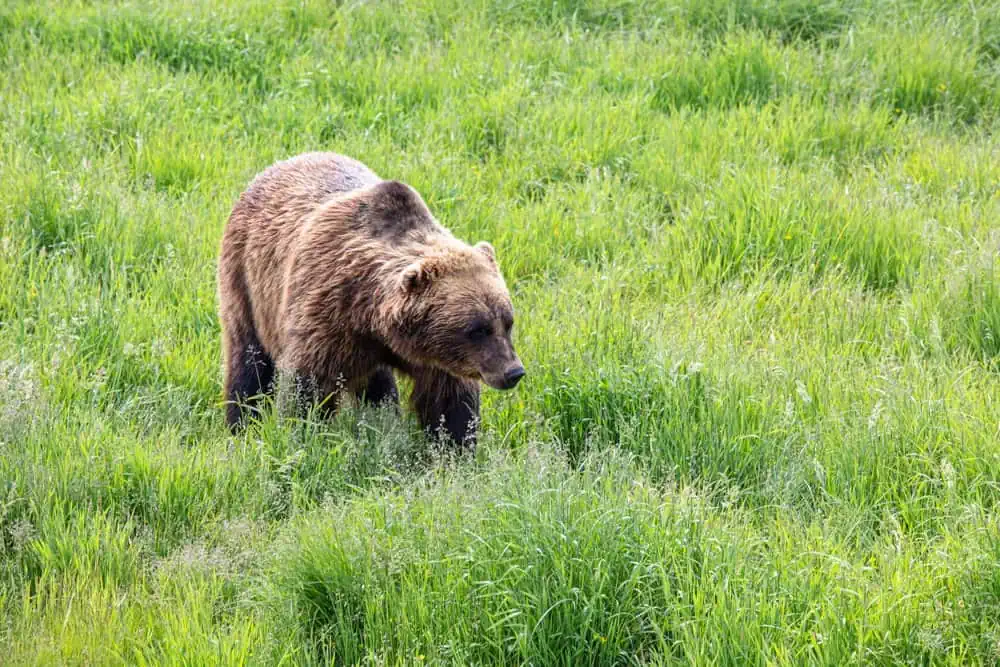 Where Should I Fly Into?
This trip starts and ends in Anchorage, which is the largest airport in the state and typically has the best flight prices.
Estimated Costs
As this is an ultimate guide, I'm including many big bucket list items, so this is not an inexpensive trip.
Alaska is an expensive place to visit. Since this is a road trip, you will save money not paying for a tour guide each day, but the overall costs will still be high. It is possible to budget and I will include some budget options (see my full guide here for visiting Alaska on a budget).
Average Meal: $14-22. Appetizers are the price of a meal and are usually just as big, so I recommend skipping the appetizer if you're trying to save money. Main course portions are typically large, so you could share meals to save as well.
Beer: $6-8
Rental Car: This will vary a LOT depending on when you visit and how far out you book your vehicle. I would estimate about $150-250/day with a regular rental and about $150/day on Turo. If you book far out, you can find rentals for much less. If you have a credit card, search on their site to see if they have better deals (our Alaska Airlines card almost always has better deals). Be sure to price compare the rental sites with private car rental apps like Turo. The earlier you book the better.
Accommodations: There are limited places to stay up here, so most places are fairly expensive. For a 2-bedroom hotel or homestay, I would budget $200-300 a night. If you bring or rent a tent, even for part of your trip, you can save quite a bit of money.
Gas Prices: Gas is a little more expensive in Alaska than in other states in the US. Expect to spend about .30 – .80 more per gallon.
What Area Does This Trip Cover?
See the map below. This area is known as 'Southcentral Alaska' and includes the famous Kenai Peninsula. This trip does not include Southeast Alaska which is made up of islands (and is where the cruises go). It's also mostly cut off from the road system so a road trip wouldn't be possible here.
The Ultimate 10-Day Alaska Road Trip
Day 1: Arrive in Anchorage and Drive to Talkeetna
Drive Time: 3 1/2 hours (5 hours with stops)
Stops: Eklutna Lake, Thunderbird Falls, Lunch in Wasilla, Denali Brewery, Talkeetna
Talkeetna Excursions: Optional River Boat Tour with Mahay's River Boat (plan time accordingly)
Lodging Recommendations: Talkeetna Roadhouse, Talkeetna Alaskan Lodge, Talkeetna Hideaway
Welcome to Anchorage! Although we won't be spending much time in the city, there are definitely a lot of things to do and see around here. If you arrived late the night before and need a hotel recommendation, I recommend The Hotel Captain Cook. It's centrally located downtown and within walking distance of all the restaurants and shops downtown. It's also within walking distance of the Coastal Trail, a long paved trail that runs for miles along the inlet.
A good option near the airport is The Lakefront on Lake Hood. This lake is the world's busiest seaplane base with nearly 200 planes taking off and landing daily.
In the morning, I'd recommend filling up with a delicious Ship Creek Benedict at Snow City Cafe downtown.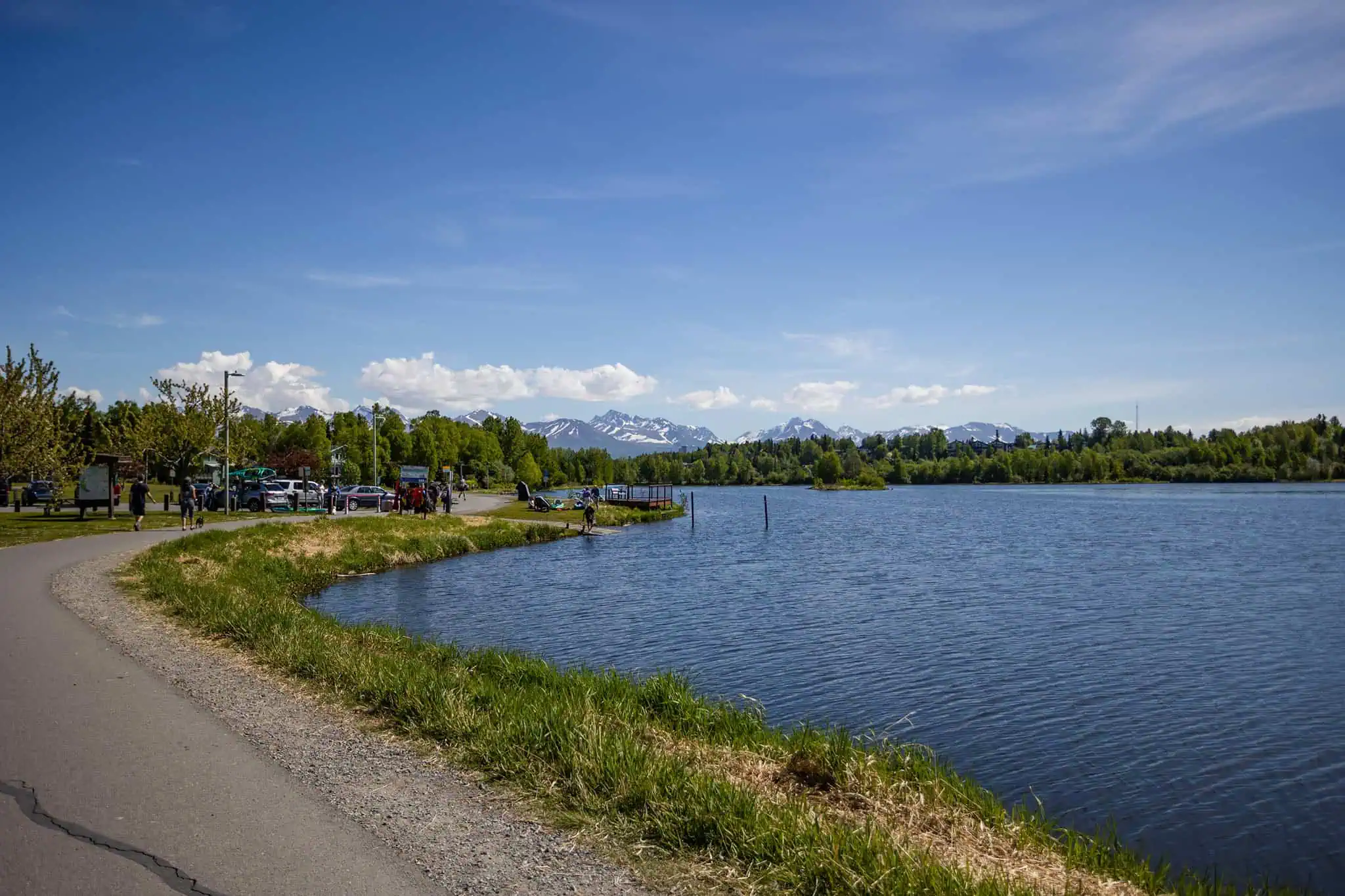 First stop, Eklutna lake! Set Google Maps to 'Eklutna Lake' and hit the road. This beautiful glacier-fed lake doesn't usually top the list of must-see's, but this place is so beautiful that just a quick trip is worth it. The drive is down a beautiful windy road, and if you are here in the morning there's a chance you'll see some wildlife.
It's a glacier-fed lake and a popular spot for adventure. There's a 13-mile trail that winds around the lake and is used by cyclists and 4-wheelers. Kayaks and bikes are available for rent from Lifetime Adventures.
Once here you can walk around, explore the river and Eklutna Lake, and check out the teepees made of driftwood.
Thunderbird Falls
If it's still early in the day and you're eager to explore, you can leave Eklutna Lake and head straight to Thunderbird Falls, a few minutes down the road from the Eklutna exit. This is a short 1-mile hilly walk to a large waterfall at the end. There's a nicely built boardwalk and viewing platform at the end.
Grab Lunch in Wasilla and Head to Talkeetna
By now you may have worked up an appetite. There are plenty of good options in Wasilla. I recommend Krazy Moose Subs, Bearpaw Brewing (pizza and subs), Chepo's, or The Last Frontier.
If you love Thai food, there's a surprisingly delicious option along the highway called Pattaya. It's in a strip mall and doesn't appear too special, but everything is fresh and flavorful.
Things to do in Talkeetna
From here, you'll make your way to Talkeetna, a cute and quirky town about an hour north of Wasilla. On the drive, you may get a glimpse of Denali. On a clear day, you can get stunning views of the mountain. Mile 134.8 has a scenic stop with panoramic views of Denali….when it's actually visible (which is about 30% of the time).
As you head to Talkeetna, stop at mile 2 of the road at Denali Brewing Company for a beer flight and a growler. They also serve some of my favorite cider in the state.
Talkeetna is a small town with a lot of important historical ties. It was a gold mining town and the regional headquarters for the Alaska Railroad. This put Talkeetna on the map and provided easy access to the town.
Talkeetna has a small main street that can easily be walked in under an hour. There are local shops and restaurants. At the end of the road is the large Talkeetna River.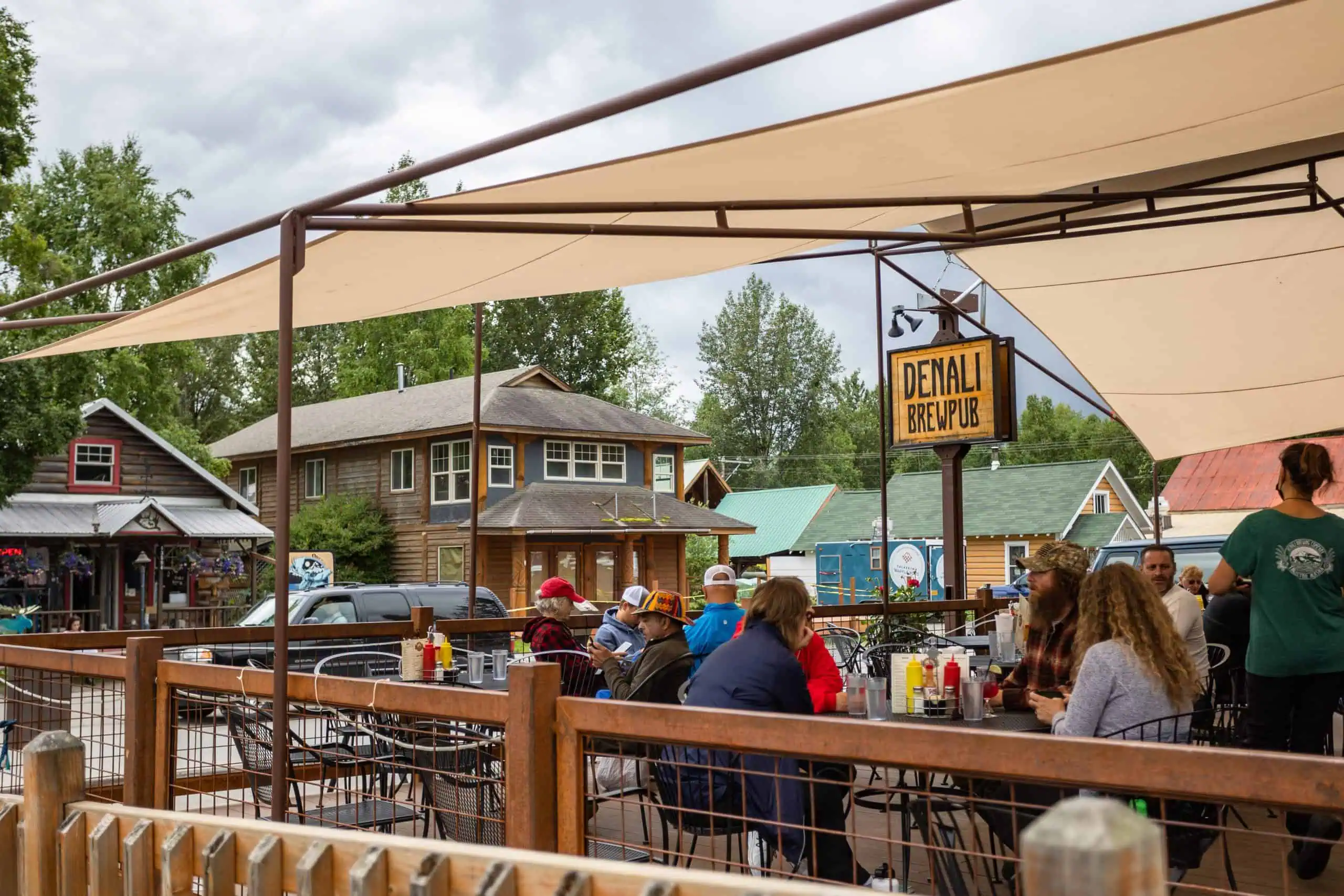 Where to Stay in Talkeetna
You'll stay overnight here. If you want to be in town & near the restaurants/bars (most bars are in the restaurants), then stay at the historic Talkeetna Roadhouse. Built in 1917, this is a staple of Talkeetna. There's also a restaurant and bakery that serves up delicious pastries. There are private and shared rooms.
For something a little quieter, I recommend the Talkeetna Hideaway. There is a shared kitchen and living area where guests can make their own breakfast with eggs hatched just a few steps away!
If you want a grand lodge experience, check out the Talkeetna Alaskan Lodge. It's about a 10-minute drive from downtown Talkeetna and has more of a traditional hotel feel. There's a restaurant and bistro on-site, and you can also book tours from the hotel as well. There's a free shuttle to downtown Talkeetna and other areas as well.
Day 2: Morning Flight over Denali, Hatcher Pass/Palmer Area
Drive Time: 2 – 2 1/2hrs
Stops: Denali flight and then head to Hatcher Pass or Palmer area
Excursion to book: Flightseeing Tour over Denali
Lodging Recommendations: Hatcher Pass Lodge or the Hatcher Pass Cabins
If you are flying all the way to Alaska and you only have 10 days to explore, I would suggest flying to Denali instead of driving.
Here's why.
It takes about 5-6 hours to get to Denali from Anchorage (one-way).
Then the only way to enter most of the park is by taking an old school bus, which ranges from 4-12 hours. Realistically you want 8+ hours to see more of the park. Currently, the buses are stopping at Mile 43 due to a landslide. There are no immediate plans to have this fixed.
So instead of taking three days sitting in vehicles to see the mountain, which is only visible about 30% of the time, I recommend flying for a unique experience and to have time for other things.
I realize this may sound biased as many people do love the experience of seeing Denali on foot or from a vehicle, but this trip is intended to maximize your time in Alaska while seeing as much as possible.
If you love Denali and want to experience it from the ground, then you can plan a trip to Fairbanks and Denali in the future.
There are many flight tour operators out of Talkeetna. I recommend a flight tour with K2 or Talkeetna Air. Both have been around for years and have a fantastic reputation.
For an extra bonus, you can also land on a glacier.
After your flight tour, make your way to Hatcher Pass in the afternoon.
Here you have two options. You can either: 1. Head toward Hatcher Pass and stay in their dry cabins (only a few available for rent but they are amazing!), or 2. Stay nearby in the town of Palmer.
The Hatcher Pass Lodge has the only accommodations in the state park that don't require hiking. They are directly in the mountains and offer stunning 360 views. You can hike from your cabin and take in the natural beauty.
If they are booked up, then my next recommendation is to stay close to the base of Hatcher Pass (at the Hatcher Pass cabins) or in Palmer.
Palmer is a cute town with a small downtown area. It's about 10 minutes from Hatcher Pass. There are a few hotel options and also VRBO options.
If you stay in Palmer, I recommend grabbing dinner at The Palmer Alehouse or Noisy Goose Cafe. In the morning I recommend stopping in at Vagabonds for coffee and a treat. There are many cute shops and some fun local bars in the small downtown area.
There are two ways to get to Hatcher Pass; via Willow or through Wasilla/Palmer. The route through Willow doesn't open until around late June/early July due to snow and hazardous conditions. Check this before heading out!
If you have an RV or if your rental car agency prohibits the Willow drive, then you will need to go around. Some companies don't allow this drive because the roads are gravel and there are some potholes.
In general, it would be a tough drive with a motorhome, especially as you approach Summit Lake and Hatcher Pass. There are some switchbacks, quite a few potholes, and a steep grade down the mountain as you approach Independence Mine.
The route through Wasilla is an easy drive and doesn't require any planning. Just plug it into Google Maps.
Other Optional Tours & Things to Do Near Palmer
Matanuska River Walk
Hike Lazy Mountain (it's not lazy) or the Butte (easy hike, take the stair side)
Things to do in Hatcher Pass
This is one of the few areas in the state where you can drive up into the mountains (to get up high you typically need to hike).
There's a reason it's become such a popular place to visit – it's stunning here.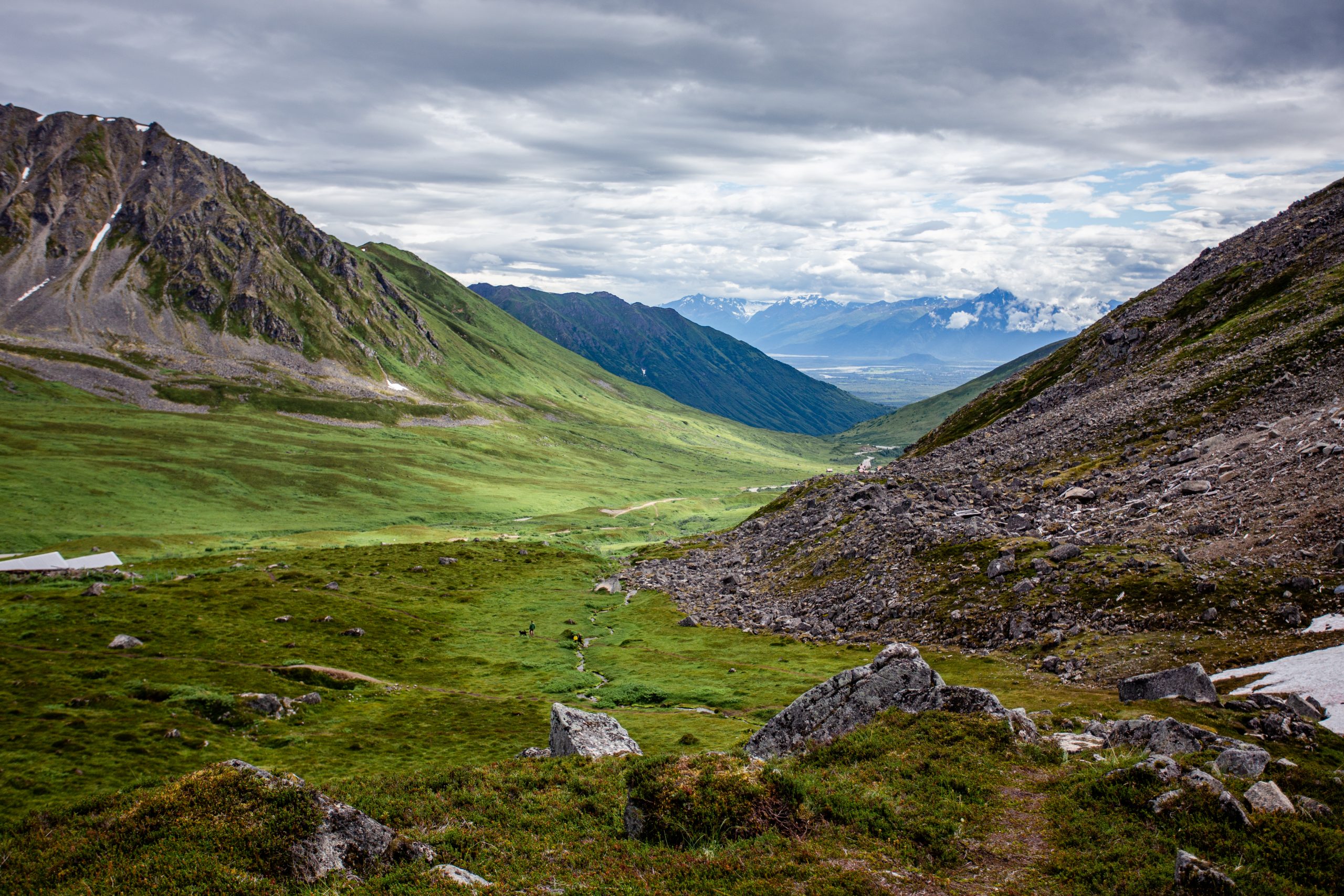 Layers of mountains, glacier-fed lakes, boulder fields, and lush landscapes. It's an outdoor lover's paradise. There was once a large mining operation here as well, and today you can walk around Independence Mine and explore the old mining carts, look inside a mine, and explore the small town that once housed the whole operation.
There are so many things to do in this state park that it deserves its own post. At minimum, I recommend visiting Independence Mine Historical State Park and hiking up a bit to get better views (just don't go past the homestead "no trespassing" signs). There is a $5 parking fee which can now be made with a credit card. There are bathroom facilities at many of the parking lots and they're well-maintained.
Recommended Hikes
If you enjoy hiking, I recommend Gold Cord Lake (1.5-mile out and back), Reed Lakes (8.7 miles out and back), or Gold Mint Trail (18-mile out and back).
Gold Cord provides the best views throughout the entire trail (there aren't any trees), so for a hike with views, this is my recommendation. It gets a bit steep, but the green emerald lake and 360 mountain views at the top make it well worth it!
At Reed Lakes, you can get some good views once you are about 2.5 miles in. Since it's nearly a 9-mile hike, you'll be looking at at least 4 hours to complete this one. There are large boulder fields over a creek to navigate, but for the most part, they're manageable.
Gold Mint Trail is mostly treed with brush for the first few miles, so if you want a shorter hike with views I'd do a different one. There are many other hiking options, and I recommend checking out AllTrails for more options. For the most part, if there's a mountain, there's a way to hike it around here.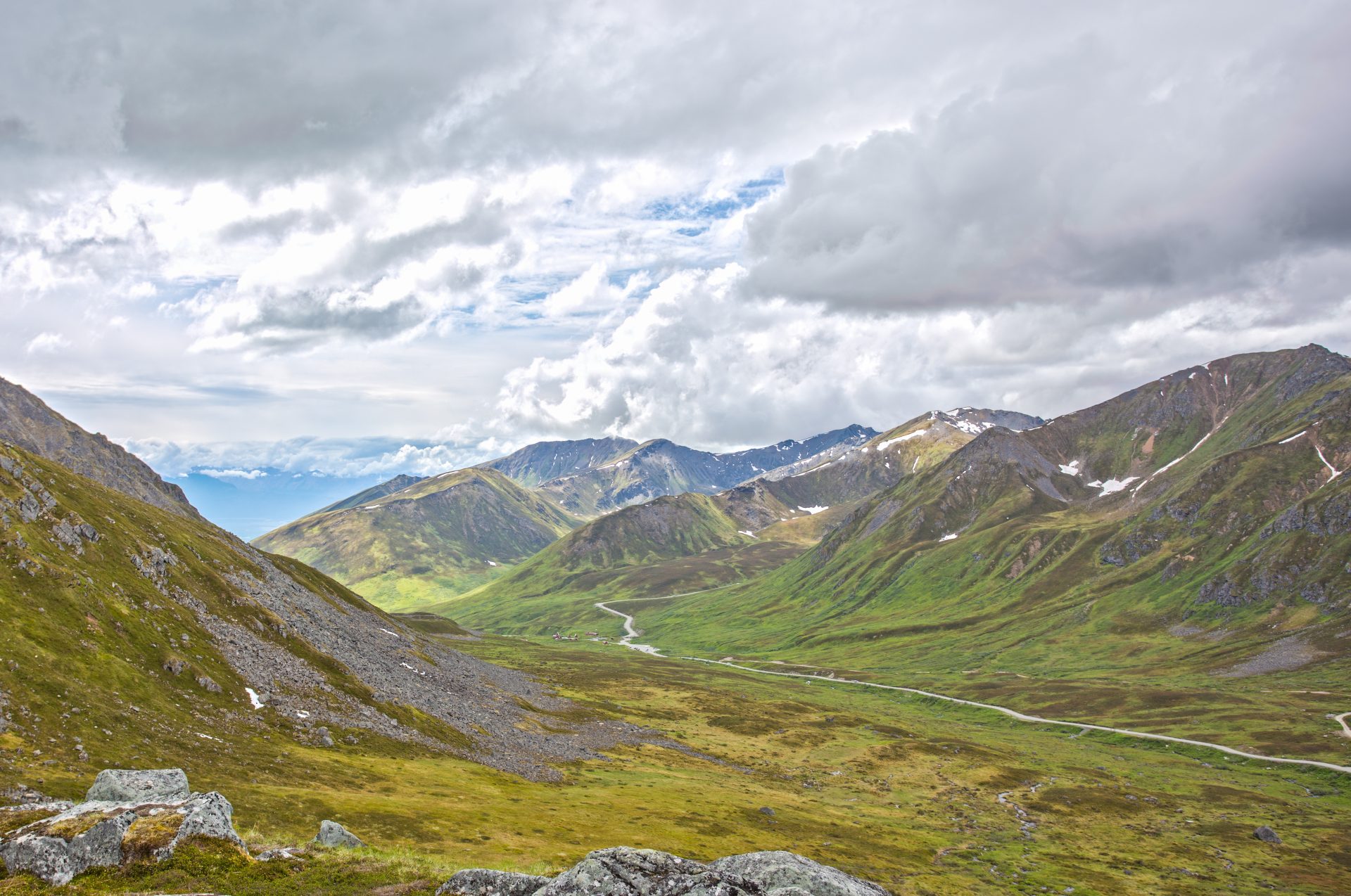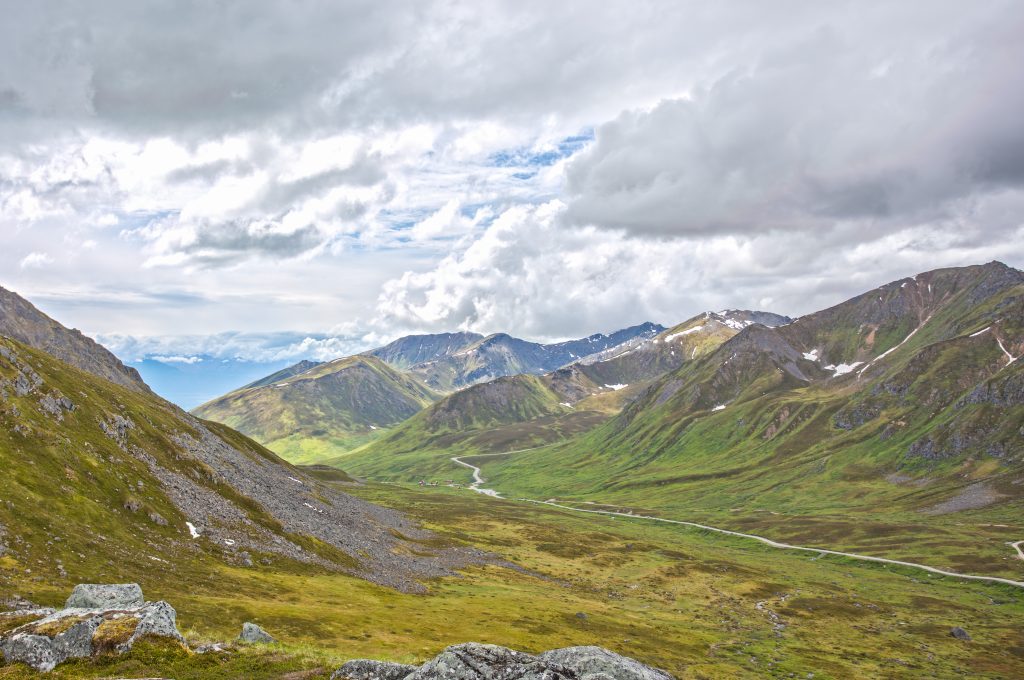 I also recommend stopping at the river on the Palmer side of the road when heading out. There's an overlook where you can watch massive boulders get engulfed by the rushing water. You can explore the river from either side of the road.
Day 3: Hatcher Pass Hiking & Glaciers
Drive Time: About 2 hours
Excursion to book: Matanuska Glacier Walking Tour or Knik Glacier Tour (see all options below)
Lodging Recommendations: See Below
Today you will be doing one of two glacier tours. Unfortunately, they are in opposite directions, so it's not possible to do both on the same day.
The Matanuska Glacier tours are all walking tours. If you want a little more action, then I'd recommend an ATV, 6×6, or helicopter tour to Knik Glacier.
If you book an afternoon tour, you can spend the morning hiking and exploring more of Hatcher Pass, or walking around downtown Palmer.
Here are the two-day tour options:
Option 1 – Head to Matanuska Glacier & Stay Overnight
About an hour north of Palmer is the 27-mile-long Matanuska Glacier, one of the largest and most accessible glaciers in the state. Here you can do a guided tour on the glacier (the glacier is only accessible via guided tours as of 2021).
I recommend Mica Guides. The tour takes about 4 hours to complete and they run four a day. It's a beautiful glacier and you'll often see people ice climbing the beautiful blue ice.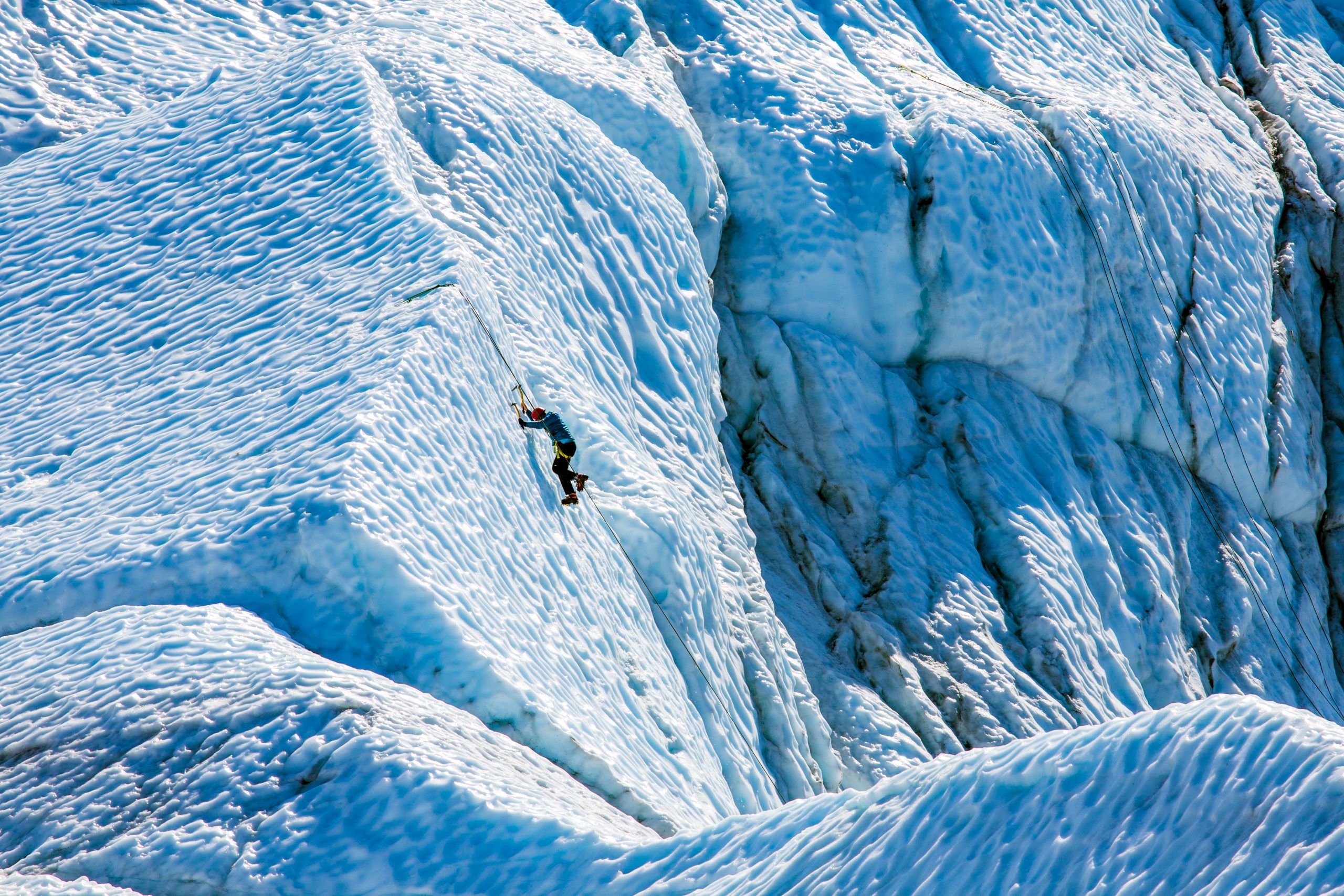 This is an incredibly remote area but there are few lodging options.
For couples and small families wanting a quiet escape, I recommend this 1-bedroom cabin less than 5 miles from the glacier.
If you want stunning views within walking distance to Matanuska River, check out this 3-bedroom cabin with mountain and glacier views.
For a fun 'glamping' experience, check out Alpenglow Luxury Camping.
If everything is booked up, you can find a place in Palmer.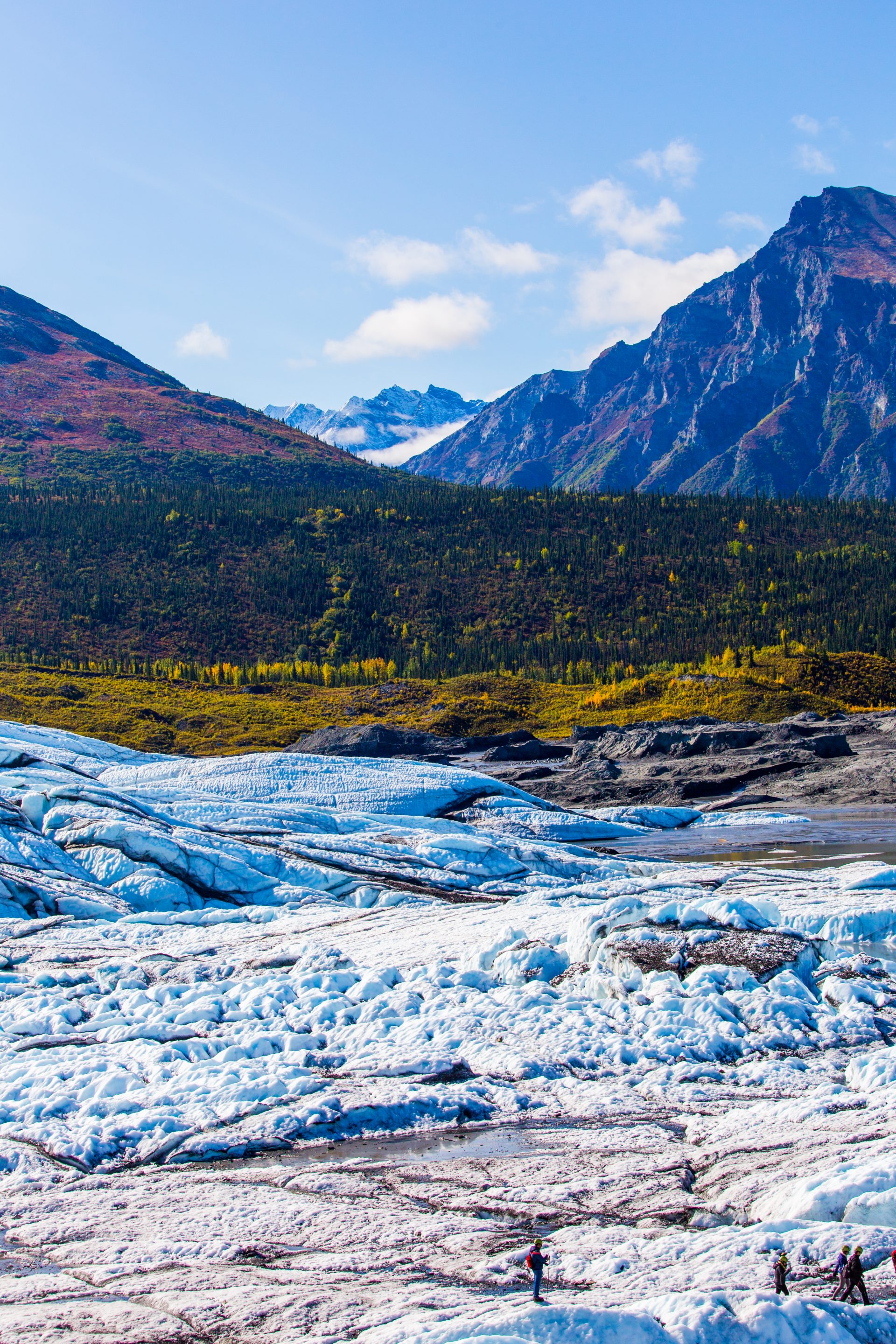 Option 2 – Knik Glacier Tour
The other option is to visit Knik Glacier instead, which is in the opposite direction. There are some really fun tours you can do. There are ATV tours that take you across rivers, streams, and past wildlife until you reach the 28-mile-long Knik Glacier. There is a lake that's formed in front of it, so you can't walk on it, but it's an amazing sight to see up close.
There's another tour that takes you on a massive 6×6 vehicle to the glacier. Once there, you get on a boat and up close to the glacier.
Or you can sit back and enjoy a helicopter ride with Knik River Lodge tours. This 60-minute tour lands on the glacier so you get a chance to walk around for a bit.
If you want a peaceful and remote evening, book a cabin at Knik River Lodge. If you want to be closer to town, book a place in nearby Palmer (I recommend staying near or in downtown so you can easily walk around).
Day 4: See Wildlife & Stay in Seward
Drive Time: 5 hours from Matanuska Glacier, 3 1/2 hours from Palmer/Knik River Lodge
Excursions to book: None
Seward Lodging Recommendations: Lowell Point or in the town of Seward
Today is a long driving day. From Matanuska Glacier, it's about 5 hours without stops. From Knik River Lodge/Palmer area, it's about 3 1/2 hours without stops.
The drive is absolutely beautiful, so plan on stopping a few times along the way! I wrote an entire guide about driving Anchorage to Seward. Be sure to bookmark it and grab my free checklist of stops along the way. There are many additional stops listed in the guide that I won't be covering here.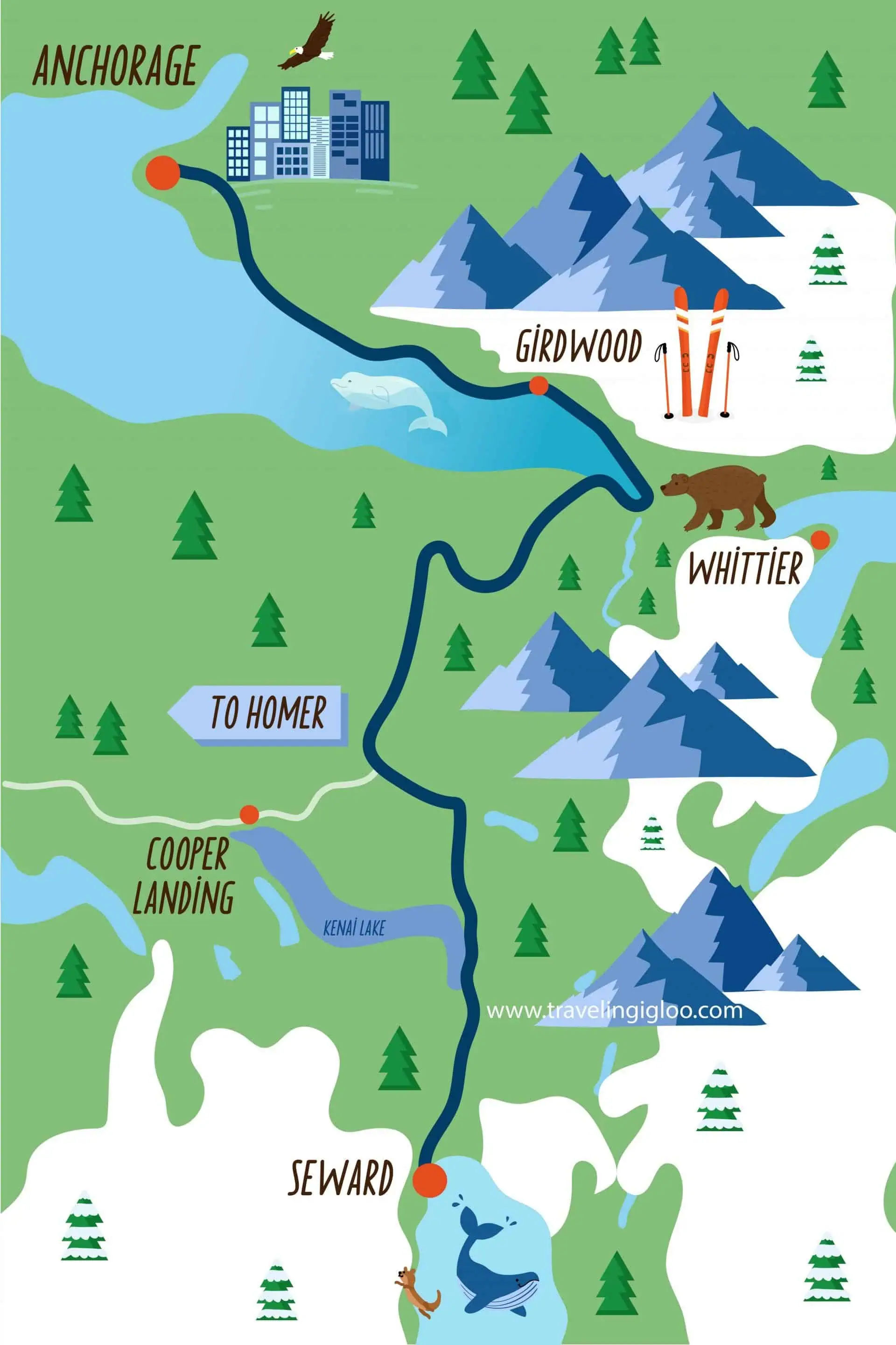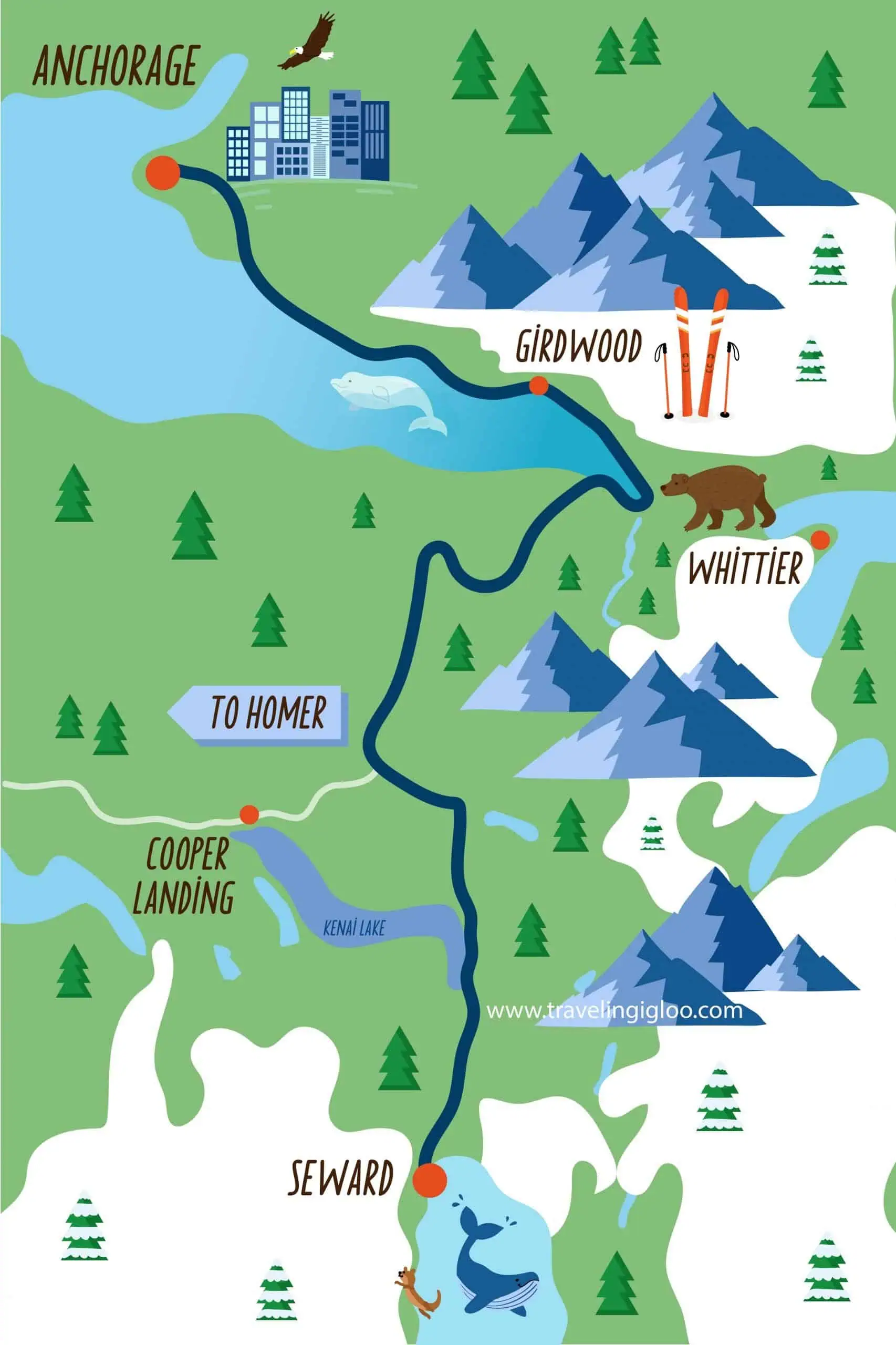 The main stops are along Turnagain Arm. It's a beautiful area with many rest and scenic stops.
Since you'll be staying in Girdwood on the way back, you can skip it for now.
Instead, head to the Alaska Wildlife Conservation Center. It's set on the inlet between mountains and glaciers. Here you'll see all sorts of wildlife including bears, moose, wolves, eagles, caribou, lynx, and more.
I'd set aside about an hour or so to either drive or walk the grounds. There are educational programs all throughout the summer, and I recommend visiting their website for more information.
After the wildlife center, make your way to Seward.
Seward is a small fishing town on Resurrection Bay, which is actually a fjord. Since you'll likely be hungry when you arrive, I recommend planning where you want to eat.
Where to Eat in Seward
There are many places to eat in town. The Cookery has fantastic food but requires a reservation ahead of time.
Seward Brewing Company has a great menu and serves up delicious brewed beer. If you're craving Thai, Woody's Thai Kitchen is fantastic. The Highliner has good American food. Ray's Waterfront is by the harbor and serves up many local seafood dishes. Firebrand BBQ is an outdoor spot to satisfy your bbq cravings as you enter town.
There are also places to grab a quick bite (Alaska Seafood Grill, Mermaid Grotto, Lighthouse Cafe and Bakery, Side Street Locals).
There is a grocery store called Safeway that has everything you need if you plan to camp or cook your own dinner. Note it is more expensive here than in Anchorage.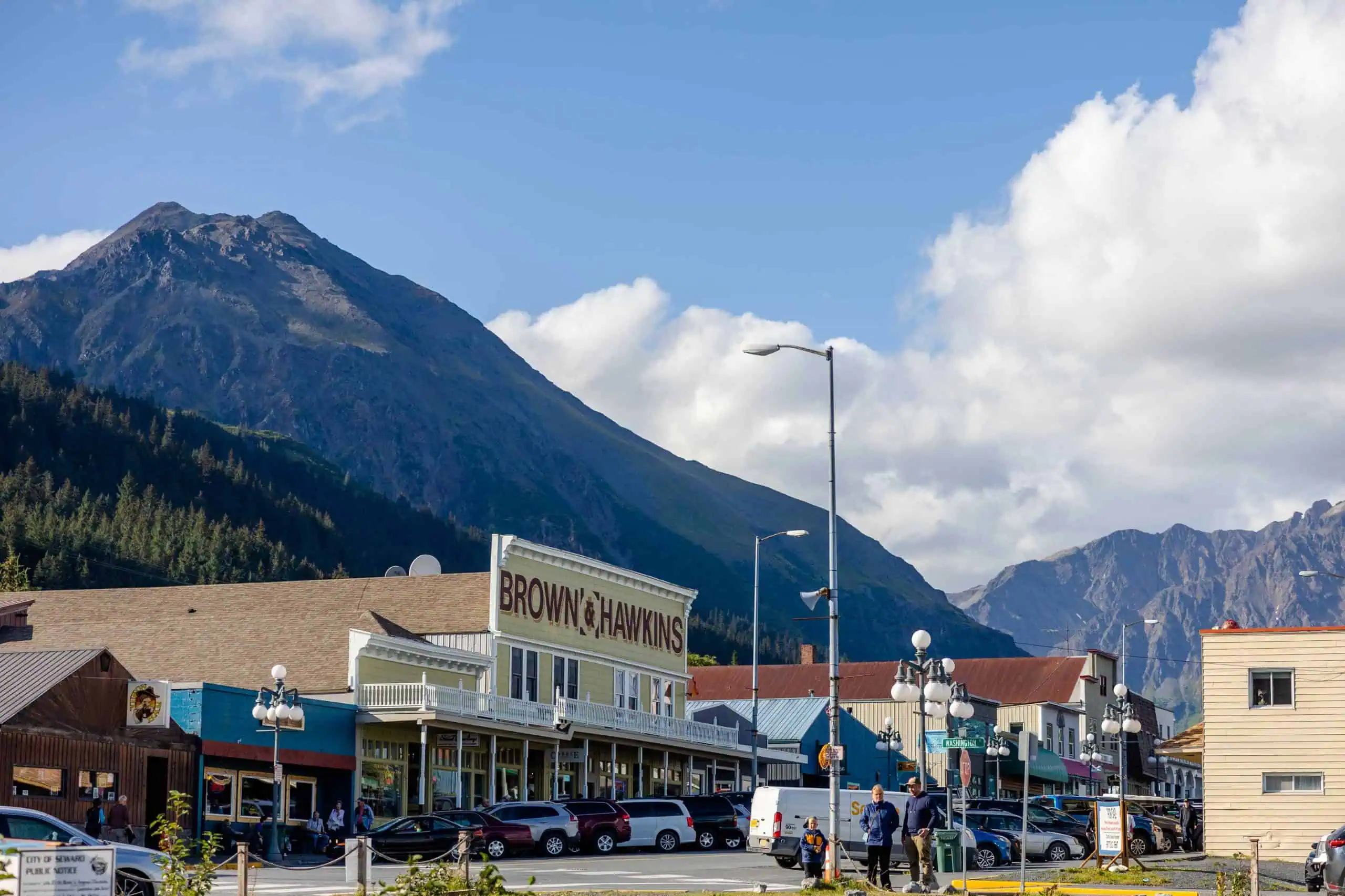 Things to do in Seward
Since you'll be staying here for two nights, you can save some of these activities for tomorrow if you're ready to relax.
In the morning, you can grab breakfast at Barrio's Coffee Kitchen (Lowell Point) or the Mermaid Grotto.
I recommend visiting the Alaska Sealife Center (takes about an hour to walk through) and the entry fee helps support this non-profit.
There's a path that runs along the water in town and makes for a nice walk.
For hiking, you could do the arduous Mt Marathon (this is a difficult hike) or explore the rainforest area on Tonsina Trail. Mt Marathon has a few trails including the Jeep Trail (I prefer it, less steep) or the Race Trail.
I recommend reading through AllTrails to get an idea of how to tackle Mt Marathon.
Tonsina is an easy hike from Lowell Point. It's a 3.4-mile out and back trail and is relatively flat. The trail ends at Tonsina Beach but you could continue on to Caine's Head and other more challenging hikes. There are often bears in the area, so be prepared and on the lookout (but it's also usually busy with hikers).
Walk the small downtown area and check out the local art. Grab some ice cream at Sweet Darlings. Or try a local beer at Seward Brewing Company. It's a cute area and the surrounding views are simply stunning. The playground has some of the best views I've ever seen.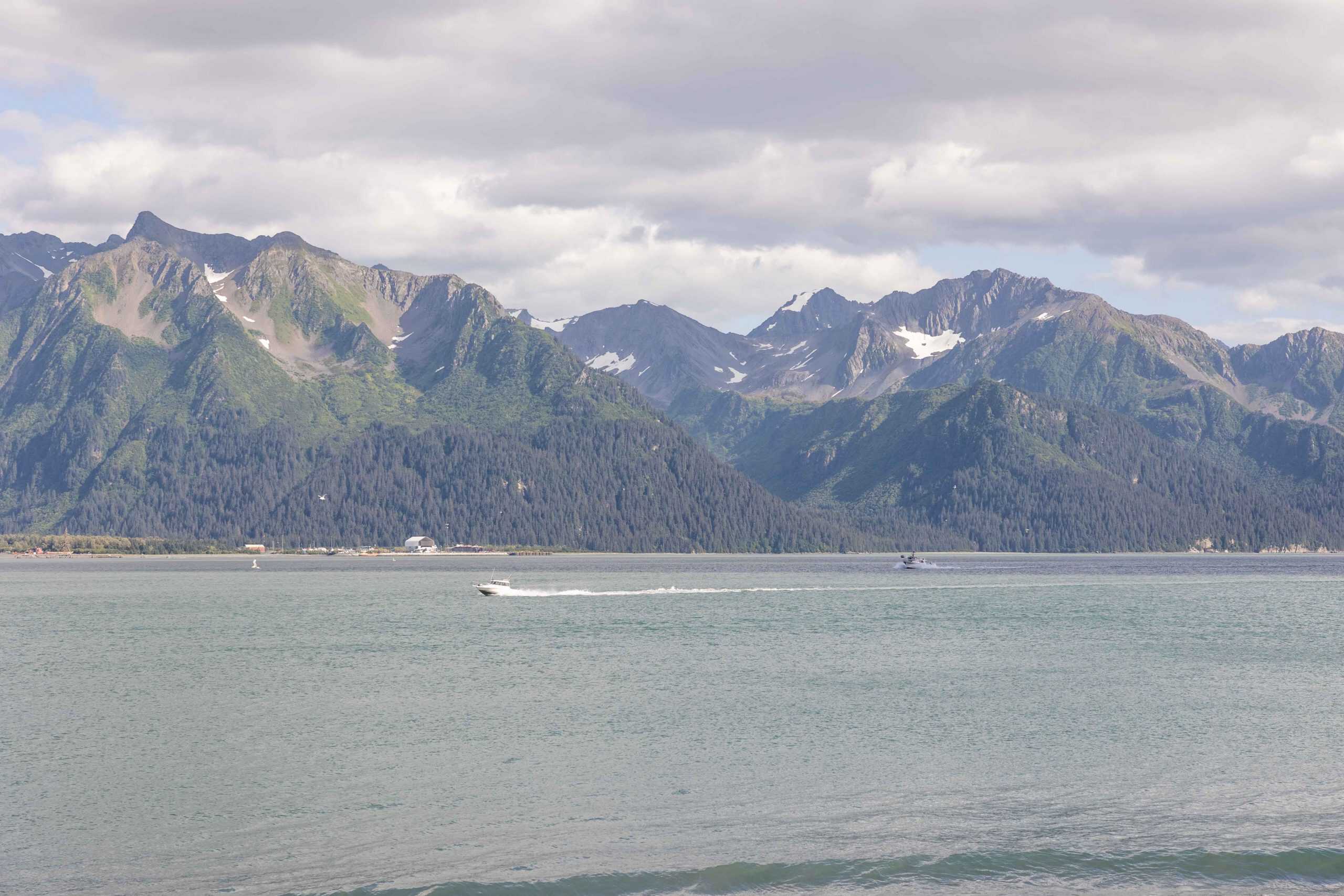 Lodging in Seward
For lodging, there are quite a few hotels in town and also many homes for rent. I'd check both Airbnb and VRBO for different options. This is a very popular tourist spot (cruises also port here) so be sure to book your lodging far in advance if possible.
If you are active duty military or a veteran, there is a military campground with camping spots, some yurts, and cabins at a great price.
Seward has some fantastic RV campsites. There are many sites right on the water that you can reserve online through the Seward city website.
At the end of town, there's a dirt road that winds its way 2-miles along the bay to an area called Lowell Point.
I love this area.
Unlike Seward, there is a large and long beach you can walk along when the tide is low, and it's more remote.
There are many private homes and places to stay (and many aren't listed on the main sites). I typically book with Miller's Landing. Their site lists their own cabins as well as others in the area.
There are also the stunning Salted Roots A-frames (they sell out quick), Angel's Rest, Alaska Saltwater Lodge, A Cottage on the Bay, Serenity by the Seas cabins, and more. I recommend doing a Google search or using Google Maps to find all your options.
Day 5: Glacier/Whale Cruise & Overnight in Seward
Drive Time: Driving or walking to the boat harbor in town, a few minutes.
Excursions to book: Glacier & Whale Cruise!
Lodging: Same as last night
Today you get a break from driving, yay! And to make it better, you'll also be getting out on the water and seeing wildlife and glaciers.
I love Major Marine Tours and typically always book with them. My favorites are the Orca Quest Tour and the Kenai Fjords National Park and Glacier Tour. With Orca Quest you'll still see glaciers and other wildlife, but the focus is on finding orca whales. It's a 5-hour tour and only costs around $100 per person, so it's well worth it in my opinion.
For a longer tour, the 6-hour Kenai Fjords National Park and Glacier Tour takes you up close to Holgate and Aialik Glaciers. You'll also likely spot whales and other wildlife on your tour (it's hard not to!).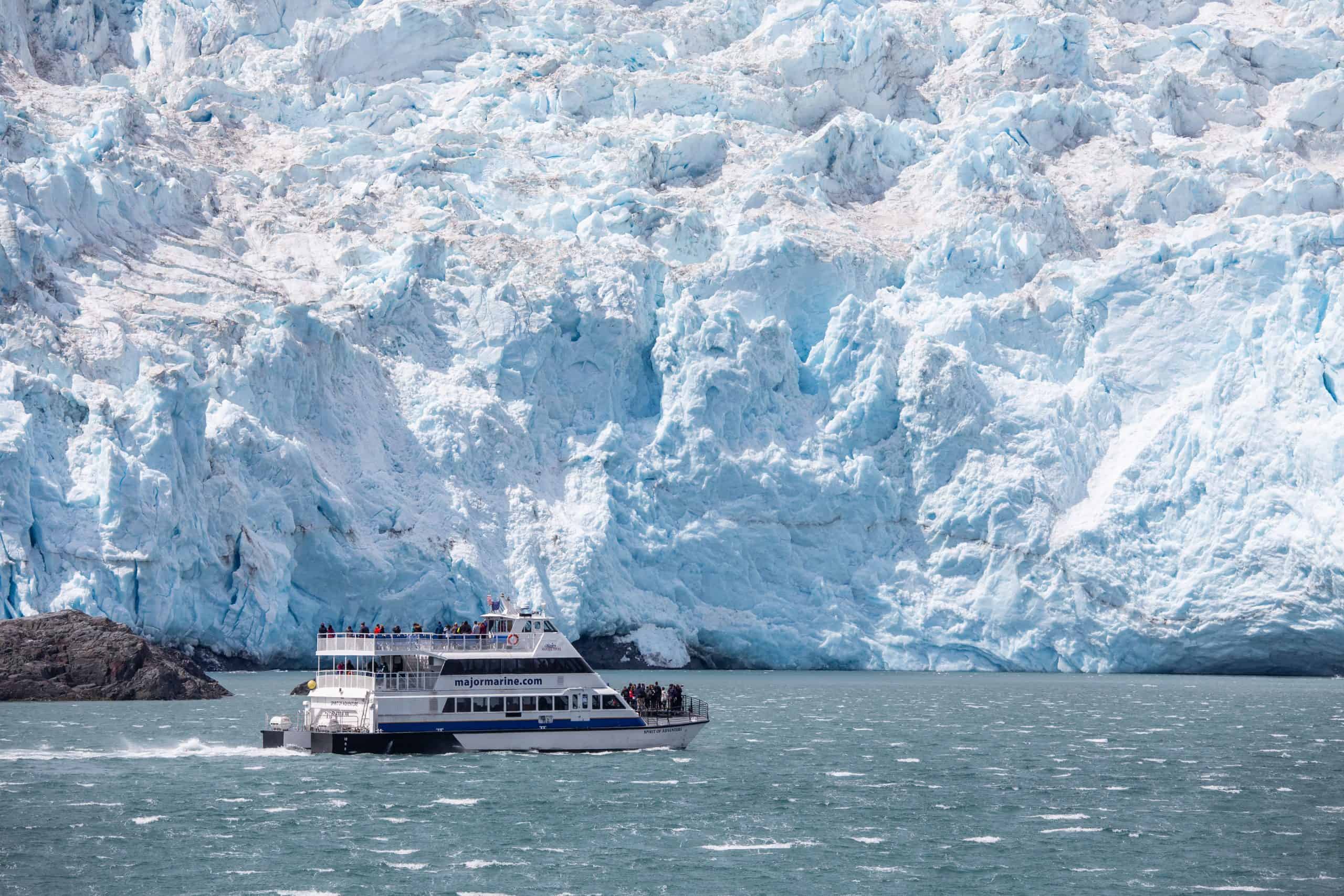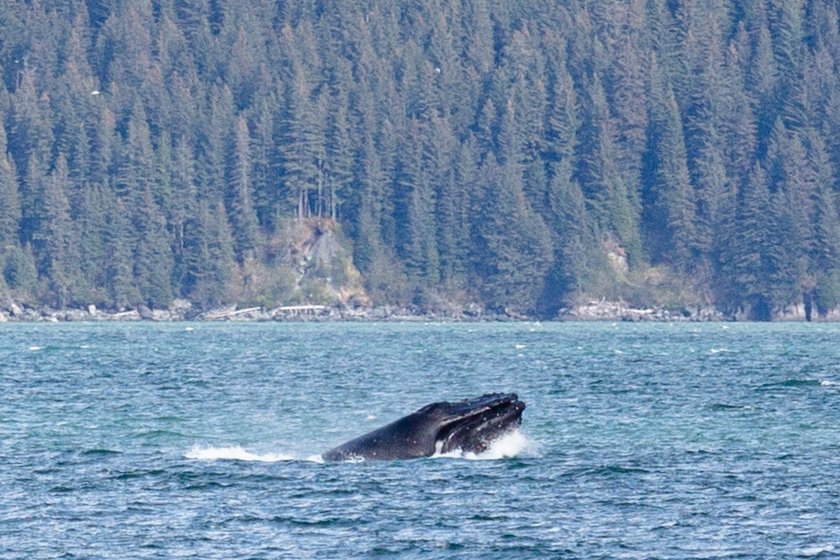 The tour will take up a good chunk of your day, and most tours have a morning or afternoon option. Afterward, you can explore more of the area (see Day 4 for ideas) or simply start a campfire on the beach and watch the wildlife.
Day 6: Drive to Homer
Drive Time: 3 1/2 – 4hrs
Excursion to book: none
Lodging Recommendations: Stay in Homer or on The Spit
I'm giving this an entire day. Although the drive is only about 3 1/2 hours without stops, realistically, it will take about 5 hours to get there. This is due to construction, RV's, stops for photos, etc.
Driving to Homer
Exit Glacier
If you like to get up early and go, then you can head out and hike to Exit Glacier. It's not really a hike, but more of a mostly flat walk through a well-maintained trail. It's only about a mile and takes you to an overlook point to see the glacier.
Unfortunately, it's receded so much in the past few years that the viewing deck is much further away from the glacier. But it's still a beautiful area and a way to see a glacier with a short hike.
There is a trail you can continue along to get a closer look. If you are up for a longer hiking adventure, you can do the 9-mile out and back hike to the Harding Icefield. While this hike is much more challenging and would take up quite a bit of your day (at least 5hrs), the views at the end are absolutely stunning.
Lunch and entering Homer
For lunch, you can stop in Soldotna, a town that you'll pass through. I recommend St. Elias Brewing, Mykel's Restaurant, Kenai River Brewing Company (they have an outdoor patio on a creek), or one of the many other restaurants in town.
On the way to Homer from Seward, you'll pass by Cooper Landing and Kenai. I recommend stopping for photos and walking around.
As you approach Homer, you'll start to see the volcanic mountains of Mt Iliamna and Mt Redoubt on your right. These are part of what's known as the Ring of Fire.
They're across the massive Cook Inlet and are easily seen on a clear day.
Once you start to descend the hill into Homer, you'll see a large landmass jutting out into the water. This is the Homer Spit, a long stretch of narrow land full of cute shops, some restaurants (mostly touristy), Land's End Resort, a large fishing harbor, and lots of beach camping.
Things to do in Homer
The Spit is definitely a 'must-do' while in Homer. It's a few miles long and I recommend finding a place to park and walking around.
The famous Salty Dawg Saloon is here and you can add your own signed dollar bill to the wall. Be sure to walk around and check out the Seafarer's Memorial, harbor, and the old boatyard. There are many shops and restaurants that are easy to spot.
There are many things to do in Homer.
For beverages, the Homer Brewing Company is a nice spot for good beer. There's also Sweetgale Meadworks and Cider House in town as well. Bear Creek Winery has a tasting room open daily (check their website for hours).
Bishop's Beach is a large sandy beach area and is great for a stroll along the water. It's also a good spot to let kids run and play.
There aren't a lot of hiking options in Homer. You'd need to take a boat taxi across Kachemak Bay to Grewingk Glacier or to other spots across the bay.
Where to Eat in Homer
For food, I love the crepes at Wild Honey Bistro (they have gluten-free too!). AJ's Steakhouse and Tavern across the street whip up delicious food. Fat Olives makes some pretty yummy pizza and salads. The Chart Room Restaurant at Land's End resort is a nice, upscale dinner spot. There are many other restaurant options in Homer as well, both along the Spit and in town.
Where to Stay in Homer
Homer is much more spread out than Seward and there are a lot more lodging options. As you enter Homer there's a huge bluff overlooking Kachemak Bay. The town of Homer is also on a bluff and there are many home rentals with great views.
For something closer to the water, there are a few options on the Spit. The most popular is Land's End Resort. There are also apartments for rent and some VRBO options as well.
Day 7: Fly to the Best Bear Viewing Spots in the world
Drive Time: Minimal, flights take off from Homer
Excursion to book: Bear Viewing, either Katmai or Lake Clark
Lodging Recommendations: Stay in Homer or on The Spit
Today you are going on a dream bucketlist adventure! For this part of the trip, you can either book a day trip or you can stay overnight.
Here's the lay of the land: South of Homer lies some of the best bear viewings in the world. Katmai National Park is one of the most popular spots for bear viewing. This is where you can go to Brooks Falls and witness brown bears catching salmon heading upriver.
Other popular locations for bear viewing are Lake Clark National Park and Kodiak Island.
When you book a tour, the guide will visit the best area for bear viewing during that time of year.
These tours aren't cheap. Expect to pay $700 – $1000 per person.
The most popular tour companies from Homer are Smokey Bay Air, Lake Clark Air, Beluga Air, and Beryl Air. Bearfoot Tours doesn't travel as far but their day trips are under $700pp.
If you want to stay overnight at Brooks Falls, many of the tour operators run overnight trips. You can also book a campsite at Brooks Falls Campground or stay at Brooks Lodge (they also can help with tours but it's expensive).
After your tour, head back to Homer and explore areas you haven't been to yet, or start a fire and enjoy the views!
Day 8: Take the Ferry to Seldovia or Enjoy Dinner on a Private Island
Drive Time: Minimal, you'll drive to the port on the Spit
Excursion to book: Ferry to Seldovia or Boat to The Saltry
Lodging Recommendations: Stay in Homer, Seldovia, or Halibut Cove
If you did a day trip to Brooks Falls, then you'll have all day today to explore the Homer area.
Today I recommend getting out on the water.
Either take the ferry to Seldovia or book dinner at The Saltry in Halibut Cove. Technically you could do both, but you would need to time the ferry and private boat taxi so you don't miss dinner. Since weather happens and plans change, I think it's too much to try and do both in one day.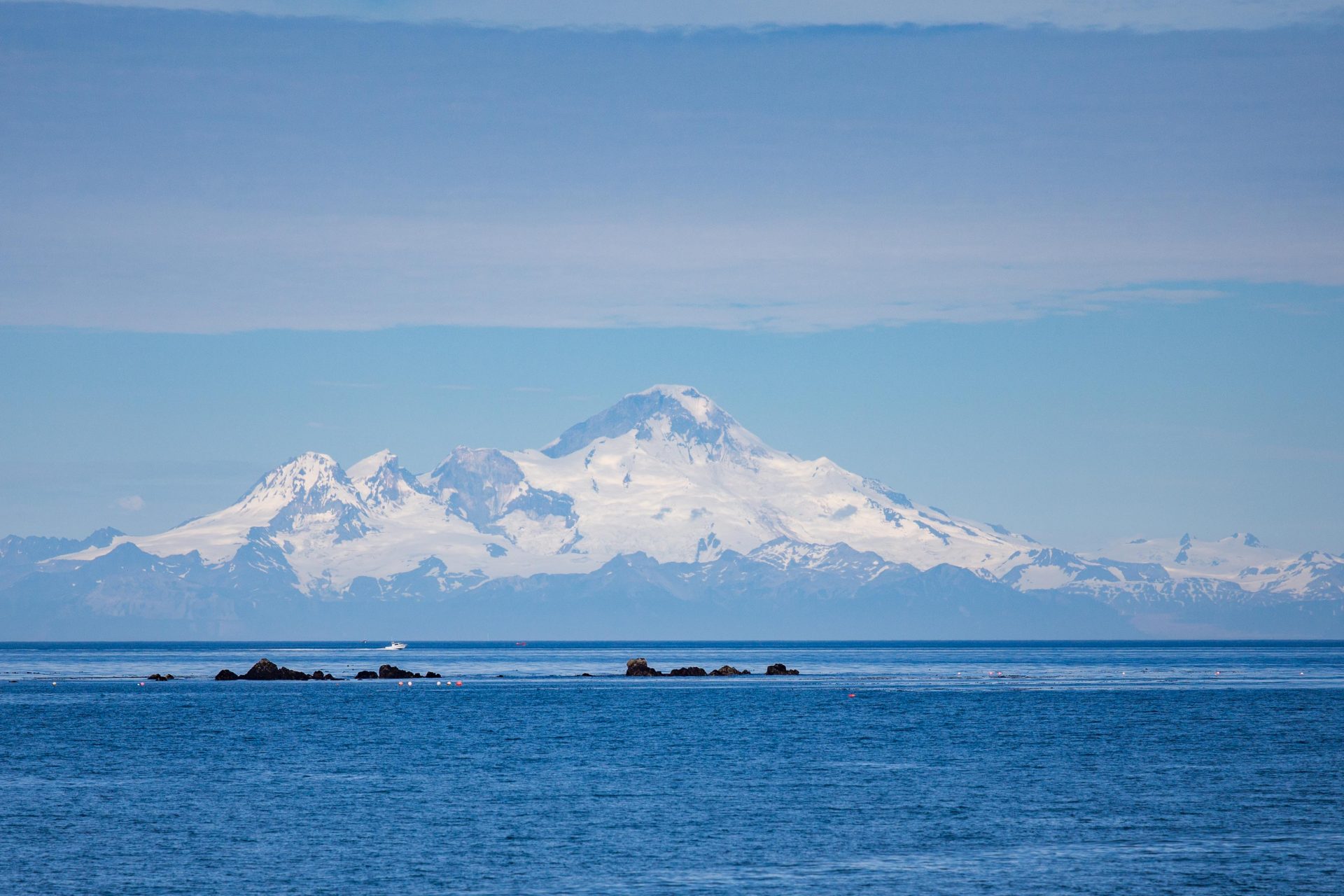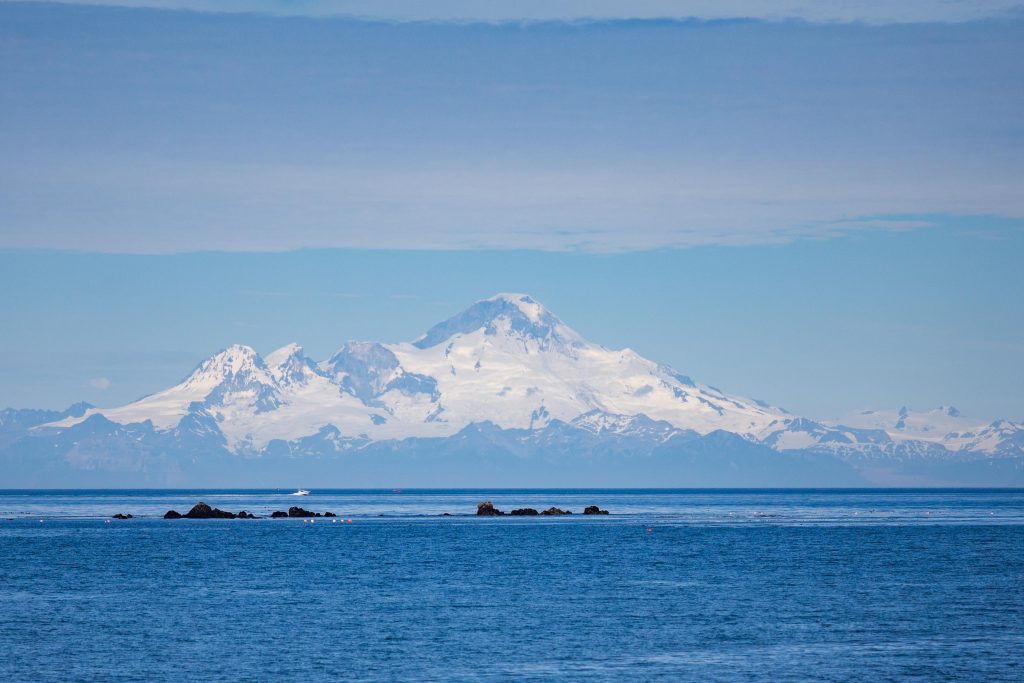 Seldovia is an incredibly small town of under 300 people across Kachemak Bay (across the bay from Homer). There is a nice boardwalk on stilts and a few restaurants in town. You could even stay overnight here at one of the few hotels or b&bs in town.
There are also some good hikes here. I like the Otterbahn trail. This 1.9-mile out and back trail winds through beautiful lush woods and ends at Outside Beach.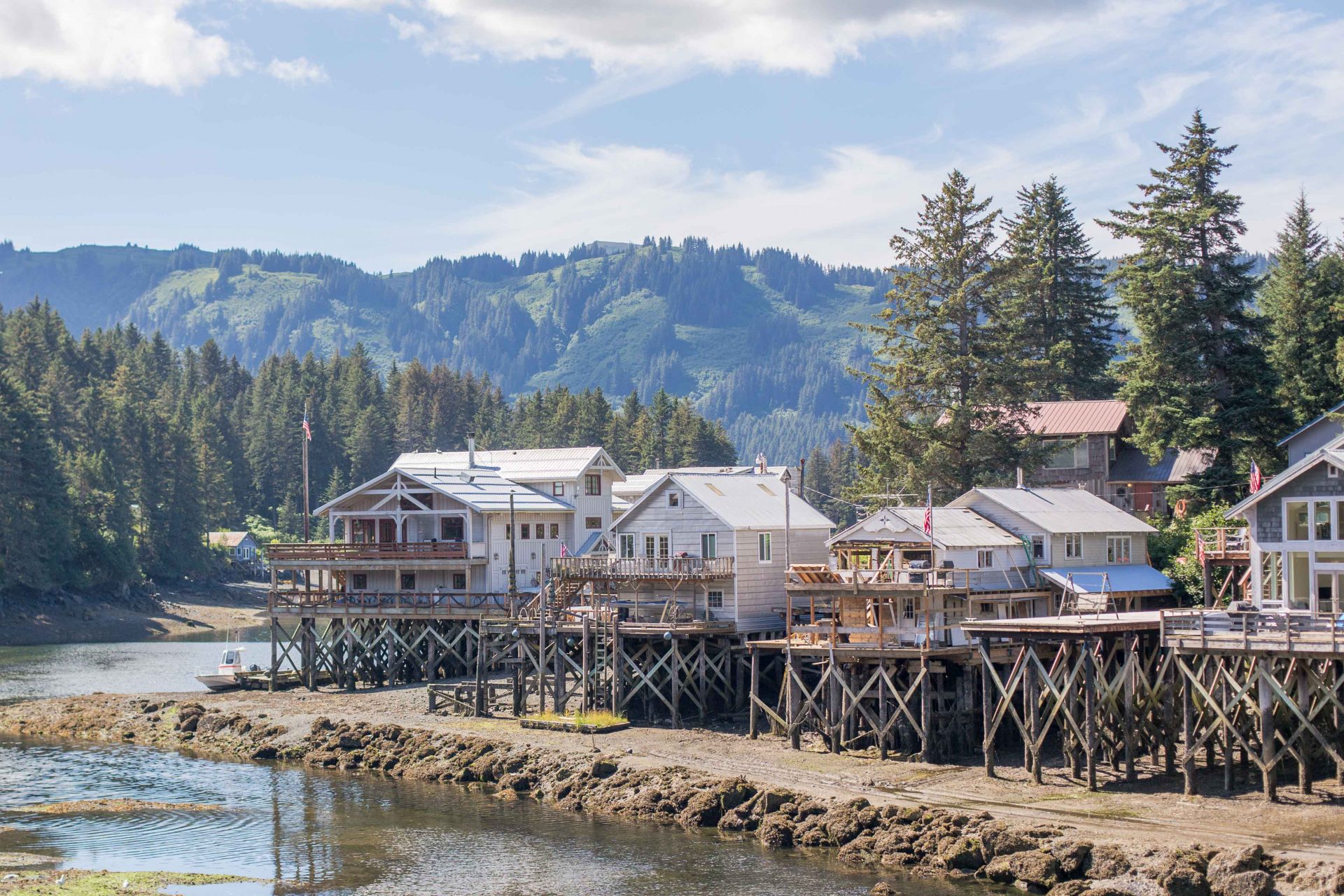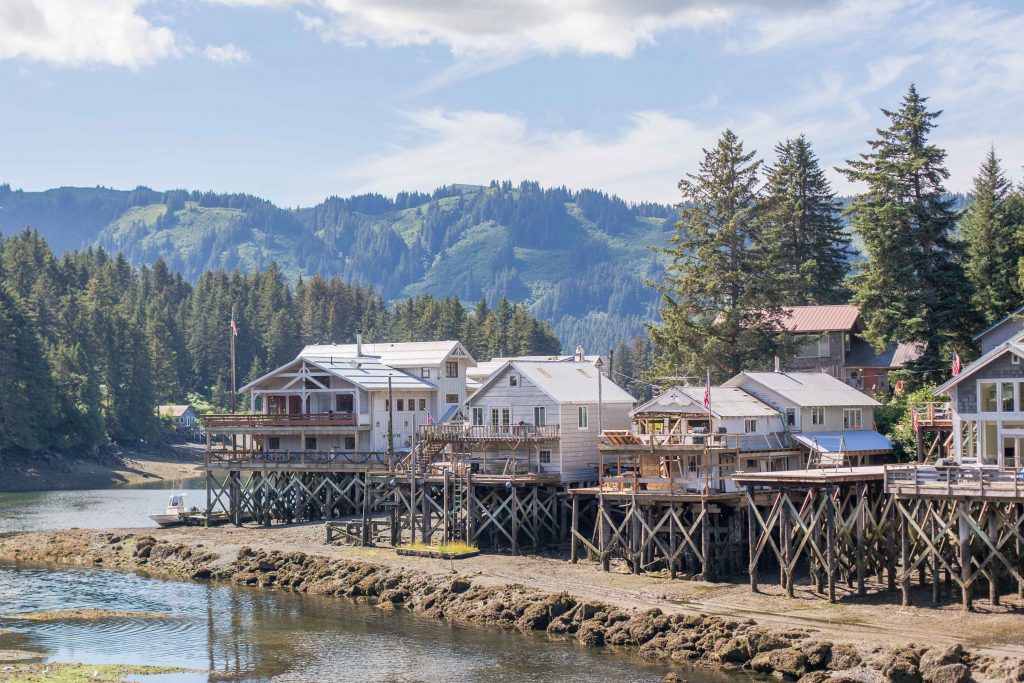 The Saltry is an upscale dinner spot across Kachemak Bay in Halibut Cove. There's a small boardwalk with shops here and you can easily reserve a boat taxi through the restaurant's website.
For under $75, you could instead make it a day trip and add a tour of Gull Island. With this trip, you get up close to Gull Island where you can view all sorts of birds (including puffins!). Then you'll eat lunch at The Saltry and walk around Halibut Cove before heading back.
Afterward, you'll head back to Homer (or you could stay overnight in Seldovia or Halibut Cove).
Day 9: Girdwood & Portage Glacier
Drive Time: 4hrs without stops (realistically I would estimate 5-6hrs)
Excursion to book: Optional Portage Glacier Boat Tour
Lodging Recommendations: VRBO or Alyeska Hotel in Girdwood
Today is a driving day! It's time to head back north toward Anchorage. If there was somewhere you wanted to stop but missed, today's the day to do it! In my personal experience, it's always worth it to take the time to stop for that photo or take in a view. Yes, it will take longer, but you'll be so happy you made the stop.
The trip today will end in beautiful Girdwood.
I recommend stopping at Portage & Byron Glacier if you have time. It's about a 5-mile detour down Portage Glacier Rd on the way to Whittier.
You could also add Whittier today, which is a small fishing town and popular cruise port. To get there, you take the longest tunnel in North America. It's a one-way tunnel that's shared with the railroad. Because of this, you can only enter during certain times of the day (about every 45 minutes).
Portage & Byron Glacier
Portage Glacier has a large lake that's formed over the years as the glacier continues to retreat. Portage Lake has a day cruise that runs a few times a day to the glacier. It's a short 1-hour tour and is under $50pp.
If you'd rather hike, head to the Byron Glacier Trailhead. This is a relatively easy 3.2-mile out and back hike that brings you to spectacular views of Byron Glacier.
There's also a 5-mile flat trail that takes you on bridges and boardwalks, through woods, across streams, and near ponds. It's a pretty route that makes for a nice walk or bike ride.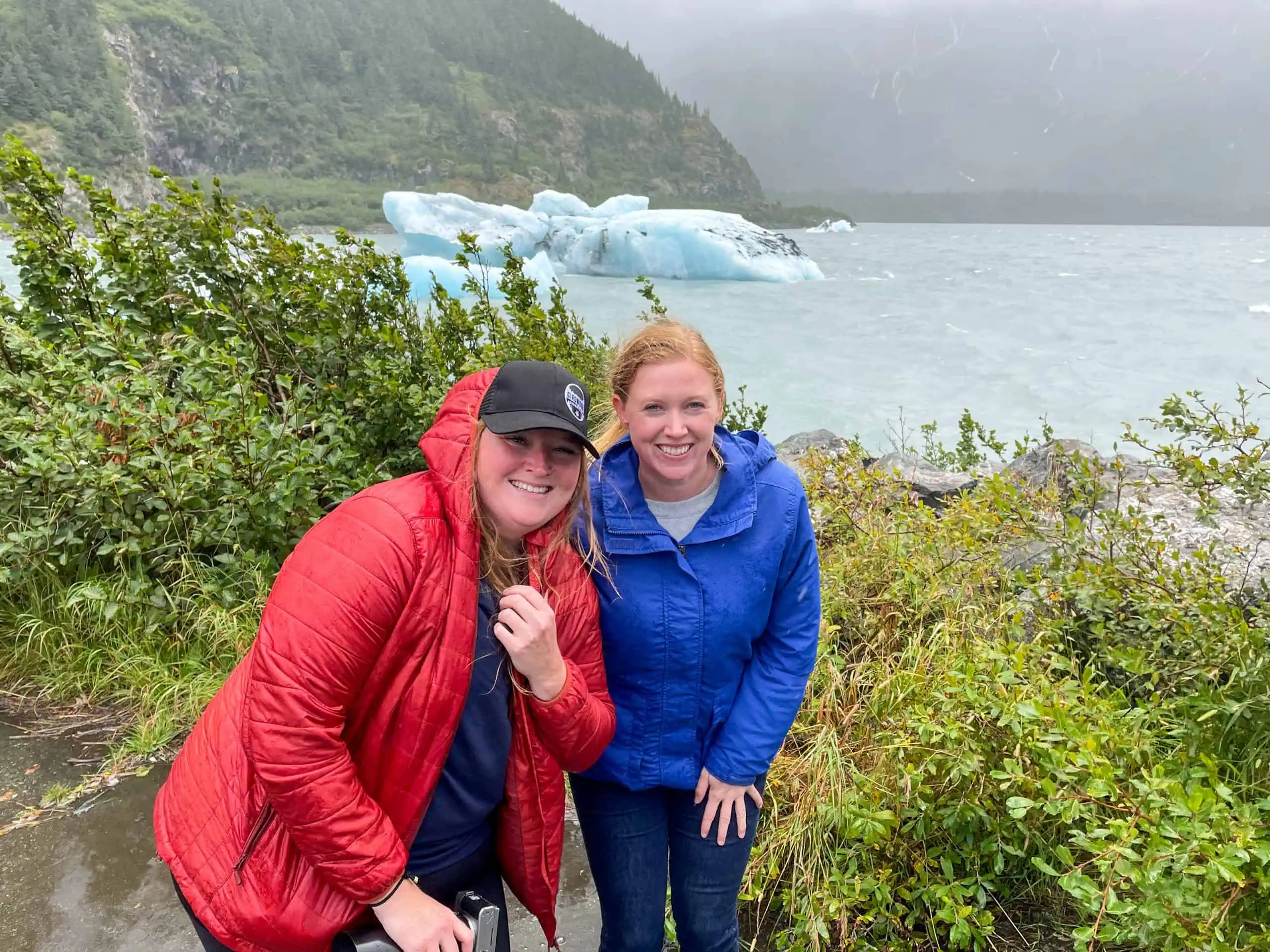 After exploring Portage, head to Girdwood! This is where you'll be staying tonight. Locals love this town. It's surrounded by mountains and popular for the Alyeska Ski Resort (one of only 7 ski resorts in the state).
Things to do in Girdwood
The area is absolutely beautiful. I have an article highlighting everything you can do in Girdwood. At the top of the list is the Alyeska Tram for stunning views of the valley and inlet below.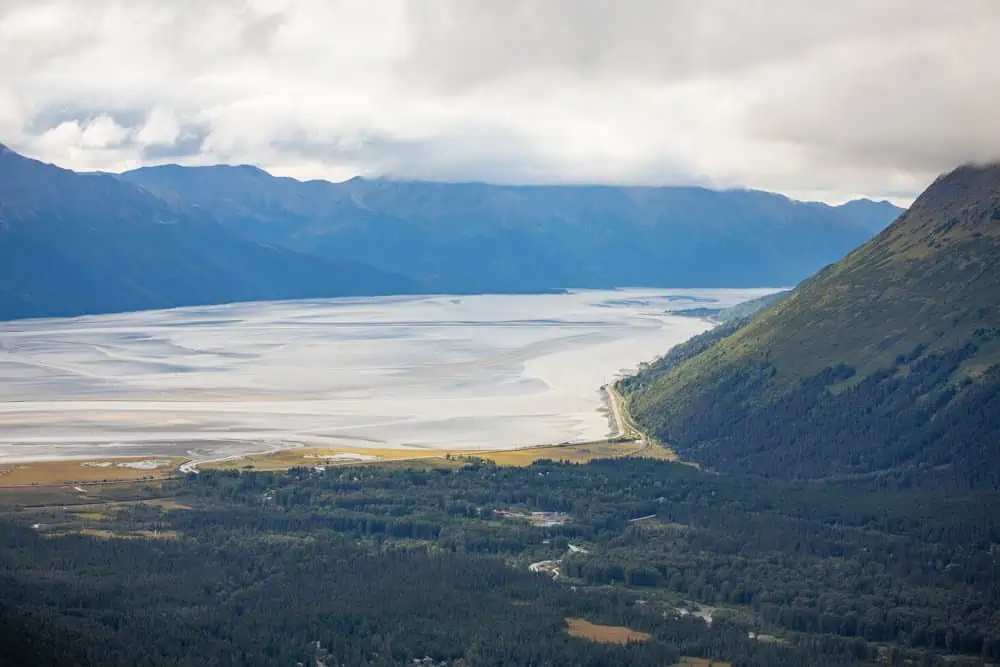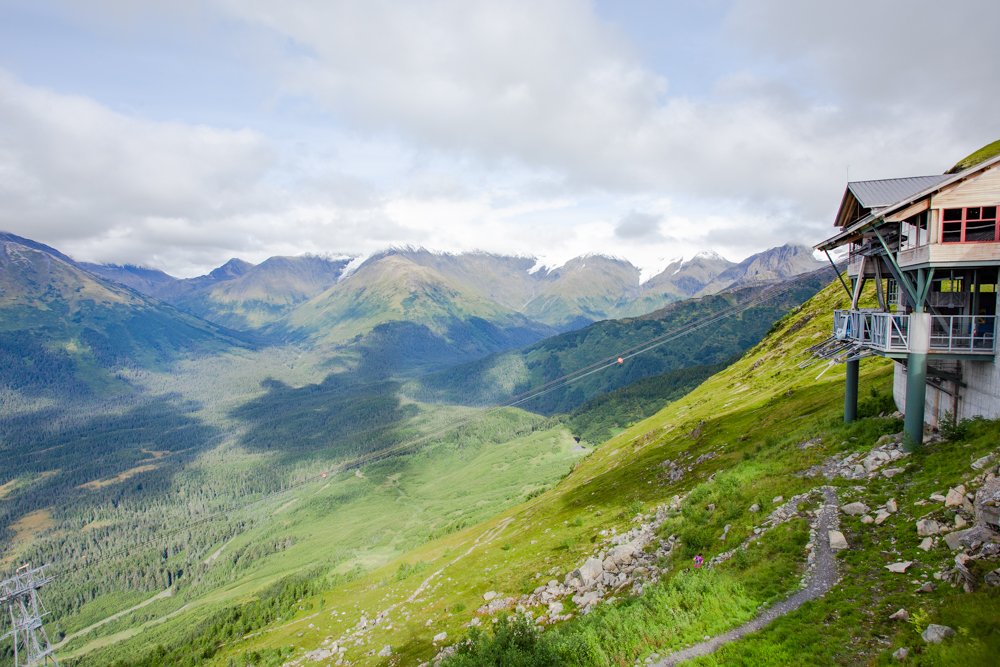 The Alyeska Resort also added a brand new Nordic Spa, the only one of its kind in the state! You don't need to stay at the hotel to use the spa as they charge a daily rate. Be sure to call and reserve a space ahead of time.
I could easily spend an afternoon hiking Winner Creek, then heading to Girdwood Brewery for a local beer (it's my favorite brewery) and dinner at one of the food trucks on-site.
Where to Stay in Girdwood
The Hotel Alyeska is a nice and easy place to stay. There are multiple restaurants on-site, the grounds are beautiful, and there are many hikes you can take from the hotel. They also have a large indoor pool with an impressive jacuzzi as well.
If you're traveling in a group or want to avoid a large hotel, there are many VRBO's and homes for rent.
Many homes/condos are also listed on Booking.com and could be cheaper than VRBO/Airbnb because you don't have to pay the cleaning fees.
There aren't other hotel options in this area.
Dat 10: Anchorage and Fly Out
Drive Time: 1 hour to Anchorage
Excursion to book: None
Today you'll make your way back to Anchorage for your flight out. If your flight leaves late you could do a morning hike in Girdwood or enjoy the Nordic Spa.
Or you could head to Anchorage to explore some of the activities in town. Here are my recommendations:
Westchester Lagoon and Coastal Trail – A beautiful park area with a large lagoon popular with birds and kayakers. It's connected to the popular coastal trail which spans 11 miles along the inlet. For a unique way to explore the Coastal Trail, you can book a guided bike tour that takes you from Kincaid Park to Point Woronzof.
Flattop Mountain – A popular hiking trail that also provides beautiful views of Anchorage, the Inlet, and beyond.
Point Woronzof – A great spot to get that iconic picture of downtown Anchorage.
Kincaid Park – A large park covering nearly 1,500 acres right on the inlet near the airport. There are lots of trails and parking areas.
Walk downtown and visit the shops & restaurants – There are a lot of shops with local 'Made in Alaska' items (look for the sticker!) and also many fur shops. My favorite restaurants include Humpy's (try their halibut burger), Tent City Taphouse (any burger and beer is good), Pangea (Mediterranean food with good drinks), and Club Paris.
Ship Creek – There's a fish hatchery here and it's a popular fishing spot right in town.
Brewery Tour – There are so many great breweries in town, and you can even book a bike and brewery tour with Big Swig Tours so you're car-free. This is an 8.5hr tour so it'd be good if you're flying out late.
Wrap Up
I hope this in-depth itinerary helps you plan your own trip. If you want more information about Alaska and my travels (and misadventures) around this state, be sure to get on my email list. I provide many helpful tips to make your trip perfect.
Read More Alaska Articles