The Perfect Alaska Winter Travel Guide
Hey there!
This post may contain affiliate links, meaning I may be compensated if you click on one of my links, at no cost to you. As an Amazon Associate, I earn from qualifying purchases. Read my disclosure policy for more information.
Visiting Alaska in the winter is a completely different experience than summer travel. Everything is covered in white, it's cold, it's dark, and the driving conditions aren't ideal.
But everything is also still and quiet. It often feels quite peaceful, especially when the snow is falling and you're cozied up to a fire.
There are plenty of fun winter activities to experience in Alaska. Most people that visit in the winter are looking for adventure (and the northern lights!), and this post will outline everything you need for a perfect winter trip.
Getting Here and Getting Around
Flying In
The two largest airports in Alaska are Anchorage and Fairbanks. Juneau is the other 'main' hub, but it's located in Southeast Alaska and is not on the road system.
In winter months with storms and other things that can slow air and sea travel, I recommend flying into Anchorage or Fairbanks where you'll be on the road system.
Train
There is a Winter Train Tour that runs between Anchorage and Fairbanks, and is a fun way to see the snowy landscapes around Alaska.
Do You Need a Car?
Normally I wouldn't even entertain getting around Alaska without a vehicle, but winter is a bit different. If you plan to do a lot of tours, you could easily do day trips from Anchorage, take the winter train to Fairbanks, then book northern lights tours from there.
There are some places that can't be reached unless you have car, so this will really depend on your itinerary and what you want to do.
Winter Driving Tips
I'll be the first to say I'm no expert. But in my personal experience, it's best to take it easy on the road and be okay if you need to change plans. It's not usually the snow that slows people down (well, unless it's a blizzard) but rather the ice.
When it warms up in the winter, that's when the roads are most dangerous.
In ideal conditions, they're just wet, but if a chill comes through the roads can turn to black ice very quickly. I would personally rather wait it out until it melts again or the sanding trucks come through.
Top driving tips:
Have emergency gear on hand. This includes all your winter clothing.
Make sure your washer fluid is full and the gas tank is at least half full
If possible, rent a 4×4 or all-wheel drive vehicle. If they have studded tires or blizzaks, that will make a big difference. Front wheel drive is okay, and many people get around with only FWD.
If you're apprehensive about driving in winter conditions, there are ways to experience Alaska in the winter without renting a car. In fact, winter travel is the only time I would mention going without renting a vehicle.
This can be accomplished through day tours with transportation, the Winter Train, and shuttle buses to hotels or the hot springs. And there are always taxis, Uber, and Lyft as well.
When is the Best time to go in the Winter?
Everyone has different opinions about this. Some people recommend avoiding January as it's typically the coldest month. Others will tell you the northern lights are better in March and April.
Personally, my rule of thumb is to avoid the beginning of winter and the tail end.
In Alaska, winter usually starts in October to early November. This means the first snowfall, drivers getting used to snow again, and plow trucks finding their groove.
Or, there may not be any snow yet in October or November. This means your winter activities might get canceled, and you'll miss out on the beautiful winter wonderland.
December typically gets the most snow, so if you want to see the northern lights, I'd consider going later if possible (you need clear skies to see them).
January is cold but it's also darker out longer, increasing your chances of seeing the lights.
I think the sweet spot is March. There's enough light that you can do many things during the day, but you'll also have 12 hours of darkness to chase the northern lights. The weather is milder but it's still very much winter.
April is a mixed bag. It's usually the driest month of the year, although we recently had two years in a row where it snowed for five days straight. Things are warming up and it's not exactly the prettiest time to visit. Everything is brown and the pretty snow is no longer here, it's covered in dirt and mud.
All this to say I'm mostly taking into account averages and typical seasons. It's certainly possible to visit in December, see the northern lights, and not get any snow.
For the most part, anytime between December to March is a safe bet.
Why Visit Alaska in the Winter?
While summer is my recommendation for first-time visitors, for those that have already been or are wanting something a little more off-the-beaten-path, then a winter trip could be the perfect adventure.
In some ways winter can be a little more limiting – there's not quite as much to do and you'll want to be more flexible in case there's a storm or a road shuts down. In addition, many small towns shut down partially or completely, and there aren't as many tours available.
But for winter adventurers, there's plenty to keep you busy (see below for a list of activities). And if you're itching to see the northern lights, Alaska is one of the best places in the world to go.
The biggest perks to visiting Alaska in the winter are:
It's MUCH cheaper, especially accommodations and vehicle rentals
There aren't many tourists….or people in general
You can experience unique winter activities (winter glacier hiking, snowmachining (snowmobiling), dog sledding, chasing the northern lights…)
Winter Weather & Sunlight
On average, Alaska loses a few seconds to a few minutes of sunlight a day from June 21 (summer solstice) to December 21 (winter solstice).
The Anchorage area gets only 5hrs 27min of sunlight on December 21 (winter solstice). Further north in Fairbanks, the sun shines for only 3hr 41min on December 21st. The darkest times of the year are around winter solstice, generally between November 21 – January 21.
A HUGE perk to visiting Alaska in the middle of winter is all the STUNNING sunsets and sunrises.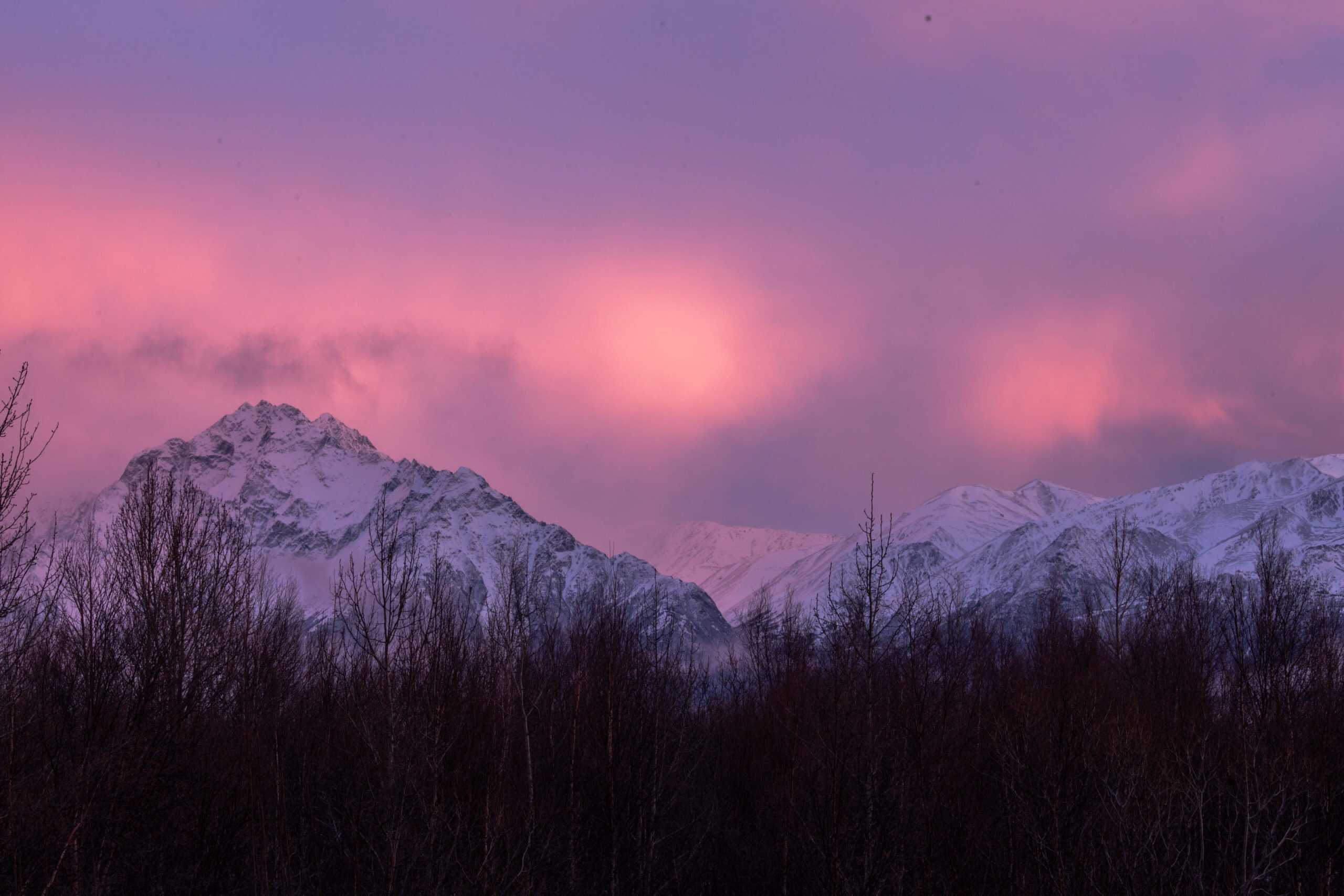 Winter weather varies greatly around the state. In Southeast Alaska, some areas rarely get snow. Around Anchorage and further north the average snowfall ranges from 79 inches (Anchorage) to 178 inches in Talkeetna and Girdwood. On average, Fairbanks gets a little less snow than Anchorage.
Around Anchorage, temperatures tend to fluctuate around 0-35F, but it's not uncommon to have cold spells well below zero for weeks on end.
Fairbanks is known for its bitter-cold winters. For example, the average 'high' temperature in January is zero degrees Fahrenheit. ZERO! The average low is -13F in January. It's common to experience temperatures below zero, or even 30 below zero.
So expect cold weather and come prepared! At the bottom of this article is a packing checklist with ideas on staying warm when visiting.
Where to Go
Since I've already outlined that you should either fly to Anchorage or Fairbanks, which one is better? Well for winter travel, both are great, but your chances of seeing the northern lights are much better in Fairbanks. Since many people come to Alaska in the winter to see the northern lights, I recommend flying into Fairbanks.
Alternatively, if you want to explore more of the state you could fly into Anchorage, take the winter train to Fairbanks, then fly out of Fairbanks. This would allow you to take advantage of winter activities around Anchorage, experience the winter train, and then do things in the Fairbanks area (and hopefully see the lights!).
Things to Do in the Winter
Chase the Aurora Borealis / Northern Lights
This is the top reason people come to Alaska in the winter and for good reason. Fairbanks is under the "Aurora-Oval" where the lights are most visible. This is why Fairbanks is the best place to see the lights.
On average, the aurora is visible here 4 out of every 5 nights when the sky is clear and it's dark enough. The season in Alaska runs from the end of August to mid-April, so your odds are pretty good of seeing the lights if it's clear out!
It's certainly possible to go light chasing on your own, but I really recommend booking a northern lights tour. They know the best locations and will handle all of the driving for you. I recommend this small group tour that takes you out to a warm cabin with plenty of open sky.
If visiting the Arctic Circle is on your bucketlist, there's this popular tour out of Fairbanks where you not only go to the Arctic Circle but also see the Aurora. Please note this is a LONG tour – it's about 13 hours roundtrip on snowy, ice roads from Fairbanks!
Another great option about 90 minutes northeast of Fairbanks is Chena Hot Springs. They run a fun tour up a mountain in SUSV's. There are warm yurts at the top with apple cider and hot cocoa, and it's a fun way to see the northern lights. We went in 2022 and you can read all about it here.
Around Anchorage, it's certainly possible and common to see the lights. It's just not as reliable as Fairbanks. Read this article to learn how you can see the lights from the Anchorage area.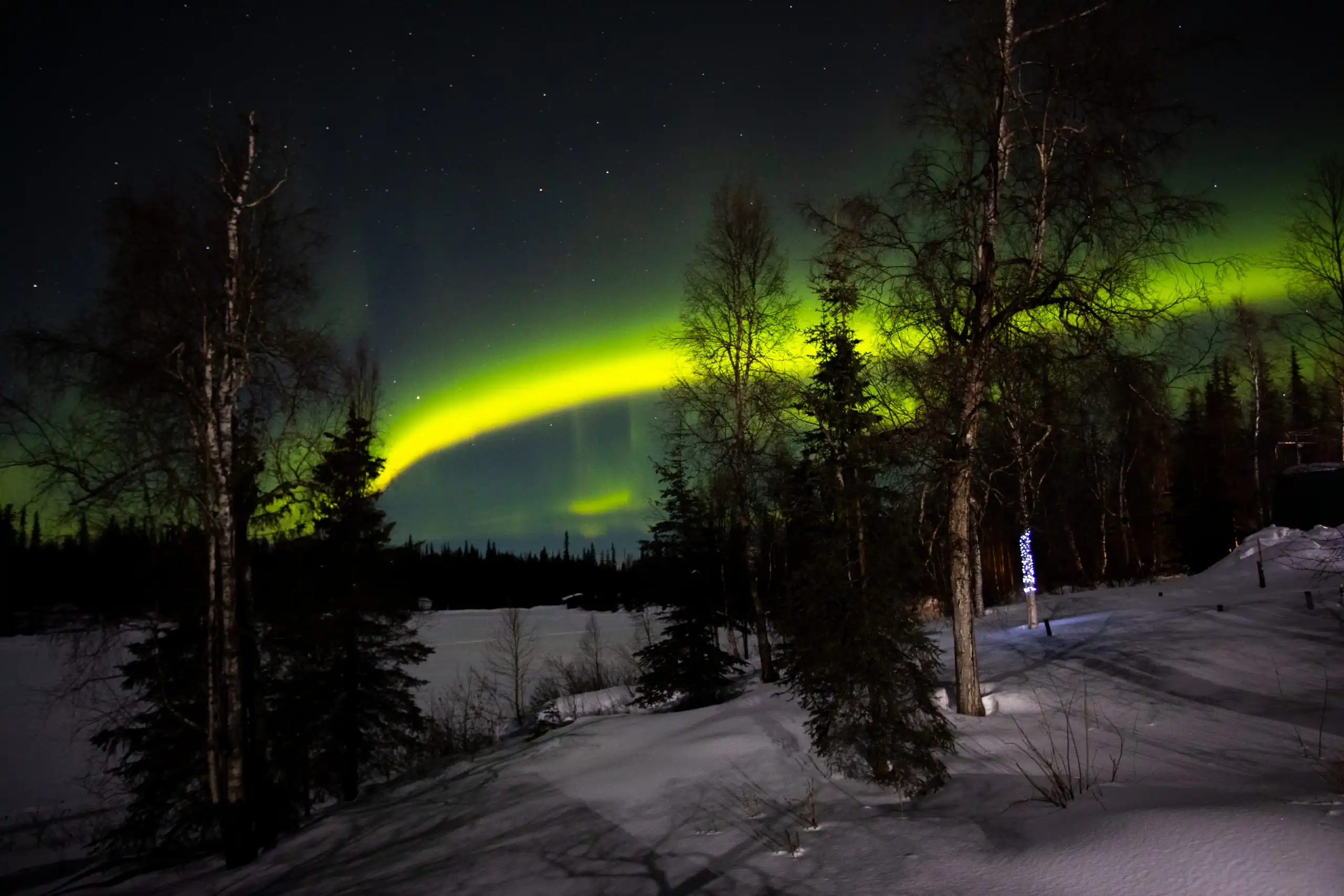 Alaska Winter Train
The Alaska Railroad runs a winter train between Anchorage and Fairbanks. It takes 12 hours from start to finish (8am – 8pm), so expect to make an entire day out of it. In addition to winter scenes looking like something out of a postcard, you'll also likely spot wildlife on the way. Moose are active in the winter months along with fox, lynx, and wolves.
The train does not run daily, so check the days/times when planning your trip.
Snowmachining (snowmobiling)
There's nothing like driving upwards of 50mph and gliding over snow on a snowmachine. It's definitely something everyone should try at least once. They are so much fun. And when in Rome…err…Alaska, why not?
Snowhook Adventure Guides and Alaska Backcountry Adventure Tours run some of the most popular tours around the Anchorage area and beyond.
Near Fairbanks, you can take this tour past the Alaska Pipeline and weave your way through the forest. This one takes you to the Chena Lakes Recreation Area and along mountain trails.
Glacier Tours
Just like snowmobile tours, a glacier tour should be a must-do while in Alaska. Near Anchorage the most popular glacier is Matanuska. It's a large 24-mile-long glacier easily accessible from the highway and about 100 miles north of Anchorage. If you don't want to drive, there are tours (like this one with 907 Tours) that do pick up and drop off from Anchorage.
"This was one of the best experiences I've had while travelling! Lori and Jason were excellent and knowledgeable! Would definitely recommend."

READ MORE REVIEWS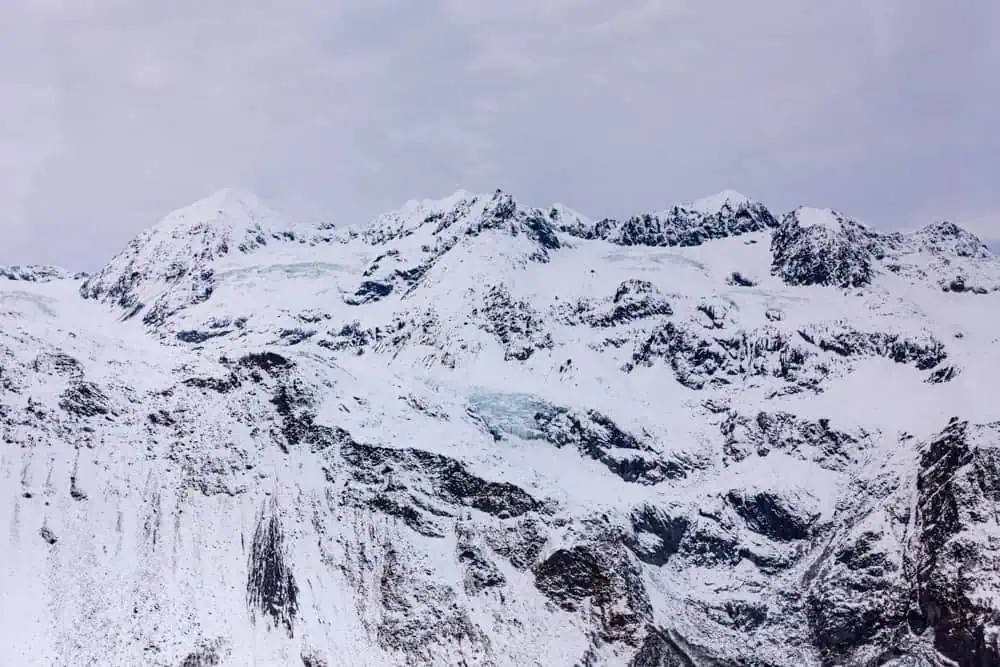 Portage and Byron Glacier are also popular spots near Anchorage but there are no official tours at these glaciers. Please use caution and do not attempt to cross Portage Lake in the winter unless the conditions are perfect (which isn't likely). In recent years the lake has become increasingly unpredictable in the winter, so it's not advised to go out on it.
If you want to splurge, you could book a helicopter tour with a glacier landing, like this one from Palmer.
You can also book a glacier landing in Girdwood, about 45 minutes south of Anchorage. We did this in 2018 and still talk about it today! This is the exact tour we booked. The company is super professional and operate a really nice fleet of helicopters (see image below).
We went in November and the conditions were great. We landed on a glacier and walked around. Our guide pointed out some huge crevasses in the ice, and on the way back we even saw moose in the fields below. It was truly a memorable experience.
And although these tours aren't cheap, they are absolutely worth it!
There aren't many glacier tour options from Fairbanks. Fairbanks sits in a large open valley with mountains in the background. Castner Glacier used to be a popular spot with the ice cave but it collapsed in 2022.
Skiing/Snowboarding
Although Alaska has 3,844 named mountains (and many more unnamed), there are only 7 ski resorts in all of Alaska.
Near Anchorage, Alyeska in Girdwood is the largest resort in the state. It's also the best (okay, that's just my opinion).
It has one of the steepest North Faces in America, but don't worry, you don't have to take that route.
Once you reach the midway point on the mountain you'll be able to see the inlet and mountains beyond. The ski town itself is fun and feels worlds away from Anchorage.
There are also plenty of options for Nordic skiing. Moose Meadows in Girdwood is a popular winter wonderland with a large trail network for beginners and enthusiasts. I wrote a post all about Girdwood that you can find here.
Kincaid Park in Anchorage has many Nordic ski trails as well, and you can rent gear in town.
Near Fairbanks, the main ski area is Moose Mountain. With 1,300 vertical feet most of the runs are intermediate and advanced.
If you brought your own gear, Hatcher Pass is a perfect place for some backcountry skiing and snowboarding. In fact, you can park and start climbing up mountains as soon as you get out of your car.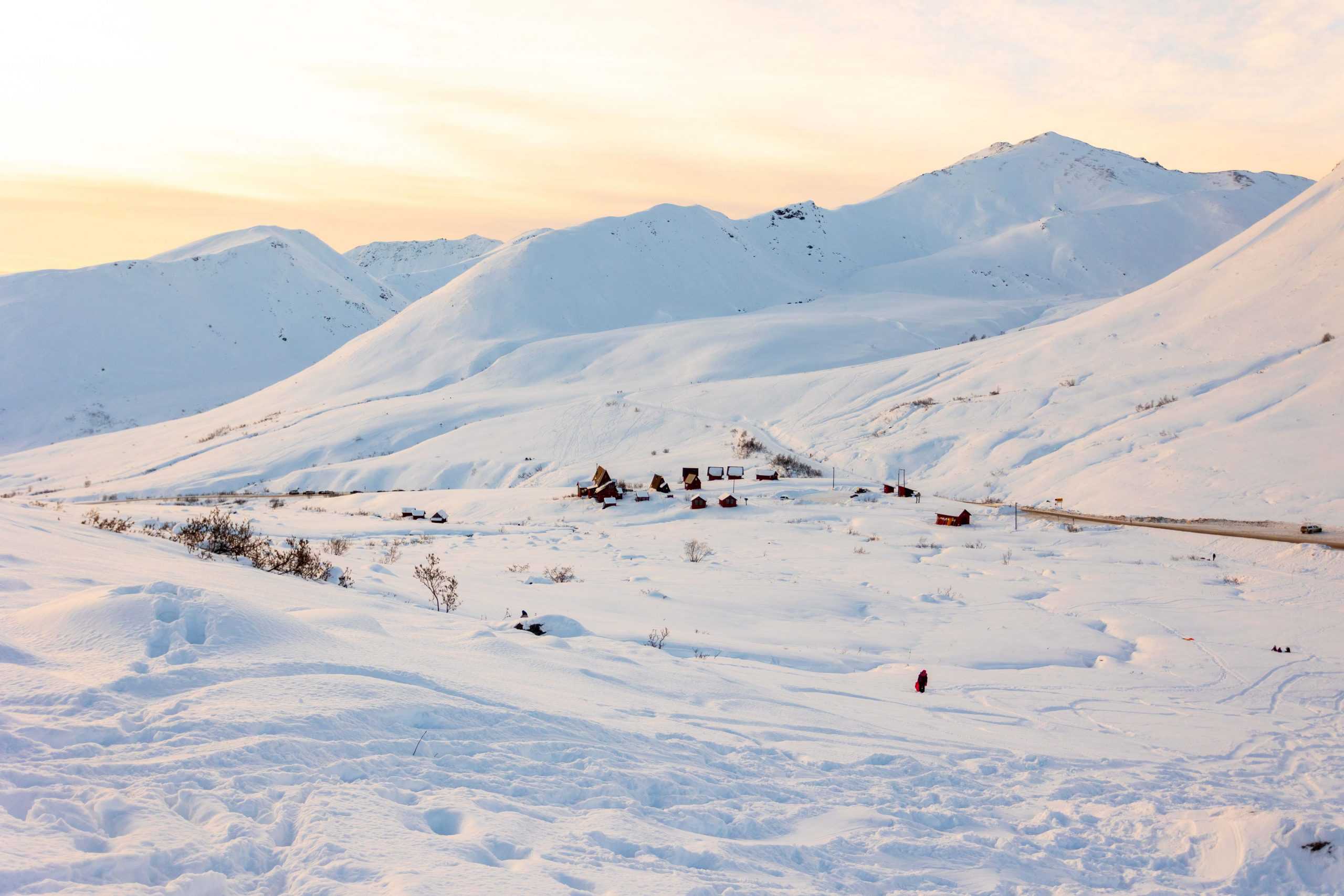 Craft Fairs
Leading up to Christmas there are a bunch of local craft fairs around the state. Alaska has a ton of great artists selling items such as jewelry, metalwork, furniture, clothing, paintings, and photography.
Dog Mushing
Yet another bucket list item in Alaska, dog mushing and mushing tours are a unique experience in Alaska. There are many fun tours near both Anchorage and Fairbanks. In Fairbanks, I recommend this tour with 1st Alaska Tours.
For Anchorage, I recommend this tour run by Alaskan Husky Adventures (note it starts in Wasilla and not Anchorage). Snowhook Adventures has great dog sled tours as well.
Alyeska Nordic Spa & Ski Resort
Alyeska recently opened their new luxurious Nordic Spa, the first in Alaska. I visited early in 2023 and was completely impressed with the entire experience. I wrote about my experience here.
A "Nordic" spa is centered around the idea of moving through hot, cold, rest, repeat. There are Finnish saunas, barrel saunas, steam rooms, an exfoliation room, hot tubs in the forest, hot pools, relaxation pools, fire pits, and even a bistro.
I'd recommend doing this at the tail end of your trip after all of your epic Alaska adventures!
The spa is located at Alyeska Resort, which is one of the only ski resorts in Alaska. The resort itself has a saltwater pool and large jacuzzi facing the mountain. Unlike the Nordic Spa, it's open to hotel guests only (and is child friendly).
There are many restaurant options inside the hotel, ski rentals, fat tire bike rentals, and access to the tram. The tram is used mostly by skiers and snowboarders in the winter months, but anyone can pay to ride up to the top. Once at the top, there's a restaurant, bar, and gift shop.
Winner Creek trail is a popular wooded trail with direct access from the hotel.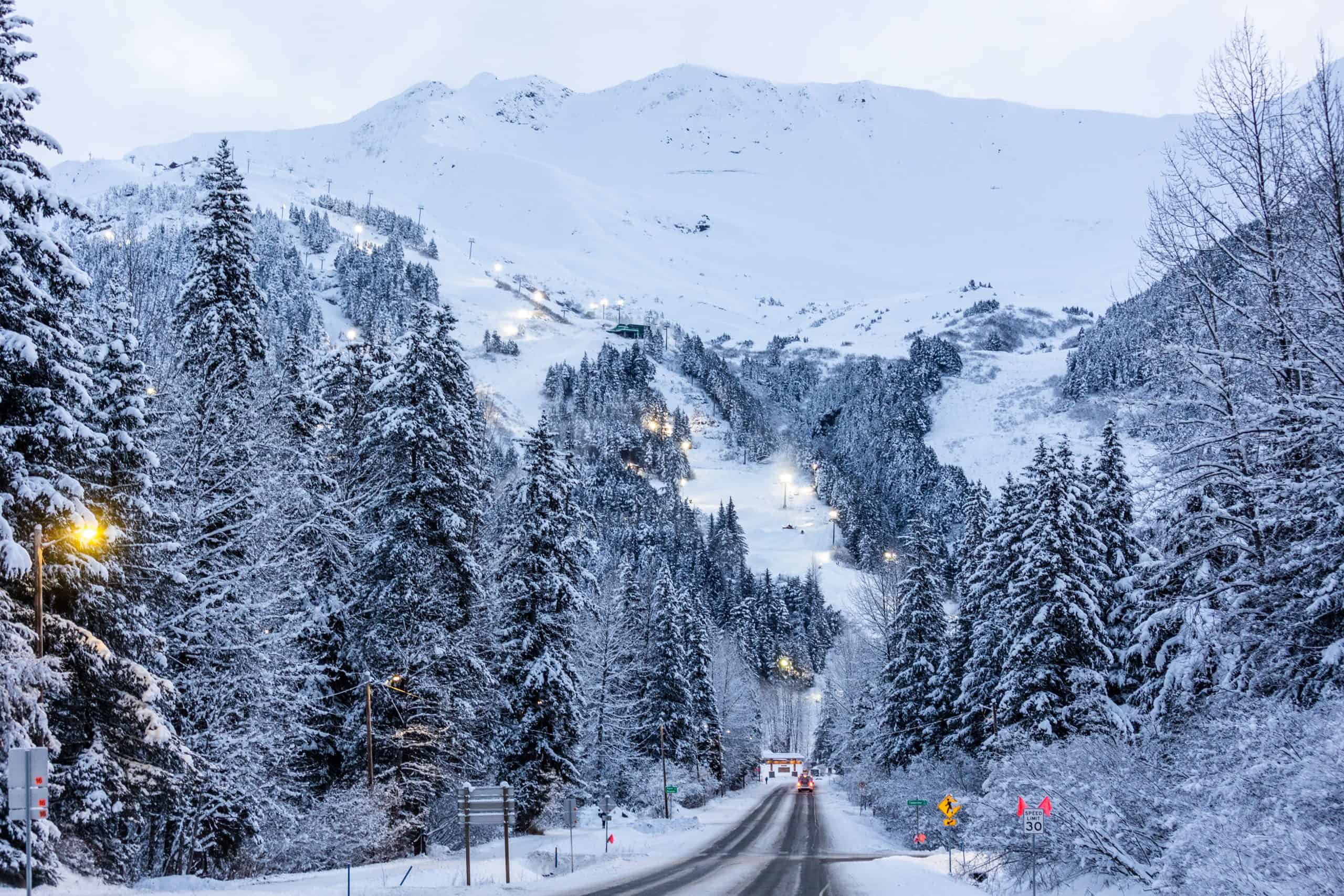 Winter Hiking
Many trails are maintained during the winter months. Some popular spots just outside of Anchorage include Barbara Falls, the Eagle River Nature Center, and Reflections Lake. Just type any of these into Google Maps and you'll be led right to the parking area.
Fat Tire Biking
Fat Tire biking is a big winter sport in Alaska. In recent years many bike rental shops have added fat tire bikes to their fleet. In Anchorage, check out Pablo's Bicycle Rentals. Alternatively, you could book a bike tour that will take you to the best spots around town. Hand warmers, overboots, and a helmet are provided in addition to your bike.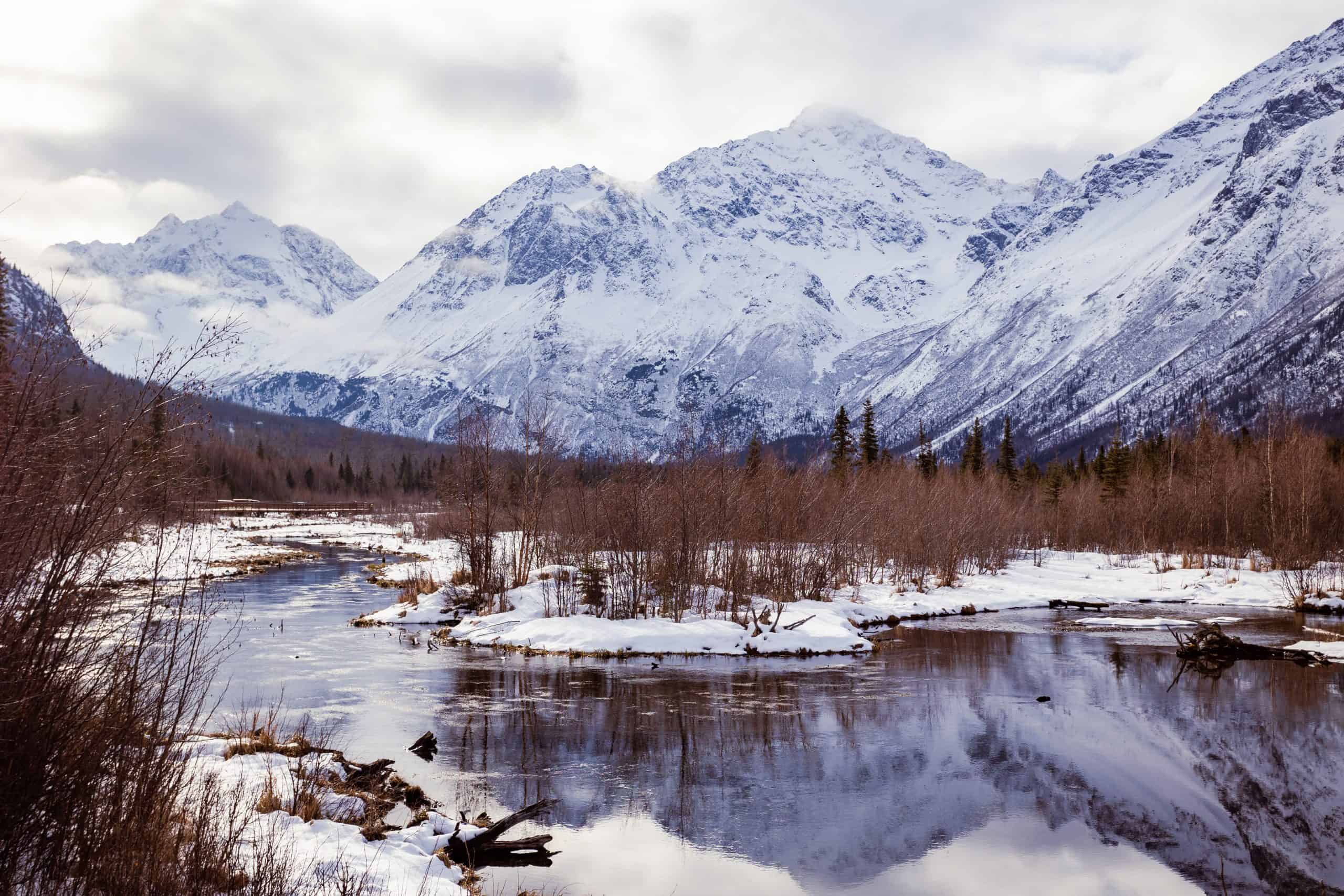 Ice Skating
I'm just going to assume you didn't pack your ice skates for Alaska. That's okay! This new tour from Anchorage will take you to a favorite local ice skating spot at Westchester Lagoon. A fireside picnic with tea, hot cocoa, or coffee is included.
Winter Festivals
Alyeska Slush Cup
The Slush Cup is a popular event at the end of the winter season. Every April, people descend to the Alyeska ski resort to try and cross the frigid pond. Most people arrive dressed up in costumes or funny attire. It's a fun event with food trucks and drinks to keep you warm.
Fur Rondy and Iditarod
Fur Rendezvous, or Fur Rondy, is Alaska's winter carnival. Held in Anchorage, what started as a sports tournament and fur trading festival in the 1930's, has now become a nearly two-week event.
There's a carnival with rides and games, some crazy races, a miner's and trapper's ball, fun competitions, ice sculptures, furs for sale, and more. It takes place every year at the end of February and their website has the daily schedule.
The last day of the festival marks the Iditarod. The Iditarod is known as the last great race on Earth. Dog sled teams make their way 1,049 miles from Anchorage to Nome, competing to see who gets there first. It's a grueling race and a big part of Alaska's history.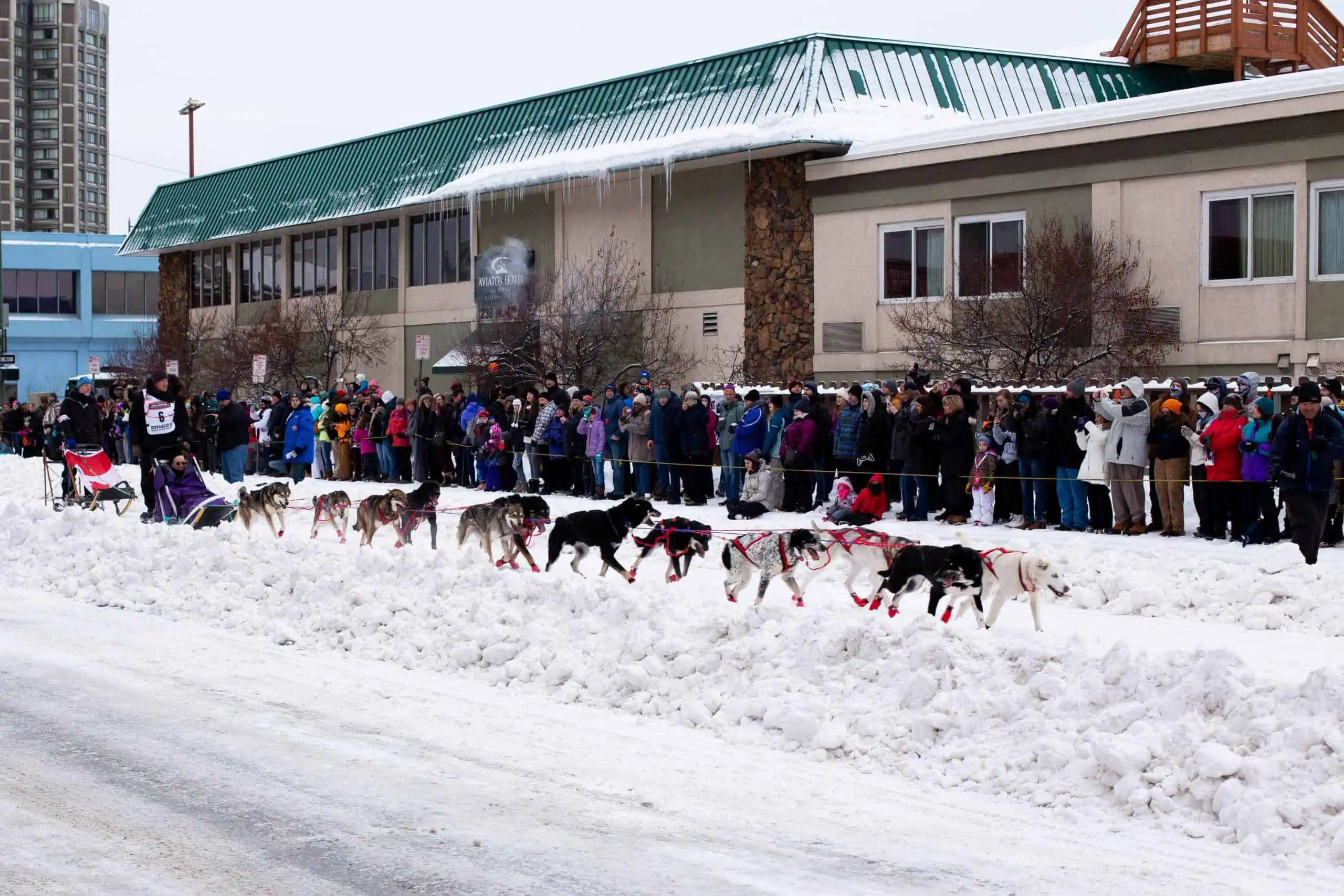 Arctic Man
Arctic Man is a truly unique Alaskan festival. It is an insane snowmobile and ski race combined. Skiers descend 1700 feet in less than two minutes where they then meet up with the snowmobiler. They grab a tow rope and head 2 1/4 miles uphill with speeds topping 86mph. Then the skier goes over the side of a different mountain at incredible speeds, dropping 1200 feet and crossing the finish line.
There are also side-by-side races and snowmobilers doing things in the air you'll rarely see elsewhere. I'm honestly surprised it's not sponsored by Red Bull or the X-games at this point.
This festival attracts many partiers and wild nights, with upwards of 13,000 people attending. If you love high-adrenaline activities and a little bit of crazy, you'll fit right in.
It's held in April in the Hoodoo Mountains, a remote area far from any town and about 60 miles south of Delta Junction. The festival can be accessed from either Anchorage or Fairbanks, but it's closer to Fairbanks. Here are the general coordinates: 63°12'7.21"N, 145°30'35.30"W.
An RV/Camper and some planning are required, but it's definitely a unique experience!
World Ice Art Championships
If something a little more peaceful is up your alley, head to the World Ice Art Championships in Fairbanks. Held every year from mid-February through March, artists bring ice sculptures to life.
It's definitely something to check out if you're in Fairbanks this time of year.
Things to Avoid
Long drives
Alright, hear me out. Yes, the main highways in Alaska are maintained throughout the winter. And yes, there are many people who drive all over these roads in the winter. But honestly, most Alaskans don't do really long drives in the winter.
Why? Well, it can be pretty dangerous, mostly due to snow and ice and whiteout conditions and moose and unpredictable drivers.
Personally, I would not recommend driving between Anchorage and Fairbanks. Or driving from Anchorage down to Seward or Homer. If these are areas you really want to see, I'd instead recommend taking the train between Anchorage and Fairbanks and flying into Homer.
It's certainly possible to drive between all of these locations, but only if you have the proper vehicle, tires, and emergency equipment. You need to be prepared for anything, including sleeping in your vehicle.
Where to Stay (Anchorage to Fairbanks)
Anchorage Area
The Hotel Captain Cook – This is my top recommendation for Anchorage. The rooms may be a bit dated (it's so tough to find an updated hotel in Alaska), but besides that, everything is clean and well-maintained. Inside the hotel, there are quite a few shops with many authentic Alaskan-made items. There are also a few dining options. Downstairs you'll find Fletchers, a casual dining spot with a sort of speakeasy slash Irish pub vibe.
The Crow's Nest is one of the best restaurants in town. This restaurant sits atop the hotel with 360 views of the city, inlet, and mountains.
And for a little relaxation, under the main floor of the hotel, there's a steam room, sauna, and pool.
I like that the hotel is downtown and close to restaurants and shops. It's also close to the inlet which has a large coastal trail for walking, biking, and other activities.
Marriott – Also downtown, the Marriott has a pool, dining area, and views of the inlet and city as well.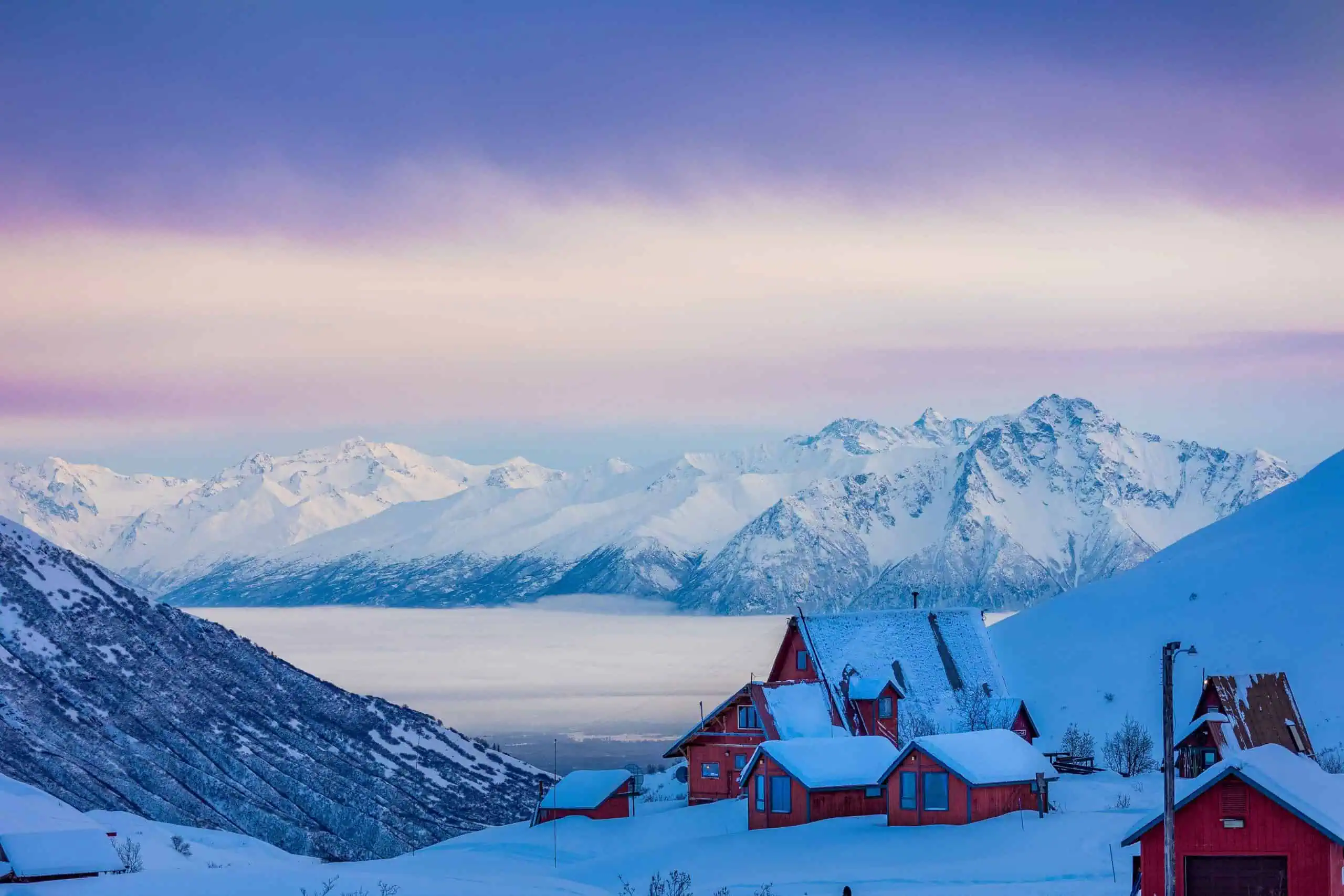 Fairbanks Area
Sophie Station Suites – If you want more amenities like a kitchen and a separate living area, check out Sophie Station Suites. There's a courtesy shuttle from the airport and it's close to a few grocery stores.
Pike's Waterfront Lodge – Pike's is situated at a beautiful spot on the Chena River in Fairbanks. There's an attached restaurant/bar and it's close to the airport. The lodge has more traditional hotel rooms making it better suited for couples or small families.
Chena Hot Springs – Located about 90 minutes from the Fairbanks airport, this popular hot springs is a great spot for aurora viewing. For more information read about my review of Chena Hot Springs here.
Packing for Winter
Dressing for the elements should be your number one priority when visiting Alaska, especially if you plan on doing a lot of Alaskan adventures while up here.
The best thing you can do is layer with proper fabrics. Wool holds heat while also wicking moisture (here is my favorite Merino Wool brand), so you stay both dry and warm. People often forget that if you're wearing warm gear and moving around, you're likely to get sweaty. So it's very important to have material that breathes. For that reason, wool is one of my top recommendations.
Synthetic fabrics are the next best to layer with, and I usually wear a combination of wool and synthetic.
For my outer layer, I often wear some sort of down jacket that's also windproof. I prefer a longer jacket for walking around and another coat that goes past my hips when wearing snow pants. I usually buy a larger size to accommodate my layers.
Warm boots are a lifesaver. A good pair of gloves, tall socks, and a warm hat are necessary. If you get cold easily, add a neck warmer and/or a complete face cover (balaclava). I love my Skida gear and have my whole family outfitted!
Hand warmers and toe warmers are nice to have, especially if you want to see the northern lights. You'll likely be outside and immobile in the dark of night (and fiddling with your camera) so having a way to heat up your digits is important!
More Alaska Articles