17 Perfect Weekend Trip Ideas from Stuttgart
Hey there!
This post may contain affiliate links, meaning I may be compensated if you click on one of my links, at no cost to you. As an Amazon Associate, I earn from qualifying purchases. Read my disclosure policy for more information.
If you live in Stuttgart (or even if you're just visiting), consider yourself quite lucky. In just a few hours in any direction, you can find yourself immersed in a completely different country and culture.
There are many fun weekend trips you can take by car or train.
This article highlights 17 weekend trips you can easily do by car. If you prefer the train, that's an option for all of these trips as well.
Sometimes it makes more sense to drive. This is especially true if the train trip will take longer and require many stops and changes. And sometimes it's faster/cheaper/more convenient to go by train.
All times factor in traffic and are more realistic. Stuttgart traffic is known for having awful staus (traffic jams), and in my experience this reputation is accurate. So while I did my best to provide more accurate times, it could always be longer due to traffic.
Please note these are all weekend trips and not day trips. Some trip ideas may be better suited for a longer weekend (3-4 days), but all can be done in one weekend.
Driving Tips
Vignettes and Tolls
Austria requires all vehicles to have a vignette (sticker). These can be purchased at gas stations near the border and costs about 10 EUR.
Switzerland has a pricey vignette that will set you back around $40-50, depending on the exchange rate. We typically avoid Switzerland as a drive through country unless it saves us a lot of time.
Italy's major highways have tolls and they add up. They all take cards but it might not hurt to have cash on hand just in case (actually, I always recommend you have cash on hand when traveling anywhere in Europe).
Tickets & Fines
If you don't pay for the vignette or tolls, expect hefty fines. If you are visiting Europe, be sure to have an International Driver's License, especially in Italy. They've been fining more tourists who don't carry one. Just head to any AAA office, bring a passport photo, pay $20, and you're good to go.
The same goes for speeding. Speeding in Germany results in small fines of 10-25EUR. Speeding in any other country results in much larger fines which could be hundreds of Euros. So be sure to watch your speed.
Train Tips
For trips originating in Germany, I recommend booking via Deutsche Bahn. If you prefer to book in-person, the Hauptbahnhof in downtown Stuttgart has a booking office.
There are regional ticket offers you can purchase to save money. For example, each state has its own regional ticket offer. In Baden-Württemberg, you can purchase a regional ticket for 24EUR and head to Heidelberg.
There are also day tickets within Germany that cost 42EUR. Then, you can add up to four people at 7EUR each. This is a great way to save money when traveling in groups.
There are many saver options both in Germany and neighboring countries through bahn.com. I recommend exploring their official website or stopping by in-person for more information.
Let's dive in! With these weekend trip ideas, you'll have enough to keep you busy every weekend for half the year.
1. Visit the Alsace Region of France
Topping out on this list is one of my favorite regions of France. Known for great wine, rolling vineyards, castles, and beautiful towns, this area will sweep you off your feet.
Running along the eastern border of France and Germany's west, this area has switched ownership between the two countries many times. Because of this, the area has both Germanic and French influence. This is easily visible in the German half-timbered homes alongside French wrought iron railings.
The largest town in the area is Colmar with around 70,000 residents. There are many beautiful towns within 30 minutes of Colmar including Ribeauville, Eguisheim, Riquewihr, and Kaysersberg (link to all towns on Google Maps).
Don't miss out by staying in one place. Make a plan to visit at least three if not all of the towns.
If wandering through stunning centuries-old castles is your thing, there are many in the area. I recommend Château du Haut-Kœnigsbourg as a must-see. To get there, you'll drive up a large hilly road to reach the summit and castle. When we went, there was an inversion and we enjoyed the view above the clouds.
This area is also famous for the Alsace Wine Route.
2. Explore Neuschwanstein, Germany's Fairy Tale Castle
A few hours south of Stuttgart lies the most famous castle in the world, Neuschwanstein. The castle was used as the model for Disney's Castle and has picked up the nickname over the years.
What many people don't realize is that there's much more to do in this area than just visiting the castle (although I do have an article all about visiting Neuschwanstein here). The cute town of Füssen sits below the castle along the River Lech. On the river is a popular manmade waterfall named Lechfall that's worth checking out.
There's also a large lake, the Forggensee, that provides views of the castle above.
Hohenschwangau is another large castle nearby and also worth a visit.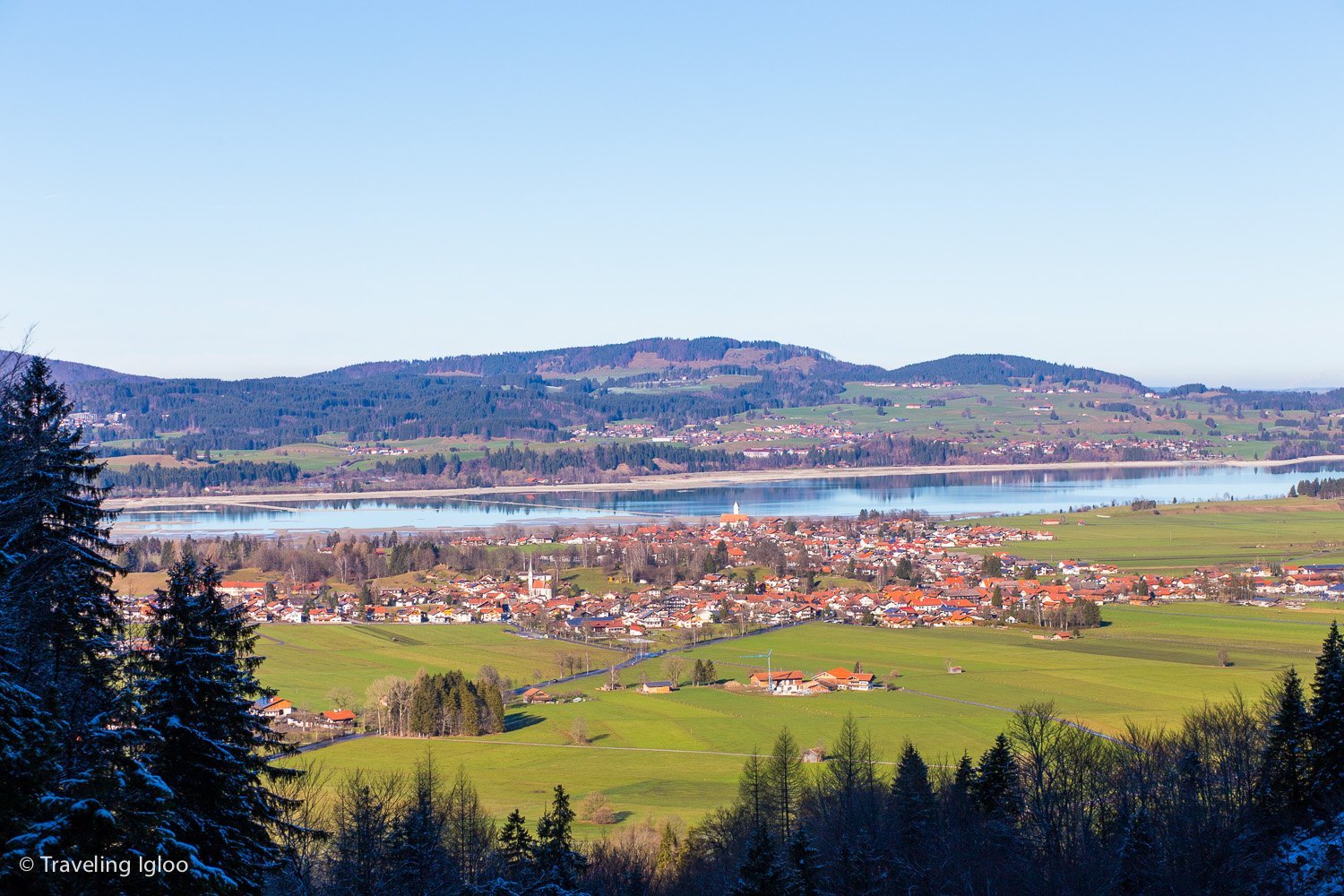 For the more active-minded, there's the famous Highline179 footbridge nearby named the longest Tibet style footbridge by the Guinness Book of World Records.
Here you can walk across the 406m footbridge and explore the Ehrenberg Castle. The bridge was built nearly 115 meters (380 feet) above land, so if heights aren't your thing you may want to skip this part of the trip.
3. Sip Wine Along the Mosel River
Tucked into west Germany (west of Frankfurt and south of Düsseldorf) is the beautiful Mosel Valley. This region is best known for its white wines and vineyards that surround the Mosel River.
The area was first made popular by Rick Steves and continues to be a popular spot for local and international travelers.
Coming from Stuttgart, I was surprised at how different this area of the country feels. It's much more laid-back, the people are generally more friendly, and since you are closer to France there's a bit more variety of food options.
The most popular towns are Cochem, Bernkastel-Kues, and Hatzenport. When we visited, we stayed in Cochem and absolutely loved it. There's the large Reichsburg Cochem Castle that sits high on a hill overlooking the town. All of these towns sit directly on the river, and all are surrounded by vineyards and rolling hills.
While Riesling is the most popular wine, you can also find pinot gris and pinot blanc.
Just like most of Germany, there are hiking and biking trails all throughout this area.
4. Take the Bullet Train to Paris
One of my favorite things about Stuttgart is that you can jump on a train, fly at speeds topping out at 200mph (320km/h), and within 3 hours step foot into Paris. This is all possible via the TGV train which runs a few times a day, and one-way tickets run as low as 40EUR each way.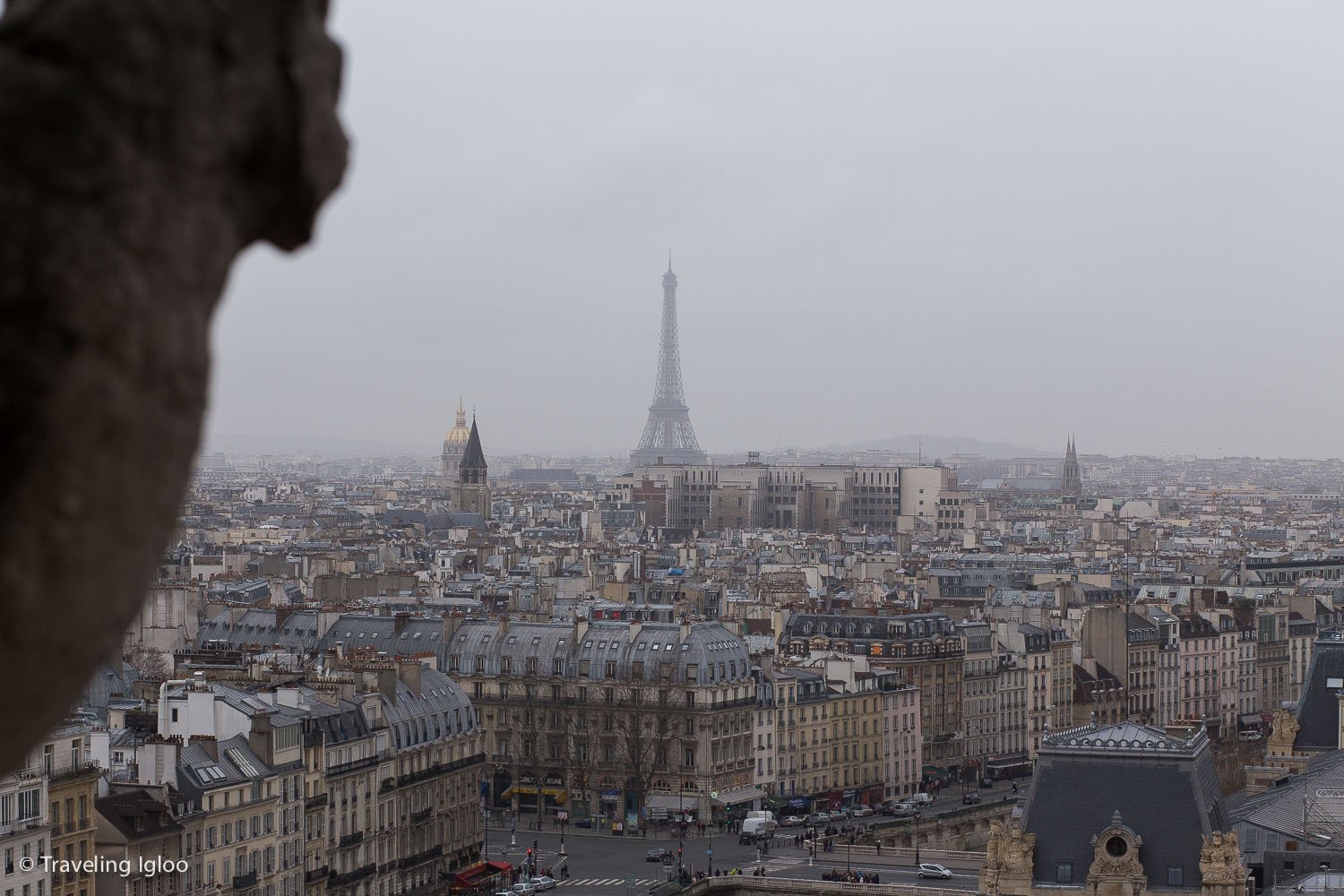 One time we left on a Friday at 5pm and returned Sunday night. This gave us nearly 48 hours in Paris and we didn't need to take any time off.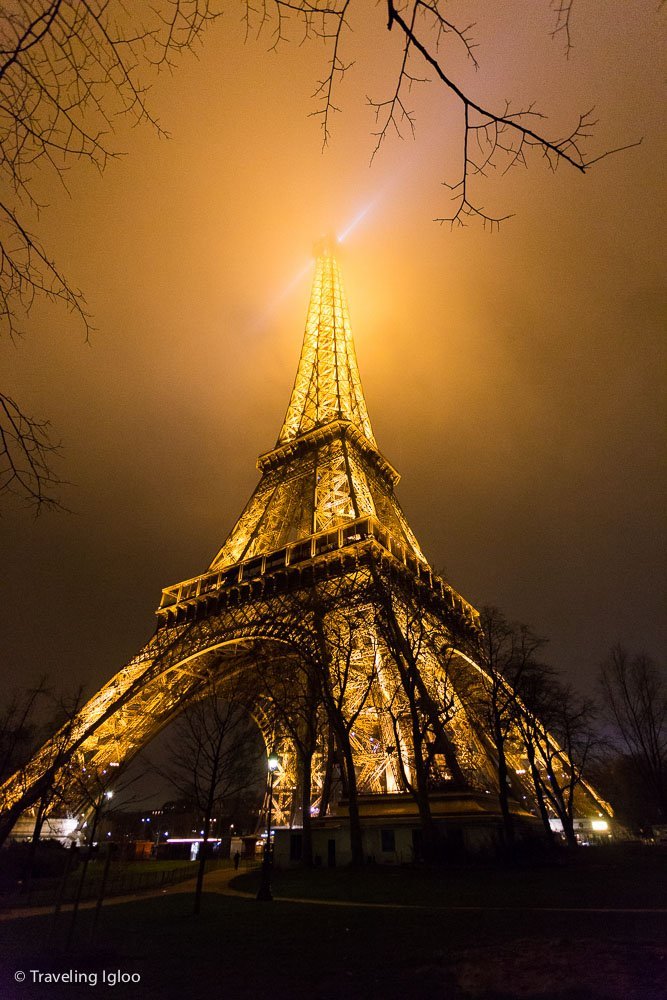 There's SO much to do in Paris that honestly, two days isn't enough. But you can get a taste of this city on a weekend trip. I prefer staying around Notre Dame as it's fairly central (so the 2nd, 5th, 6th, or 7th arrondissement). It's a good idea to use the Metro to get around quickly since Paris is truly a massive city.
The most popular things to see include Sacre Coeur, Eiffel Tower, Nore-Dame, and Louvre. I also recommend booking a show at the Moulin Rouge, visiting the stunning Palais Garnier opera house, and going underground to walk the famous catacombs.
5. Relax in Karlovy Vary
For a restorative spa experience across the border, Karlovy Vary will certainly fit the bill. Located in West Bohemia, you'll find the highest concentration of healing hot springs and salts in the world.
It's an upscale town that has hosted wealthy Europeans and Hollywood stars for centuries. There are 79 hot springs and 13 are accessible via the colonnades in town.
To get a closer look at the Colonnades, you can do an underground hot spring tour in the summer months.
If you want a stress-free spa weekend, I recommend booking the Spa Hotel Purkyne right along the river. The Hotel Pavlov is a small castle that has many treatments including water therapies, acupuncture, massages, and a sauna. It's also located in the center of town so you can easily walk everywhere.
6. Explore the Black Forest
The Black Forest, or Schwarzwald, is a large mountain range in southern Germany. There's so much to do in this condensed area in southern Germany that it really deserves its own post, but here I've included the highlights.
The most popular little town in the region is Triberg, home of the famous German cuckoo clocks. You could spend an afternoon walking the small town, finding the perfect clock, and hiking up the Triberg waterfall (Wasserfalle).
If you're into gin, you could do a Monkey 47 Distillery Tour as it's located right in the Black Forest and about an hour from Triberg.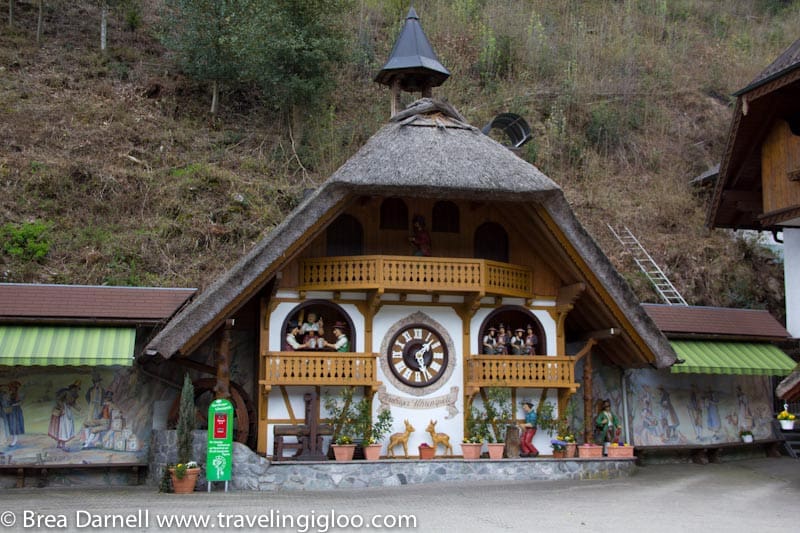 If you want to camp, I recommend staying at Titisee Lake (there's camping and a small town area). For hiking, some of the best hiking spots include Feldberg, Beiersbronn, Schluchsee, and Bad Wildbad.
Accommodations can be difficult in some of the more remote areas, so I recommend looking at ferienhausmiete.de. VRBO is also a great option when searching for holiday homes.
7. Visit Italy's Largest Lake – Lake Garda
I wrote an entire post dedicated to my love for this area of Italy. While popular among Europeans, Lake Garda doesn't make headlines in the US.
This lake is absolutely massive. You feel like you are on the ocean. Aside from being the largest lake in Italy, the surrounding scenery is what really makes it unique. To the north are the massive Alpine mountains. Once you reach the lake, and especially as you head south around the lake, you're met with palm trees and the typical Mediterranean feel.
Beautiful towns dot the lake. If you are driving from Stuttgart, the closest town is Riva del Garda and it's also the largest. Because of this, there are plenty of places to stay and plenty of things to do.
If you want something smaller and with more of a wow factor, stay in either Malcesine or Limone Sul Garda.
This lake has one of the best windsurfing spots in the world. Lessons are available at one of the many schools. To learn more about the lake, you can check out my article all about Lake Garda here.
8. Hike the Dolomites
The Dolomites are a large mountainous region in northern Italy. These mountains stand out with their tall jagged peaks that reach nearly 11,000 feet. Some of the best mountain towns to visit include Bolzano and Merano. For a smaller and more cozy town check out Chiusa/Klausen.
This area is perfect for anyone looking to get out and explore nature. The best hiking spots include Seceda, Tre Cime di Lavaredo, and Mordor. There are also many lakes to visit including the popular Lago di Braies and Lago di Dobbiaco.
Bolzano is a larger town in the region that blends both German and Italian vibes. We stayed nearby after a trip to Lake Garda in a villa on the mountainside. It could be a good basecamp for day hikes to the Dolomites as it's about an hour from many of the hiking spots.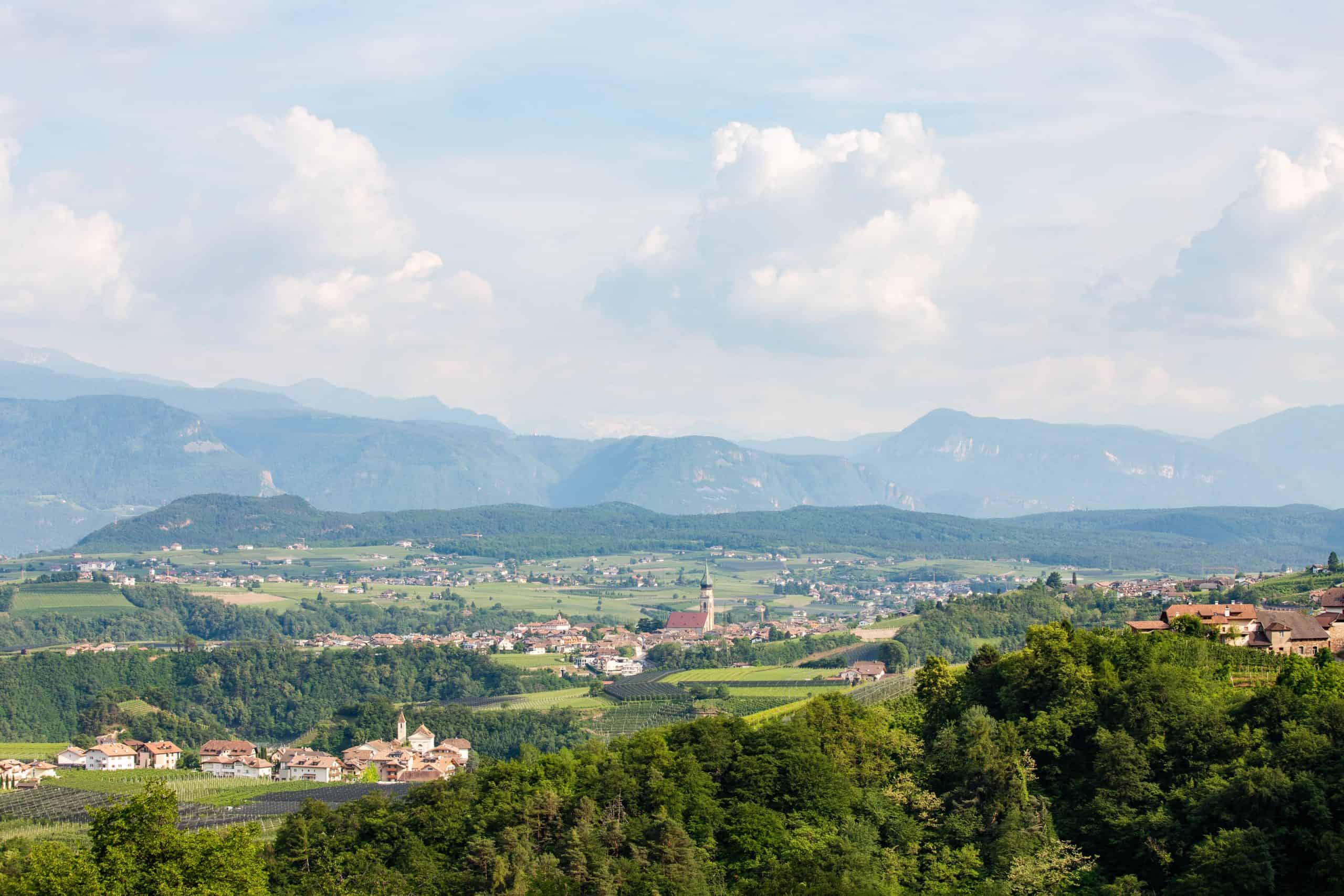 9. Explore the Castle in Heidelberg
Situated right on the Neckar River and with the imposing castle overlooking the town, Heidelberg has been drawing people for centuries.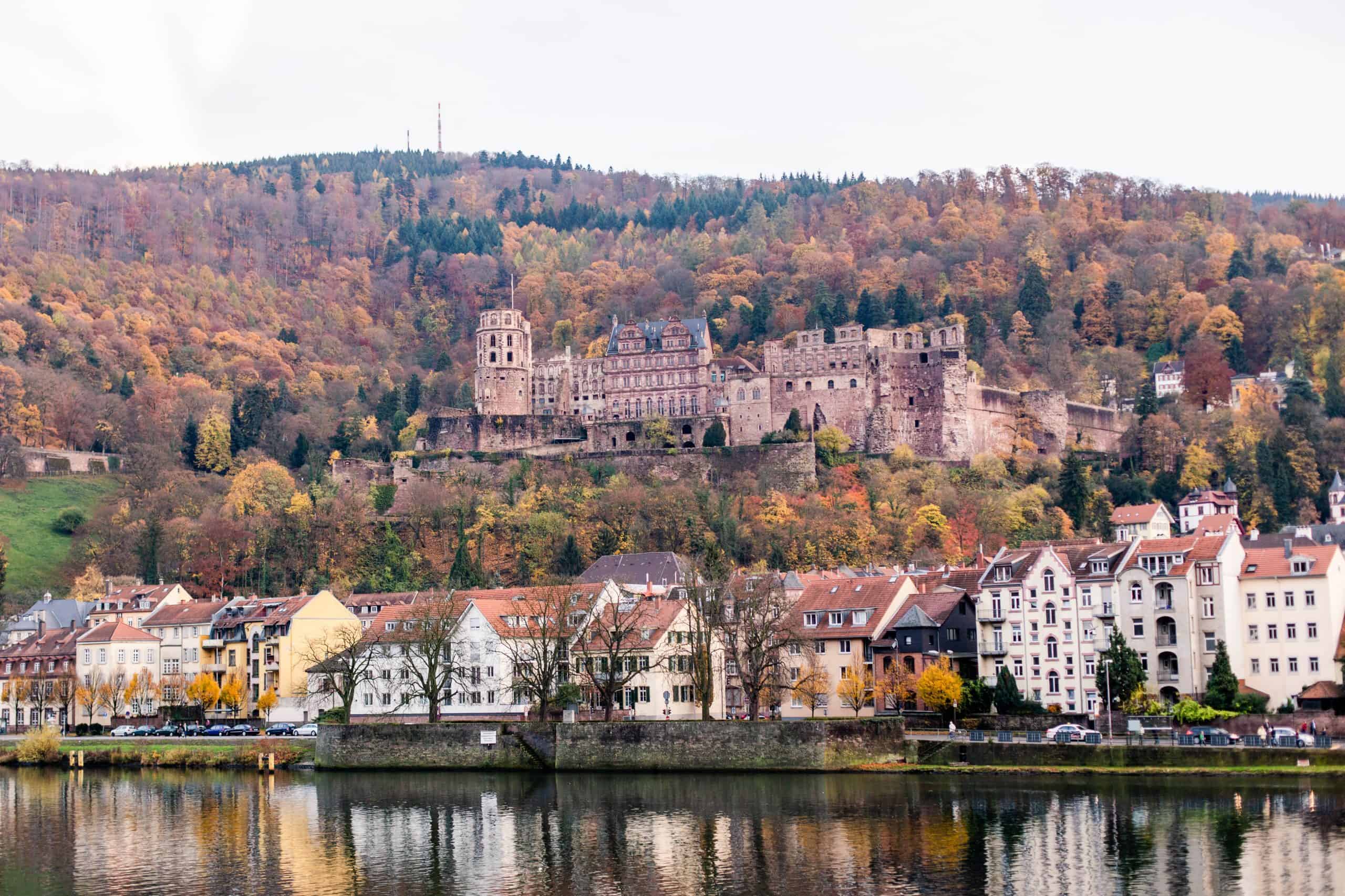 Heidelberg Castle: The highlight of the town is the castle that sits high above the hills. Throughout history, the castle has been attacked and partially destroyed, and then in the 18th century, it was left in ruins by two lightning strikes.
So when you walk around the castle, much of it still sits in ruins. There's an entry fee, and once inside you can take in the renaissance castle and walk the extensive grounds.
To explore the interior, you need a guided tour.
There's an incredibly large apothecary museum with all sorts of old medicine showcasing the history of pharmaceuticals. There's also an intricate lab and a large apothecary garden. It's the largest museum of its kind in the world.
Up here you can take in views of the Neckar River and the town of Heidelberg below.
Here's another fun fact about the castle; it houses the largest wine barrel in the world.
But there's a lot more to Heidelberg than just the castle. It's a large university town with a long 1.1-mile pedestrian area, one of the longest in Europe.
Across the famous Karl Theodor Bridge, you can hike up the Philosophenweg (Philosopher's Walk) for views of the castle and town.
10. Explore Historic Rothenburg Ob Der Tauber
Nearly every list of things to do near Stuttgart includes Rothenburg o.d. Tauber, but I promise there's a great reason for it.
As one of the best-preserved medieval cities in Germany, Rothenburg is worth a day trip. The city is completely walled in and many of the walls have stair entrances that can be walked.
It's a fairly touristy town full of shops, restaurants, cafes, and beautiful architecture. You could easily spend a day walking the streets, enjoying a meal, and exploring.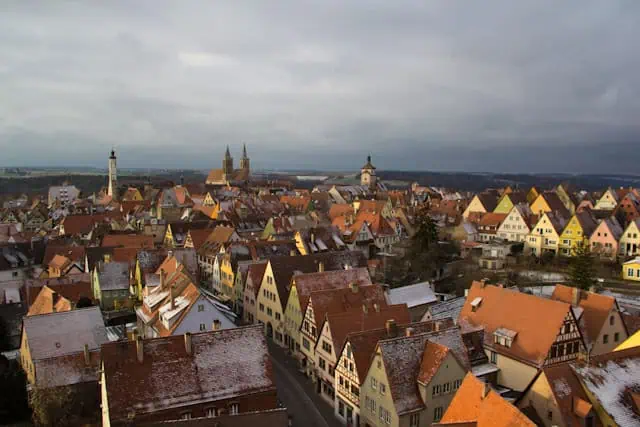 There's a torture museum here that shows the medieval crime and justice system. Aside from some of the gruesome things that were done, it's quite interesting.
The town gets pretty quiet at night, but there are hotels and homestays available inside the walled city.
You could also combine Rothenburg and Nuremberg into a long weekend trip. I'd recommend heading out early for Rothenburg, spending a few hours there and then grabbing lunch, and heading over to Nuremberg in the afternoon. From Rothenburg to Nuremberg it's only about an hour (without traffic).
11. Visit the College Town of Innsbruck
Innsbruck is an easy and fun weekend getaway from Stuttgart. Within a few hours, you're in the middle of the mountains in a cute college town.
Innsbruck is a town, well really a city, of about 300,000. There's a large student population and a few universities, with the most popular being the University of Innsbruck.
Since there are so many college students, you can find great deals on food and drink. But you can also find fancy rooftop bars and high-end restaurants such as the Michelin Star Oniriq.
There are many b&b's in and around the town. We've stayed at Kasperhof Apartments many times. It's just outside of the busy old town area and has many hiking trails you can do right from the grounds. We love it because it's peaceful, overlooks the city, and with a quick bus ride you're in downtown Innsbruck.
If you want a little bit more nature, there are many lakes nearby. Achensee and Piburgersee (see means lake) are both beautiful and within an hour of Innsbruck.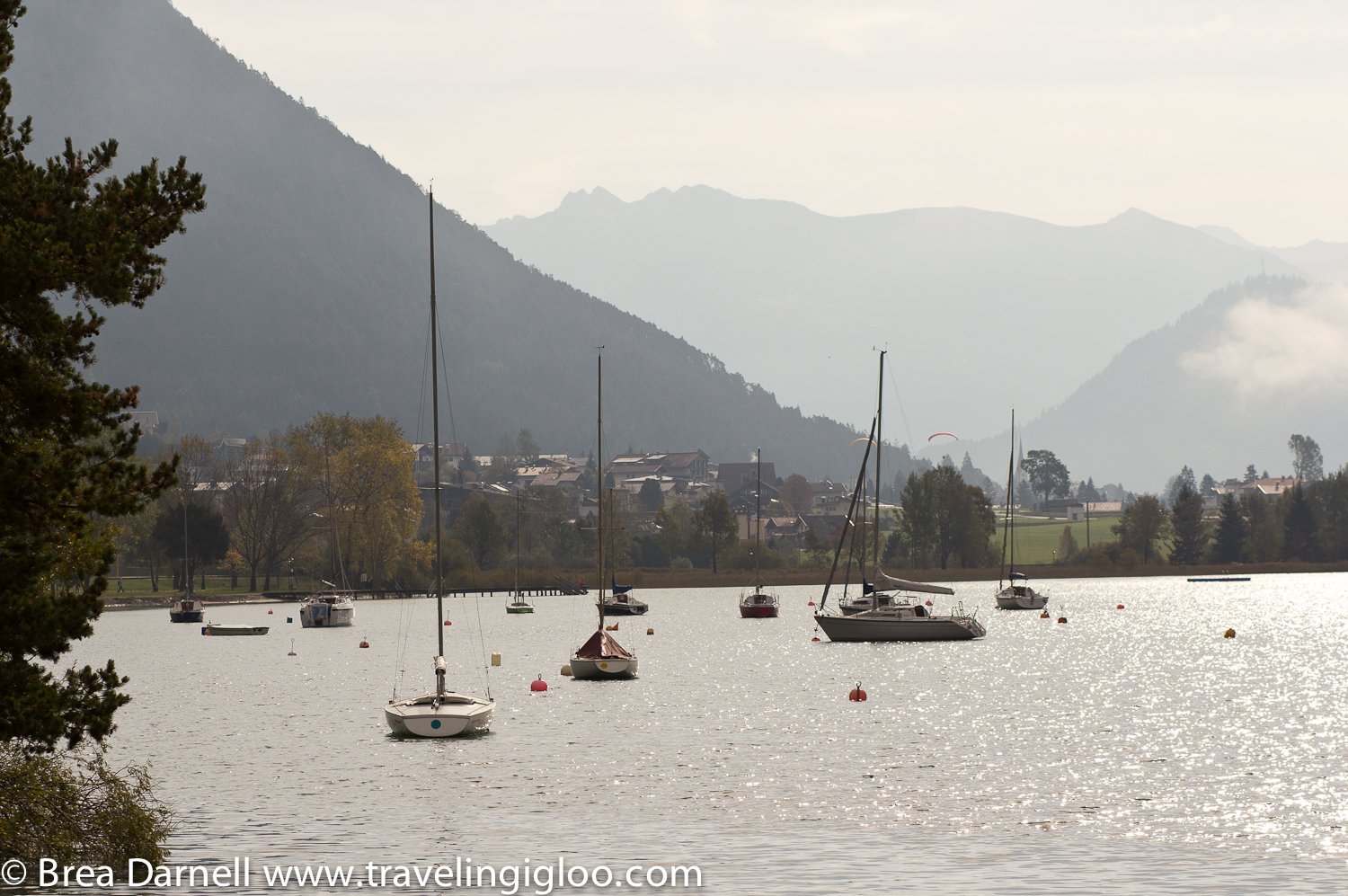 For culture, there are many museums including Schloss Ambras, a medieval castle turned renaissance.
It's easy to spend a weekend here hiking, checking out the lakes, walking the old town, visiting some museums, and checking out the site of the former Winter Olympics (1964 and 1976).
12. Ride a Zeppelin at Lake Constance
Just about two hours south of Stuttgart is one of the largest lakes in Europe. There are three countries bordering the lake including Germany, Switzerland, and Austria. Towns, beaches, parks, and more line the shores of this lake.
For the more active-minded, there is a bike path that runs all around the lake. This site has tons of ideas for both hikers and cyclists. They even have a route planner to help with your trip.
I recommend staying on the German or Austrian side to avoid paying really high Swiss costs and nearly $50 for a vignette.
Mainau Island on the lake is a beautiful 'garden island' – full of different flowers that bloom throughout the year. It's a nice place to walk around and explore (here's their official link).
Lindau is another island on the lake which has a direct train from Stuttgart (it takes about 3 hours by train). They also have a fantastic Christmas market.
It's a cute town that has the quintessential German feel; half-timbered homes, hearty German food, and small shops in the old town (Altstadt). There's a beautiful little harbor with a lighthouse as well (see below).
But there are many other cute towns to explore. I really enjoyed staying in Meersburg. It's a smaller town set on a hillside on the lake. There are plenty of restaurants, cafes, and things to do. I enjoyed walking the narrow alleyways both up and downhill and stopping in at the shops.
Frederichshafen in Germany is also quite popular to visit and is home to the Zeppelin Museum. In fact, from here you can take a Zeppelin up and over the lake (here's the link)!
The Austrian side is quite small and the main town is the larger city of Bregenz.
13. Head to the Birthplace of Mozart
Salzburg is a small yet sizeable enough town that you could easily spend a weekend here and not get bored. Add the surrounding salt caves, over 70 lakes (including the 'famous' Halstatt lake), and ice caves in Werfen and you'll find yourself wanting to come back soon.
I recommend staying in or near the large old town (Altstadt) area so you can easily walk everywhere. You could easily spend half a day exploring the old town. Be sure to visit Mozart's Birthplace, located in the pedestrian area.
There's the large Hohensalzburg Fortress high up at the end of the old town area. You can either walk up to the castle or take a funicular for a fee.
There's a biergarten and beautiful views once at the top.
As the birthplace of Mozart, there are many opportunities to listen to a concert. There's a very popular tour that includes a Mozart concert at the fortress and a river cruise.
This is also the area where the Sound of Music was filmed and there are many sightseeing tours. I highly recommend this tour; I learned a lot about the locations and loved our tour guide.
14. Explore Germany's Beautiful Southern National Park (Berchtesgaden)
If you've ever heard of Hitler's Eagles Nest, then you are already familiar with Berchtesgaden. It's a large national park close to the Austrian border and set in the Alps. You could actually combine a longer trip to include Salzburg and this beautiful area.
Although it's a national park, there's actually a small town of about 7,000 people called Berchtesgaden. It's mostly touristy but is super cute and worth exploring for a few hours. It also makes for a good base camp to explore.
Here are the most popular things to do in Berchtesgaden National Park.
Hitler's Eagles Nest: The most popular activity is to visit Hitler's Eagles Nest. This former tea house (yes, it was built as a tea house for the man himself) sits over 3,000 ft above the valley and offers panoramic views of the Alps and the surrounding valley below. To get there you need to book a tour that departs from Obersalzberg.
Take a boat ride across Königssee (King's Lake): South of Berchtesgaden is the beautiful Königssee. it's a large Alpine lake that really needs to be seen from the water. There's a boat tour that runs year-round. If you visit on your own, you can book tours ahead of time using their official link.
There are also many combined tours, mostly from Munich or Salzburg, which is also an option.
I loved this tour because you get to see all of the lake versus a small section at the north end. The boat tour takes you to St. Bartholomew's Church, which is only accessible by foot or boat. There's a cliff area you pass through that is known for it's echoeing abilities.
When we went, someone played the trumpet and it echoed beautifully off the jagged cliffs surrounding the lake.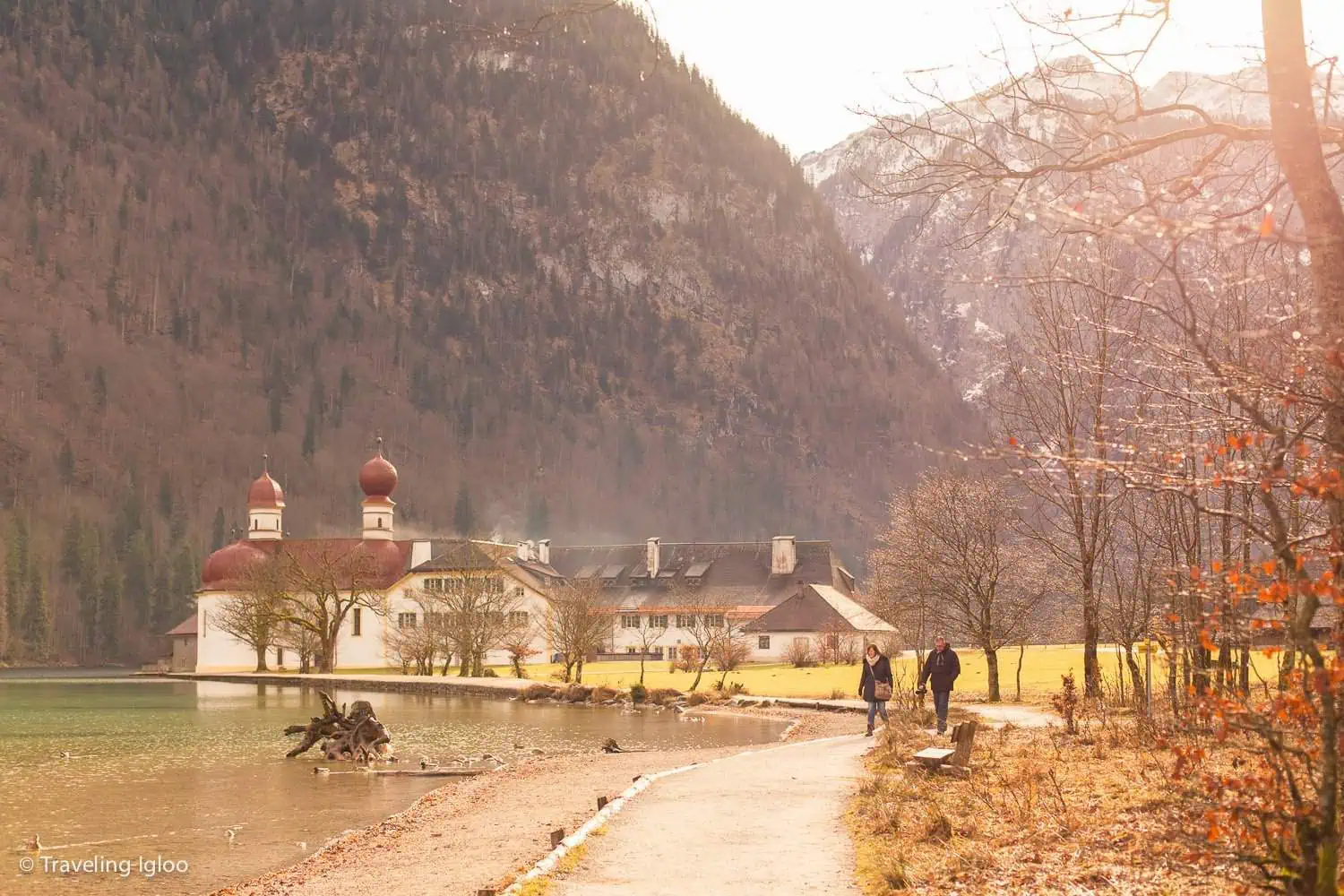 Explore the Salt Caves (Salzbergwerk): This is a fun experience for kids and adults. The salt mine is only viewable via a guided tour. The tour takes you through the history of the mine, down a few slides in the caves (you can skip these), and show the mechanics of running a salt mine.
It's an interesting way to explore a different history of this region and see some really cool caves.
15. Sip Through the Champagne Region
I recommend doing this trip over a longer weekend and combining it with Paris if you have at least 4-5 days.
The main champagne region is located in and around Reims. This is a well-marked route 'Route du Champagne' from Montagne de Reims. There are also four other regions if you have more time.
It's recommended to avoid harvest season in late summer. Instead, visit in the shoulder season in October and November. You can do a self-guided tour but it does require a bit more work. A good place to start is by looking at the official website (use Google Translate to translate the site to English).
Another much easier way to go on wine tastings and explore the region is with a tour. I love branching out on my own, but sometimes a tour is a much better way to explore.
In this case, I think a tour is a better way to go. You don't need a DD (designated driver) and you don't need to figure out where to go. Many places require a reservation ahead of time, and a tour does all the work for you.
This day tour from Reims is reasonably priced and goes to many tastings during the day, most notably Moët and Chandon cellars. Along with tastings, you also learn about the champagne process. Oh, and lunch is included!
If you're in Paris, I recommend this tour where do eight, yes EIGHT, tastings. You also get free lunch and visit Moët and Chandon cellars as part of this tour.
Both of these are small group tours with a maximum of eight people.
16. Explore the Famous Jungfrau Region in Switzerland
The Jungfrau region is arguably one of the most beautiful areas in the country. Millions of people are drawn to the jagged mountain peaks, emerald green lakes, towns only accessible by cable car or rail, and hundreds of waterfalls.
Interlaken is a popular town wedged between the stunning lakes Thun and Brienz. It's a popular spot for action seekers and you'll often see base jumpers, hikers, people mountain biking, and getting out on the water.
The town itself has a lot of upscale shopping, tons of restaurant options, and oddly enough a Hooters.
We went paragliding and it was the highlight of our trip. Ten years later we still talk about this part of the trip!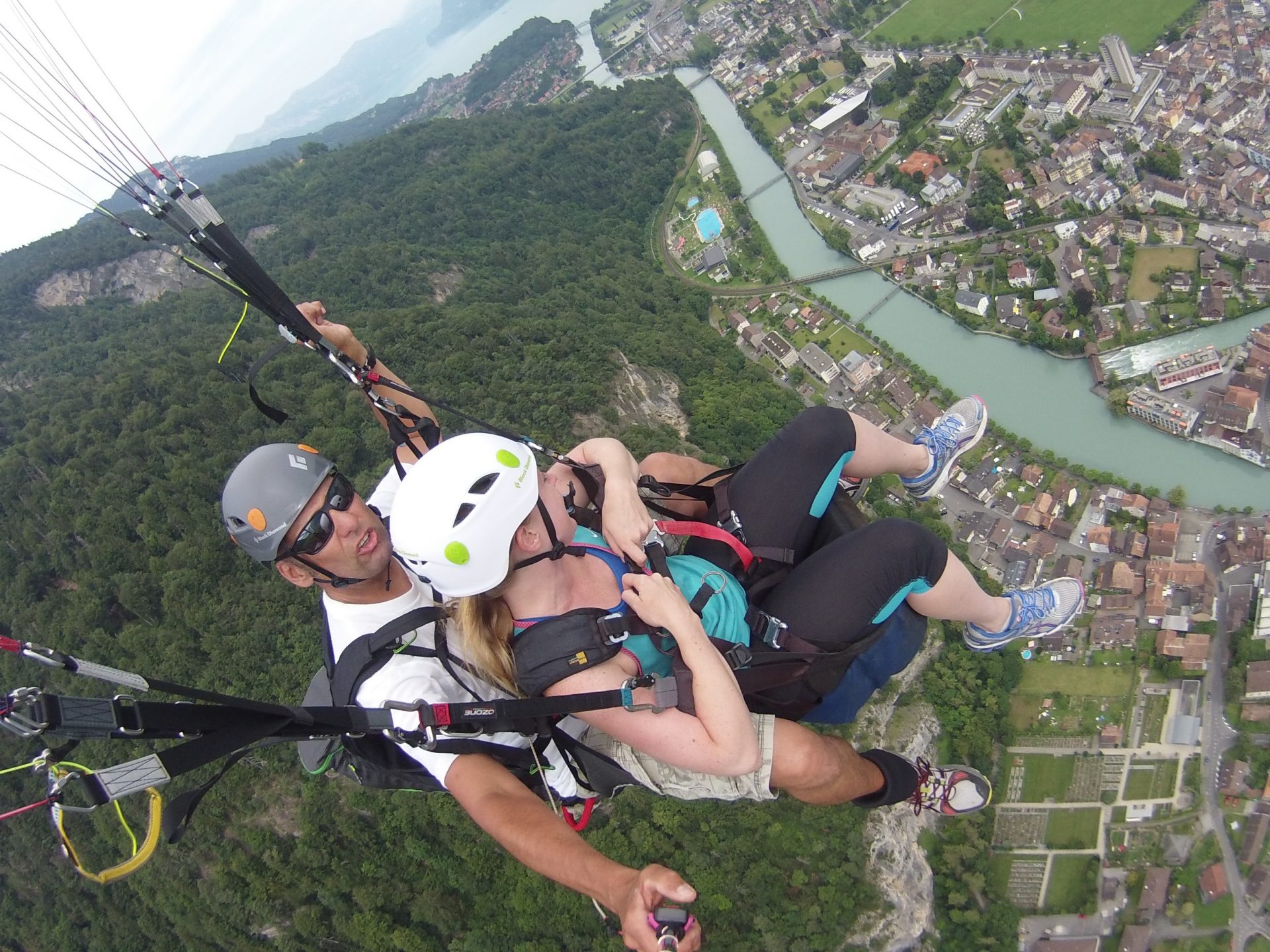 If you want to explore pedestrian-only towns (no really, no cars are allowed), look at staying at Wengen or Mürren. Wengen is a larger touristy town that can be accessed from Lauterbrunnen. To get there, you take a cogwheel train to over 4,000 feet above sea level.
Either town can be a fun day trip from Lauterbrunnen, or you can stay overnight in one of these peaceful places.
Lauterbrunnen is another area to visit. This is where you'll see the famous waterfalls as you head down a deep valley shouldered by massive jagged mountains. I'd recommend stopping in at the cute town of Lauterbrunnen and also walking or hiking some of the many trails in the region. There are over 500km of trails in this valley!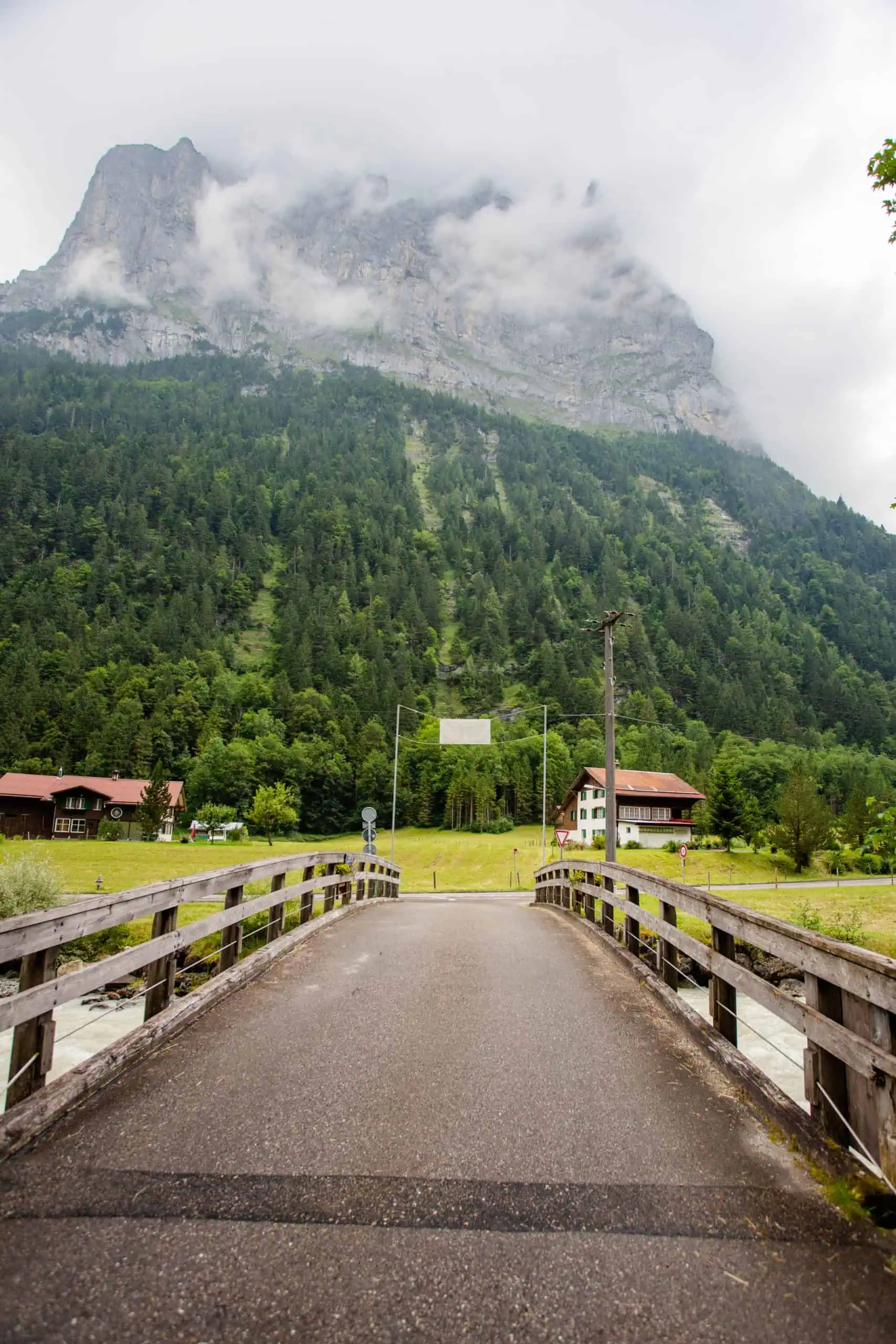 For better viewpoints, there are many cable cars, cogwheels, and trains to get you to higher elevations. Some popular spots include Schilthorn mountain where a scene from James Bond's 1969 was filmed.
Or you can take a train (well, a few trains) to the top of the famous Jungfraujoch, named the Top of Europe. Once here, you can enjoy views via the highest railway station in Europe. No matter what time of year you go, you are sure to see (and experience) snow. The large Aletsch Glacier is here and there's a large viewing point.
Grindelwald is another popular town that can be accessed via car or train. It's a picture-perfect ski town which is also stunning in the summer. This village is full of shops, carriage rides, cafes, and restaurants. First mountain is a hugely popular spot for outdoor adventures. There are zip lines, cliff walks, mountain carts, and more.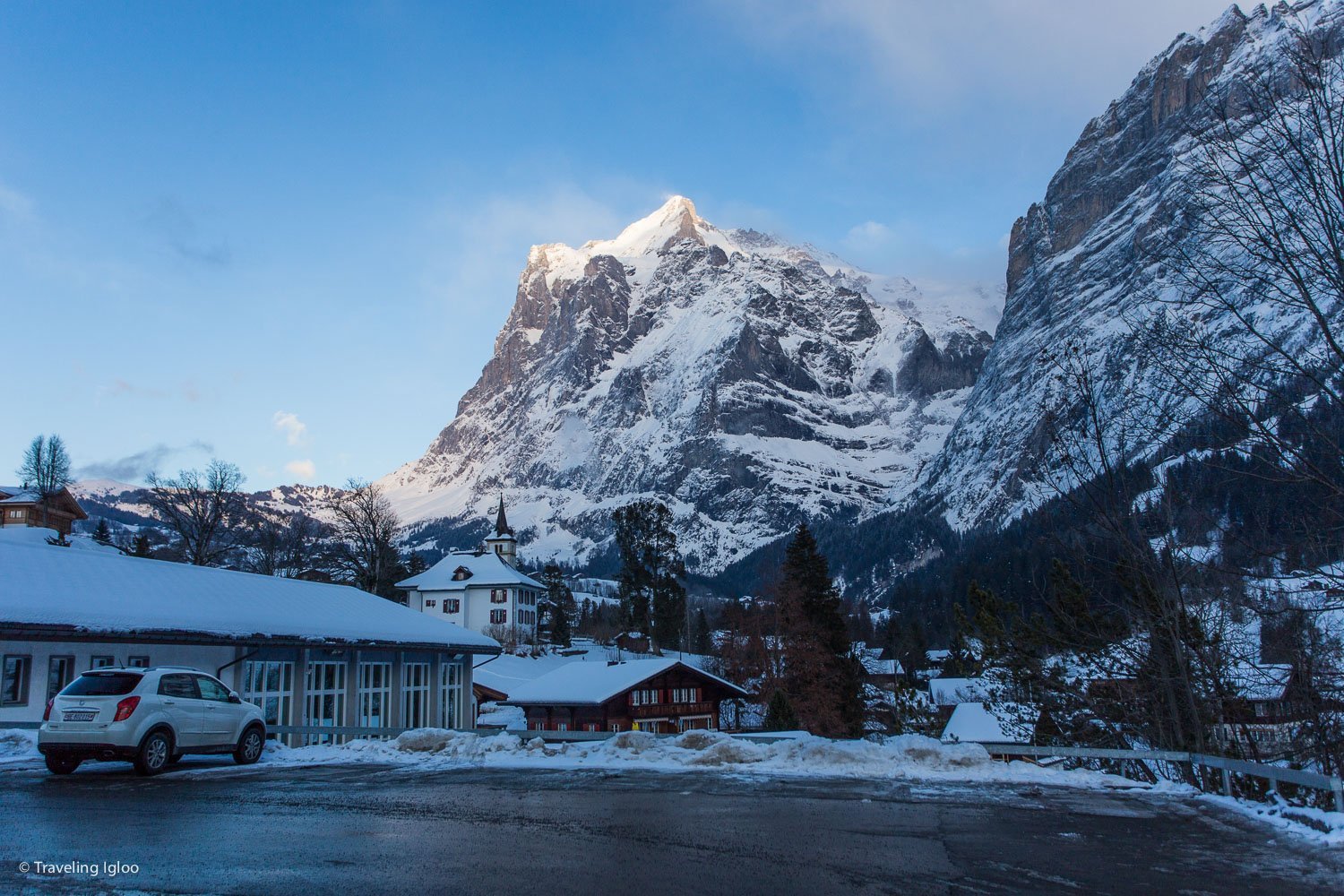 17. Explore Munich, One of Germany's Large Cities
Munich is an easy weekend trip either by car or train. Use my tips at the top to book your train travel.
There's soo much to do here. I think starting as a weekend trip (leave midday Friday and return Sunday night) is enough to get a taste of the city. But you could easily spend 3-4 days here.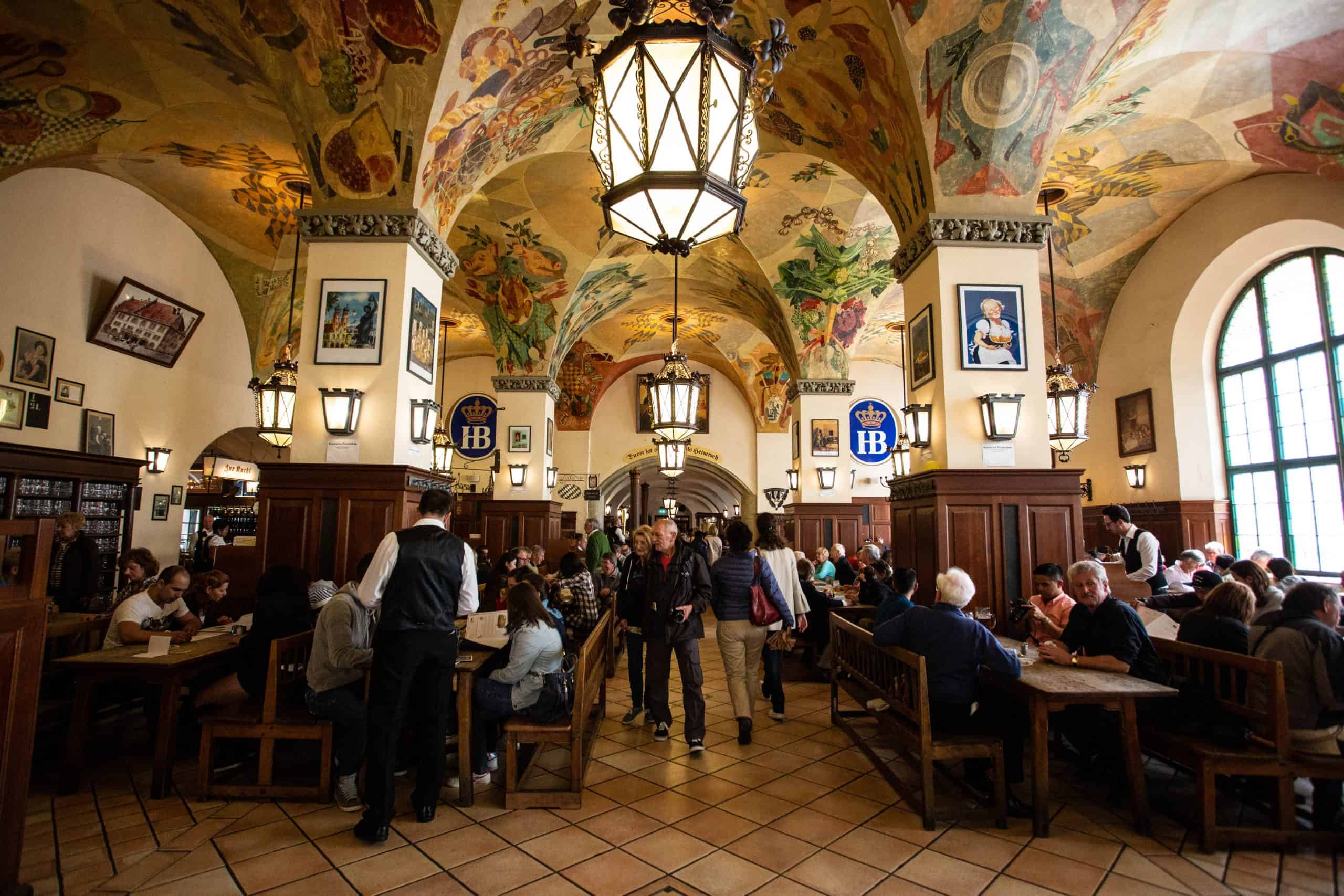 Here are some popular and fun things to do
Walk the large Englisch Garten. It's so big that you'll likely only see a glimpse of it, but it's definitely worth checking out. There's a large Japanese Teahouse that's quite beautiful and also many biergartens throughout the area.
Watch people surf on the Eisbach River at the southern end of the English Garden. Yes you read that right, this is one of the most popular spots for river surfing in the world. Even if you're not really into surfing, it's still really cool to see.
Explore Munich's Altstadt and take in the beautiful Marienplatz.
Take a day trip to Dachau Concentration Camp.
Head south to Neuschwanstein Castle. There are group tours that run daily if you don't have a car or feel like driving. It's a beautiful stretch of Germany that heads south to the foot of the Alps. A perk of a tour is that they'll have tickets and everything pre-booked. But if you go on your own all you need to do is book your ticket ahead of time.
Visit a museum. I really enjoyed the Deutsches Museum (aviation, science, technology) and there are many others. If you love cars (or even just like them), the BMW museum is also fun to explore.
If you enjoyed this article, visit some of my other articles about Germany: