Alaska Trip Planning: Everything you Need to Know About Renting an RV in Alaska
Hey there!
This post may contain affiliate links, meaning I may be compensated if you click on one of my links, at no cost to you. As an Amazon Associate, I earn from qualifying purchases. Read my disclosure policy for more information.
One question that often comes up early when planning your trip is whether you should rent a vehicle or an RV. This post will guide you through all the things to consider when deciding whether to rent an RV.
For simplicity, "RV" in this article refers to a travel trailer, camper, van, or RV.
Here are the main things that will drive your decision:
Costs – How much do you want to spend on your trip?
Getting Around – Do you want the ease of driving into towns or are you happy to park a little further away from everything?
Who are you traveling with? – Are you traveling with your family? Are you meeting up with friends? Do you want all your sleeping and living to be in a small space?
What Type of Trip do you want? – An RV can present more challenges but also provides more of an authentic Alaska experience.
Where are you wanting to go? What do you want to experience? – An RV opens up many more possibilities for places to stay, especially if you plan to steer away from the main towns.
Is Alaska an RV-Friendly State?
Let's start with the most important question, is Alaska a good place to travel with an RV? The short answer is yes, absolutely it is! Most people are surprised to learn that there are RV parking spots all over the state. Most towns have dedicated RV parking (even the small ones), many state parks have large RV spots, most tourist areas have large RV parking areas, and boondocking is legal around the state.
Often you will find some of the best views are also at RV campgrounds. In Seward, Homer, and Valdez you can park right on the water.
And in some places, your only option is to camp or bring a motorhome.
For example, Kenai Lake is a stunning and massive lake at 22 miles long. But it doesn't have any hotels or accommodations right on the lake. Instead, there are some beautiful campgrounds on the lake including Quartz Creek and Primrose.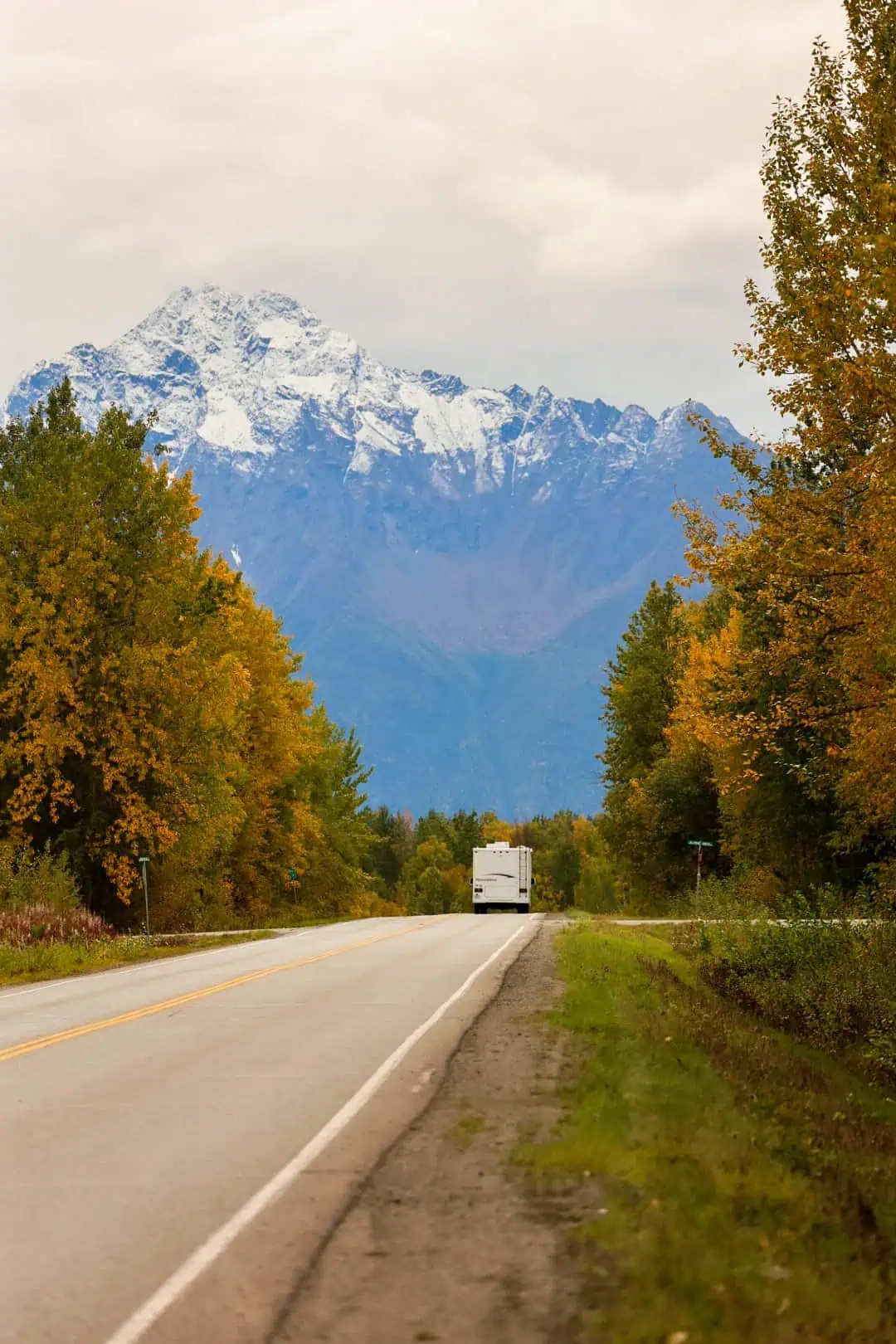 What's the Best Time of Year for RV Travel?
May to mid-September is the best time of year for RV travel in Alaska. Before May there's still the chance for snowstorms and after mid-September, you could get caught in an early winter snowstorm. So I recommend staying between May to mid-September for the best experience.
What Should You Look For in an RV?
Mileage – Does the rental have unlimited mileage or are you limited each day? Limitations aren't necessarily bad, but be sure your trip mileage stays within the limitations, or expect to pay more.
Is the kitchen stocked? – Some rentals are bare bones and others are loaded with everything including spices, butter, oil, and other essentials for cooking. If you can, find out what's included in your rental.
What extras come with it? – Many rental companies have extra items available for an additional fee. Private rentals through RVShare or Outdoorsy may include things free of charge. Things I would consider are camping chairs, extra blankets or sleeping bags, towels, and other things to make your trip easier.
Is there an awning? – While not necessary, an awning is nice when it's sunny out or if it's raining (check with your rental to make sure it's allowed to get wet).
Outdoor kitchen – This is more of a luxury, but an outdoor kitchen is a nice feature, especially if you want to cook while someone is sleeping inside. Or if you simply want to spend more time outdoors.
Where Can you Rent an RV?
There are a few ways to rent an RV. You can either book through a local company, a national company, or rent from a private party (it's like Turo but for RV's). Here are the most popular rental companies in Alaska:
Great Alaskan Holidays
ABC Motorhome
Alaska RV Rentals
Cruise America (National Chain with a location in Anchorage)
Alaska Overlander (4×4 rentals and trailers with roof-top tents – great for off-road travel)
Most of the rentals are located in Anchorage and Fairbanks, where the two largest airports in the state are located.
Another option mentioned above is to rent through a private party. The most popular companies are RVShare and Outdoorsy. A perk to a private rental is that there are often more amenities included and many offer unlimited miles (but not all). Also, you may be able to find a better deal through a private rental. The main downside is that you're renting one RV, so if it breaks down there likely isn't a backup option.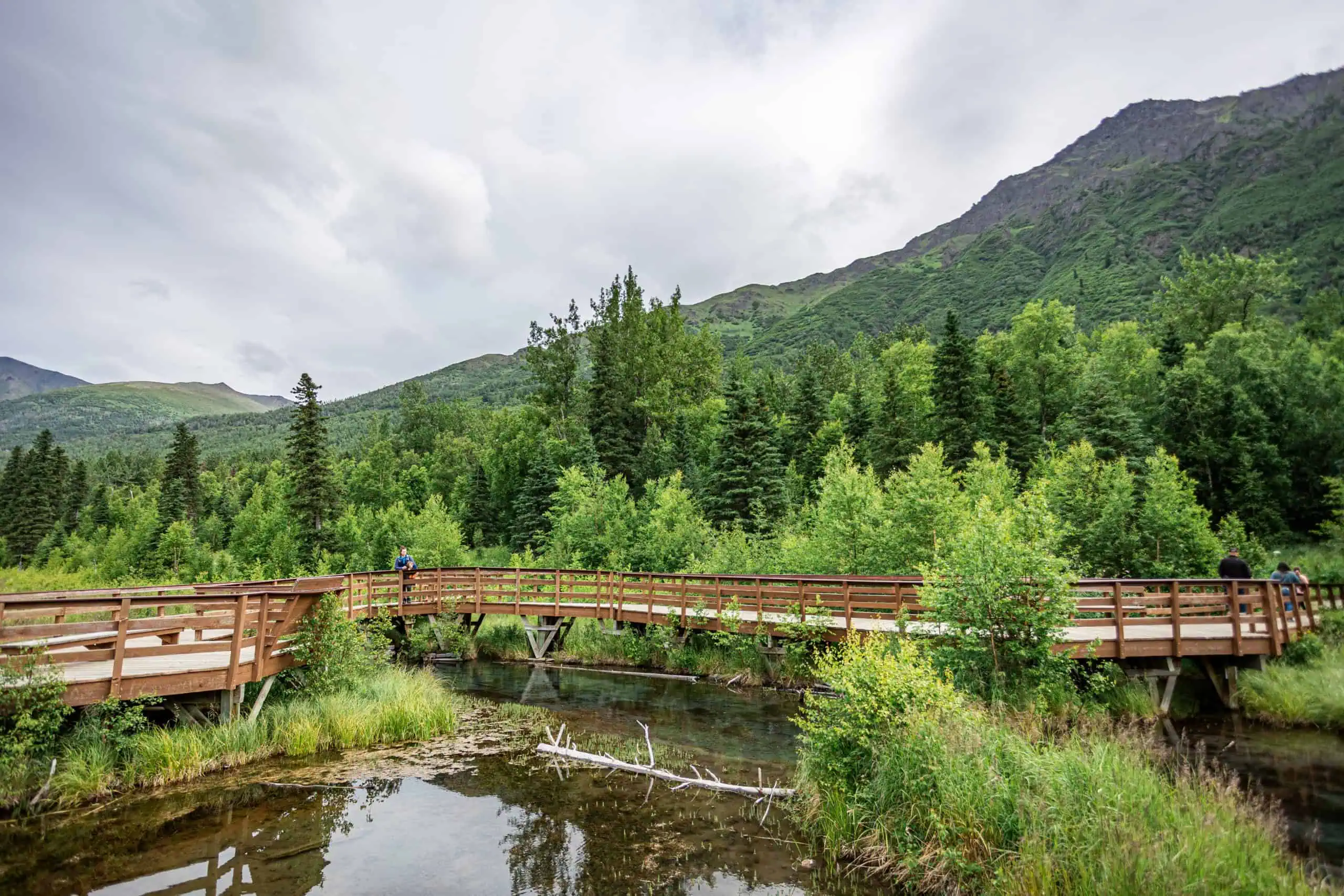 Types of RV's
Although I'm using the term RV to capture any mobile sleeping arrangement, there are many different types.
Class A – These are the massive homes on wheels. Typically rental companies won't have these available, but you may be able to find one on RVShare or Outdoorsy. With an RV this size, you'll be limited to where you can park and where you can travel in general.
Class C – These are the most common RV's for rent. Their sizes range from 21 to 42 feet long. I personally think the sweet spot is 24-26 feet for a family of 4. It's not too big and cumbersome to drive but it's large enough to be comfortable.
Van (Class B) – Some people prefer a van for ease of getting around and parking and prefer a smaller space. Often they're set up with a bed and a table, suitable for a couple or single traveler. The main downside to a van is you can't stand up (unless the roof extends) and they're overall fairly small inside.
Fifth wheel, Traver Trailer, Camper, Teardrop/Tiny Trailer – All of these are towed behind a vehicle, typically a truck. The lighter and smaller trailers, like the teardrop, can be towed with a crossover or any vehicle that can pull the weight.
If you're planning to rent, these will be hard to find. You'll need to rent not only the trailer but also a vehicle to pull it as well. A perk to this setup is that you can park your trailer and still have a vehicle to get around. You can always try RVShare or Outdoorsy to see if anyone is personally loaning out this setup. The downside is this type of setup will cost significantly more since you'll be renting both a vehicle and a camper.
Where Can you Camp/Park?
From state parks to national parks to private campgrounds and boondocking, there are plenty of options around the state.
This one of the greatest advantages of renting an RV. In Alaska, you have so many possibilities open up when you choose to camp or RV, way more than if you stay at hotels or rental homes.
There are campgrounds all over the state and many are available in locations where you won't find other accommodations (beaches, fishing spots, lakes, along rivers, and more!).
The towns and boroughs in Alaska have their own websites for camping reservations. There's also private camping around the state.
Most national park bookings can be made through recreation.gov or nps.gov. The Alaska State Parks (DNR) have the largest number of campgrounds. The other government campgrounds include the Bureau of Land Management (BLM – 11 campsites), US Forest Service, and US Fish and Wildlife Service (mostly Skilak Lake and Swanson River).
To figure out how to book, I'd simply start with a Google search of your destination as that will be the fastest way to determine how you book.
Overnight camping is permitted on most pullouts unless otherwise noted. There has been an increase of 'No Overnight Camping' signs in some areas, but otherwise, it is okay. These stops also work great for a short nap in between long stretches.
Do you need to reserve RV campsites?
Alaska is a popular tourist destination, and although there are opportunities to park and camp freely around the state, the best campgrounds typically require reservations.
Many RV parks allow reservations ahead of time. And they fill quickly. Check when reservations open, mark your calendar and book them as soon as they open up. Of course, if you miss opening day, there's always the chance spots are still open, but the best ones go quickly.
The areas that tend to book quickly are beachfront and lakefront camping and camping at the National Parks.
There are also many campgrounds that are first-come, first-served. So, if you don't reserve ahead you can always try your luck with one of these campgrounds. Since COVID, more campgrounds allow reservations, but there are still many open options even at sought after locations like Seward and Homer.
RV vs Vehicle Rental
To make things simple and quick, here are the main pros and cons of RV rental.
RV Rental Pros and Cons
Vehicle Rental Pros and Cons
Costs to Consider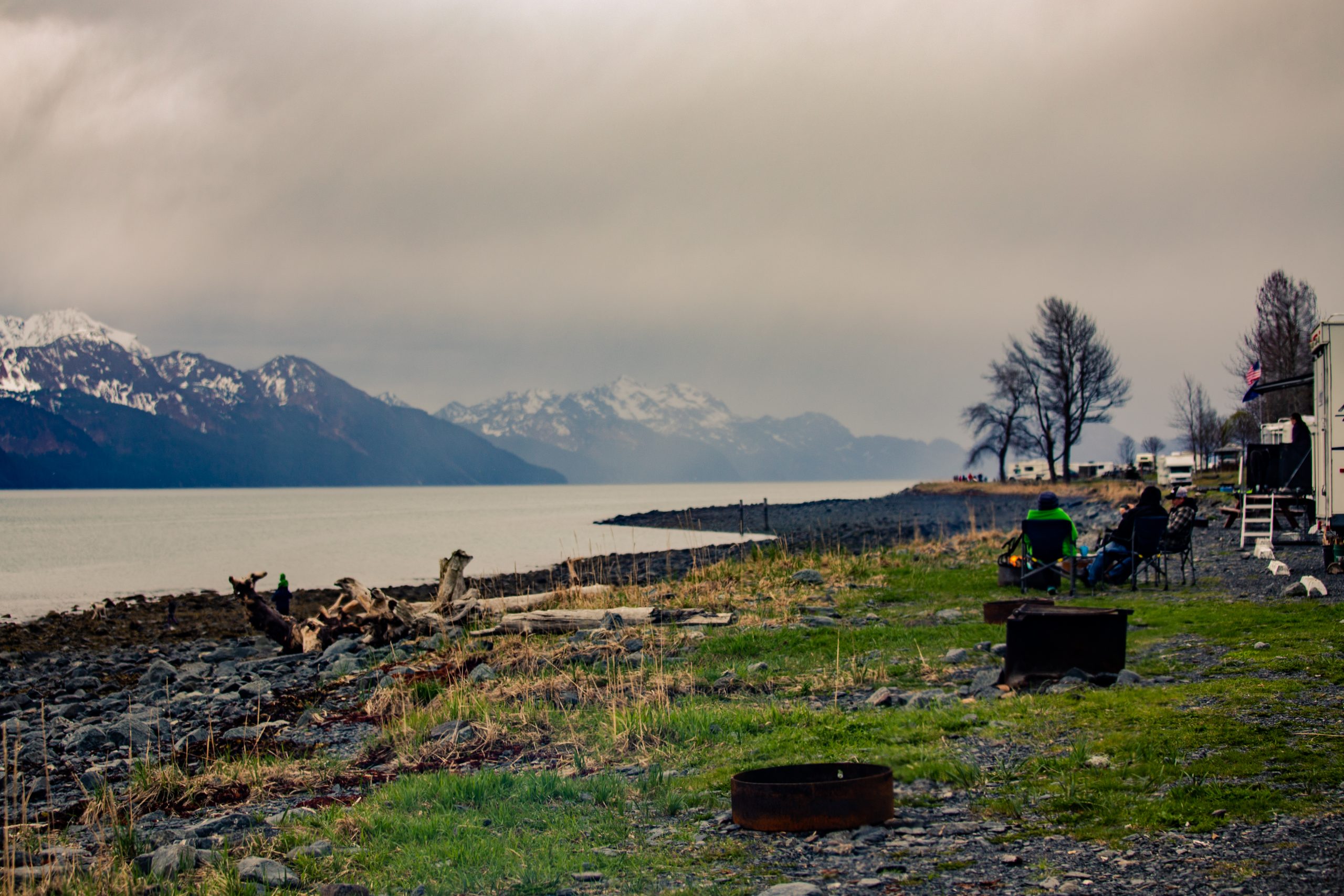 Costs are likely on your mind with an Alaska trip. Alaska is expensive. Really expensive. So let's dive into the costs to consider with both.
RV
When renting an RV, you'll encounter additional costs vs a regular car rental. Gas will be much more expensive as you'll be getting around 8-15mpg. So expect a big bill each time you fill up.
The trade-off is that you won't have to book any hotels or home rentals for your stay. In Alaska, summer hotel/home rental rates can easily run up to $300 or more a night and it can be nearly impossible to find anything under $150 a night.
If you plan to live in the RV the entire time, you'll need additional stuff. Be sure to check with your rental to see if they have kitchen items (pots, pans, coffee maker, etc), towels, blankets, a cooler, camping chairs, etc.
Vehicle Rental
With a car rental, you'll be staying at local accommodations, so you won't need to worry about having or buying any additional living items like blankets or towels.
Of course, you will be paying for not only the vehicle rental but also your accommodations. With just these two costs, it could be upwards of double the price of an RV.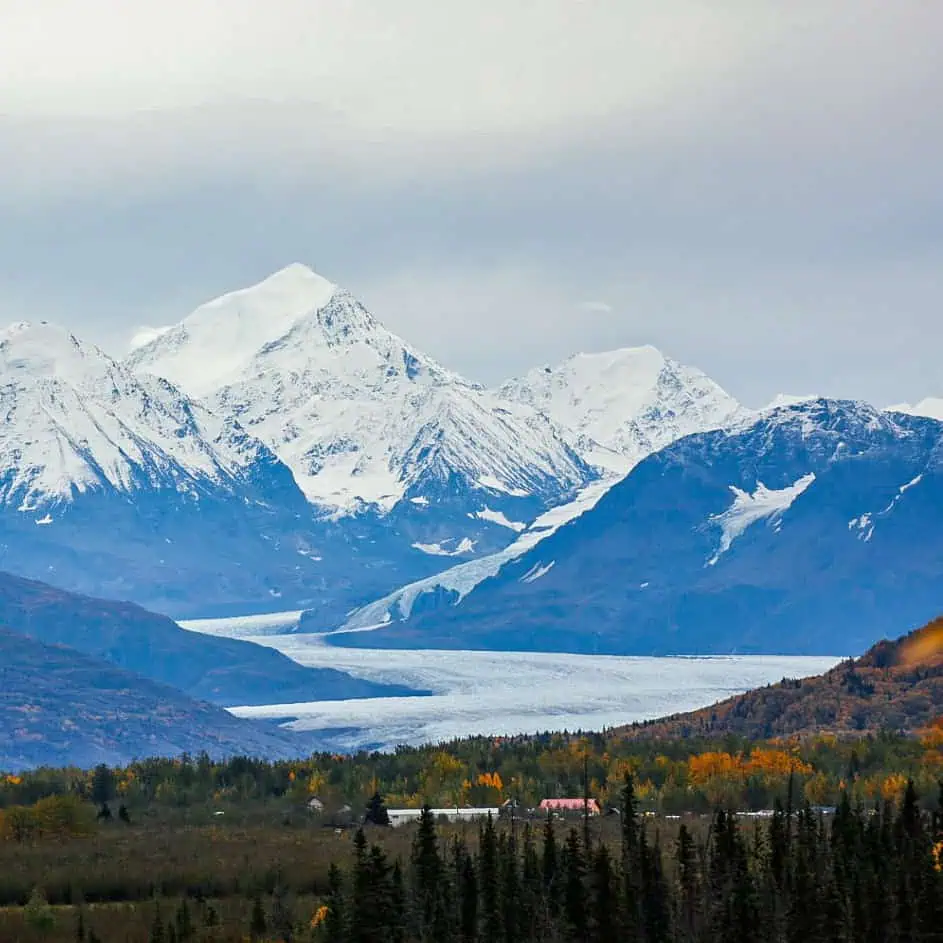 Lifestyle
Living in an RV means you're living a little more rugged but aren't giving up creature comforts. You aren't in a tent but you're also not staying at a nice hotel where everything is handed to you. An RV can provide a more authentic Alaska experience where you're setting up camp, rolling out the awning, starting a fire, yet still being able to cozy up in a warm comfy bed.
There's a little more work involved with an RV. You may need to empty the tanks, depending on how long you're using them. You'll want to watch your water or make sure you have hookups. Typically the bathrooms are small and may or may not have a shower.
There are ways to ease some of the limitations of an RV. There are a few campsites that have showers and bathrooms, although sometimes it's just an outhouse.
Size of Your RV
I'm using the name RV loosely to mean anything on wheels with a bed. So this could be a converted van all the way up to a 40′ behemoth RV.
When getting around the state, size matters here.
Obviously, the van will be able to get around much easier than a larger RV. But it's not going to be as comfortable on a rainy drizzly day when you're stuck inside for half the day.
Many of the rental companies have motorhomes that are medium size and can easily get around, but it's something to consider when renting yours. I personally like anything around 24 feet. It's easy enough to maneuver but large enough to be comfortable.
Mobility & Parking
An RV has a disadvantage here. Parking can be tough with an RV, especially in Anchorage and *some* small towns.
Luckily in Alaska, many small towns such as Seward and Homer do have dedicated RV parking right in town. And many of the state parks have parking spots for RV's. But you'll have a hard time finding a spot in downtown Anchorage.
And, it can be more difficult if you want to pop in somewhere quickly, especially with a large RV. For example, the Girdwood Brewery has a smaller parking lot that fills quickly and there's not much space for an RV.
Who's traveling and how many people are going?
The RV life can be great for families with older children. Instead of needing to rent two hotels rooms or find a large Airbnb, you can all sleep comfortably in your RV.
Many newer RV's, including popular Class C motorhomes, have four seatbelts so you may be able to fit a compatible carseat. Check with your rental company or person if you have any questions about your specific model.
An RV can also be great for two couples or a few friends. This way everyone can split the costs and save a lot of money.
Either way, keep in mind you'll be in close living quarters with one another for many days in a row. This could create a bonding experience….or tension, depending on who's going.
Popular RV and Motorhome Locations in Alaska
Here are a few popular areas on the main road system. I'm partial to locations with epic views like this one in Seward and this one in Homer.
Seward
Multiple waterfront campgrounds and wooded campground options
Homer
Camp on the Homer Spit or in town. Stay further out on the bluff or in Nikiski and Deep Creek.
Cooper Landing
Many campgrounds along the Kenai River and many lakes in the area.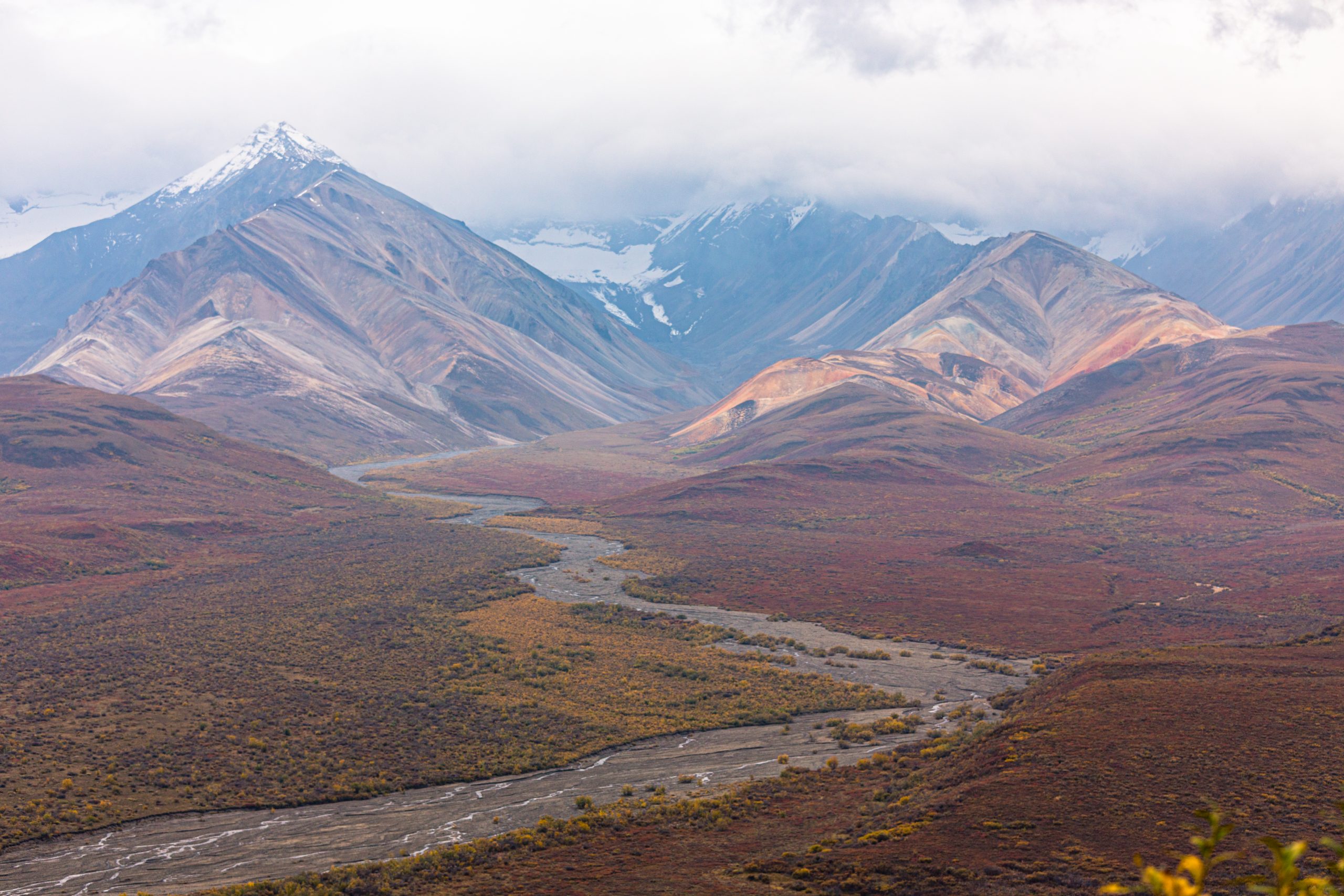 Denali National Park
There are many camping options around Denali National Park (although not many inside the park)
Valdez
Valdez is a beautiful town on a glacial fjord. There are a few campgrounds in town and a few outside of town.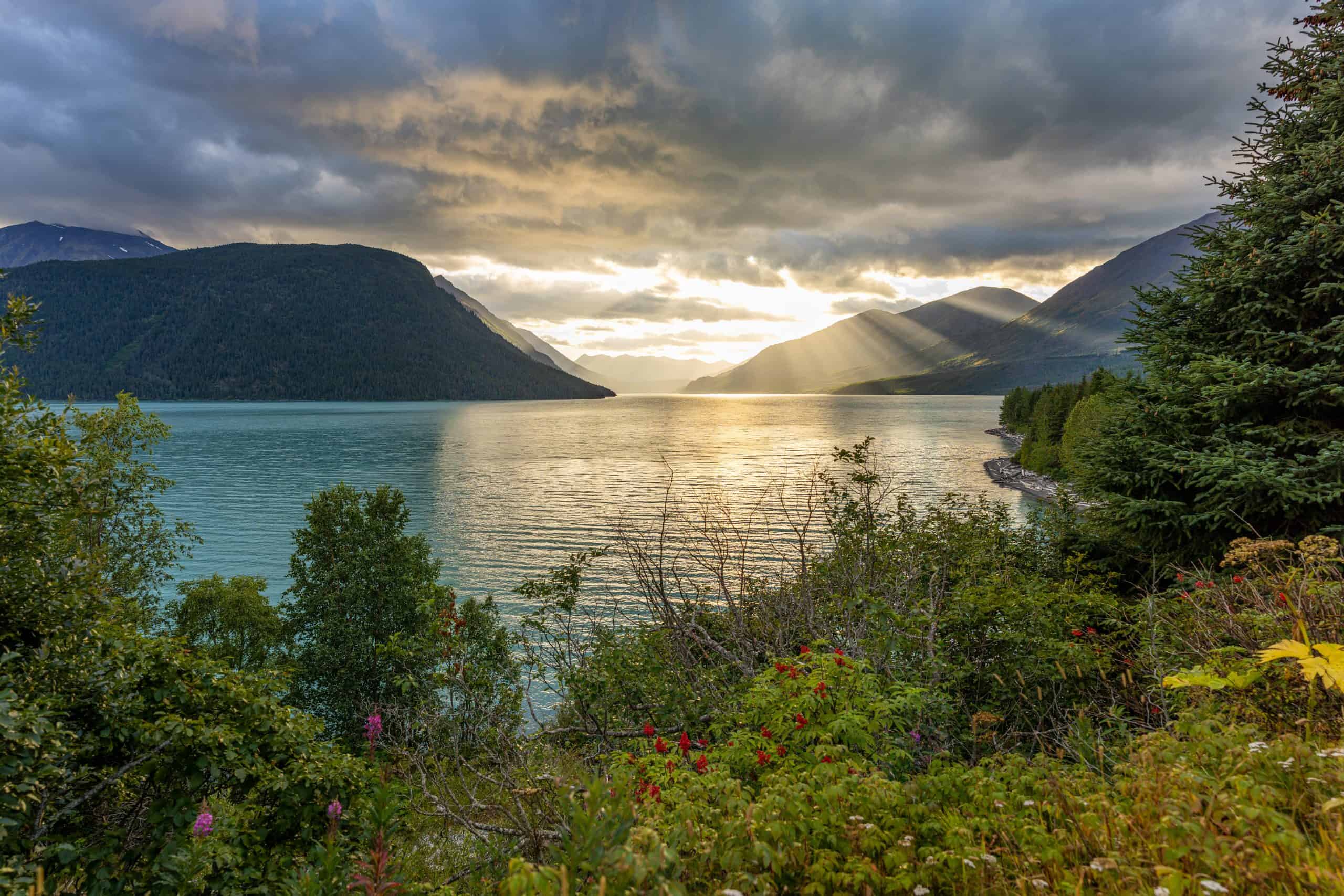 Kenai & Soldotna
Kenai Lake, Kenai River, and the towns of Kenai and Soldotna have many campgrounds in beautiful settings.
Additional Popular RV Park Locations
Skilak Lake
Hatcher Pass – Gold Mint Trailhead, Government Peak Campground, Fishhook Trailhead
Along Turnagain Arm
Kenai Lake – Quartz Creek Campground or Primrose
Williwaw Campground in Portage Valley
Nancy Lake
Montana Creek
Other lakes – There are over 3,00,000 lakes in Alaska! With so many lakes, many of them have campgrounds for both tents and RVs. Some other popular lakes include Lake Louise, Big Lake, and Eklutna Lake.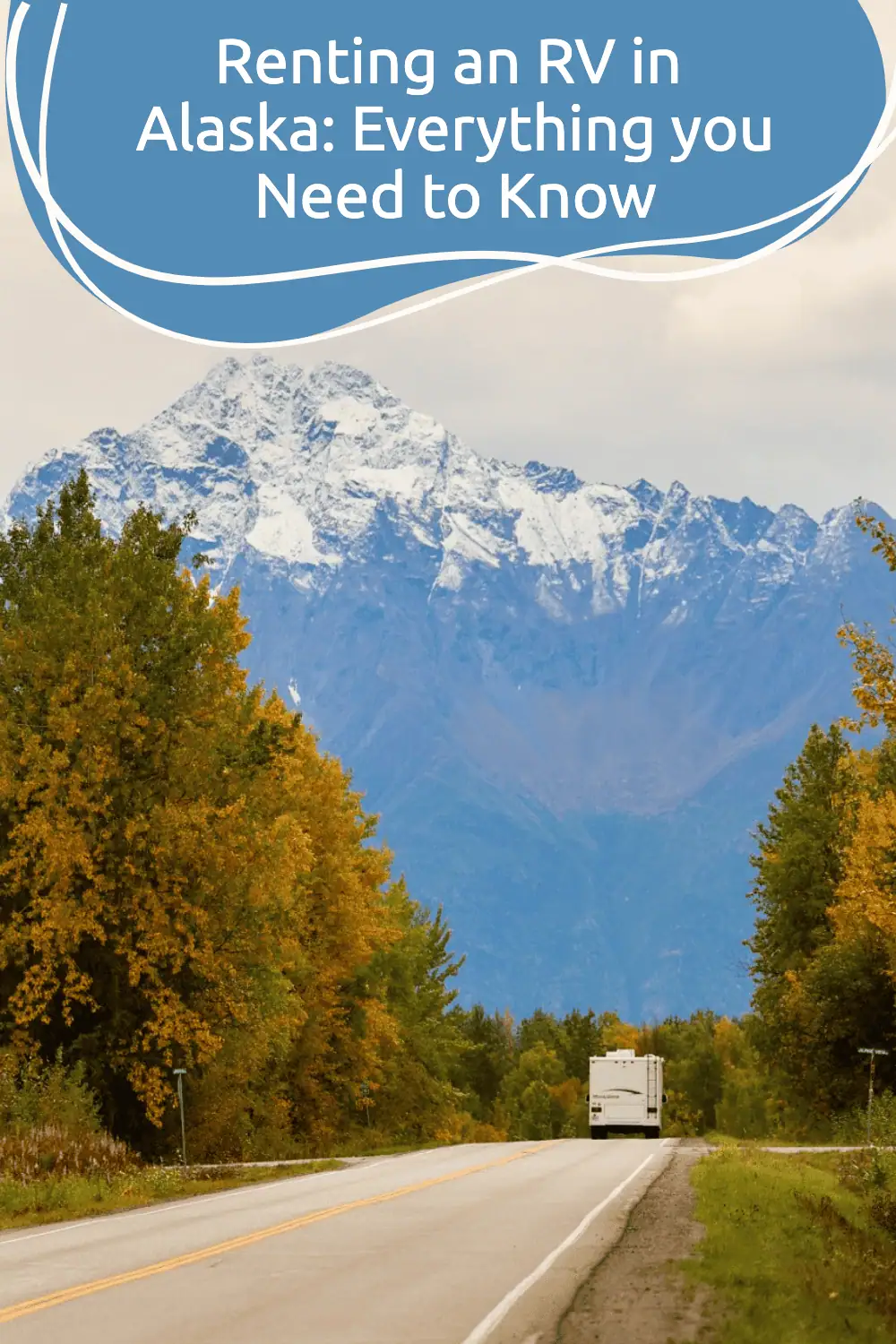 Read More Alaska Articles